Most people use one or the other video editor to edit their video clips. A simple video editor can be used for trimming and cropping videos, while an advanced one for adding cool effects and transitions.
A professional editor on the other hand can be used for doing frame-by-frame manipulations. In short, the selection criteria of a video editor depend on the objective of the user.
If you are a social media content creator and are not satisfied by the stock video editor of your smartphone a basic video editor would do just fine.
A social media influencer on the other hand would be demanding a bit more from their video editor. On the other end of the spectrum, any professional video editor creating promotional videos for big brands want their final video output to be one of a kind and stand out from the rest.
For this reason, in this Movavi video editor review, we would be reviewing 3 different video editing software created by Movavi. You can find out more about each of these applications' features and finally decide which application will suit your video editing needs.
Movavi Video Editing Products
Movavi is known for developing various video editing, screen recording, and photo editing applications.
In this post, we would be looking into some of their finest video editing applications. As you can see in the image below these are all the video editing tools created by Movavi.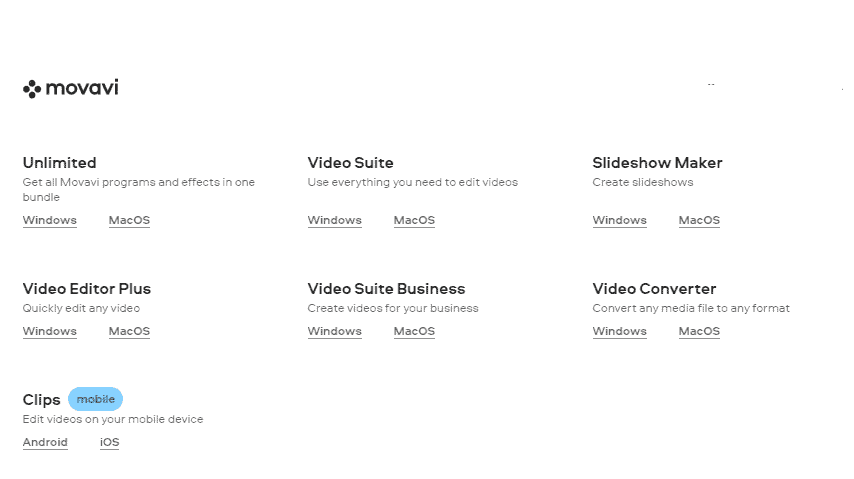 The applications that we would be reviewing are:
Movavi Video Editor – A web-based video editor which is a precursor to the Movavi Video Editor Plus.
Movavi Video Editor Plus – A native (desktop) video editor with advanced video editing capabilities.
Movavi Video Suite – A software bundle for editing videos, audio clips, photos, converting media files, and burning data into physical discs.
Let's start with the Movavi video editor review.
Movavi Video Editor Review
Prominent Features
Before we give you a walkthrough of the application let us give you a glimpse of all the capabilities of the Movavi Video Editor.
As the Movavi Video Editor supports online editing you need not worry about any fancy hardware specifications. With the help of an online video editor, you can edit your video clips while you are on the move.
To get started with your online video editing you simply need to upload the video clips, images, and audio files that you require for editing your video and that's about it. For seamless syncing, you can also import your media files from Dropbox cloud storage.
Creating a social media campaign
The Movavi video editor is a simple video editing tool that can help you create engaging social media content with ease. Using its editor, you can add custom transition effects, cut your video clips, modify playback speed, add captions, and backing tracks to appeal to the masses.
It is simple to use but powerful enough to customize your stock video clips.
Movavi Video Editor Walkthrough
The Movavi video editor is a web-based application and can be used for basic video editing. To get started first you need to visit their website.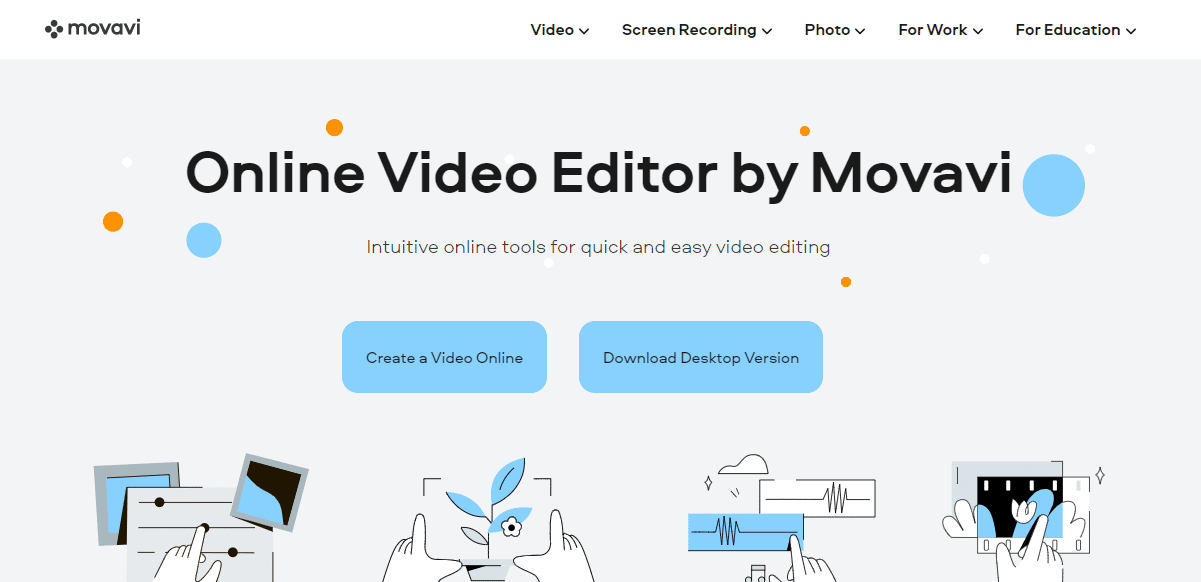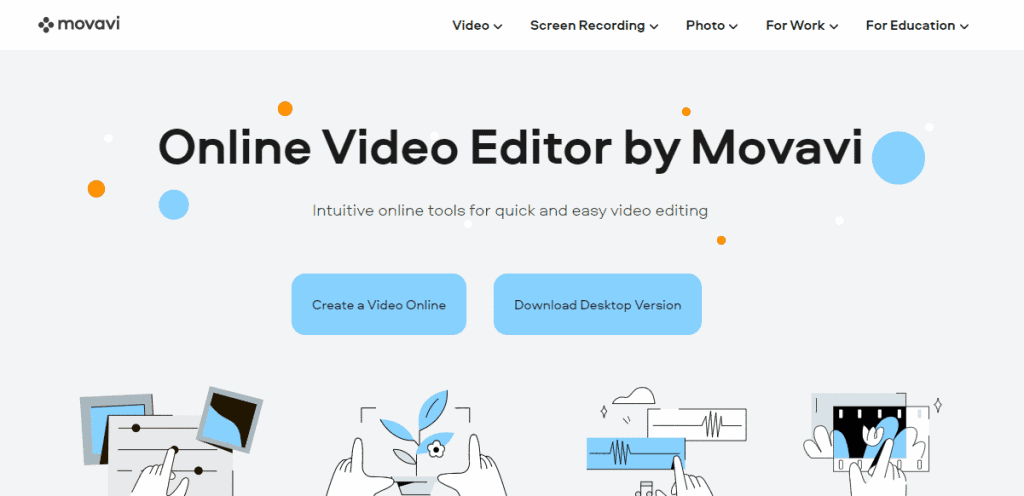 Simply click on the "Create a Video Online" button and the online video editor would be launched.
If you opt to download the desktop version, you would be downloading the Movavi Video Editor Plus.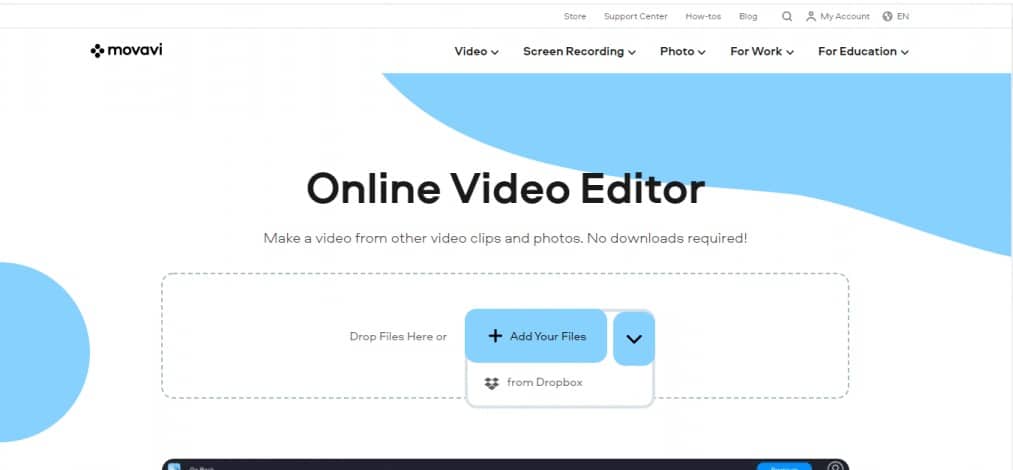 When you opt for online video editing, you can find different ways to upload your video. You can either drag and drop various video, audio, and image clips that you want to use for your video editing or upload them directly from Dropbox.
Even though other prominent cloud base storage options (the likes of OneDrive, Google Drive, etc.) were not present, I feel it's a good step forward and would help users to truly edit videos online.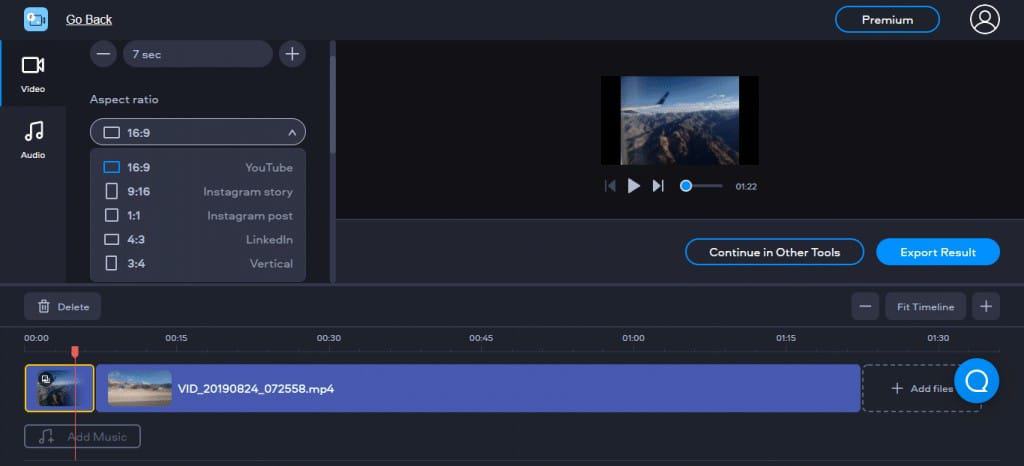 While writing this Movavi video editor review, I had selected two videos and one image file to upload. I noticed that it takes quite a lot of time to upload the videos for online editing.
If you are thinking of editing high-quality high frame rate content, your network bandwidth would play a crucial role in deciding the amount of time it would take for you to upload media files. I would recommend you stick to basic light media files and short video clips while using the Movavi video editor.
Once the video editor is open you can even add files from the edit video timeline at the bottom of the screen. In case you have uploaded any media files wrongly, you can select them and click on the delete button to remove them.
The application has an aspect ratio control for different social media platforms. You can select the aspect ratio of your video clips depending on the platform where you would be publishing them.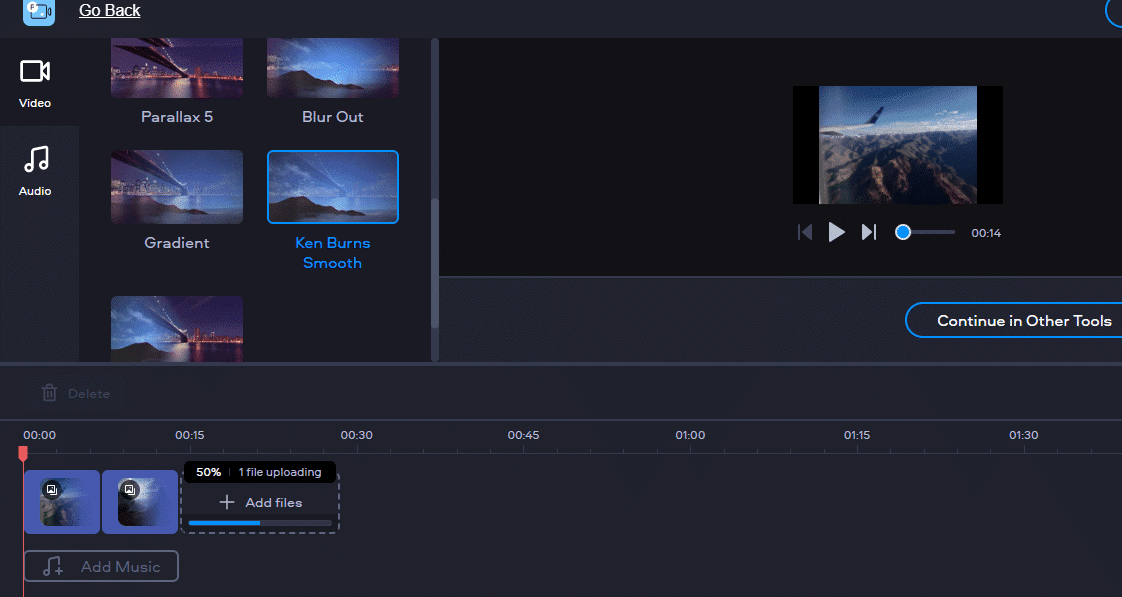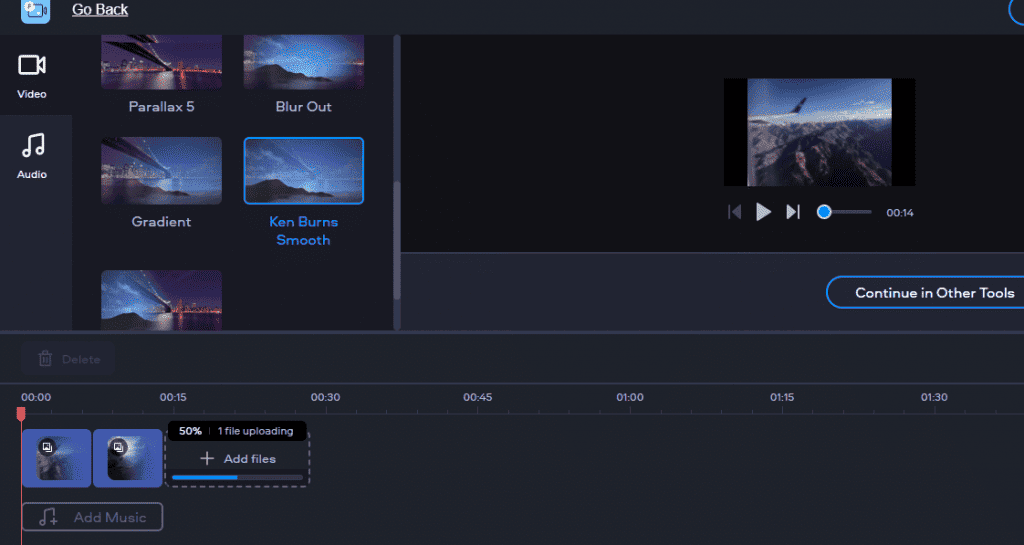 During the Movavi Video Editor review, I encountered considerable lag while previewing my video clips. When I was using the seek bar of the preview player there was buffering every time. That's not all.
I even tried to drag and drop various transitions between different video clips and I was unable to do so using the free version. I feel that the application is still in a beta phase and needs to address some of these issues.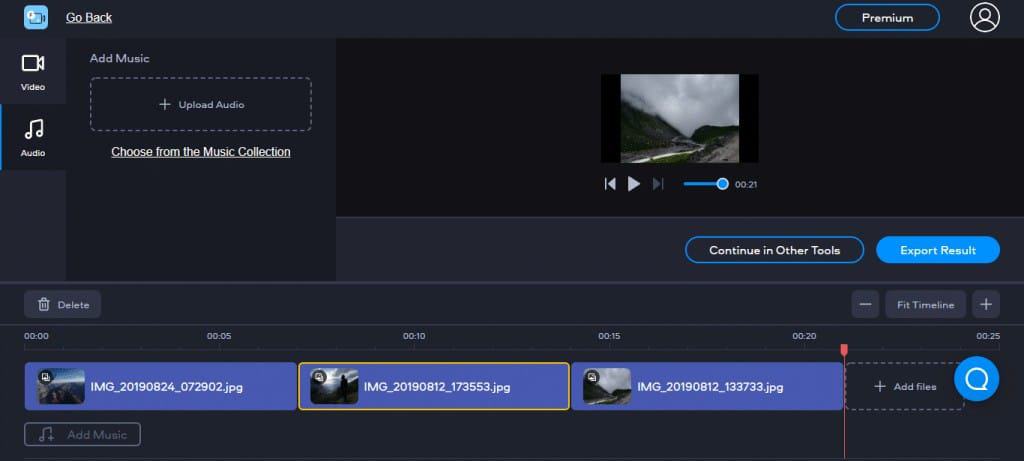 The editor also lets you select and add a backing audio track for your video clips. You can select from their stock audio clips or upload a custom audio track of your own.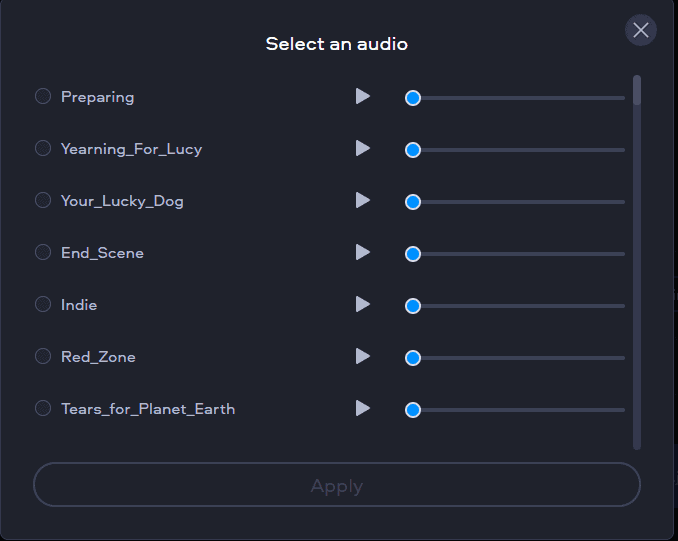 To select an existing audio track, you just need to navigate to the audio section and choose from existing audio files. Once you have added an audio track to your video clip you can trim it to fit your video timelines.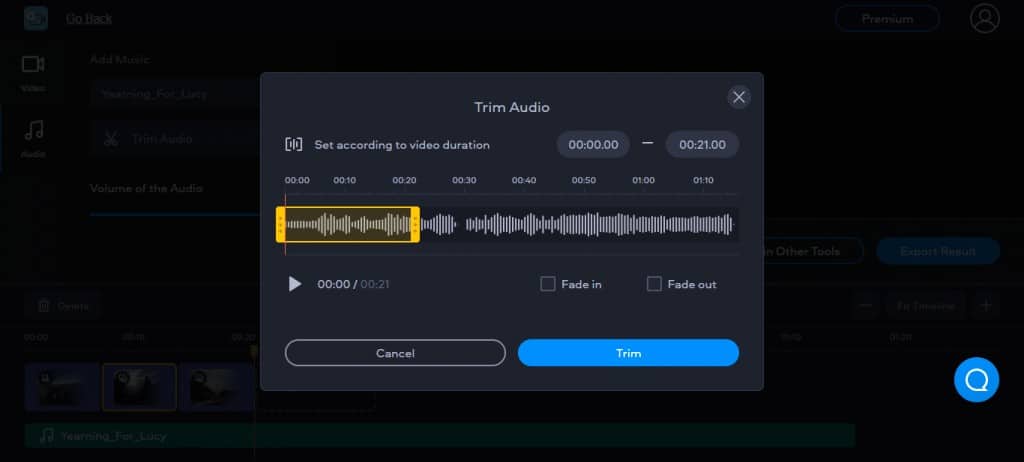 One cool feature about the audio trimmer was that it automatically recognized the length of my video clips and trimmed my audio track accordingly.
However, if you want to select a custom audio duration, that too can be done.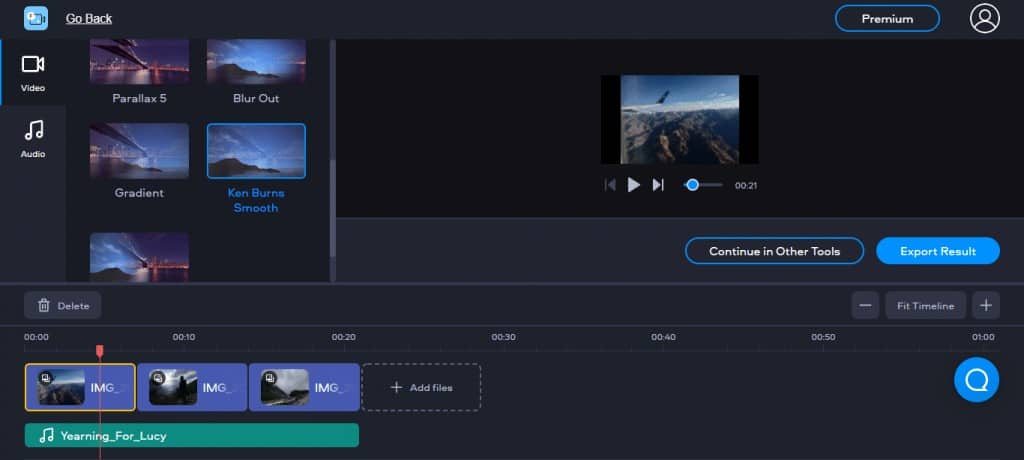 Now that you have set your video preferences and selected an audio track, you will find the various components of your video clip in the video timeline.
So far, the video editing process was extremely easy, and I can bet that anyone with basic editing skills can use this application without the need for referring to any manual or guide.
Apart from the basic video editing tools, you can get a lot more features in the video editor once you subscribe to a premium plan.
With a premium plan, you can compress videos, change video speed, crop them, and even transform them into a slideshow.
Once you have finished editing your video clips, you can click on the preview player to check how the final video output would look like.
In case you are not satisfied with the result you can continue editing till it meets your expectations.
Now that we have the first draft of our video, I just had to click on export results to download my video clip.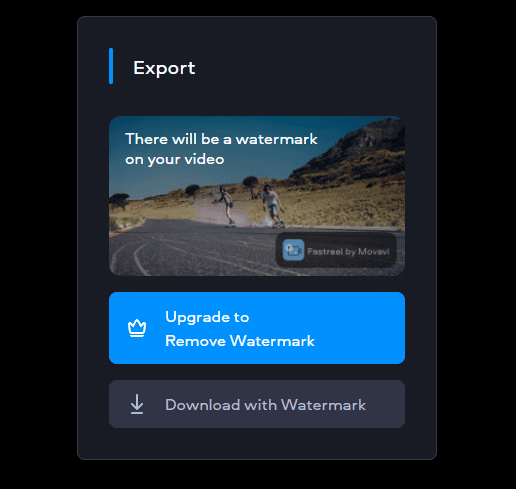 As I was using the free version of the editor my edited video clip had a Movavi watermark in it.
While editing, I also noticed that they have a handy chat widget that can help you contact their support team in case if you face any hurdle.
To use their chat feature, you simply need to log in with your Movavi credentials and state the problem that you are facing.
Pros
Import videos from DropBox.
Video editing on the move.
Simple user interface with less learning curve.
Cons
Uploading video files for the online video editor takes a lot of time. Especially when the videos are in high-definition and bulky.
Not many cloud storage options for importing videos.
I was unable to apply transitions to my video clips.
You need a premium plan in order to use all video editing tools and remove the watermark from the final edited content.
Pricing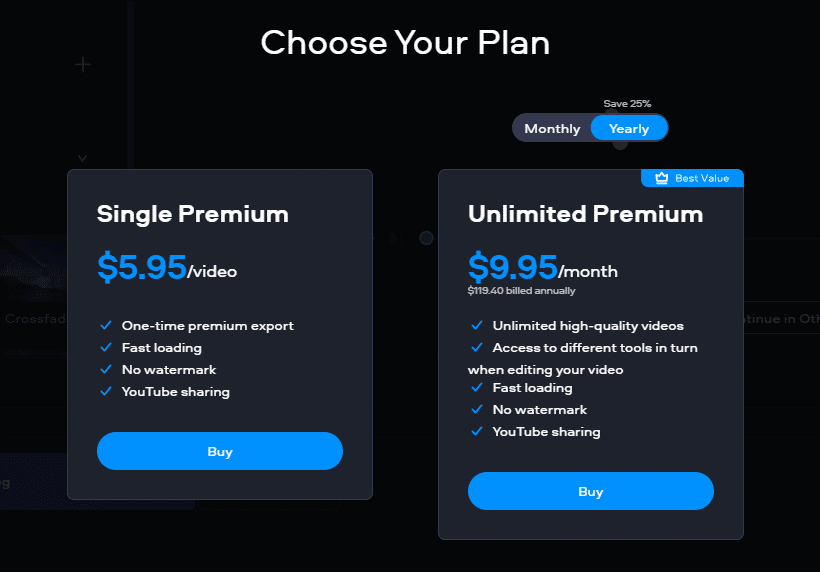 If you want to use the Movavi video editor on a need-to basis, you can pay a single premium for each video that you export. A single premium plan would cost you $5.95 per video.
The unlimited premium plan on the other hand is a bit more economical than the two if you need to work on more than one video.
At $9.95 per month billed annually, you can edit unlimited high-quality videos and use leverage all video editing features without any watermark.
Verdict
The free version of the video editor didn't appeal to me at all.
All the attractive editing tools are only available to you when you opt for a premium plan. Even their pricing slabs seemed steep given the features provided by their application.
Rating – 3/5
Movavi Video Editor Plus Review
The Movavi Video Editor Plus is a video editing tool for Mac and Windows platforms.
You can use it for creating stunning social media posts, Facebook ads, and even tutorials. Visit their website to get to know their platform-specific system requirements.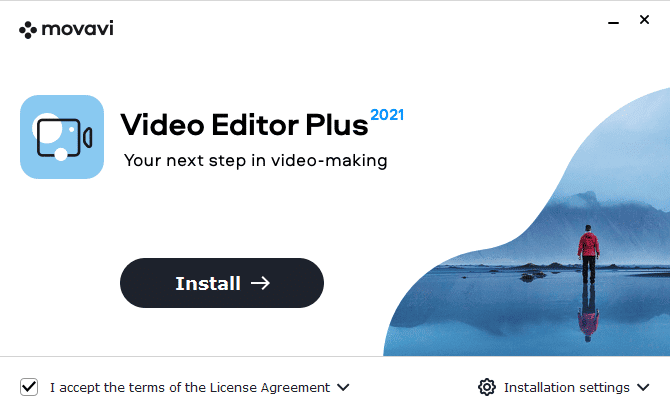 Features
Filters Transitions and then some more
The Video Editor Plus is packed with a number of different filters and transitions that can make your video content stand out from the rest. The editor provides you with various annotations, emojis, and titles to transform your videos.
You can select from various filters or tweak existing ones to create a signature tonality and color saturation for your video series. Talk about making your mark!
Chroma key or green screen
It supports chroma key and lets you set vivid backgrounds for your videos. Using chroma keys in the Video Editor Plus is simple and can be configured with a few clicks.
The video stabilization feature can come in handy while editing high-resolution high frame rate content. So, in case if you do not have a GoPro in your kitty and want to stabilize the video clips of your recent bike ride captured on your mobile phone, this is the right tool for you.
At the click of a button, you can set the amount of stabilization you want in your video clips.
Picture in the picture if done properly can catapult your reach. Using the Video Editor Plus you can configure different frames within your video clip and pin video content to these frames.
Depending on your requirements you can edit and tweak these frames and get a professional vibe from your final draft.
The Video Editor Plus lets you add voice-over to your existing video clips. You can use this feature while creating tutorials or while creating a reaction video for your YouTube channel.
To get the best effect it is recommended that you connect an external microphone.
Pros
Supports offline editing
Robust video editing tools
A great application for creating podcasts, recording tutorials, and gameplays.
Available in different interface languages.
Cons
Not compatible with smartphones or mobile devices
Not meant for advanced frame-level editing.
Pricing
The Movie Video Editor Plus can be availed as a subscription plan or as a perpetual license. A one-year license of the Video Editor Plus would cost you $39.95. This yearly membership would allow you to use all the Video Editor Plus features and prohibit any watermarks in your exported content.
If you don't want to opt for a recurring subscription plan it's better to procure a license. Video Editor Plus lifetime license would cost you dollar $59.95. The license is valid for one PC.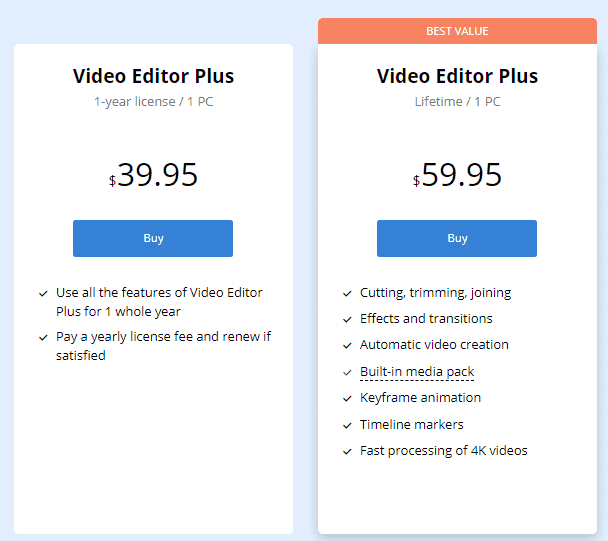 Verdict
The Movavi Video Editor Plus has way more features than its predecessor. Even though online editing is not available, I think this is still worth buying. It is easy to use and has advanced features like chroma keys and video stabilization.
This application is perfect for amateur content creators and intermediate video editors.
Rating – 4/5
Movavi Video Suite Review
The Movavi Video Suite is a software bundle. This application is intended for Mac and Windows platforms and would allow users to edit videos, record screens, edit images, and even burn data on physical discs.
Let's look at their prominent features in detail.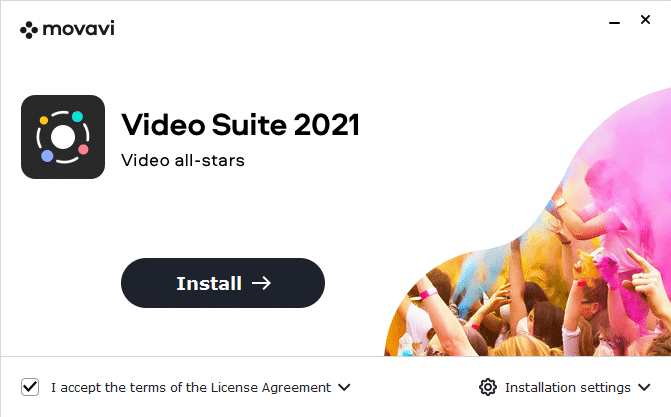 Features
Audio, video, and Image editing
Using the Movavi Video Suite you can edit your video content and add cool effects to them. But this being a software bundle it would allow you to do much more than just tweak videos.
You can use this application to edit images, add filters, and even add layers to your stock images. The best thing is all features are wrapped together and offered as a single package.
Media Converter & data burner
The media converter allows you to convert any media files into different formats. You can even use this suite to change resolution, video quality, and sampling rates. It can also be used to add subtitles to your video content.
The disc burner on the other hand can be helpful to archive your media library. You can use its disc burner to take a backup of various media and data. You can use the disc burner to create images of your data to be burned later into CDs, DVDs, or Blu-Ray discs.
Screen recording and slideshow making
The Movavi Video Suite screen recorder can help you record your active screens and for taking precise screenshots.
The screen recorder is easy to use and is a perfect utility while you are working from home and want to demonstrate your deliverables to your client. You can also use the screen recorder for recording your video game walkthrough. 
Pros
Simple user interface
Supports offline editing
Great software bundle for media editing, converting, and curating.
Good choice for digital marketers, online tutors, and social media content creators
Cons
Not available on smartphones
Audio mixing features are quite basic
Advanced features like frame-level editing and motion-tracking are not available.
Pricing
The Movavi Video Suite is not available as a subscription. You have to buy a one-time license. A perpetual license for a single device would cost you $79.95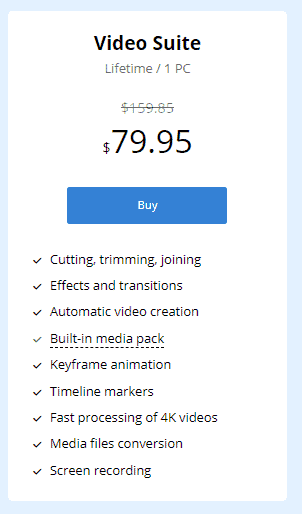 Verdict
A digital marketer or a social media content creator apart from editing videos might also require an image editor to post regular updates. Rather than searching and figuring out a potent image editor, it's better to go for the Movavi Video Suite.
As a software package, it allows you to edit and convert various media files and even helps in the conversion of media files and storage in physical discs.
During the Movavi Video Suite review when we compared the price of the Video Suite with the Video Editor Plus, there is merely a difference of $20. If you do not have any other image editor in mind, I would recommend you to get a lifetime license of the Video Suit.
Rating – 4.5/ 5
Movavi Video Editor Alternatives
Now that we have looked closely at different video editors from the stable of Movavi, let's look at other best free video editing software.
1. iMovie
iMovie is a video editing software for Mac and iOS devices. You can use iMovie for editing videos on your iPad, iPhone, or Mac devices.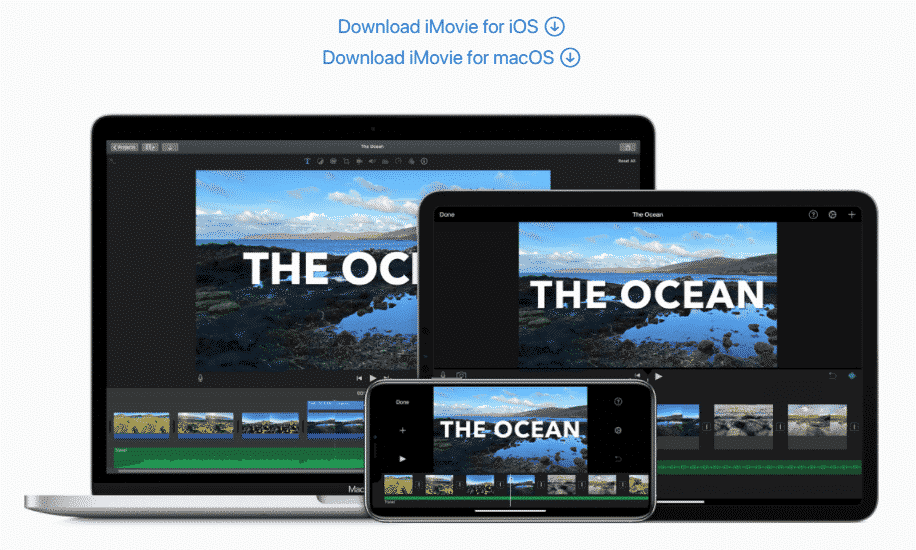 Features
You can use the iMovie to edit high-resolution 4K video clips, add titles, and custom animations, and wrap it up within catchy background audio.
While using iMovie all your project setup gets automatically synced on iCloud. This allows you to work on your video editing project across Apple devices.
iMovie can be downloaded and used for free. You can get your latest copy of iMovie from the Apple app store.
Download link – Click here to download iMovie.
2. VideoPad Video Editor
VideoPad is yet another video editing software that can be used for free for individual and non-commercial purposes. It can be used for basic video editing and social media content creation.

Features
Thanks to its optimized software architecture many consider VideoPad to be the fastest video editor in the market.
Its video editing interface is simple and clutter-free. You can start editing your video clips using this application without any technical know-how.
Its digital audio tools are quite good and can be used to edit and superimpose video clip audio with custom audio tracks.
You can directly import your 360 video recordings from GoPro or other action cameras without the need for any slicing software. It can be used for editing 3D videos and for creating content for VR headsets.
The application can also be used for burning media files and data into physical discs.
Download link – Click here to download VideoPad
3. KineMaster
KineMaster is a well-known video editing application for iOS and Android devices.
However, you can use KineMaster for free on your Windows and Mac devices. To use this application you need to download an Android emulator like BlueStacks or use a lightweight Chrome extension as an Android emulator.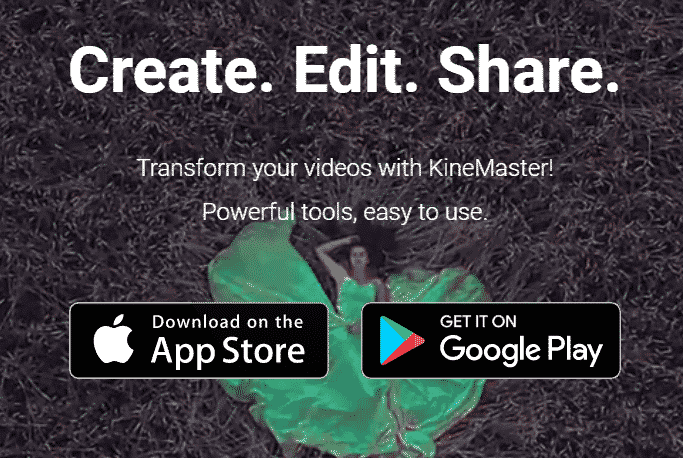 Features
Using KineMaster you can edit all types of video content, merge different videos, control playback speed, and configure keyframe animation.
You can add voice-over and background tracks to your video clips and export them in a format of your choice.
KineMaster supports chroma keys and is supported in almost all platforms (an emulator might be required.)
Download link – You can download KineMaster from the Google play store or Apple App store.
Bottom line. Which is the best movie video editor?
Now that you have gone through the Movavi reviews here is a table that can help you put things into perspective
| | | |
| --- | --- | --- |
| Product | Price | TechieInsider rating |
| Movavi video editor | $119.40 per year | 3/5 |
| Movavi video editor plus | $59.95 for a lifetime license | 4/5 |
| Movavi video suite | $79.95 for a lifetime license | 4.5/5 |
As you can see the Movavi video editor would cost you roughly $120 per year. I feel the price is pretty steep just for letting you edit videos online.
And honestly, its features at somewhat primitive compared to the Video Editor Plus or the Video Editor Suite.
I would recommend you to go for the Movavi Video Suite as it contains way more features than the Video Editor Plus.
At the price of a cup of coffee, you would be able to edit videos, process images, convert media files, and even burn data into physical disks.
FAQs
Q. Is Movavi safe?
Yes, the Movavi website is absolutely safe. All the applications provided by Movavi are also legit and can be used safely without any malicious outcomes. We did test a few Movavi products on our own using VirusTotal and their scan report turned out to be perfectly safe.
Q. How much is Movavi?
Movavi provides a plethora of different software applications. You can check out their video editors, screen recorders, image editors, and other creative tools. Most of their software packages can be opted for as a subscription or procured by paying a one-time license fee. You can check out all their available products and pricing by visiting their website.
Q. Is Movavi better than iMovie?
Movavi Video Editor is available on Windows and Mac platforms. While iMovie is meant for iOS and Mac devices.
So, if you are looking for a video editor for Windows then the Movavi Video Editor should be the application of choice. If you want to edit videos on your iPhone, iPad, or Mac devices then you should go for iMovie. Android users can stick to KineMaster or other compatible video editing applications.