The 12 minute affiliate is a business-in-a-box type affiliate marketing program. A user gets access to some authentic training modules and sessions that should provide basic and advanced know-how on how to generate good and consistent returns via affiliate marketing.
The program also delivers in-depth know-how about high-conversion landing pages across three niches. It is suitable for individuals with some experience of how solo ads work in the affiliate marketing workflow. That said though, there's enough guidance added to the bundle to help an intuitive rookie user to get things started.
In this 12 minute affiliate review, we have tried to comprehensively cover the pros and cons of this program, where it stands as an affiliate marketing tutorial bundle, and a bit more on whether it's legit enough in the first place. So, let's continue with our review to take the veil off everything this program has to offer.
12 Minute Affiliate Review
The program offers multiple assorted tutorials for a marketer. Some critics have pointed out that the program may not be ideal for a beginner affiliate marketer. It is firstly vital to know the basics of affiliate marketing first and to this, we do agree. However, we have kept those notions aside and decided to review this program without any preconceived ideas.
The 12 Minute program claims that the marketer can start making commissions in nearly 12 minutes. This could feel like an exaggerated advertisement, but the program does offer a 'done for you system' where all the hard work is supposedly done by the team of this program.
What is this 12 Minute Affiliate Program?
As mentioned above, this is a 'business in the box done for you' type of affiliate program. Depending on the level of membership a marketer has purchased, he/she gets access to a single or a different set of sales funnels. This helps a marketer build an email list that can be used to promote certain services or products as an affiliate and earn commissions from the generated sales (or correspondence in case of services.)
As far as the system is concerned, this can be easily set up in under 12 minutes. So, the program stands true as far as the 12 minute branding is concerned.
However, earning commissions under 12 minutes is practically improbable for a rookie (or even a pro!) The claims in the advertisement may make users question the authenticity of this program. Here's more on it
Who Owns 12 Minute Affiliate?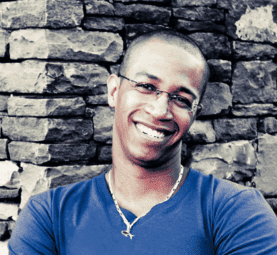 To marketers questioning the authenticity of this program, we can assure them that this program is indeed owned and promoted by a real person named Devon Brown. The guy has a substantial online presence and thus, it can be assumed safely that this program is not a scam.
Devon Brown, the owner of 12-minute affiliate program, is a successful internet marketer himself and is an influential brand/individual in digital marketing. So, it would be an exaggeration to question the integrity of this person. However, the advertisement does make tall claims which are, honestly, more propaganda and less actionable.
12 Minute Affiliate Review: Key Takeaways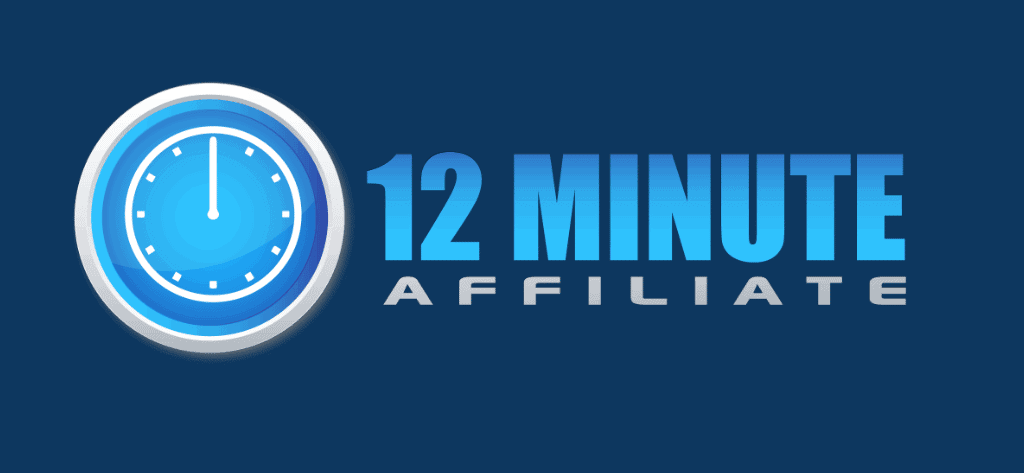 The 12 minute affiliate program offers multiple training sessions and actionable pointers.
First up is the Quickstart Guide for Users. In this guide, a user will get trained on –
Creation of a Free ClickBank account.
Collect email addresses and sending emails via Aweber Autoresponder.
It will help in choosing a niche from the given three options.
Integration of Aweber Autoresponder with ClickBank and landing pages?
This is followed by the key chapters of the affiliate marketing bundle, viz. –
Traffic Area
This facility lets a user buy traffic. However, there is no training available to start traffic through methods such as SEO, Paid Ads, or social media campaigns.
Resources
The additional features a user gets with the subscription are –
Live training replays
eBooks
Swipe Emails (Done for You)
Affiliate products list to promote
Service Manager
This service lets a user manage the whole sales funnel and autoresponder. It also contains specific DIY tasks to help create a scalable management setup.
Facebook Group Access and Support
The subscription lets the user access a private Facebook group that helps with mentoring and guidance. A user can simply raise a ticket for support or call the dedicated support team of this program.
How Does 12 Minute Affiliate Work?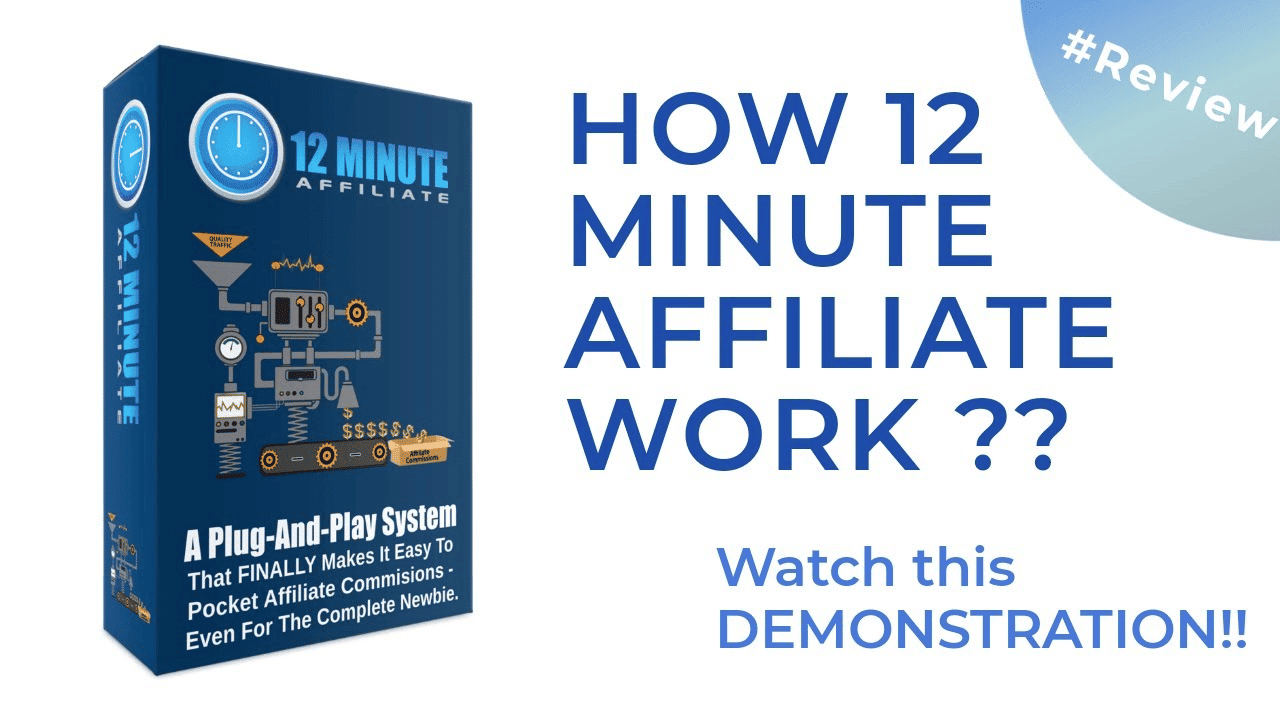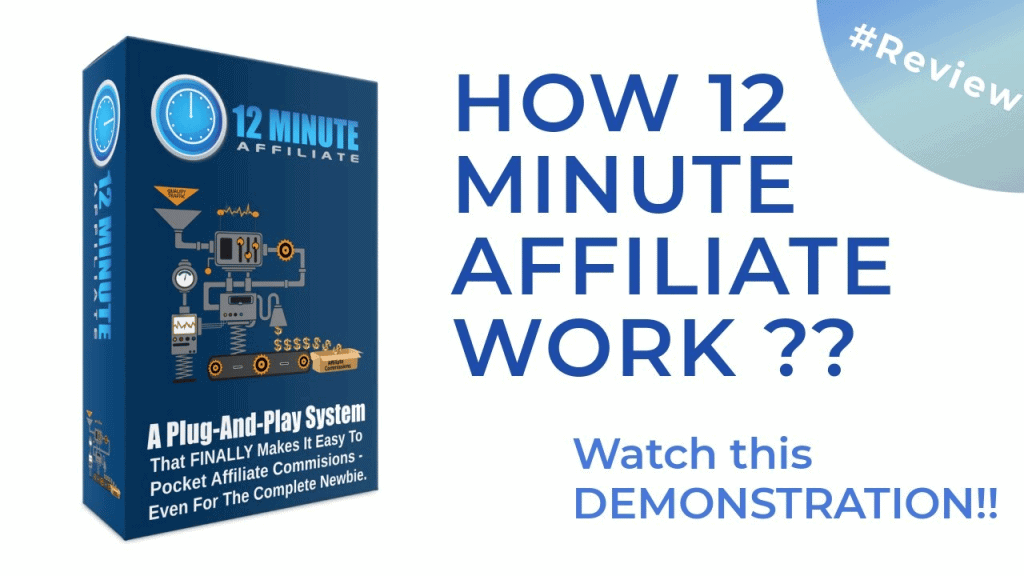 The 12 Minute Affiliate gives subscribers access to its 3 sales funnels in three niches –
Personal Development
Health and Fitness
Make Money Online
With the already done for you sales funnels, a user also gets a bridge page and an options page with 3 email swipe sets. These email swipe sets are editable to promote affiliate offers from any of the three niches mentioned above.
The program lets the users choose the affiliate offers for promotion. However, they can only choose offers from these three affiliate networks.
JVZoo
ClickBank
Warrior Plus
For marketers who find it difficult to choose which offers to pick for promotion, the system also gives recommendations. All the recommended products from ClickBank come with an affiliate ID. The platforms offer 13 products for promotion and have plans to add more products.
But how do you make money out of all this?
Here's how –
The user is given a set of landing pages for the chosen niches.
He/she must connect the landing or sales funnel page to the email autoresponder (which is payable.) The member's area of the program provides instructions on how to set up the email autoresponder. If a user is not able to set it up themselves then, he/she can contact support (and perhaps pay a small fee on the platform) to get it done.
The platform offers pre-written emails which can be imported to the autoresponder. These emails contain promotional products which have been selected by the system.
The user can get traffic by buying it from the traffic area. This will redirect traffic automatically to the landing pages. The users should be clear that buying traffic is an additional cost to them and it only buys clicks. It is mentioned that there is no guarantee if the target audience will subscribe to the email list. This could be like a gamble for any user as they can spend a significant amount of money but still can't be sure whether subscribers to the email list will increase or not. However, generating positive revenues is the sole motive of this affiliate bundle.
A user will earn an affiliate commission when the target audience buys any of the promoted products from the affiliate ClickBank links. A large email list increases the chance of conversion for a user.
Worth mentioning, ClickBank, JVZoo, and similar other tools used in this bundle are not the only ones you can use. Here are some of the top affiliate marketing tools you should know about as well.
12 Minute Affiliate Cost and Memberships
Trial Period: The program offers its users a basic trial period for the product spanning 14 days. The cost for the same is $9.95. After the trial period, a user must buy Basic or Gold membership to continue using this program.
Basic Membership: This plan costs a user $47 per month. The user can also buy this program by paying a one-time fee of $397.
Gold Membership: This place costs $97 per month or a $797 one-time fee. The difference between these two plans is that the Gold plan offers 3 niches while the Basic plan allows only one niche.
Cost for Email Autoresponder: A user needs to pay for the email autoresponder if he intends to use it to send promotional emails. The Aweber responder that comes with the package costs $19 per month with a 30-day free trial period.
Cost for buying traffic: In addition to the above cost, a user will also have to pay the cost for buying a link in case he wants to increase traffic quickly. Although buying links doesn't guarantee an increase in email subscribers so a user must spend the amount on buying links wisely.
Prices are subject to change and those mentioned above are as currently available while writing this 12 minute affiliate system review.
12 Minute Affiliate Review: Pros and Cons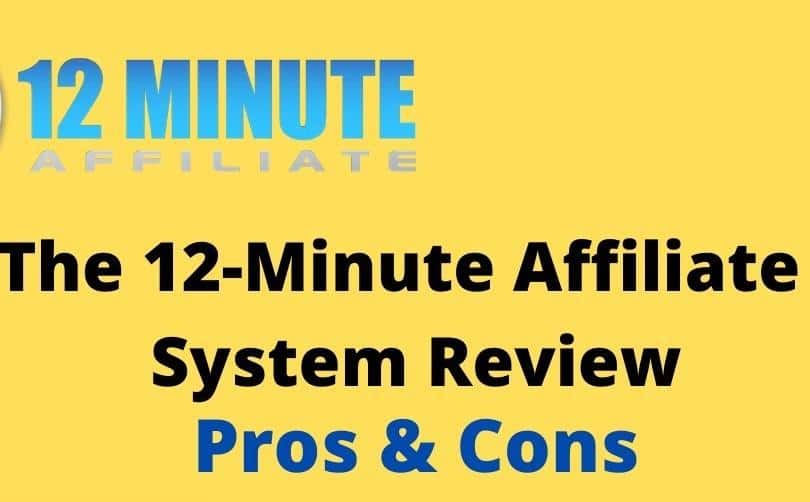 Pros
The product gives its users a 60-day money-back guarantee.
Gives valuable training on using a legitimate business model.
Offers pre-written swipe emails and done for you landing pages.
Cons
The sales methods used in this program have often been criticized as a Black Hat sales technique.
The traffic doesn't come automatically, and, in most cases, the end-user has to buy traffic.
The done-for-you system is easy to use but it also indicates that the user doesn't really own the business.
Is 12 Minute Affiliate Legit?
Yes, this program is offered by a real owner and a legitimate company with an authentic online presence. However, we won't be going too far to say that the advertisement is a tad over-the-top.
It says you will start making money in just 12 minutes which is not the case. Also, there are some hidden charges associated with the program when used as a long-term affiliate marketing funnel, sadly not covered under the sales campaign.
So, we can simply say, the platform is legit but if you think that just by joining this program you will start earning money (as its sales advertisement claims,) you should do your research on affiliate marketing first.
Conclusion
We can only say that this is just like any other affiliate marketing program which may or may not work for marketers. It does have its shortcomings but some of its features are helpful for new marketers.
As far as 12-minute affiliate user reviews go, this is just another program, although one of the better ones, where you get to a platform to start your affiliate marketing journey.
However, we must add that individuals looking to use the program must consider all the other costs apart from membership charges and buy it only if it suits their business goals. Success with the plan is not guaranteed, so those who think that only by buying this plan they will start making money in 12 minutes should stay away from this as it is not true.
To sum up this 12-minute affiliate review, can be useful for beginners to get a basic setup to build a network. Having said that, we do recommend studying affiliate marketing and taking the DIY route. The learning curve is what you need the most!