Using video content for online marketing campaigns is a tested method to bring engagement. Short crisp videos to introduce, explain and promote a brand is meant to conclusively hook the audience in and then impress. This generally makes a user stop and take notice of the content.
Creating a video might seem like an engaging activity at first, but the cost of creating commercially appealing and visually attractive content is the biggest turnoff.
Many businesses are looking for low-cost solutions, creating doodle videos to decrease the bounce rate on their pages and increase engagement.
How to create good quality doodle videos?
Doodle videos are created using whiteboard animation tools. There are many small to large-scale doodling tools available for users to create doodle video content.
Without a doubt, Doodly has come up as the leading video creation and animation tool, delivering crisp, quality, and unique content that can potentially engage users.
Just so, here's the Doodly review you wanted.
What is Doodly?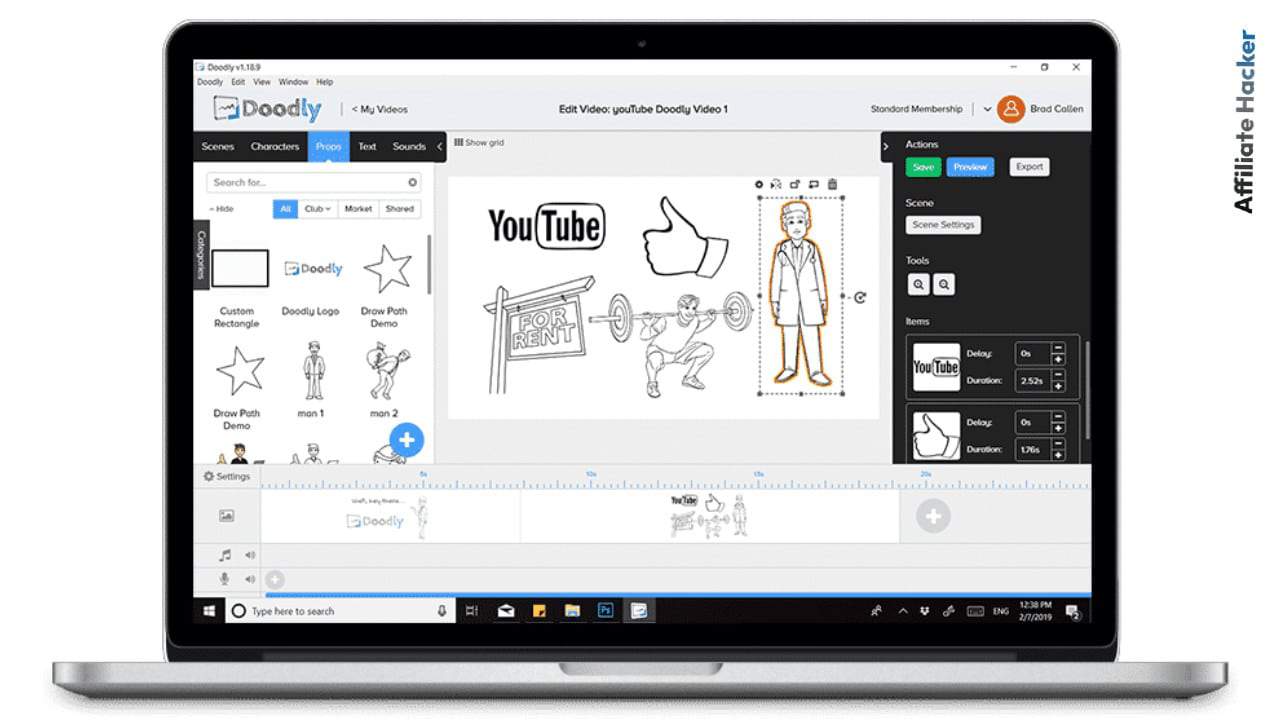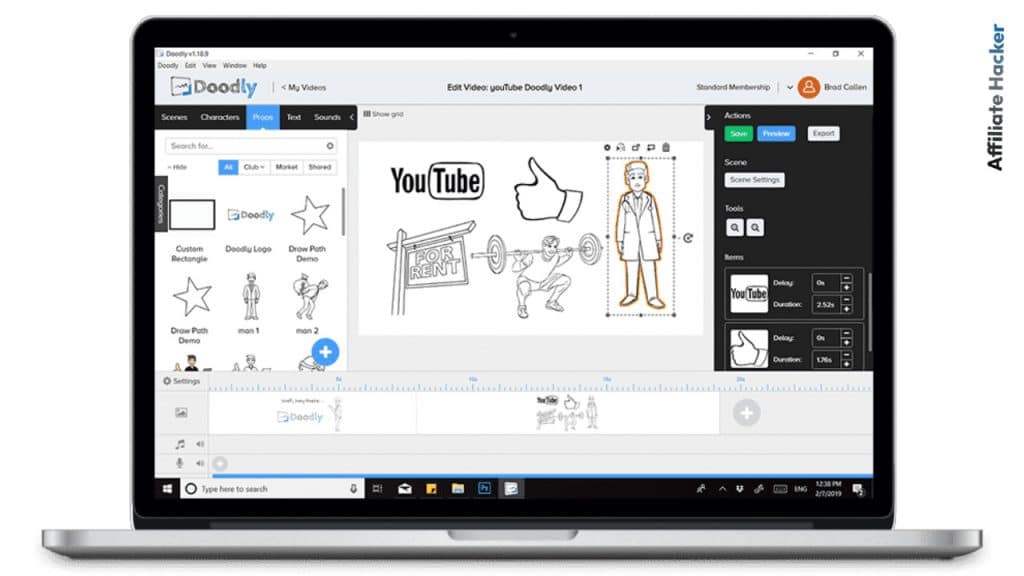 When it comes to the whiteboard animation video creation tool, Doodly Software is the first name that comes to mind. This video creation software has a simple user-friendly drag-and-drop interface.
It lets doodle video content creators (a.k.a Doodlers!) make appealing sketch videos that are enjoyable to watch. Doodle videos are often used by content creators to explain a story or an idea to the user.
Doodly is widely used by social media influencers and content creators to create entertaining videos that increase engagement. More the engagement, the more the chances of transforming a viewer to a potential subscriber or even a customer.
There are many versions of this software with different upgrades. With its easy-to-use interface and freedom to create a variety of content, Doodly is gaining popularity day by day.
Doodly Review
Before starting the review, we must inform our users that it is compatible with both Mac and Windows PCs. Doodly features tons of templates in its library.
Once an image is selected and dropped on the canvas, the software will create a custom sketch for it.
Features like this and several others are the USP of this software. Let's discuss these features in detail.
User Interface (UI)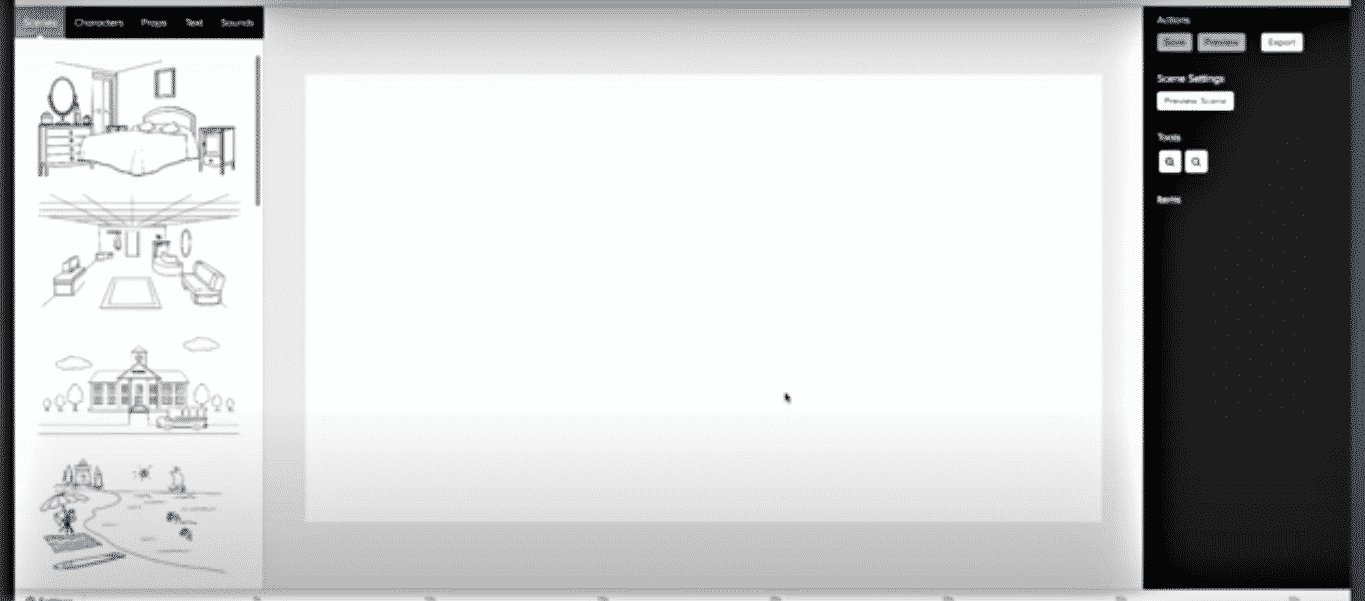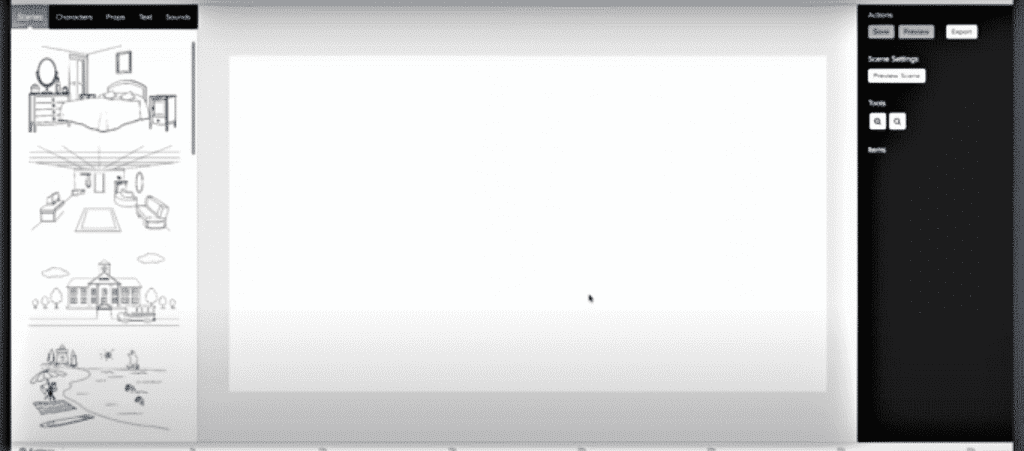 The most important feature of any tool or animation software is its UI. The Doodly UI is user-friendly and designed for non-tech video creators. Most of the features available on the UI can be easily used with a few clicks and drag-drop motions.
This becomes extremely helpful for users with weak design skills. They only need to click a custom-made sketch from the Doodly library and drag-drop it on the canvas.
Be it a library of voiceovers that is customizable or a set of characters, everything is just a few clicks away. Importing a character or moving a final copy of the video to storage, all can be done within a few minutes.
A user can also choose whether the drawing hand uses chalk or a marker in the video.
There are 5 background options: Whiteboard, Chalkboard, Green Chalkboard, Glassboard, and Blackboard. You can also customize various dimensions of the background board.
On the left, you will find a pan containing the characters, scenes, props, voiceovers, etc. to select and drop on the canvas.
Verdict
Doodly's User Interface can be rated 4 out of 5. Ease of use does comprehensively attract even novice video creators who are looking for a medium to express themselves. The multiple backgrounds make working on it exciting.
The newly added Glassboard makes it look like doodling on a glass where a person on the opposite side can look at it, one of the many smart features already available with this Doodly software version and you can expect a lot more of the same in the future updates.
Top Doodly Features
Custom Images
Doodly features an exhaustive library of custom images. This feature is loved especially by users looking to make unique videos. This section contains more than 200 characters in 20 different poses that can match any scenario.
The library also comes with 20 backgrounds and props to choose from.
All of this ensures that the creators have everything they are looking for while doodling. It also provides users with the option to order a custom job from Doodly if they do not find what they need.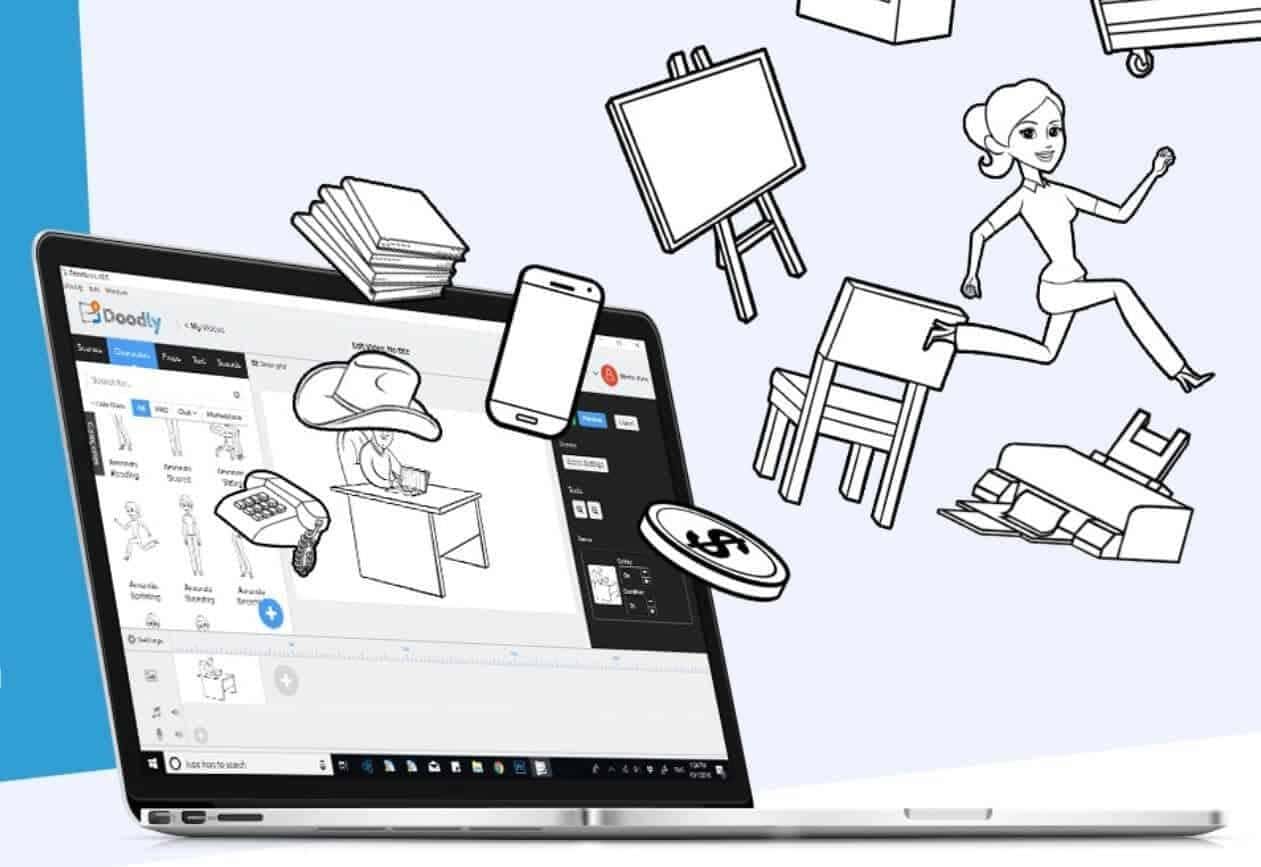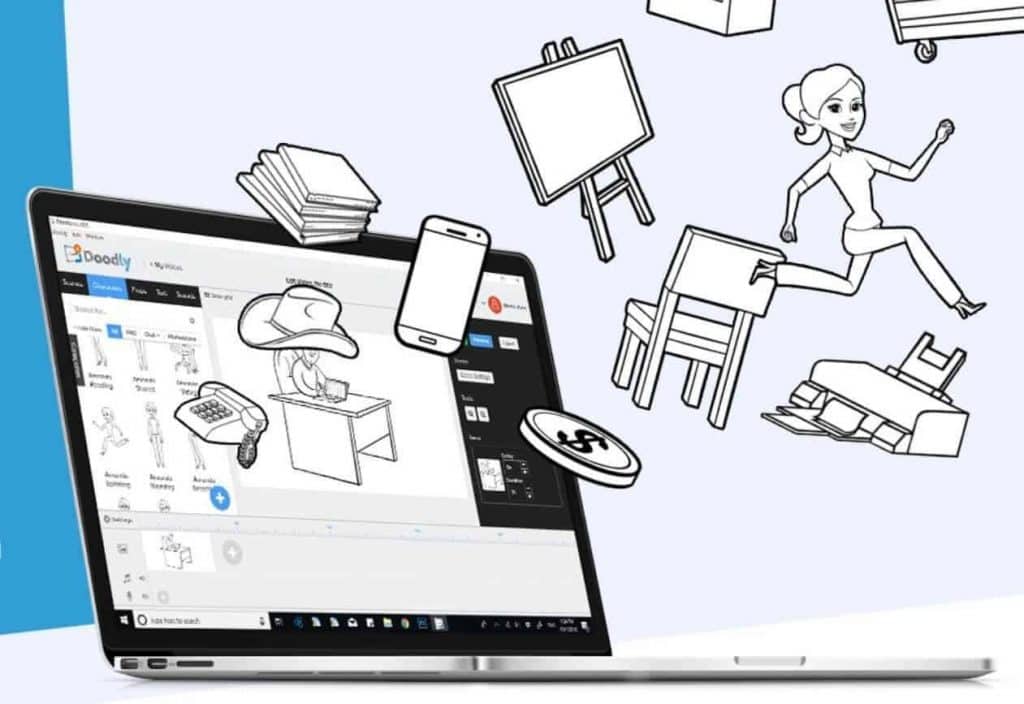 Video Editing
Editing a video could be tricky especially if you are an inexperienced video creator. Doodly makes it easy. It's simple to use as a video editor, allowing users to tweak several facets like, deleting scenes, the timeline, duplicating scenes, etc. Doodly also offers the liberty to edit the length of each stage while sketching.
Free Tracks
With this feature, users can add sounds from several available selections. The software allows two sound slots each: one for voice-over and the other for the background score.
A video creator can edit these sounds until the desired result is achieved. The no. of soundtracks will differ based on the type of package available. Platinum. Gold and Silver Package offer 80,40, and 20 tracks respectively.
Exporting and Sharing
Doodly allows easy export and sharing of content. The user can even choose the parameters of the video including frame rate, resolution, and quality of the video.
After setting the parameters, the user can directly share the content to social media platforms like Facebook, Twitter, Instagram, and YouTube integrated within Doodly.
Hand Styles
A user can pick from an assorted set of different hand styles for their characters. With 13 cartoon hand styles and 15 different real hand styles, the tool also offers customization features like making the hand left or right-handed.
Custom Draw Paths
With this tool, a creator can make customized draw paths to any imported image. Thus, it makes an imported image look natural as if it has been drawn on the canvas. A user can also import SCG paths and add SVG images.
Doodly Support
The standout feature of this software is that you can avail Doodly support any time you want. You can check out Doodly tutorials available on the official website for new users to learn the in-depth concepts of video creation and how to best use the software to that end.
The request function of the software lets a user create requests to the Doodly team for suggestive changes they want to incorporate in the software's future updates.
Doodly Pricing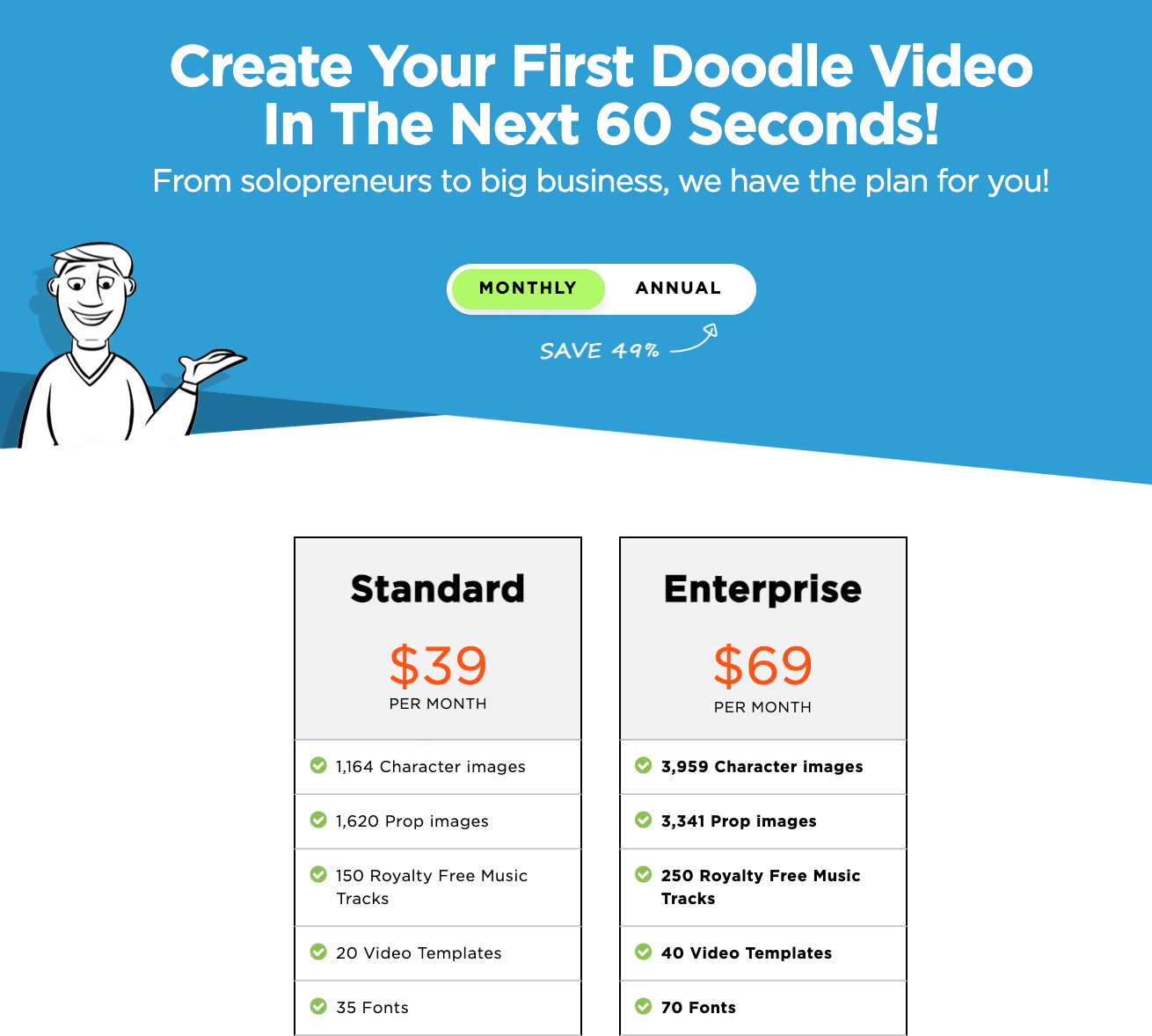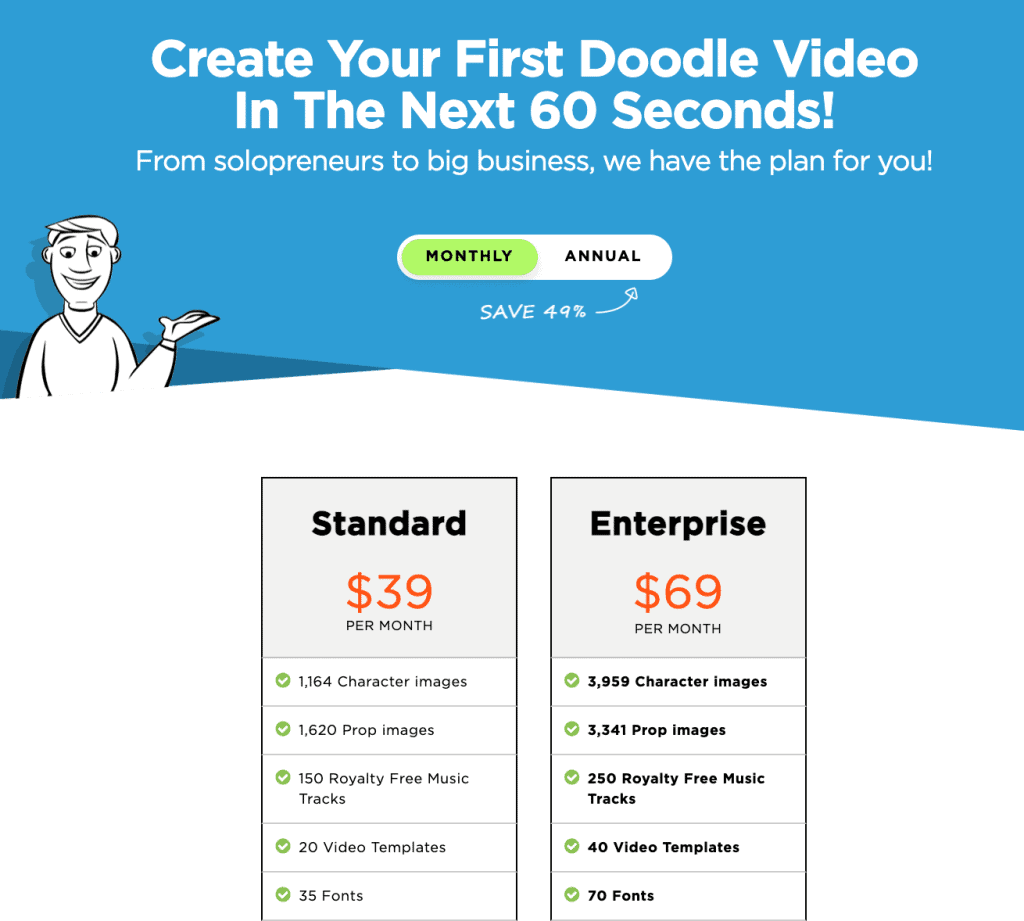 Doodly comes with two pricing options for users –
Doodly Enterprise Package is priced at $69 when billed monthly and $40 when billed annually.
Doodly Standard Package is priced at $39 when billed monthly and $20 when billed annually.
In the Standard Plan, a user has access to Doodly support, can install it on multiple devices, and get 803 characters, 1157 prop images, 84 scene templates, to create unlimited videos, and gain access to 100 royalty-free audio tracks.
The Doodly Enterprise subscription has higher pricing while offering 3596 characters, 3000+ prop images, and 150 royalty-free tracks with new doodles added to the catalog every month. Other features are the same as the standard plan.
The monthly billing plan offers the liberty to cancel a subscription at any time.
However, this plan costs more compared to the yearly package. It is recommended to new users that they should go for a monthly plan and based on their experience, decide whether to take the year-long subscription or not. 
Doodly Drawbacks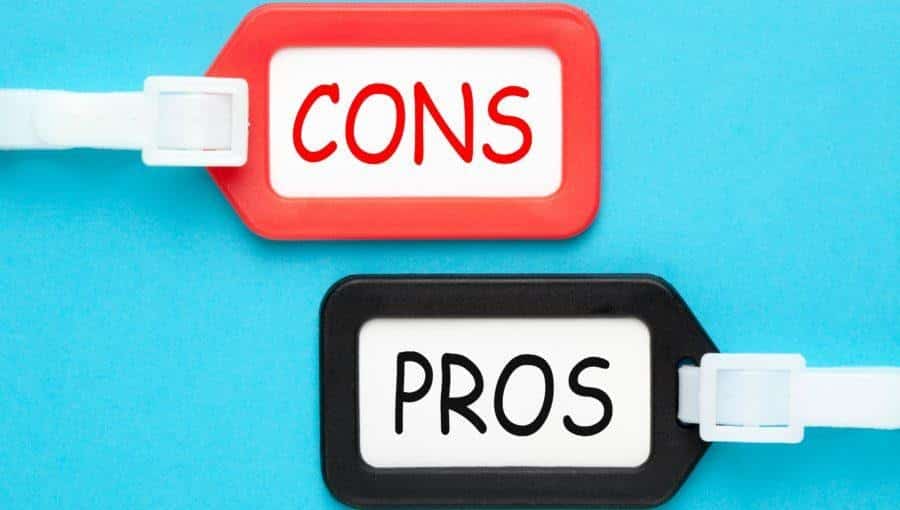 There is no doubt about the plethora of assorted features of Doodly and the impeccable support offered by the support team. But there are also a few drawbacks that a user may experience.
A free trial period is not available with Doodly. Although a user gets a 30-day payback guarantee they cannot use this software if they are unwilling to pay the fee for at least one month in absence of a Doodly free trial.
Another major drawback is in the Standard Doodle Pricing plan. There were no color images available in this plan and if a user needs color images. This makes buying the Enterprise plan somewhat compulsory for users looking to create colored content, a major letdown although we totally understand Doodly's POV.
Doodly Review: Pros and Cons
Pros
Easy-to-use for a whiteboard video creator.
Regular updates and handy customer support.
Plenty of doodles and custom image support.
Large image and media catalog to create unique content.
Cons
No colors without the add-on in Standard Plan.
Doodly does not work offline. (At least the animations won't.)
Audio features are limited.
Could prove a bit costly for users looking for a simple tool to create fun and animated videos.
Very limited content creation opportunities with the Standard subscription.
Doodly Review: Is Doodly Worth It?
In our experience with Doodly, we found that it is definitely one of the best software for new whiteboard animation video creators. The simplicity it offers in its use is second to none.
However, high pricing and a lack of a free trial period could drive away potential future users. Its simple features and a huge catalog of images make up for the price.
Highly customizable features with amazing customer support are other plus points of this software. We recommend that, if you are a seasoned video creator but a little short on money, then you can look for other options.
If can afford to pay the price for this Doodly software, we recommend it, especially for the Enterprise subscription and given that you intend to create multiple videos.
Doodly Alternatives
With multiple companies venturing into the business of offering video creation software, Doodly is experiencing some stiff competition from new competitors.
Every competitor is offering some new features with the standard to entice the target audience. So, we have decided to give our readers a peek into the top 3 competitors of Doodly.
Let us quickly go through the Doodly alternatives to develop engaging animated videos.
1. Toonly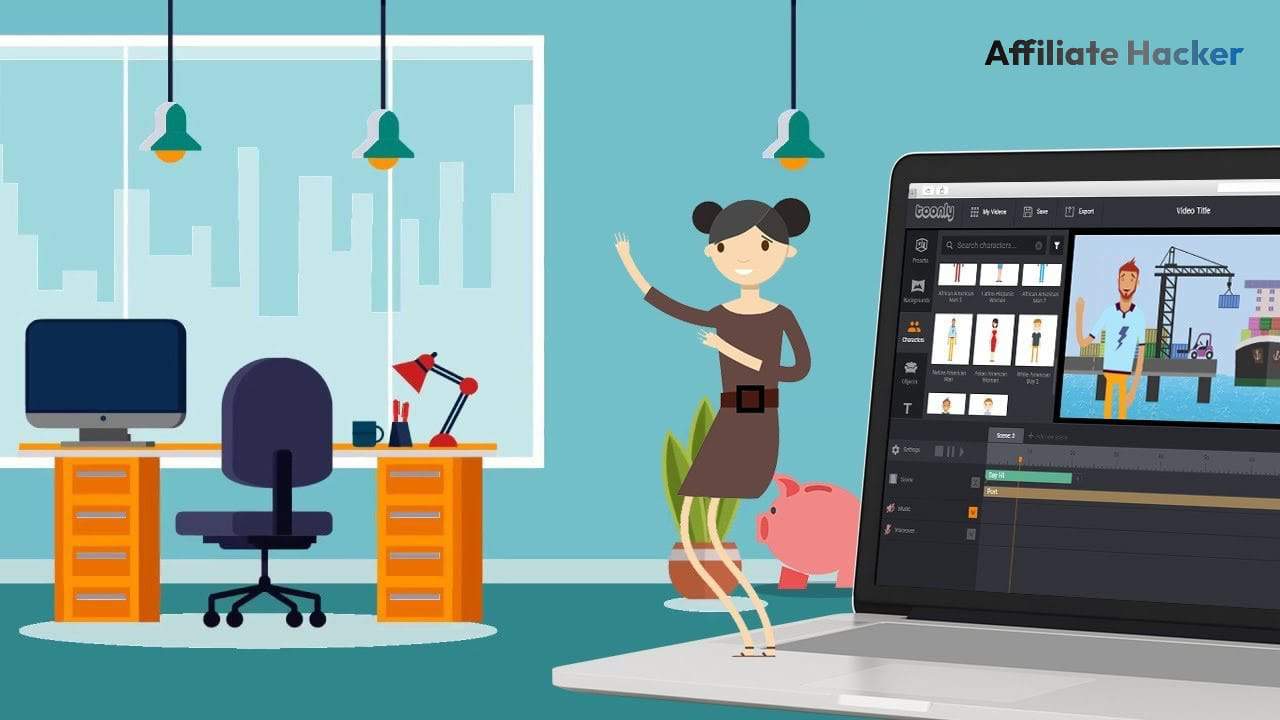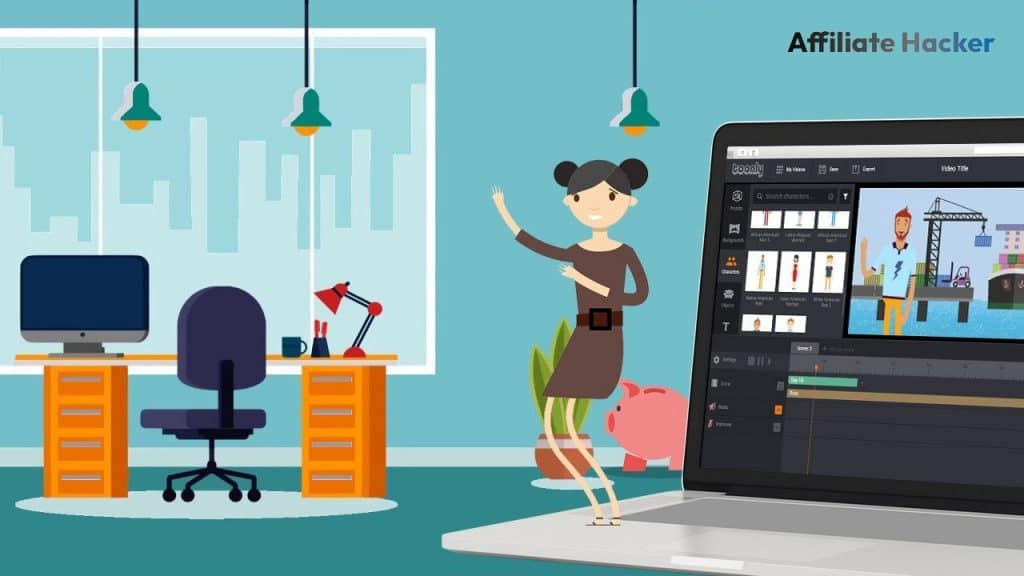 Often regarded as the best tool to create explanatory videos, Toonly is inarguably the best Doodly alternative out there. The tool features a drag and drop editor and allows the user to choose the dialogues and motions for the video. This helps in creating visually appealing instructional; videos meant for teaching or learning.
2. PowToon
PowToon features a collection of over 40 animation characters. It offers 3 different plans for its users starting from $19 per month to $99 per month. Compared to Toonly, PowToon has a larger collection of animations and objects.
It also allows the usage of custom images, GIFs, and voiceovers to create unique videos with a varied range of video elements.
3. Animaker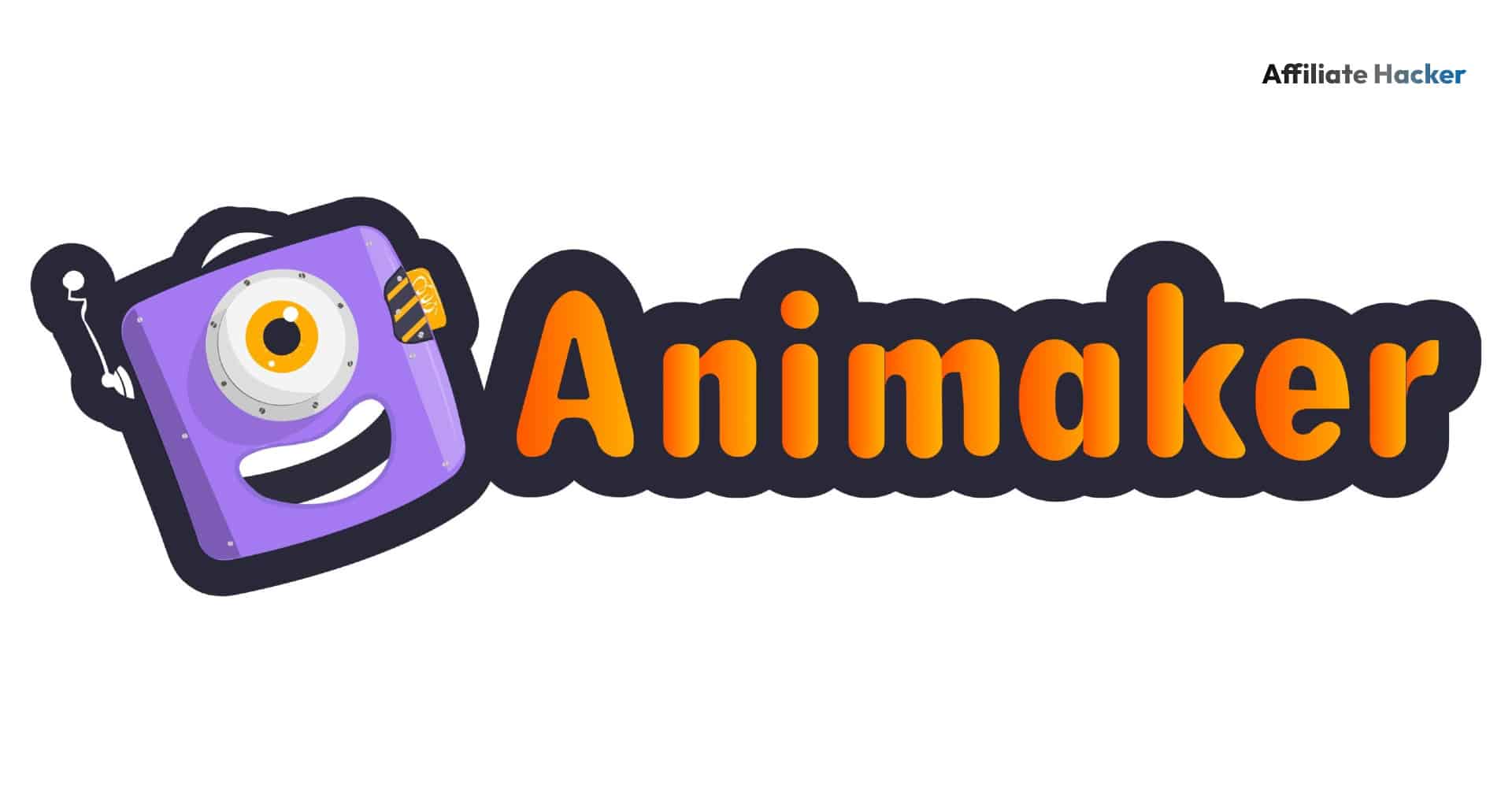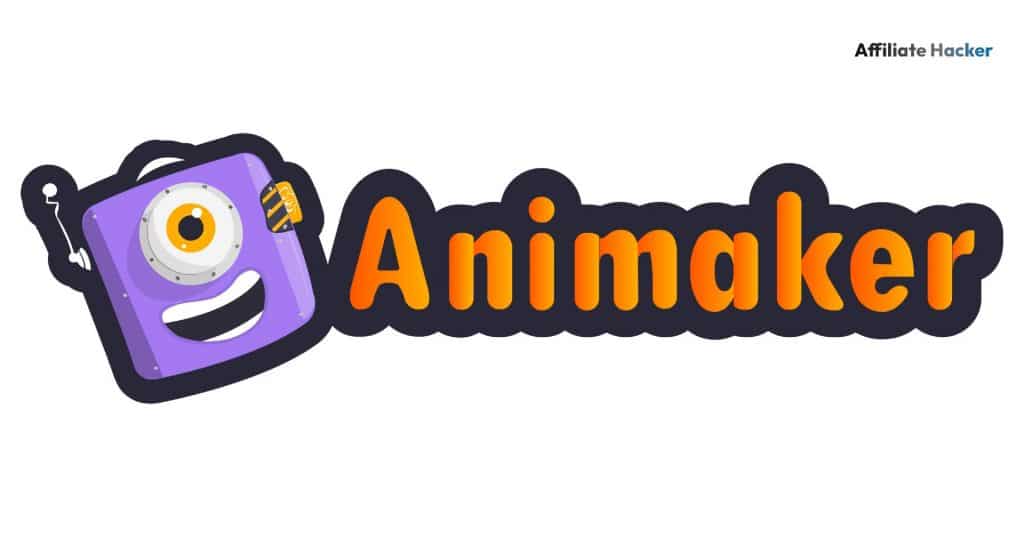 Animaker offers object and character-building opportunities along with other features in its package. Using the character-building tools, a video creator can do as many iterations as he wants on his character.
It also features a stock of over 100 million photos and media adding up with the varied editing features. Users can also pursue live video editions and develop GIFs with this software.
Conclusion
We can say that Doodly is for those who are looking for an easy-to-use whiteboard animation video creation tool. It might be a bit hard on the pocket, but for new creators, this software can be undoubtedly considered the first choice.
To sum up this Doodly review, we can say that it is obviously the best at what it does. If you think doodles are the best way to engage your target audience, there is nothing better than this Doodly software.
However, if you're looking for video content beyond just doodles, you should consider the likes of Toonly or other video and animated content creation services. Either way, for what it's worth, we totally recommend Doodly. It's fun, simple, brilliant, and under the right hands, can seriously create highly engaging video content.
FAQs
Which is better Doodly or Toonly?
Doodly and Toonly are two different software. Doodly offers a sketching format while Toonly offers a transitioning animation format. In the end, it depends on the end-user, what kind of video he wants to create, and can choose the suitable one. The pricing of the package is somewhat similar although Doodly seems to be a little expensive.
Does Doodly offer any affiliate program?
Doodly's affiliate program offers a 50%commission after 30 days of the initial sale. Users can sign up for the affiliation program via the Affiliates link on Doodly's official website. After signing up, the user will receive a link explaining further steps to successfully be a part of the affiliate program.
Is Doodly any good?
Doodly is a one-of-a-kind animated video content creation tool that does not mandate video editing expertise from users. It is easy to use and just about anyone with basic computer skills can create unique video content with it.
Doodly is limited to animated doodles as video content, not specific 3D objects available on other similar video content creation tools. If you think doodles can suffice for the video content you want to create, Doodly should be your first-choice animated video content creation tool.