Pros
It offers you over 50 templates in 15 popular niches
One point and click software enables faster e-book creation
Offers you an automatic content engine
Access to this website comes with a commercial license
Cons
No training on how to sell eBooks
Upsells to access all its features and services
Offers simple layouts as compared to monthly paid websites
While videos and images are a fantastic approach to interacting with potential customers, internet marketing strategies have vastly modified the business arena. For product-centric businesses, one of the best ways of connecting with a potential customer is using eBooks.
eBooks are a great way of marketing products to interested customers and getting them on board. The only catch here is the time required to create one. For instance, creating an eBook require a plethora of professional help from writers, graphics designers, and online editing tools.
Sqribble is one such platform that can simplify the entire process and help you create an eBook in days. We are bringing you the Sqribble review with an in-depth explanation of its features and services. To learn more about Sqribble, pricing, and alternatives, keep pressing the page down button.
What is Sqribble?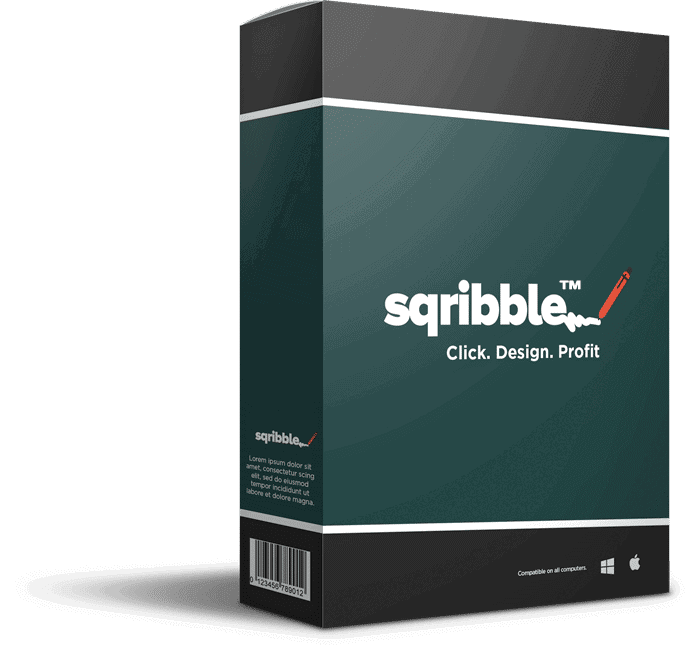 Sqribble is a one-click designing platform that you can purchase and use, albeit with a properly functioning internet connection. There is no software to download, update and maintain. Instead, you get a cloud-based service that you can access from any corner of the world with decent connectivity. A faster internet connection is recommended for better loading times, but other than that, Sqribble is rated as the –go-to app for eBook creation.
It allows you to convert an entire website into an eBook by just pasting the location into the URL box. With its unlimited page support, there is no limit to the length of content you can develop and choose from multiple page designs. This eBook creation software allows you to choose from thousands of pre-written articles from its automatic content engine.
Sqribble Features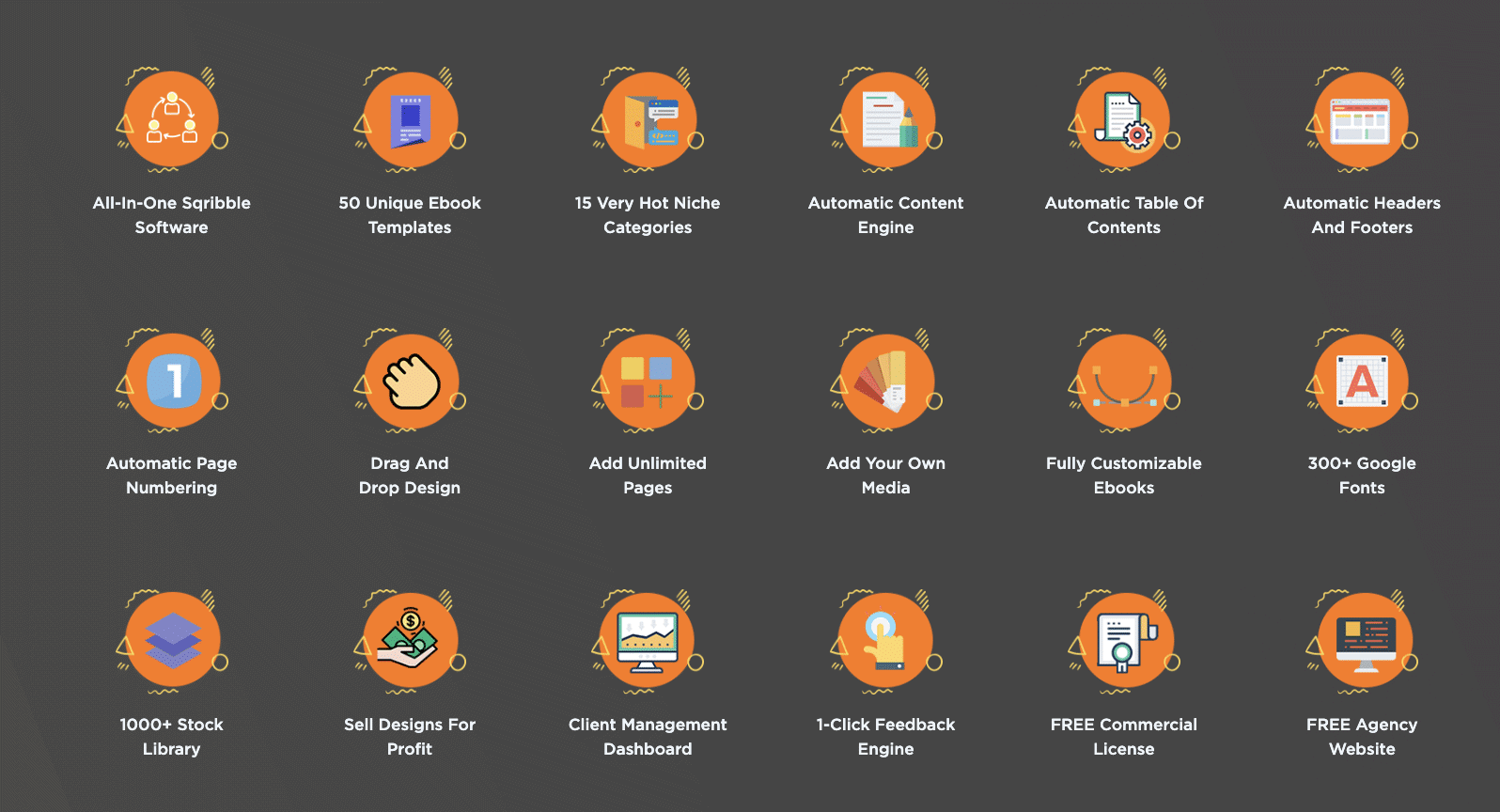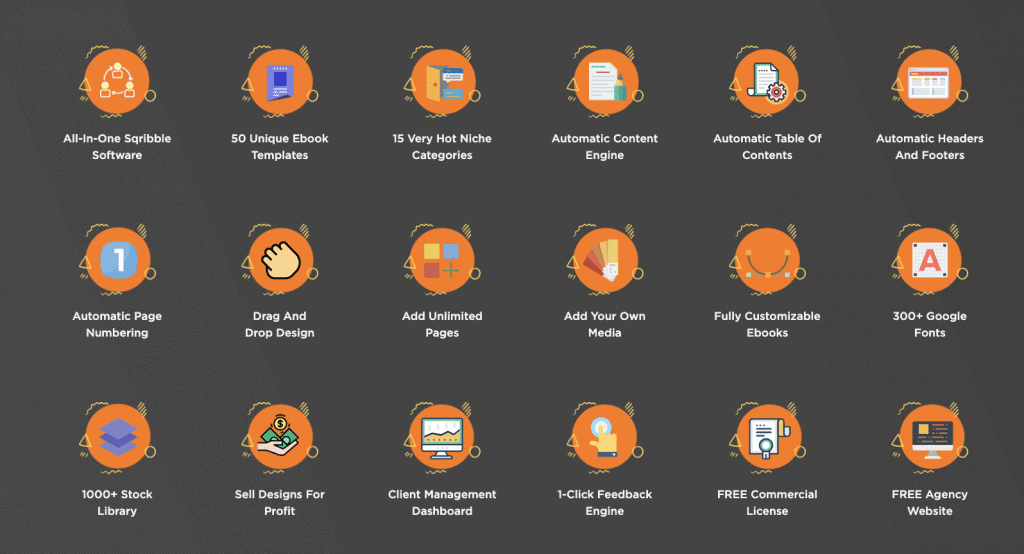 Pre-designed eBook templates: You get over 50 templates to choose from 15 popular niche categories.
60-second creation: Once you have all the content and images ready, you can create an entire eBook, Reports, and Whitepapers within a minute. You may need a few extra minutes only for customizing the content and publishing the document.
Readable on all devices: eBooks created using Sqribble are optimized for better readability on personal computers, tabs, and smartphones.
Automatic Content Writer: If you are more into just the content without considering the source, one click, and you will have access to the most professionally written content from multiple different sources. There is no need to spend hours on a professional services website to find a good writer and then wait for the content delivery. You can get the content from your website or add word documents with just one press of a button.
Smart Header and Footer: Sqribble automatically inserts header and footers into your eBook. You can add URLs, logos, and branding, or use them for different actions to keep the reader engaged in your content.
Complete Formatting Freedom: Change text color, background or highlight easily along with almost any formatting task you may require.
Choose Elements: This menu offers multiple editing features such as Headline, Single Image, Paragraph or Text blocks, Divider, Button, Image Feature, Bullet List, or Image Bullet Lists.
Unlimited pages: There is no limit on the number of pages on an eBook. You can create the eBook as detailed as you wish.
Google fonts: Add some of the coolest web fonts with access to over 300 Google fonts.
Free Commercial License: This License allows you to create unlimited eBooks and reports and sell them to your clients. You do not need to pay any annual fees or royalties to Sqribble!
Client Management Dashboard: Easily manage the progress of all your clients with a dedicated dashboard provided by the software.
Feedback Engine: Once you have created your eBook, you can share the auto-generated private link you get the client's feedback before finally sending them the copy. This engine offers insights for your reader to provide feedback for changes they want on the eBook. It makes tracking and changing the review far easier.
Pricing


When it comes to the price of this eBook formatting software you get a lot more features, support, a Commercial License, and Agency Website for a nominal charge of $67.
This one-time price includes their Commercial License of $497 as a complementary add-on. They also provide you a custom Agency Website worth $997 within the same bundle. At just $67, this highly competitive Sqribble pricing is not meant to last long so you would do well to get it soon. But not before working through this task.
Customer Service
They have segregated customer service tabs, which help differentiate the request according to product or order support. To access their support, you need to drop a request filling in all the details of your issue. You will have to add your email address, and select an issue type from their custom page, General, Credentials, Billing, Sqribble Login, Bugs, Feature, Affiliate queries.
Furthermore, you can add a specific subject, describe your issues and even attach images for better clarity. Once that is done, submit the request, and you are good to go. The general response time varies from 6 to 12 hours. But you are immediately issued a ticket number after submitting your service request.
Money-back Guarantee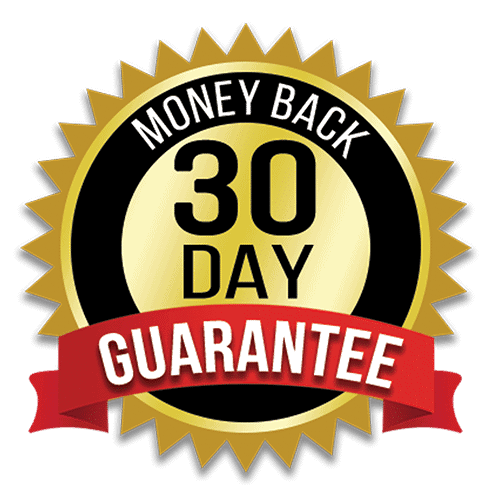 Sqribble offers a 30-day no questions asked refund policy. It is excellent for first-time users who get time to use this cloud software, and if it fails to fulfill their aspirations, they can claim a refund. Sqribble claims a 100% refund without any deductions, with total support for during this period. Unlike free trials, this version would offer you complete access to all the services and tools, which is an excellent way of accessing this eBook design software.
This feature should be considered as a replacement for free trial services, a win-win situation for both parties. Those who don't like this software can demand a refund within the 30-days while Sqribble gets to add a customer if they are satisfied.
Worth mentioning, that we have gone through a number of user reviews, who have opted out of Sqribble. Most users were looking for some other functions not available on the software, more specific to Adobe. Only a few users were unsatisfied with Sqribble.
How does Sqribble Work?
Creating an eBook has three crucial parts. The first one is gathering the content. The next step is adding images that add value to your overall content, and then comes the customization of your background. You can even create your content.
Gathering Content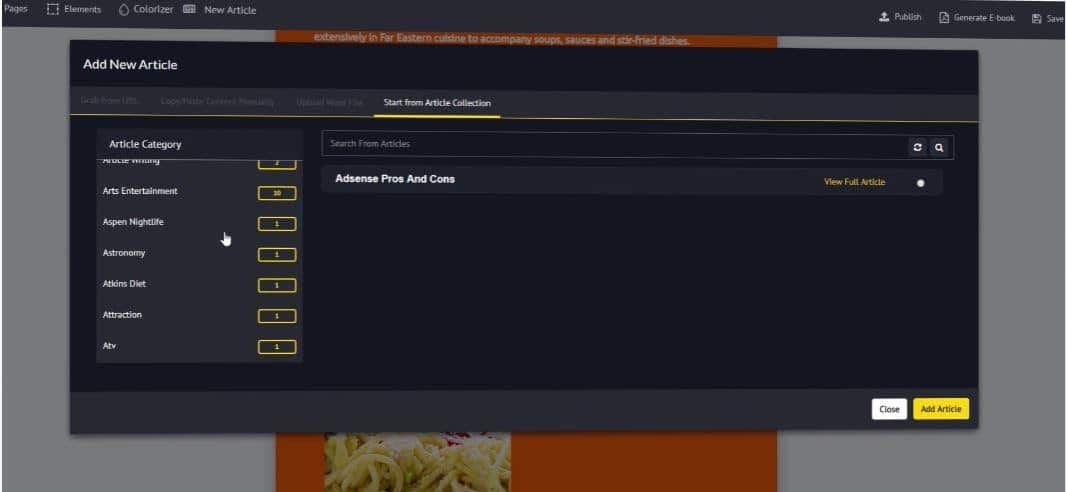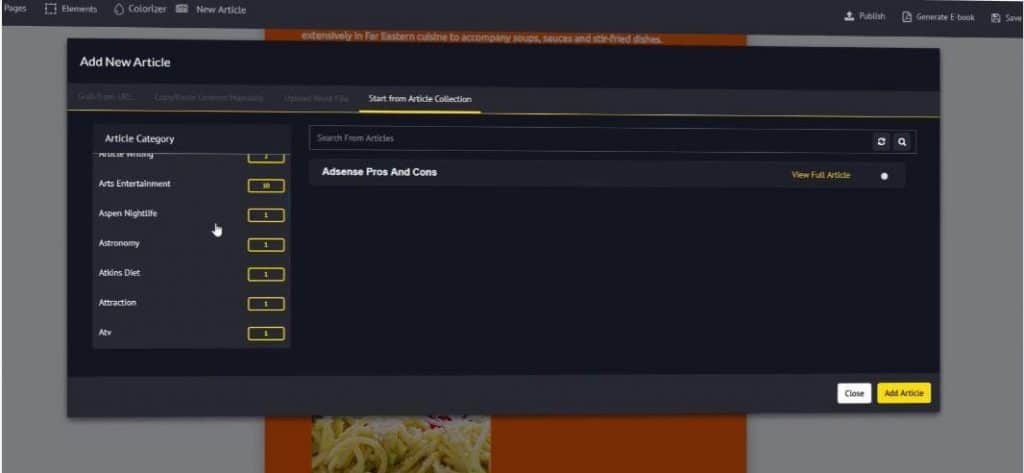 For adding a new file to your webpage, you have multiple options –
If you are a writer or already have a website with written content, there is no need to drag and drop each article to the eBook. Instead, you can copy-paste your website URL into the Grab from URL section. This smart tool will only copy the content, including images and written texts while leaving out the HTML tags.
Copy/Paste Written Content
Don't have your website published? No worries. Sqribble has got you covered here too. You can copy-paste your entire content into this tab, and this software will take care of the conversion.
In case you have written everything on word files, the task is even more straightforward. Sequentially upload all your word files, and Sqribble will convert the entire content into an eBook.
Choose from Article Collection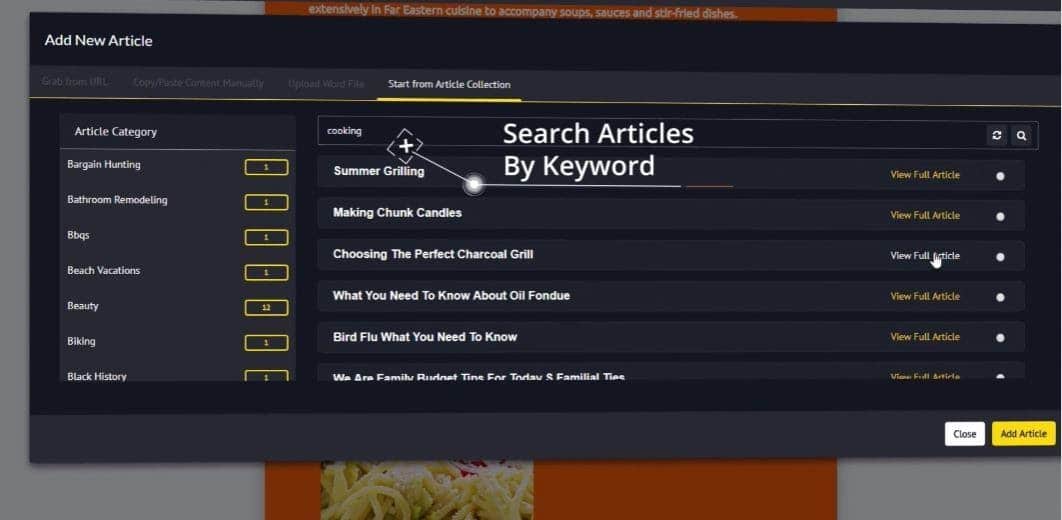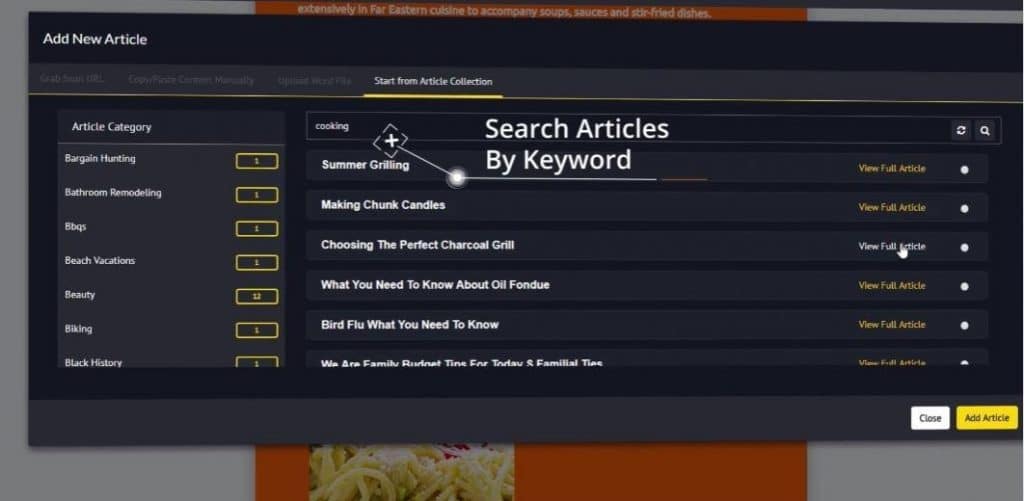 Choosing the article of your interest is just a two-click job. First, choose the article category and then search your keyword. Sqribble will display a range of articles for you to choose from. You can even read the complete article before selecting one.
The best thing about this automatic content engine is the customization of your selected article to your liking. After editing your content, the next step is to customize your theme, which takes just one click.
Choosing Images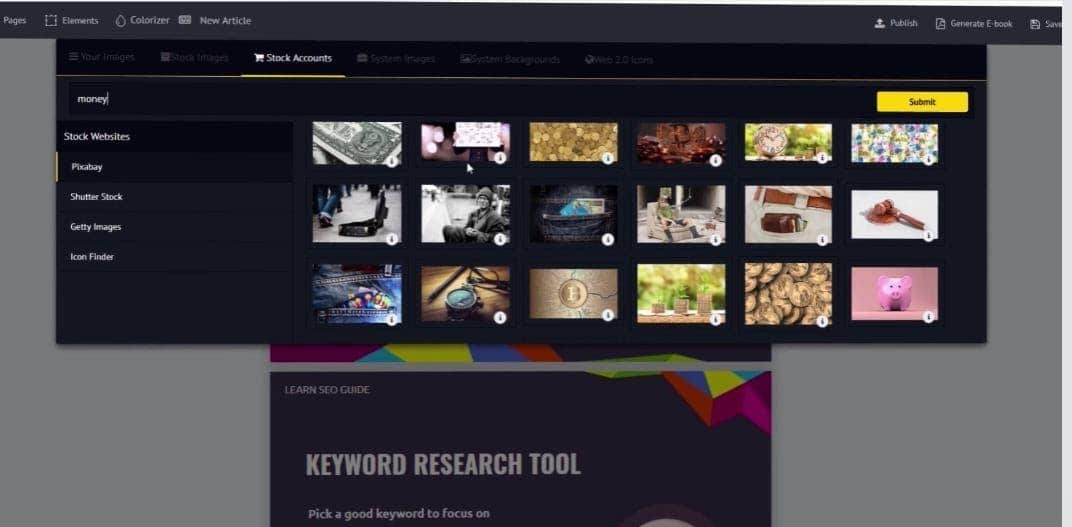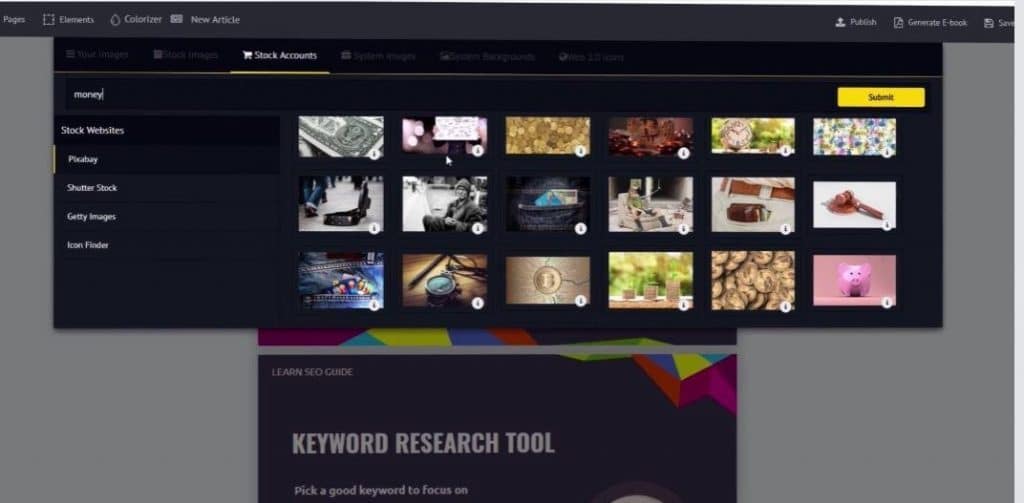 Images are an essential part of making your content vibrant and relatable. But finding good quality images that are not copyrighted is a considerable burden. Even a professional photographer cannot provide all the pictures you need. If a reader sees a plagiarized picture, it creates a terrible impact. Hence to create the perfect content Sqribble allows you six options.
Adding your own images
Choosing from stock images offered by Sqribble for free
Adding your stock image website accounts to Sqribble
Choose from system images
Choose from system background images
Select from web 2.0 icons
Each option offers you multiple templates and themes to help you narrow down your search to the exact image in your thoughts.
Adding Background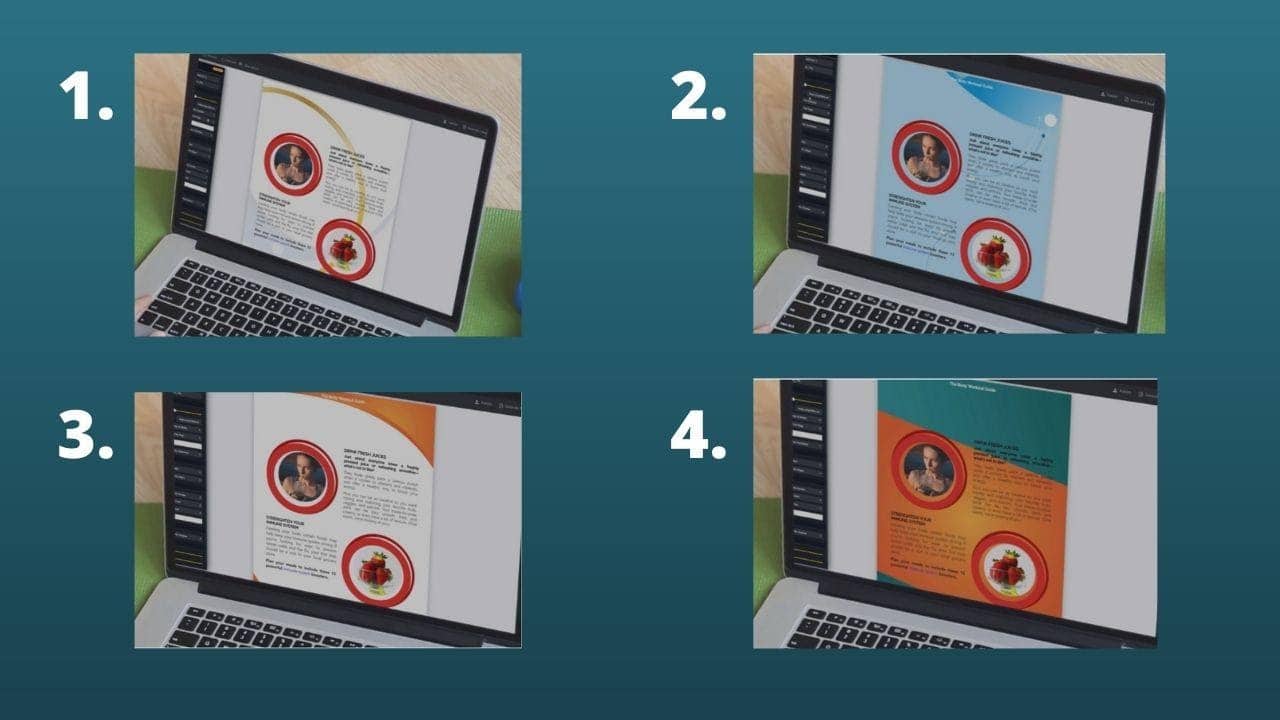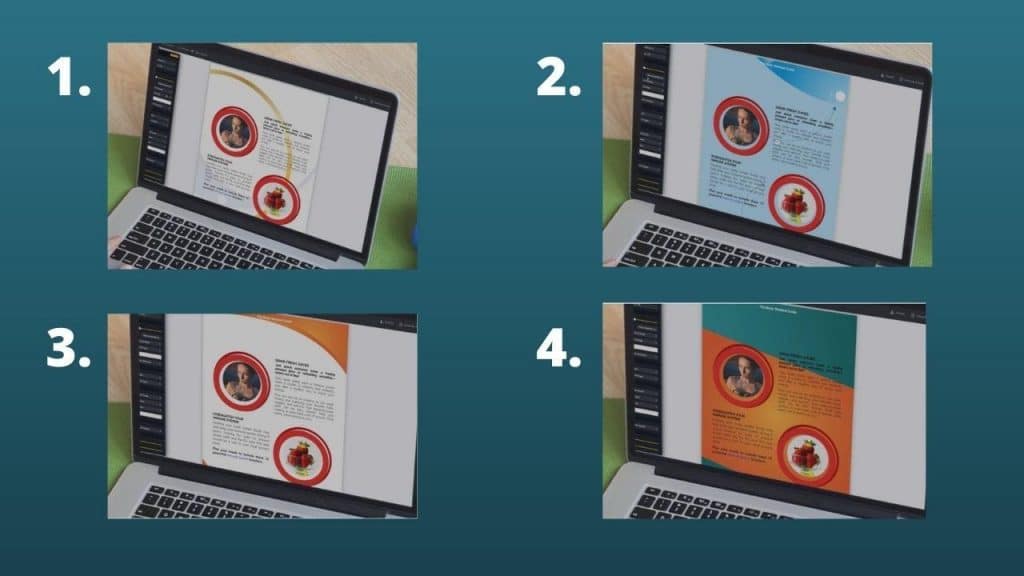 Explicit texts and white backgrounds are some of the most boring layouts for an eBook. Sqribble has got you covered with its massive collection of customizable backgrounds. You should select the background at the last stage to ensure your text color is not affected by the background effects you choose.
Once you have applied backgrounds to all the pages and templates, your eBook is ready for reading. However, you can still undertake a tremendous amount of editing and customization on your eBooks, such as customization of page number heading tags, adding website links in footers, and much more.
Is Sqribble Worth it?
For the features and support that you get in, just $67 seems too good to be true. When you consider what Sqribble is doing for you with a single, one-time payment, it feels like the cheapest website for creating eBooks. Leaving aside the features and support you get with this website; it is one of the most affordable services considering the one-time purchase. Although an experienced user may face issued with their services, it is perfect for new creators.
Sqribble Alternatives
A competitive market assures new products and features, which become beneficial for end-users. Sqribble too is not alone in the automatic eBook creating a niche. Sqribble alternatives offer similar or somewhat similar features.
1. Designrr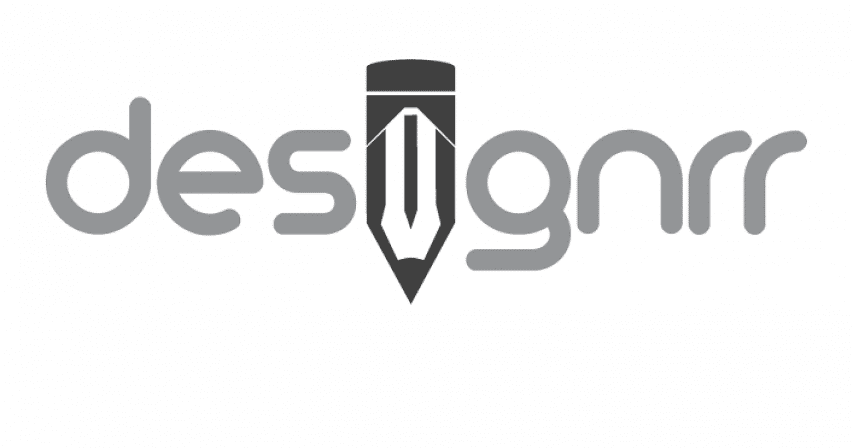 You can create eBooks, flipbooks, video descriptions, and much more. Designrr is also a cloud-based platform that allows you to take control of your eBook design. Designrr is available with different plans from Standard, Pro, Premium, and Business from $29 to $99 per month. It also offers an Agency plan for $249 per month. Read our detailed Designrr review here.
2. Canva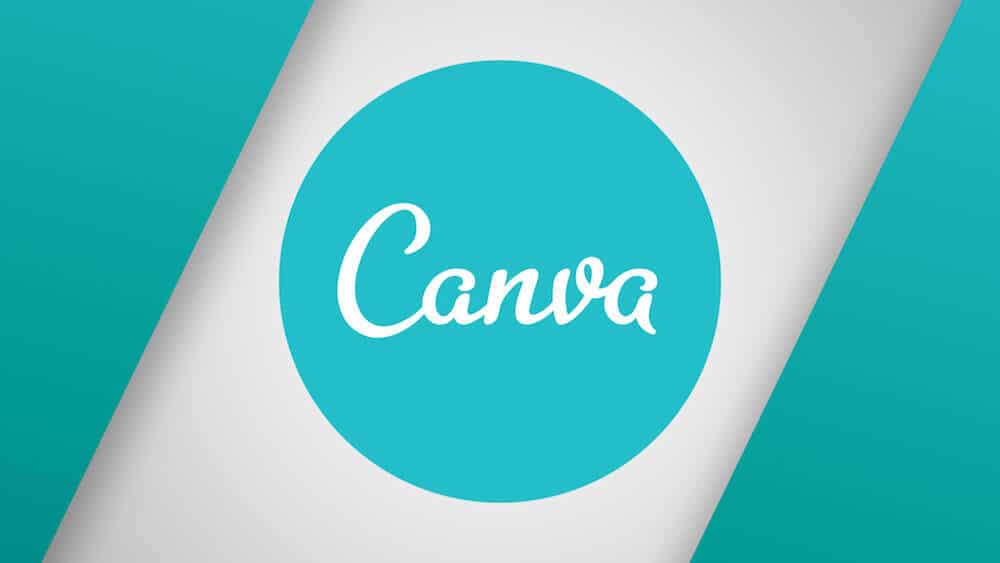 Canva is a cloud-based editing software that can enable you to create multiple different files from images, icons, covers, and eBooks. With an outstanding user interface and stock image collection that comes with the package.
They have three versions, Free, Premium for $10 per month, and Enterprise which comes with a charge of $30 per person per month. In case your team has 10 users/members, it will cost you around $300 per month.
2. Visme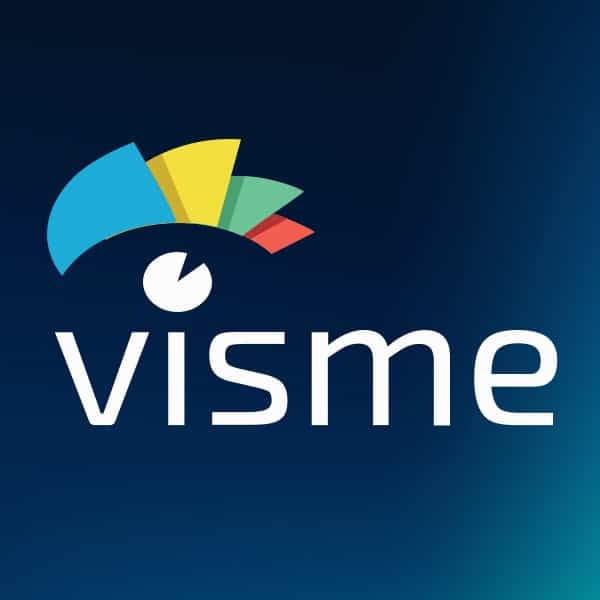 Visme has been used by industry giants such as IBM, Unilever, and others to create infographics and eBooks. It offers some premium services at three different prices. Standard for $15 per year, Business for $29 per user per month, Enterprise model at custom rates, for which you need to contact the support team.
Sqribble vs Designrr: Which One is Better?
Sqribble claims a list of services, while Designrr offers the same or more features at a much higher cost. Since Sqribble is available for a $67 one-time purchase, Sqribble is a must-try software. But when we compare the services and features, it is nowhere close to Designrr which offers over five different plans, that too on a monthly purchase plan ranging from $29 to $249 a month.
One feature-to-feature comparison Designrr takes the ground, but the price of Sqribble is comparatively cheaper making it more affordable. So, Sqribble vs Designrr ends inconclusive, since the vast price difference.
Conclusion
There are some minor issues with its Sqribble designs and its loading time being a cloud-based service. But its one-click edit and modify features have changed eBook creation and editing comprehensively. However, the design choices are not as intuitive as that of Adobe Suite or Designrr, which are much more expensive in retrospect.
But the features of automated content creation, pagination, headers, footers, and a one-click drag and-drop interface, there is little room to complain about layouts, and comparing it with services that charge 8 to 10 times per year doesn't seem fair.
If you are new to the niche of eBook development and searching for opportunities to generate revenue by selling eBooks, Sqribble is made right for you. We hope you find solutions to all your doubts by reading this Sqribble honest review.
FAQs
Does Sqribble offer training?
Sqribble offers training only on using the service and creating eBooks. They do not run any courses or training on actually selling your products and getting more clients. Although you may have an Agency website and Commercial License, this is not enough without specific skills. One might end up enrolling in a learning course on Coursera or Udemy. With proper marketing skills and strategies, your will, be able to make considerable money using Sqribble.
Sqribble doesn't have any hidden charges that you might need to pay at different intervals or based on the services offered. Once you purchase their lifetime membership, you have free access to most of their features. But to get the latest templates and stock images, you may have to spend some amount. However, not that upgrading your access to the newest content and pictures may require you to pay additional charges later not applicable on already available content templates.
Can I use it for business purposes?
Once you have purchased the service, you are free to use the service as you deem fit. That includes selling complete eBook service to clients and connecting them through the Sqribble provided free Agency website. Use their commercial License to market yourself as an eBook creator and take back the entire amount with just one client. You can even make it a career for yourself and offer all different sorts of services.