Social media has become an integral part of modern business strategy, and both large and small businesses use it to connect with their target audience, promote their brand, and increase sales. But if you would love to 5x your social media game, you need one of the best social media post generators available today.
Using AI writers for social media content can bring several benefits to your business. They can help businesses to:
Generate high-quality content quickly and efficiently.
Assist businesses in developing a consistent tone and style across all their social media channels.
Analyze data and suggest improvements to maximize engagement and reach; and so much more.
So if you're looking to get started with AI social media post generators but don't know where to start, I've compiled a list of the best social media post generators that I've used so far.
Comparison of the 7 Best Social Media Post Generators
Product
Pros
Cons
Starting price
– Plagiarism checker.
– Pre-built templates.
– Copywriting frameworks.
– Somewhat expensive.
$49/month for 50,000 words.

Try Jasper for free
– Chat-like interface.
– Very easy to use.
– Fully functional free account.
– No established frameworks & templates
– Occasional downtime on free mode.
ChatGPT+ costs $20/month
with no word limit.

Try ChatGPT for free
– Plagiarism checker.
– Pre-built templates
– Copywriting frameworks.
– Cheaper than most alternatives.
– Economy mode is basically pointless.
Free account starts at $0/month.

Try Writesonic for free
– Real-time performance score.
– Data-Driven copywriting tools.
– Uses customer reviews into ad copy.
– Can only access its best
features on the data-driven tier.
$24/month for 20k words.

Try Anyword for free
– Built to write copy, easy to use
– Intuitive interface.
– Cheaper than top alternatives.
– Not as good as the top alternatives.
Free account at $0/month.

Try Copy AI for free
– Simple interface.
– Wide range of tones of voice.
– Extreme restriction on the character limit.
Free account at $0/month.

Try Rytr for free
– Social media monitoring
– Post scheduling
– Brand tracking
– Free Social media Post generator.
– Expensive to access advanced features.
– No templates and workflows.
Post generator is free to use.

Try SocialBu
Criteria for Choosing the Best Social Media Post Generators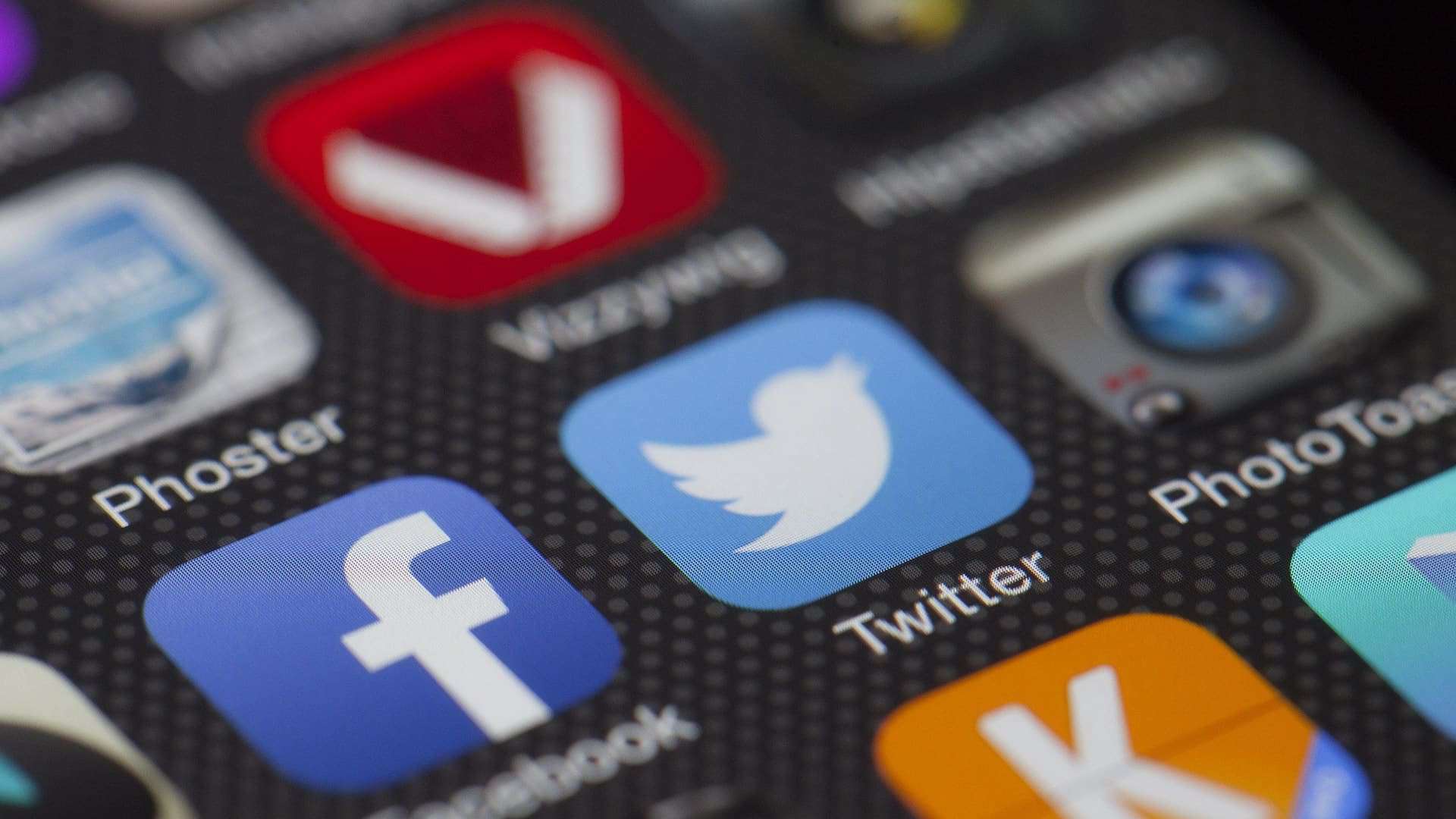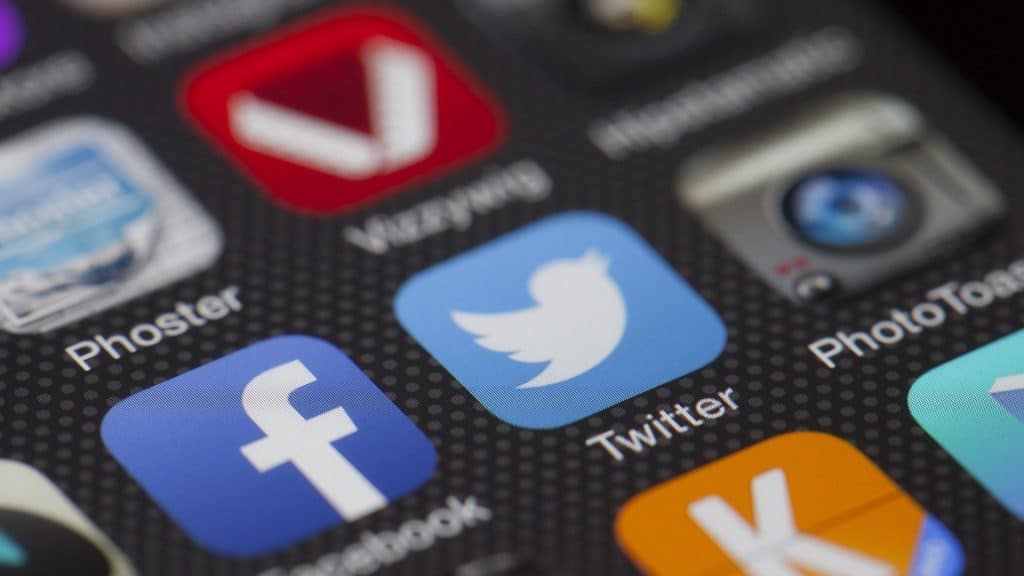 Confused about how to choose an AI writer that you can use for your social media content? Follow this quick guide to gain clarity:
Ease of use: I believe the most important thing for any tool whatsoever is an intuitive interface and ease of use. A complex tool is nothing but a source of frustration, and hatred for a tool will hamper productivity.
Supported platforms: some AI writers claim to be able to write social media content but need hundreds of words to share helpful information. Seeing as different social networks take different content lengths, it is better to find one that has existing workflows for different platforms.
Frameworks: these are essential if you hope to create random social media posts and also generate highly promotional texts to generate sales. PAS and AIDA are popular marketing frameworks you can watch out for.
Quality content: the quality of the content an AI writer generates is very important since low-quality content is basically unusable. It is important for your AI writer to be able to generate quality content from your brief.
Monthly credits: this is synonymous with cost as your subscription fee usually determines your monthly word-count allowance. Overall, it is important that you find a service with a high monthly credit system.
7 Best AI Social Media Post Generators
The 7 best social media post generators at a glance:
Jasper AI
ChatGPT
Writesonic
Anyword
Copy AI
Rytr
SoialBu
1. Jasper AI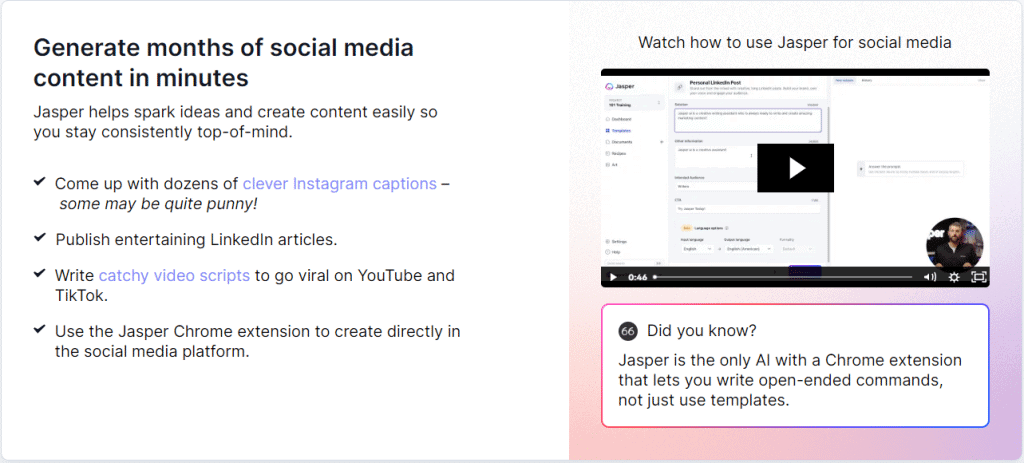 Being one of the first true AI writing assistants, it's no surprise that Jasper tops my list of the best social media post generators.
Since my encounter with Jasper, I've used it to streamline a ton of my workload, from writing blog posts and crafting emails to writing ad copy and brainstorming marketing ideas.
One more task Jasper is very adept at is generating posts for my social media handles.
I'm not referring to Jasper's ability to write copy for social media ads, but rather to write normal posts to engage my audience on LinkedIn, Facebook, and Twitter.
While I use the Short Social Posts feature and the Chrome extension to generate short tweets and comments, I regularly use the Quora Answers template to answer questions on Quora. Sometimes, these are repurposed on my LinkedIn and Facebook pages as tutorials or just information, as the case may be.
Jasper AI Free Trial
Jasper allows up to 5 days of free usage and lets you generate up to 10,000 words. It also gives you unrestricted access to all of its features within that period. And having 10,000 words, you can generate loads of social media posts.
With that, you can have a feel of the process and how the tool works in general. Get your Free Jasper Trial.
Jasper Features
Jasper can generate high-quality, engaging social media posts.
It has a content summarizer feature that can explain long blocks of text in a few sentences.
It can generate long-form articles and blog posts.
The 60+ templates make using the platform very easy.
It can write ad copy for social media and search engine ads.
It can make existing content even better.
It can write in 25+ languages.
Pricing
Jasper has two basic pricing tiers—Boss mode and Business plan.
Boss mode starts at $49 per month and you get up to 50,000 words for that. To get more words, you can bump to $82, $232, or $500 to get 100k words, 300k words, and 700k words respectively. For even more words, you'll have to contact sales for custom pricing.
The Business plan tier can only be gotten at a custom price, and it comes with benefits like custom word count, tailored AI brand voice, document sharing, dedicated account manager, and more.
2. ChatGPT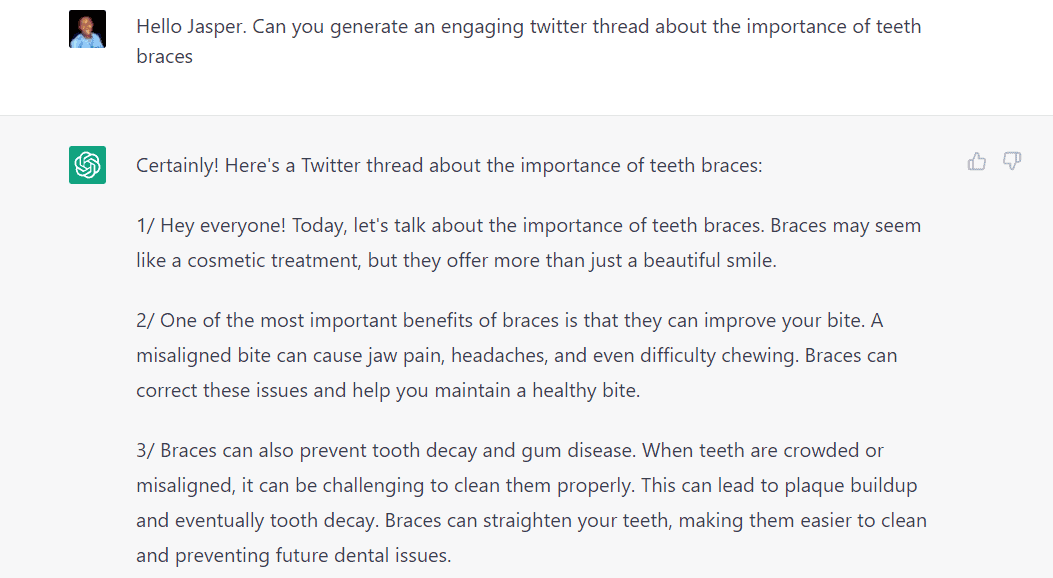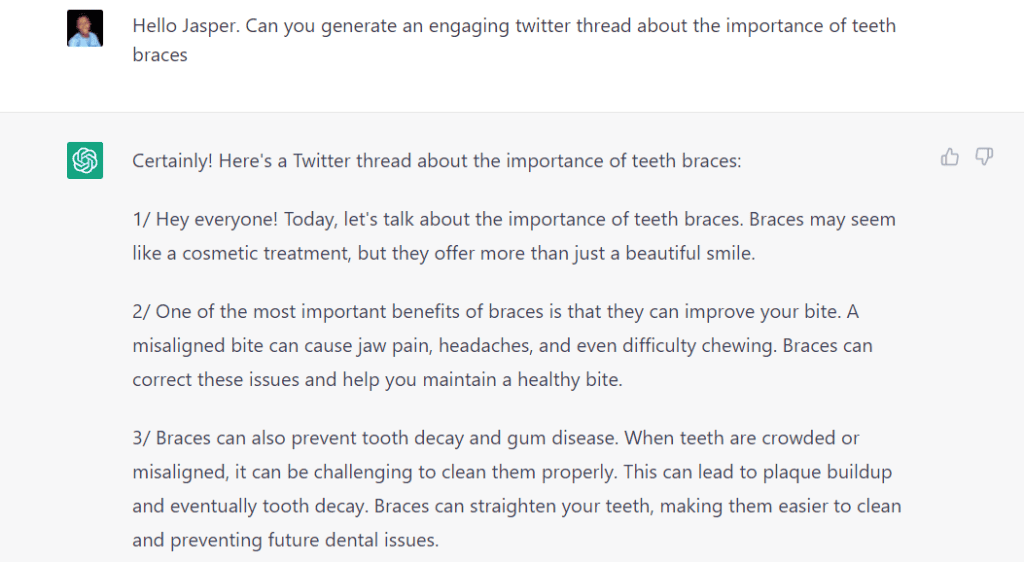 Right after Jasper comes ChatGPT on my list of the best social media post generators around.
In fact, many times, I find myself opening ChatGPT before any other app.
One of the reasons why I love ChatGPT is the chat-like interface. And oftentimes, I just express myself and it spits out amazing social media posts for me.
I use ChatGPT for many of my social media tasks; from planning to generating ideas to actually generating those posts. To use this amazing tool from OpenAI for your socials, it may help to specify whether it's a tweet, a Facebook post, or an Instagram photo caption.
ChatGPT Free Trial
ChatGPT remains largely free at the time of this writing. Although GhatGPT Plus has been introduced, there is still free access to anyone who wants to use the platform without paying a dime.
While on the free mode, however, you must bear with certain inconveniences such as downtime and occasionally slow response.
ChatGPT Features
It has an easy-to-use chat-like interface.
ChatGPT understands context.
It can tell if a piece of information is incorrect.
ChatGPT can rewrite a piece of content and make it better than it was.
It can write social media posts based on your prompts.
It can help brainstorm and flesh out social media post ideas.
Pricing
After the platform went viral, probably more viral than OpenAI projected, a ChatGPT Plus plan was introduced. This ChatGPT Plus plan goes for $20 per month.
While people on the free mode still have access to the full features of the platform, the perks that come with the plus plan include unrestricted access to ChatGPT, faster response times, and priority access to new features, among others.
3. Writesonic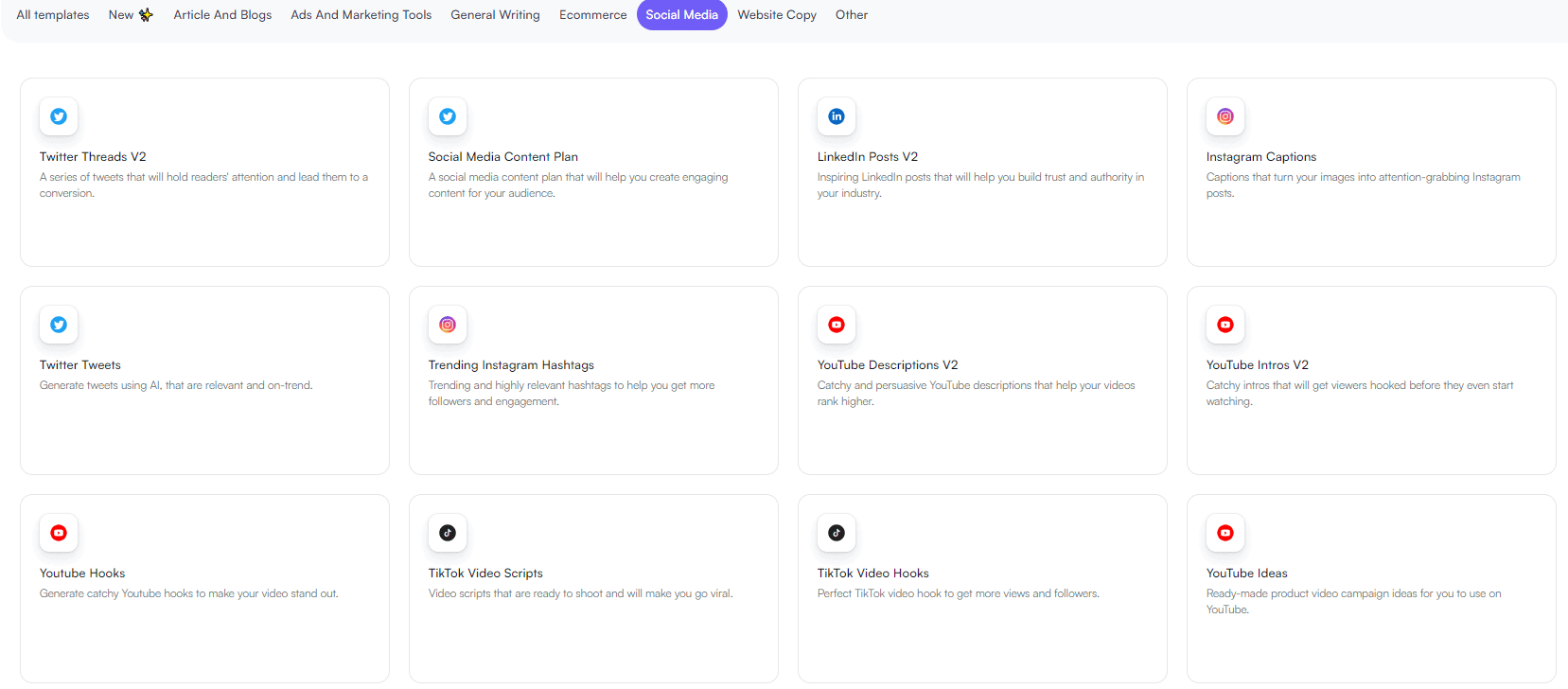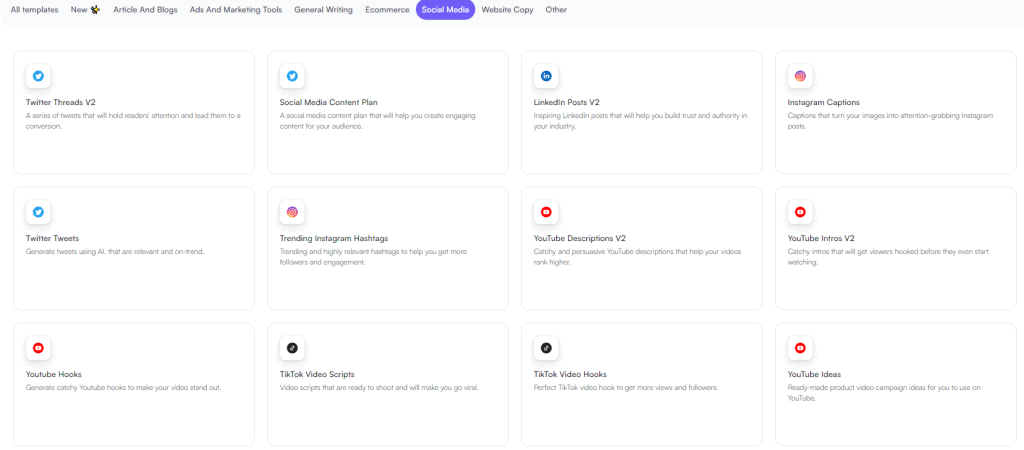 Writesonic is one of the first AI text generators I used, and over these few years, there has been tremendous improvement in how the platform works and the quality of the content you can get from it.
In the social media section under Library right on your dashboard are a host of social media tools you can use to generate anything from LinkedIn posts, to Instagram image captions, to Twitter threads, to TikTok video scripts.
There are also a number of YouTube-focused tools on the platform, and the social media content planner can help take the heavy lifting off your social media tasks.
Writesonic Free Trial
Writesonic offers a free-for-life account to its intending customers to have a taste of what it can do. This free account comes with 2,500 quality words per month and access to every major feature on the platform.
If you're looking to try Writesonic for a while before making a financial commitment, then you can try it for free. The best part is that your payment details are not needed upfront.
Writesonic Features
Writesonic can generate excellent social media posts using any of its numerous templates.
It can write plagiarism-free blog posts.
Its paraphrase tool can rewrite a piece of content.
It can produce persuasive copy for social media and search ads.
Writesonic can write product descriptions with features and benefits.
It can write in over 25 languages.
Pricing
Writesonic offers two pricing tiers: Long-form and Custom.
Long-form starts at $13 per month for up to 19,000 quality words and up to 190,000 low-quality words. You can also bump up your budget to $33 for 75,000 quality words and 750,000 low-quality words.
This goes up to a maximum of $666 a month which gives over 5.5m quality words.
The custom tier will require you to contact sales, but you get unlimited words. You get a dedicated account manager, training sessions, and a choice to train your AI to your brand voice.
4. Anyword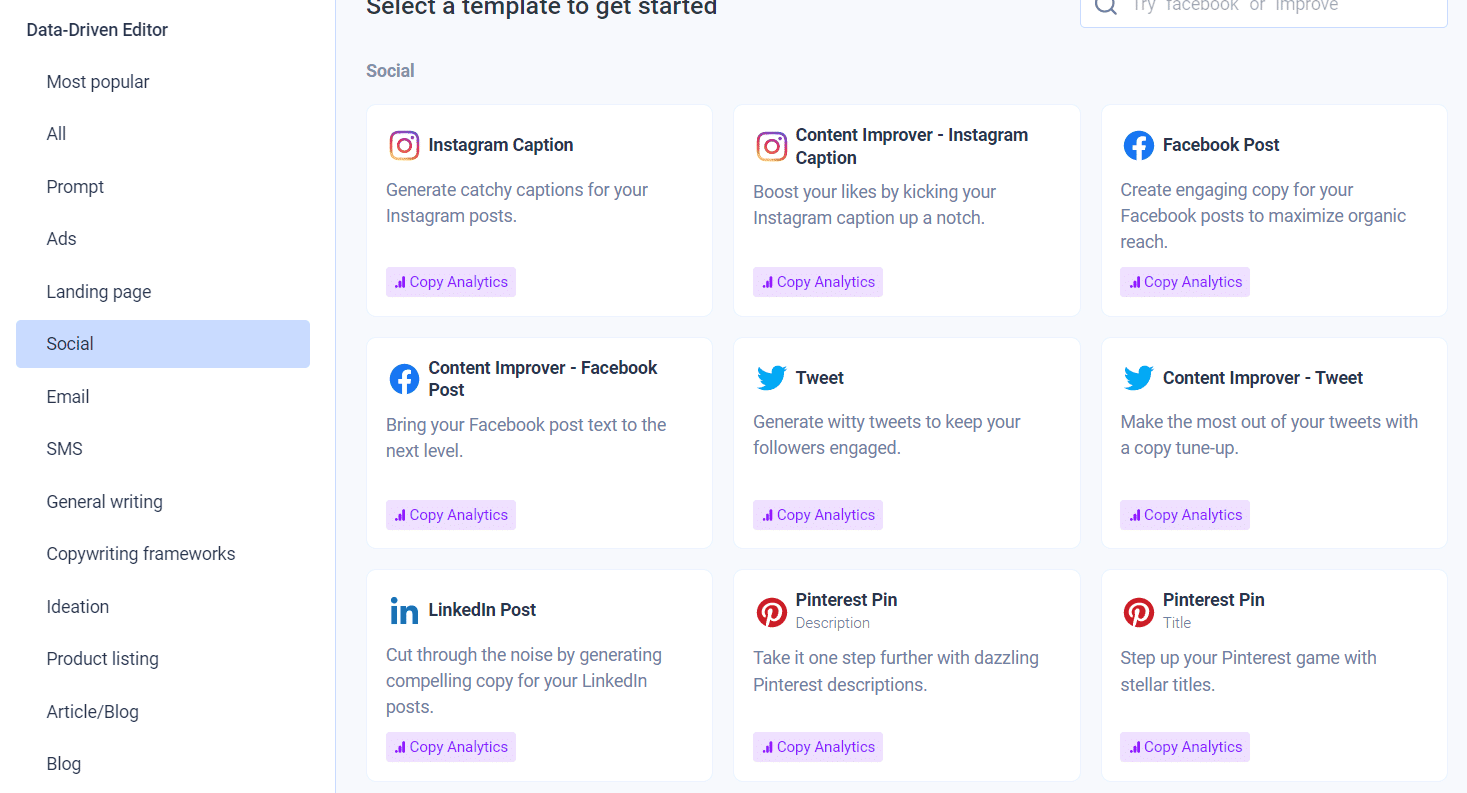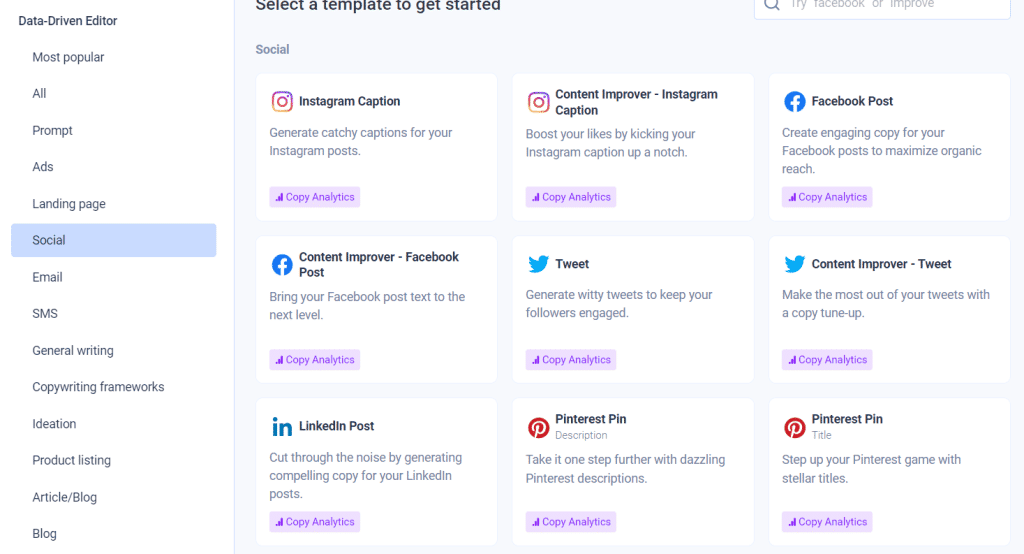 I was one of the first to jump on Anyword back in 2021 when its AI copywriting platform was launched, and I can say categorically that this tool is geared towards writing compelling sales copy for different use cases.
Anyword is not exactly the tool I would turn to for a general information post. Instead, I like to use it when launching or promoting a new or existing product for the sole purpose of driving sales.
Not that Anyword is bad at generating informational social media posts. Rather, it is a waste of its potential to ignore its copywriting prowess.
Anyword Free Trial
Anyword offers a 7-day free trial period with 2,500-word credits and every feature found in the Starter pricing plan. These include 100+ AI writing tools, 200+ data-driven copywriting tools, a blog post wizard, 30 languages, and multiple users.
Anyword Features
Anyword can generate social media posts.
It can write high-quality blog posts.
Comes with over 200 data-driven copywriting tools.
Has a real-time performance score feature that predicts performance.
Can write in over 30 languages.
Anyword can incorporate customer reviews into ad copy.
Automatically complies with ad policies online.
Pricing
Anyword offers two pricing tiers, which are Starter and Data-Driven.
The Starter Plan costs $24 per month and gives up to 20k words. You can also bump it to $49 or $166 to 65k or 300k words respectively, all on a monthly basis.
The Data-Driven plan starts at $83 for 30k words a month and can go up to $333 for unlimited words every month.
It also comes with amazing features like real-time performance prediction and tips to boost that score, which may increase conversion.
5. Copy AI.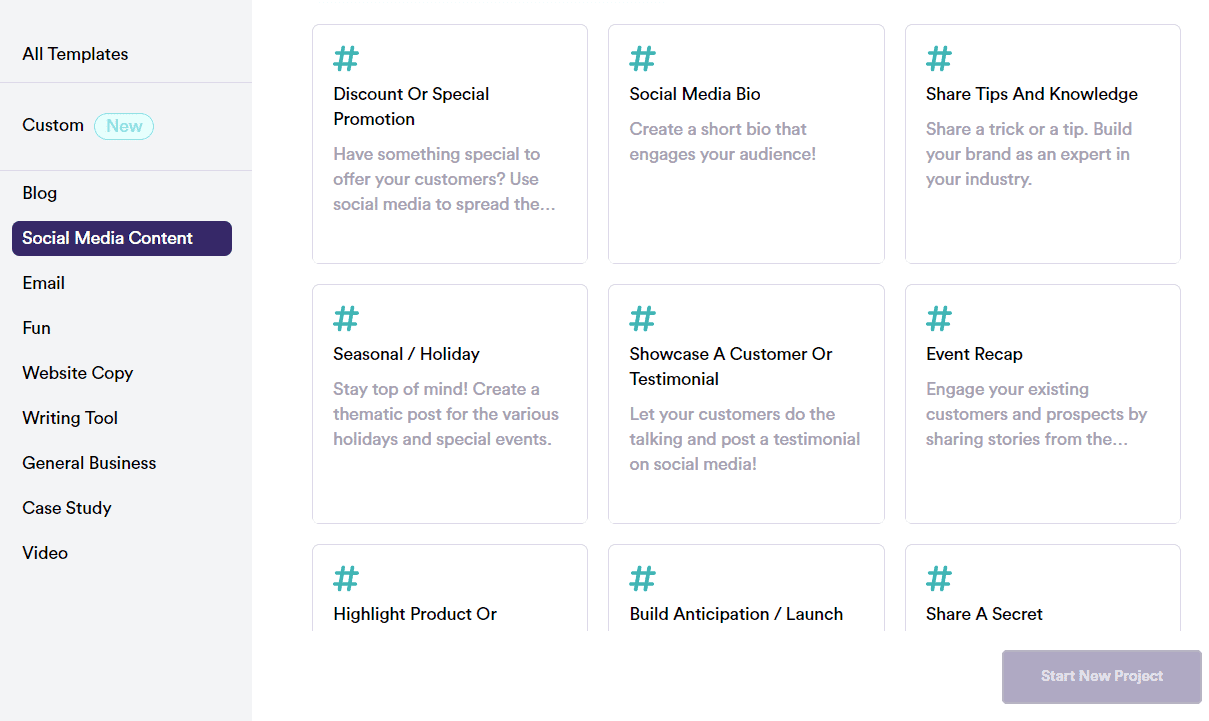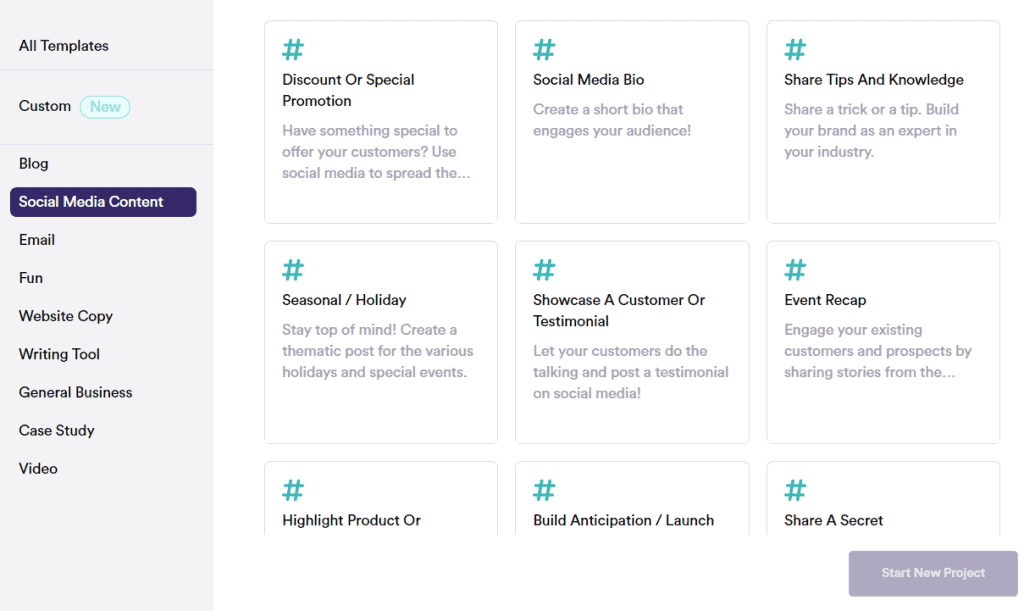 Copy AI is also none of the top social media post generators on the market today. One of the best things about Copy AI is the fact that it is very simple and easy to use.
When I came across the tool, first I hopped on the free trial before proceeding to get a premium account.
While Copy AI may not be as good as most of the tools already mentioned, especially Jasper and Writesonic, it is a very great tool that can change your social media game the moment you get it.
Copy AI Free Trial
Back in the days, Copy AI offered a 7-day free trial access to new and intending users. But since December 2022, it has offered a free-for-life account, a single-user account that can let you generate up to 2,000 words in a month.
You also don't need to provide payment information to get started.
Copy AI Features
Can generate social media posts.
Can write long-form high-quality blog posts.
Can compose amazing emails.
Features 90+ copywriting tools.
Supports 25+ languages
Can generate social media content ideas.
Features free AI tools like Instagram caption generator, hook generator, TikTok caption generator, and paraphrasing tool, among others.
Pricing
Copy AI's tiers include Free, Pro, and Enterprise.
The Pro tier goes for $36 per month, offers unlimited words, and can allow up to 5 users.
The Enterprise tier is not priced on the website. For that, you must contact sales as the pricing will most likely be custom. The notable features here are prebuilt workflows and a chat interface to use with your AI.
6. Rytr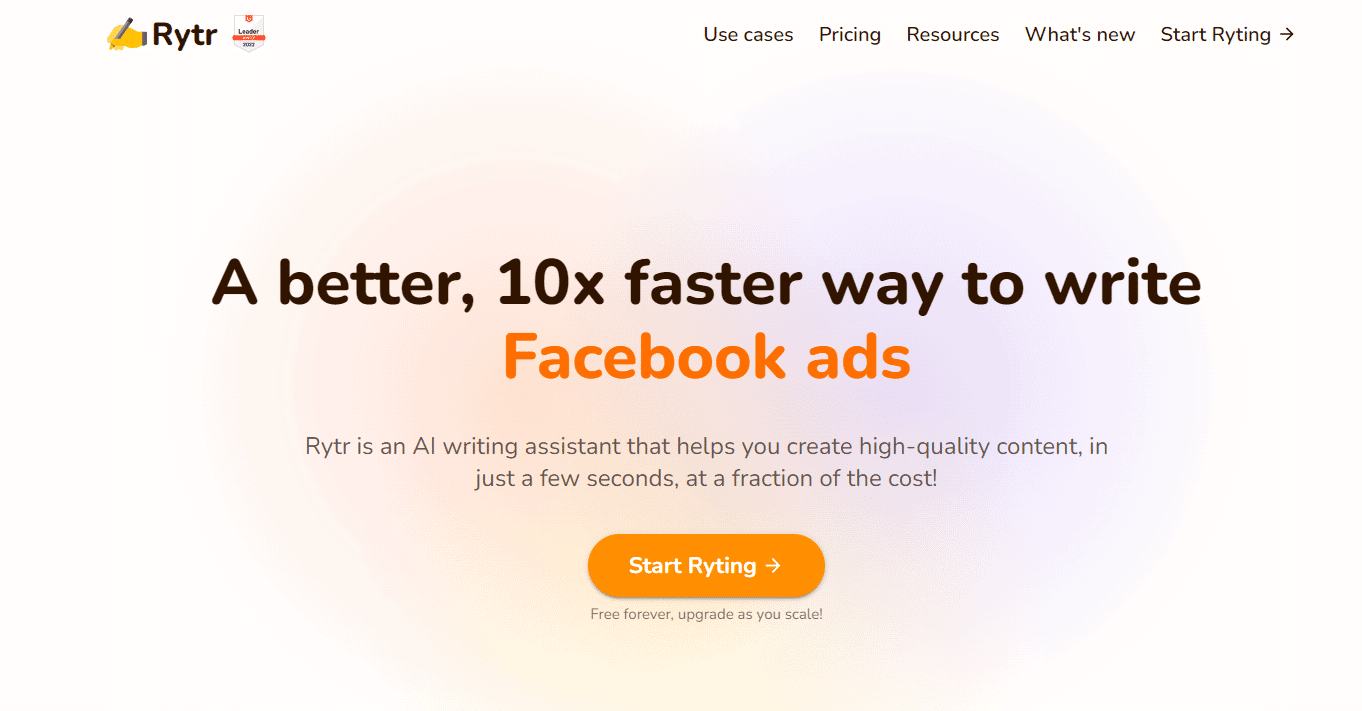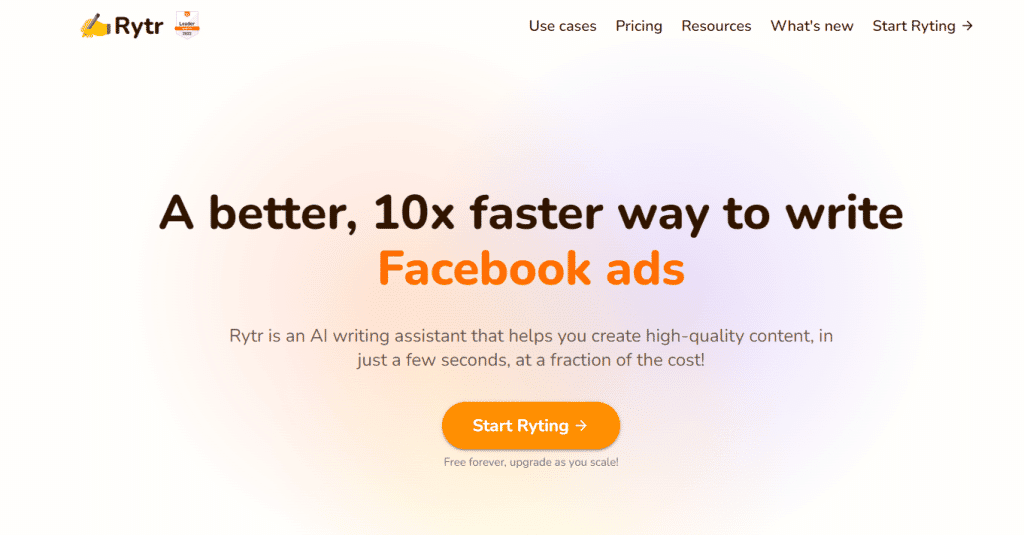 Rytr is another AI writing assistant that lets you generate anything from blogs to social media posts to business pitches.
One of the unique features of Rytr that I love very much is the wide range of tones of voice which you can leverage to generate content for different scenarios.
Do you want to sound thoughtful, worried, candid, convincing, assertive, urgent, compassionate, or gloomy? Rytr's got you covered.
One feature I look forward to seeing on Rytr is a blog post template or workflow which will make it easier to whip up long-form articles in no time, and I hope they roll out this update very soon.
Rytr Free Trial
There is a Free plan which you can leverage to use Rytr. It will let you generate up to 10,000 characters and 5 images per month.
CapitalizeMyTitle says 10,000 characters is between 1,428 and 2,500 words, spaces included. And an article on TechCrunch shows you what 10,000 characters look like.
Rytr Features
Can generate social media posts and blogs.
It can write in over 20 tones of voice.
It supports over 30 languages.
Uses AIDA and PAS frameworks to write promotional content.
Lets you write ad copy like a pro.
Can generate interview questions.
Pricing
There are two paid plans on Rytr, namely Saver and Unlimited.
The Saver plan costs just $9 per month for 100k characters and 20 images. Going for a yearly subscription automatically earns you 2 months free of charge.
The Unlimited plan, as its name suggests, removes the limits on your monthly characters. It also lets you generate up to 100 social media images and comes with a dedicated account manager. A yearly subscription will also give you 2 months' worth of discount.
7. SocialBu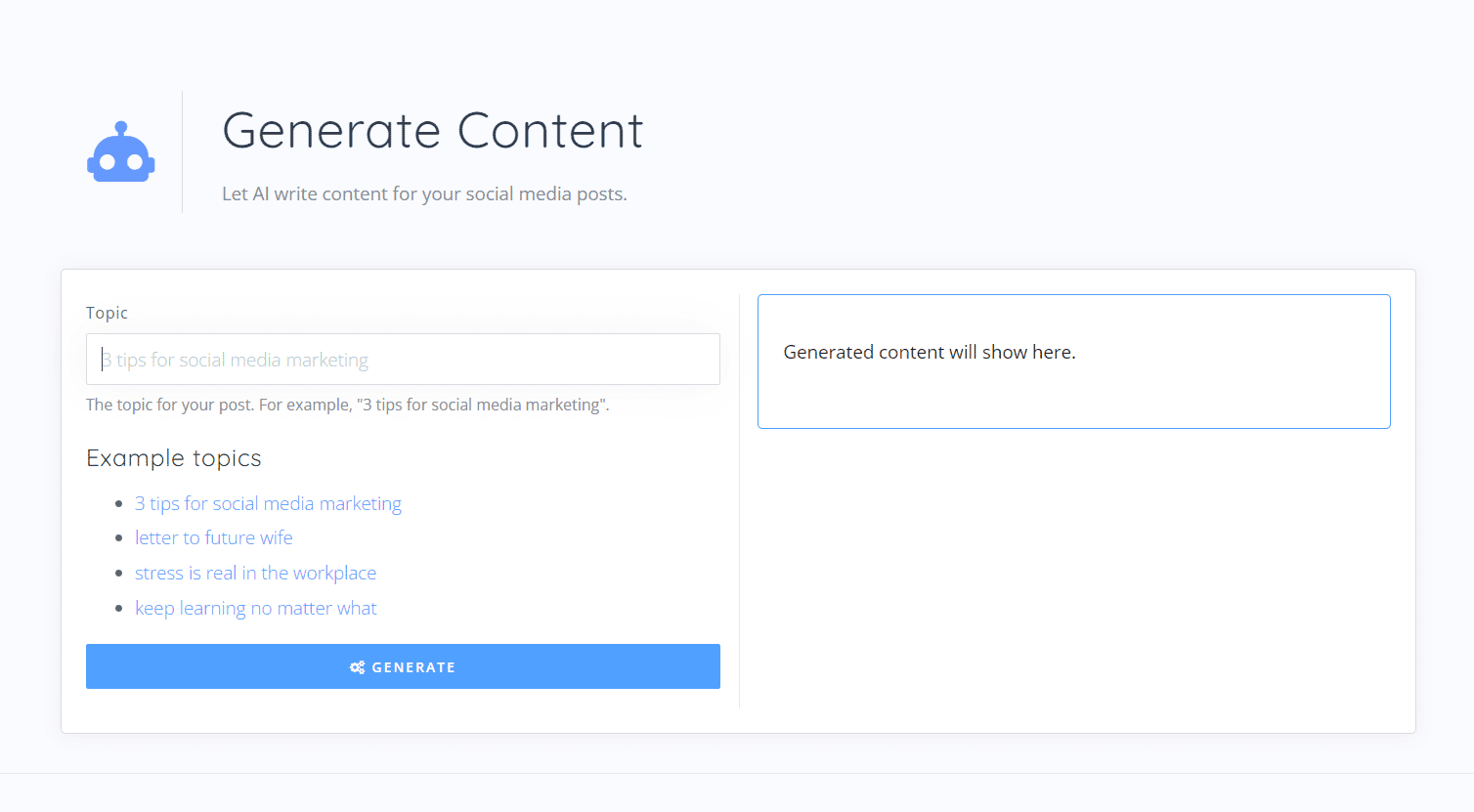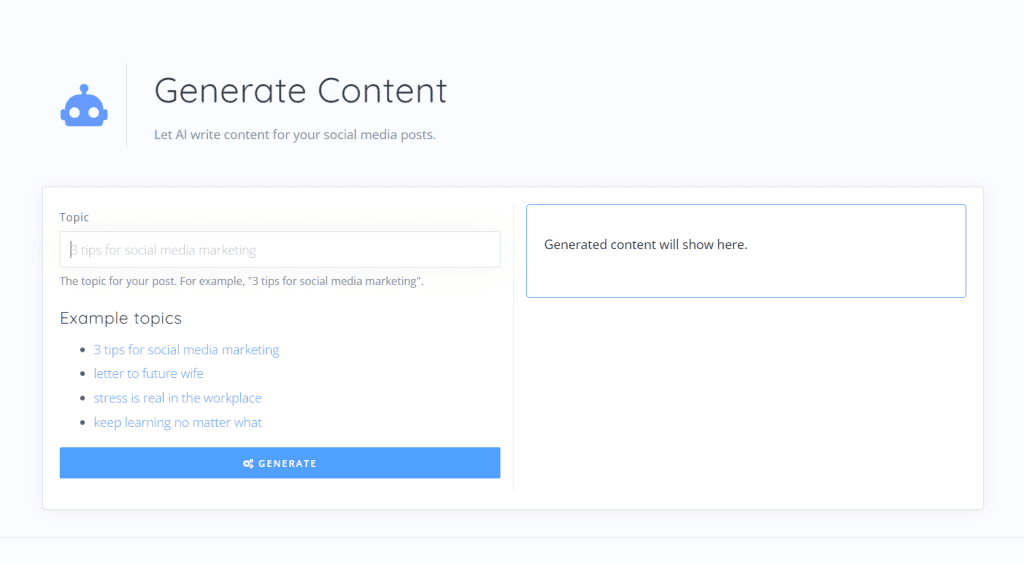 SocialBu is more of a social media management and automation tool than a content generator. However, it has a totally free AI social media posts generator, which you can leverage for most platforms.
So if you're looking for an all-around solution where you can generate posts and hit publish or schedule right away, SocialBu might be for you.
SocialBu Free Trial
SocialBu offers a free account to those who want to try out its services. However, using the social media posts generator feature is free for all users. It also offers other free tools like AI caption generator, blog image generator, and quote image generator.
SocialBu Features
SocialBu offers a free social media post generator.
Its social media management features include social media monitoring and post-scheduling.
It supports multi-user accounts.
SocialBu lets users engage with customers from the platform.
Tracks the growth of your brand against certain key metrics such as awareness and engagement.
Displays your analytics on your dashboard, including new follows, likes, comments, shares, clicks, and more.
Pricing
SocialBu offers 3 pricing plans, namely Standard, Super, and Supreme.
Billed annually, all three tiers cost $15.8, $49.2, and $165.8 per month respectively. And billed monthly, they cost $19, $50, and $199 respectively.
FAQs on the 7 Best Social Media Post Generators
AI has numerous uses in social media. Some AIs provide analytics and reporting while some can help to generate posts, images, or videos.
How do I find content ideas?
If you're out of content Ideas for your social accounts, you can use some social media post generators to brainstorm ideas.
Overall, the best AIs that create social media posts are Jasper, ChatGPT, and Writesonic. Jasper and Writesonic have a wide range of templates and workflows available to their users and ChatGPT can understand any prompt you provide. The quality of the content they generate is also unmatched.
Conclusion
Social media post generators can be valuable for individuals and businesses alike. By automating the process of creating social media content, these tools can save time and effort while also ensuring a consistent and professional online presence.
If you are still unsure about which one to go for, you Can start with Jasper. Get a free account, use it to generate some posts, and see if it works for you. And if, afterward, you'd like to explore more, feel free to check out the rest till you find the one that satisfies you.