As a content creator and writer, I understand the importance of finding the right AI-powered writing assistant to help you streamline your workflow and speed up the content creation process.

While Jasper AI has been a popular choice for many content creators and marketers alike, it's always a good idea to explore alternatives that are sometimes better and cheaper.
So if you're on the hunt for the best Jasper AI alternatives, you've just hit the holy grail because, in this article, I've taken the pain to curate the top 10 similar tools like Jasper AI.
These are all AI tools that I've personally tested over the months, and I found them quite amazing. Whatever made you want to dump Jasper, I hope you find what you want in one of these.
What Is Jasper AI?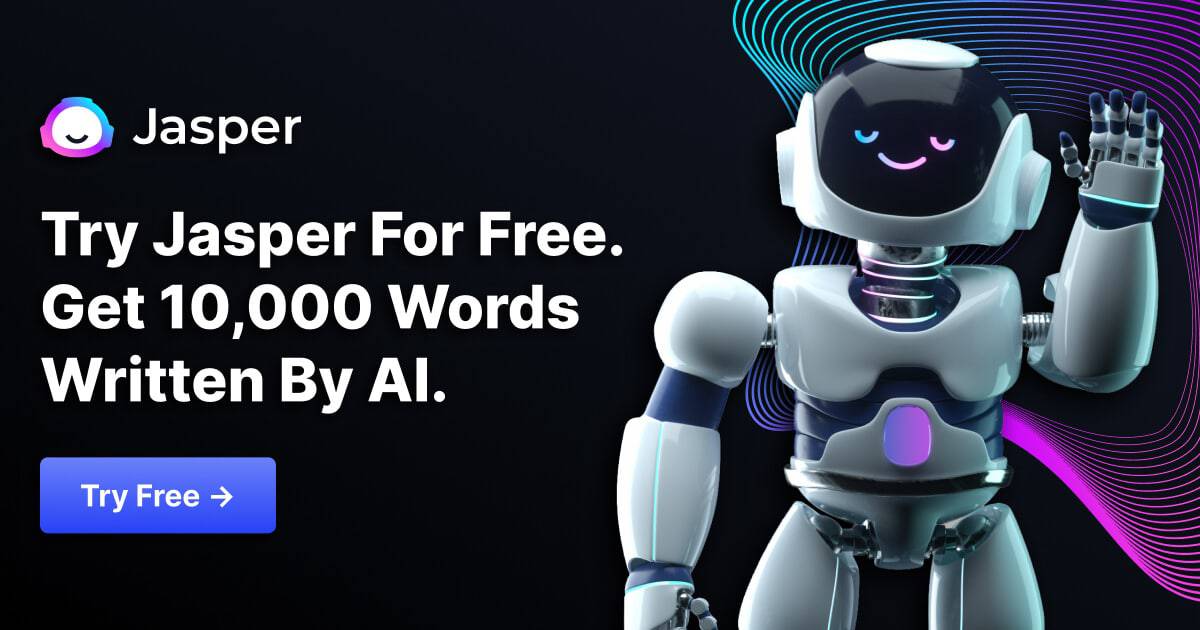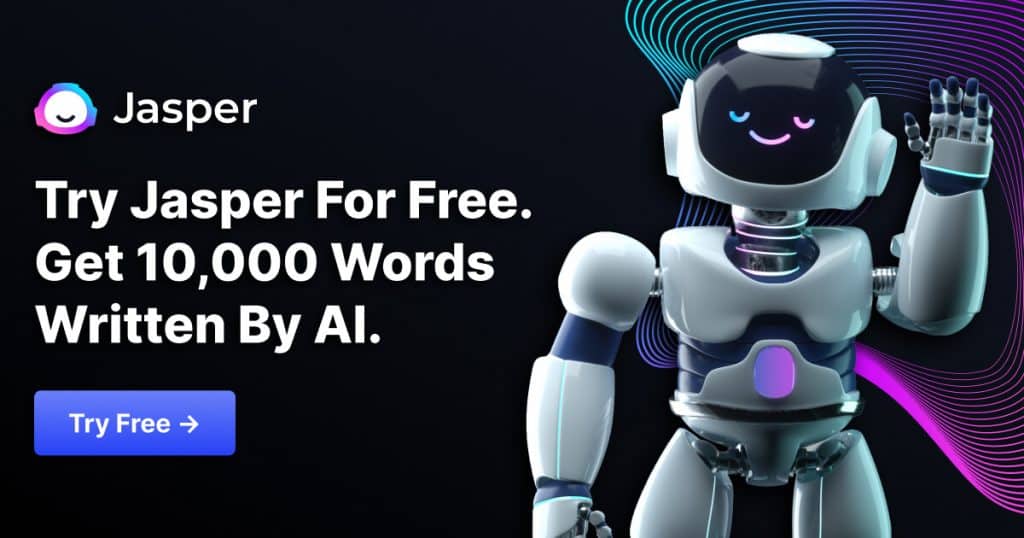 Jasper AI is one of the most fantastic AI text generators the world has witnessed in recent years. Like most of its competitors, it is based on the GPT-3 AI model developed by OpenAI. However, Jasper's writing proficiency is hardly matched by any other tool in the industry.
Jasper AI is trained specifically to write a variety of content types, including blog posts, essays, product descriptions, social media content, emails, and many others. There are also templates and recipes that help smoothen the writing process.
The templates are prebuilt algorithms that activate particular functionalities in the AI when you select them.
For instance, selecting the Blog Post template tunes Jasper into "blog post mode", so to say. On the other hand, Recipes are reusable commands that you can employ when generating content. They can make writing on Jasper faster.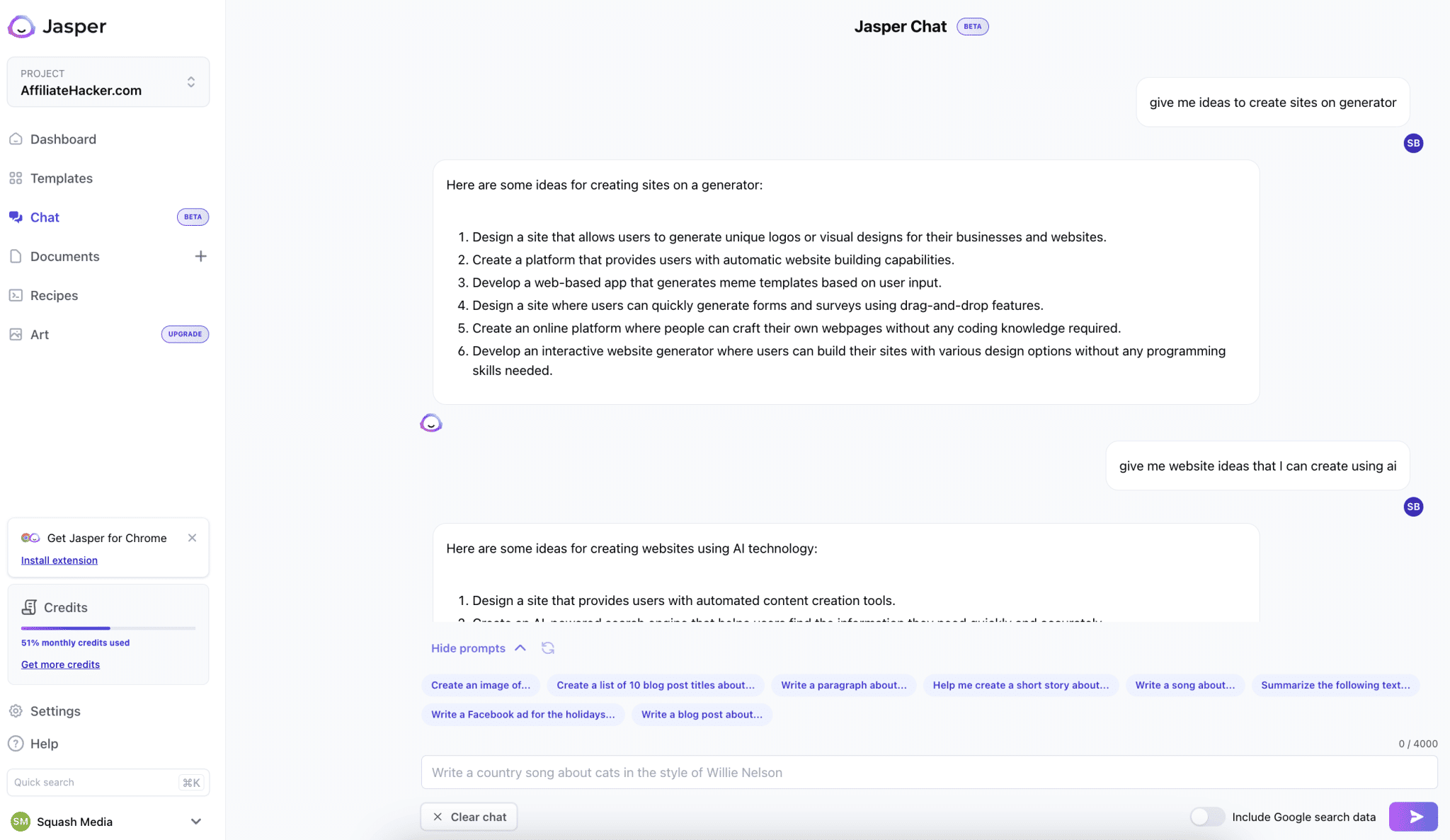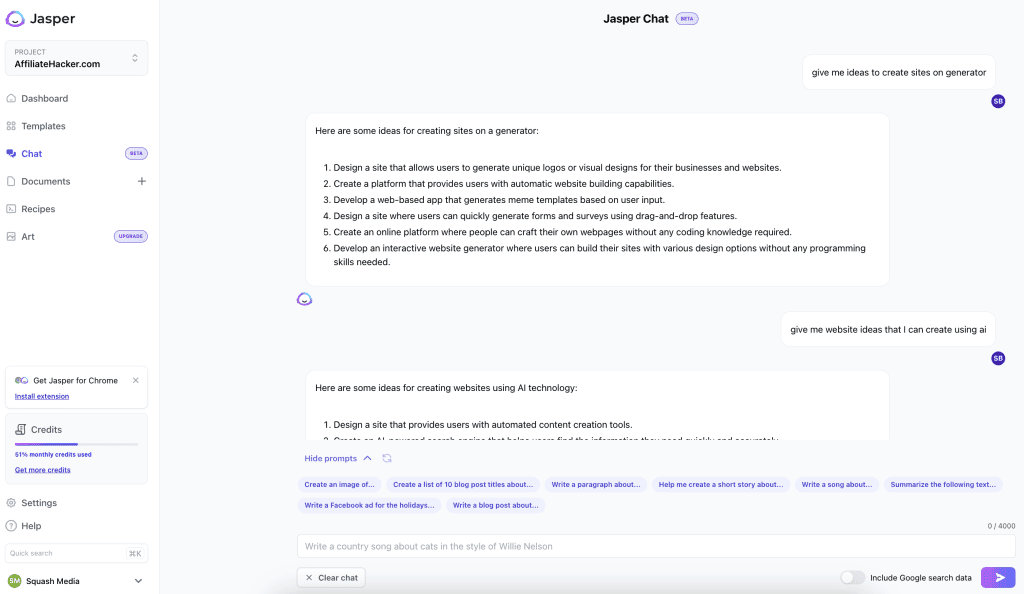 There's also Jasper Chat which works basically like ChatGPT and is quite impressive, and Jasper Art, which, with the release of GPT-4, can now dish out even more impressive images and content than when on GPT-3.
Overall, Jasper is an all-around content-writing tool that you can leverage to create content at scale. From blogs to ads and YouTube scripts to IG photo captions, Jasper has got you covered. You can find more information about Jasper in my Jasper AI review where I also covered how to generate standard blog posts using Jasper.
One major downside of Jasper is its credit-based system which puts a limit on how much content you can generate in a month.
Of course, most other AI content writers use the credit-based system as well, but they're mostly less expensive such as Writesonic. This is the main reason why people chose to look for other options.
If you're sure you want to switch from Jasper AI or just looking for some cheaper alternatives, proceed to check the best Jasper AI alternatives below.
However, if you haven't tried the tool at all, I'd recommend you claim your 5-day free trial first because Jasper is definitely worth checking out.
What Are the Best Jasper AI Alternatives?
Here are the 10 best Jasper AI alternatives at a glance:
Writesonic
Scalenut
Rytr
Frase.ai
Copy ai
Copysmith
Hypotenuse.ai
Anyword
Closercopy
GrowthBar
1. Writesonic (Best Jasper AI Free Alternative)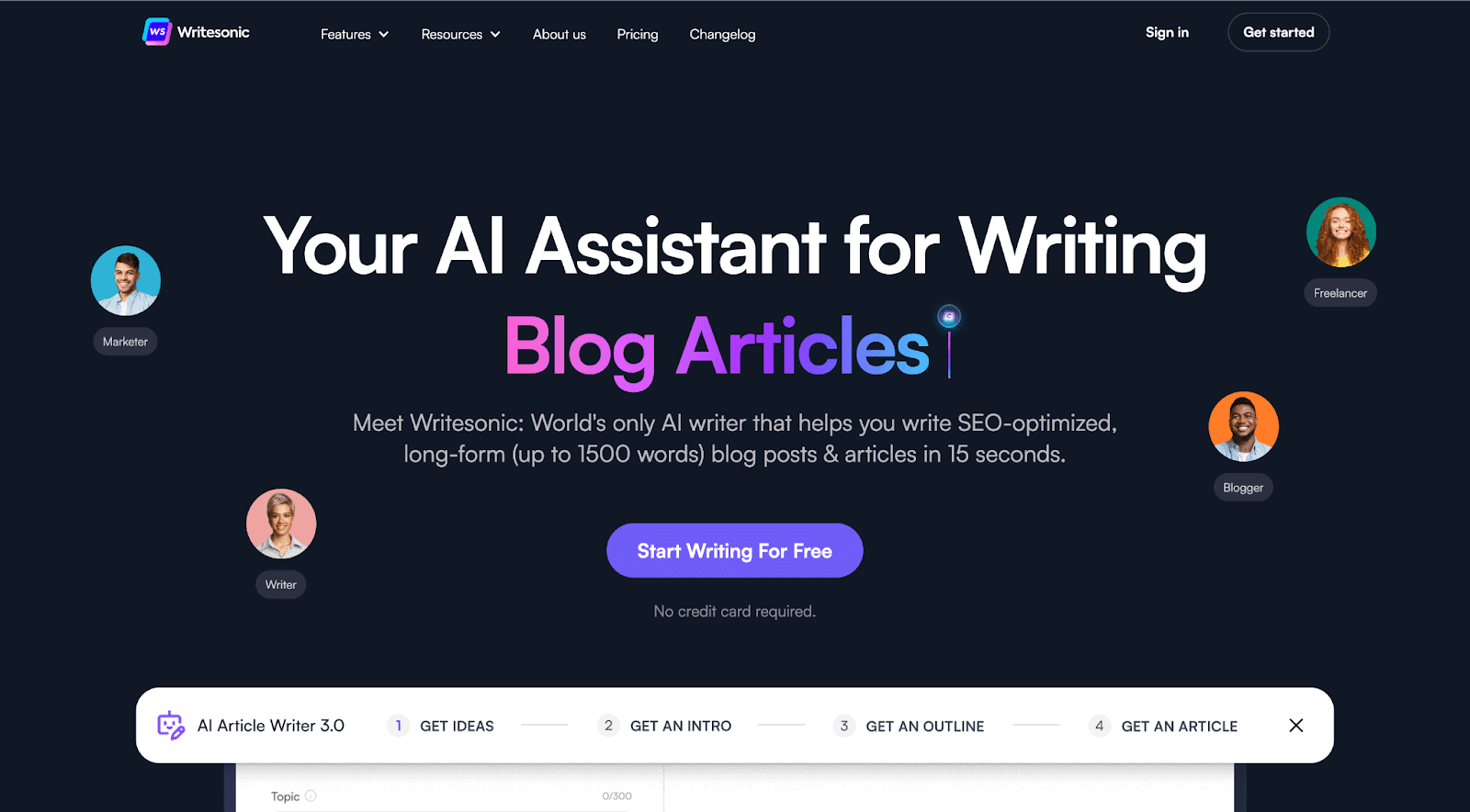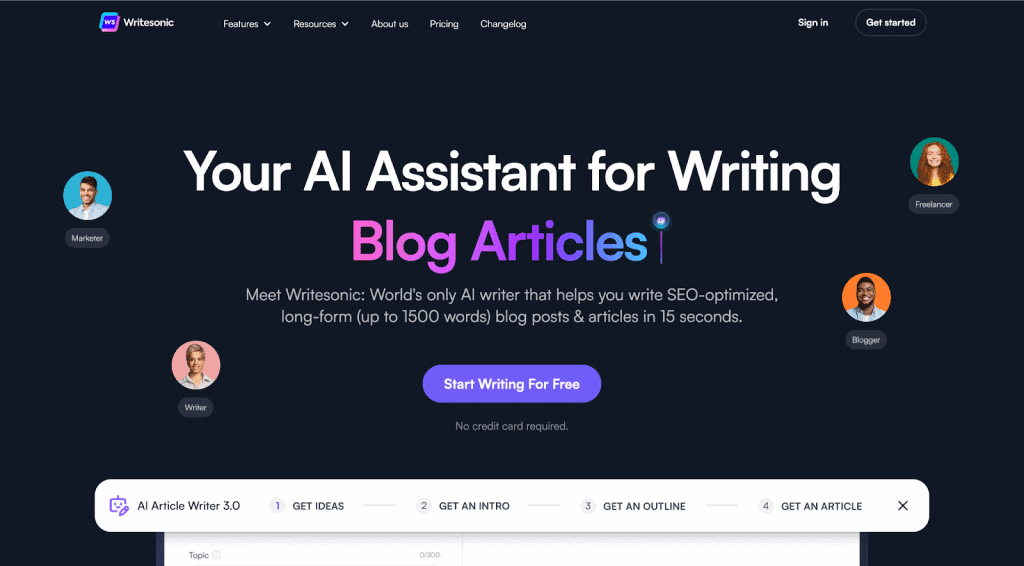 Writesonic was launched in 2021, close to 3 years after Jasper AI was launched as Jarvis AI. Since its release, Writesonic has seen massive improvements in both its features and usability as well as its customer base.
Writesonic growing so exponentially is a no-brainer as the team of developers behind the tool is always working to improve it. I got on Writesonic's bandwagon in the days of Article Writer 2.0 and witnessed the release of 3.0 and 4.0.
Now I've also witnessed it upgrade to GPT-4, and I'm impressed with how far they've come.


Article Writer 4.0 is Writesonic's most powerful content writing tool yet, and I've seen improvements in terms of speed and content quality. It can now write long-form articles up to 3,000 words as well as translate texts right from the article writer interface.
With its integration with SEO tools like Surferseo, It can also now give you better keyword suggestions and show performance metrics for those keywords, including search volume, keyword difficulty, and traffic estimate.
One of the best things that set Writesonic apart from the other alternatives to Jasper AI is its free plan which doesn't even require your payment details to activate.
This free plan lets you generate up to 2,500 words each month.
WriteSonic Pricing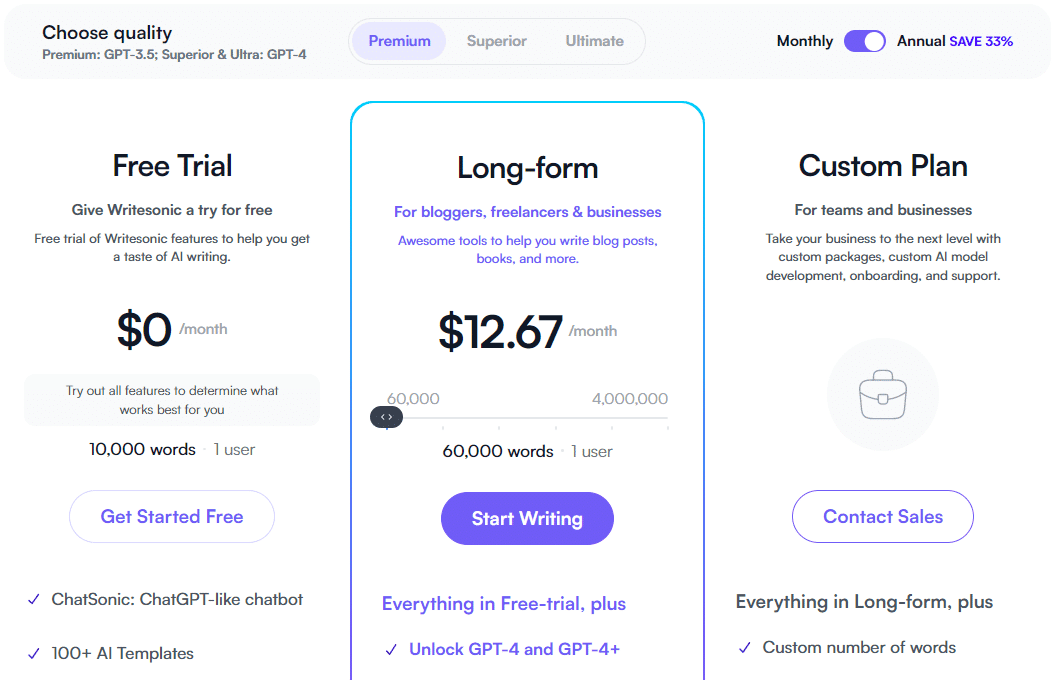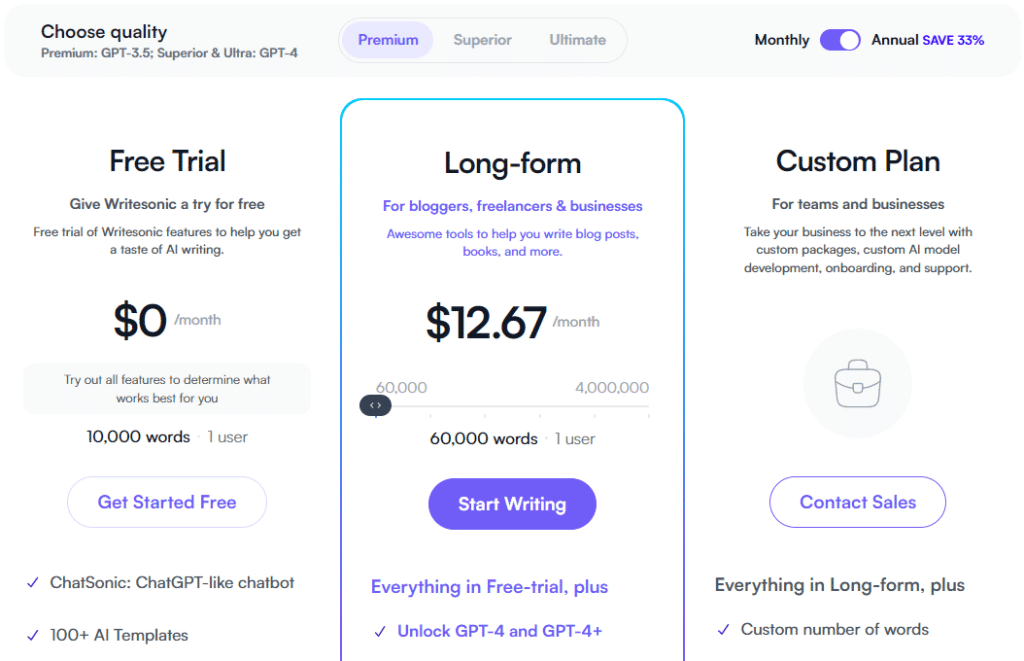 The company made a few tweaks to its content quality tweaker which now includes Premium, Superior, and Ultimate. However, Writesonic's payment plans remain 3:
Free plan: free to use for anyone. 10,000 premium words monthly.
Long-form: starts at $12.67 per month for 60,000 premium words.
Custom plan: negotiate with the sales department for up to unlimited words and other amazing benefits.
Claim your Writesonic free trial and start writing right away or read my comprehensive Writesonic review to learn more.
2. Scalenut (Best Jasper AI Alternative for Organic SEO Content)


Scalenut prides itself as "The #1 Organic Marketing Platform, with AI that powers your entire content lifecycle."
Many may not immediately understand what that statement means. It means that Scalenut is built specifically to research and create articles and blogs that are geared toward driving organic traffic from search engines.
Two types of traffic are paid traffic (from ads) and organic traffic (from search engines and social shares). Organic traffic is arguably the best option if you're looking to build a reliable customer base while spending less than you'd spend on ads.
Scalenut is one of the few AI tool startups that use proprietary artificial intelligence tools and natural language processing models. With these powerful tools, Scalenut can help its users to produce organic SEO content through:
Keyword research: when you open the Article Writer from your Scalenut dashboard, you will receive a prompt to enter the keyword you wish to rank for and select the target location.
Competition analysis: on the result page, you will receive an overview of the top 30 pages ranking for that keyword along with stats such as the SEO score, word count, subheadings count, and image count.
Article outline: using the nav bar at the top of the screen, switch to the outline tab to see the outlines of the top 30 pages. You can then tap on a heading to add it to your outline. Once in your outline, you can edit or use them as is.
FAQs: the Questions tab works like AnswerThePublic, a research tool very efficient in social listening. It curates questions being asked about your target keyword, and you can use them in an FAQ section in your article.
Beyond these, it also suggests statistics and citations you can use in the article to make it better. Once you have your article outline, click on Create Content or use Cruise Mode to start the writing process.
Scalenut Pricing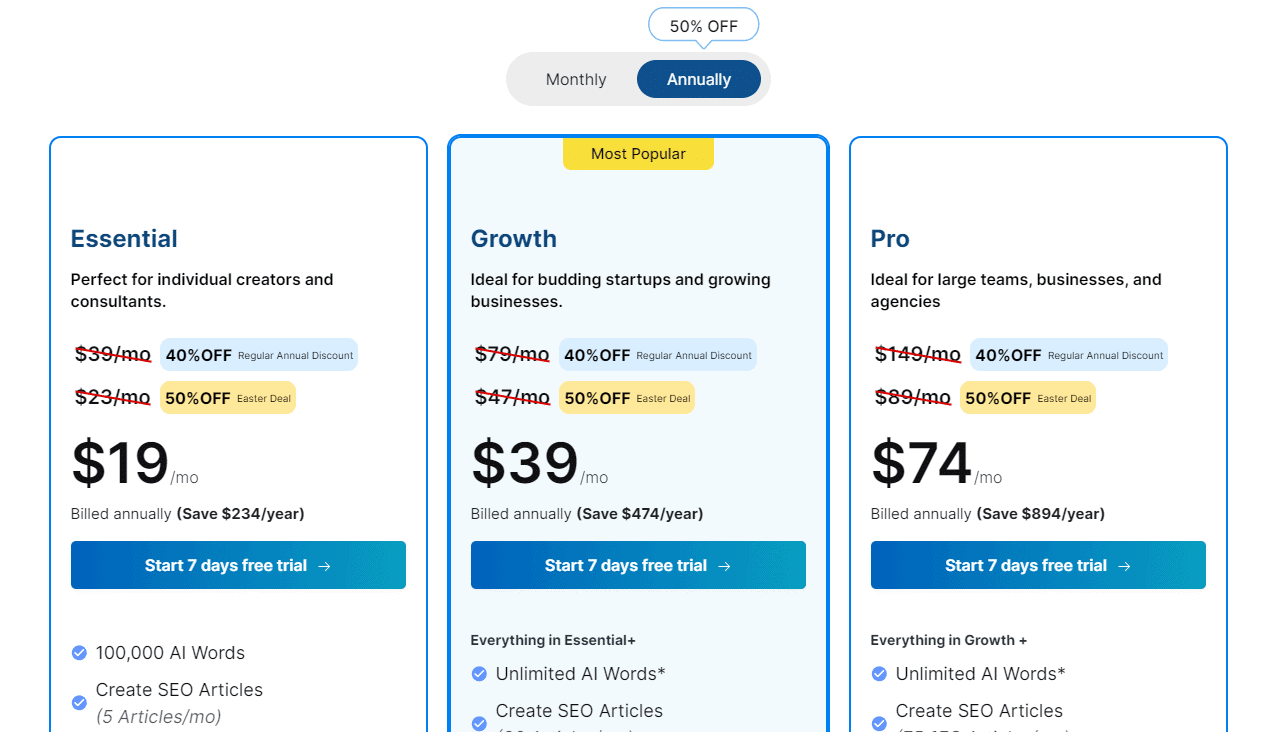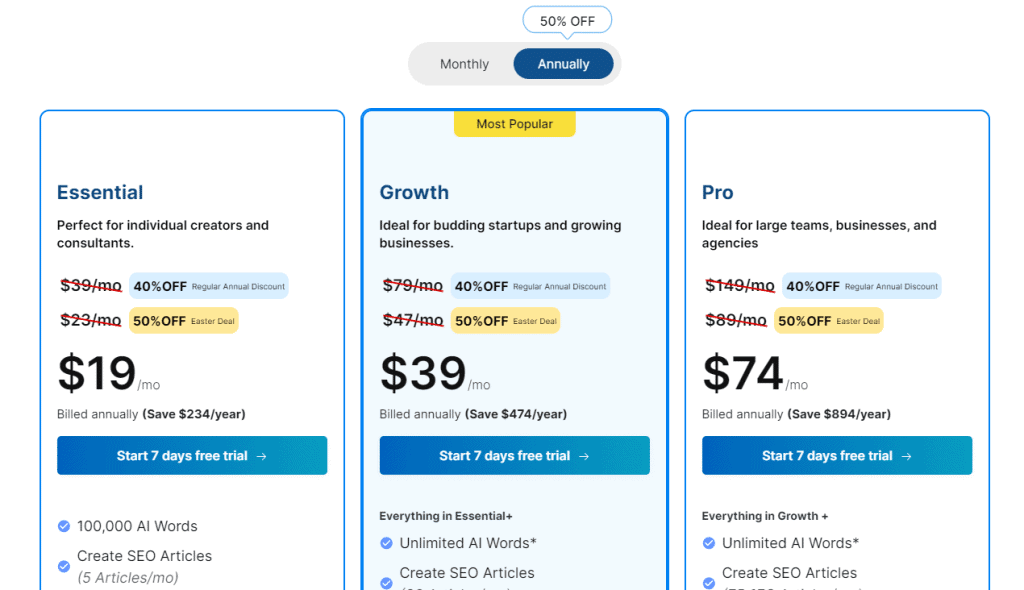 Scalenut offers three pricing tiers:
Essential: $19/, 100k words, 5 SEO articles per month.
Growth: $39, unlimited words, 30 SEO articles per month.
Pro: $74, unlimited words, 150 SEO articles per month.
Alongside the features discussed above, Scalenut also offers a keyword cluster builder, 1-click WordPress publish, and a Chrome extension.
The platform offers no free plans, but you can take action now to claim a 7-day free trial.
3. Rytr (Cheap Jasper Alternative)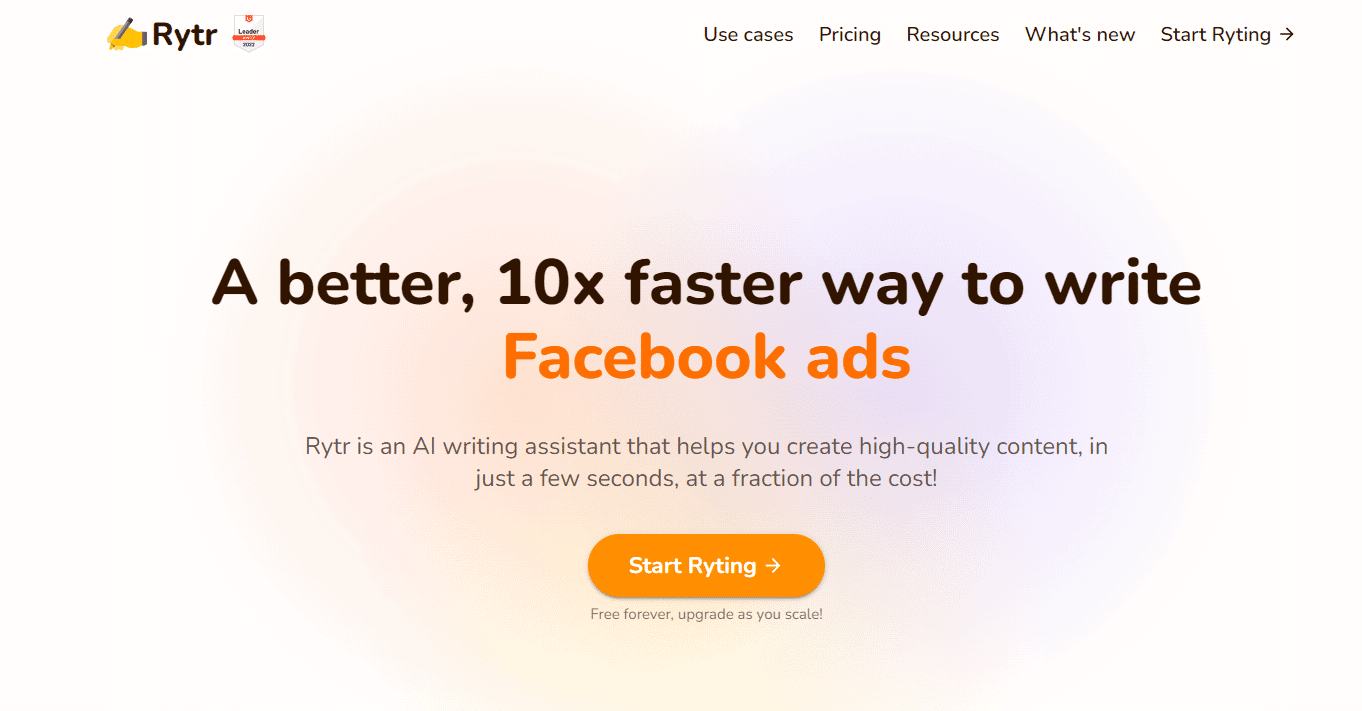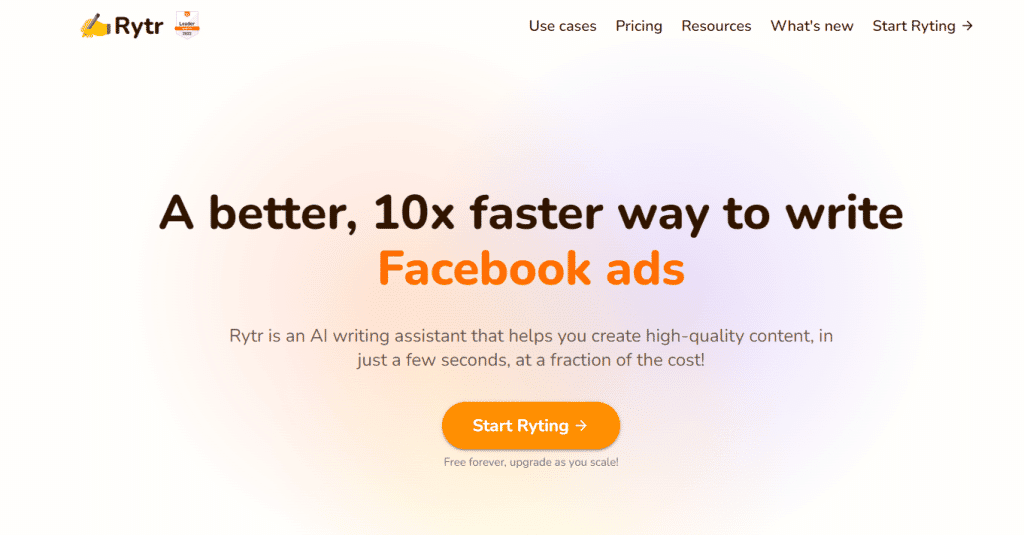 Like Scalenut, Rytr also uses proprietary AI but it combines it with GPT-3 to be able to generate even better content than many AI writers out there. This is why it has over 40 use cases and can write in over 30 languages.
One of the best things about Rytr is the simplicity of its website and article generator. It is straightforward and anyone can get a hang of it without any serious tutoring.
Another thing that makes Rytr an excellent alternative to Jasper AI is its free plan which makes it available to anyone who wishes to use the platform.
Rytr offers mainly 3 features: write copy, generate images, and a chat interface, all of which are available on the free plan.
Some amazing Rytr features that qualify it as one of the best Jasper alternatives include:
40+ use cases: There are over 40 scenarios where Rytr can save you time. It can generate social media posts, blog posts, YouTube video descriptions, product descriptions, ad copy, landing pages, and more. And with each use case comes 20+ tones of voice. From enthusiastic to passionate, and assertive to humble, Rytr can make you sound how you want to.
Proprietary AI: Rytr's self-developed AI works in tandem with GPT-3 to make every generated material the best it can be, leaving just little edits for you to make.
Plagiarism checker: Rytr also has a plagiarism checker that ensures that your content is 100% unique. This means you can generate content on Rytr and use it without worrying about copyright infringement.
Project management: Rytr makes it possible to create unlimited projects. And in each "project folder", you can store unlimited files. You can then share a project with your clients or colleagues as the case may be.
Chrome extension: with the Chrome extension, you can take Rytr anywhere and use it on the go across several platforms, including Google Docs, Gmail, Slack, Facebook, Twitter, WordPress, etc.
Rytr Pricing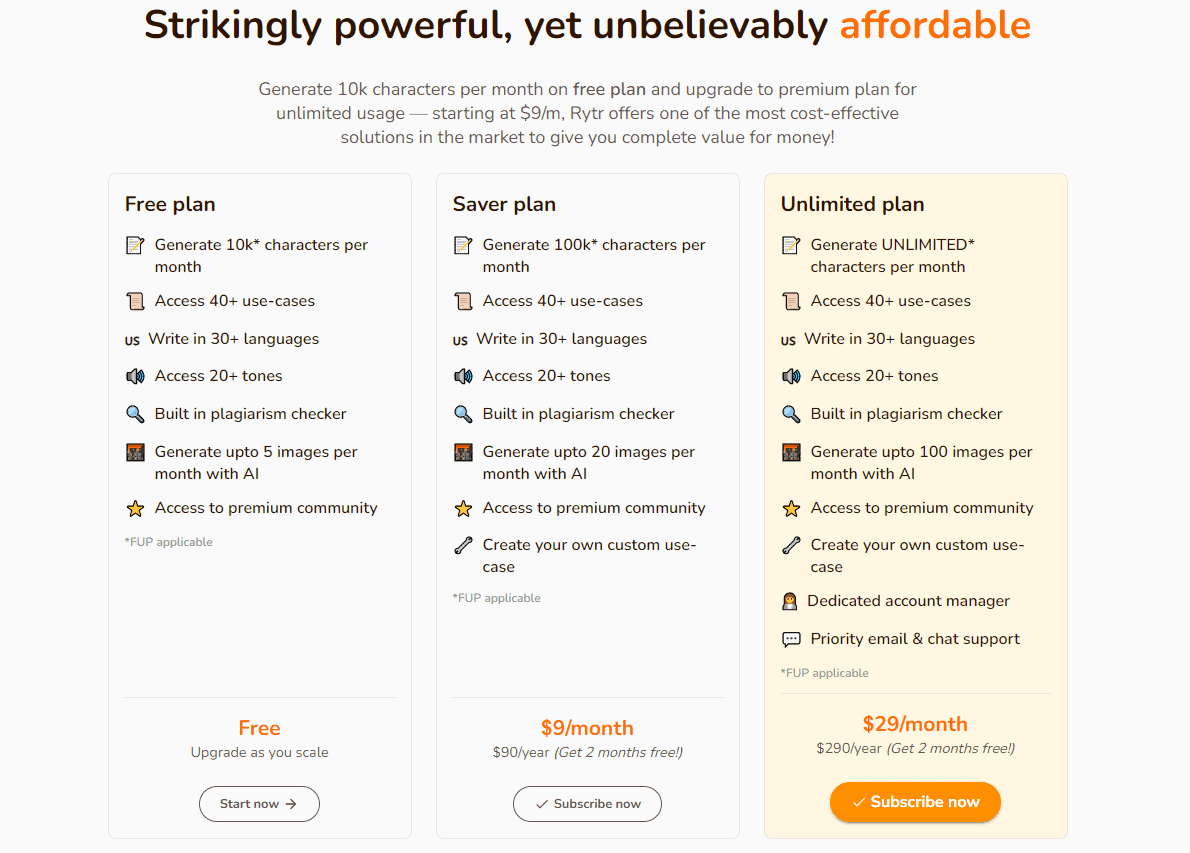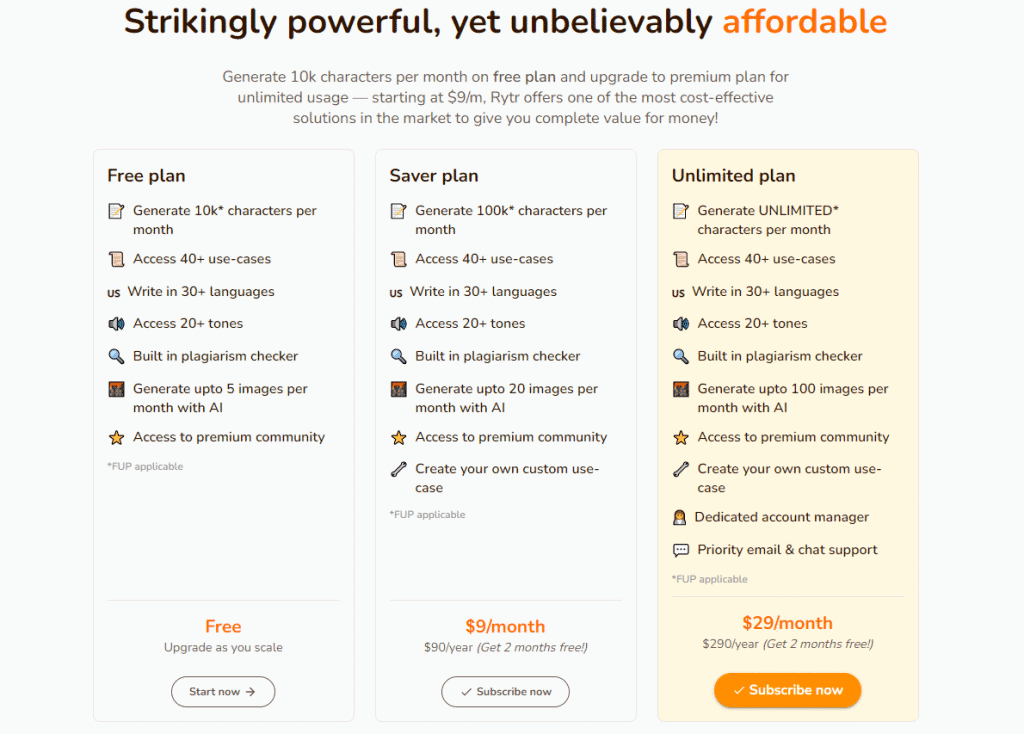 Other than the free plan, Rytr has the Saver plan which costs $9/month for 20 AI images and 100k characters per month.
There's also the Unlimited plan which costs just $29 for up to 100 AI images and unlimited characters per month.
4. Frase.ai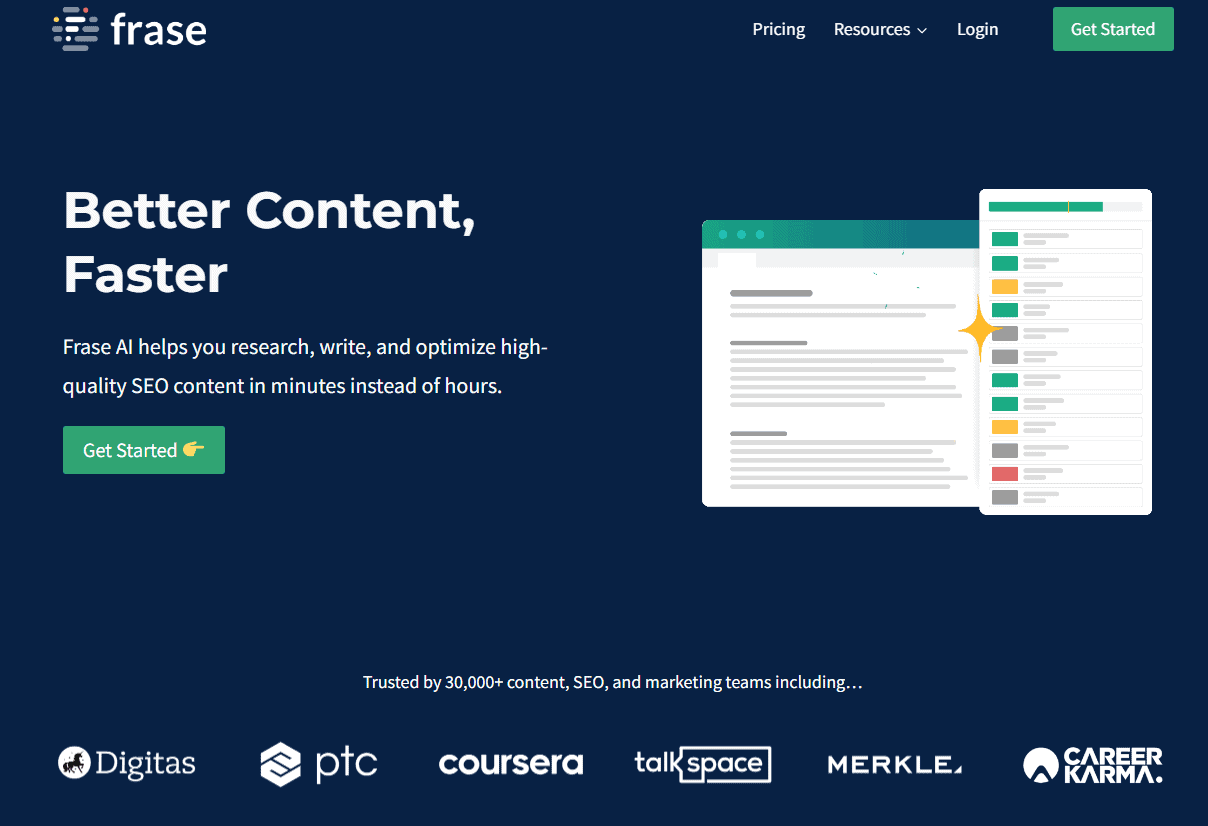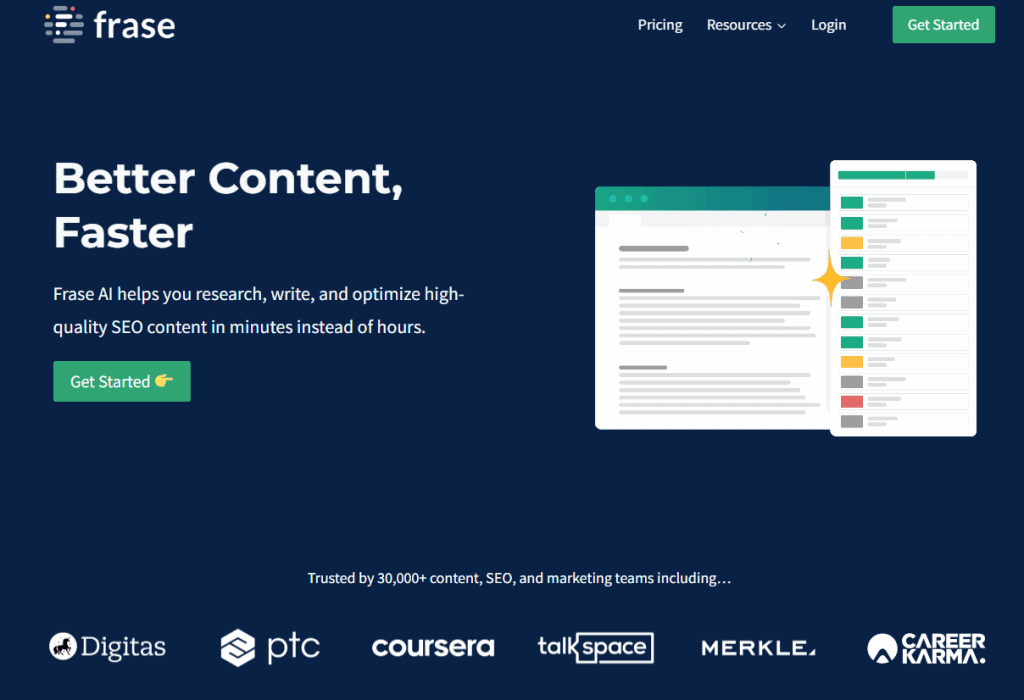 Launched officially in August 2020, Frase AI is another Jasper AI alternative on the market that you can consider right now. Frase has a unique approach to web content creation. Although it is focused on SEO content like Scalenut, Frase uses terms like Answer Engine Optimization or AEO to describe its edge.
AEO is based on the idea that question-centric articles and blogs have better chances of ranking high on search engine results pages, thereby boosting website visits. So, Frase is built to work in that direction.
With Frase AI, you can:
Perform keyword research and generate full content outlines and briefs within a few minutes.
Generate and optimize high-quality articles for use on your business blog or for clients.
Use prebuilt templates to generate controlled outputs such as blog intro, and copy, YouTube description, product description, blog headings, and more.
Research keyword clusters to develop content strategies without breaking a sweat.
Frase Pricing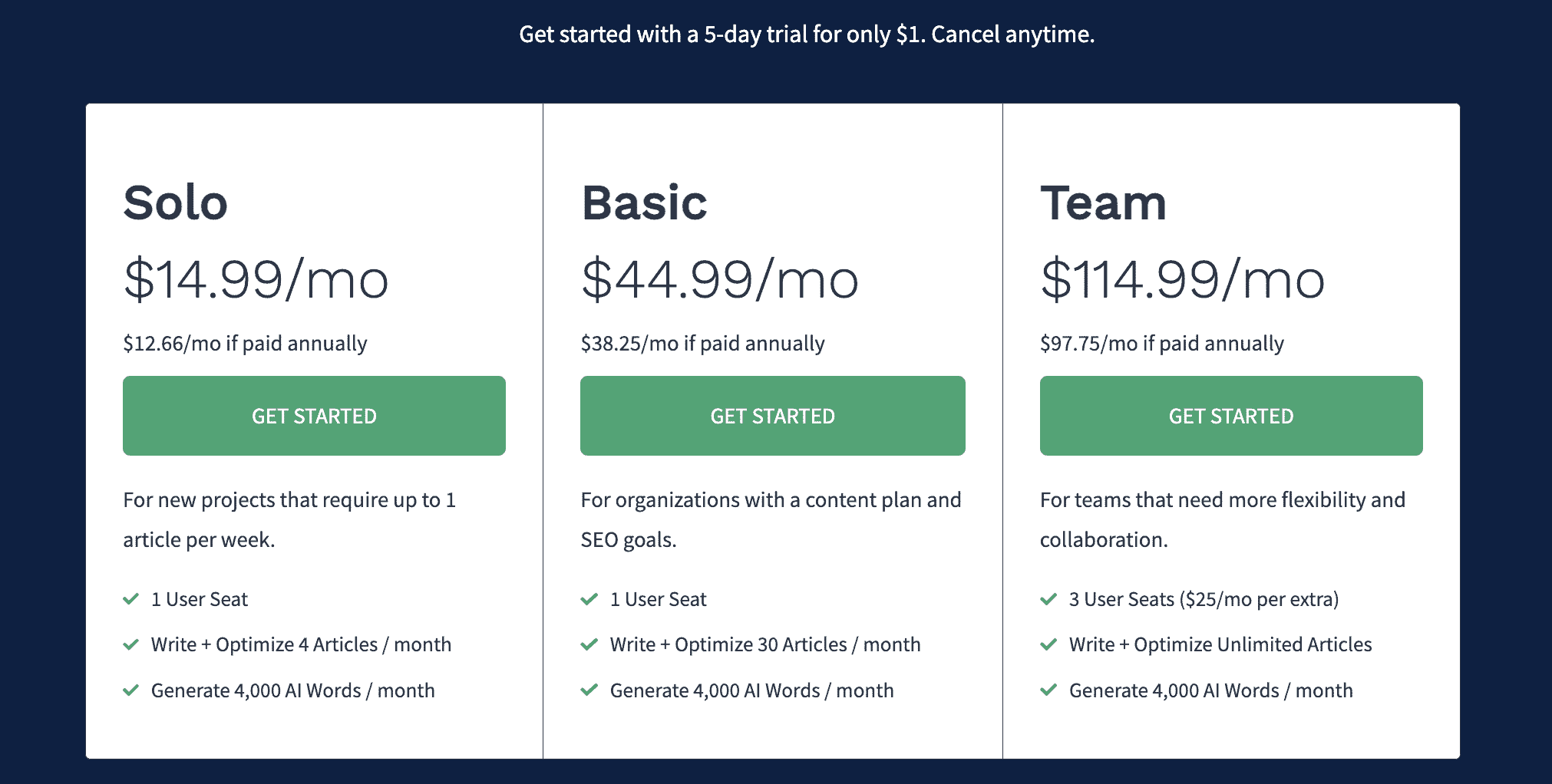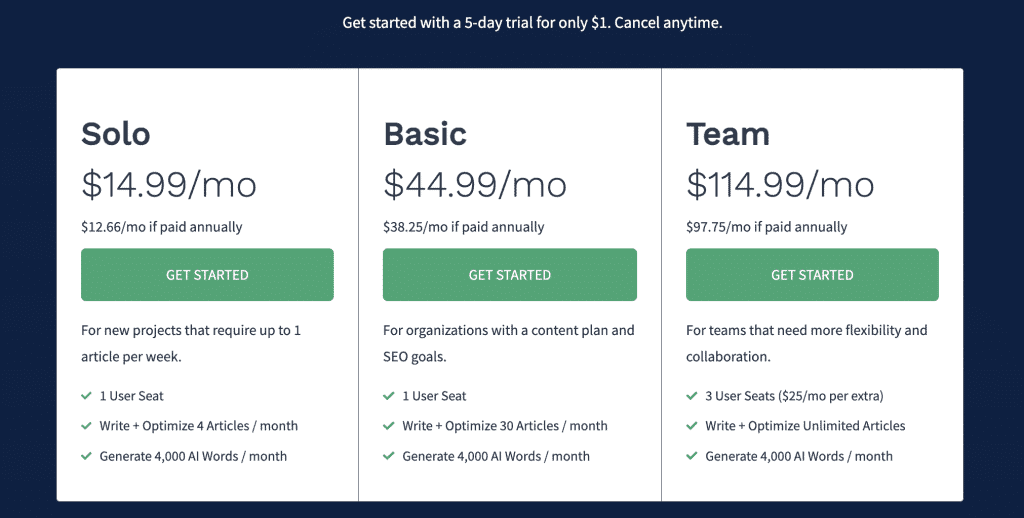 On Frase's "free tools" page, you can use most of its features with strict limitations. For full functionality, you must get on the paid trial period which is $1 for 5 days. However, its pricing tiers include:
Solo, which is $14.99/month and offers 4 generated content.
The basic tier costs $44.99/month and lets you generate up to 30 SEO articles.
The Team tier goes $114.99/month. It can write and optimize unlimited articles and also accept 2 extra at an added cost.
With its functionalities, Frase is one of the best AI text generators you can find. Claim your 5-day trial to get started with Frase.
5. Copy AI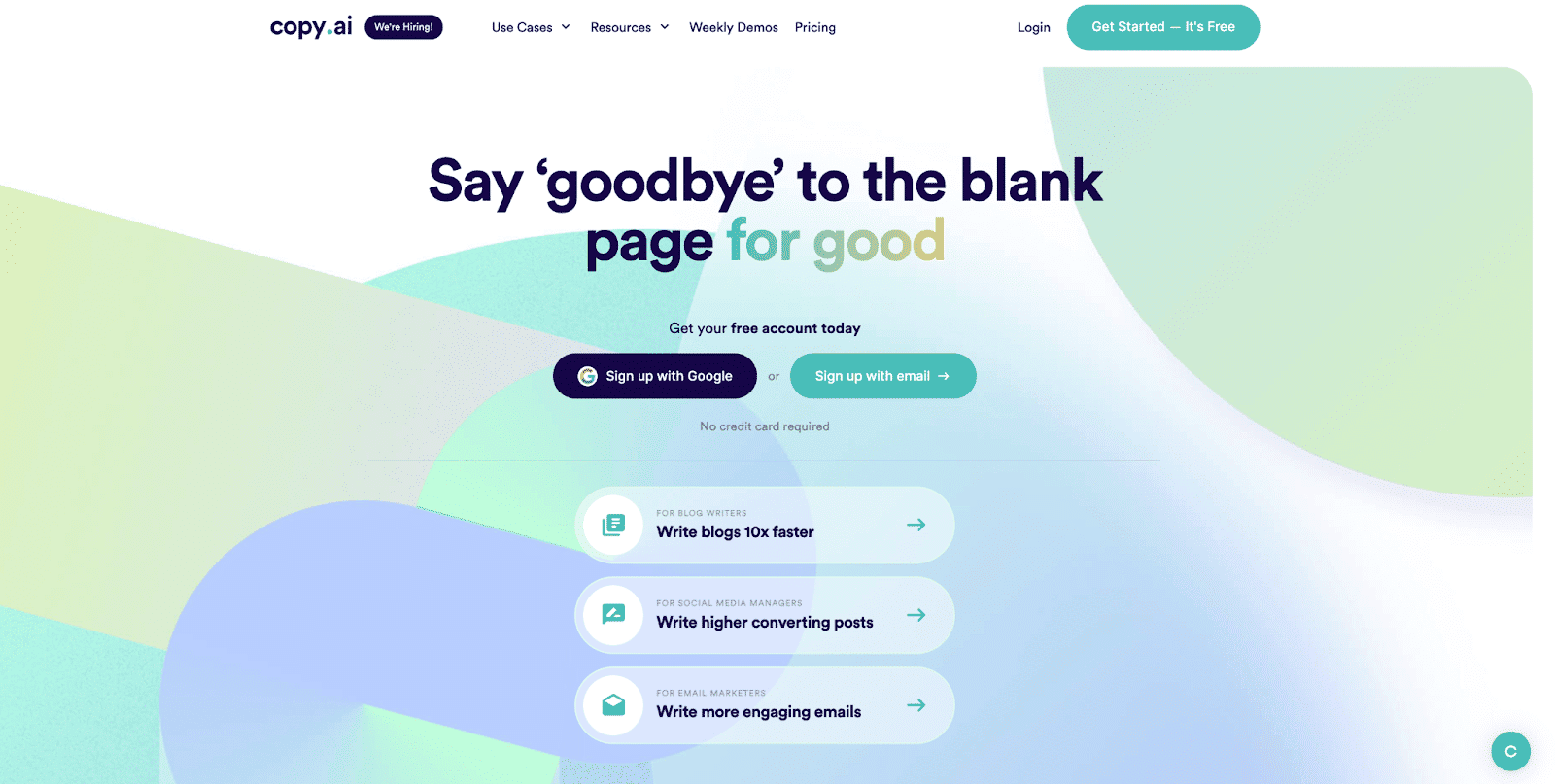 As far as AI content writers go, Copy AI is one of my all-time favorites. This is because of the fact that it's built mainly to write sales and marketing content. So if you run an online store, you may have just found the holy grail for your product descriptions and ad copy.
Many times I've used the product description generator, email writer, and ad copywriter to get me started on my writing. While it may not get me from 0 to %100, it sure gets me more than halfway there.
The Copy AI platform is quite intuitive and you can basically figure it all out. On your dashboard, click on Templates to get a list of all the pre-built models you can use to generate content, from blog posts to emails and product descriptions.
One template I don't usually see on AI writers is the Case Study template set, which can help businesses to present a "before and after" case of their past patrons.
And if you can't find a template for the content type you want to generate, you can leverage the Freestyle editor to write any kind of content.
There's also the chat feature that works like ChatGPT and can generate any form of content based on your prompts.
Copy AI Pricing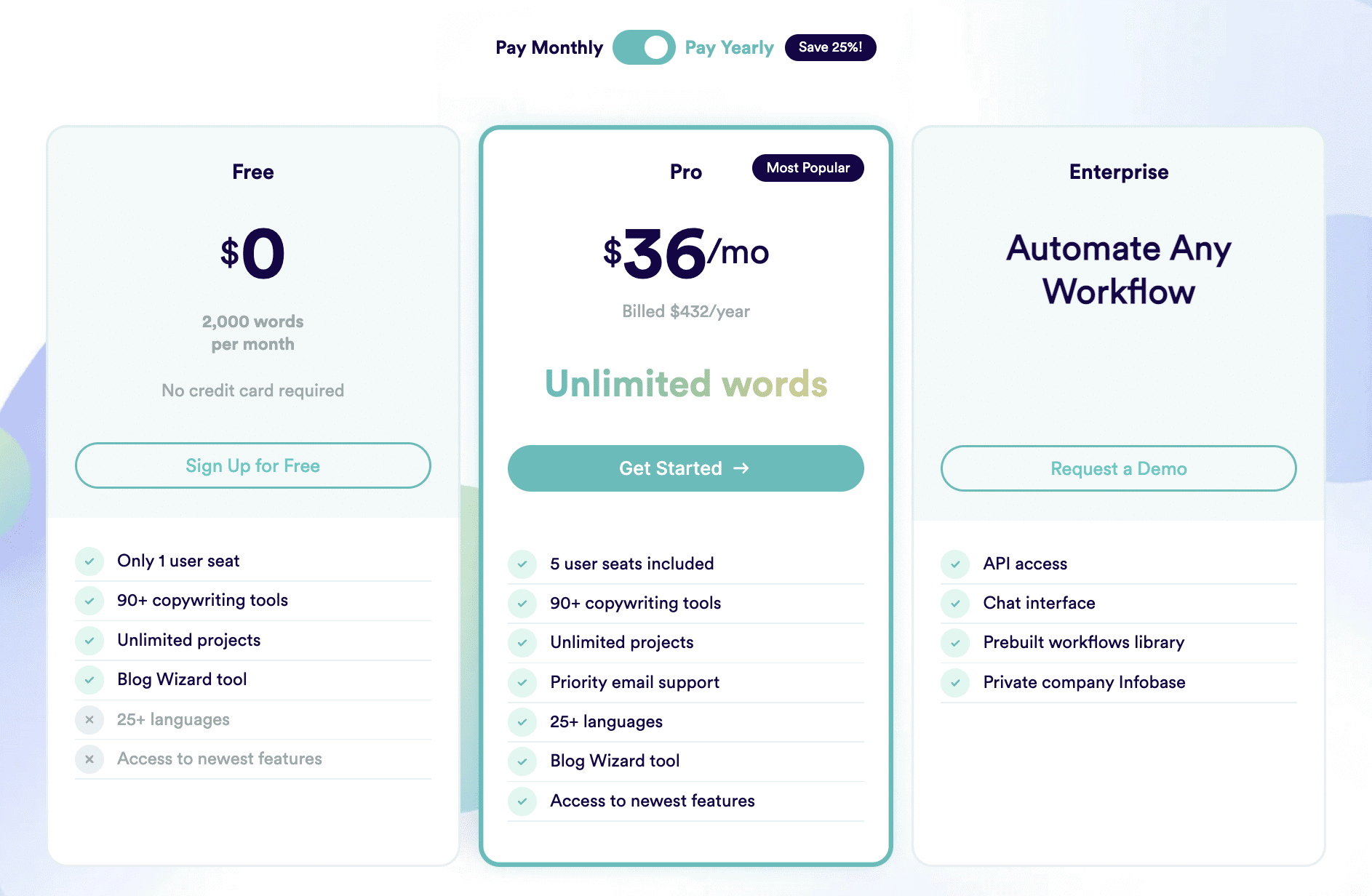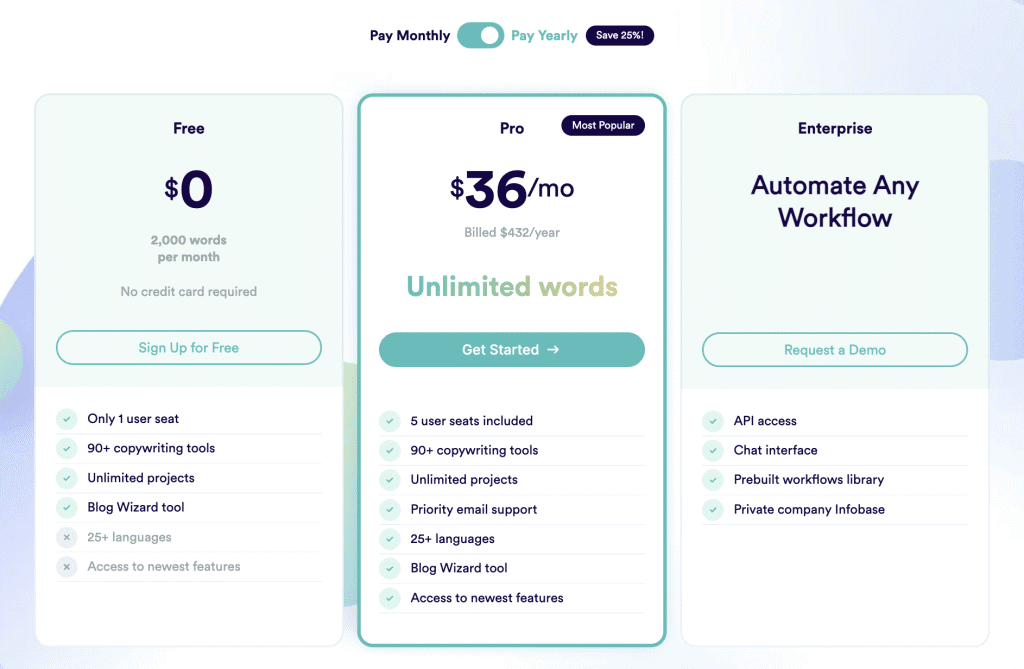 The most popular subscription plan on Copy AI is Pro. It costs $36/month and lets users generate an unlimited number of words and also brings in up to 5 users.
However, it also offers a free-for-life account from which you can generate up to 2k words monthly.
Claim your free account to get started with Copy AI at no cost.
6. Copysmith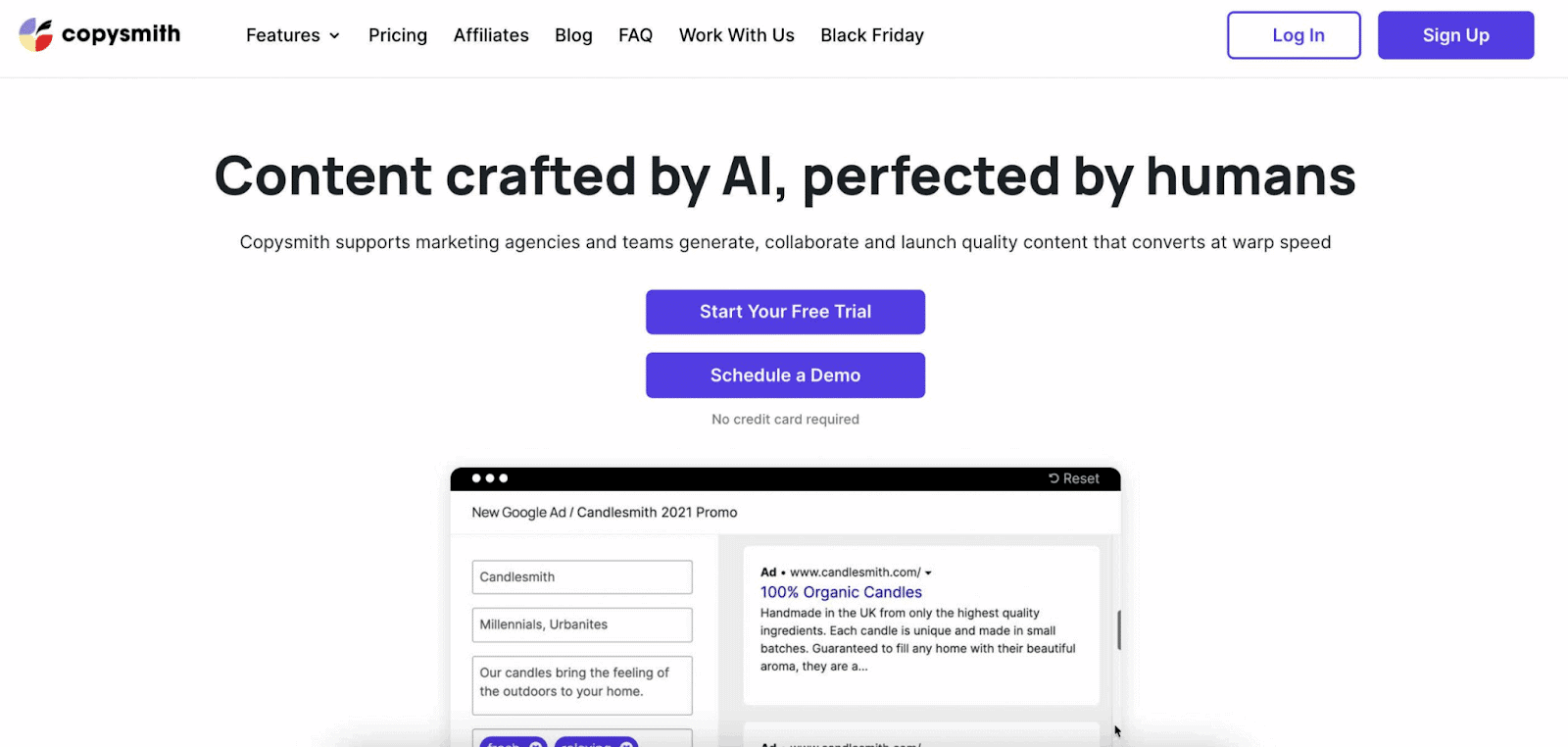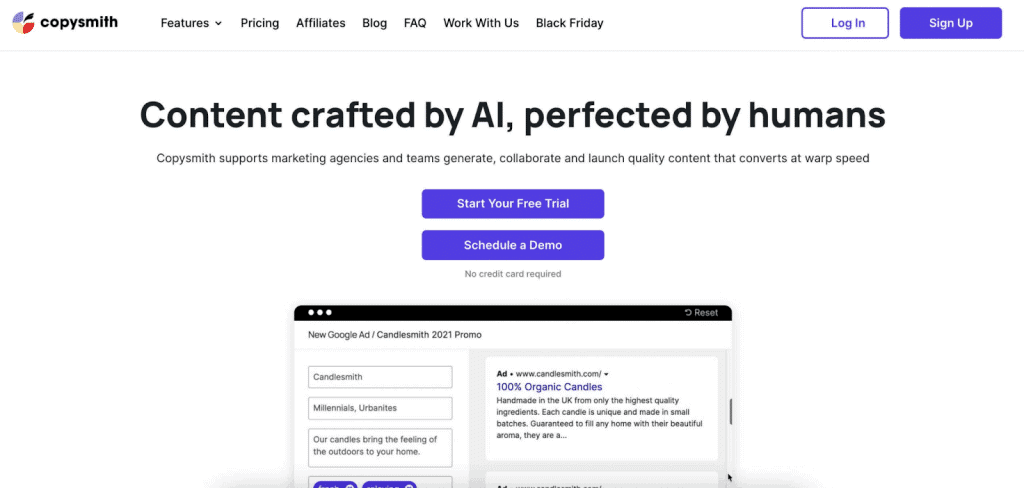 Copysmith is definitely one of the most popular names in the AI writing tools industry. If you're looking for completely non-plagiarized articles, you should be looking at Copysmith because it allows you to run up to unlimited plagiarism checks on your content.
Copysmith's approach to content is somewhat synergistic, using its SEO and conversion tools. While some AI writers focus on SEO and some focus on conversion, Copysmith tries to help you get the best of both worlds by crafting SEO-optimized content with the goal of e-commerce conversion.
With Copysmith, you can integrate with a host of other tools, including Frase AI that I listed above. It can integrate with your Google ad platform to help you write and copy on the go, and the Chrome extension lets you take it with you anywhere on the internet.
Copysmith Pricing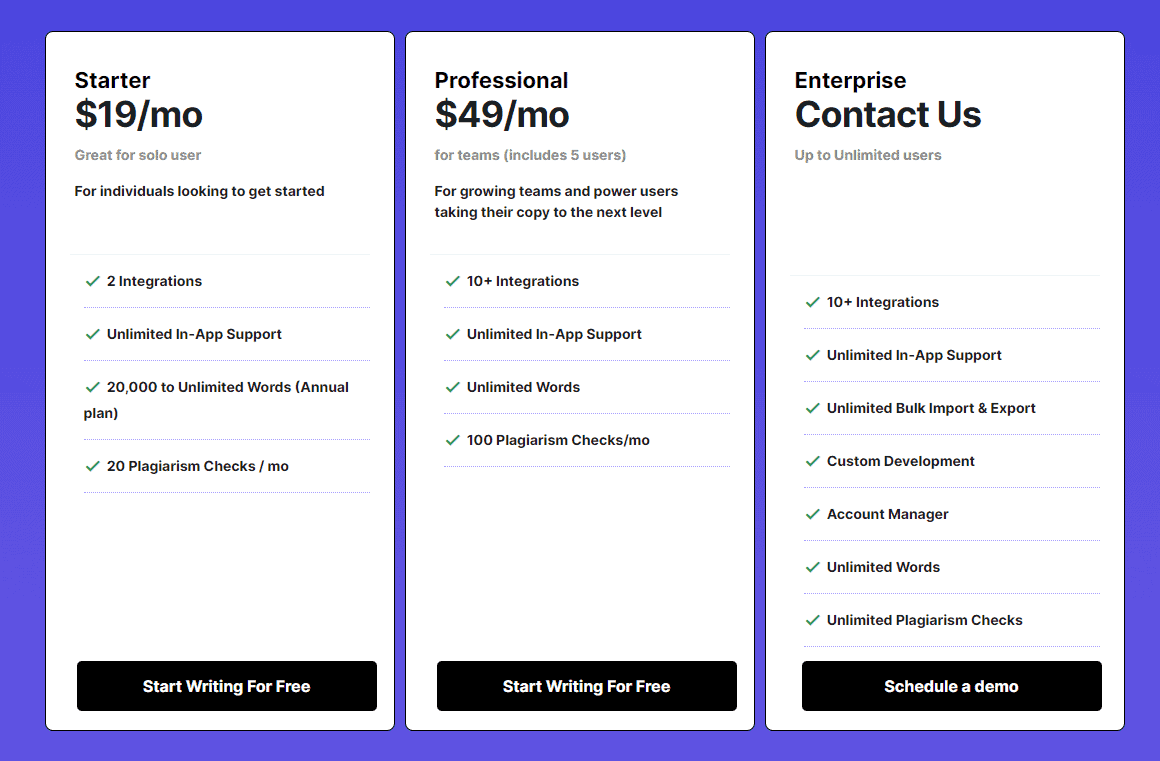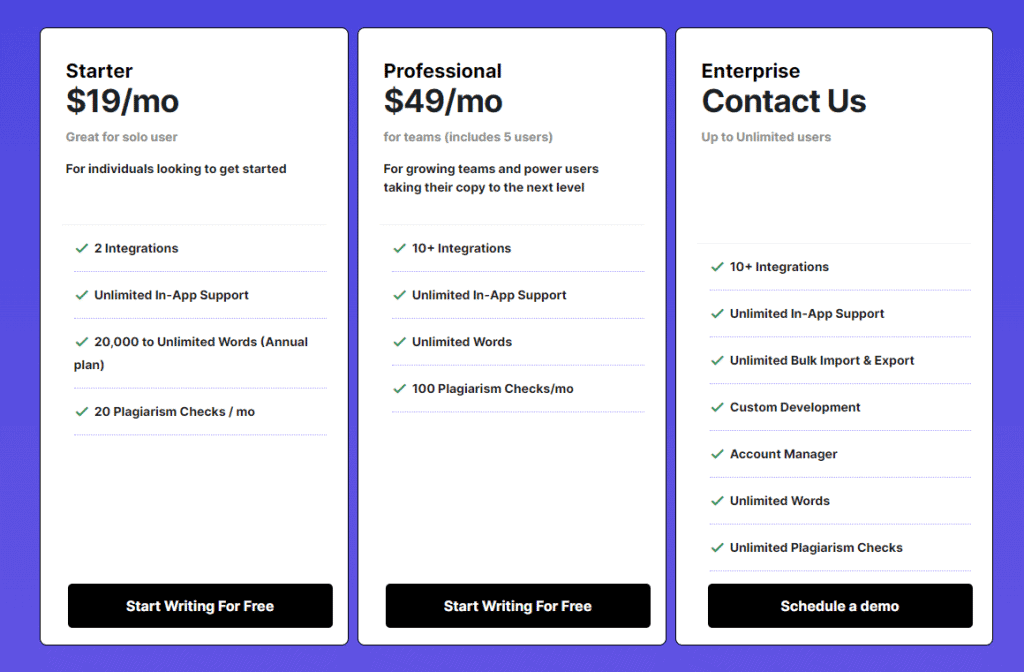 Copysmith's pricing includes:
Starter: costs $19 per month. You get 20k words (unlimited on the annual plan), and 20 plagiarism checks/per month.
Professional: costs $49 per month for unlimited words, 5 user accounts, and 100 plagiarism checks per month.
Enterprise: custom pricing to get everything unlimited as well as a dedicated account manager and custom AI development.
7. Hypotenuse.ai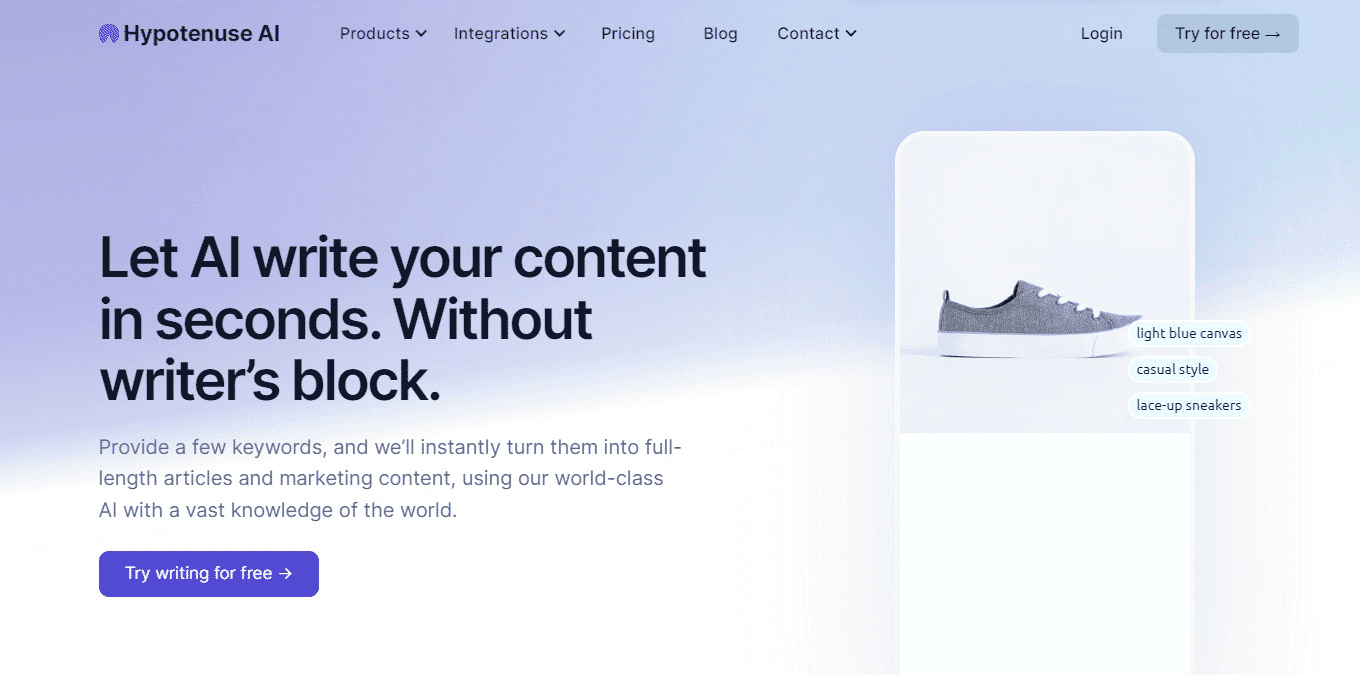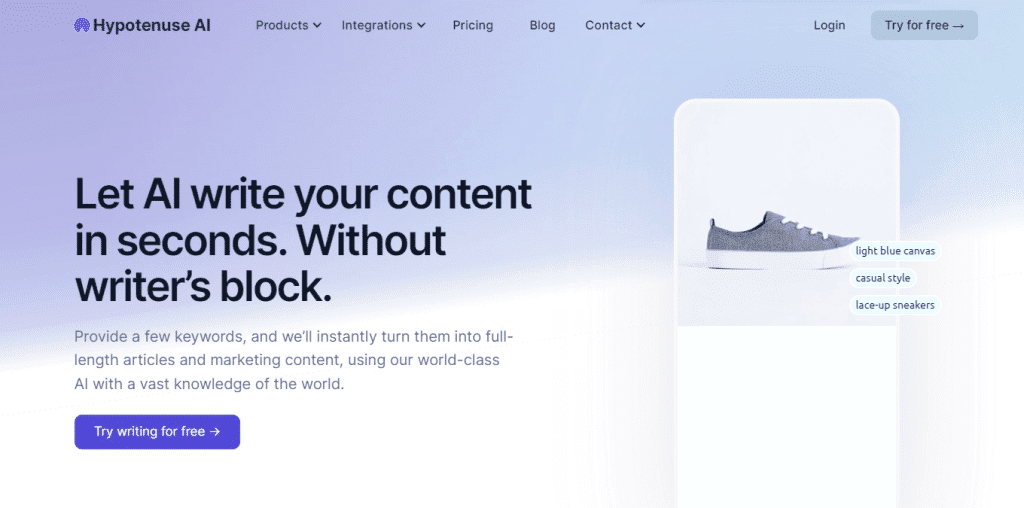 Hypotenuse AI is one of the lesser-known AI article generators out there, but it is an excellent Jasper AI alternative if you're looking for a cheaper tool with similar functions.
If you're familiar with Jasper's article writer interface, Hypotenuse won't be a problem as they both share a similar, step-based process for content creation. Another excellent part of Hypotenuse is that the credits you don't use in a month will roll over to the following month.
If you generate AI images regularly, it may please you to know that AI images generated on this platform are independent of your credits.
Using the platforms AI blog writer, all you need to do is input your desired topic, and it will automatically generate an outline. Within minutes you will have a 1k+ article ready.
The content detection tool can help verify the facts in your content to make sure your statistics are correct.
Hypotenuse.ai Pricing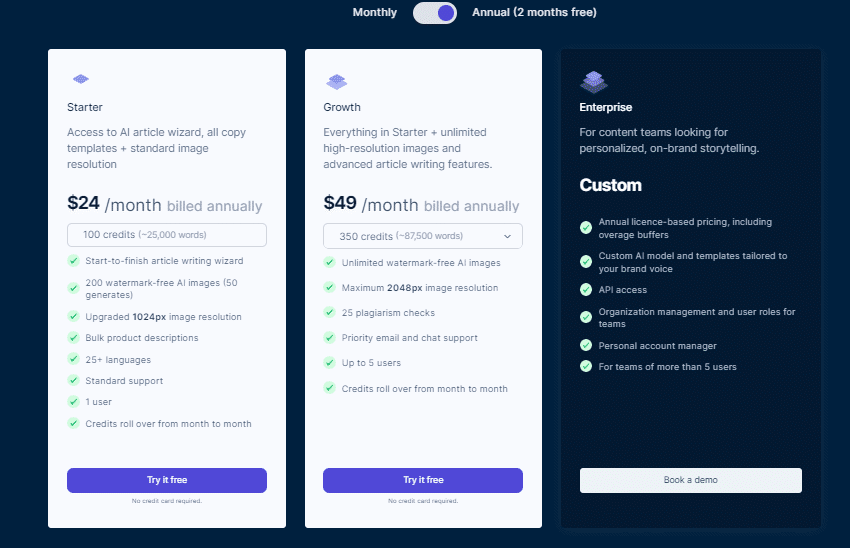 Hypotenuse AI offers a 7-day free trial period to new users to try out its tools. Its pricing plans include:
Starter plan: costs $24 for 100 credits (about 25,000 words) per month.
Growth plan: costs $49 for everything in Starter + unlimited high-resolution images.
Enterprise: custom pricing for companies with a large team and content needs.
8. Anyword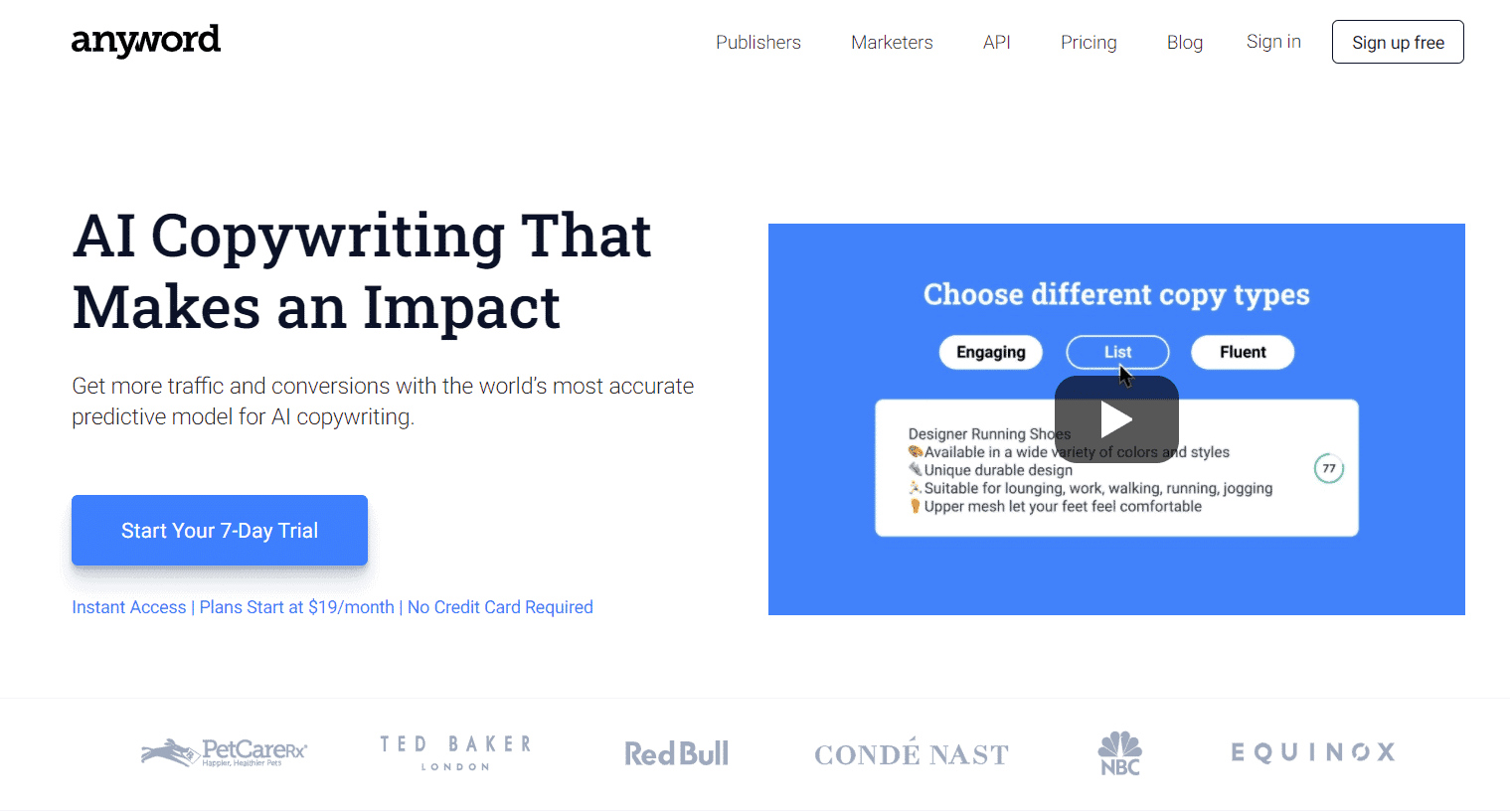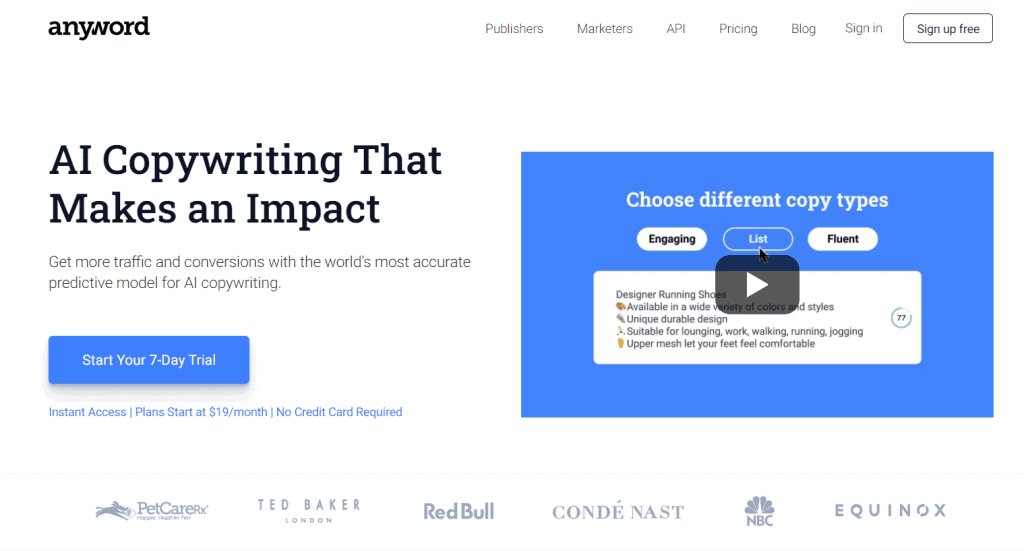 If you are a digital marketer and you haven't tried Anyword yet, it really should be on your radar. And you business owners, you can trust Anyword's ability to write conversion-focused copy that is entirely data-driven, rather than based on guesswork.
Anyword's features that make it the best Jasper alternative for copy are:
High-quality content: Anyword easily integrates SEO keywords into every content it writes. Its in-built plagiarism checker also makes sure they are 100% unique.
200+ data-driven copywriting tools: every writing tool on Anyword, from blog posts to emails to ads, is backed by data from top-performing content to help write better ones.
Real-time performance score: for every content you write on Anyword, there is a performance score that tells you how it stacks up against the competition.
Incorporates customer reviews into ad copy: this is another Anyword's unique feature. When you paste customers' feedback in your prompt, it can use them to write compelling copy.
Complies with online ad policies: most digital ad platforms have policies guiding users. Anyword automatically complies with these policies so you have very little to adjust in the content.
Anyword Pricing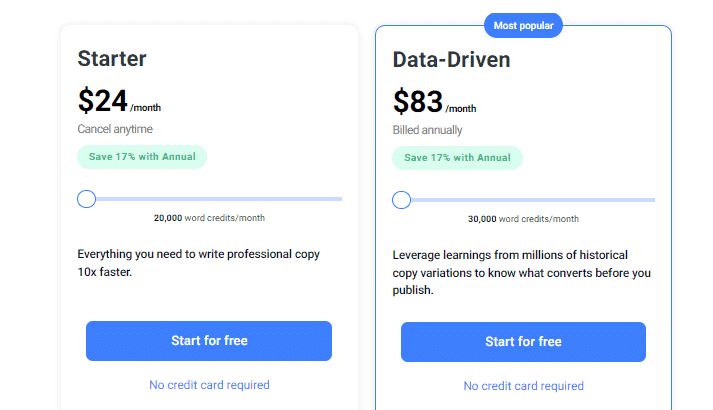 Anyword offers two pricing plans, which include:
Starter Plan: $24 for 20k words, $49 for 65k words, and $166 for 300k words, all monthly.
Data-Driven plan: $83 for 30k words a month and can go up to $333 for unlimited words every month.
9. ClosersCopy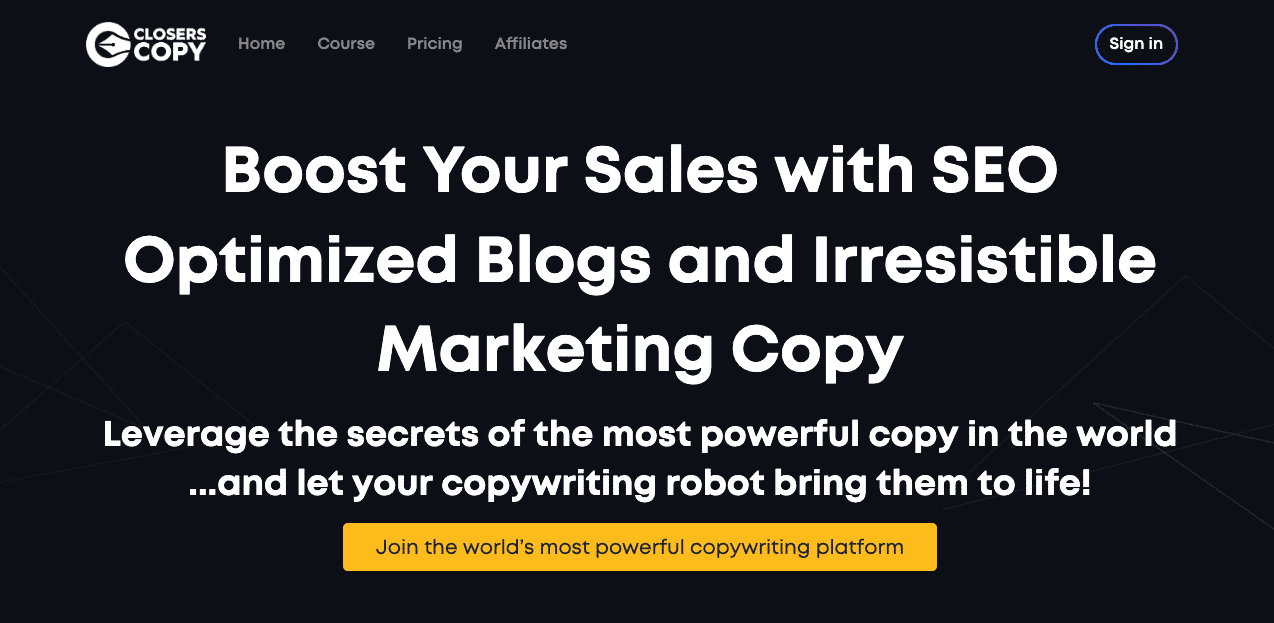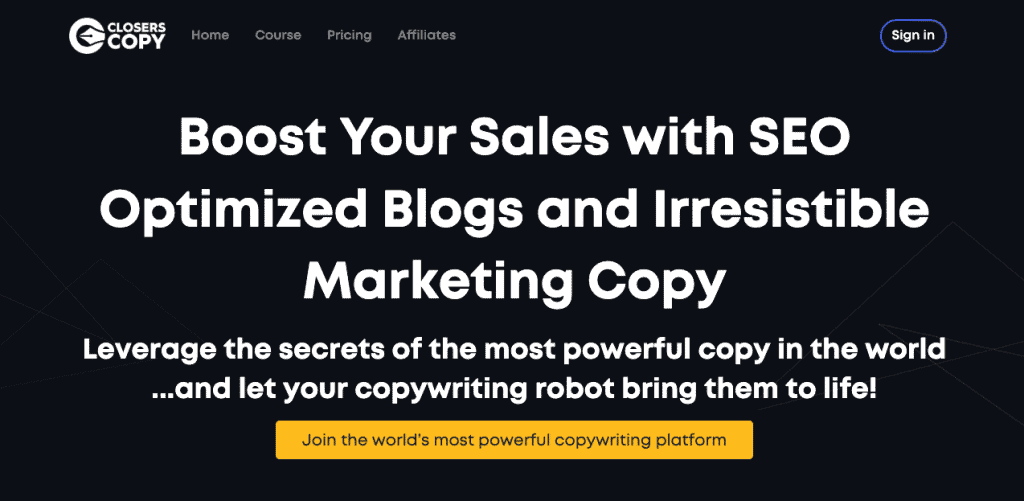 ClosersCopy is one of the newest AI writing tools presently. It was released in 2020, and since its release, there have been several improvements on the platform and its writing abilities in general.
Although ClosersCopy is not as good as Jasper when it comes to long-form content, it is an impressive Jasper AI alternative in writing short to medium-form content as well as ad copy, emails, social media posts, and others.
What gives ClosersCopy an edge over Jasper are its SEO audits and SEO planner tools.
With the SEO audit tool, you can analyze your website for issues preventing high rankings. And with the SEO planner tool, you can plan your content for weeks or months ahead.
ClosersCopy also has a whopping 125+ languages and 700+ frameworks on its platform. Frameworks are prebuilt structures that help generate longer content with minimal inputs.
Some of these frameworks include AIDA, PAS, YouTube video description, Google ads, and so many others.
ClosersCopy Pricing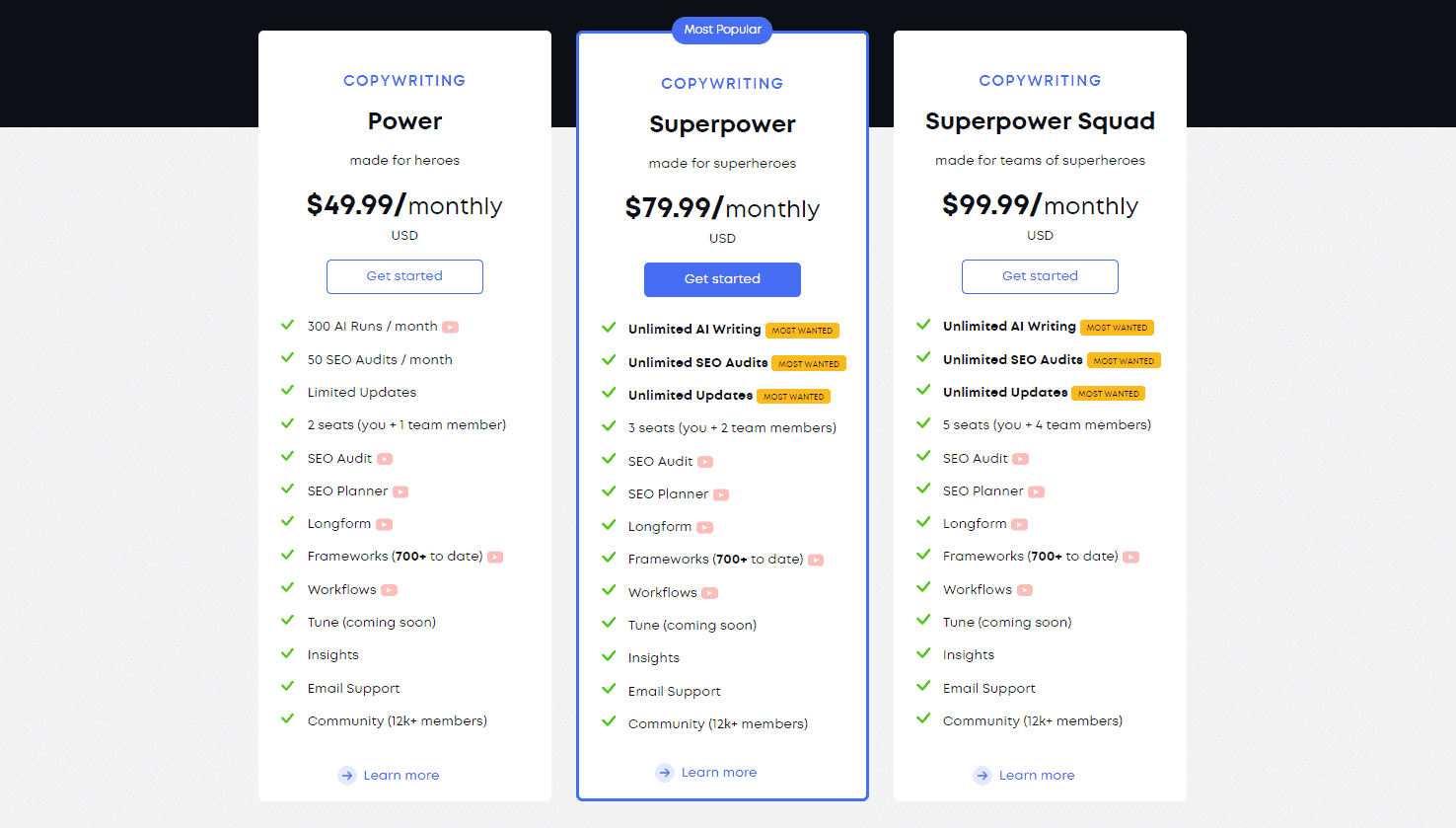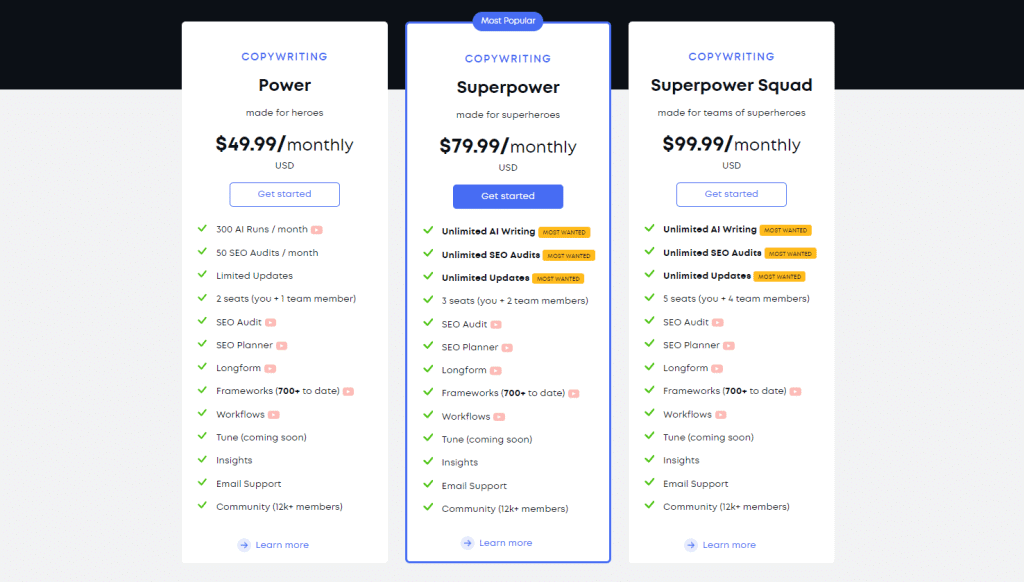 ClosersCopy offers no free account nor free trial, its pricing plan includes:
Power: $49.99 per month for 300 AI runs and 50 SEO audits.
Superpower: $79.99 per month for unlimited AI writing and unlimited SEO audits
Superpower Squad: costs $79.99 per month for unlimited AI writing, unlimited SEO audits, and more.
10. GrowthBar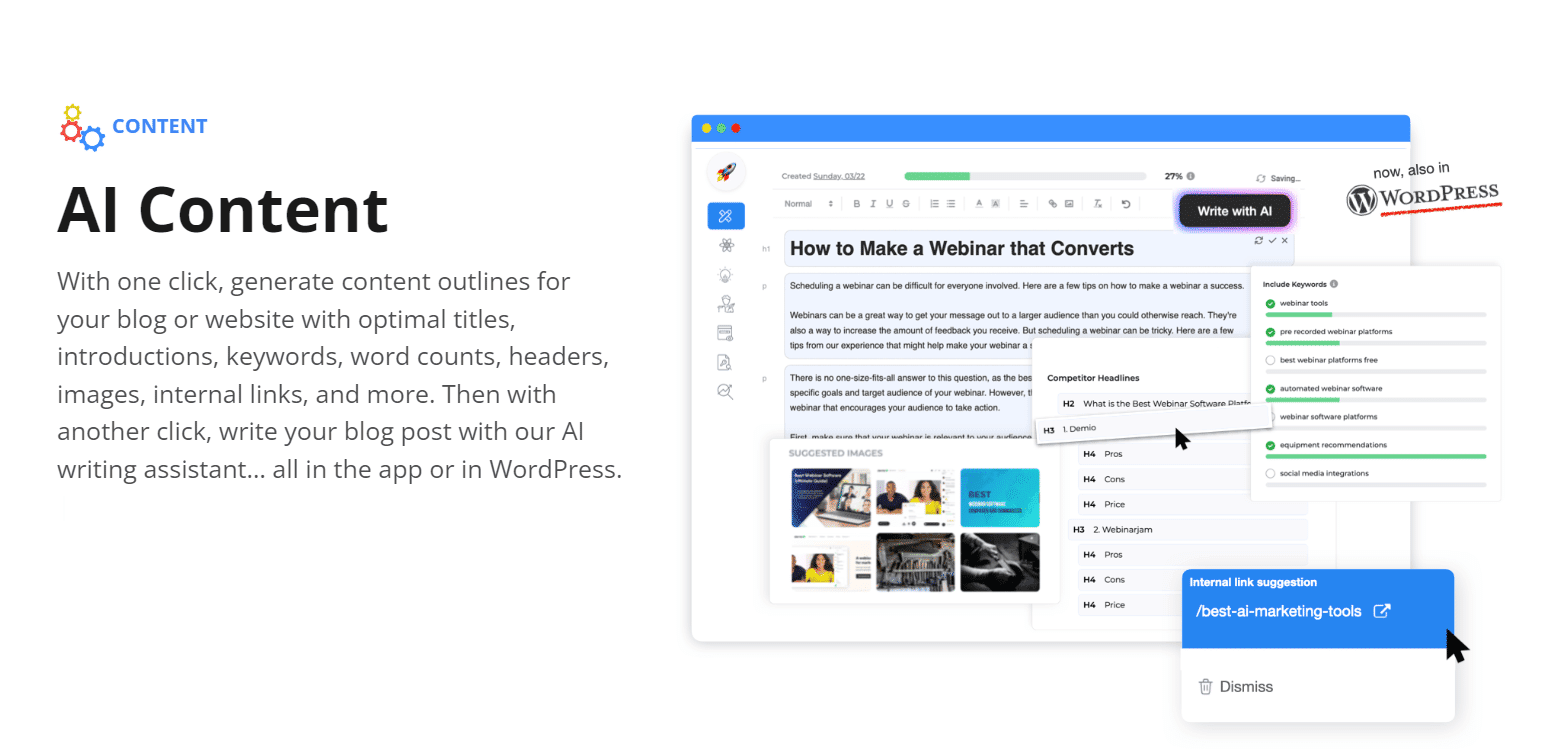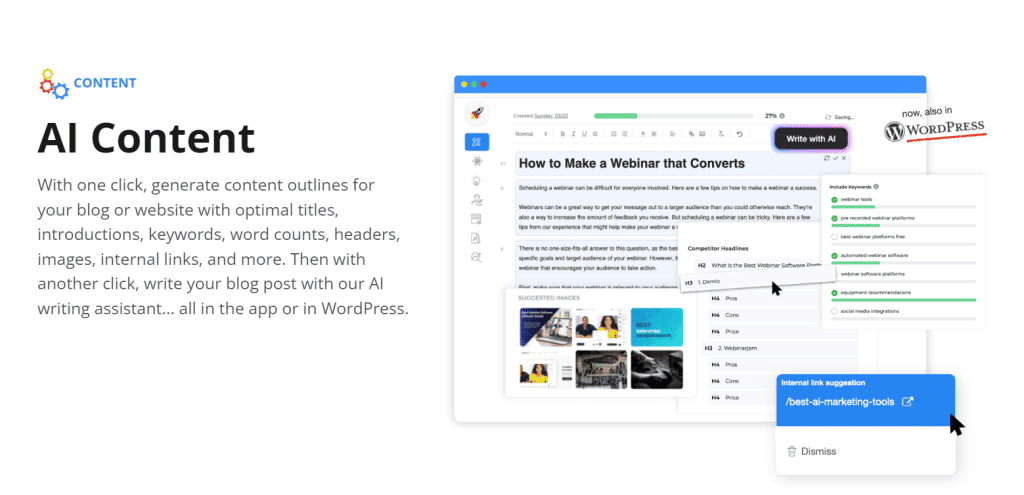 GrowthBar started out more as an SEO tool rather than a writing tool. Even in its URL, you'll see "SEO". So it's no surprise that this is a writing tool that is painstakingly focused on search engine optimization.
GrowthBar uses its self-built AI along with OpenAI's GPT-3 and a few other tools to do everything it does, from keyword research to article writing.
On the blog writer interface, once you input your topic or focus keyword, GrowthBar immediately starts giving you insights about what already exists on that topic, including keyword difficulty score, estimated revenue metrics, competitors' keywords, and more.
You can then generate your outline and also use the tool to write your article from the same interface. In the article writing process, GrowthBar intelligently optimizes your content for search engines, making sure to stick with best SEO practices.
Other than blogs and articles, GrowthBar can also write sales emails, product descriptions, newsletters, and more.
GrowthBar Pricing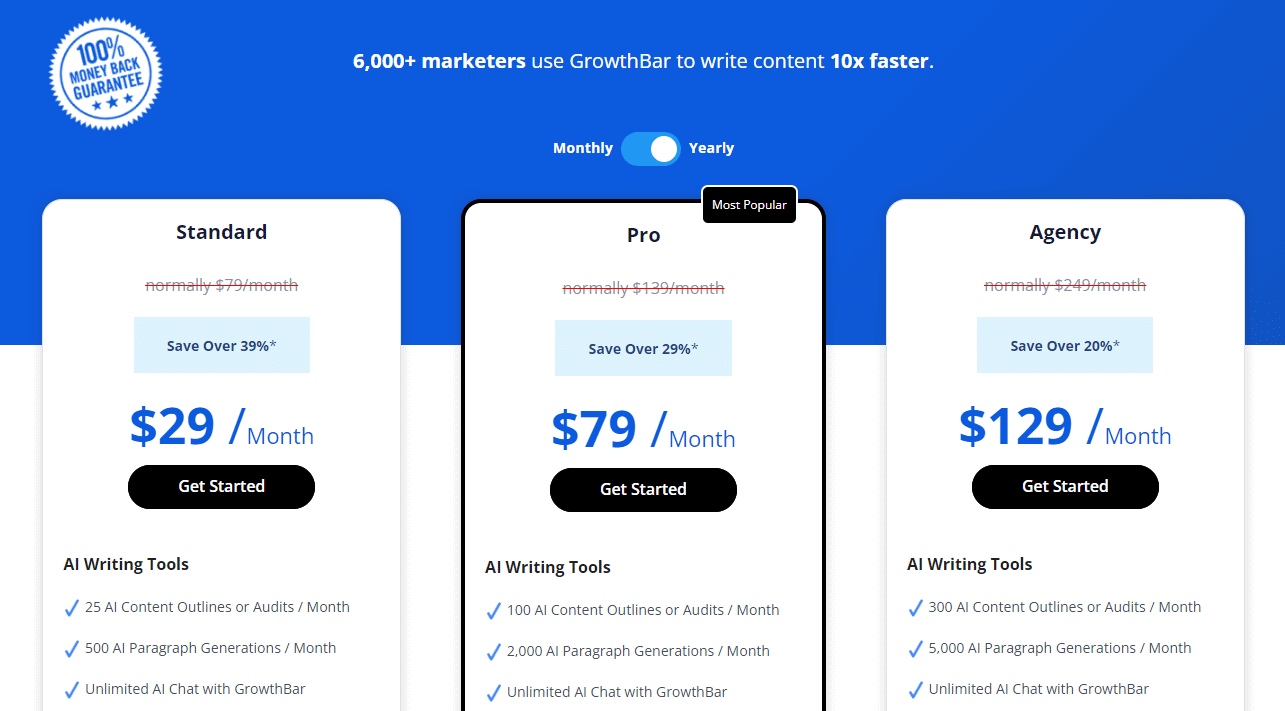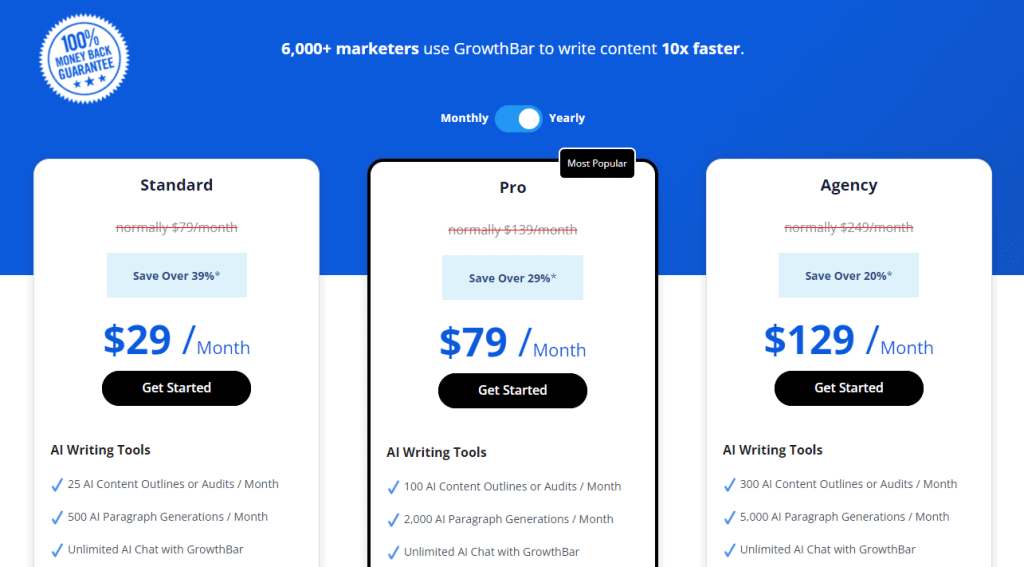 Pricing-wise, GrowthBar is a more affordable Jasper alternative as it offers 3 tiers, including Standard, Pro, and Agency, which cost $29, $79, and $129 per month respectively.
I recommend you leverage the 5-day free trial to get a feel for the platform and how it works.
Conclusion.
Jasper AI is by far one of the best AI text generators available right now, but considering some of its shortcomings, one may be forced to look for Jasper AI alternatives.
I recommend starting from the top 3 tools on this list (Writesonic, Scalenut, and Rytr) to see how they fare. Writesonic is the best free Jasper alternative, Scalenut is the best choice if you're looking for organic SEO-focused content, and Rytr is the cheapest alternative you'll find on the market.
Chances are that you'll find one of them to be perfect for your needs.