The lifeline of any business depends on its ability to sell its products and services. And for any business in eCommerce, the importance of an excellent, attention-grabbing, sales-commanding product description cannot be overemphasized.
For business owners looking to produce product descriptions at scale and with minimal investment, one of these 10 best product description generators will get the job done faster and cheaper than a human writer.
But before we get to the list, how do you choose an AI product description writer?
How to Choose the Best Product Description Generator for You
If you've had difficulty picking an AI product description generator, here are some suggestions for you:
Consider supported platforms: The first item on my list when giving tips like this is usually ease of use. But if an easy-to-use product does not serve your purpose, there is no point in considering it. Most AI product description writers have pre-built templates for Amazon and other major e-commerce platforms, also generic descriptions that you can use on a personal website/e-com store.
Prioritize ease of use: next, you want to consider how easy-to-use the platform is. You will be using this tool for months or years to come and as your business grows, so have that in mind.
Pay attention to content quality: Some AI tools are quick to run out of words, and you may find them repeating statements and reusing the same opener repeatedly till your product descriptions sound the same. You want to get a tool that writes quality content all the time. Which we will talk about in detail in this article.
Note the word count limit: Most AI writers have a monthly word limit that they allow users to generate and some offer unlimited words. While unlimited word counts may sound attractive, make sure the content you get from it is of high quality.
Mind the price: Although the price should be the last thing you consider, you should still try to get a product that won't break the bank as that may put your business at risk of debt.
The 10 Best Product Description Generators
Below are the 10 best product description generators at a glance:
Jasper AI
Writesonic
ChatGPT
Frase AI
Copy AI
Rytr
Copysmith
Hypotenuse AI
Anyword
ClosersCopy
1. Jasper AI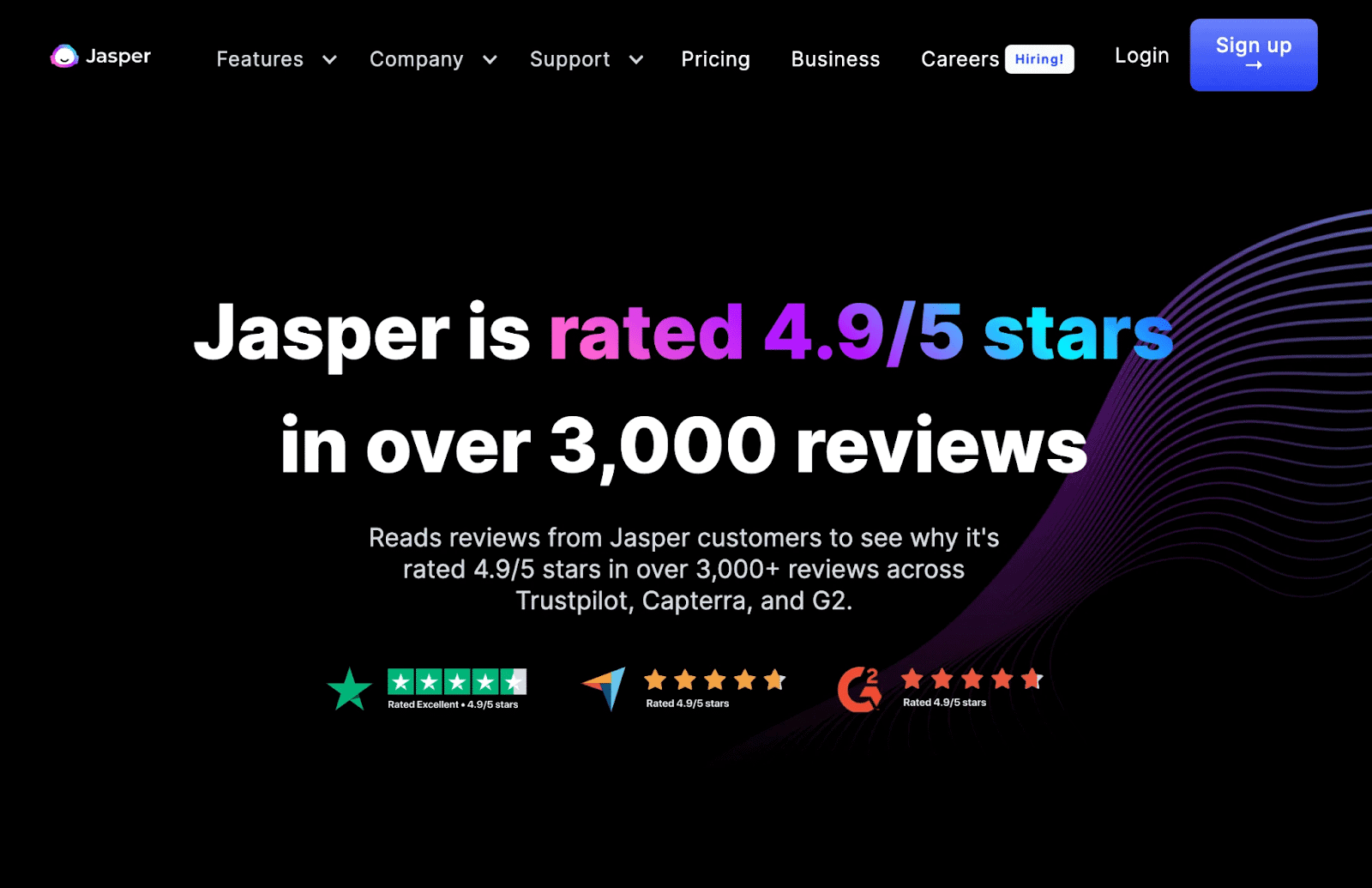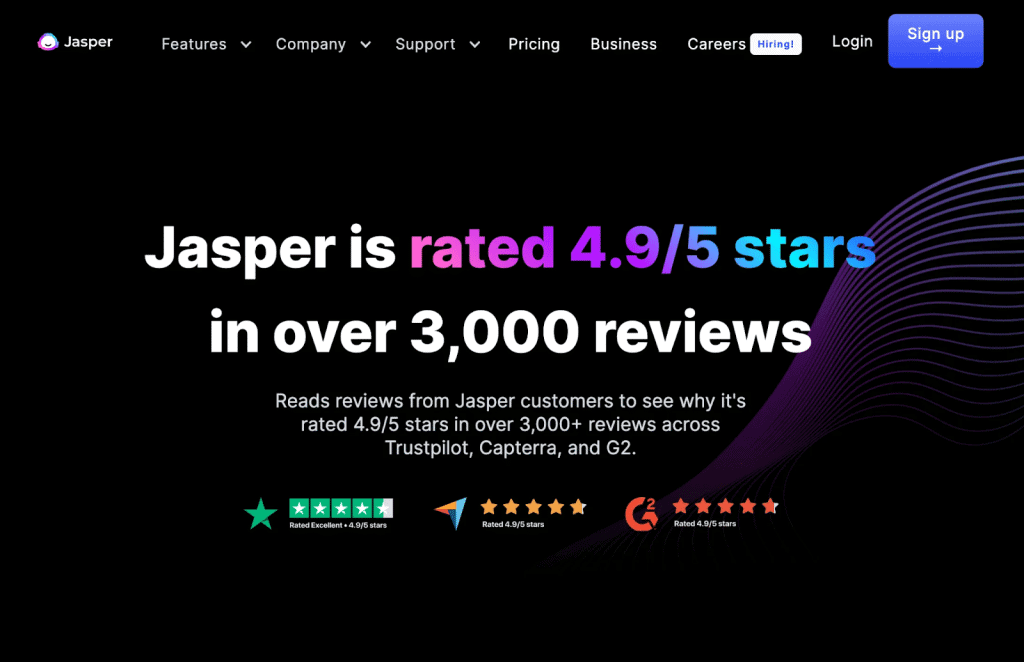 Jasper is one of the oldest AI writers running the GPT-3.5 model. The brilliant folks behind the service have imbued it with a plethora of functions, including the ability to write product descriptions.
Using one of Jasper's many templates and tools, you can generate product descriptions to use on Amazon, websites, emails, and social media.
Follow these steps to generate product descriptions on Jasper:
Login to your Jasper dashboard and navigate to Templates from the left pane.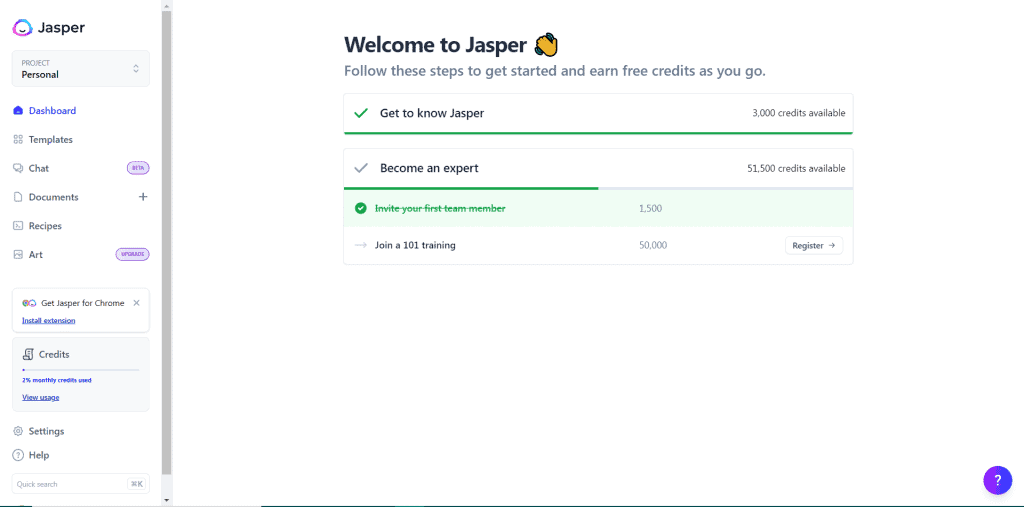 On the Templates page, select eCommerce at the top to filter the list.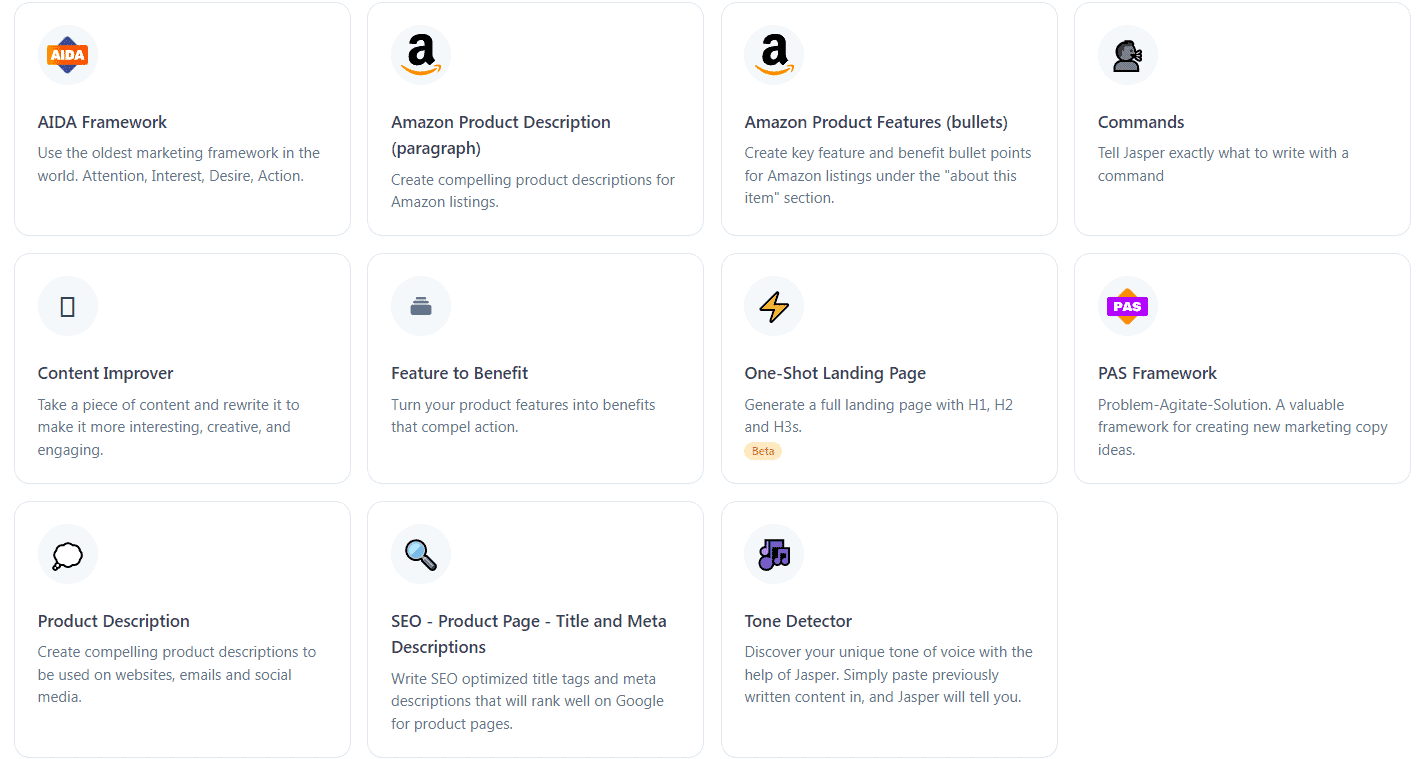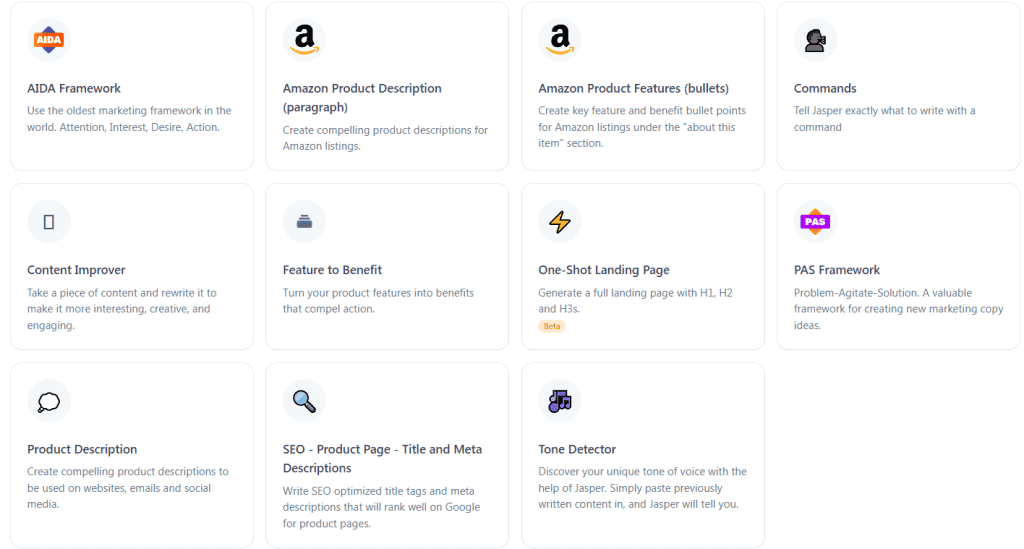 Towards the end of the page, select Product Description.
Next, fill in your product details, including the product name and features, target audience, and tone of voice.
Finally, click "Generate".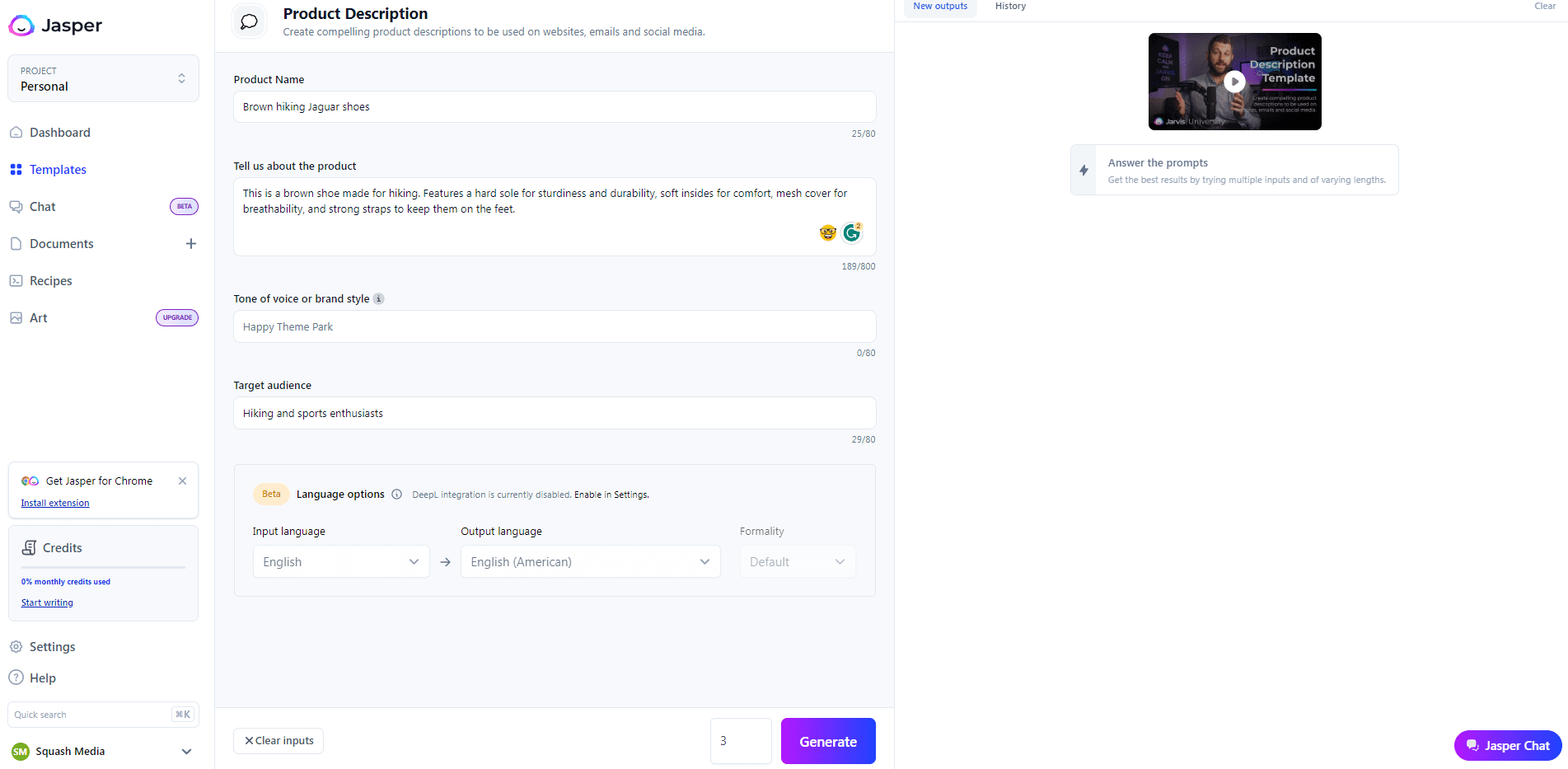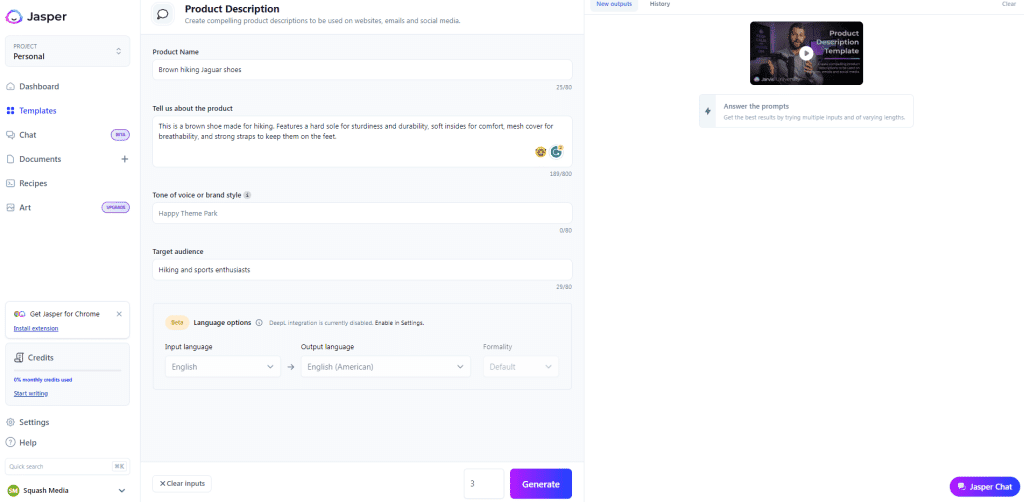 Your product description will be displayed on the right-hand side of the screen, and you can copy it from there.
To try out Jasper AI and see what it can potentially do for you, do not hesitate to leverage the 7-day free trial which offers you 10,000 words.
Jasper Pricing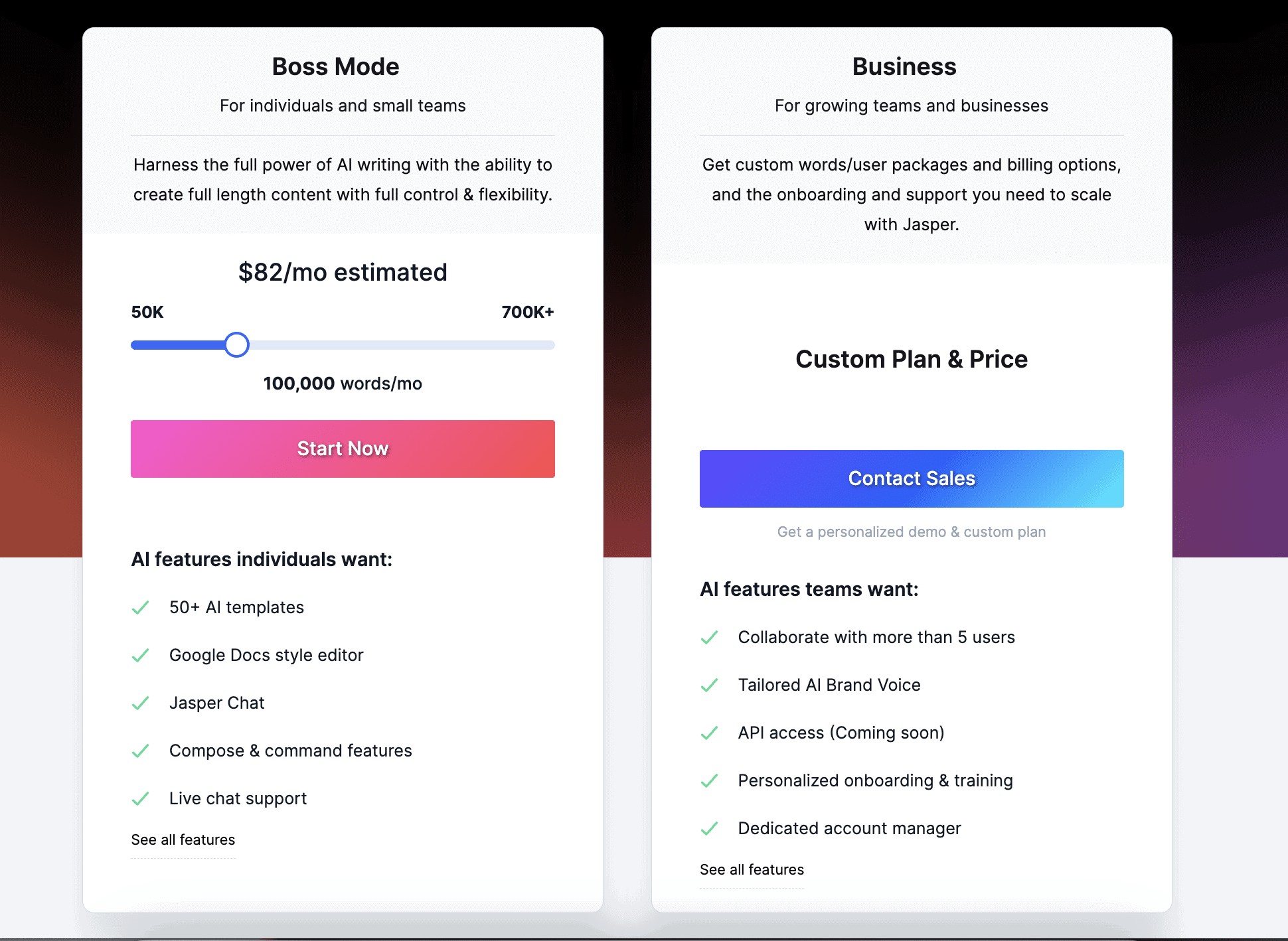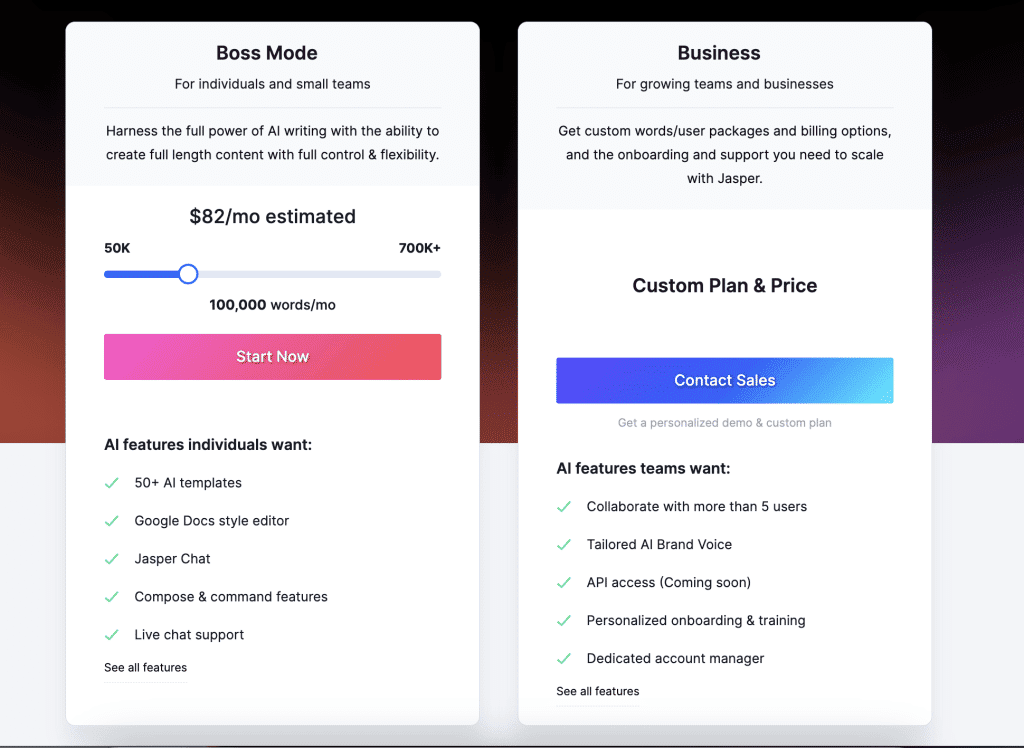 Boss mode: from $49 for 50k words to $500 for 700k words. Features include 50+ AI templates, Google Docs style editor, Jasper chat, compose & command, and live chat support.
Business: custom pricing for custom words, determined upon negotiation with the sales team. Benefits include 5+ users, tailored AI Brand Voice, API access, training, and a dedicated account manager.
2. Writesonic


Writesonic, like Jasper AI, has received an update to the GPT-4 AI model. And the team behind Writesonic keeps refining the model to become faster, smoother, and easier to use.
Writesonic also offers different pre-built templates which business owners can leverage to generate winning product descriptions without wasting too much time.
To generate product descriptions on Writesonic, follow the steps below:
Login to your Writesnic account.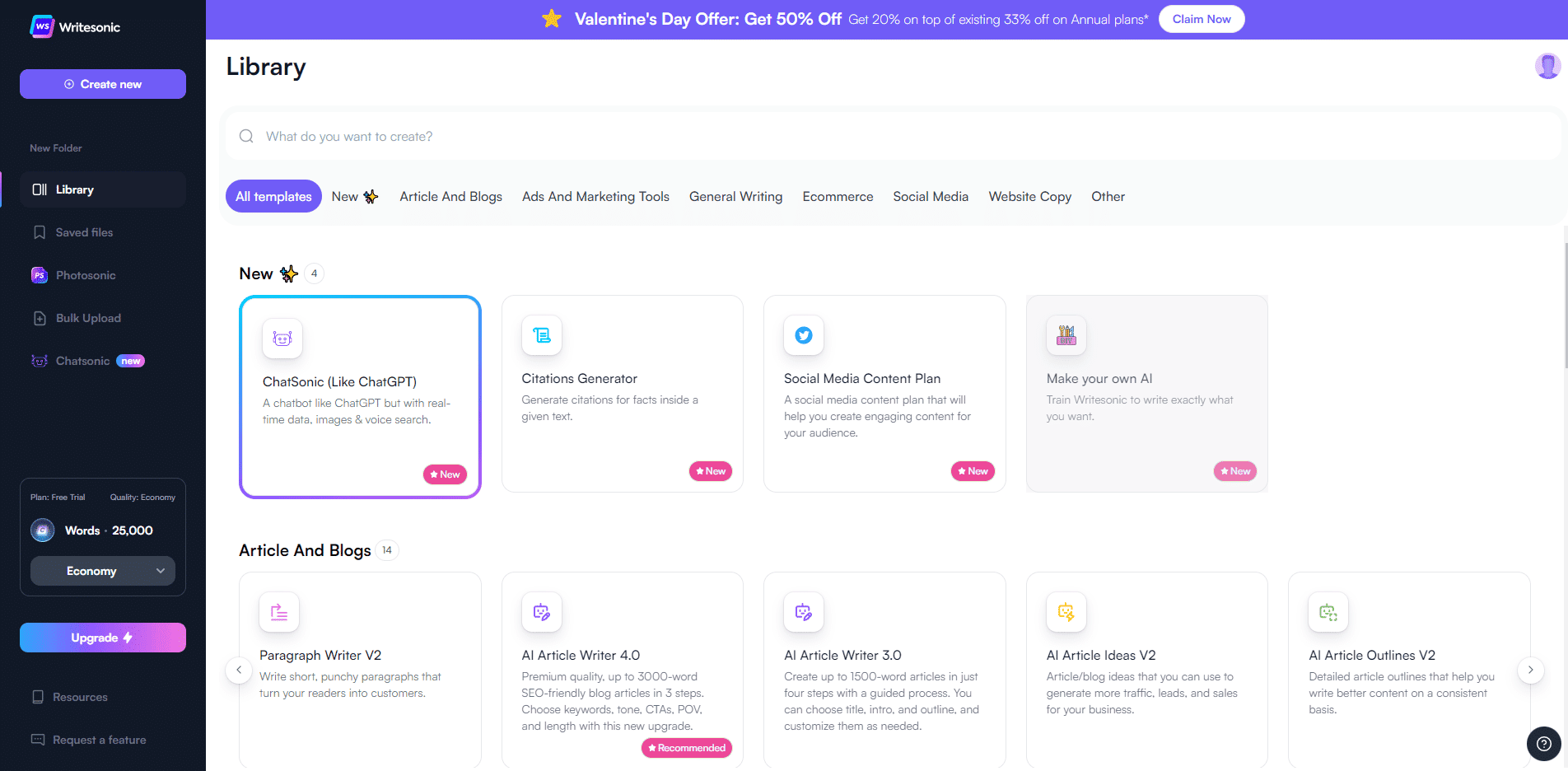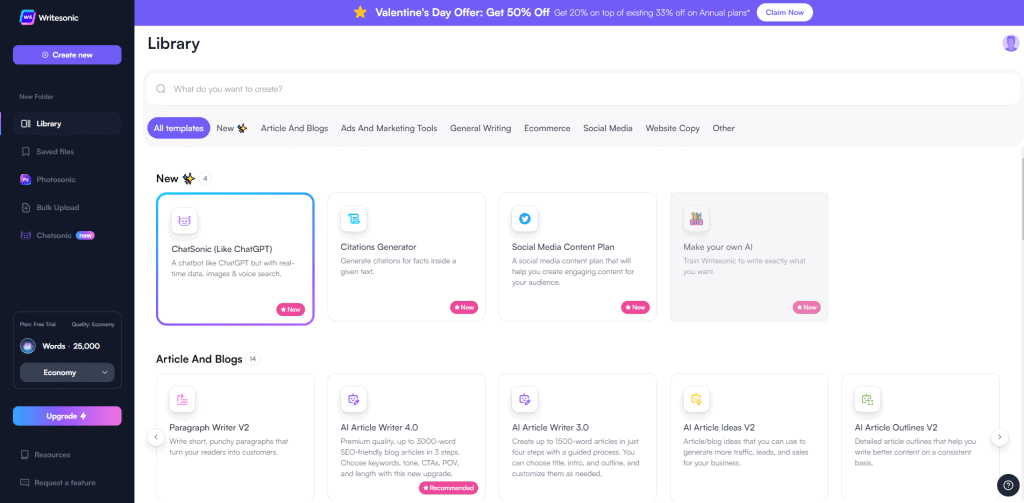 On the "Library" page, switch to E-commerce.


Select a template. For this example, I will select the Amazon product descriptions template.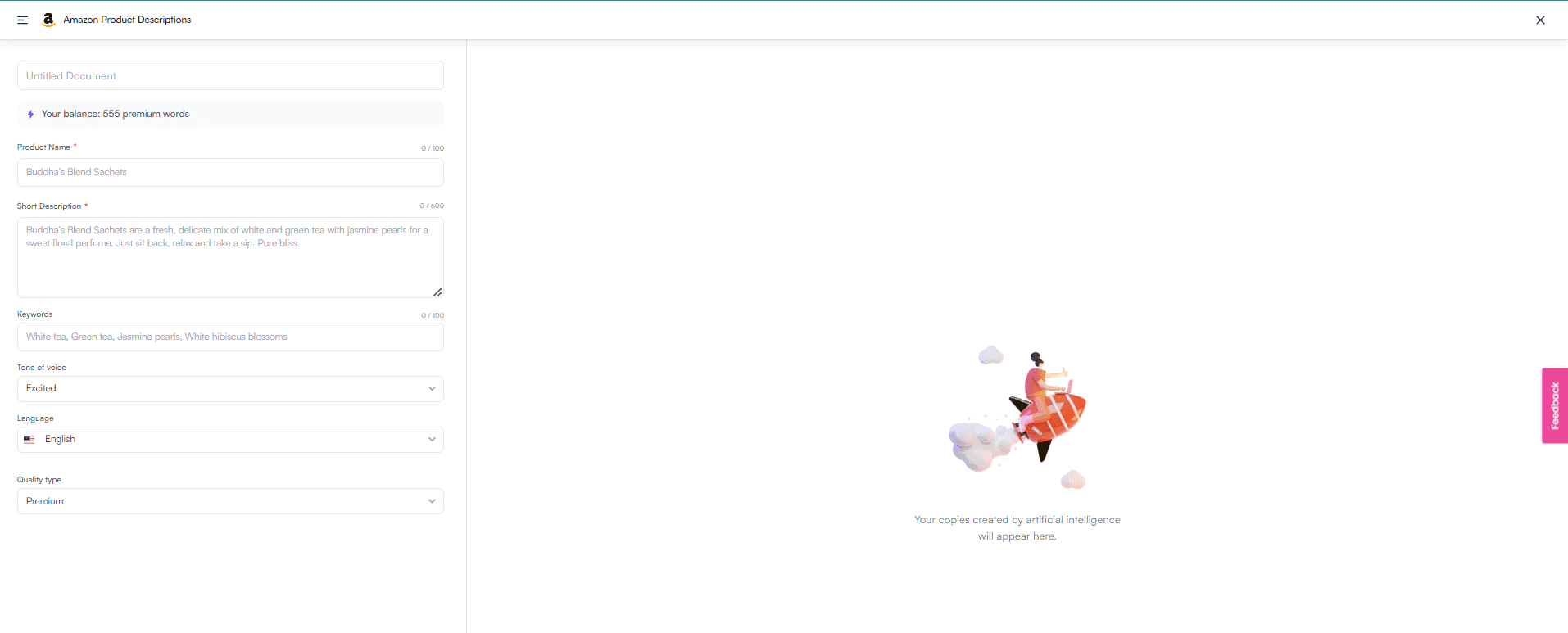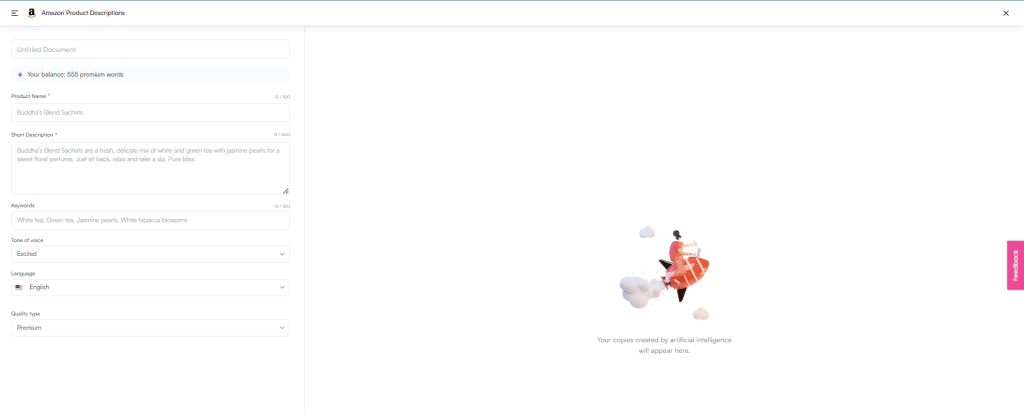 Fill in your product name, a short description of the product, and some keywords. Also select the tone of voice, language, and quality type.
Click on "Generate", then wait a few seconds for the result.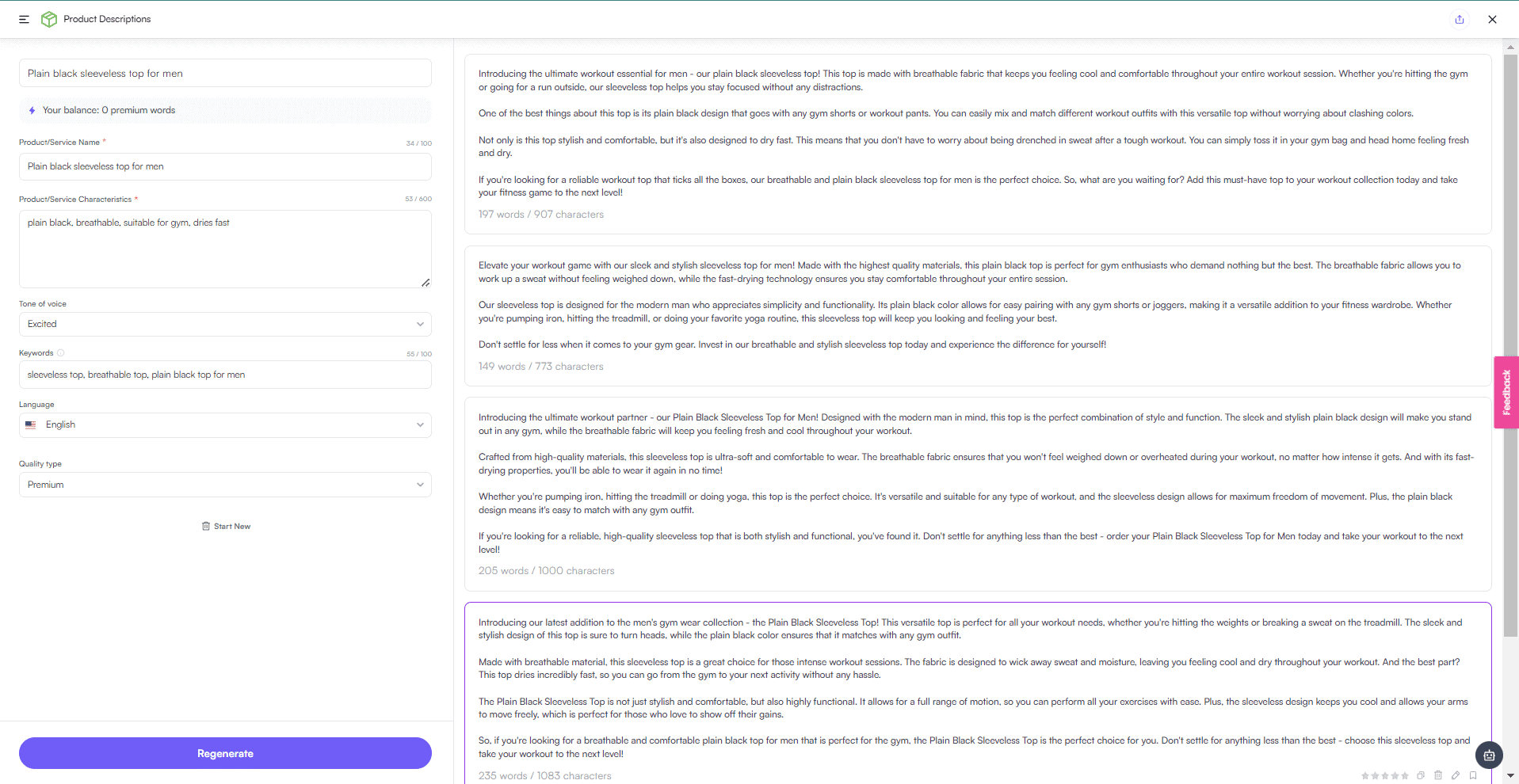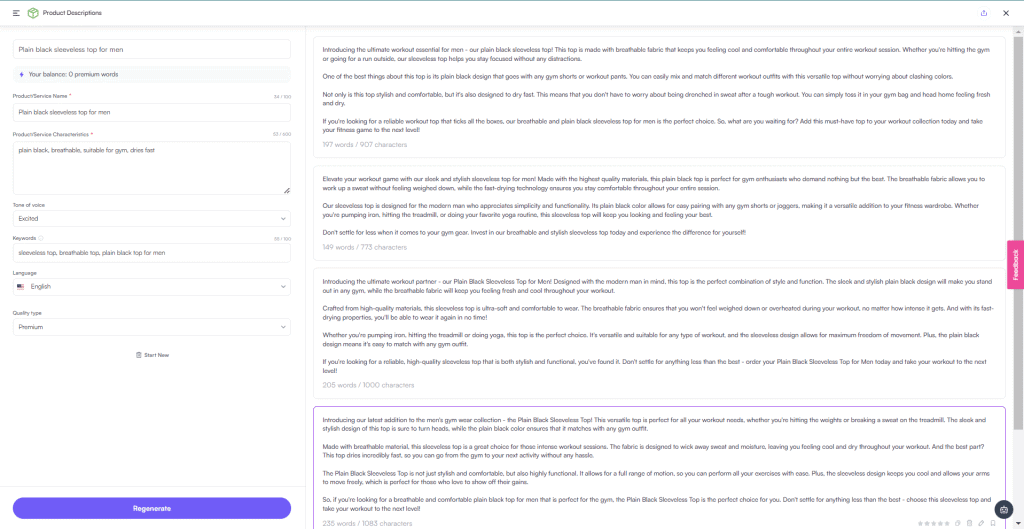 Go through the results and copy one that suits you. If there's none, there is always an option to regenerate.
To try out Writesonic, jump on the free account at the cost of $0 for 2,500 premium words per month.
Payment information is not required. Features include 100+ templates, ChatSonic, landing page generator, article writer, 1-click WordPress export, 25+ languages, and more.
Writesonic Pricing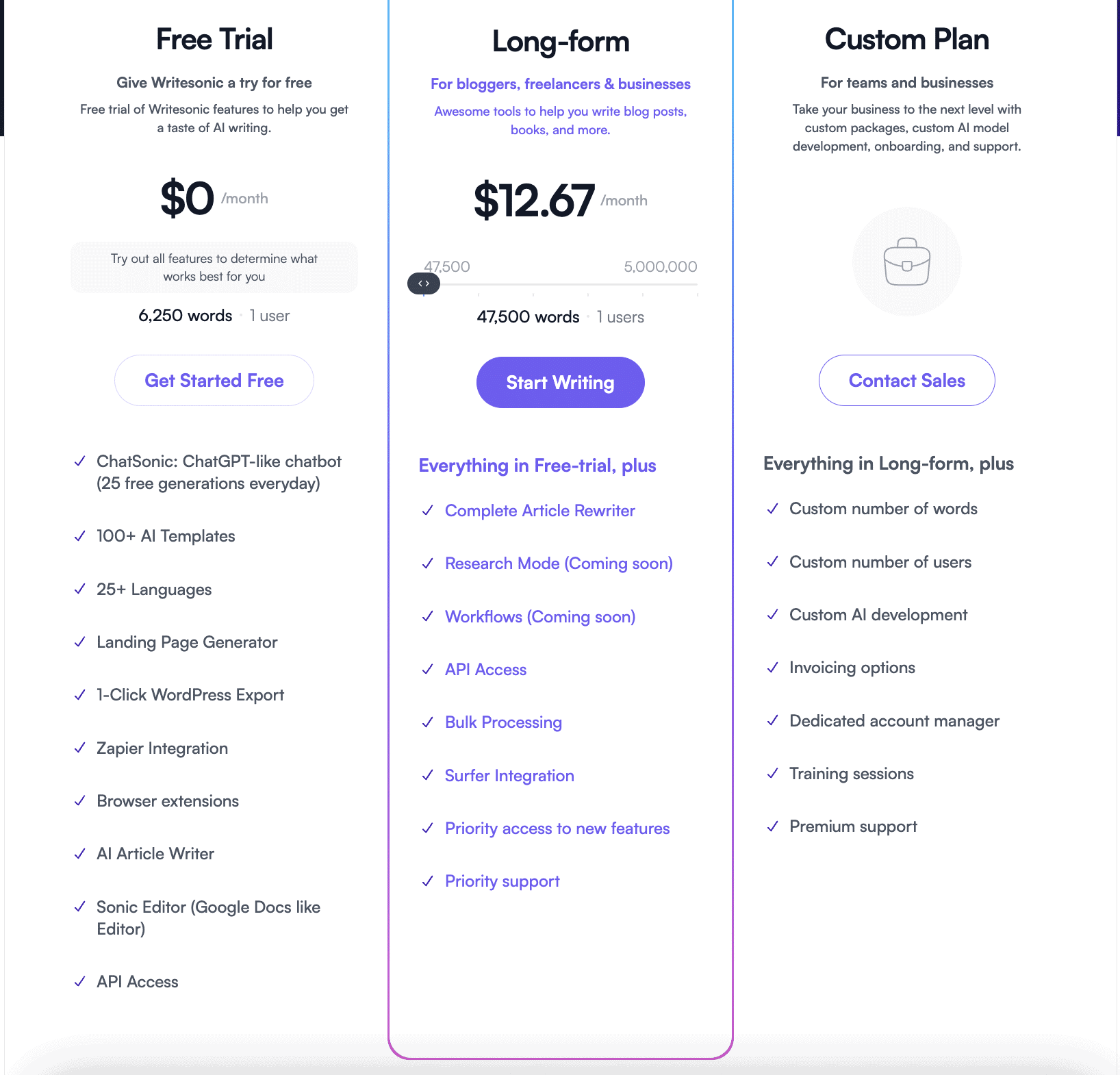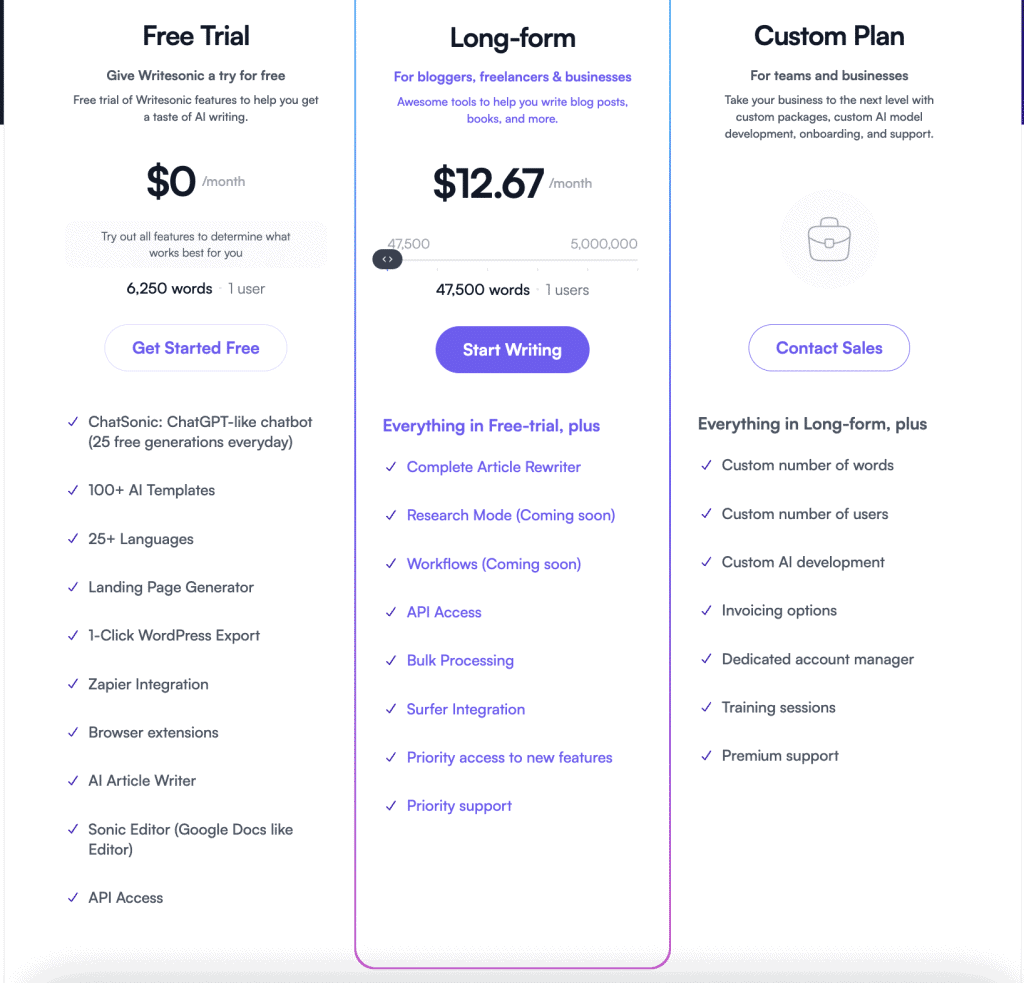 There has been a little adjustment to Writesonic's pricing since I last checked. Below are the new prices and benefits:
Long-form: for bloggers, freelancers, and businesses. Starts at $13 monthly (on annual payment) for 60k premium words and 180k Economy words. Features include everything in the free mode, complete article rewriter, bulk processing, Surfer SEO, and more.
Custom Plan: for teams and businesses, contact sales to jump on the Custom plan where everything you get is custom, including word count, number of users, AI development, invoicing, dedicated account manager, and everything in the lower plans.
3. Copysmith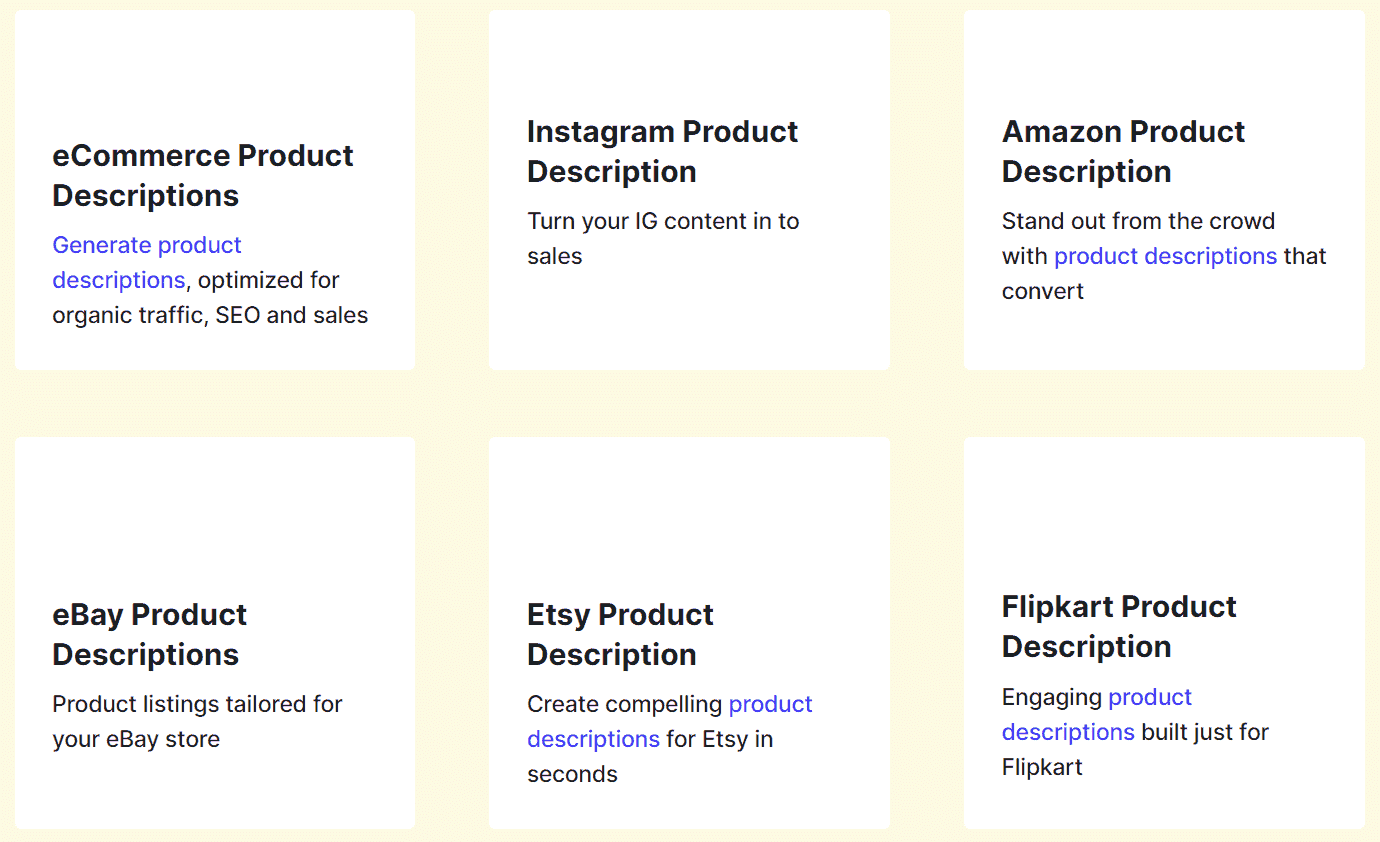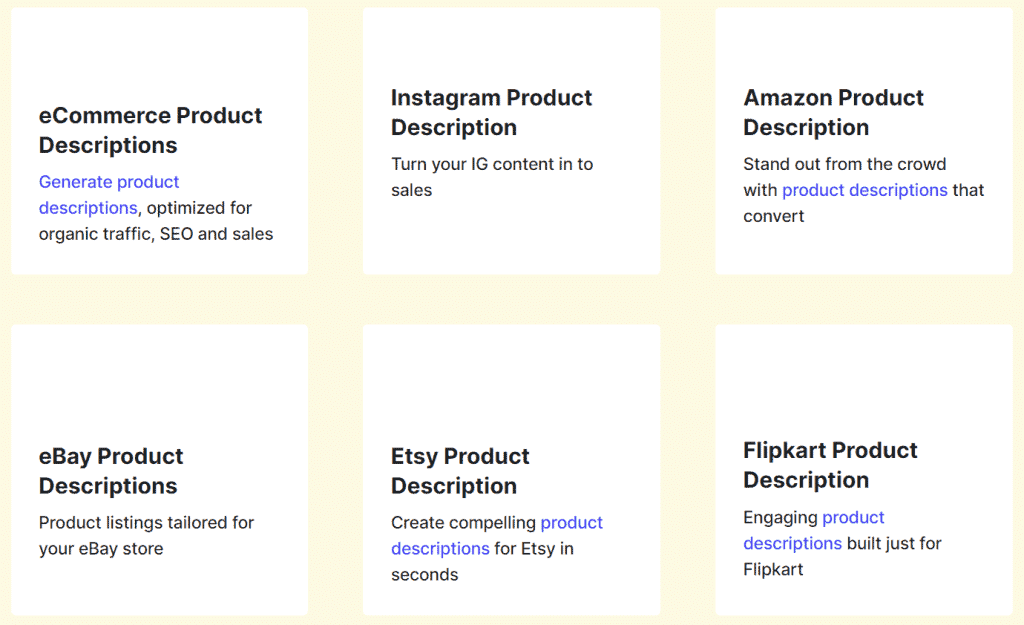 Copysmith is one of the best product description generators you'll see around today, and for good reason. It offers one of the largest numbers of product description templates among AI writing assistants.
The templates include SEO product descriptions for eCommerce websites, Instagram product descriptions, and varities of other templates for marketplaces, including Amazon, Etsy, Flipkart, and eBay.
To try out the service, you can take advantage of the 7-day free trial that gives you unlimited access to all of its features, with no credit card required.
Copysmith Key Features
Product description templates for multiple platforms.
Unlimited integrations including Shopify, WooCommerce, Frase, and others.
Plagiarism checker.
65+ languages.
Copysmith Pricing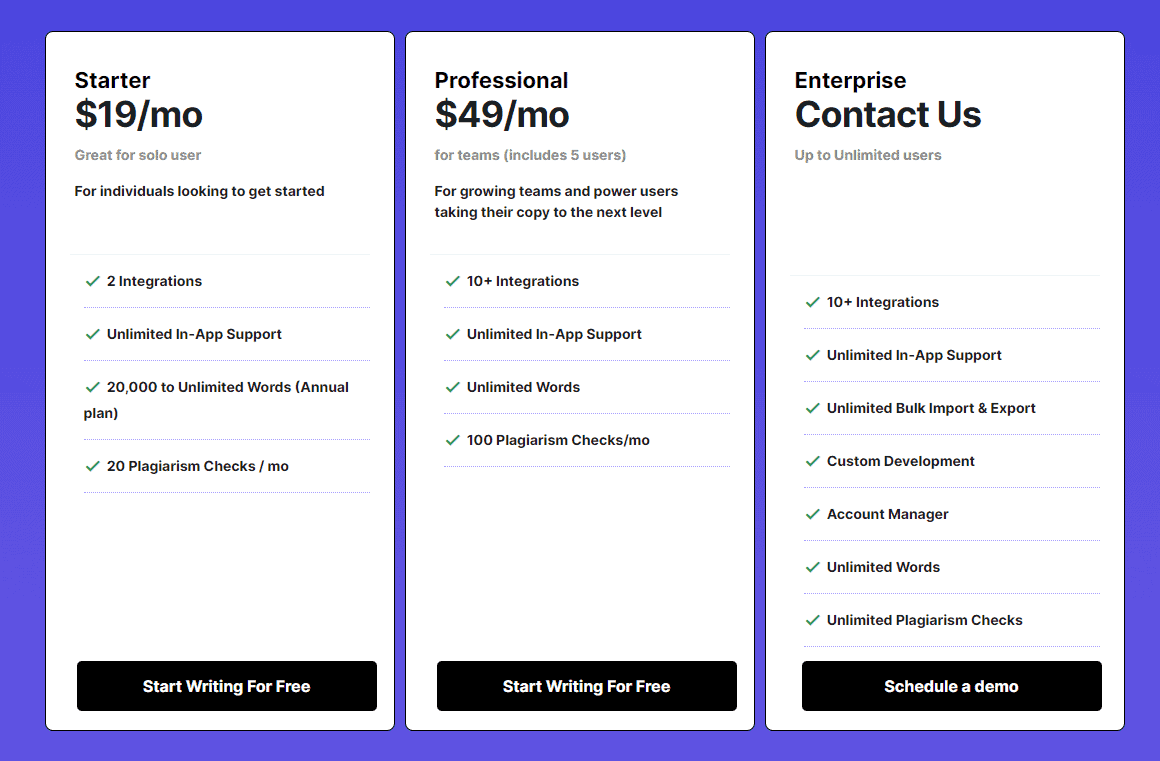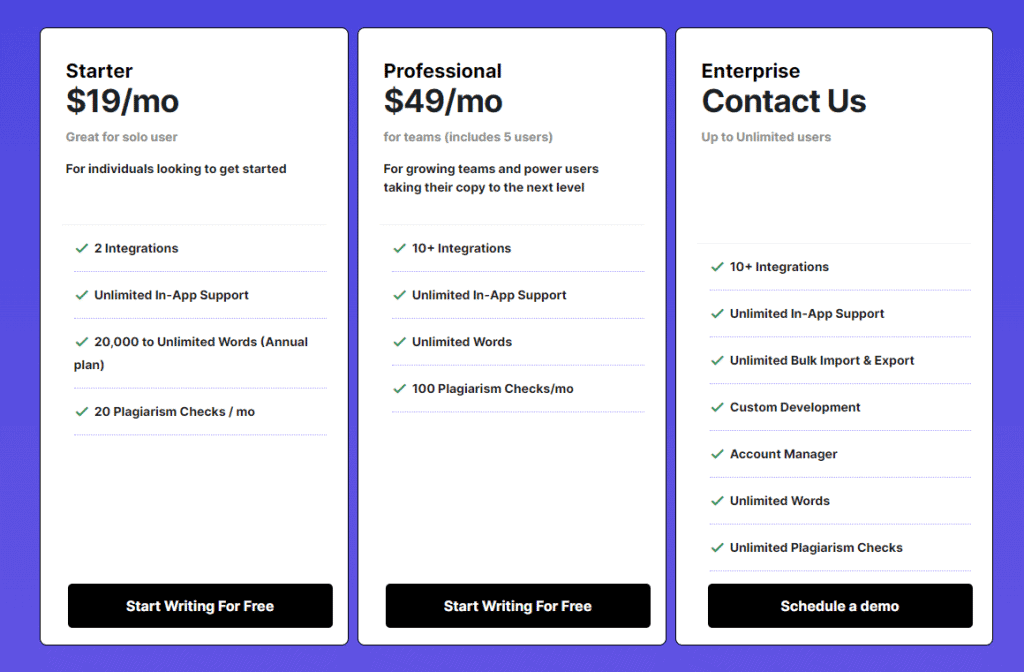 Starter: Copysmith's starter plan costs $19 per month, and its features include 2 integrations, 20k words (unlimited on the annual plan), and 20 plagiarism checks/per month.
Professional: costs $49 per month for unlimited words. Other features include 10+ integrations, 5 user accounts, and 100 plagiarism checks per month.
Enterprise: custom pricing to get everything unlimited as well as API access, a dedicated account manager, and custom AI development.
4. ChatGPT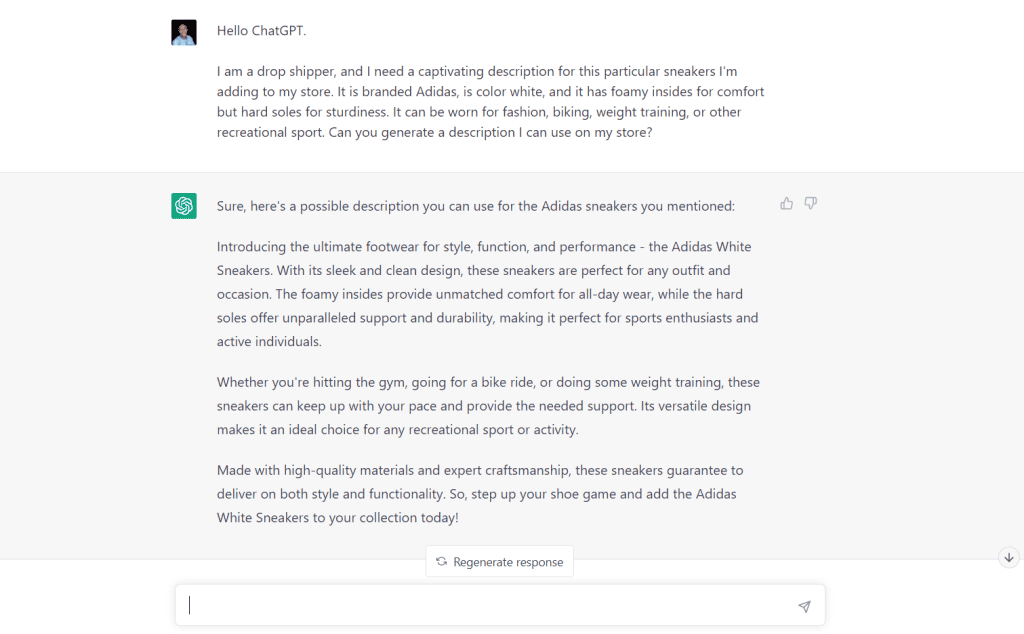 Presently, ChatGPT can be described as the top dog among AI writing assistants. That is no surprise as it belongs to OpenAI, the company that develops the AI model other writing assistants use.
As of March 2023, ChatGPT has received an upgrade to GPT-4, the latest AI model from Open AI, and it was a massive shift from GPT-3.5.
Using ChatGPT to generate product descriptions is easy. Just input the features of your product into the textbox and ask it to generate a description for you. Like this:
Probably the best thing about ChatGPT is the flexibility with the prompts you use. Sure, there are content creators out there who publish "ChatGPT Prompt" like we're still in the age of RoboCop, but you don't need all of that.
Once you know what you need, give the details to ChatGPT, and wait for its response.
ChatGPT Pricing
ChatGPT is free for the most part. At least, for now. You can visit chat.openai.com, which is ChatGPT's location, sign in, and start using it right away.
However, there is ChatGPT plus which costs $20 per month. Some of the perks of subscribing to this premium plan are faster response times, unrestricted access to ChatGPT, zero downtimes, and priority access to new features.
5. Frase.ai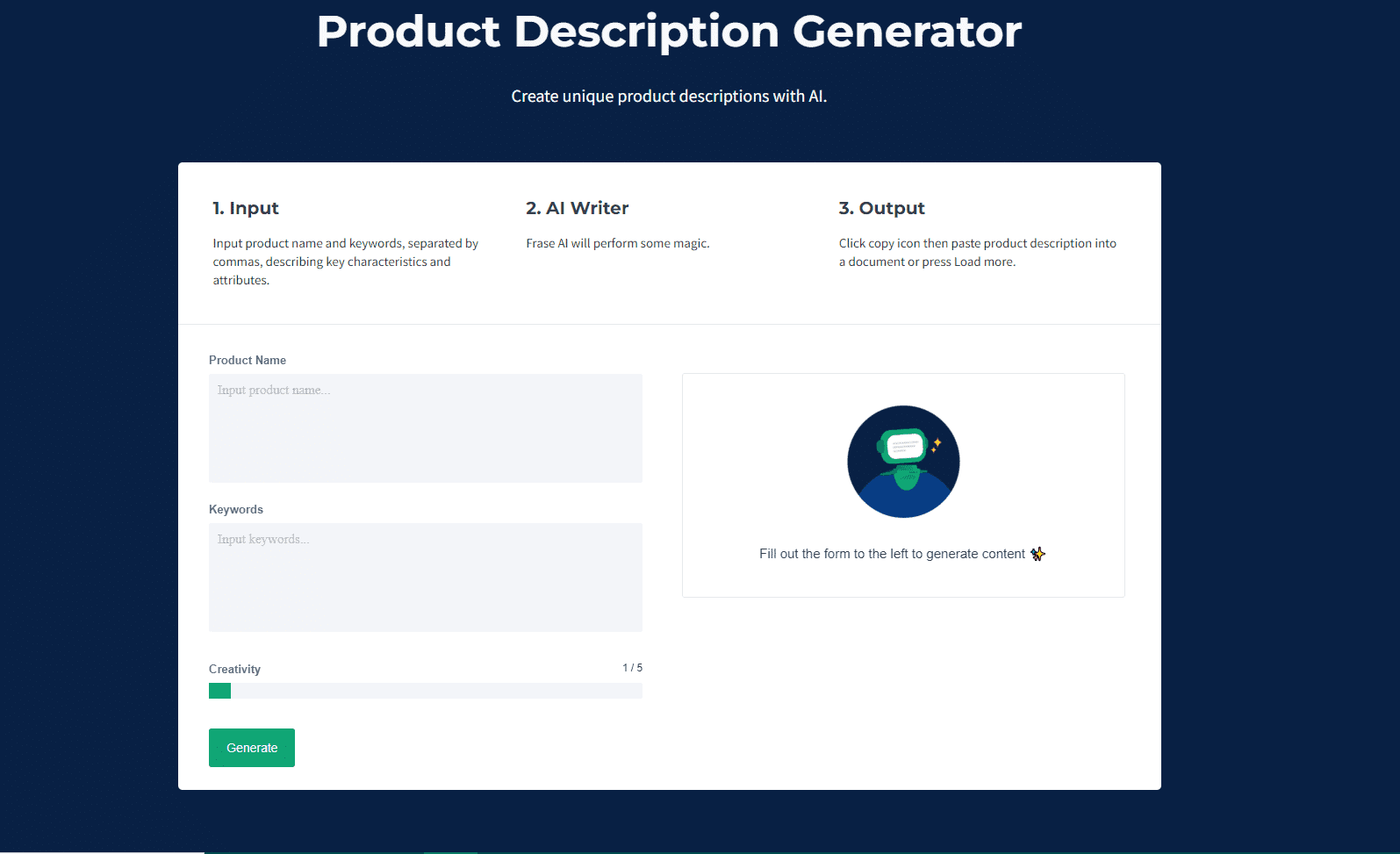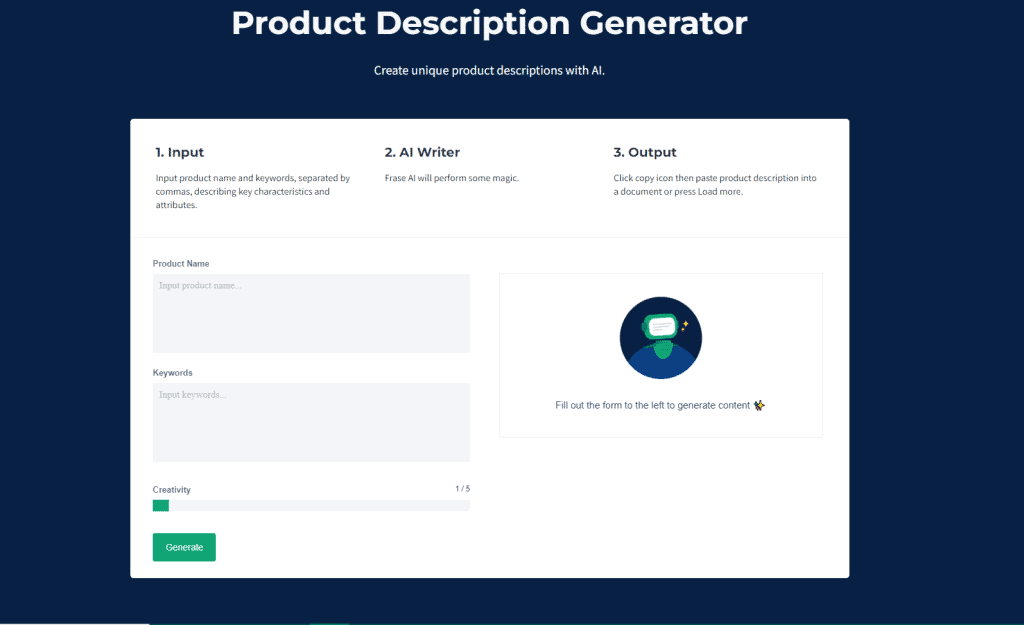 Frase AI is a tool that is designed mainly to help bloggers, content marketers, content strategists, and business owners research, write, and optimize content that can rank well on search engines like Google. It uses NLP and other proprietary algorithms to produce content that is search engine friendly.
However, Frase is not all about content, it does offer an AI product description generator located in free tools, a public demo of most of its products.
To use Frase AI's product description writer, follow the steps below:
Enter your product name and keywords, select creativity level, and click generate.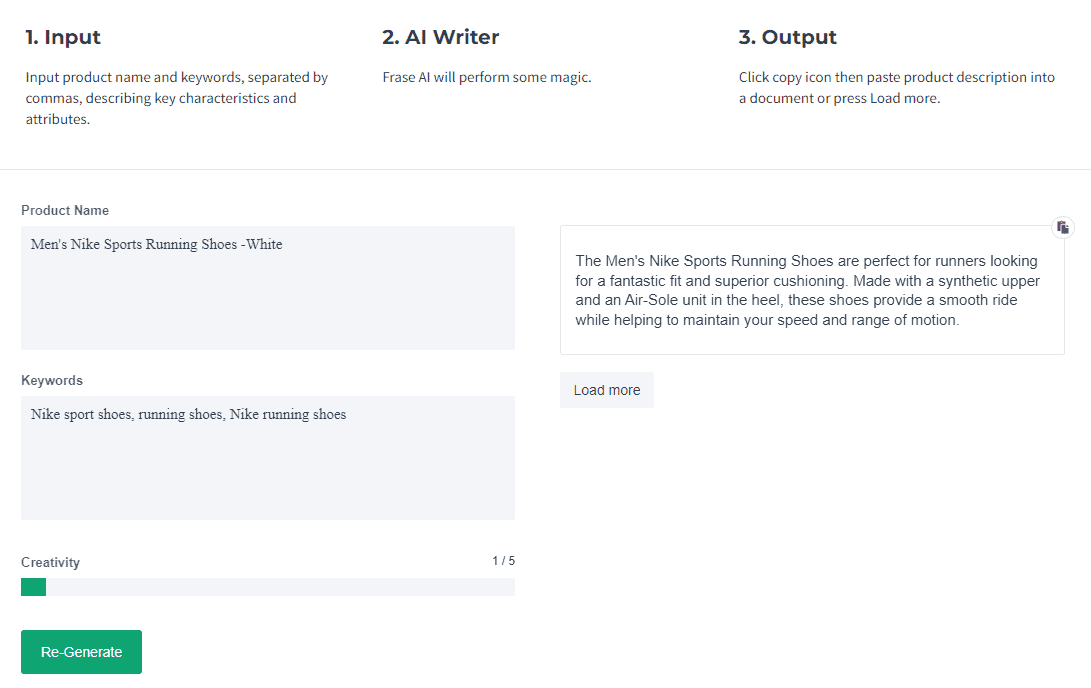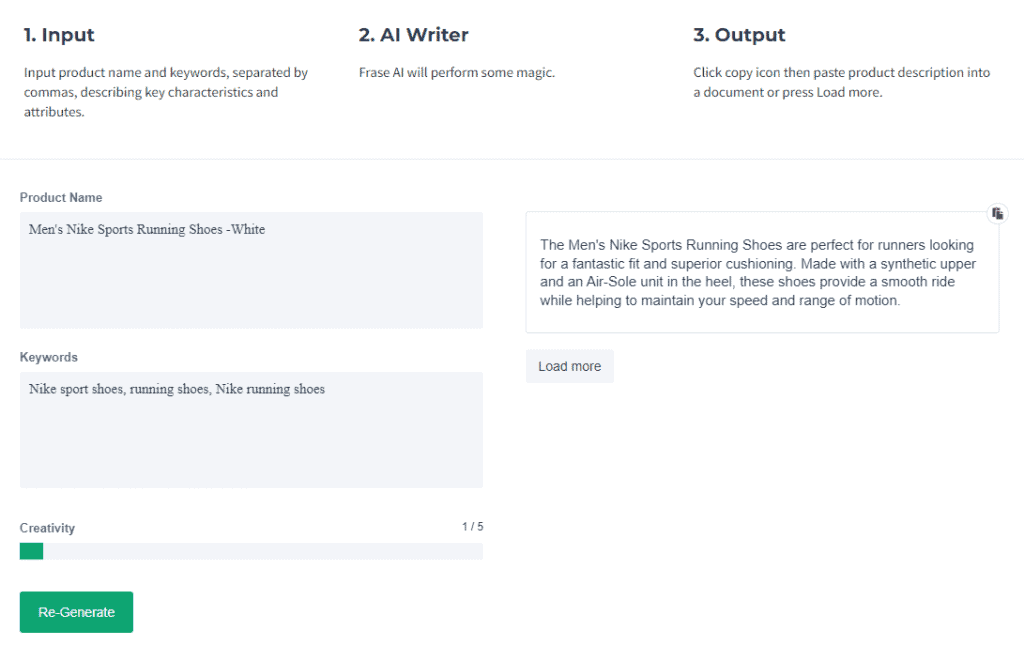 Your result is displayed on the right-hand side, from where you can copy it. You can regenerate the result, but you can only use the tool for about 3 times a day.
Something I'm not satisfied with about Frase's AI product description writer tool is that the descriptions are often too short. On the bright side, however, I find them quite useful for ads rather than the product page on the website.
To test more features and exceed the limits on the free tools, you can go for the trial which costs $1 for 5 days before committing to a yearly subscription.
Frase AI Pricing


Solo: costs $14.99 per month. Features include 1 user seat, write + optimize 4 articles, and generate 4,000 AI words per month.
Basic: costs $44.99 per month. Features include 1 user seat, write + optimize 30 articles, and generate 4,000 AI words per month.
Team: costs $114.99 per month. Features include 3 user seats (at extra cost), write + optimize unlimited articles, and generate 4,000 AI words per month.
To get unlimited AI words, Frase AI writer, and other premium features, you must purchase the Pro Add-on which costs $35 per month.
6. Copy AI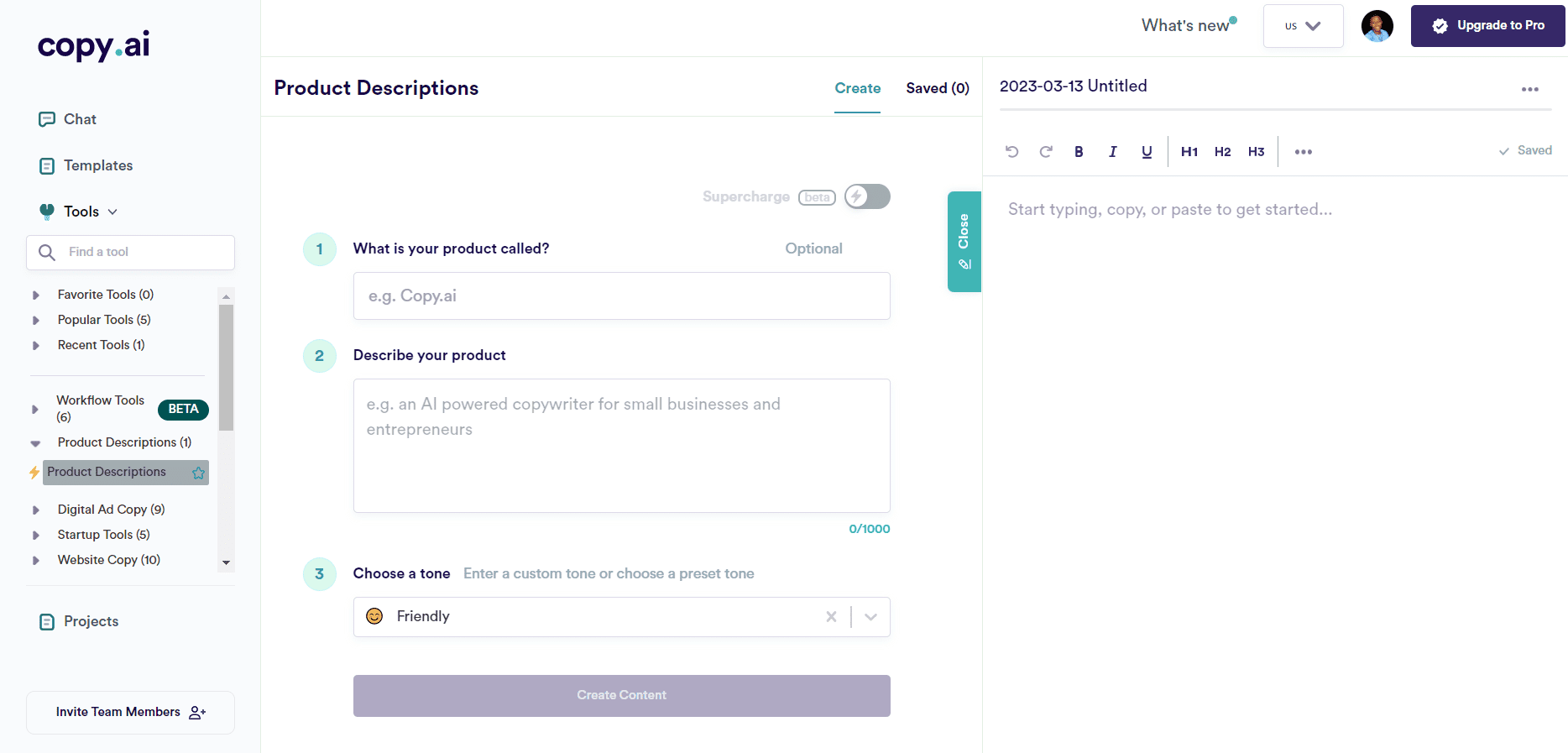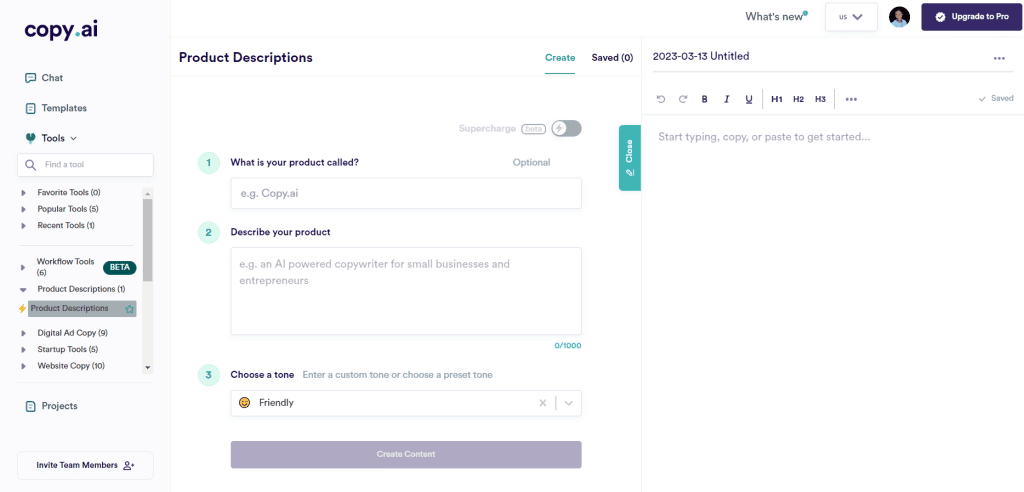 Copy AI's product description writing capabilities really are good enough to put it among the best product description generators. Not only is the interface easy to use, but its outputs are also quite original and of high quality.
To generate product descriptions on Copy AI, follow the steps below:
Login to your Copy AI account.


On the left pane, click on "Tools" to show a dropdown menu. Then select "Product descriptions".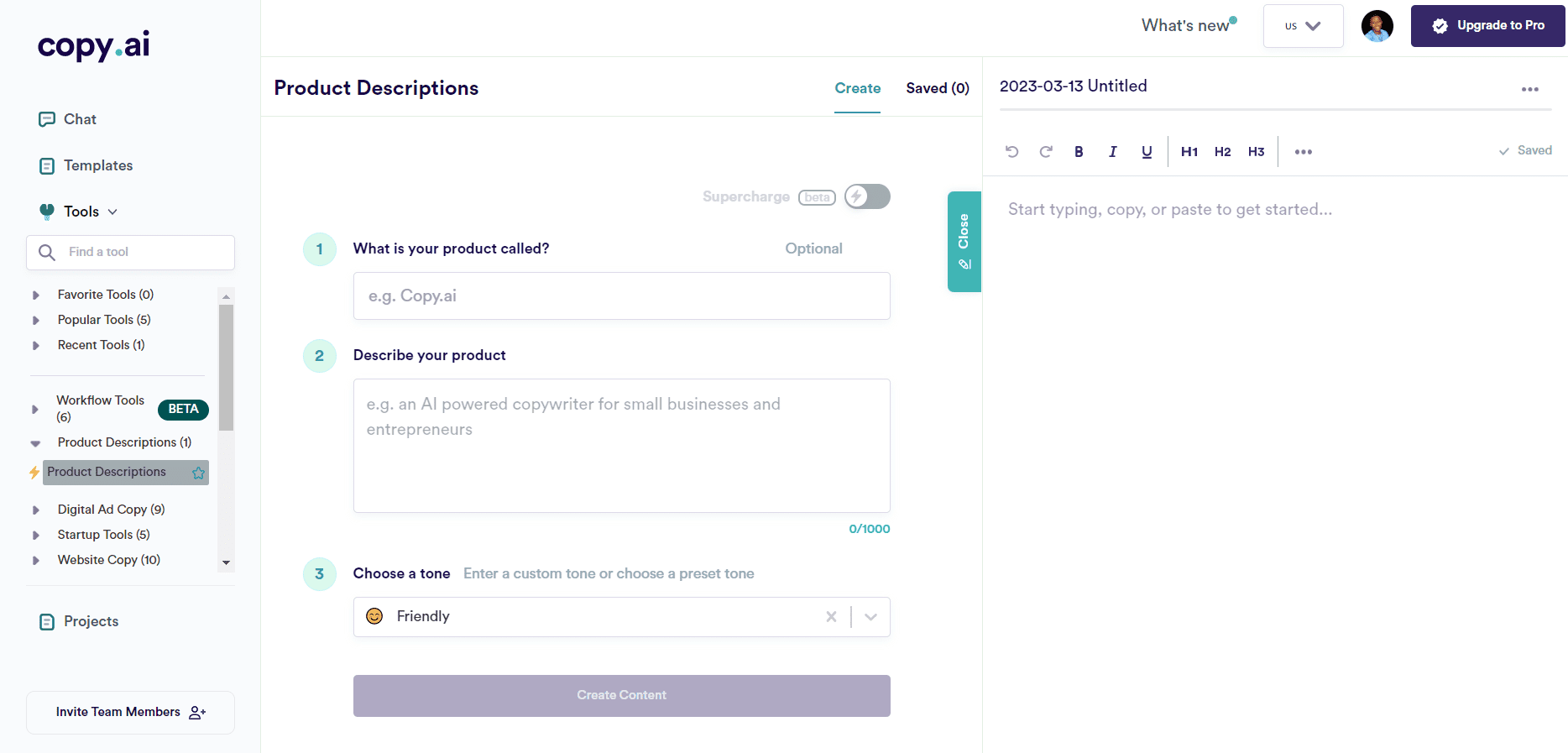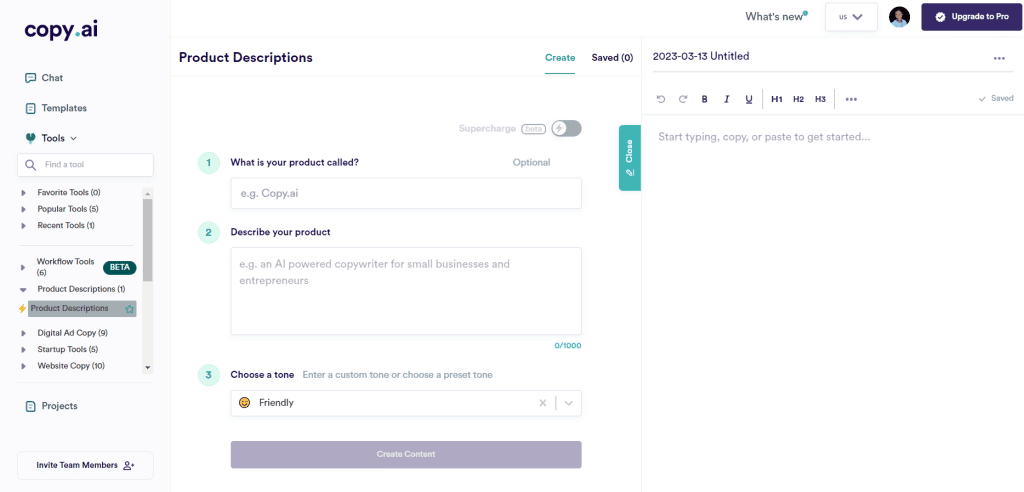 Input your product name, enter a description, choose a tone, and click "Create Content".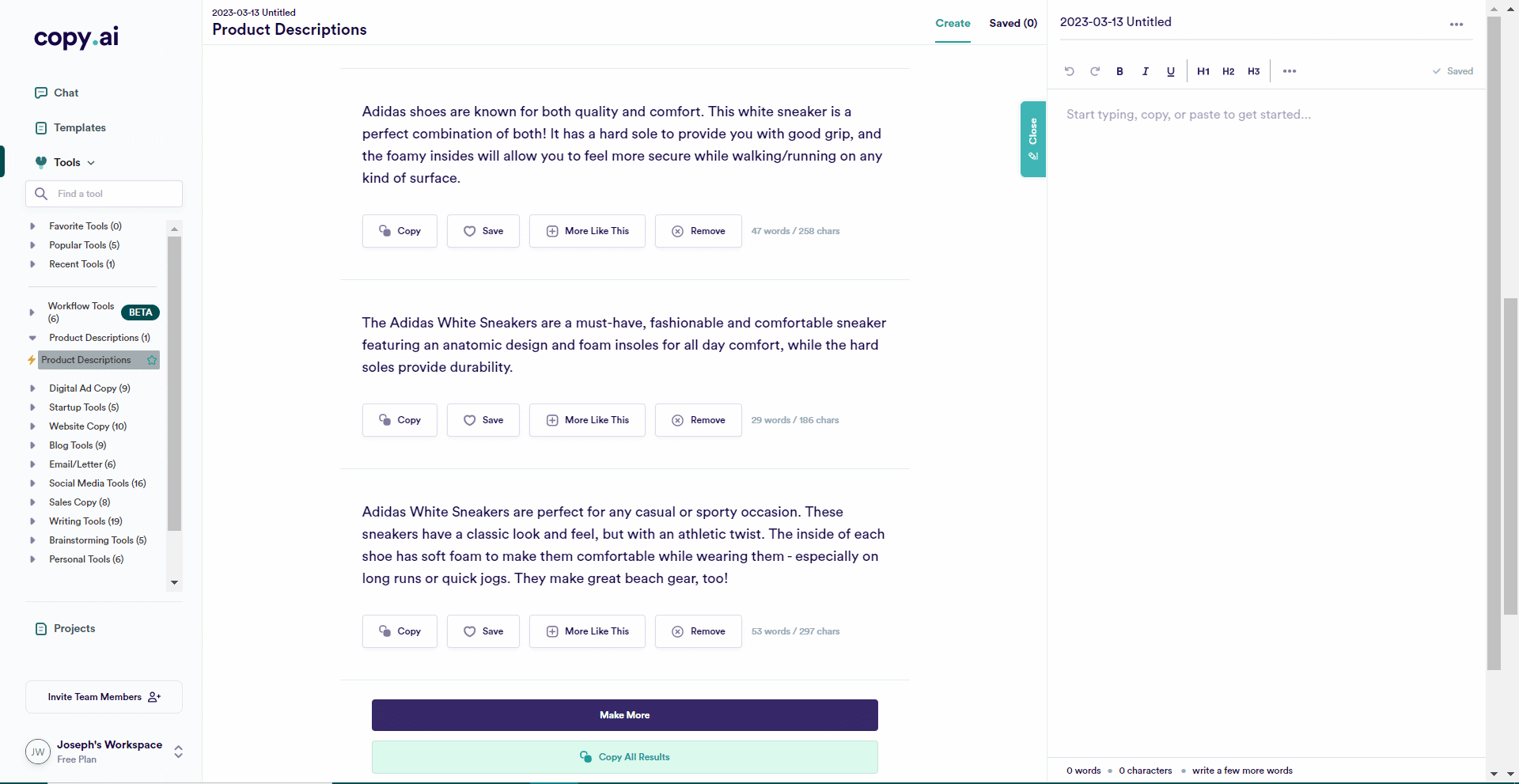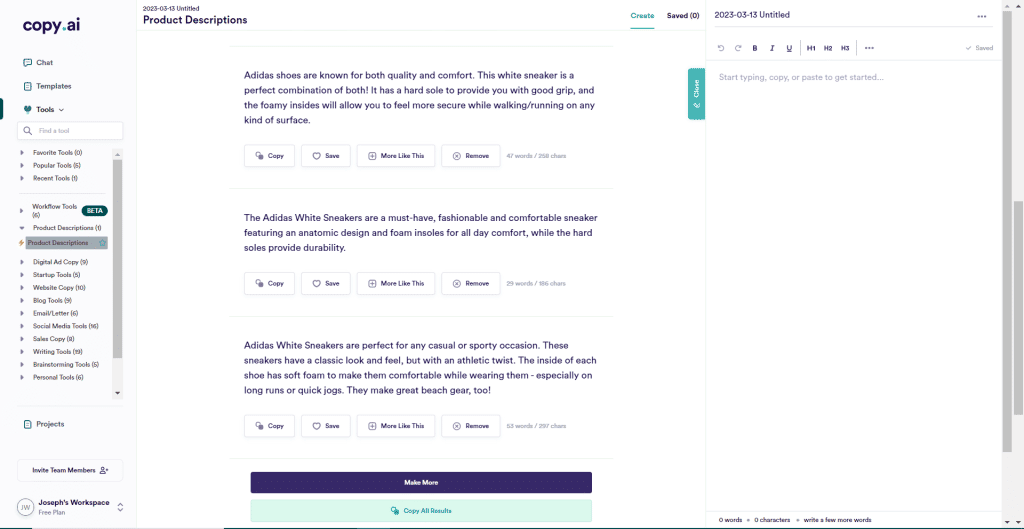 If you find one that suits your needs, simply copy and paste it somewhere safe. Else, you can click on "Make More" to see more options.
To get even longer descriptions, copy one of the generated results, paste it into the textbox by the right-hand side, and click on Tab.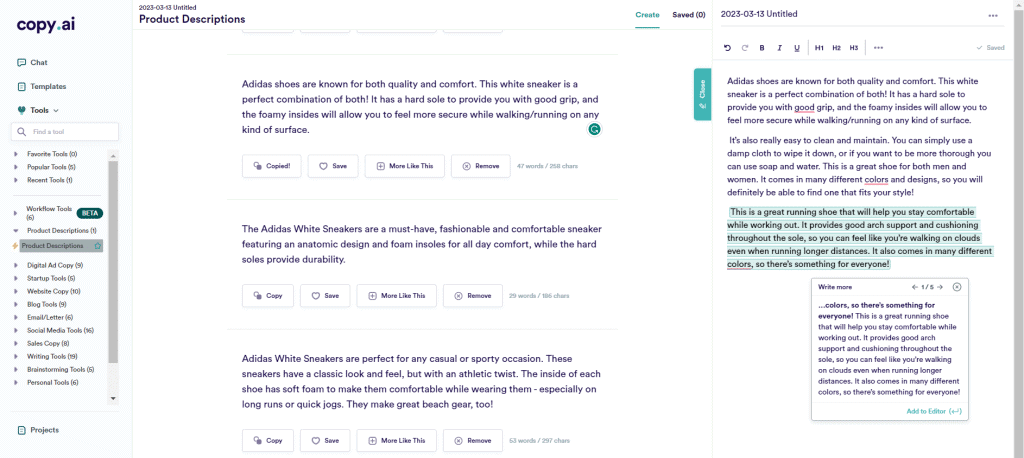 Once the results are generated, choose the one you like and tap on "Add to editor" to see the longer version of your description.
You don't even need to be a paid member to try it out as Copy AI offers a free account with 2k words per month.
Though you can only write in English and the content may require a little proofing.
Copy AI Pricing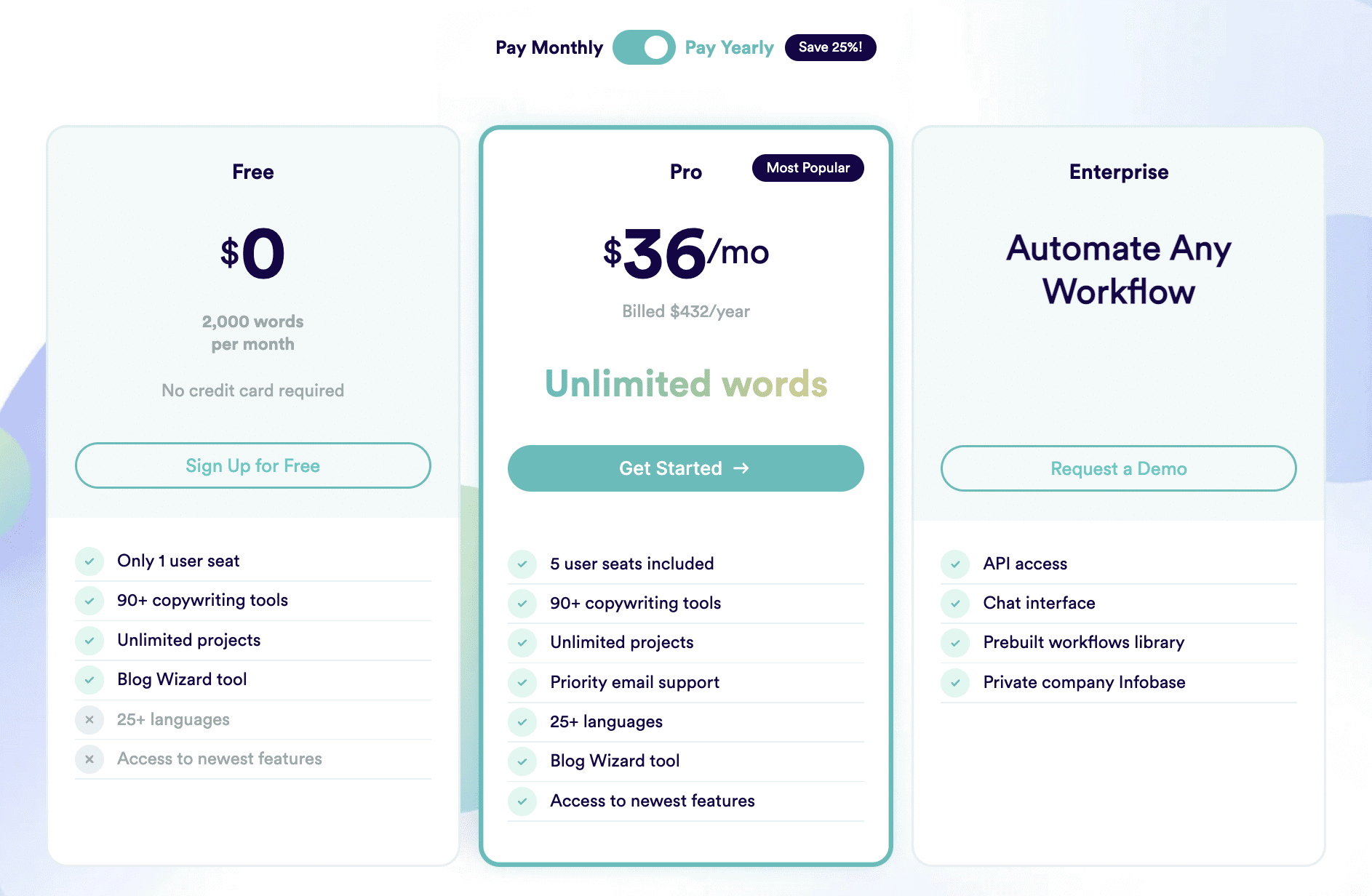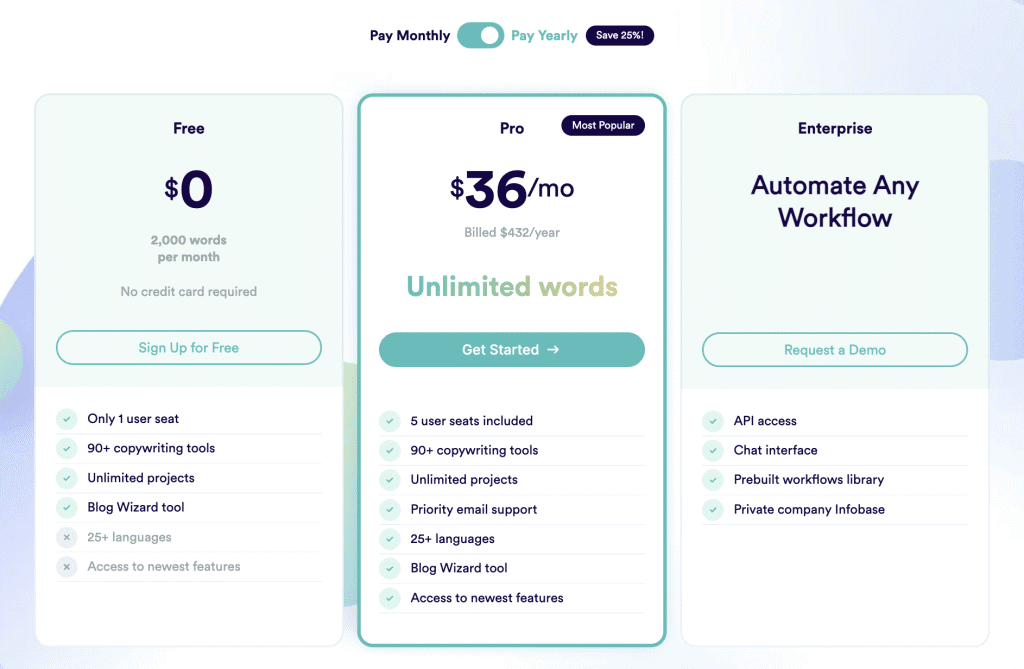 Pro plan: costs $36 for unlimited words per month. Features include 5 user seats, chat by copy.ai, blog wizard, and more.
Enterprise plan: to purchase this tier, you must contact sales as it is not priced on the website. Its special features include prebuilt workflows, API access, and more.
7. Rytr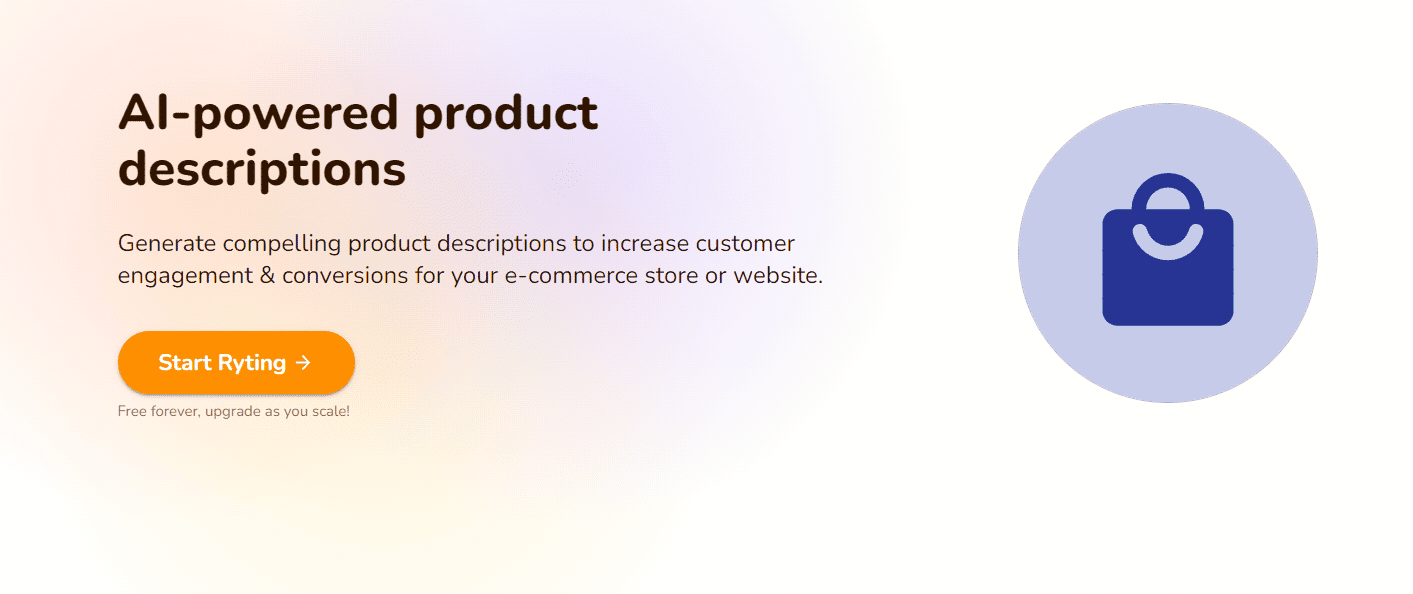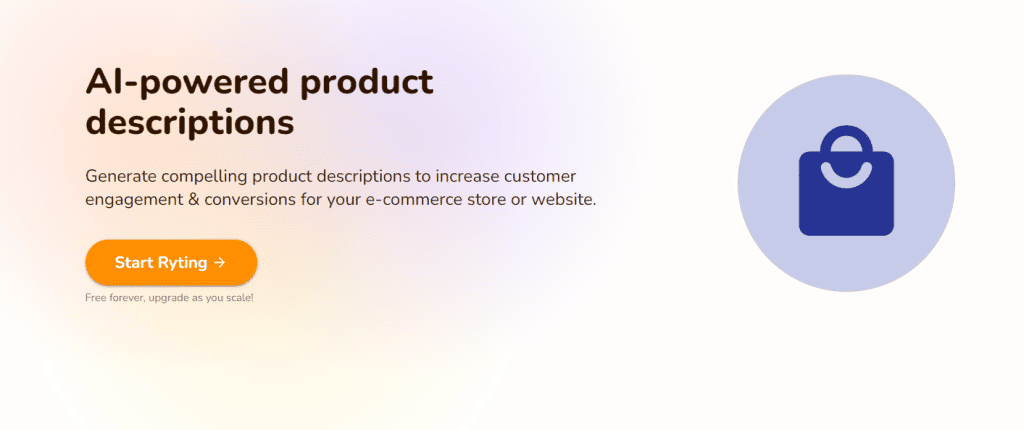 Rytr is also among the best AI product description generators on the market right now. Of its 40+ use cases, it has two dedicated to product descriptions. These are useful mainly for businesses that list on their own websites.
Rytr has no use case for Amazon and other marketplaces, but you can create the use case if you register for the starter or unlimited plan.
There is a free-for-life plan that you can leverage to try out Rytr's capabilities. Though, the free account will only let you generate up to 10k characters and 5 images in a month.
Rytr Key Features
Can generate product descriptions and social media posts.
Can write in 20+ tones of voice.
Supports 30+ languages.
Copywriting frameworks like AIDA and PAS.
Plagiarism checker.
Unlimited words on the unlimited plan.
Rytr Pricing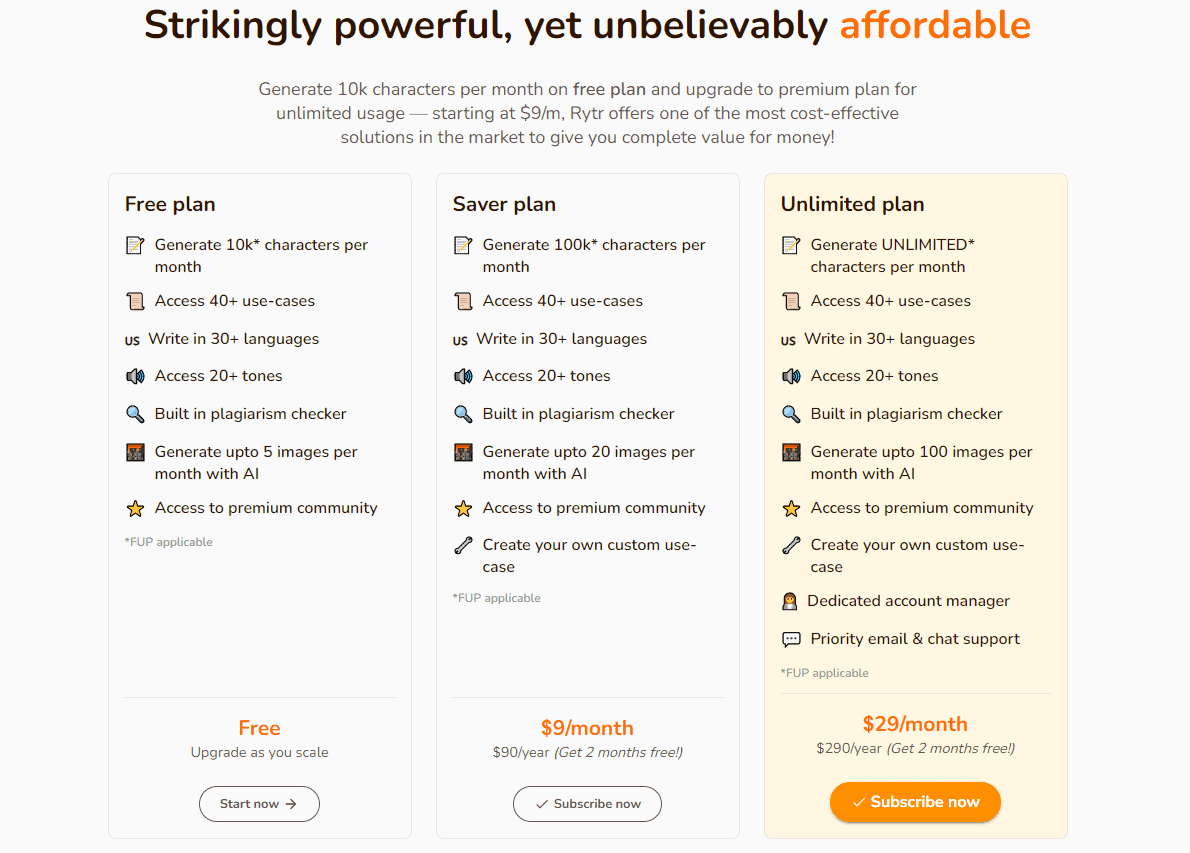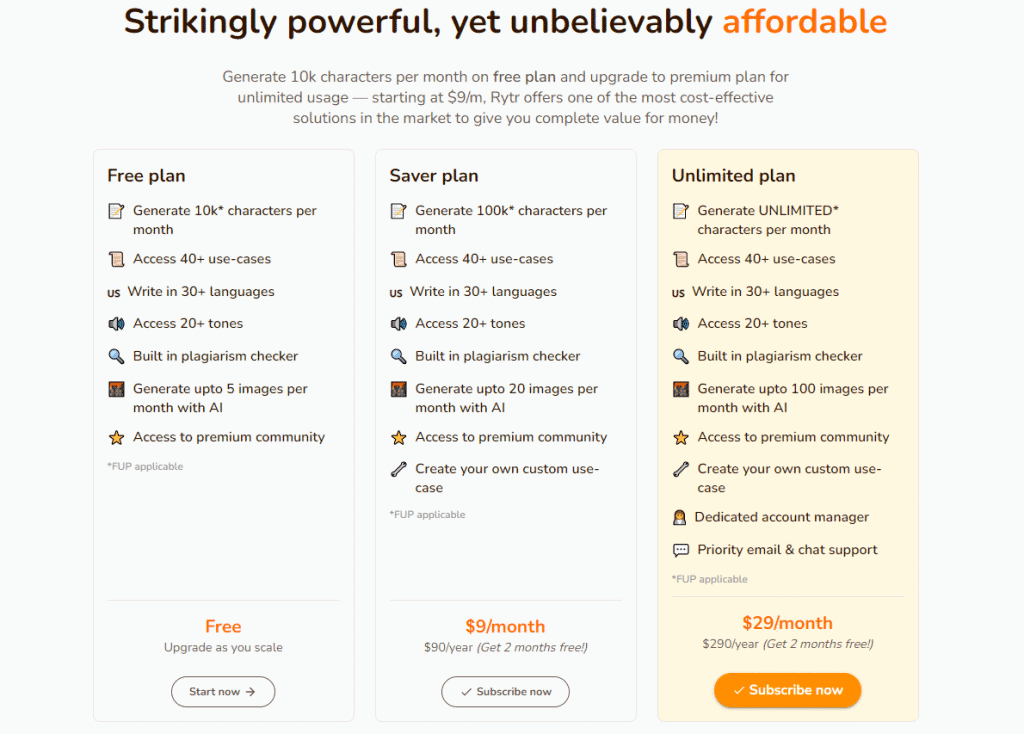 Saver plan: $9 per month for 100k characters and up to 20 images per month. The special feature is that you can create a personal use case other than the existing ones.
Unlimited plan: $29 for unlimited characters and up to 100 images per month. Its special features are a dedicated account manager and priority email & chat support.
8. Hypotenuse AI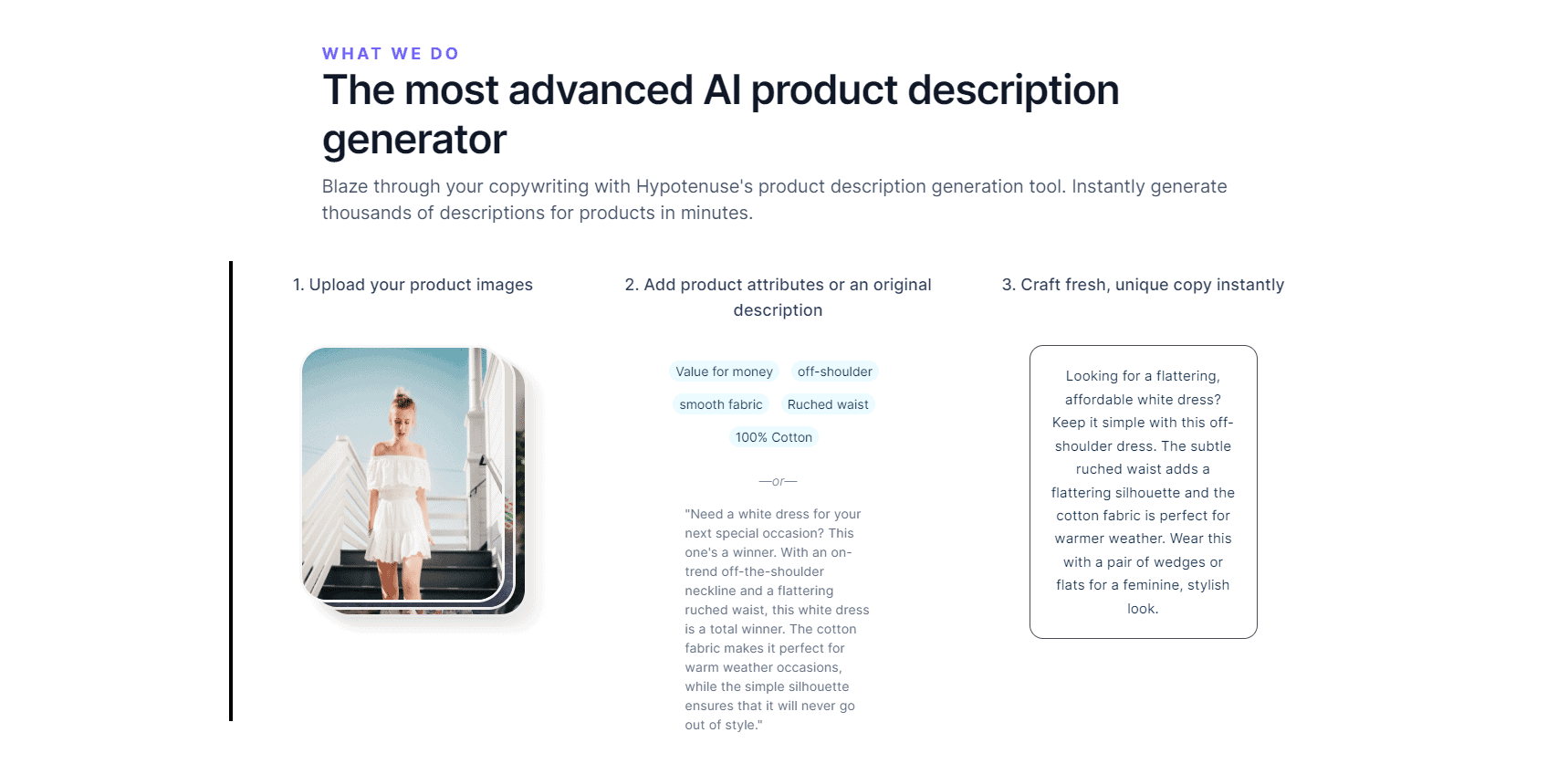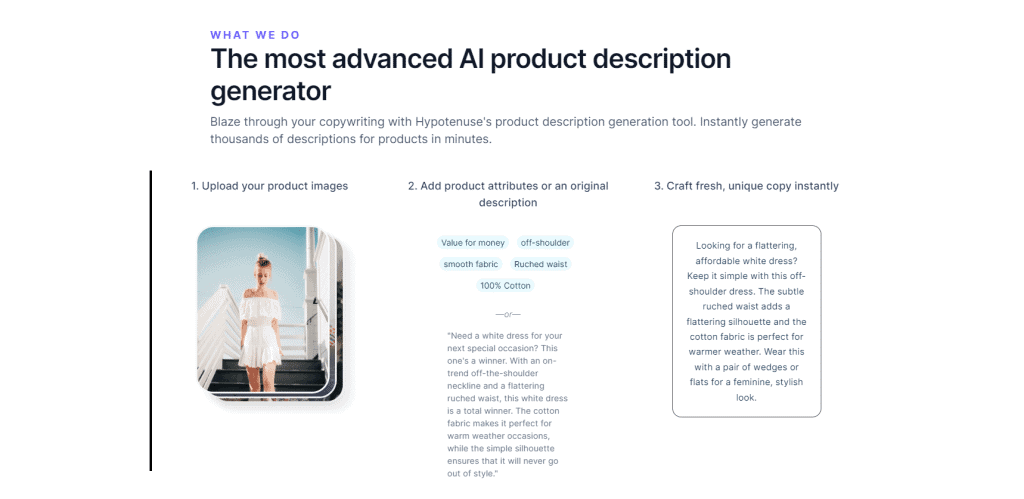 My first encounter with Hypotenuse AI was back in March 2022, when a guy from the company reached out to me on LinkedIn. He wanted me to test the tool and provide feedback, to which I obliged. And since then, I've used it on several other occasions.
Since my initial encounter with Hypotenuse, there has been a lot of development, and I am just so impressed.
One of its features that I've come to appreciate is its product description writer which lets users generate short-form descriptions for their goods.
To generate descriptions on Hypotenuse, you must first add the products to your catalog. Once your product details have been uploaded, you can then select the writing style and tone and generate descriptions for them in bulk or individually.
Hypotenuse AI offers a 7-day free trial period for intending users. No credit card is required to open an account. Just register and start generating.
Hypotenuse AI Key Features
Generate product descriptions at scale.
Start-to-finish article writer.
Unlimited high-resolution images.
Shopify integration.
Unused credits roll over.
Hypotenuse AI Pricing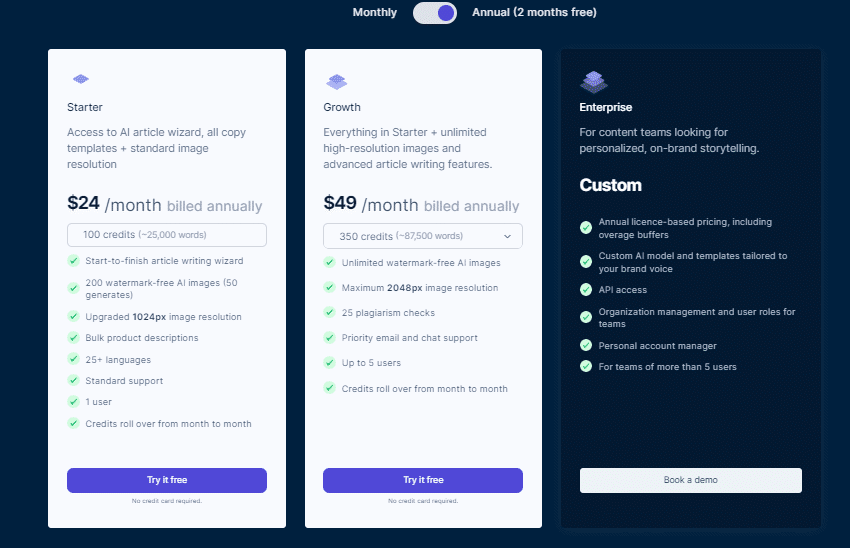 Starter plan: costs $24 for 100 credits (about 25,000 words) per month. Features include an article writing wizard, 200 watermark-free AI images, and bulk product descriptions.
Growth plan: costs $49 for everything in Starter + unlimited high-resolution images, 5 user accounts, and advanced article writing features.
Enterprise: custom pricing for companies with a large team and content needs. Perks include a custom AI model, API access, a personal account manager, and more.
9. Anyword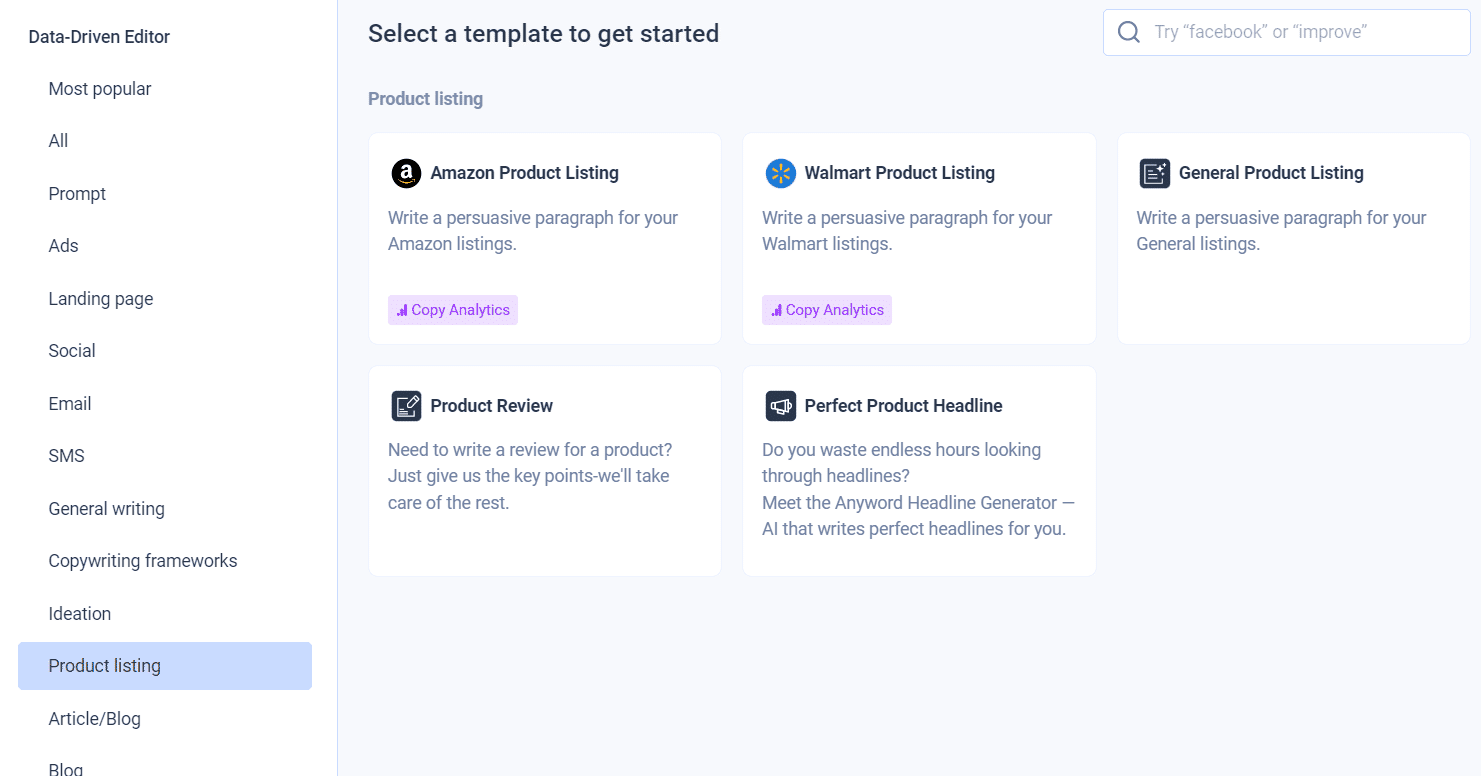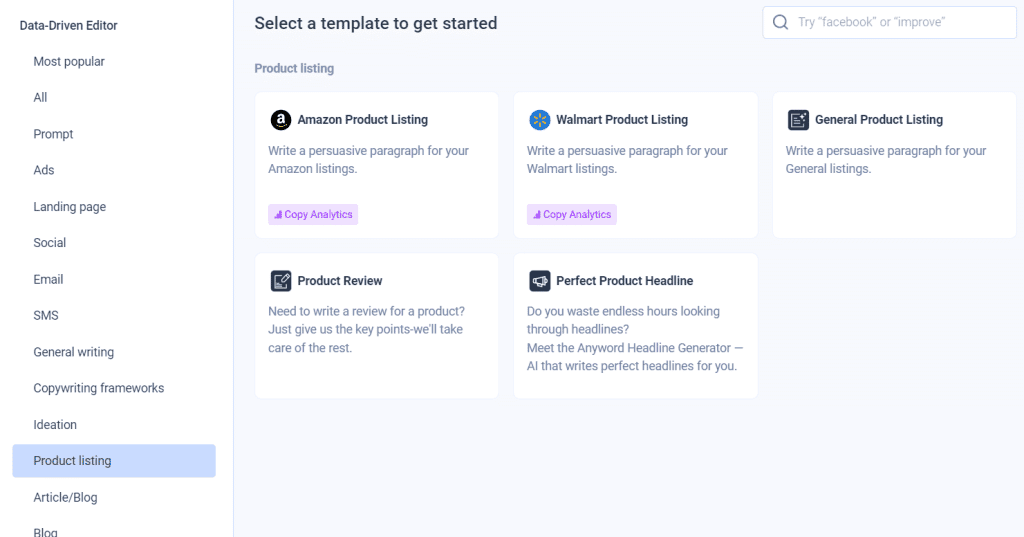 As a tool geared towards generating high-quality, compelling copy, Anyword can easily generate product descriptions for multiple eCommerce platforms, including Amazon and Walmart. It can also write general product listings that you can use on your website or social media.
Leveraging Anyword's landing page generator and copywriting frameworks, you can write copy for your landing pages as well.
Anyword's 7-day free trial offers 2,500-word credits and every feature in the Starter plan. These include 200+ data-driven copywriting tools, 100+ AI writing tools, 30 languages, a blog post wizard, and multiple users.
Anyword Key Features
write high-quality product descriptions and blog posts.
Over 200 data-driven copywriting tools.
Real-time performance score.
Incorporates customer reviews into ad copy.
Complies with online ad policies.
Anyword Pricing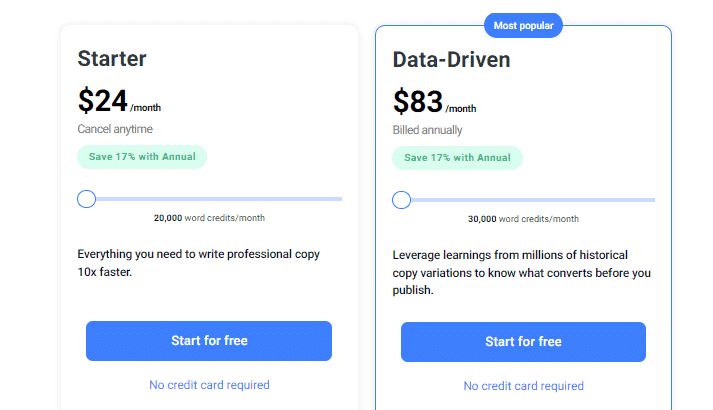 Starter Plan: $24 for 20k words, $49 for 65k words, and $166 for 300k words, all monthly.
Data-Driven plan: $83 for 30k words a month and can go up to $333 for unlimited words every month. It features everything in Starter, real-time performance prediction, and tips to boost performance scores, which may increase conversion.
10. ClosersCopy


ClosersCopy is one of the few AI writers that's running on a proprietary intelligence model, unlike most others that run on GPT-3 or GPT-3.5. The benefit of this is that the platform keeps working, even if GPT-3 is down or at its limit.
I've only used ClosersCopy a few times, but I find the platform quite useful for writing quality product descriptions and blog posts. And the fact that they come optimized for search engines is a plus.
Unlike most other services, however, ClosersCopy does not offer a free trial. Instead, it offers a 14-day money-back guarantee to unsatisfied customers.
ClosersCopy Key Features
Generate high-quality SEO product descriptions.
700+ frameworks.
Blog writer.
125+ languages.
Thesaurus.
ClosersCopy Pricing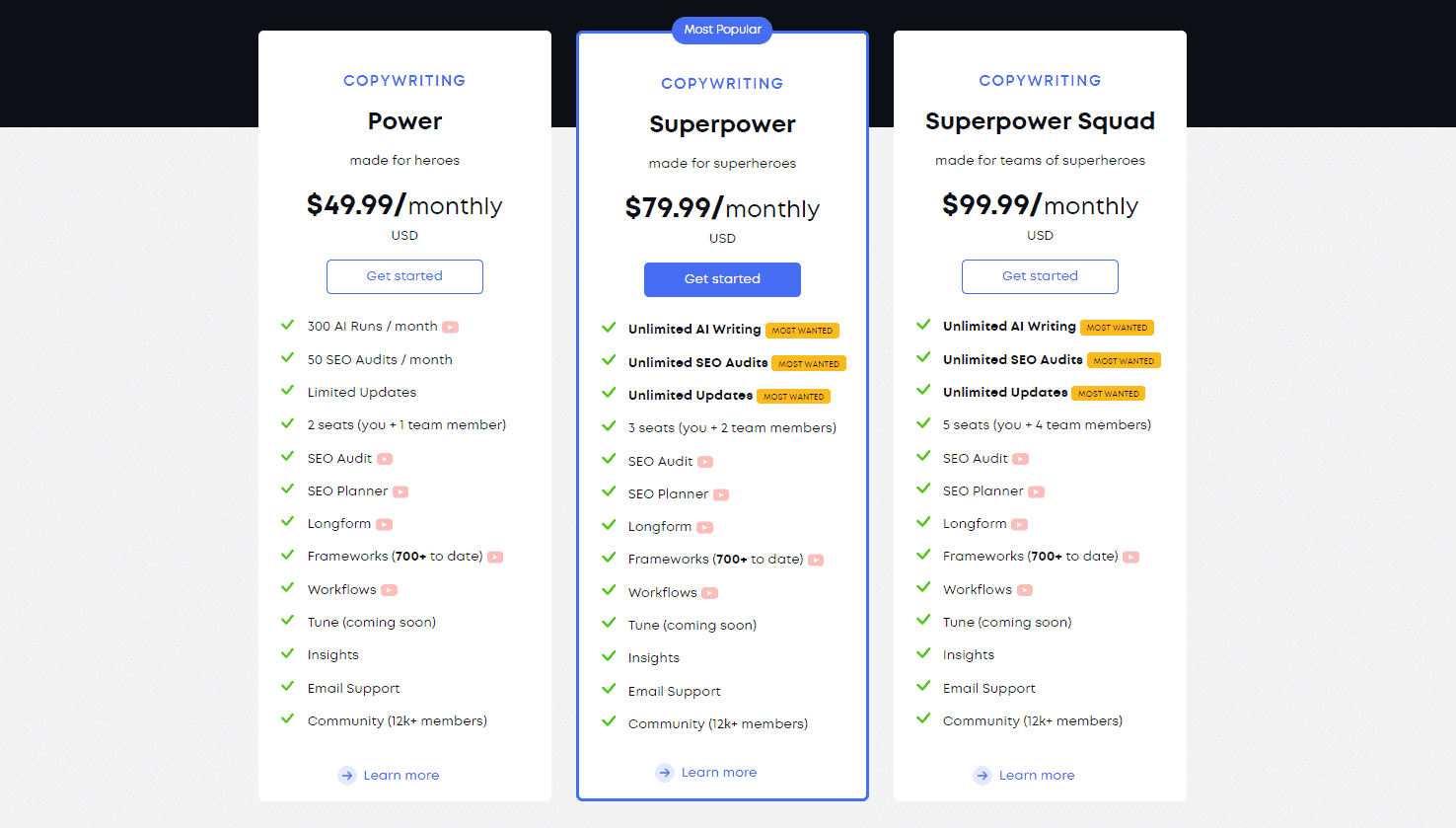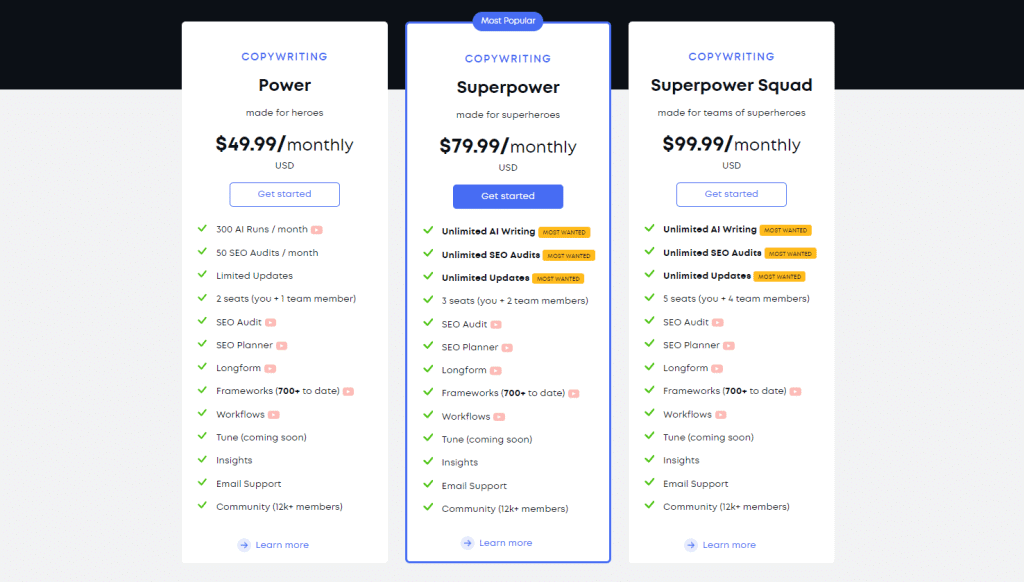 Power: costs $49.99 per month for 300 AI runs, 50 SEO audits, limited updates, and two user accounts.
Superpower: costs $79.99 per month for unlimited AI writing, unlimited SEO audits, unlimited updates, and 3 user accounts.
Superpower Squad: costs $79.99 per month for unlimited AI writing, unlimited SEO audits, unlimited updates, and 5 user accounts
How to Write a Good Product Description?
A well-crafted description not only informs potential buyers about the product's features but also creates an emotional connection and encourages them to make a purchase. To write an effective product description, you need to do the following –
Know your audience
You need to understand your target customers and what they need. Use the language, tone, and/or style that will appeal to your target customer. Let's take the example of Apple.
Apple targets tech-savvy, design-conscious consumers who value innovation and aesthetics. Their product descriptions use simple, elegant language that reflects their audience's preferences.
For example, the iPhone description emphasizes its sleek design, powerful performance, and user-friendly interface, appealing directly to Apple's target customers.
Focus on benefits
While features are important, potential buyers are more interested in how your product can benefit them. Highlight the advantages of using your product. Also, explain how the features translate into real-life improvements.
For instance, if you're selling a portable charger with a high battery capacity- highlight how it can help users charge their devices multiple times without needing to recharge the charger itself, providing convenience and peace of mind.
Be specific
Generic phrases and buzzwords do little to set your product apart from competitors. Instead, provide detailed information that highlights the product's unique aspects.
Social proof helps potential customers feel more confident about purchasing your product. Demonstrate how others have had positive experiences with it. You can do that in various forms, such as customer reviews, testimonials, case studies, or industry awards.
Including social proof in your product description builds trust and credibility with your audience.
Optimize for SEO
You can't deny the fact of how important it is to make the product description SEO friendly. It helps make the product more visible to potential customers searching for relevant products online using search phrases.
To make the product description search engine friendly, add keywords and phrases that your target audience is likely to search for in the description.
For example, if you're selling running shoes, include terms like "comfortable running shoes," "durable running shoes," or "lightweight running shoes, etc.
Use these keywords naturally within your description, ensuring that the text remains engaging and informative for human readers.
You can use Paid keyword research tools such as Ahref, and Semrush or free tools like Google Keyword Planner to find the relevant keywords in your niche.
Use clear formatting
A well-formatted product description makes it easier for customers to quickly grasp the key features and benefits of the product.
Break up long paragraphs into short ones, and use bullet points. Also, use subheadings, or numbered lists to highlight important information.
Additionally, consider using bold or italicized text to emphasize crucial points, but do so sparingly to avoid cluttering the description.
Include a strong call-to-action (CTA)
A compelling CTA encourages potential customers to take the next step toward purchasing your product.
Make your CTA clear, persuasive, and easy to locate. You can use CTAs like "Buy Now," "Shop Now," or "Add To Cart."

Your CTA should be consistent with your brand's tone and voice. I have curated a list of 250+ Hooks, CTA's, and captions that you can use for various purposes. You can find the guide here (it's Free).
FAQs About the 10 Best Product Description Generators
What Is the Best AI Tool for Product Descriptions?
My favorite tool for product description is Jasper AI as it is very versatile. I also love Copysmith for its support for multiple platforms, something most other tools don't offer.
How Do You SEO a Product Description?
You can optimize your product description for search engines by using search phrases within the text. You can easily do this with Jasper, Writesonic, and Frase AI.
Conclusion
There is no one-size-fits-all product in this world. This same philosophy goes for AI tools as well. So while looking for the best product description generator, keep your needs (and budget) at the back of your mind and make the best choice possible.
I would recommend you start with Jasper, Writesonic, Copy AI, and Copysmith. Then work your way from there.