If you have been following me for a while now, then you already know I'm big on AI tools. Especially those made for digital marketers and netpreneurs, since I am both.
In this article, I will be reviewing Hyperwrite AI, a tool tagged "Your personal AI writing assistant." In this Hyperwrite review, my focus will be on its best features and how it can help you as a creative, marketer, or business owner.
Let's get started.
Hyperwrite Review: TL;DR
Here's a brief overview of what is covered in this Hyperwrite review:
Who is Hypewrite For?
Hyperwrite AI is made for marketers, writers, and netpreneurs. If you're one of those, this tool can help streamline your processes and boost productivity.
Is Hyperwrite Free?
No. Hyperwrite AI is not a free service. It does offer a free account to first-time users to try out the platform, but the account is quite restricted.
Tools by Hyperwrite
Hyperwrite offers over 50 tools in total. The most important ones you might find helpful include:
SEO Blogpost Writer
Landing Page Copy Generator
Flexible Autowrite
Email Responder
TikTok Script Writer
Marketing Strategy Generator
Marketing Email Generator
Hyperwrite Pricing
Hyperwrite AI offers a subscription service with 3 tiers:
Free: $0/month
Premium: $14.99/month
Ultra: $54.99/month
How Does Hyperwrite Work?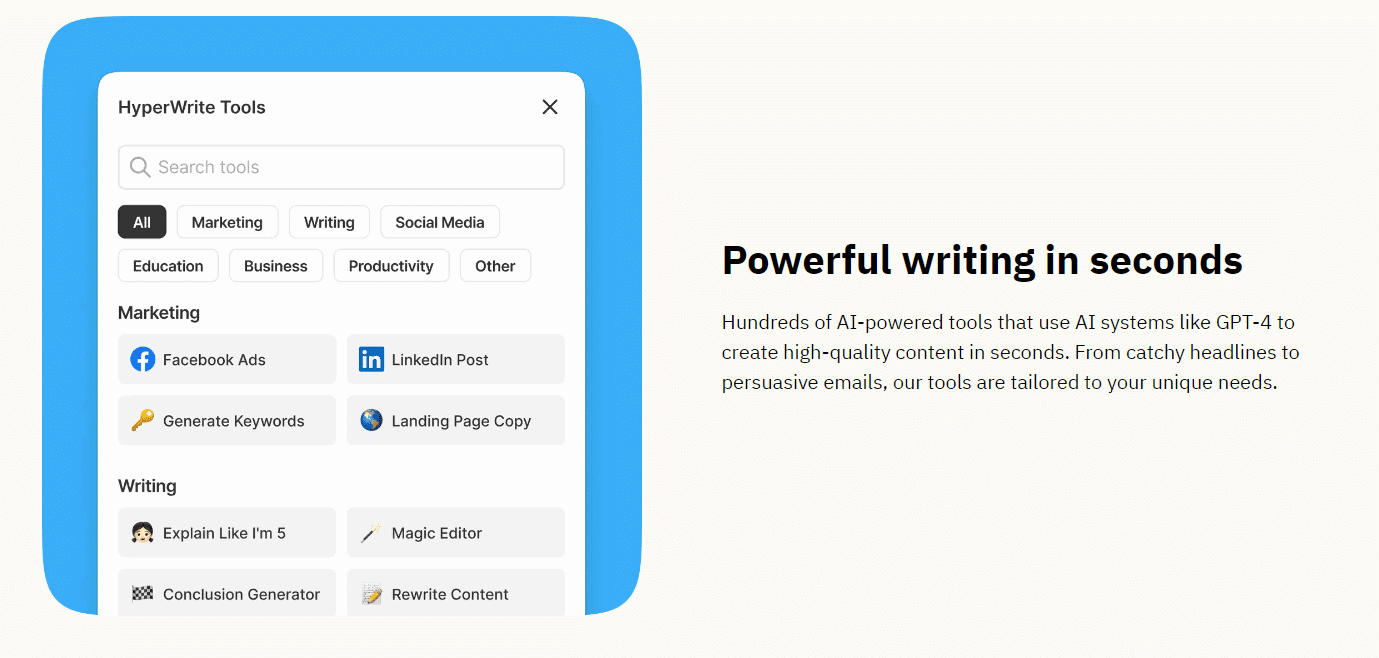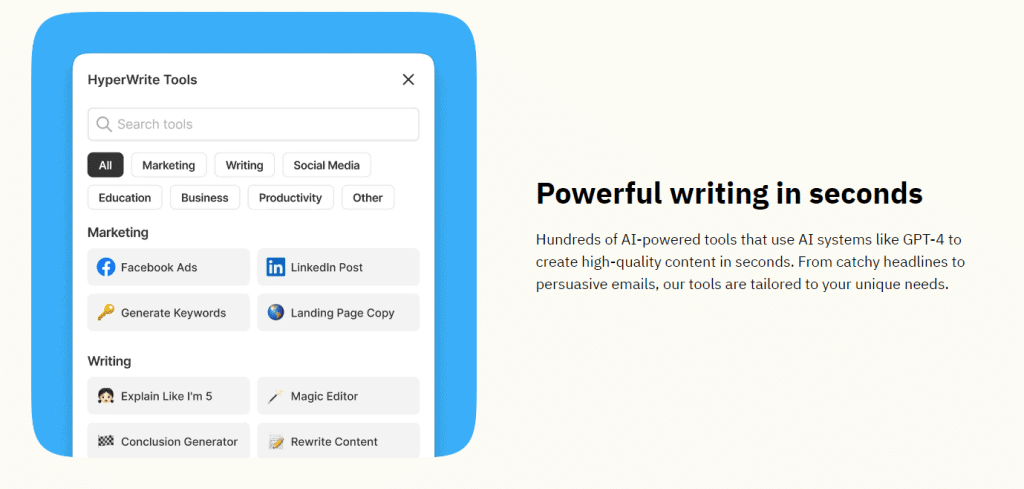 HyperWriteAI is an online-based artificial intelligence personal assistant that is powered by GPT-4, or Generative Pre-trained Transformer 4. It works by receiving a prompt from the user and then returning a response based on that prompt.
GPT-4 is a large multimodal model that demonstrates close to human-level expertise across multiple fields, including professional and academic. It has been trained on billions of datasets which gives it the ability to perform several tasks, most of which have to do with knowledge.
Who Can Use Hyperwrite AI?
HyperWrite is made for anyone who feels they need a personal assistant especially when it comes to tasks that have to do with writing. However, the tool is developed primarily for:
Marketers, to help with copywriting.
CEOs, to help write emails and social media posts.
Writers, to help improve their creativity.
Bloggers, to help generate SEO articles.
Legal practitioners, to help write legal documents.
While Hyperwrite is made for anyone in the categories mentioned above, the tool is not globally available. There have been reports of Hyperwrite not being available in certain countries, but there is no official message confirming this.
Hyperwrite Tools
Hyperwrite offers over 50 features, templates, and modes. All of which it calls tools. I've highlighted the most important ones below.
1. SEO Blog Post Writer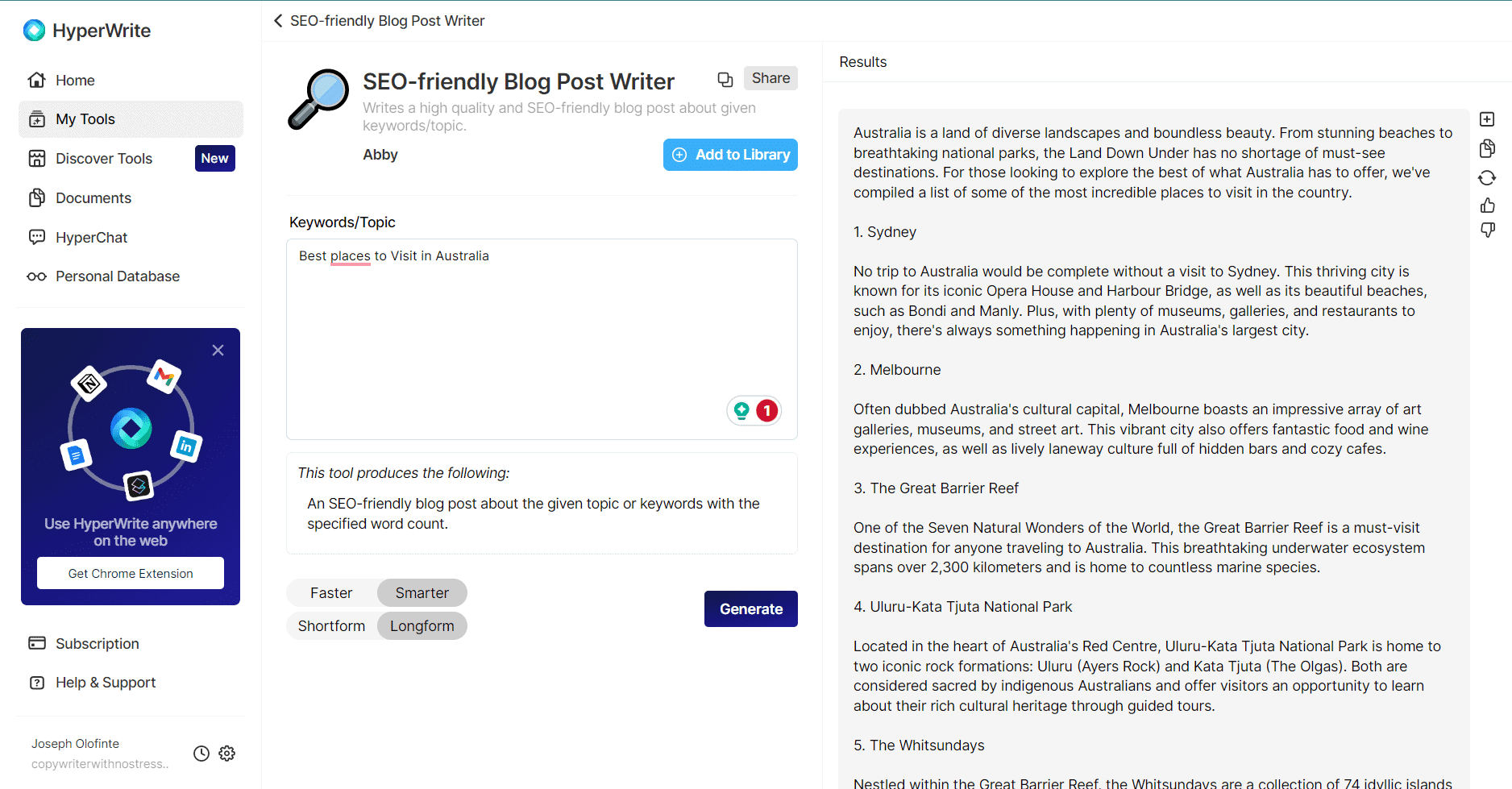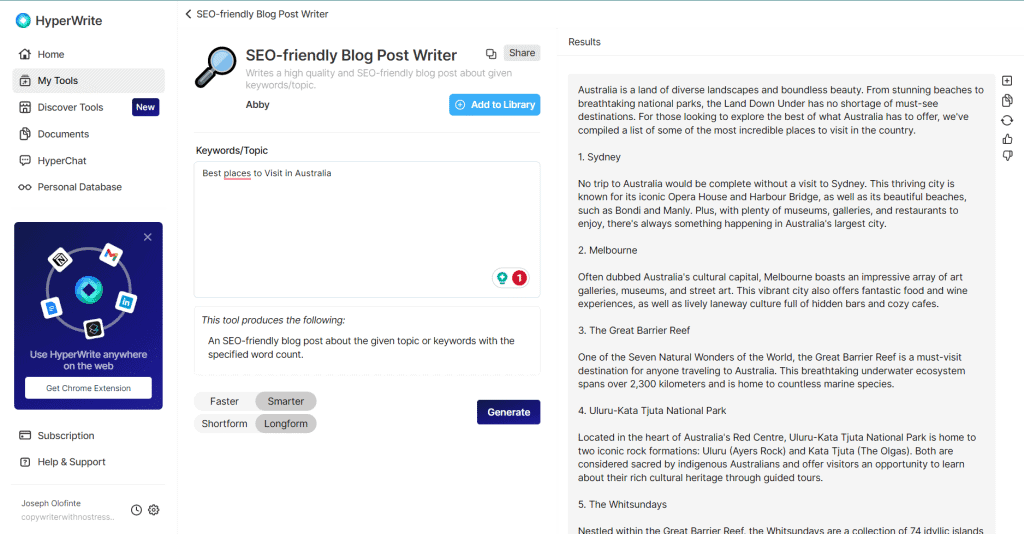 The SEO-friendly Blog Post Writer is a content writing mode or template that is available through the "Discover Tools" page on your dashboard. If you want SEO articles, this is your guy.
Using this tool is straightforward:
Go to "Discover Tools."
Scroll down to the sub-heading "Writing" where you will find it.
On the tool's page, enter your desired keyword or topic for the article, and select between Faster and Smarter or Shortform and Long-form.
Click on "Generate" and wait while it writes a search-engine-optimized article from the keyword you provided.
The downside of this tool is that it doesn't do well with long-form content. None of the content I generated with it got to 700 words, which is even short form.
I also noticed that its SEO capabilities are not as advanced as AI tools such as Jasper or Writesonic which have dedicated SEO tools. However, it is a great place to start.
What I do find fascinating about it is how fast I can go from prompt to result. It only has one step, unlike its competitors listed above which have 4 to 5 steps each and may take minutes to get started on a blog post.
2. Landing Page Copy Generator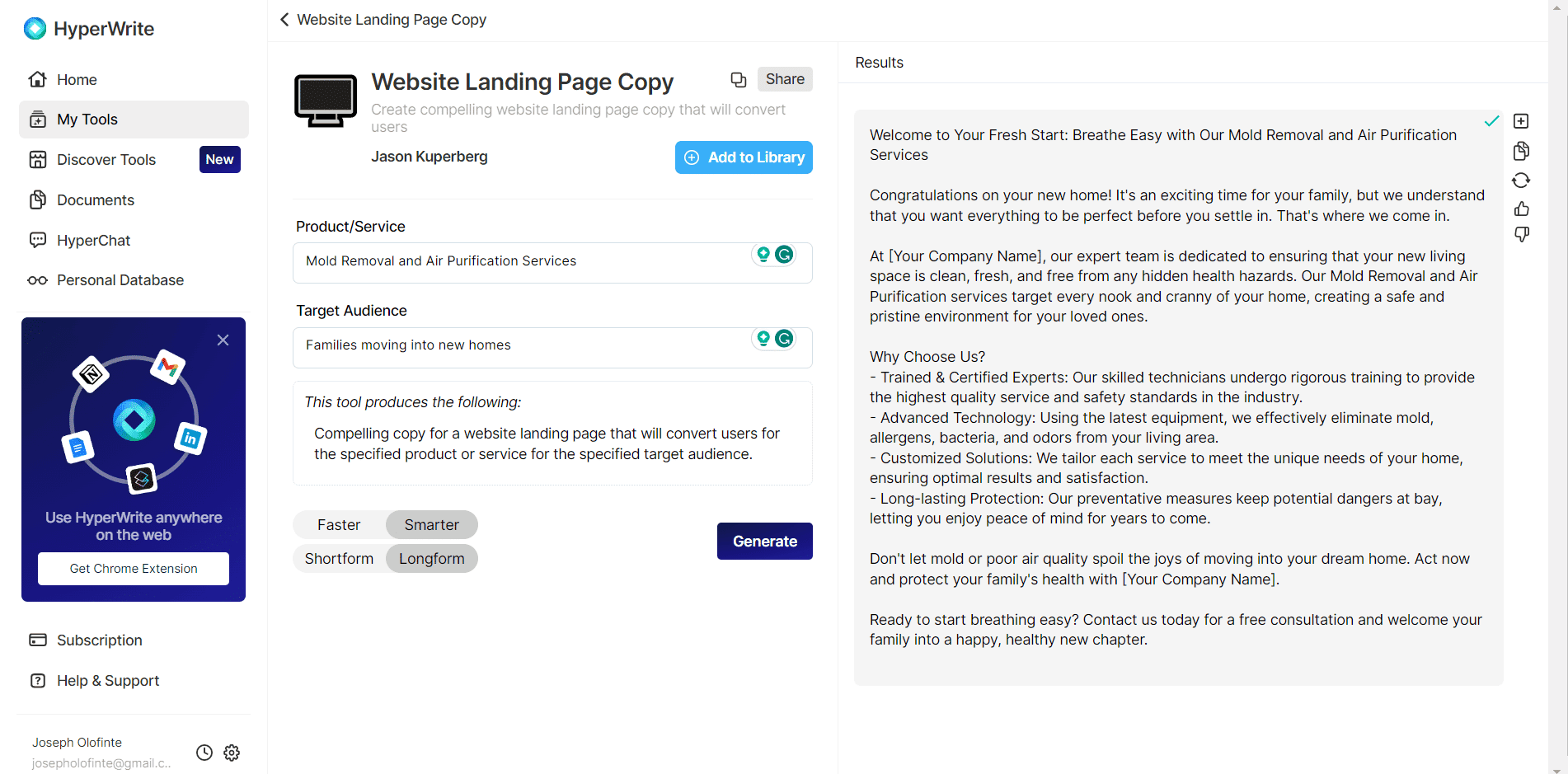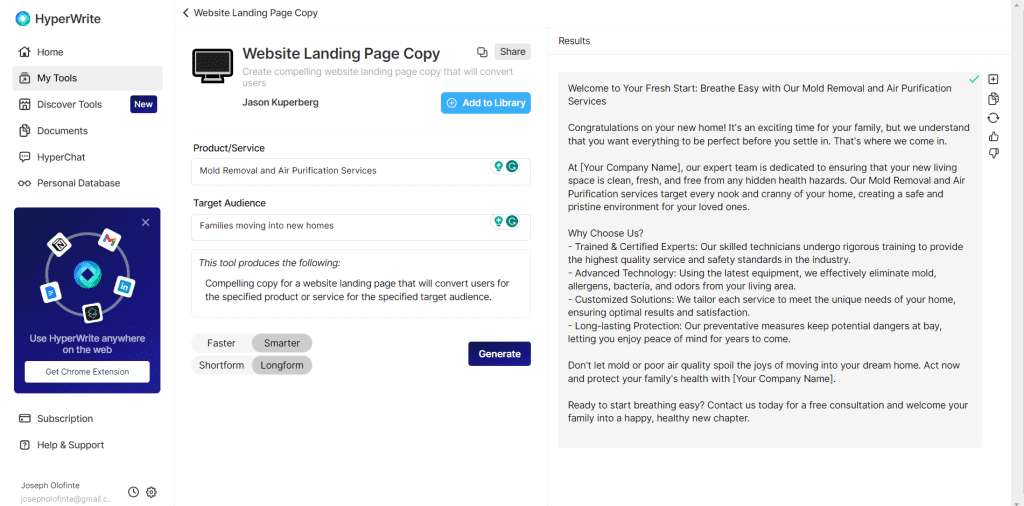 The landing page copy generator is one of the best tools made by a member of the Hyperwrite Community. If you are a business owner, this tool can help you to write compelling copy that you can use on your product or service landing page.
In my experience, this tool can actually get you from 0 to %100 if you run a small business and only speak to your target audience. To use the landing page copy generator:
Go to "Discover Tools."
In the search bar at the top-right corner, search for "Website landing page" to find it.
On the tool's page, type in the name of the product or service in question and the target audience.
Choose between Faster and Smarter or Shortform and Long-form.
Click on "Generate" and wait while it writes your landing page copy.
3. Flexible Autowrite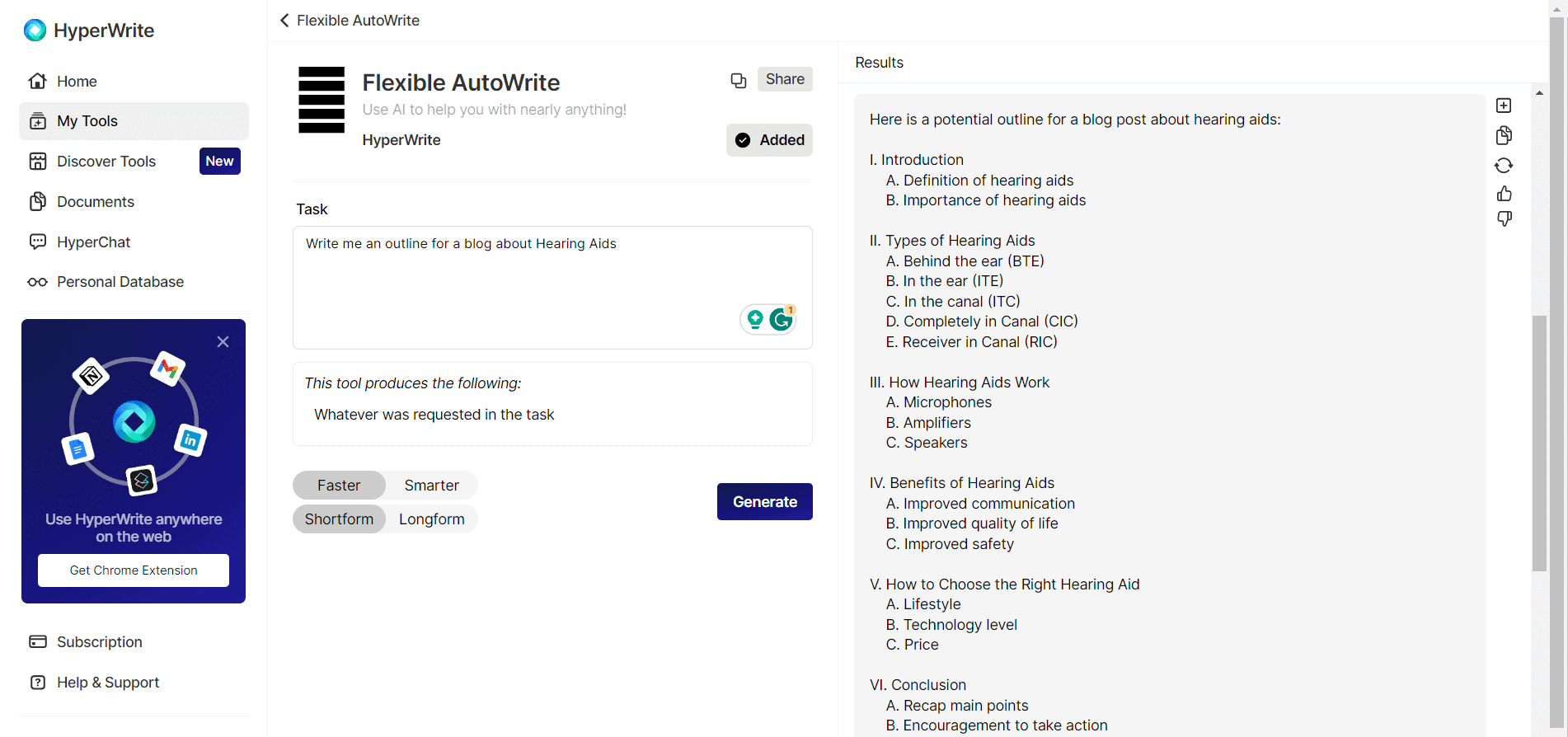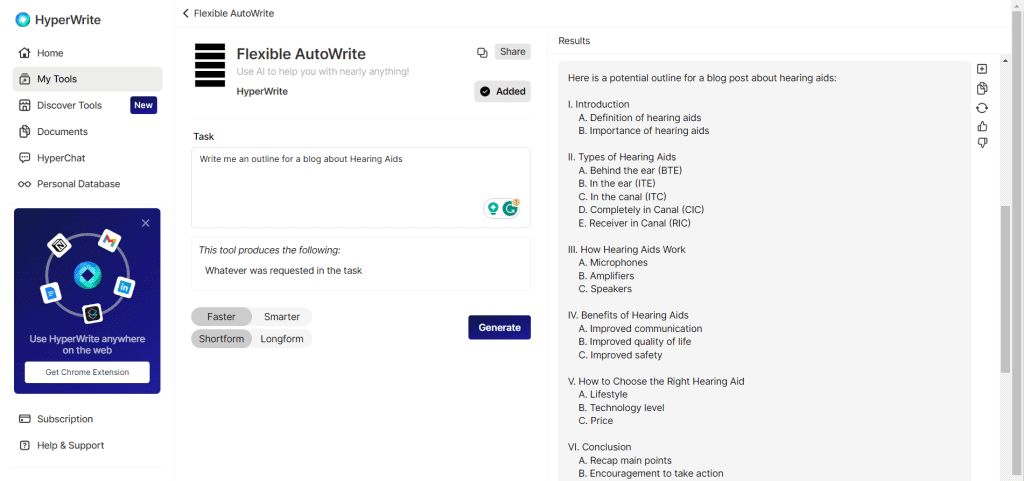 The Flexible Autowrite Tool is Hyperwrite's basic AI writing tool, and it can be found in "My tools". The main thing with this tool is that you can write basically anything with it.
In fact, it is safe to say that other tools are based on it. Unlike specialized tools like the SEO writer or email writer, you can prompt the Flexible Autowrite for basically anything, and it will respond.
Using it is basically the same as using the SEO writer:
Go to "My Tools."
Scroll down to the sub-heading "Other" where you will find it.
On the tool's page, Enter your prompt, and select between Faster and Smarter or Shortform and Long-form.
Click on "Generate" and wait while it generates a result. For the outline above, it gave me 3 outputs.
Like the SEO writer tool, it can't write in-depth long-form content. So, just stick to short ones or use it simply as a kickstarter.
4. Email Responder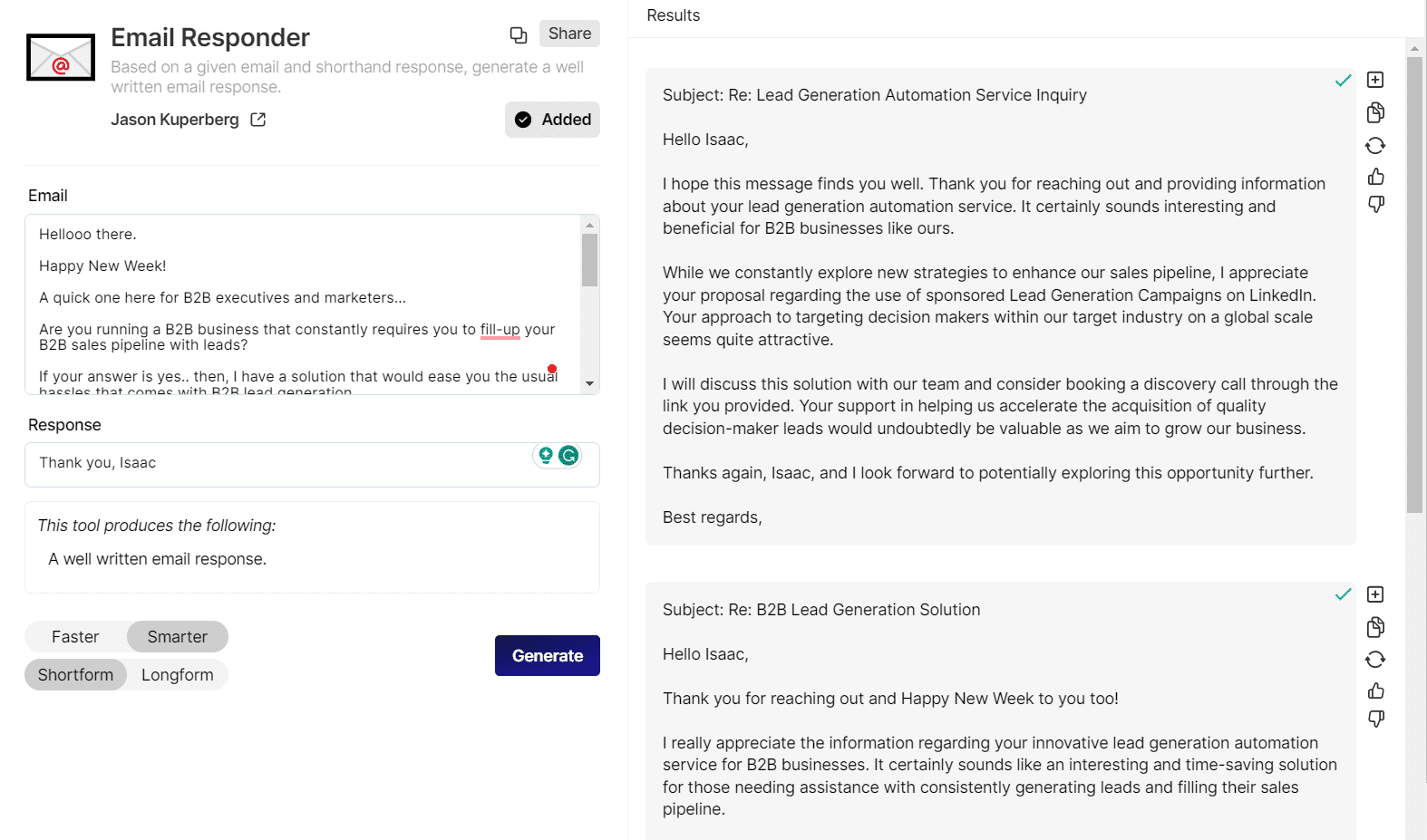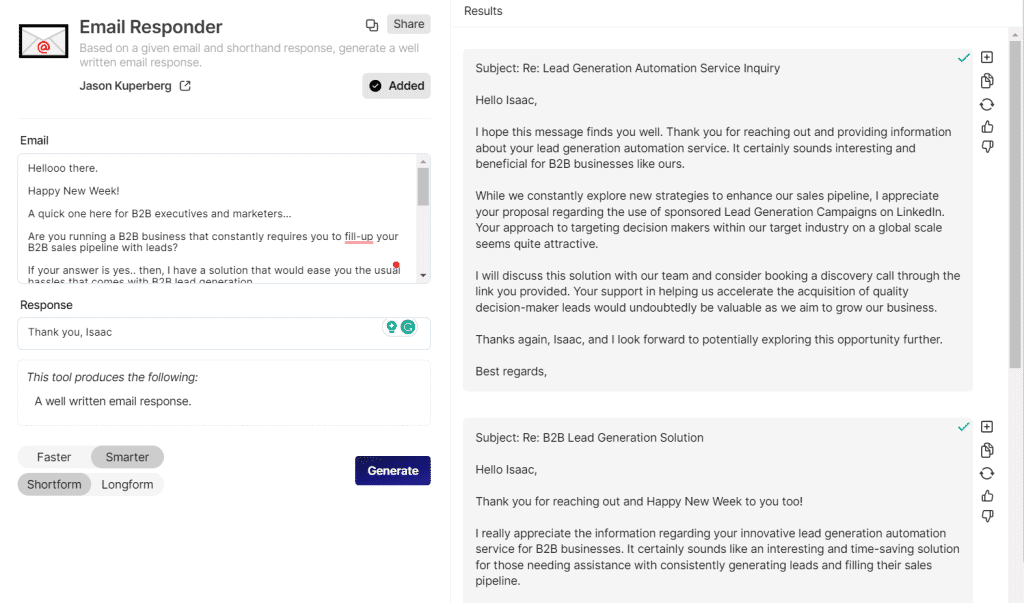 The email responder tool is among the most amazing Hyperwrite tools and can be very useful if you reply to several emails each day. However, you might struggle if the original email requires you to describe information of some sort.
For instance, if the original email says "Describe your experience in XYZ industry", Hyperwrite can't help much in that regard. However, neutral emails (check the image above) usually come out perfect.
You can find this tool in "My Tools" from your dashboard. And, as you guessed, it is very easy to use. Follow these steps:
Go to "My Tools."
Scroll down to the sub-heading "Business" where you will find it.
On the tool's page, paste the email you want to respond to and a short form of your response.
Select between Faster and Smarter or Shortform and Long-form.
Click on "Generate" and wait while it writes a response.
Of course, it can't generate a perfect response to all of your emails, but it's usually a good start.
5. TikTok Script Writer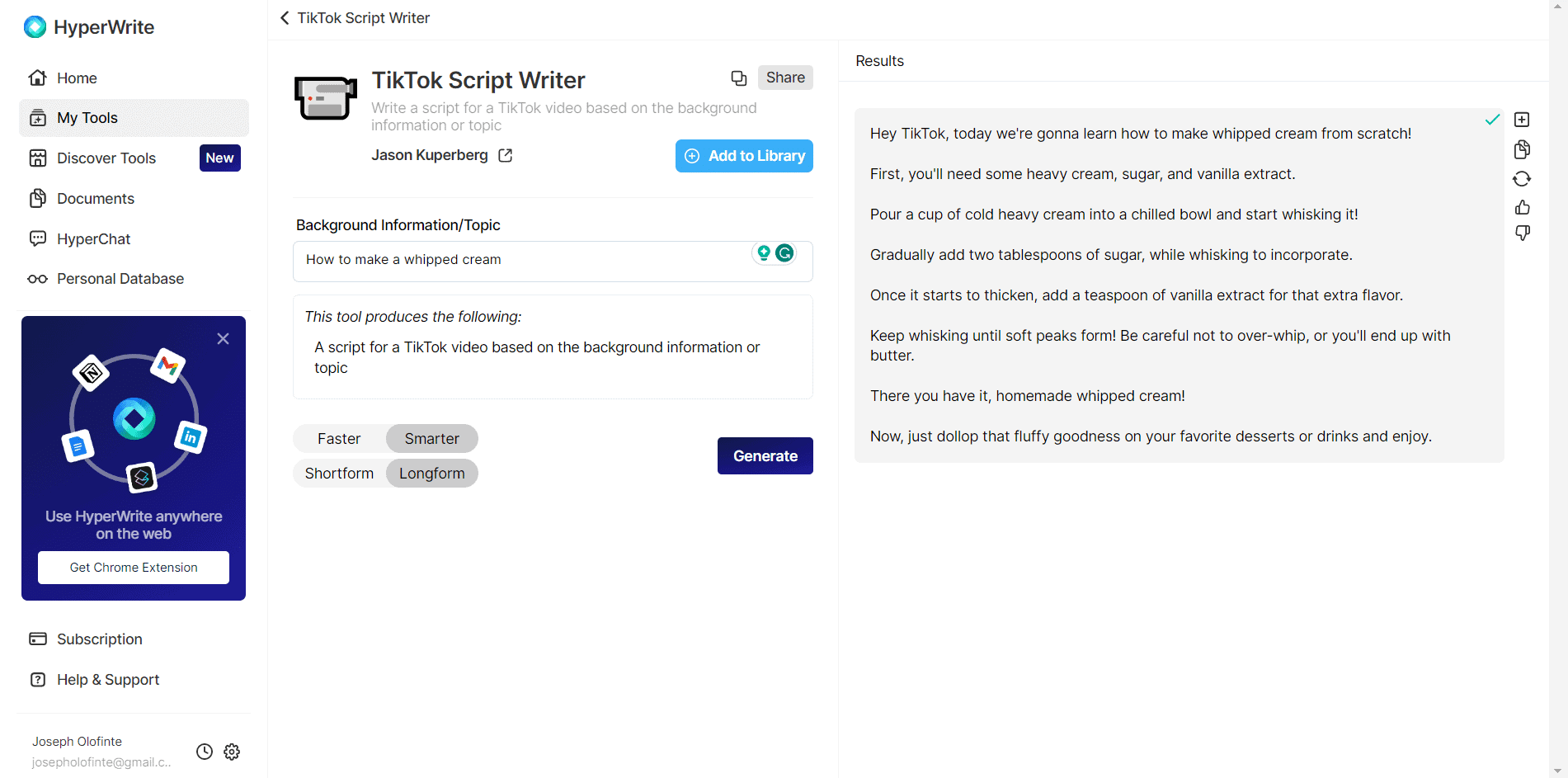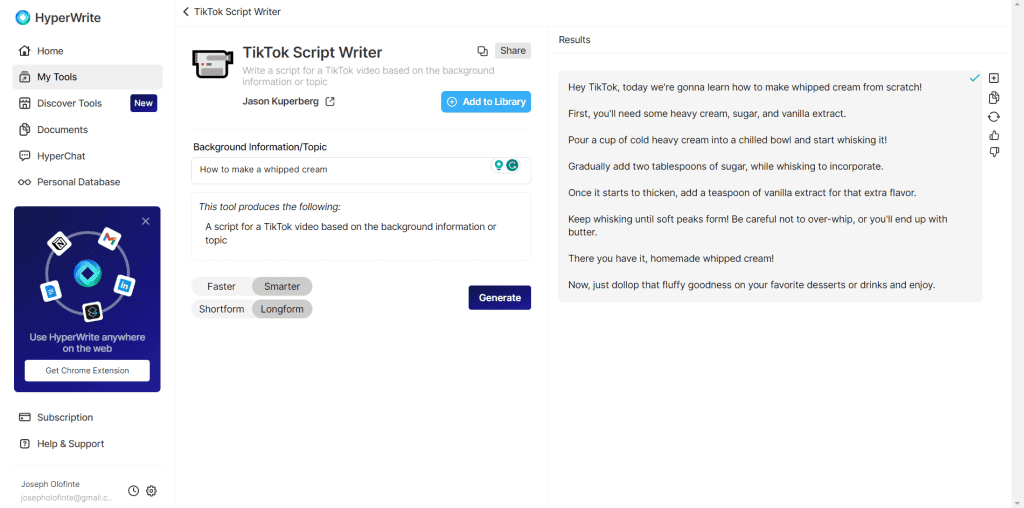 Are you a video content creator majoring in Tiktok videos or having TikTok as one of the platforms where you publish your content? Then this is a goldmine for you.
The TikTok script writer tool was made by Jason Kuperberg, the co-founder of Hyperwrite, and it is easily one of the best features of Hyperwrite as a whole. I should also mention that he made several of the tools on this list.
To use the TikTok scriptwriter:
Go to "Discover Tools."
In the search bar at the top-right corner, search for "TikTok" to locate this tool.
On the tool's page, type in some background information or topic related to the video you wish to create
Choose between Faster and Smarter, Shortform and Long-form.
Click on "Generate" and wait while it writes your TikTok video script.
6. Marketing Strategy Generator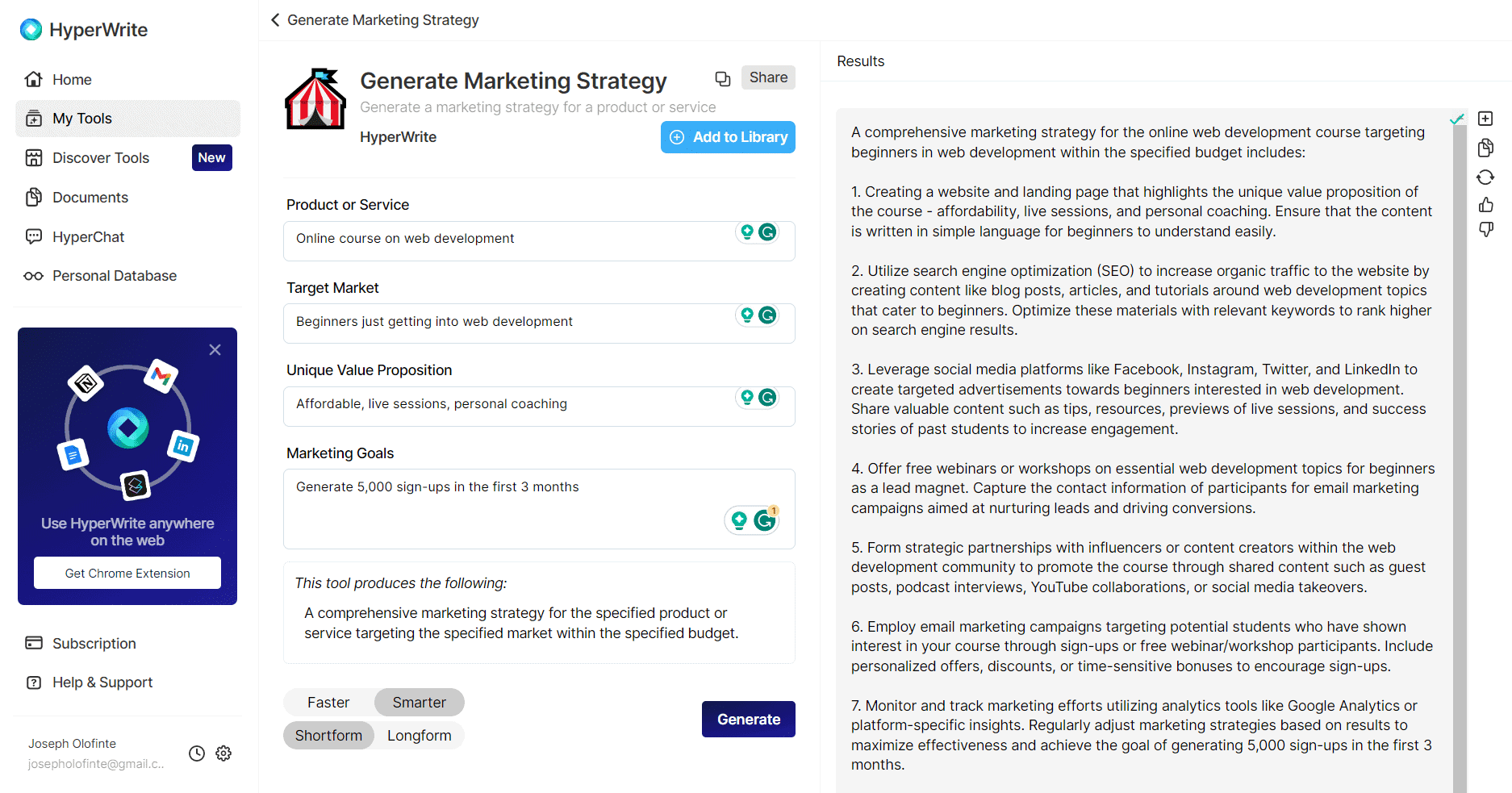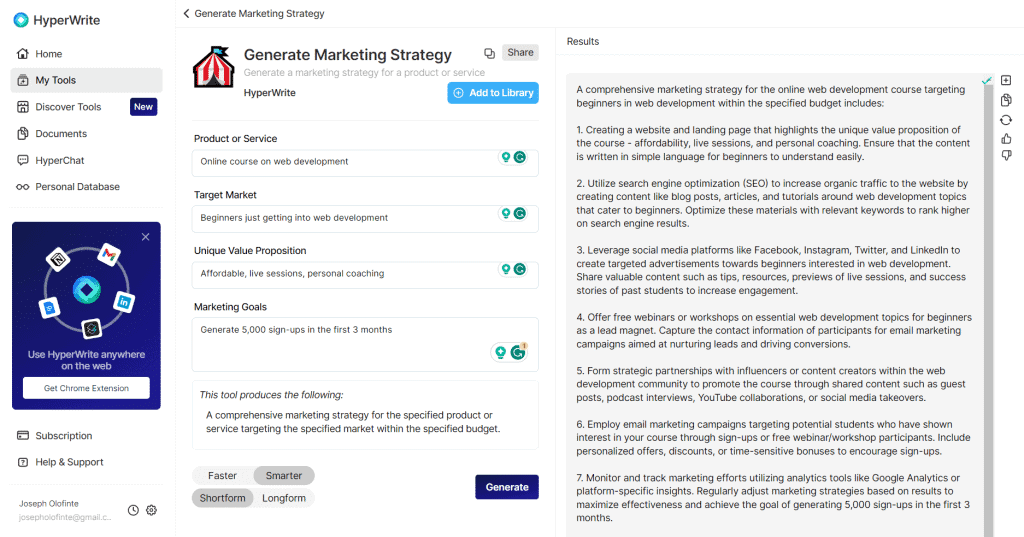 The marketing strategy generator is a unique tool that I haven't come across on several other AI platforms. Including Jasper and Writesonic. But here, Hyperwrite offers it even on the free account.
This tool really can help you as a marketer or business owner to generate a marketing strategy even with a desired goal in sight. The strategy can be as long as you desire, based on your goal.
To use the marketing strategy generator:
Go to "Discover Tools."
In the search bar at the top-right corner, search for "Marketing" and select "Generate Marketing Strategy" in the result.
On the tool's page, enter the product or service, target market, unique value proposition, and marketing goal.
Click on "Generate."
With this prompt, Hyperwrite will generate for you a list of the things you should do to achieve the desired goal within the period of time you specified. While the strategy is not 100% guaranteed that you will reach your goal, it is definitely a good start.
7. Marketing Email Generator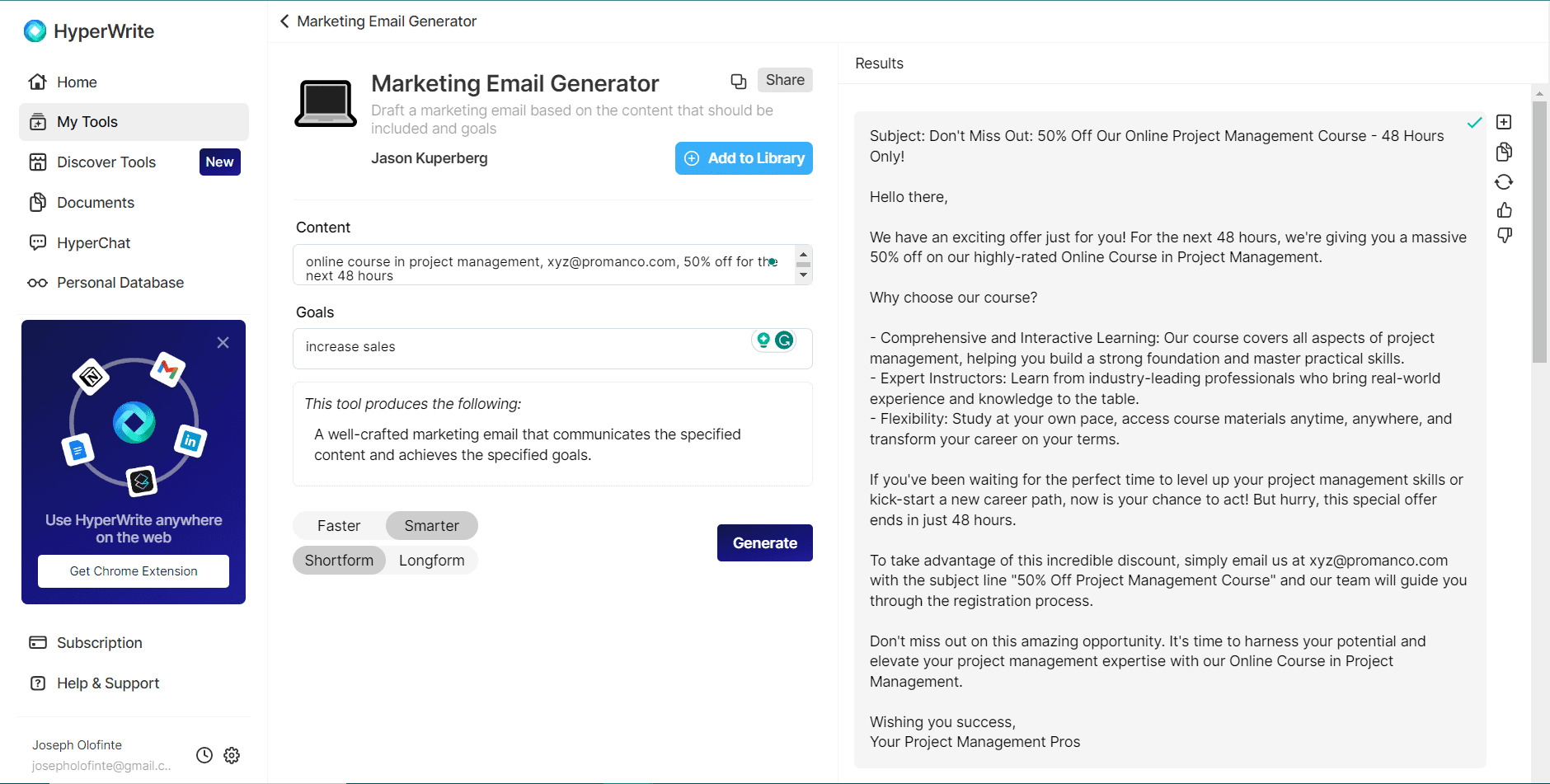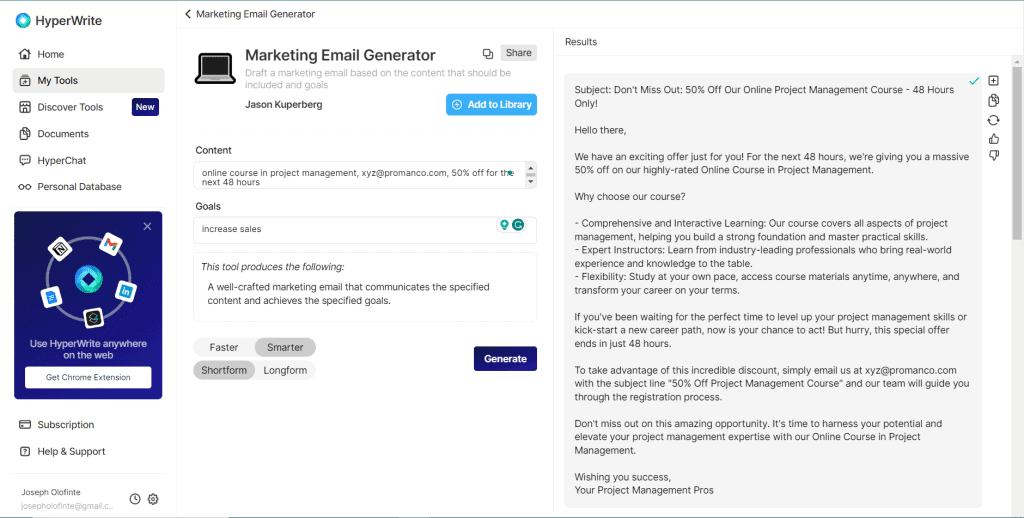 Email marketing remains one of the best marketing strategies as far as B2B marketing goes. A research study by Salescycle shows that 50% of people buy from marketing emails at least once per month in 2022. So if your target audience is business professionals, you need email marketing.
The fact that email marketing can help your business means you must do it right. The best part is that Hyperwrite can literally take this task off your chest by writing your emails in a minute or less.
To use the marketing email generator:
Go to "Discover Tools."
In the search bar at the top-right corner, search for "Marketing" and select "Marketing Email Generator" in the result.
On the tool's page, enter what you consider the core of the message you wish to pass across as well as the Goal.
Select "Smarter" and "Shortform".
Click on "Generate."
HyperChat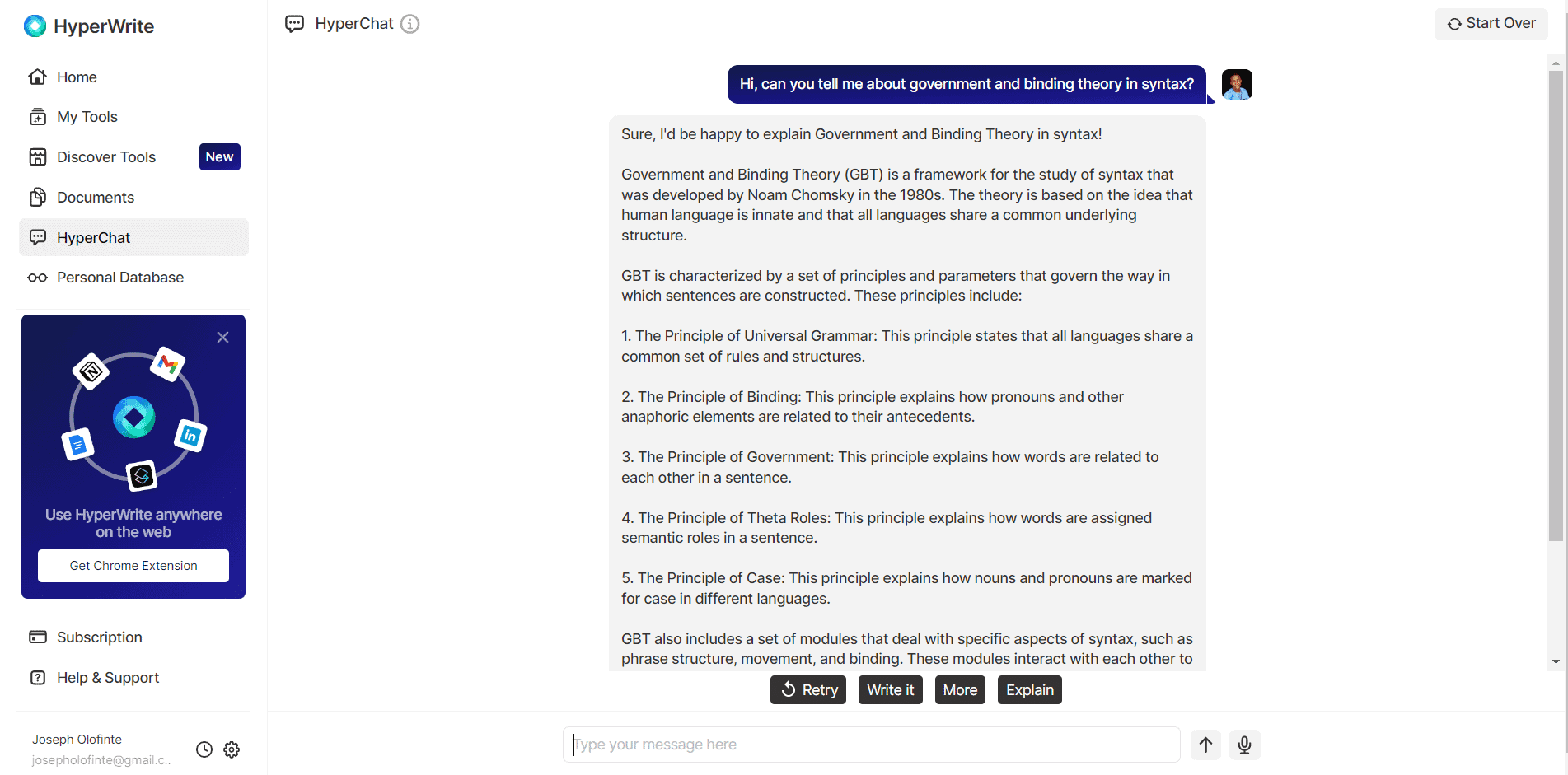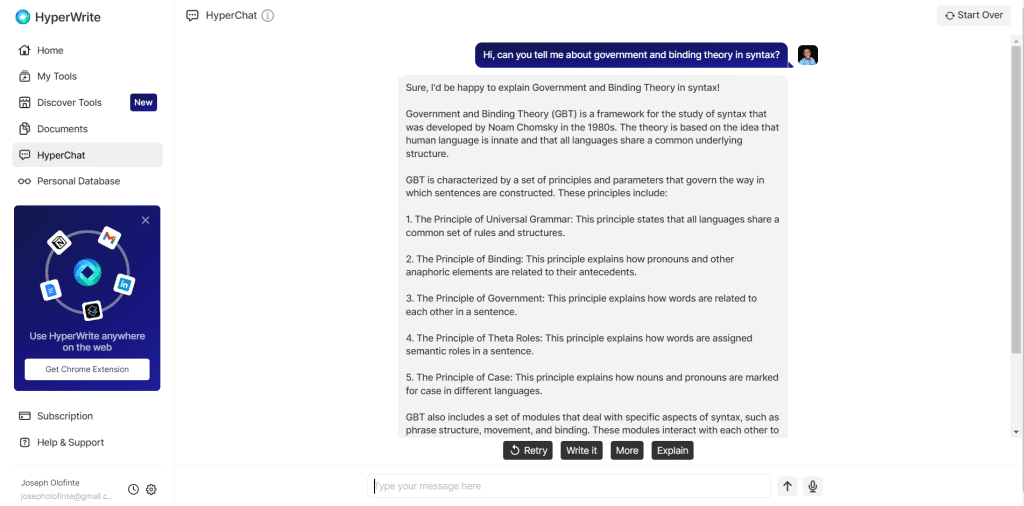 Hyperwrite offers a ChaGPT-like chat interface where you can ask quick questions or perform some sort of search for quick, straight-to-the-point responses.
Not only can HyperChat help with business content and all, but it can also help with academic content and even fun stuff. It is basically a finetuned version of ChatGPT.
Being based on GPT-4, its responses are quite great and usually on-point. However, whatever info you get from it must be fact-checked
Hyperwrite Chrome Extension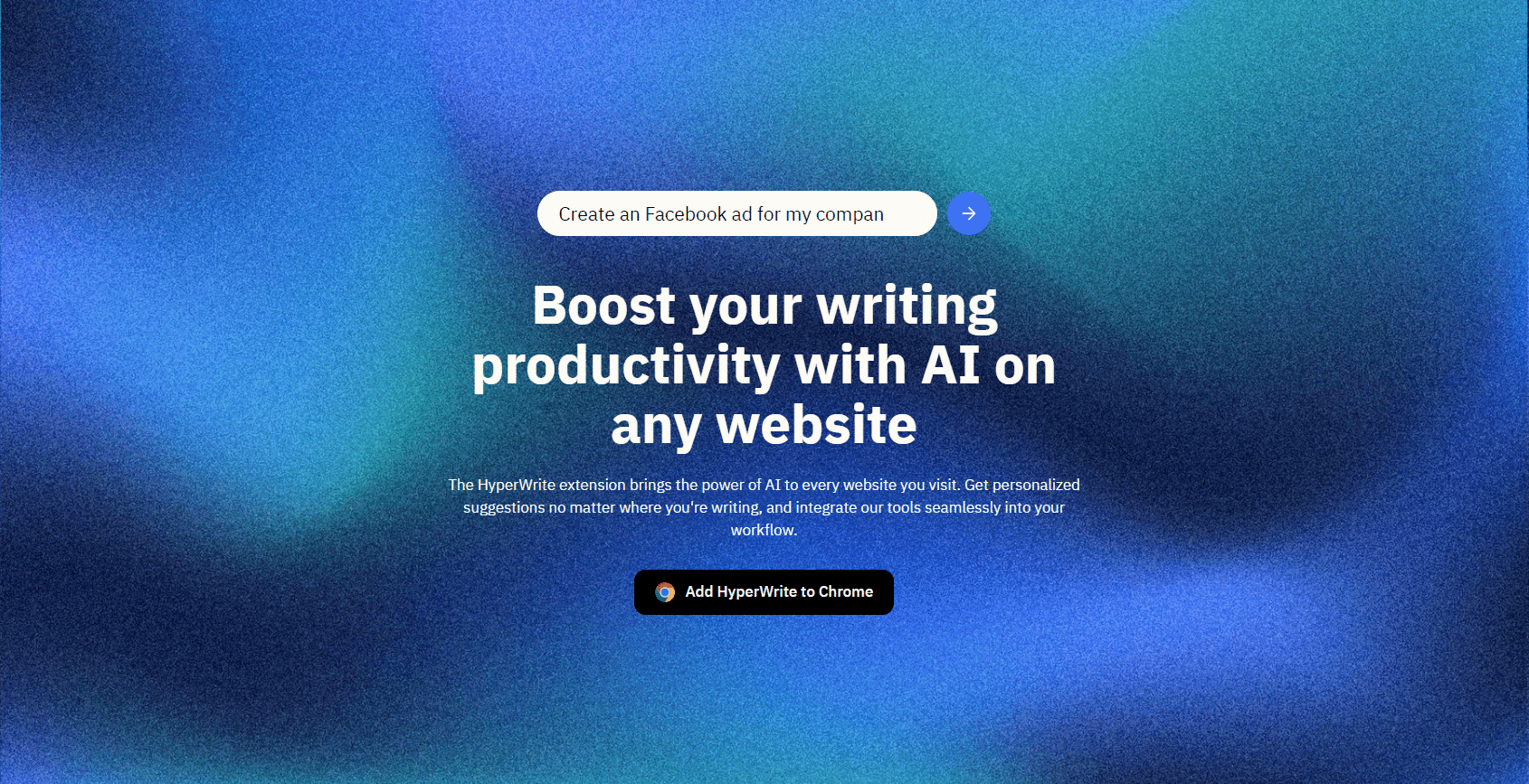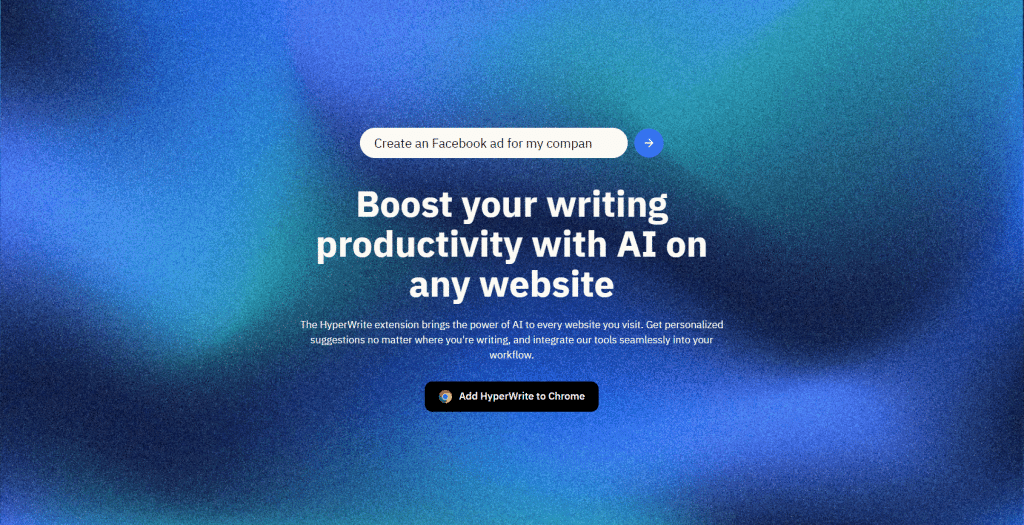 HyperwriteAI offers a Chrome extension that lets you bring Hyperwrite in its totality to your space. This means you have easy and direct access to the AI whenever and wherever you want.
Whether you're writing emails, drafting away in Google Docs, writing blog posts on WordPress, or want to have a chat with the AI, the Chrome extension brings all of these into your Google Chrome browser.
For what it's worth, the Hyoerwrite Google Chrome extension is a true writing assistant.
Hyperwrite Free AI Writing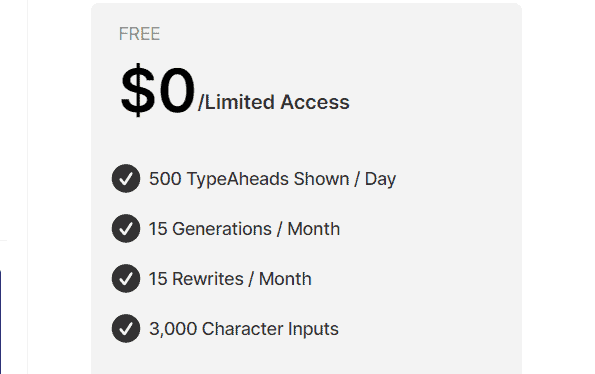 Hyperwrite offers a free-for-life account named "Starter". It gives up to 15 free AI writing and rewrites per month. This comes at no charge at all.
In fact, you don't need to input your payment details to get started. And from my experience with the free account, there is no limit on the word count or how much you can generate per day.
Hyperwrite AI App
Hyperwrite AI is a fully web-based software. It cannot be used offline, hence it has neither a mobile app nor a computer program.
To use Hyperwrite, simply navigate to the Hyperwrite website from your web browser, open an account, and get started within minutes.
Hyperwrite Pricing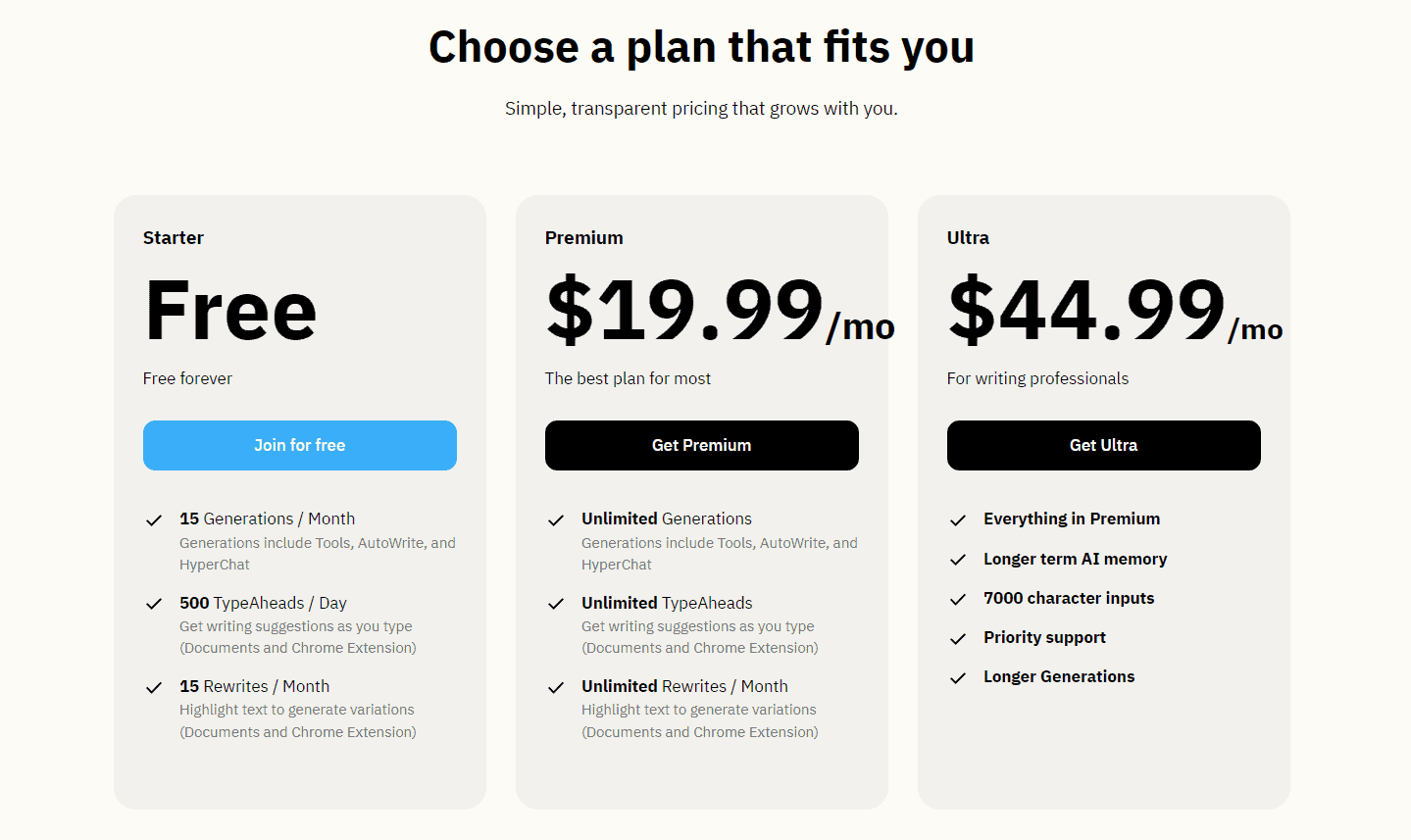 Hyperwrite AI doesn't cost as much as most AI writing tools available today. It offers 3 pricing tiers thus:
Starter (Free)
The starter account is free forever (at least until the company decides otherwise) and it serves as a free trial.
It offers:
15 free AI writing per month
500 writing suggestions as you type
15 content rewrites per month
No word count limit
Premium ($19.99/Mo)
The premium tier is usually enough for most users of Hyperwrite, and it is the most popular among them.

It offers:
Unlimited AI writing per month
Unlimited writing suggestions as you type
Unlimited content rewrites per month
No word count limit

Ultra ($44.99/Mo)
The ultra tier is the most expensive plan Hyperwrite has to offer, and according to the company, it is the perfect one for writing professionals. Though I figured most writers would get by with the Premium tier.
It offers:
Everything in Premium
Longer-term AI memory
7000 character inputs
Priority support
Longer Generations
Hyperwrite Alternatives
After using Hyperwrite for a while, I can say that it is really one of the best AI writing tools I've used. Despite that, there are still other alternatives you may want to consider. They include:
1. JasperAI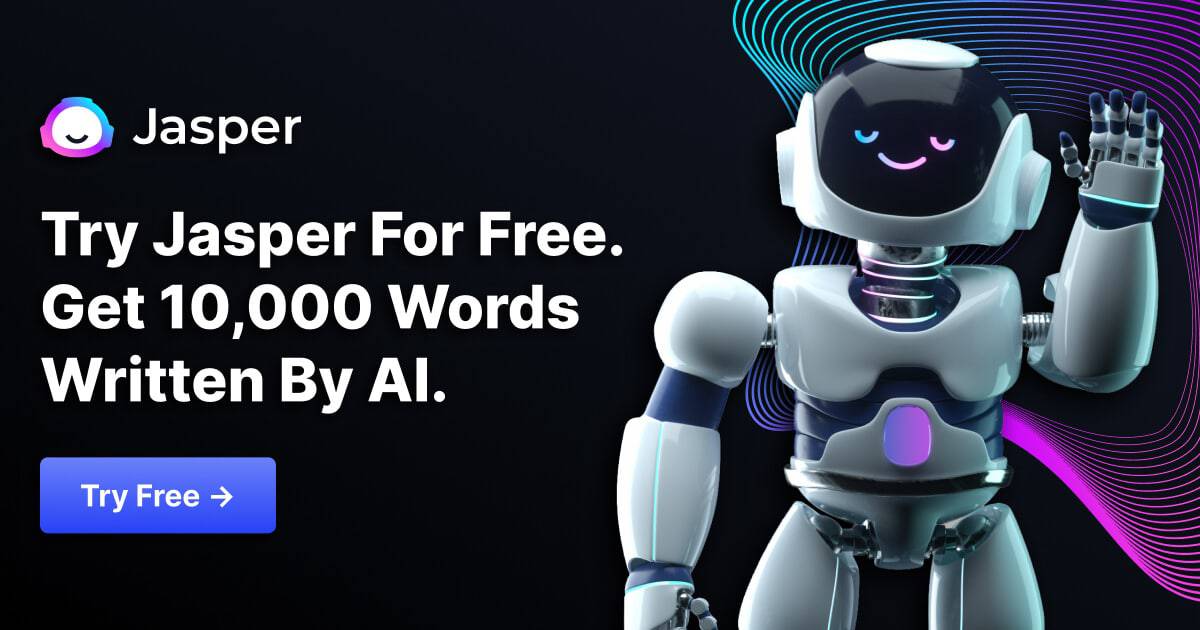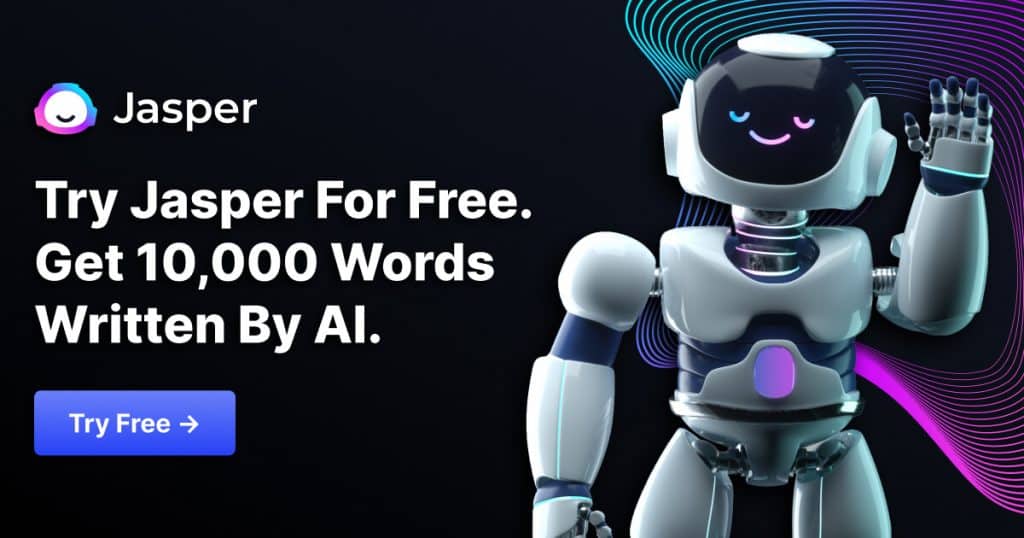 Jasper is one of the most popular AI writing tools out there and it ranks high among the best tools I've used. As a matter of act, it usually takes the number one spot whenever I write make compilations such as the best product description writers and the best AI writers.
The major difference between Jasper and Hyperwrite is that Jasper offers a bit more tailored features and the article writer can write much longer content. It also breaks down the article writing process into stages, allowing for better control.
However, it is way more expensive than Hyperwrite and may be unaffordable for small businesses and freelancers. You can get more information about Jasper from our Comprehensive Jasper AI review.
2. Writesonic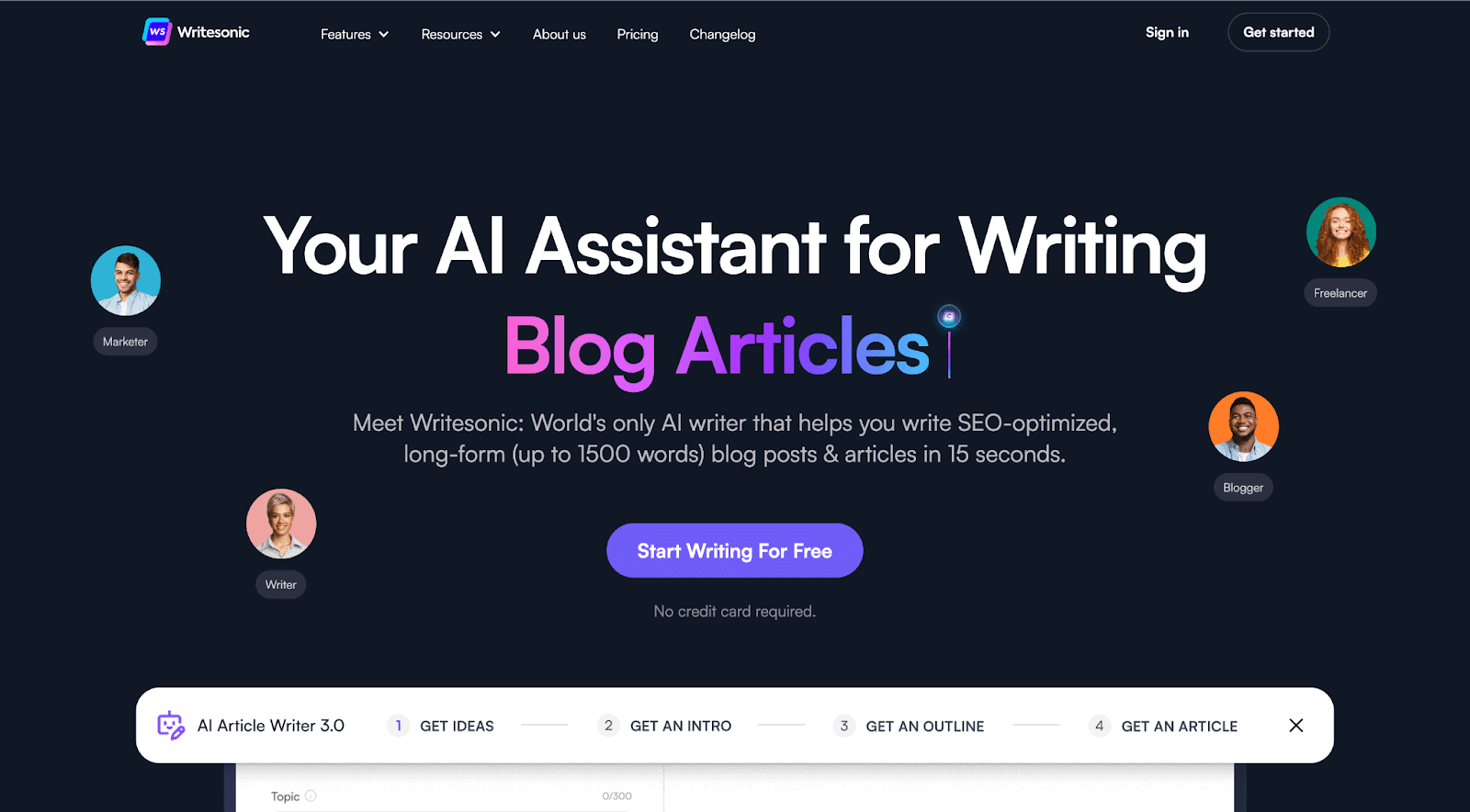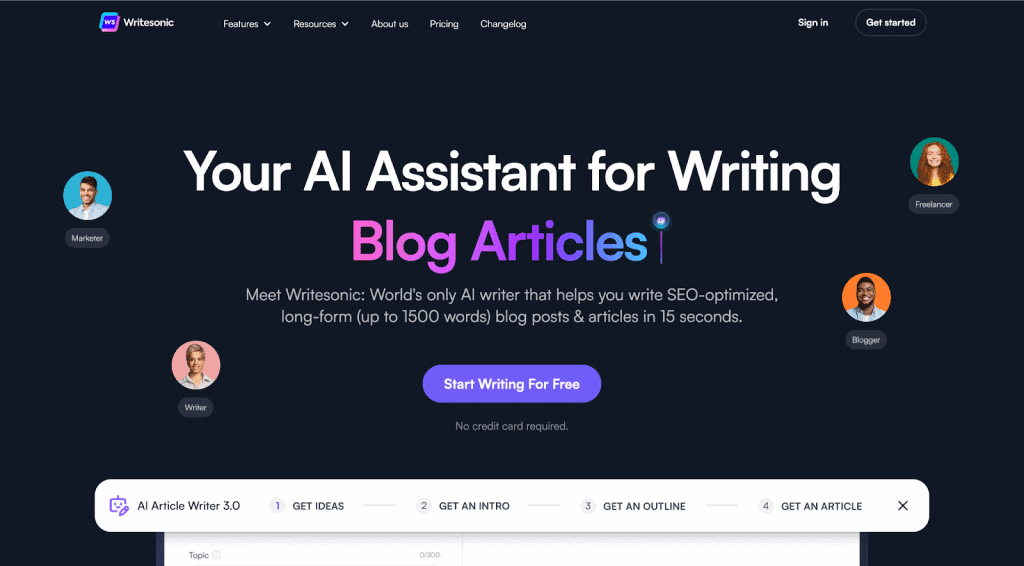 Right after Jasper AI comes Writesonic. It remains the strongest contender against Jasper as far as AI writing assistants go. It also runs on GPT-4 and its article writer is just marvelous.
Like Hyperwrite, Writesonic's free account is free for life. However, it has a limit of 10,000 words. Once you exhaust that, you can't generate anything on the platform until you upgrade to either the Pro or Enterprise tier.
The difference between Writesonic and Hyperwrite is Writesonic's flexible pricing which makes the Pro tier start at $12.67 per month for 1 user.
3. CopyAI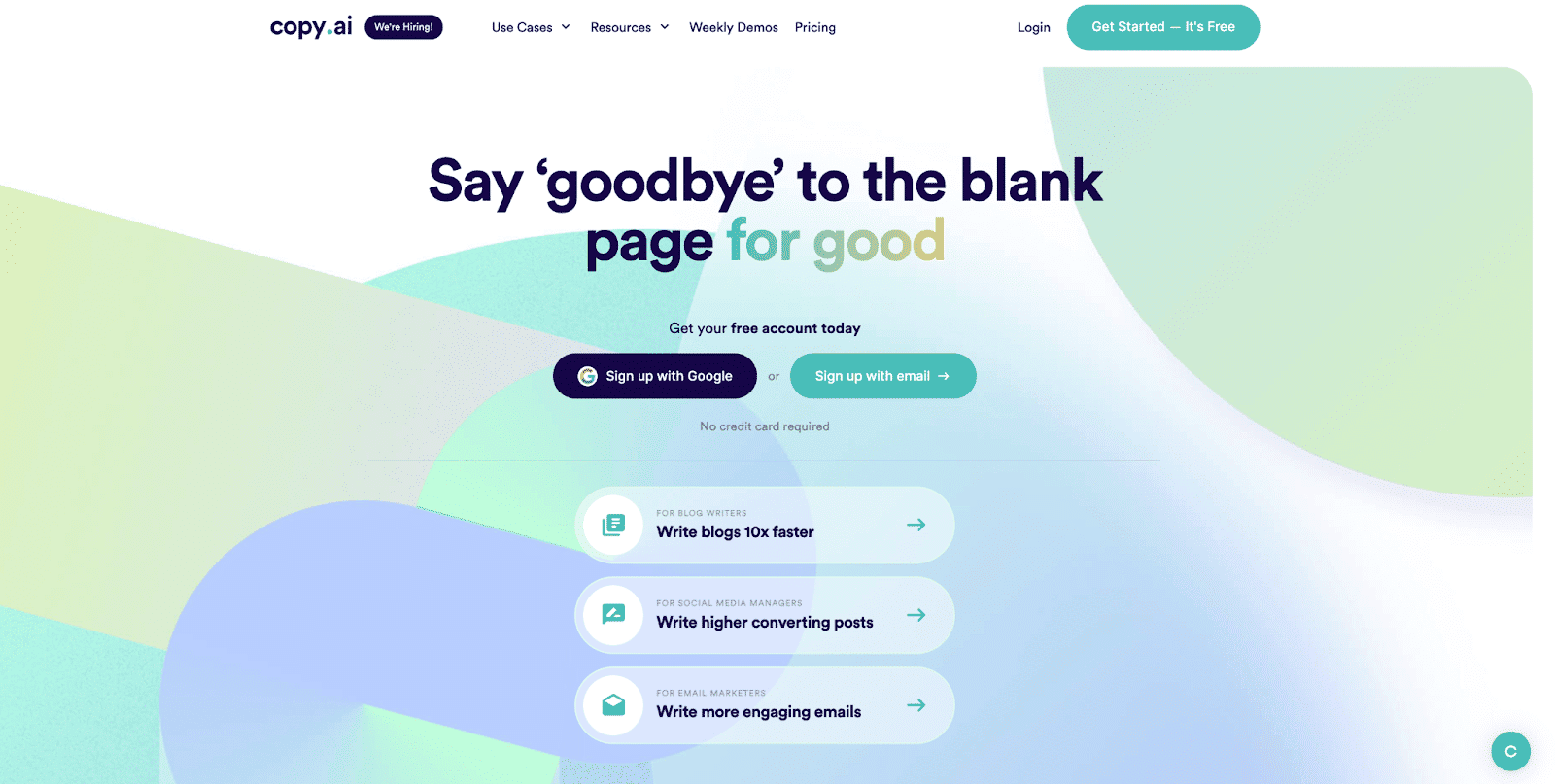 Another amazing tool you can explore out there is CopyAI. From the name, one can guess that it is made primarily for writing copy for products and landing pages. However, it is very good at writing blog posts and emails as well.
The difference between Hyperwrite and CopyAI is that Hyperwrite offers a Google Chrome extension while CopyAI doesn't. Also, Hyperwrite's free account has no word-count limit, but CopyAI's free account offers 2k words per month.
Other than that, both CopyAI and Hyperwrite are excellent tools worthy of the attention they are getting.
4. GrowthBar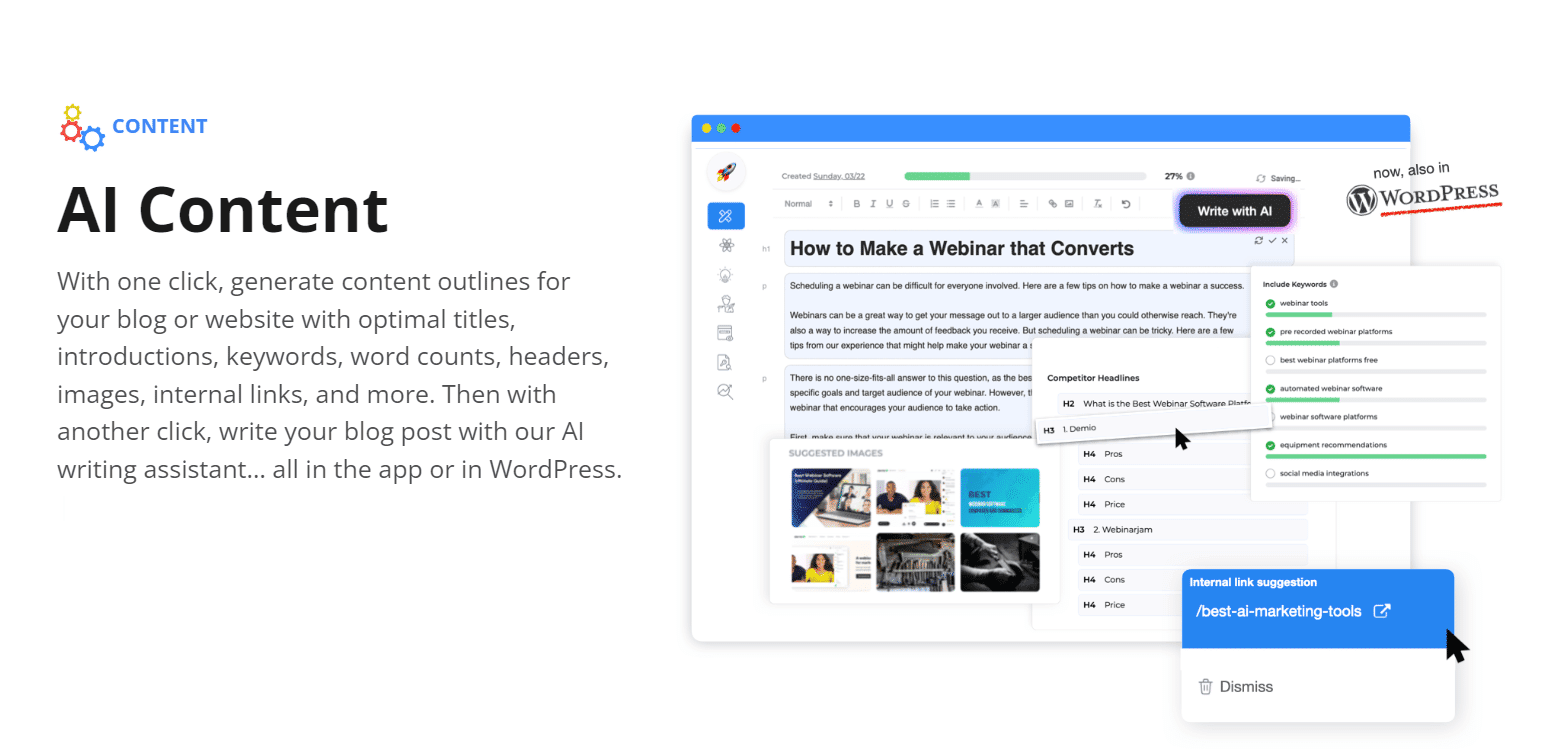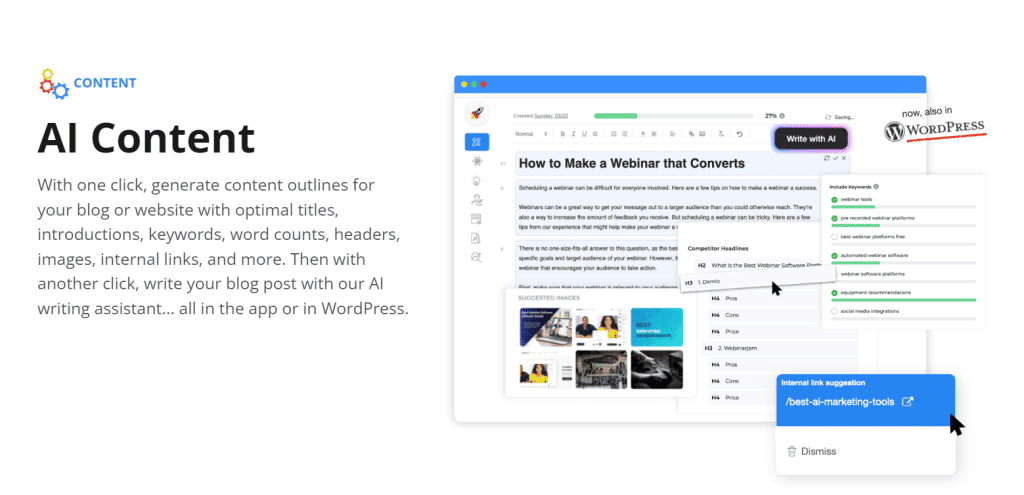 GrowtheBar is one of the AI writing tools I discovered this year, but it has caught my fancy so much so that I now use it regularly. The major thing responsible for this is GrowthBar's SEO capabilities which are nothing short of amazing.
For any writer or marketer who cares about writing SEO articles, Growthbar should be on your list as its SEO features trumps even that of Jasper and Writesonic.
The main difference between Hyperwrite and GrowthBar is that Hyperwrite can't produce SEO content like GrowthBar can. Also, Hyperwrite is wayyy more affordable as GrowthBar starts at $29 per month.
Hyperwrite Review: Conclusion
With Hyperwrite, you can unleash the powers of GPT-4 with $0 and create amazing content for your business. Several of its tools are useful to business owners, including the SEO writer, email writer, marketing strategy generator, and several more not mentioned in this article.
Although the SEO content writing tool is somewhat basic compared to Jasper and Writesonic, it is way cheaper than those. So if you're looking for an AI writing tool you can use without breaking the bank, Hyperwrite fits the description.