You might have already seen some TikTok videos or Instagram Reels of students using different AI tools for studying. 
Most of these tools are extremely helpful for homework, assignments, note-taking, organizing, and more. But others are straight-up cheat codes that can solve exam papers in no time.
Of course, I don't condone the "exam-solving" ones for obvious reasons, but there are some tools that students should be using.
I'm not talking about basics like Evernote, Grammarly, or Quillbot.
My focus is on the Best AI Tools For Students that can share your burden and make studying a whole lot easier. These AI-based tools can help you overcome that barrier between an average and an excellent student. 
How Can AI Tools Help Students?
AI, for students, can be the perfect companion. It can help you learn new concepts or get a better understanding of older ones. And whether you want help with day-to-day homework or yearly projects, these tools are designed to help educators and students alike.
Here's how-
Individualized Learning – The best possible use of AI for students is that it can create personalized learning experiences. You get to learn on your own time and at a steady pace. That removes the pressure of keeping up with others.
And that's not all.
AI can create personalized learning patterns that can improve your academic performance in the long run.
Ask Me Anything AI Chatbots – Everyone on the internet is using ChatGPT, Microsoft's new AI powered Bing, and Google's Bard, so why should students stay behind? Generative AI like ChatGPT, Chatsonic, and Ivy Chat are trained on terabytes of data. 
Using these chatbots can 10x your productivity by increasing your problem-solving prowess, providing quick research, helping you write immaculately, and whatnot.
Can you imagine submitting an essay with 0 grammar and 0 spelling mistakes? AI can help do that.
Overcome Disabilities – Text-to-Speech (TTS) tools that generate synthetic speech from text can help visually impaired students or students with reading and writing disabilities (Dyslexia).
Moreover, if you have a hard time reading a secondary language, text-to-speech tools can help you overcome that language barrier.
You'll find one of the best TTS tools for students in the list below.
Best AI Tools For Students (Sneak Peek)–
ChatGPT.
Speechify.
Otter.ai.
TutorAI.
StepWise Math.
Scholarcy.
Explain Like I'm Five.
Scroll down to find out what each tool does and how it can help with studying.
7 Best AI Tools For Students
1. ChatGPT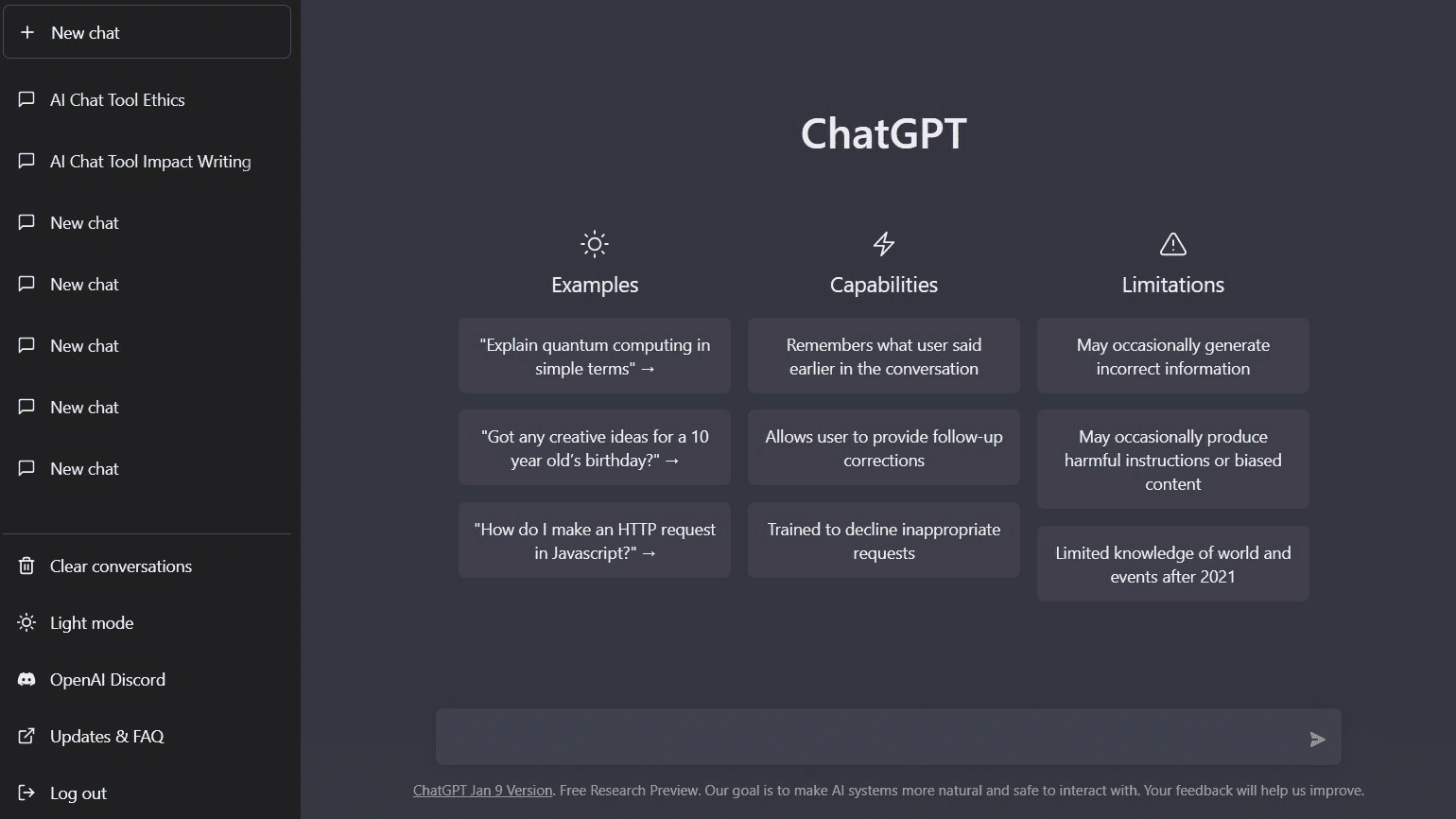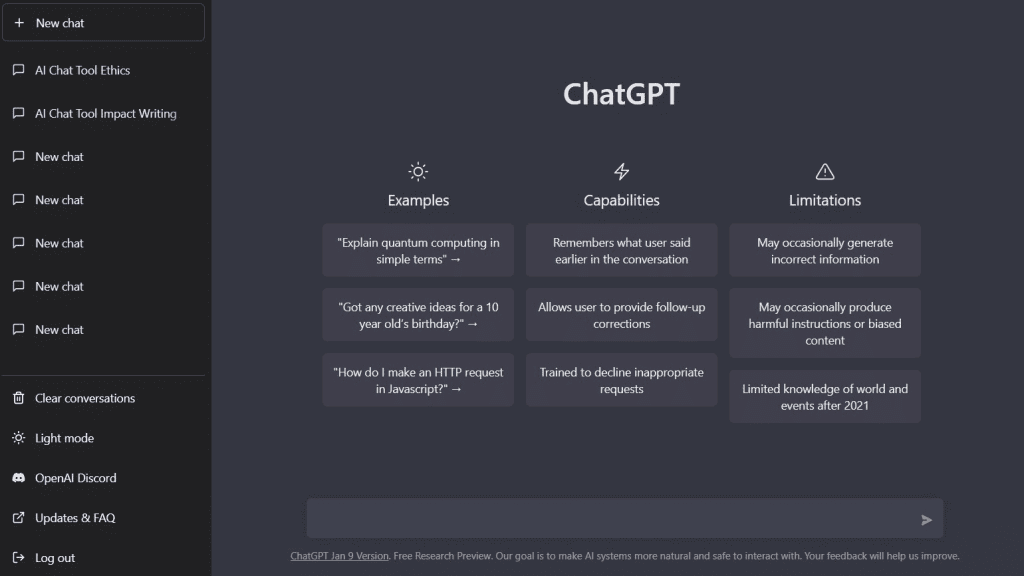 What is ChatGPT?
OpenAI's ChatGPT is an AI language model trained to understand natural language and respond to prompts.
Trained on tons of data and powered by the latest Generative Pre-trained Transformer 4 (GPT-4), ChatGPT is an artificially intelligent chatbot that can maintain human-like conversations.
It is one of the best Generative AIs that can help students in multiple ways. Jump to the next section to find out how.
There's just one caveat to this otherwise powerful tool. The free version is still running GPT-3, which was trained on data up to 2021. That means its knowledge, right now, is limited to 2021. This can sometimes result in outdated or factually incorrect responses.
But if you buy ChatGPT Plus (powered by GPT-4), that's a whole different ball game.
GPT-4 has been trained and continues to learn on a much bigger data set. Using a more sophisticated learning approach, GPT-4 outperforms the older modules in safety, infrastructure, and accessibility.
So, if you want access to factually correct and up-to-date data, you'll have to spend $20 a month.
How Can ChatGPT Help Students?
Students can use ChatGPT to
Get help with homework. 
Write Essays.
Do quick research for assignments and projects.
Generate easy-to-understand explanations for complex concepts.
Ask as many questions as you want to remove any confusion.
Summarize long articles to pick out the important stuff.
ChatGPT is one of the best free AI tools for students right now.
It can help write grammatically correct essays on almost any subject matter with one-line prompts. It's pretty good at Maths, Physics, History, and every other subject.
But it's almost too powerful because it can help students cheat.
That's why schools are banning ChatGPT, and it's completely understandable. No school would want its students to use AI for exams, assignments, and more.
But, overcome the risks, and there are plenty of rewards.
ChatGPT Pricing & Plans
Plan
What You Pay
What You Get
ChatGPT Free
$0
– GPT-3, GPT-3.5 & GPT-4 powered text generation.
– Limited number of requests.
ChatGPT Plus
$20/month
– GPT-4 powered text generation.
– Faster responses.
– Unlimited number of requests.
– Seamless availability during peak use hours.
2. Speechify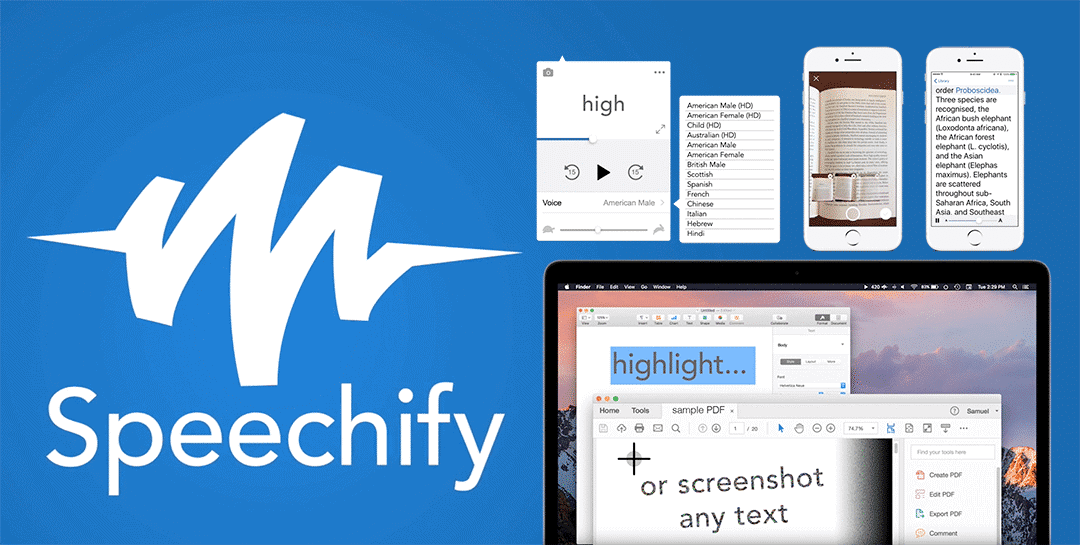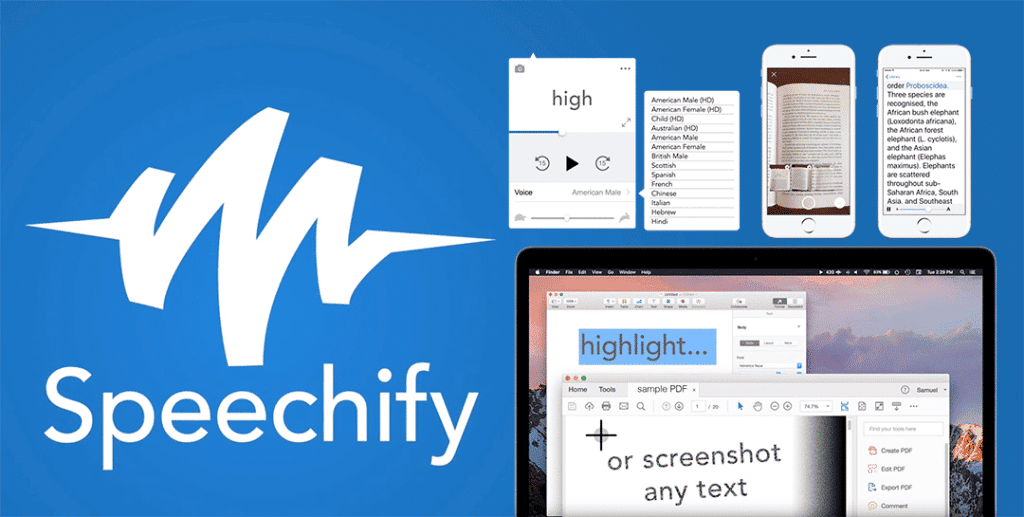 What is Speechify?
Speechify is an AI-powered Text-to-Speech (TTS) tool that can turn text into speech using synthetic voices.
Whether it's a book, a PDF file, a web page, a scanned document, or a photograph of a text-filled page, Speechify can turn that into speech so you can listen to it instead of reading.
You can set up Speechify on your computer or mobile device and instantly turn text into speech using 200+ voices.
Speechify lets you listen at 0.5x speed (100 words per minute) to 4.5x speed (900 words per minute). So, you can read (and listen) through those long chapters at a more productive pace.
But, Speechify's best use case is helping special needs students learn faster.
How Can Speechify Help Students?
As a premium text-to-speech, Speechify helps-
Visually impaired students can listen to books.
Students with learning disabilities can develop learning systems.
Students can learn new languages and improve their pronunciation.
Take notes using Speech.
For some students memorizing something they listen to is easier than memorizing something they read. Even some scientific studies suggest that listening is better for memorization and understanding. Although some studies suggest the opposite.
It's all a matter of preference.
That's why I wouldn't suggest spending $139/year if listening isn't fruitful for you.
However, I'll label Speechify as the best AI text-to-speech tool for students who have a hard time reading.
Students suffering from Dyslexia can greatly benefit from Speechify's text-to-speech features. Instead of struggling to read, Speechify allows students to listen to every word.
Speechify Pricing & Plans
Plan
What You Pay
What You Get
Speechify Limited
$0
10 reading voices.
Chrome and Safari extensions.
Speechify Premium
$139/year (Annual Billing Only)
200+ voices and 20+ languages.
Access to all importing and note-taking tools.
Listen to the scanned text.
3. Otter.ai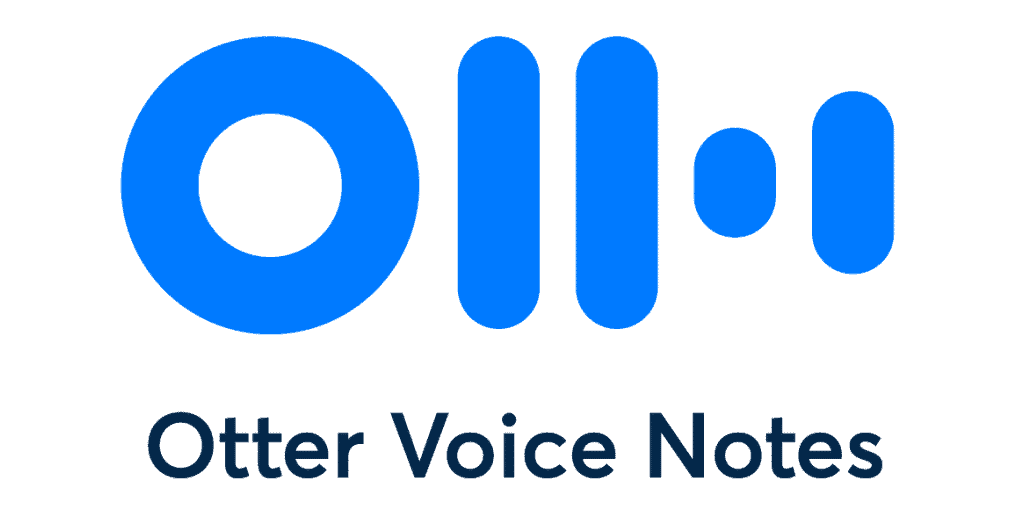 What is Otter.ai?
Otter.ai is a Note-taking, Transcription, and Subtitle-Generating tool powered by Artificial Intelligence. Running on several Machine Learning Algorithms (MLAs), Otter.ai uses Speech Recognition to listen and generate editable transcripts.
Otter.ai integrates with Google Drive and Dropbox and lets you Import Recordings for a quick recap and easy transcription. As for Real-Time Transcription and Note-taking, Otter.ai will integrate with Zoom, Microsoft Teams, and Google Meet.
What makes Otter.ai the best transcription and note-taking tool is quality and accuracy.
Be it names, regular speech, or technical terms, Otter's AI will pick up on everything. Moreover, with the Custom Vocabulary feature, you can add words to Otter's vocabulary.
How Can Otter.ai Help Students?
Otter.ai is one of the best AI Speech-to-Text tools, and it can help-
Hearing-impaired students participate in classes.
Take Editable Notes from the speech.
Generate Closed Captions during virtual classes.
Create an Automated Summary of the lecture.
On top of all that, Otter.ai can also Capture Lecture Slides, adding them to the notes, so revision becomes a lot easier.
With Otter.ai by your side, you'll no longer have to worry about missing out on anything important after zoning out during a virtual or physical class. It happens to the best of us. But don't use Otter as a safety net to take a nap.
Otter.ai for Education is one of the best AI tools for remote education.
Otter.ai Pricing & Plans
Plan
What You Pay
What You Get
Free
$0
– Transcribe 300 minutes per month.
– Transcribe in real-time.
– Otter Assistant.
Pro
$16.99/month (Billed Monthly)
$99.96/year (Billed Annually)
– Transcribe 1,200 minutes per month.
– Transcribe in real-time OR Import audio/video.
– Otter Assistant.Export transcription.
Business
$30/month (Billed Monthly)
$240/year (Billed Annually)
– Transcribe 6,000 minutes per month.
– Team and Admin Features.
– Everything in Pro.
Enterprise
Tailored Prices.
– Everything in Business.
– Enterprise-wide setup.
4. TutorAI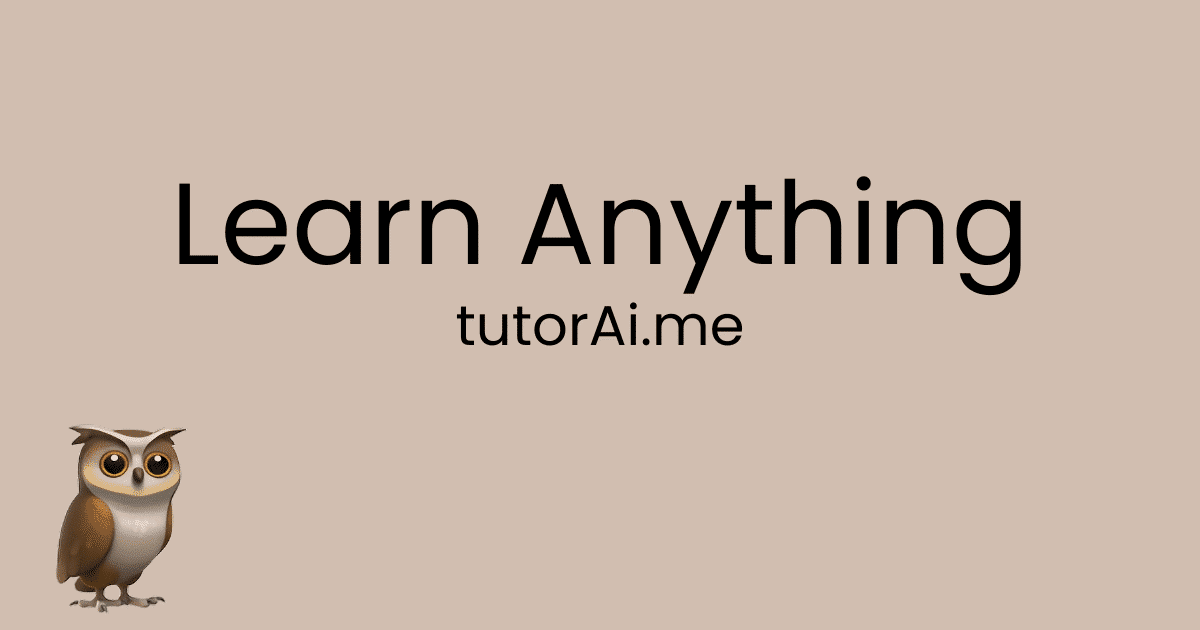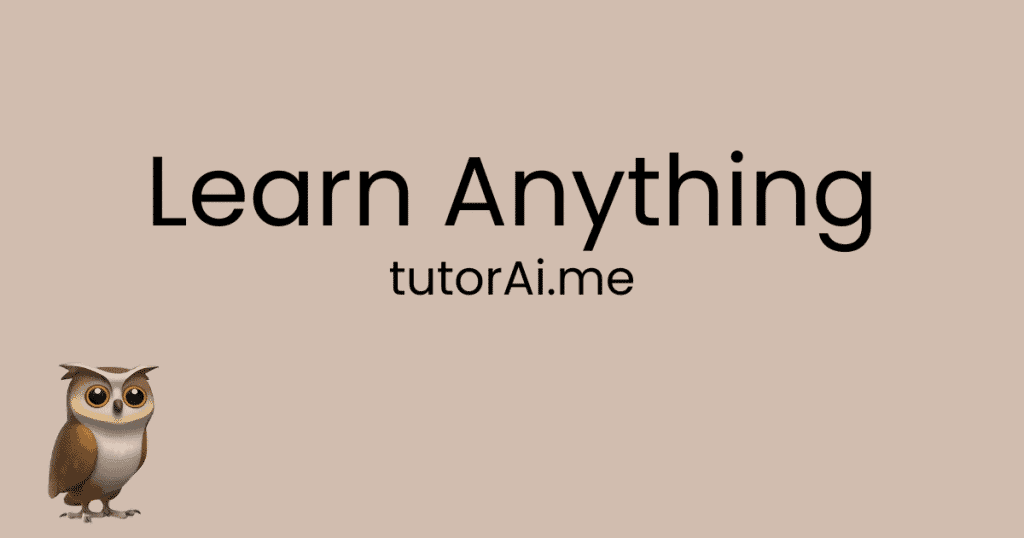 What is TutorAI?
Created by Daniel Habib and powered by OpenAI, TutorAI is an interactive learning platform that uses 7 layers of AI-generated content. All you have to do is provide a topic you want to learn about, and TutorAI will get to work.
First, TutorAI will Generate 4 Modules for any given topic. After you choose one of the generated modules, TutorAI will create Lessons out of it. These AI-generated Lessons break down a big topic into shorter, easier-to-grasp lessons.
But that's not all.
You can Go Deeper.
TutorAI can further Simplify the generated content. It can also generate real-life Examples of any lesson for better understanding. If you have any confusion, you can Ask A Question.
Once you're confident, ask TutorAI to generate a Quiz and test yourself.
How Can TutorAI Help Students?
TutorAI is one of the best study tools for interactive learning that can-
Carve out lessons from scratch.
Simplify complex topics for easy learning.
Help develop a deeper understanding with working examples.
Generate quizzes on any topic.
Track Progress to develop techniques that work for you.
Whether you're a fifth grader or a postgraduate student, the kind of personalized and interactive learning TutorAI offers will make you a much more proficient and productive student.
TutorAI started as a free-to-use tool, but now it only allows 3 queries before asking you to pay. And considering the features on offer, $10/month is a great deal.
Simply put, TutorAI is a must-have tool for students.
TutorAI Pricing & Plans
Plan
What You Pay
What You Get
Free
$0
– 3 Queries.
Premium
$10/month
– Unlimited Queries.
– Personalized Learning plans.
– Progress Tracker.
5. StepWise Math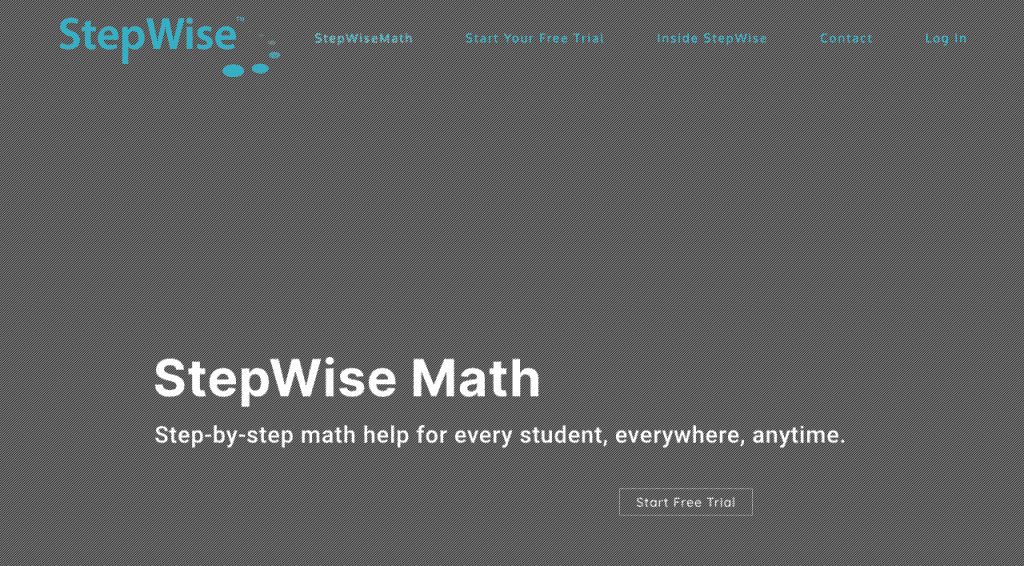 What is StepWise Math?
Running on a proprietary and patented AI, StepWise Math is an AI-powered math tutor. If you have a hard time with Maths, StepWise Math is a must-have tool.
StepWise Math uses Natural Language Processing to analyze the inputs and provide step-by-step guidance through the easiest or the most complex math problems. Whether it's Calculus, Trigonometry, Probability, or Geometry, StepWise Math has got 80+ short courses to help you out.
Aside from math tutoring, StepWise's AI will analyze your progress and provide customized learning plans to strengthen your math skills.
If AI doesn't get it done, StepWise has skilled tutors and experts to help you out.
StepWise Math further has 3 products-
How Can StepWise Math Help Students?
StepWise Math provides-
The best AI-powered Math tutoring.
A virtual math tutor for every student, regardless of their physical location.
Individualized Learning experience to learn math at your own pace.
Instant Feedback to grasp tough concepts and clear confusion.
24/7 access to ask math questions.
StepWise Math is that always-available math tutor that every student dreams of.
Aside from helping you adapt to new math concepts, StepWise Math offers Unlimited Practice Problems.
Furthermore, StepWise's AI will help you with those problems in case you find yourself stuck. So, you're not just getting tons of source material to learn, but plenty of practice and plenty of help while doing that practice.
StepWise Math Pricing & Plans
Plan
What You Pay
What You Get
Student
$9.99/month
– Unlimited practice problems.
– Help with Pre-Calculus and Algebra.
– 24/7 Access. 
– Single user.
Family
$27/month
– Unlimited practice problems.
– Help with SAT/ACT Math.
– Help with Pre-Calculus and Algebra.
– 24/7 Access.3 users.
School
Tailored Price
– Course planning and actionable reports for teachers.
– Everything in the Student & Family Plan.
6. Scholarcy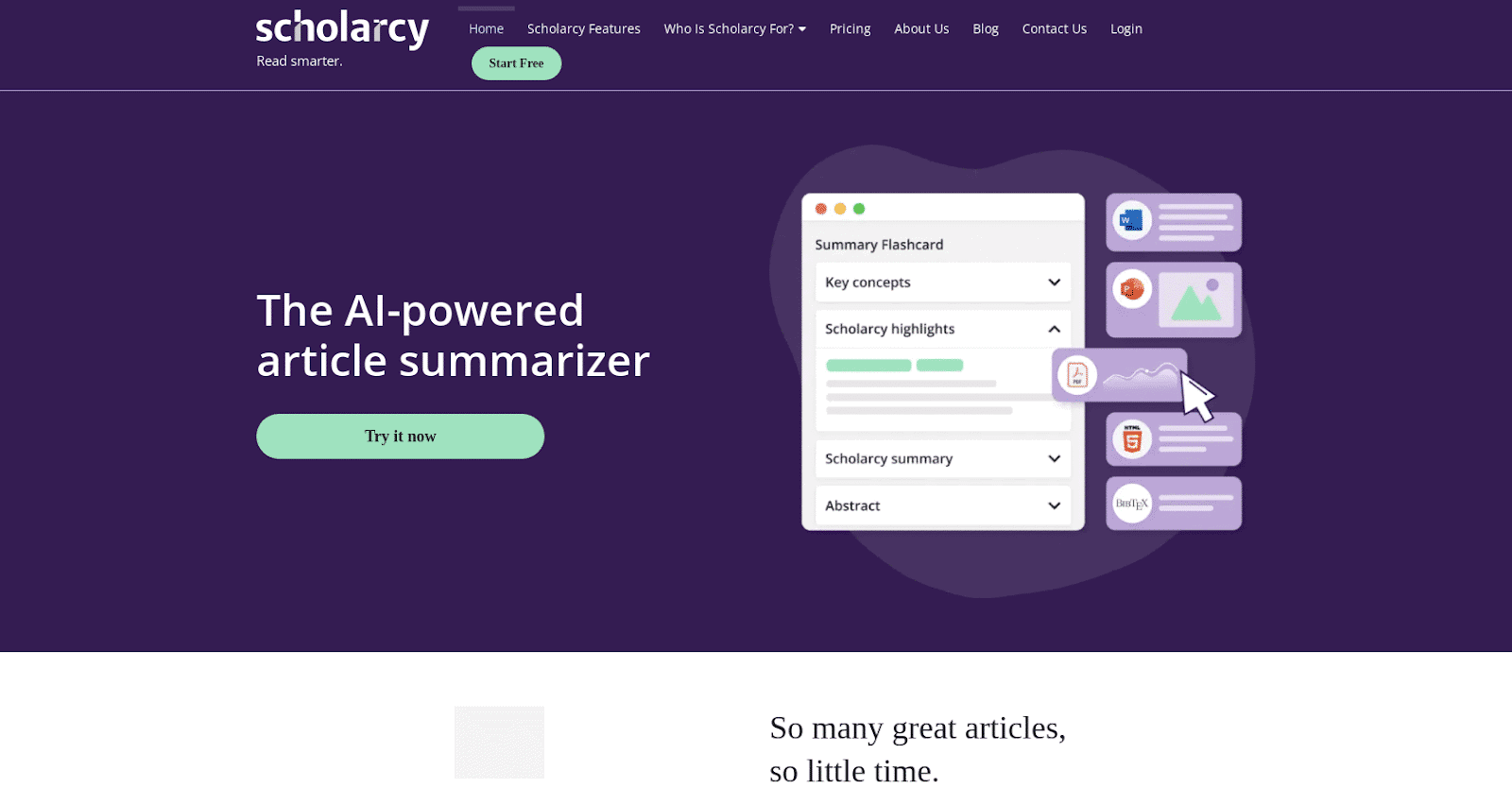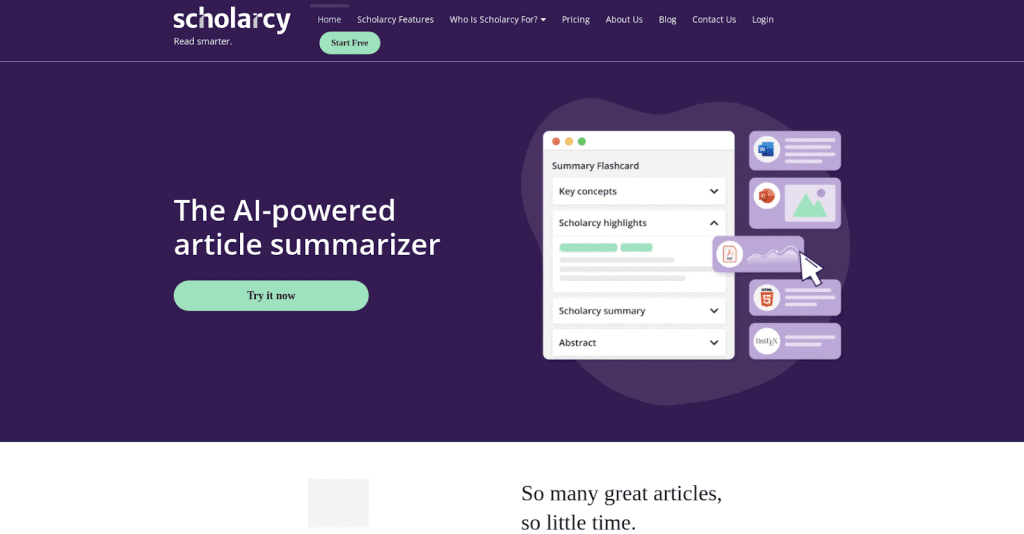 What is Scholarcy?
Scholarcy is an online tool that summarizes long articles and research papers and extracts key points. 
You can upload PDF files or simply paste a URL of the article you want to be summarized, and in next to no time, Scholarcy will create a summary of key findings in that article.
Moreover, Scholarcy will also create a list of the references and citations used in the article and generate source links for all those references. Any tables, images, or important figures will also be extracted.
This can save up to 70% of the time that would be spent on reading an article and sourcing important information.
Users can download the generated summary as a PDF or Word Doc file for a speed-read.
How Can Scholarcy Help Students?
Scholarcy can-
Create bite-sized sections of any given text for efficient reading.
Highlight important points in a chapter for better understanding.
Help write well-informed research papers with references.
Keep all your research in one place.
This article/research paper summarizer is equally good at breaking down book chapters and extracting key points.
Students short on time can use Scholarcy to sum up large chapters and create summary cards. These cards can then be used to reduce reading time, focus on the important stuff, and create a more systematic revision method.
Similarly, finding credible citations can be hard when students write long essays and research papers. Scholarcy makes that easier and quicker by skimming through an article and generating a list of open-access citation links.
Scholarcy Pricing & Plans
Plan
What You Pay
What You Get
Free
$0
– Browser Extension for Chrome & Edge.
– Summarize small and medium size docs.
Personal Library
$9.99/month/user
– Save and Export summaries.
– Import docs from Dropbox, Google Drive, and more.
– Build a library of all summaries.
Academic Institution License
Tailored Prices.
– Everything in the Personal Library, but at an enterprise scale.
7. Explain Like I'm Five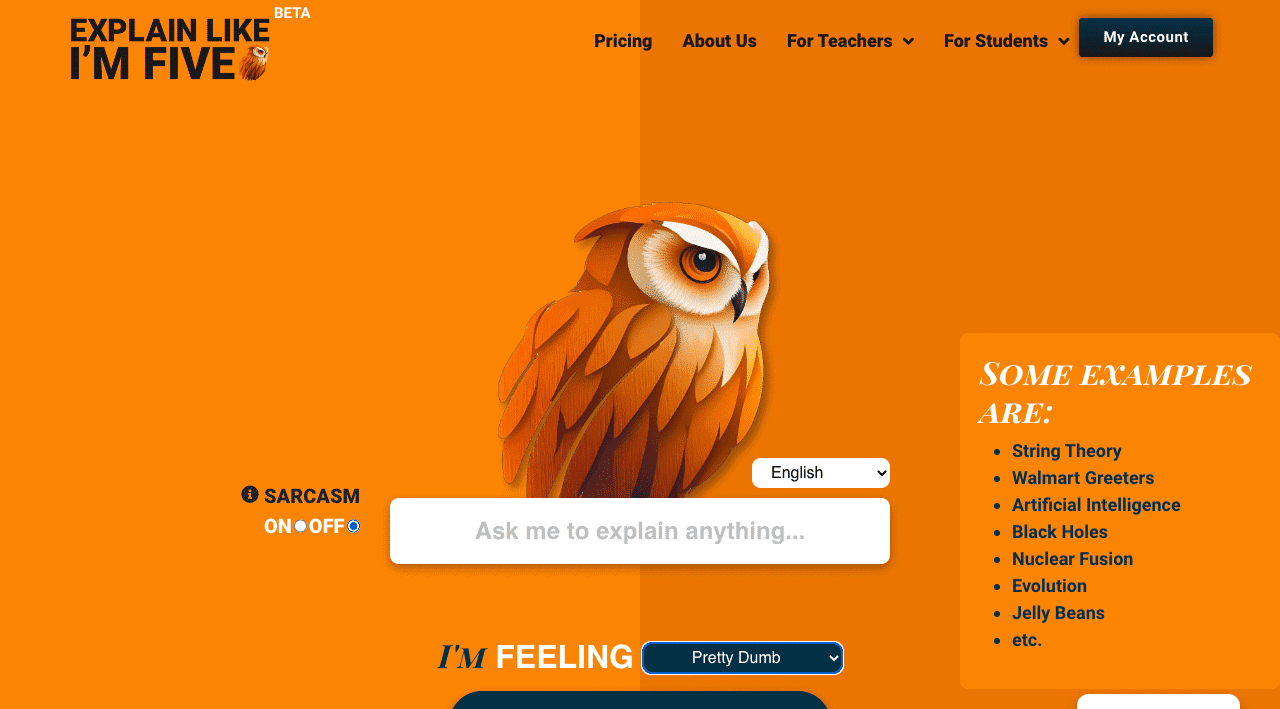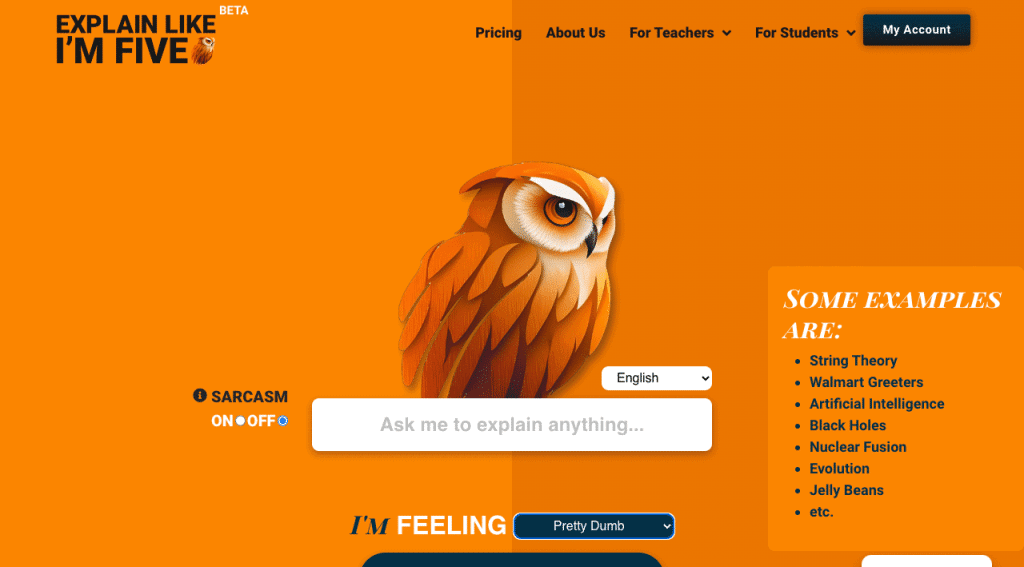 What is Explain Like I'm Five?
Explain Like I'm Five (ELI5) is a new AI tool that can dumb down complex topics in a fun and engaging way, making them easier to understand. 
As shown on their website, ELI5 can explain anything and everything, from Jelly Beans to String Theory in 100x easier words. Depending on how you're feeling (Pretty Dumb, Dumb, Smart, or Pretty Smart), ELI5 can simplify and explain anything to your suited level.
And if you're in the mood for it, ELI5 can be sarcastic about it as well.
Explain Like I'm Five supports 29 languages. So no matter what topic in whatever language is giving you a hard time, ELI5 can simplify it for you in a matter of seconds.
How Can Explain Like I'm Five Help Students?
Explain Like I'm Five can-
Break down complex theories into simpler words for better understanding.
Get simple answers to all their queries.
Quickly develop a basic understanding of any new topic.
Efficiently revise for exams.
Quickly research unknown topics.
Explain Like I'm Five is one of the best AI tools for education if used right.
ELI5 uses OpenAI's Artificial Intelligence and NLPs to understand user prompts and generate responses of different competency levels. But, because it offers limited prompts per month, users have to be very smart about how they use it.
ELI5 runs on the Token System. 1 Token = 1 AI Run.
The basic plan – Just Curious – offers 200 Tokens for $3.99. But, if you run out of Tokens, there is an option to buy more.
Explain Like I'm Five Pricing & Plans
Plan
What You Pay
What You Get
Just Curious
$3.99/month
7-day Free Trial.200 tokens/month.
Basic Student & Teacher tools.
Tell Me All
$6.99/month
7-day Free Trial.600 tokens/month.
Advanced Student & Teacher tools.
Eli the Owl Chatbot.
Conclusion
The landscape of education is rapidly changing, and AI tools for students are at the forefront of this transformation.
With tools like ChatGPT, Speechify, Otter.ai, TutorAI, StepWise Math, Scholarcy, and Explain Like I'm Five, students now have access to personalized learning experiences, improved productivity, and assistance in overcoming learning disabilities or language barriers.
While some concerns regarding cheating or misuse of these tools are valid, the benefits far outweigh the risks when used responsibly. By embracing these AI tools, students can unlock their full potential.
And these 7 Best AI Tools for Students are just the start.