As a content creator in 2023, I've witnessed firsthand the incredible impact that AI-powered text generators have had on the industry. And in my opinion, AI-generated content is the future irrespective of where my allegiances lie.
However, I am concerned about the authenticity, value, and voice of the content created even by the best AI text generators available today.
Google continues to align with its core principles of rewarding quality people-centric content regardless of how the content is produced. So, in essence, AI-generated content will not be banned as long as it's appreciated by the target audience.
This brings us to the question, can AI generate good content like humans?
Well, it can. But not without humans actively participating in the content-generation process.
To guide you through this rapidly evolving landscape, I've put together a list of the 10 best AI text generators that have helped me 10x my content game.
These tools will not only save time and effort but will also enable you to craft engaging, persuasive, and creative content that truly connects with your targeted audience.
Products
Highlighted Features
– SEO blogs/articles.
– YouTube scripts.
– Landing Page copies
– Product Description Generator
Best All-in-One AI Writing Assistant



Try Jasper



– Long-form SEO blogs/articles.
– Product Descriptions.
– Social Media Post
– Bio Generator
Best Multi-Tasking AI Writer and Assistant



Try Writesonic

– Ad copy.
– Marketing Mails.
– Short-form blogs
Easy to Use and Cost-Effective AI Writer



Try copy.ai

– SEO Optimized Blogs.
– Content Planning
– Integration with WordPress
– Content Optimization
– Marketing Copy
Best SEO Content Platform and AI Writer



Try Scalenut

– Product Descriptions.
– Social Media Post.
– Ad Copies.
High-Quality Easy To Use AI Writer



Try Copysmith

– Content Brief
– Content Optimization
– Paraphrasing Tool
Data-driven Powerful SEO Content Platform



Try Frase

– Social Media Content.
– Ad Copies.
High-Quality Intuitive AI Writer



Try Hypotenuse AI

– Optimized SEO content
– Keyword Research
– Chrome Extention
Scalable SEO Content Platform



Try GrowthBar

– Landing Pages.
– Ad copies.
– Social Media Post
Smart AI Writer



Try anyword

– SEO Optimized Blogs
– Marketing Copies
– AI Story Generator
Scalable Multi-Lingual AI Writer



Try ClosersCopy
Why Use AI Text Generators?
Because it's scalable, very affordable, and fast.
Every content creator or digital marketer is driven by these three fundamental aspects of any content project. Be it social media posts or SEO content or website copy that converts, these AI tools will impress you.
There are many AI text generator tools around and the industry will only keep on growing. So far, I've used 30+ such tools in the last few months alone, and I will be reviewing them one after the other.
I have already published comprehensive reviews of Jasper ai and Writesonic. Feel free to go through them.
This guide covers the best AI Text Generators based on the following:
What they're best used for
Free Trial
Non-plagiarised content
Key Features; and
Pricing
10 Best AI Text Generators in 2023
1. Jasper.ai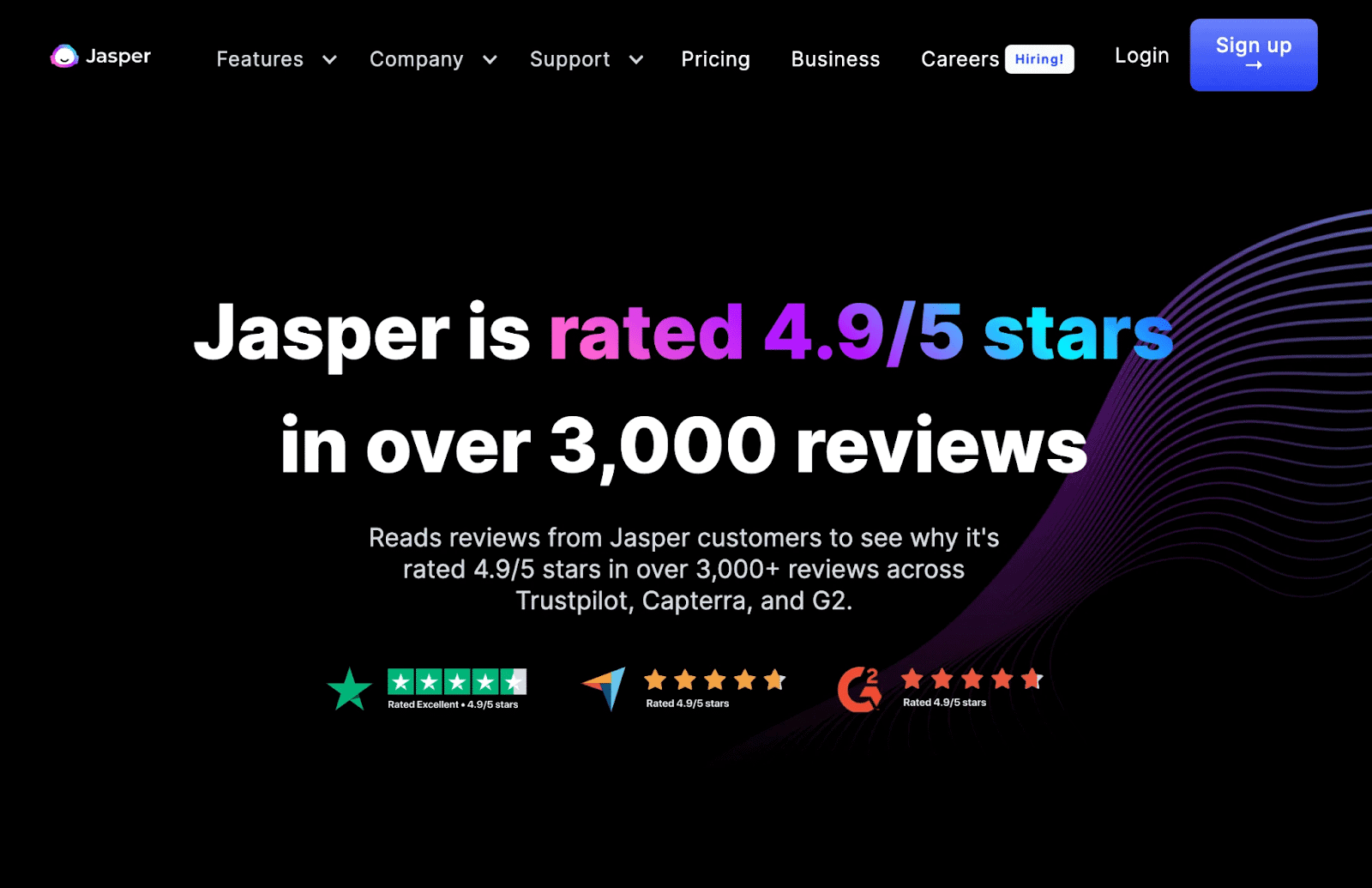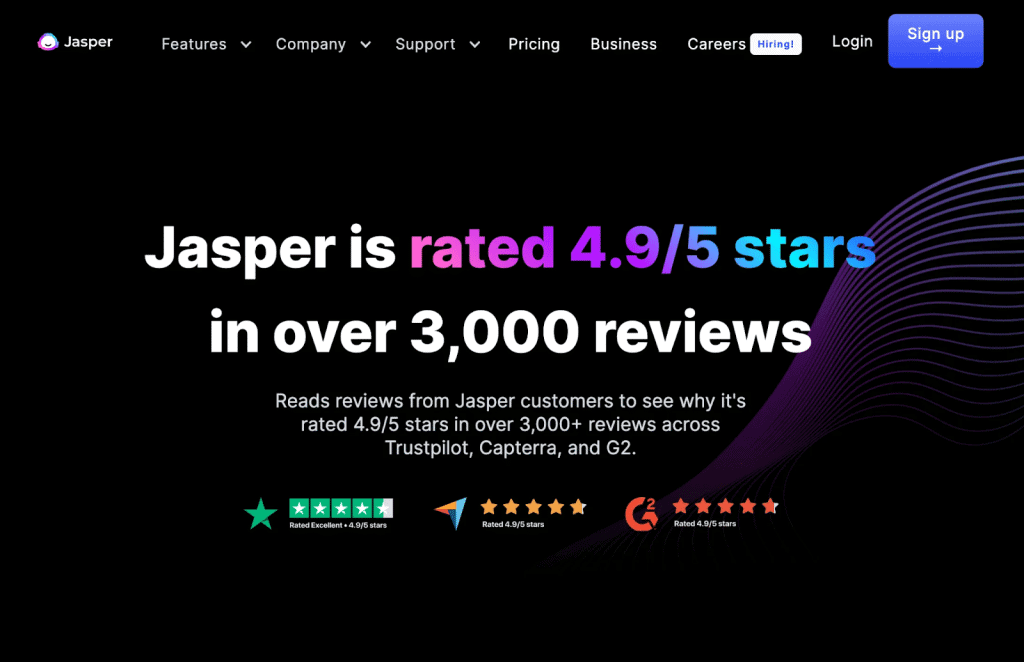 G2 Rating: 4.7/5
Best For
SEO blogs/articles.
YouTube scripts.
Generating Blog Post Ideas
Landing Page copies.
Jasper.ai (Formerly known as Conversion.ai and Jarvis.ai) is one of the fastest and most extensively featured AI text generators around.
I had already been using Jasper well before ChatGPT hit the shelves in late 2022. And even though ChatGPT will be remembered as the first instance of AI making it big, IMO, that honor should actually go to Jasper.
I particularly love the Chrome extension that unlocks its full capabilities as an AI writing assistant almost anywhere on a browser—from Google Docs to Twitter to WordPress.
If you're more into SEO blogs and articles for your niche site, Jasper integrates Surfer SEO to help with keyword research and optimizing your article using SEO best practices.
I have used it on my niche site and the results are as good as they can get with human-written content.
Jasper also has an ai text-to-image generator called Jasper Art. It will cost you around $20/month and it's one of the best when it comes to generating ai images.
Jasper.ai Free Trial
Currently, you get 10,000 words with the 5-day free trial (7 days in some geolocations.)
In the free trial, you can easily produce a few social media posts, short-to-mid-length YT scripts at scale, or even marketing emails to get a sufficient hang of it.
Plagiarism
Jasper's content is not plagiarized. It has its in-built plagiarism checker powered by Copyscape to make sure the content produced is not plagiarized.
Key Features
Produce Content: Jasper AI can create almost any type of content you may need, long-form or short-form, from SEO blogs to social media, ad copies, marketing emails, product descriptions, and many more.
Jasper Chat: similar to ChatGPT, you can type in prompts in form of questions or request to generate intelligent responses. You can leverage it to produce blog posts, simplify complex ideas, brainstorm strategies, and lots more.
60+ Templates: Jasper AI has a bunch of prebuilt templates that can help you speed up the content generation process with minimal prompts. They put Jasper "in the mood" for which content to generate. These include Amazon product descriptions, the blog writer, AIDA copywriting framework, Twitter Threads, YouTube video scripts, etc.
Surfer SEO integration: Surfer SEO is an AI-backed search engine optimization tool digital marketers use a lot. It's integration with Jasper gives you access to its capabilities, polishing your content for ranking in search.
~30 Languages: With Jasper, you can generate content in about 30 languages, including English, German, French, Spanish, and more.
Pricing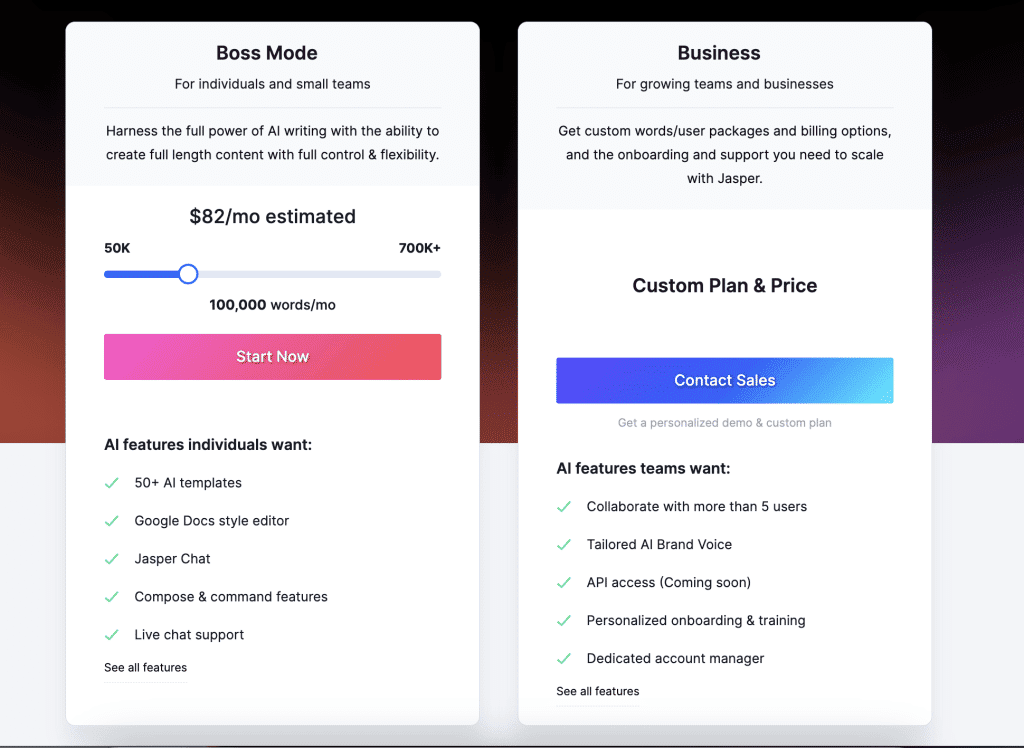 The Boss Mode starts from $59/month. You get access to all Jasper.ai features (excluding Jasper Art) and 50,000 words/month.
Slide up and you get 100,000 words/month for $99.
For $279/month you'll get to use 300,000 words in a month.
You can integrate up to 5 user seats.
Business starts at $499/month on both monthly and annual packages.
You get custom AI templates. You can further customize (read train) the AI to your brand voice. Other than 5+ users, you also get additional administration and accessibility features.
2. Writesonic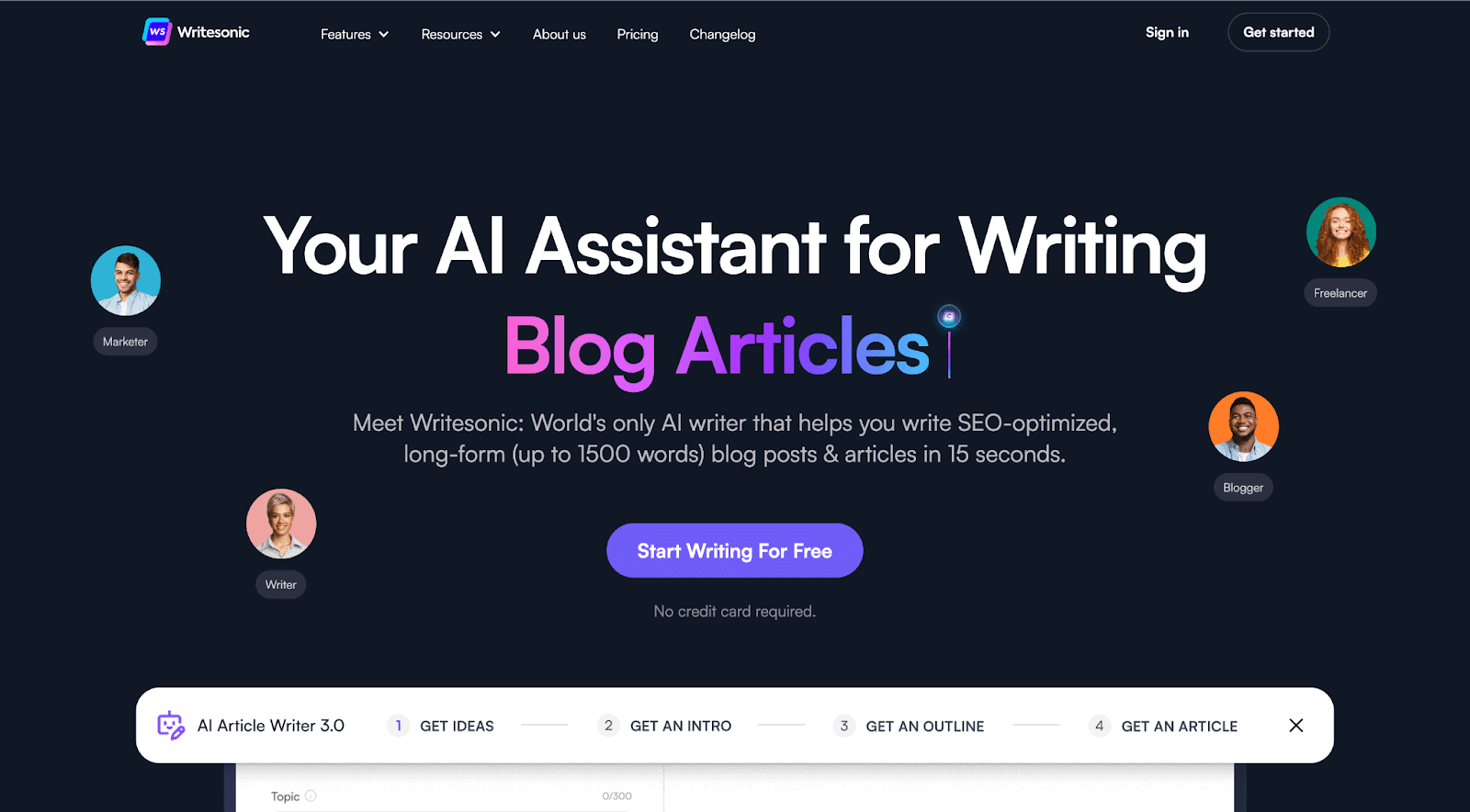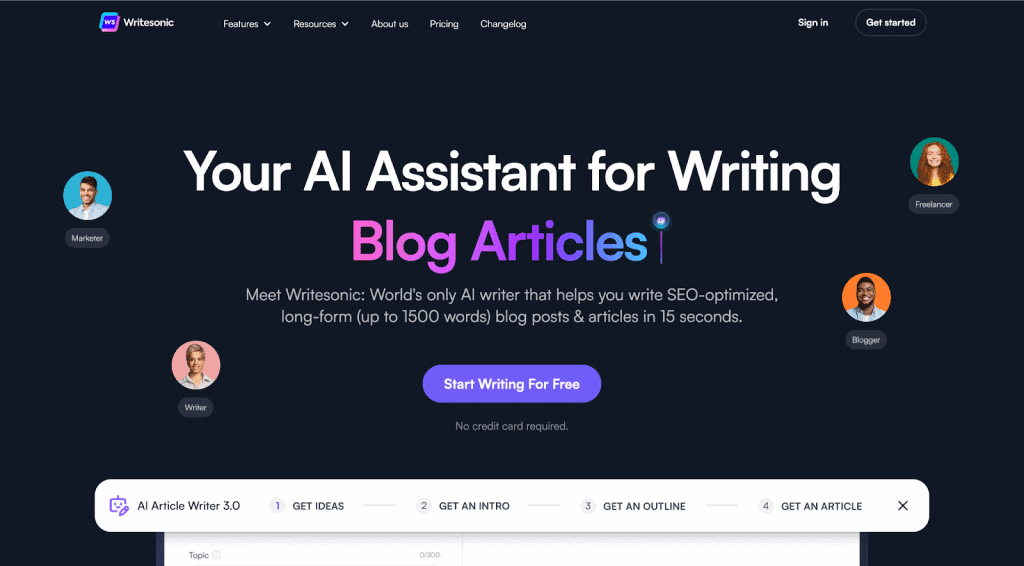 G2 Rating: 4.8/5
Best For
Long-form SEO blogs/articles.
Product Descriptions.
Social Media.
With better reviews overall, Writesonic is another all-in-one AI writing assistant- and it can do a lot more than just generate text. You can choose between 3 Quality Modes – Premium, Superior, and Ultimate.
The quantity of content created will vary accordingly i.e 10,000 Premium words equal 2,500 Ultimate words.
Writesonic does an excellent job with long-form blogs and articles and recently they even have upgraded it to GPT-4. I can say it does better than Jasper for SEO blog posts but that's a personal opinion.
Writesonic is just as good with product descriptions and with ad copies as well, especially for Facebook ads.
But it was a bit confusing for me to choose between quality parameters when it comes to words. If not for that, I'd probably put this as the best AI writer out there.
However, add Photosonic (which is an ai image generator) and Chatsonic to it all and the whole package does turn out better than any other AI writer tool as far as features are concerned.
Writesonic Free Trial
You will get a month-long free trial with 2500 Premium words, equal to 25,000 Economy words.
Plagiarism
Writesonic caters to different budgets and content qualities. So, some of the content generated in Economy mode is repetitive but overall, Writesonic is plagiarism free.
Key Features
AI Article Writer: Writesonic's AI article writer is arguably one of the best in the world of AI text generators. With the latest article writer 4.0, you can go from zero to 3k words of plagiarism-free, SEO content in just a few minutes.
Dedicated Amazon, Google Ads, and Fb Ad Templates: using these templates, Writesonic can help you to produce accurate and persuasive copy that you can use in your Amazon product descriptions as well as search engine and social media ad campaigns.
PAS and AIDA Framework-trained AI: Writesonic's AI model, which is based on GPT-4 is trained to produce copy for landing pages, sales pages, and sales emails using the PAS and AIDA frameworks, the most successful frameworks in copywriting.
Chatsonic and Photosonic: Chatsonic is an AI chatbot that works exactly like ChatGPT. You can use it to generate anything from short responses to long articles. Photosonic, on the other hand, is Writesonic's art generator that can generate images based on your prompts.
SurferSEO and SEMrush Integration: Writesonic's integration with SEMrush and SurferSEO make it one of the best AI SEO content writers out there. You get everything, from SEO keywords to traffic estimates.
Pricing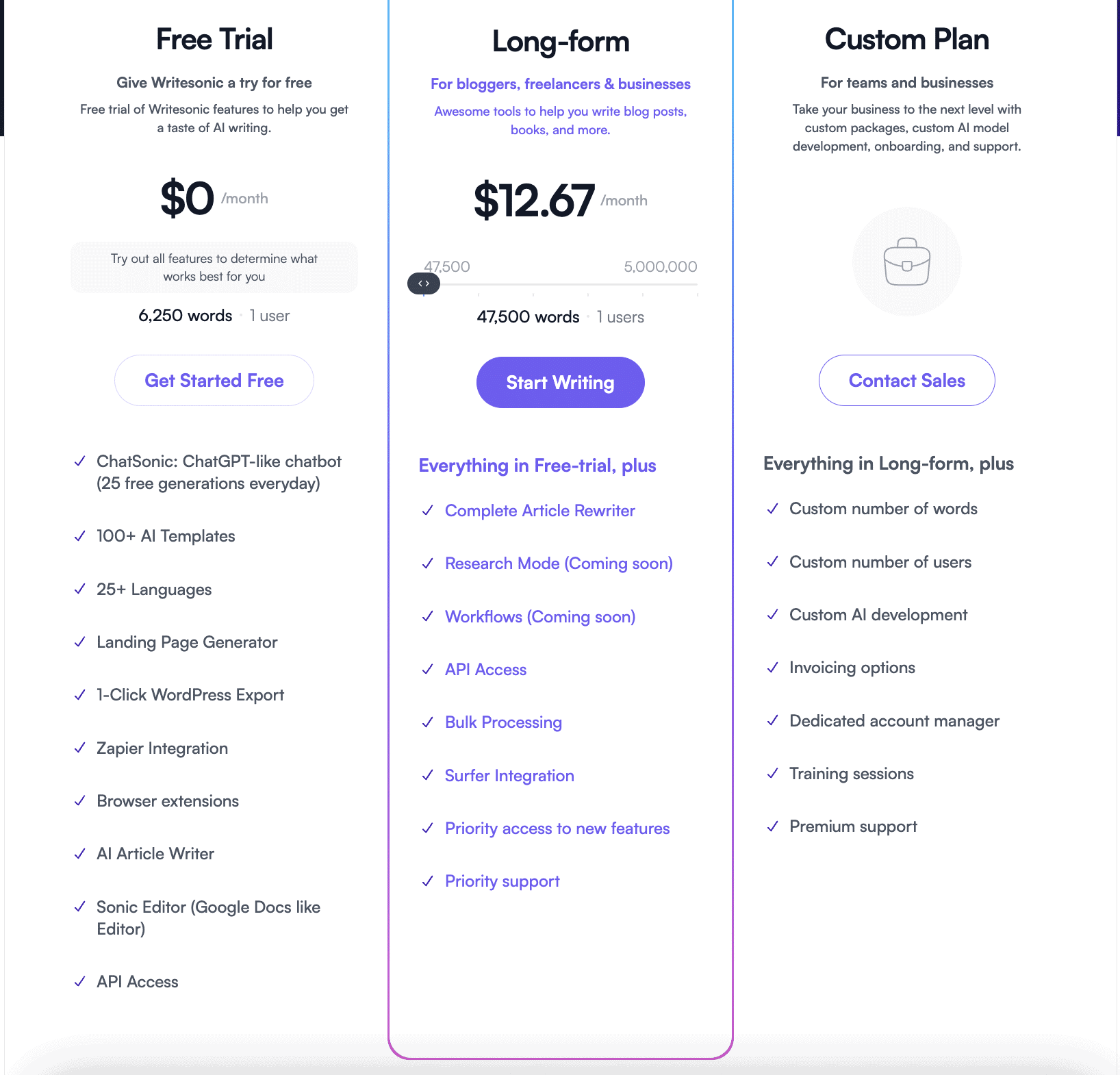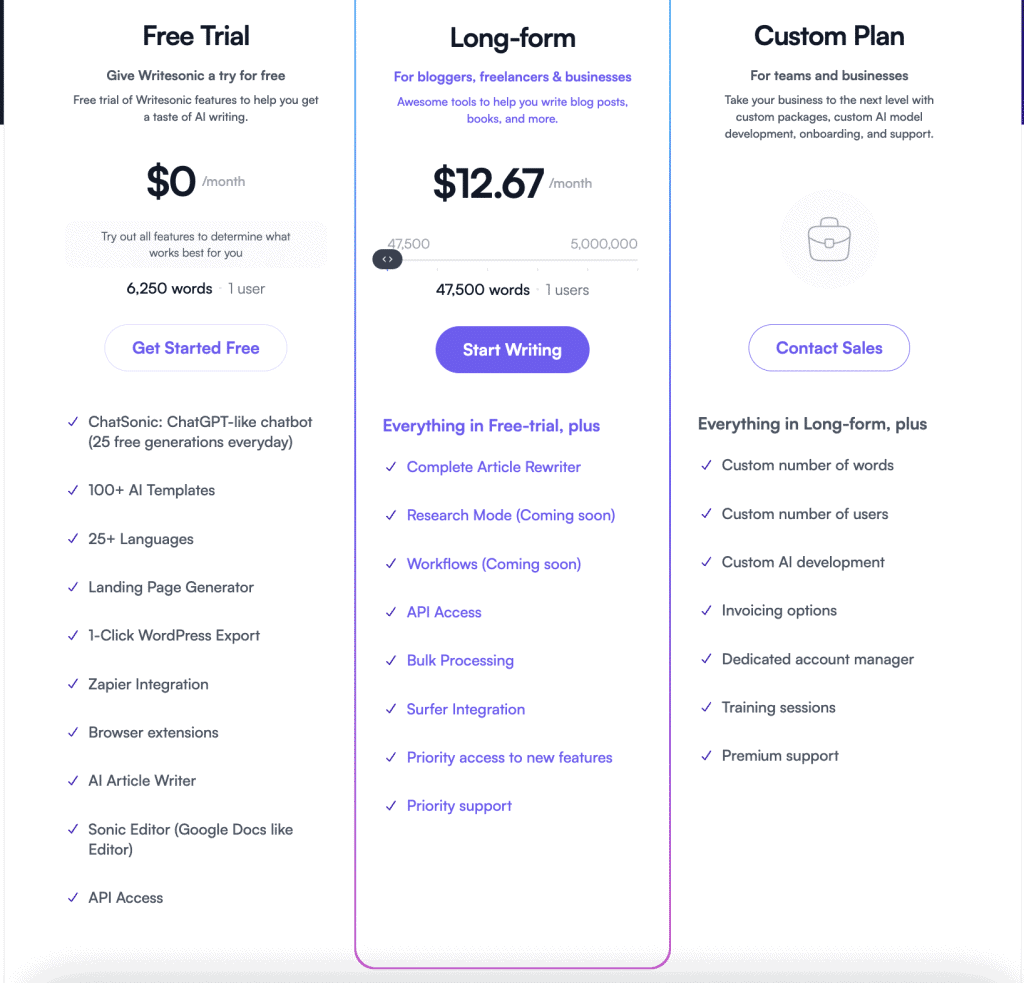 The minimum subscription starts at $19/month for 19000 Premium words. Right up next is $49/month for 75,000 Premium words.
You get access to all features across 5 user seats, including Chatsonic and Photosonic.
Writesonic Custom plans for Businesses start at around $200/month with higher user seats and total words. You additionally get to train AI with custom voice/tonality and templates.
3. Copy.ai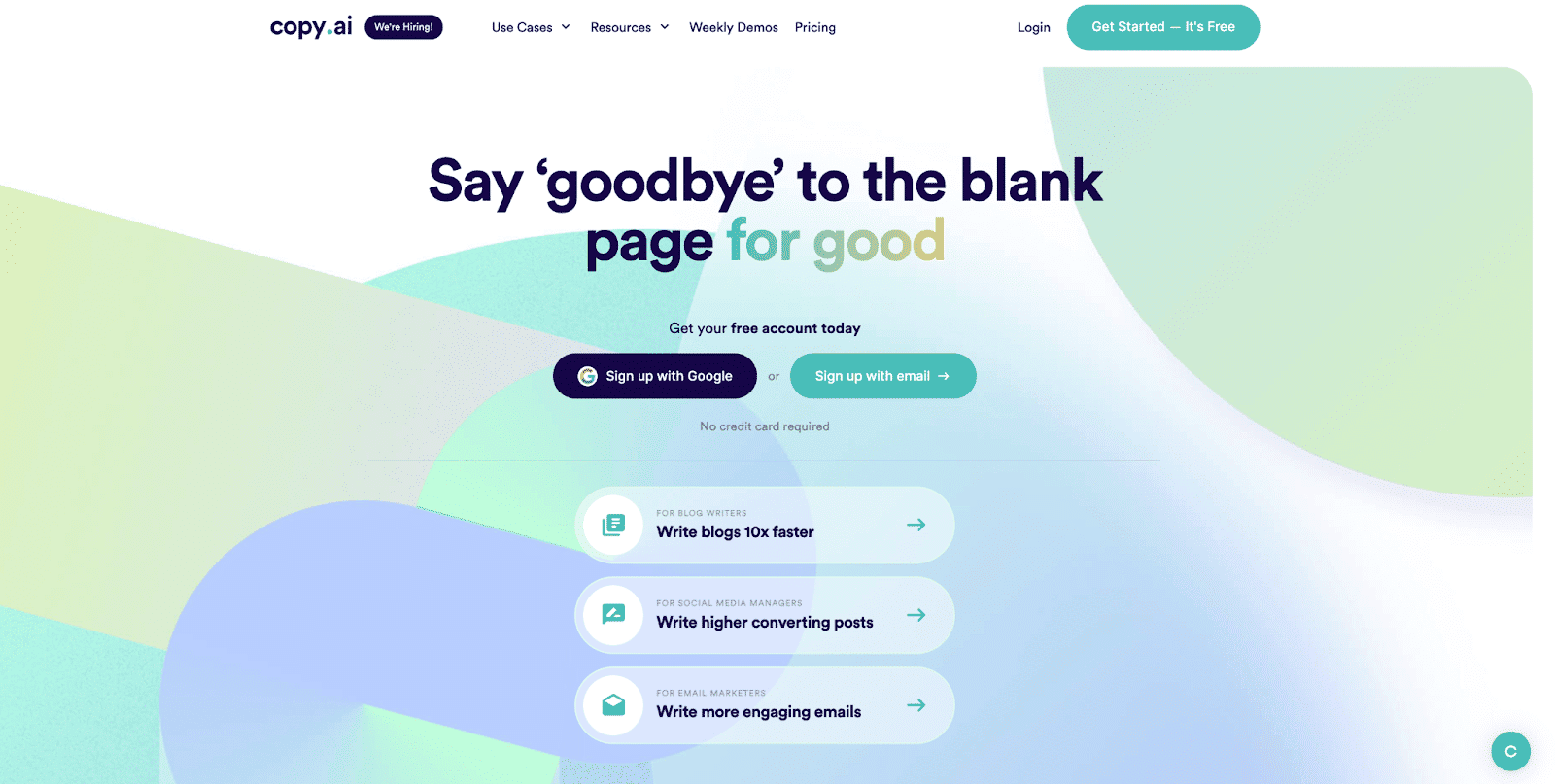 G2 Rating
Best For
Ad copy.
Write engaging Marketing Mails.
Short-form blogs.
A simpler alternative compared to either of the top two, Copy.ai is perhaps the easiest-to-use AI writing tool out there. It does demand a more hands-on approach but that's fine.
From your dashboard, choose a template for what content you want to generate, fill in your brief, then proceed to generate the content. You can also use the Freestyle AI writer where you can input a little bit of text like a blog intro and the AI will complete the article.
It's that simple with copy.ai.
I was able to create multiple unique versions of a copy from the same prompt, without plagiarism.
Although it does fall short in content generation capabilities compared to Jasper or Writesonic, Copy.ai remains one of the best free AI text generators by a distance.
If you're yet to use an AI writing assistant, this is where you start before making your way up or going more niche.
Copy.ai Free Trial
You get 7-day access to copy.ai Pro but in English only.
Plagiarism
Marketed as always original, you may find repetition if you continue extending into content variations from the same input/prompt.
Key Features
Templated Content Creation Tools: the content creation templates on Copy AI make producing better content easier and faster than using the freestyle writer. They include blog posts, social media content, email, and product description templates.
Unlimited Words: with Copy AI's Pro and Enterprise plans, you get to generate unlimited words monthly, without restrictions.
Blog Wizard Tool: although Copy AI is built to write mainly sales copy, its blog wizard tool lets you write short- to medium-form blog posts within a short period of time. you only need to provide your topic and a few keywords.
30 Languages: backed by OpenAI's GPT model, Copy AI can write content in about 30 different languages.
Customized AI tonality: if you generate different types of content or various content for different uses, you can leverage Copy AI's tonality feature to change your tone of voice as needed.
Pricing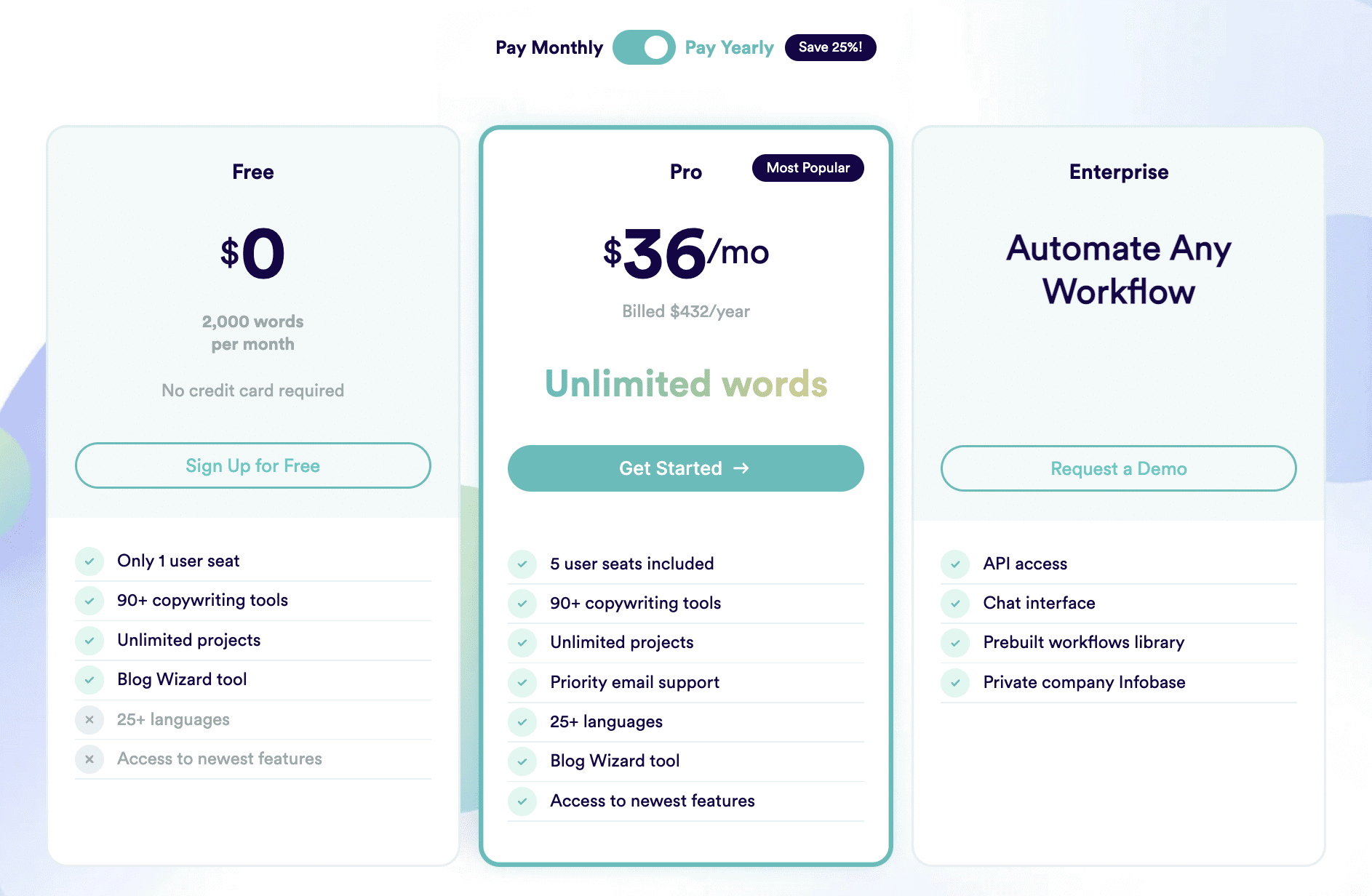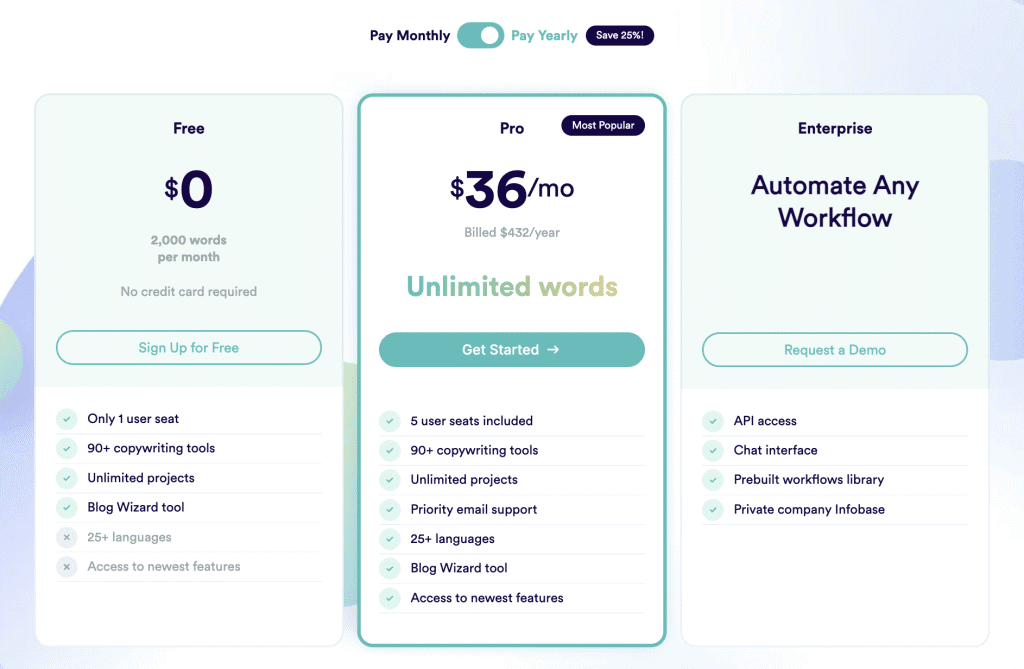 Unlimited words (and projects) at $49/month when billed monthly and $432 with an annual subscription.
You get 5 user seats for your team and almost all features copy.ai currently provides. Well, almost all.
With Enterprise, you additionally get access to copy.ai's AI assistant along with API access, a chat interface team communication, and custom user seats.
You also get a glossary of prebuilt workflows to automate content generation, necessary to get the best out of unlimited words.
Try copy.ai
4. Scalenut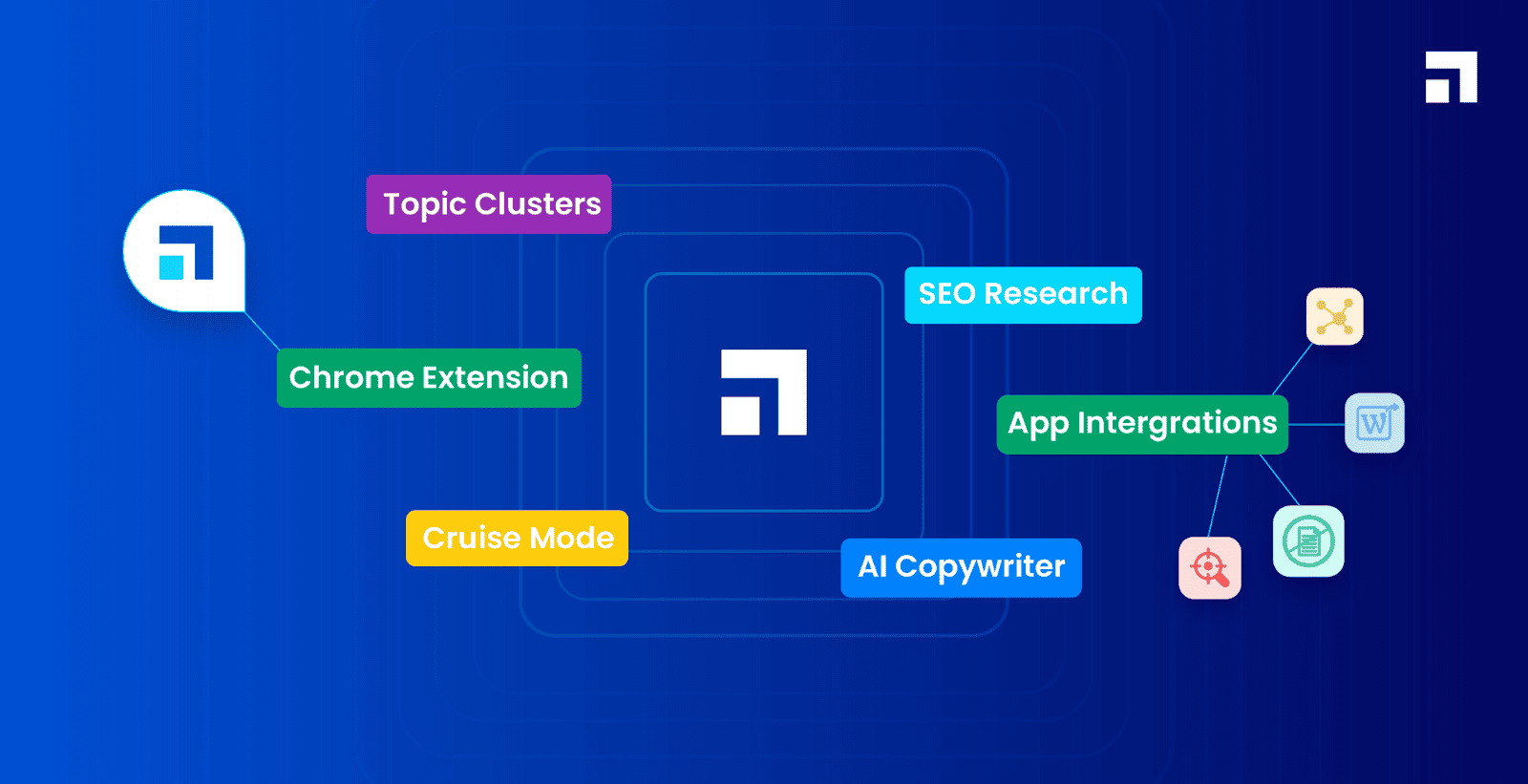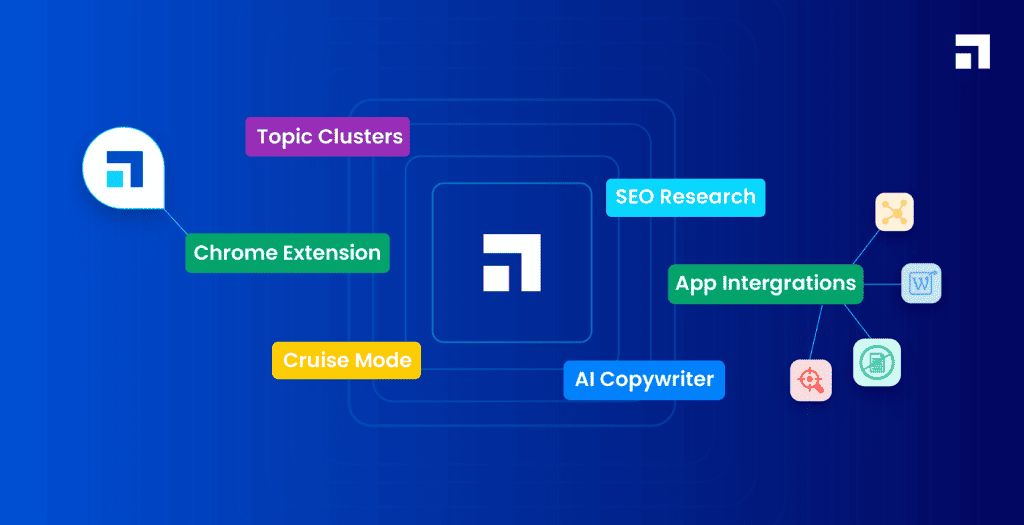 G2 Rating
Best For
Small-to-Large SEO Content Projects.
Bulk Product Descriptions.
Scalenut is the best AI text generator if you're into SEO, GA4, SEMrush, and the likes.
With Scalenut, you can generate a blog on a low-hanging keyphrase in under 10 minutes and it will rank 1st page. I can vouch for that.
Scalenut integrates SEMrush and additional SEO tools hosted in the dashboard. You get to do KW research, topic planning, topic cluster reports, and more.
Try Scalenut
I personally loved using Cruise Mode on Scalenut. It includes every bit of information you will need to create a blog, other than the research and the effort.
Few other AI writing tools suggest detailed outlines. You get to custom-choose each header that the blog will include. Once done, the AI will generate content according to each header.
Simply brilliant.
Scalenut is SEO-oriented. If you're looking for an AI tool to assist in your SEO content project, this is it.
Arguably the best part is that Scalenut does not have a word limit so you can keep at it all day and all night for a brand-new niche site.
Scalenut Free Trial
No free trial. But you do get free trial periods with both Essential and Growth subscriptions.
Plagiarism
Scalenut has an integrated plagiarism checker that is powered by Copyscape. So, it is safe to say Scalenut-generated content is not plagiarized.
Key Features
Blog Writing Mode (Cruise Mode): the cruise mode tool helps you write a blog post without as much effort as you would require with most other AI writers out there. According to Scalenut, it can get you from zero to the first draft in less than 5 minutes.
KW Planner and Research: Scalenut's keyword research tool is one of the best among AI text generators. It can help you find keywords that you can rank for as well as display statistics and related keywords for them.
Topic Cluster Generator: the topic cluster generator will come in handy if you're looking to dominate your target topics. It will help you compile a list of article-worthy topics that you can then write about.
NLP-based Content Enhancer: if you have a piece of old content that no longer does well in the search results because it is old, outdated, or subpar, Scalenit's NLP content enhancer can help you make it better while also catering to its SEO.
Competitor Analysis: the competitor analysis features is a goldmine for digital marketers as they can leverage the datam for a complete SEO strategy.
Pricing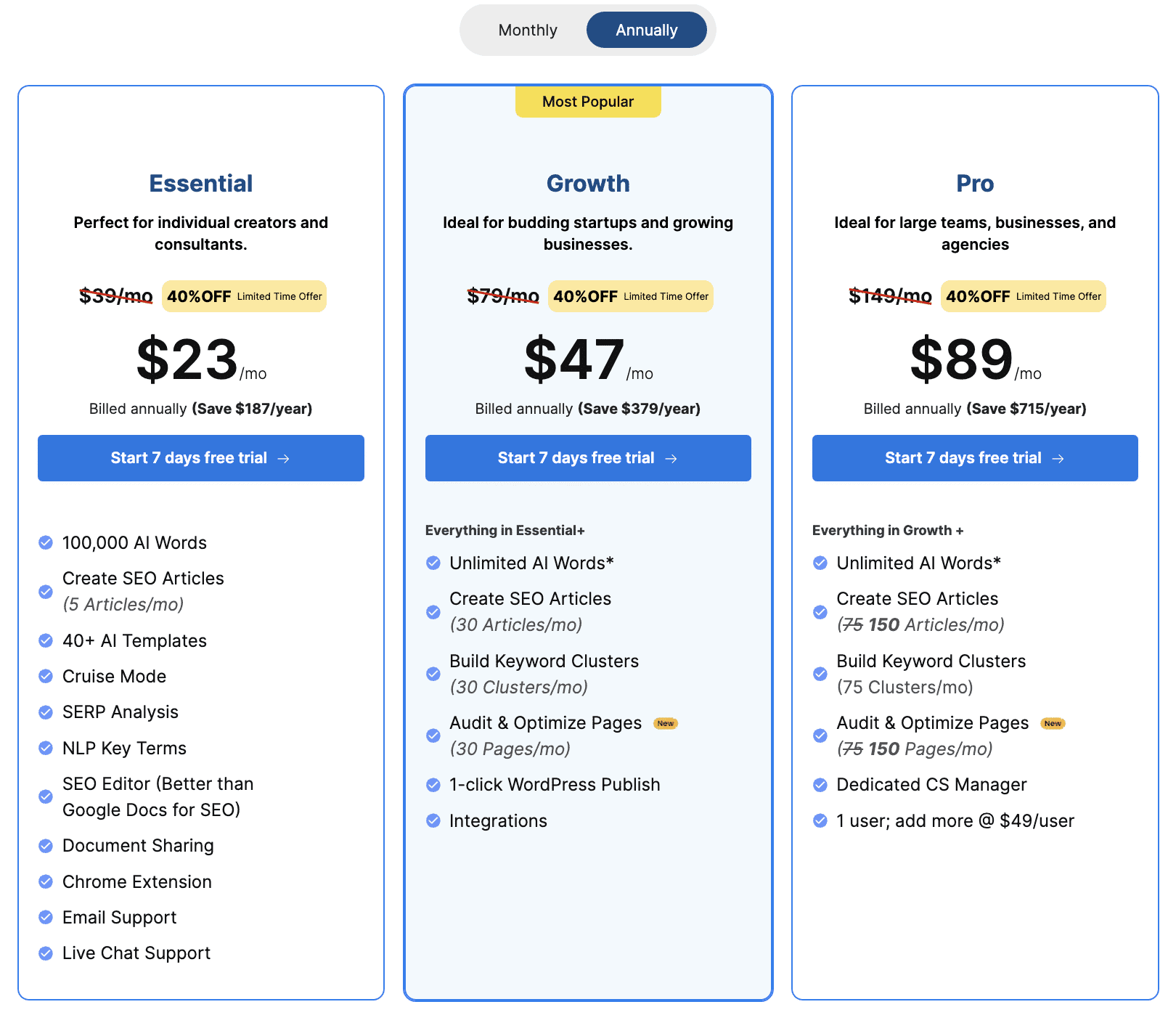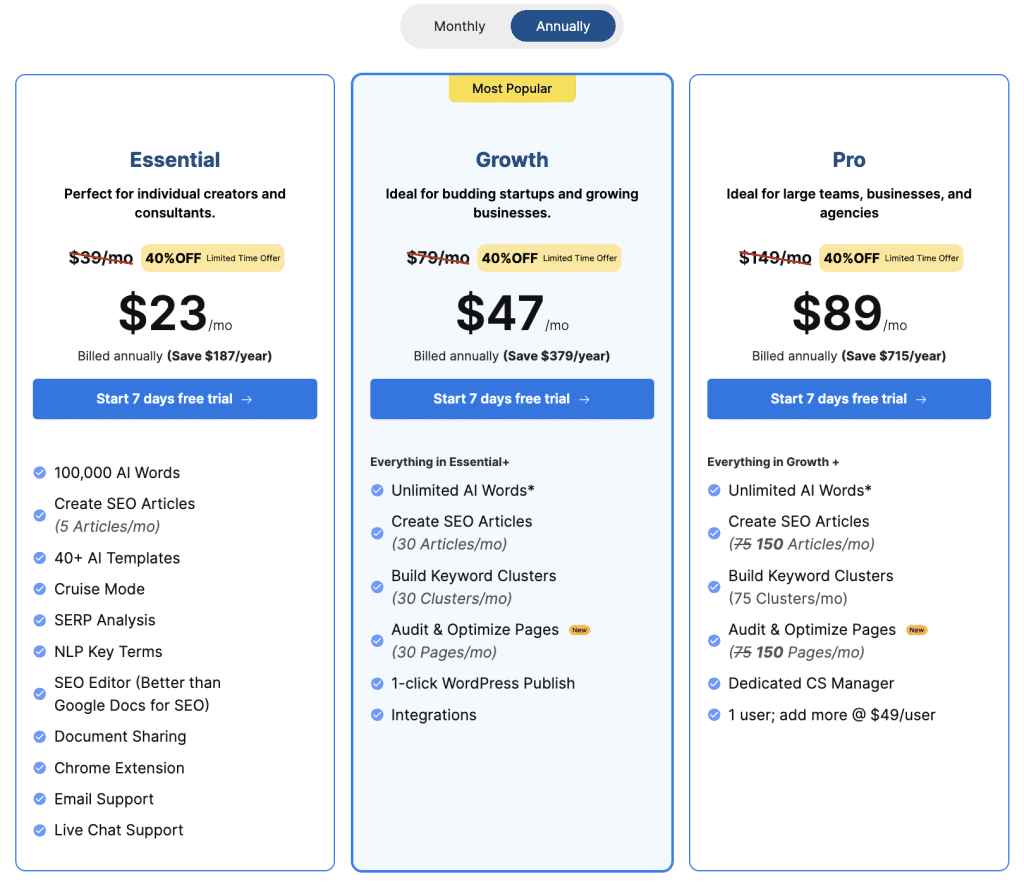 You get 100,000 words for $39/month along with AI templates, SERP Analysis, and NLP keyphrases to create 5 SEO articles max per month directly with Cruise Mode.
Upgrade to Growth for $79/month, you get access to unlimited AI words and to create 30 SEO articles using Cruise mode.
You also get to generate 30 KW clusters and 30 Page Audits and Optimizations.
Add to that a 1-click WordPress publishing and many other native integrations and you have a complete platform.
With the $149/month Pro, you get to create 75 articles, audit & optimize unlimited pages, and research unlimited topic clusters. You also have the option to add as many users at $49/month/user.
Try Scalenut
5. Copysmith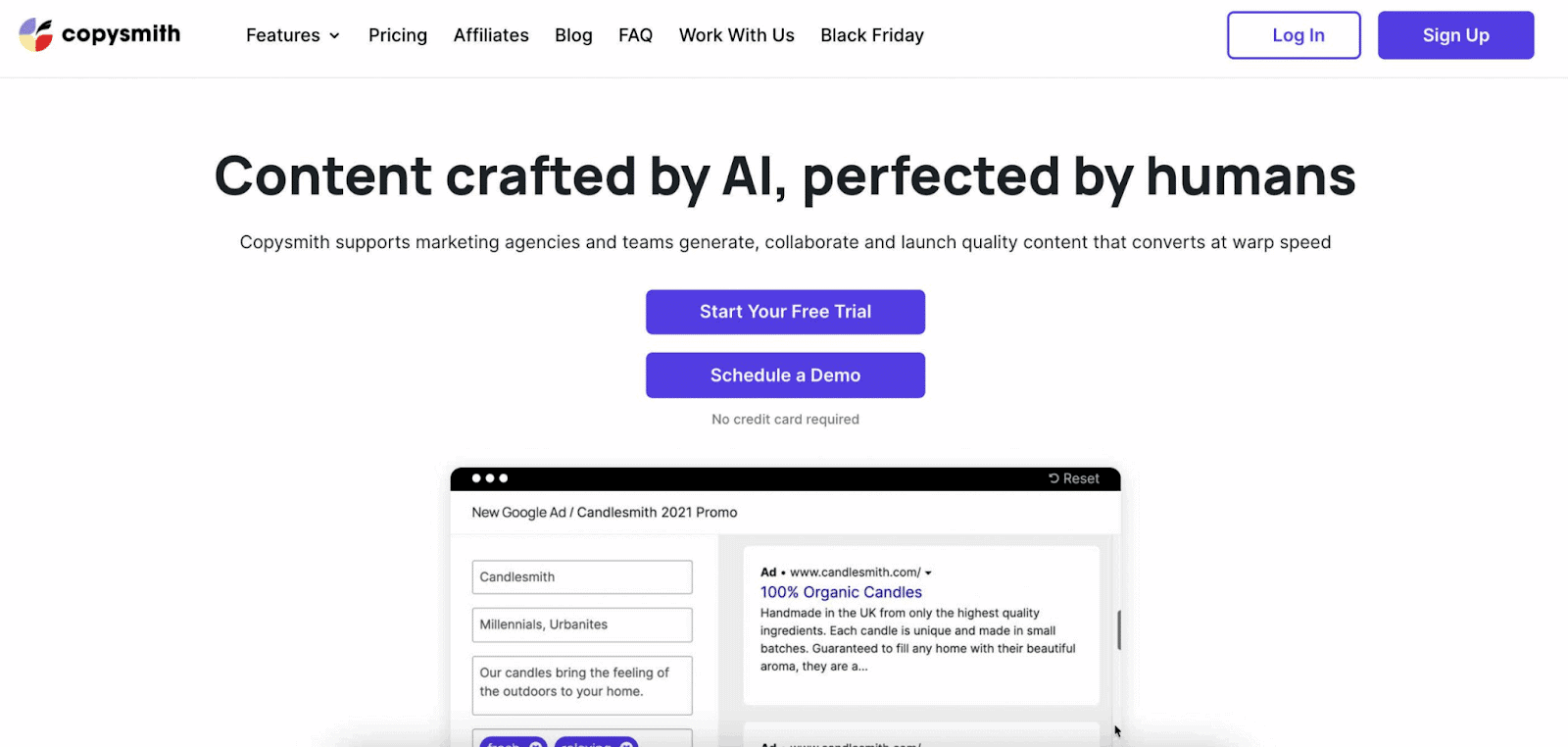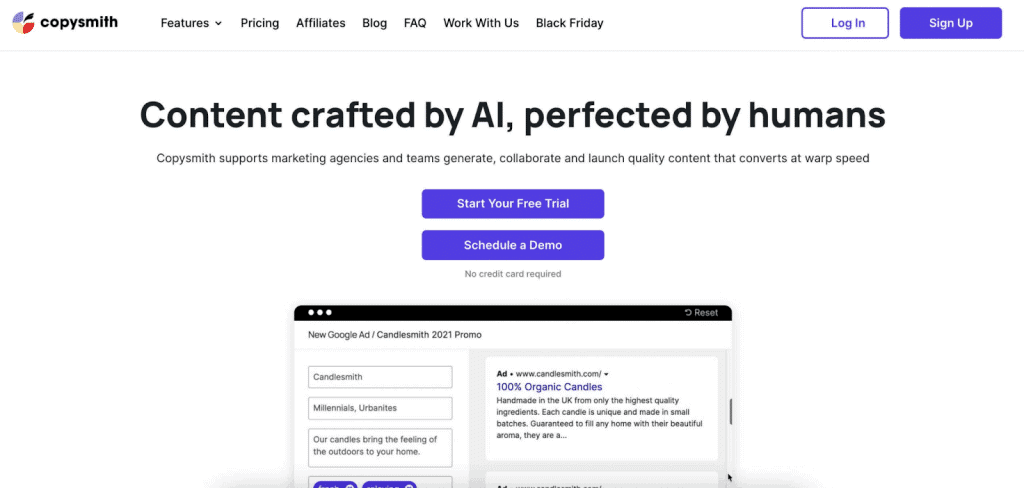 G2 Rating
Best For
Product Descriptions.
Social Media Captions.
Ad Copies.
I'll complete the top 5 of this list with Copysmith.
Copysmith, like Writesonic, generates high-quality content. You get access to a lot of well-designed templates to create long-form blogs or short product descriptions.
If you're looking to generate Amazon or Flipkart product descriptions and ad copies in bulk, I will recommend Copysmith. Content quality is its USP and you will get on-point conversion-friendly product descriptions in minutes.
But if you're looking for regular long-form SEO blogs/articles, Copysmith can get expensive in the long run.
Despite the quality, Copysmith ends up generating content that's a bit short in character or word count every now and then. Also, it lacks SEO inputs like Scalenut or ease of use like Writesonic.
Copysmith Free Trial
A 7-day free trial is available. You get 2500 words per day and 5 plagiarism checks. Integrations like Google Ads and WordPress are only available on paid plans.
Plagiarism
Similar to Scalenut, Copysmith too uses Copyscape for its integrated content plagiarism checker.
Key Features
Bulk Content Generation: Copysmith's bulk generation tool may be very useful for busy online store owners. If you're in that category, you can leverage Copysmith to generate hundreds of product descriptions or social media captions at once.
In-built Campaign Builder: the campaign builder on Copysmith lets you build out email promotions for special sales, promo, and the like. it can produce product descriptions, Facebook posts, and Google ads, aimed at converting visitors.
Content Rewriter: if you have an old piece of content and would like to explore a fresh perspective on that same piece, the content rewrite tool got you covered. You can also use it in collab with the bulk generation tool.
Content Enhancer: different from the content rewriter, the content enhancer seeks to make existing content or copy better than it currently is while maintaining the same perspective.
AI Image Generator: priced at $15 per month for 120 images, Copysmith's image generator is one of the best in the market right now. If you do not have impressive product images, you can input a detailed description to get a look-alike image.
Pricing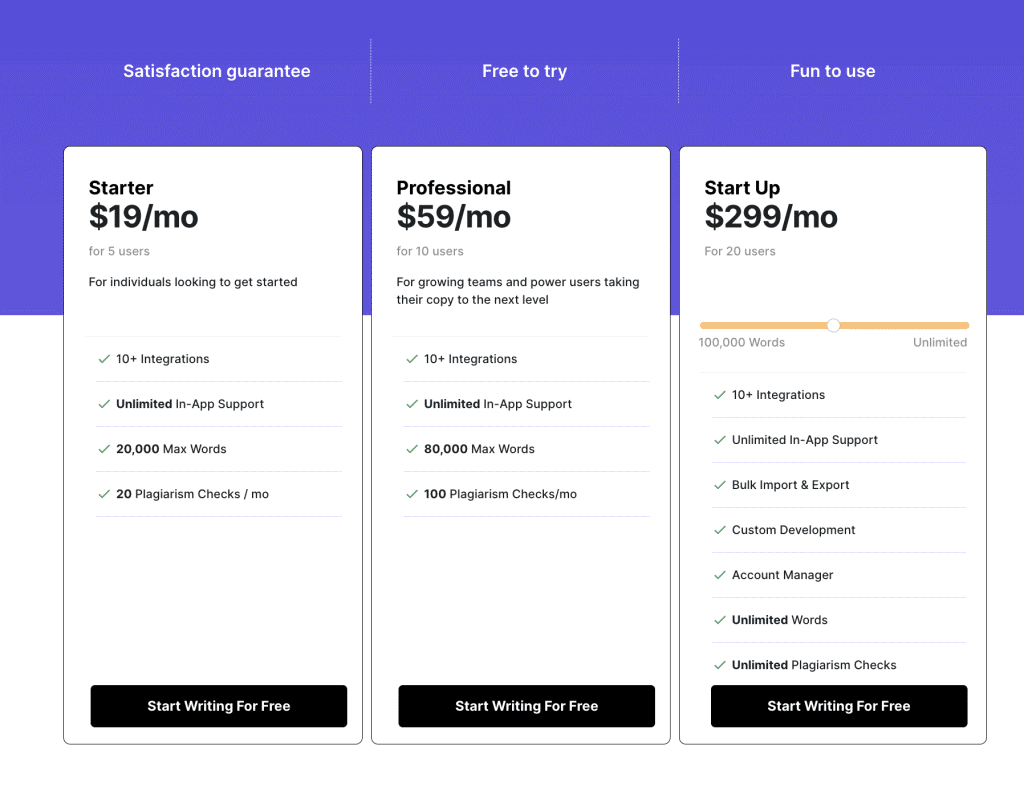 For $19/month you get to generate 20,000 words, run 20 plagiarism checks, and manage across 5 user seats.
Upgrade to $59/month and you get 80,000 words and 100 plagiarism checks. User seats are increased to 10.
Priced at $299/month, this is Copysmith's unlimited words package. You also get unlimited plagiarism checks, a dedicated account manager, and customer onboarding.
[Get 2 months free with any plan if you subscribe annually.]
Try Copysmith
6. Frase.io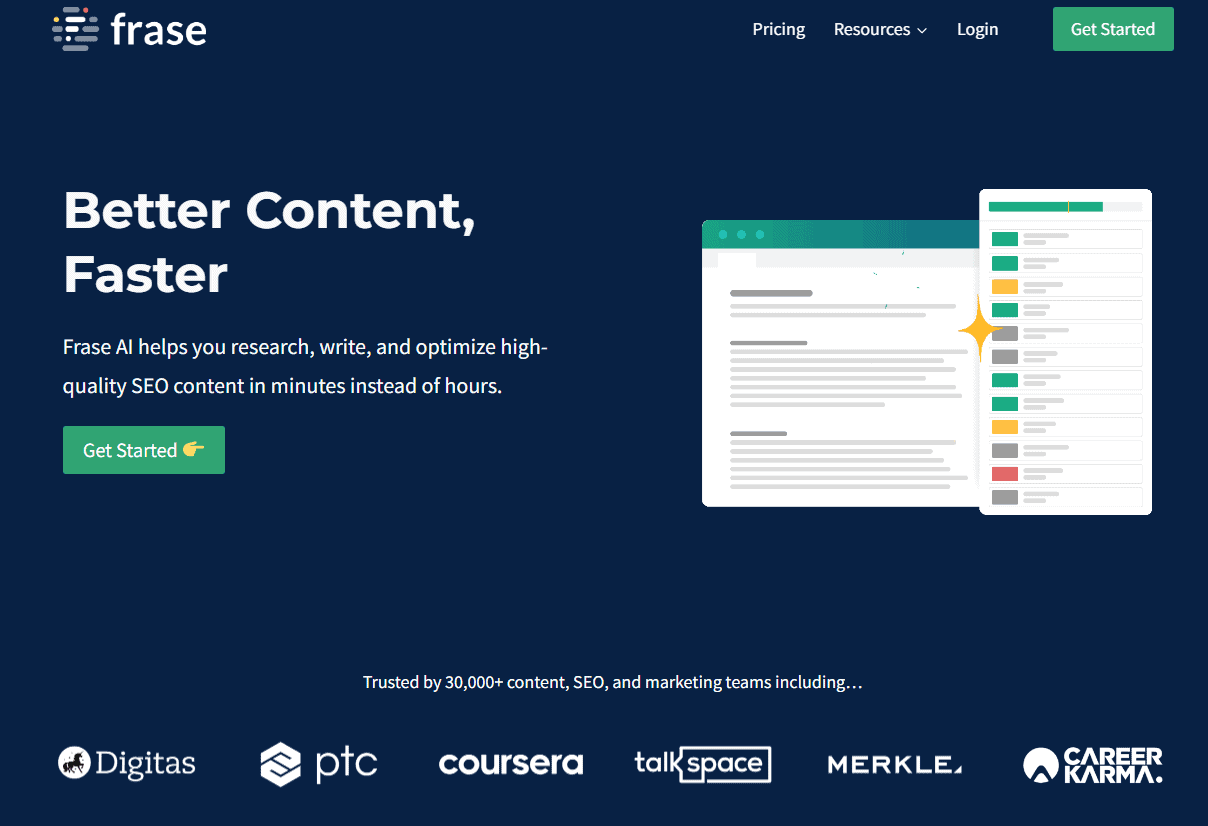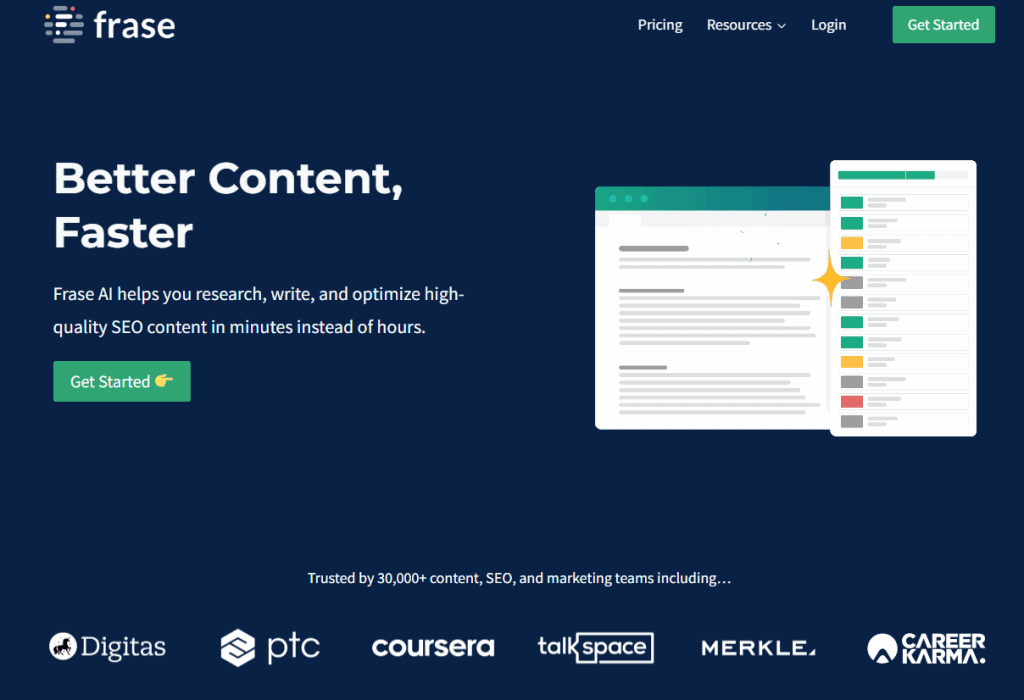 G2 Rating
Best For
Frase is an under-marketed but brilliant AI text generator. It merges everything that you need to run for your SEO projects in one dashboard, much like Scalenut.
You can use key phrases to generate a blog, analyze the output against already ranking blogs for that KW cluster and remove or add keyphrases to get your content to potentially rank better.
You get to do all these in a single dashboard- very utilitarian and enjoyable.
Frase lets you Train its AI with Custom Templates that you can create. Once done, you can create new content using those templates.
Perhaps the best use case for Frase is to generate tailored website copies that need to drive conversion and rank better than the average blog.
Overall, Frase is right up there with Scalenut. You can create powerful SEO copies that will rank on SERPs.
Frase Free Trial
There is no free trial but you do get access to Frase for 5 days at $1 (you read that right).
In the trial, you get to optimize 5 blogs/articles and use Frase to research user queries.
Plagiarism
Frase is a premium SEO tool so you can expect 0% plagiarism.
Key Features
Write Content: With Frase's AI text generator, you can write high-converting, SEO-optimized copy at the click of a button. On the writer's page from your dashboard, input a background context, select the desired length, select creativity level, and click "Write for me".
Competitor Research and Analysis: for each target keyword or keyphrase you enter in Frase, you receive a host of metrics revolving around it, including the top websites ranking for that keyword or phrase.
Content Brief Generator: if you're a content marketer or head of content who assigns topics to different writers, you can leverage Frase to significantly reduce the time it takes to research content ideas and write out the briefs.
Content Optimization: as Frase generates your content, it will perform SEO optimization based on Competitor keyphrase research (similar to Surfer SEO).
Create Keyword Clusters: Keyword clusters are among the surest strategies for high rankings on search engines. Frase can help you to design a content strategy around high- and low-hanging keywords for better ranking.
Pricing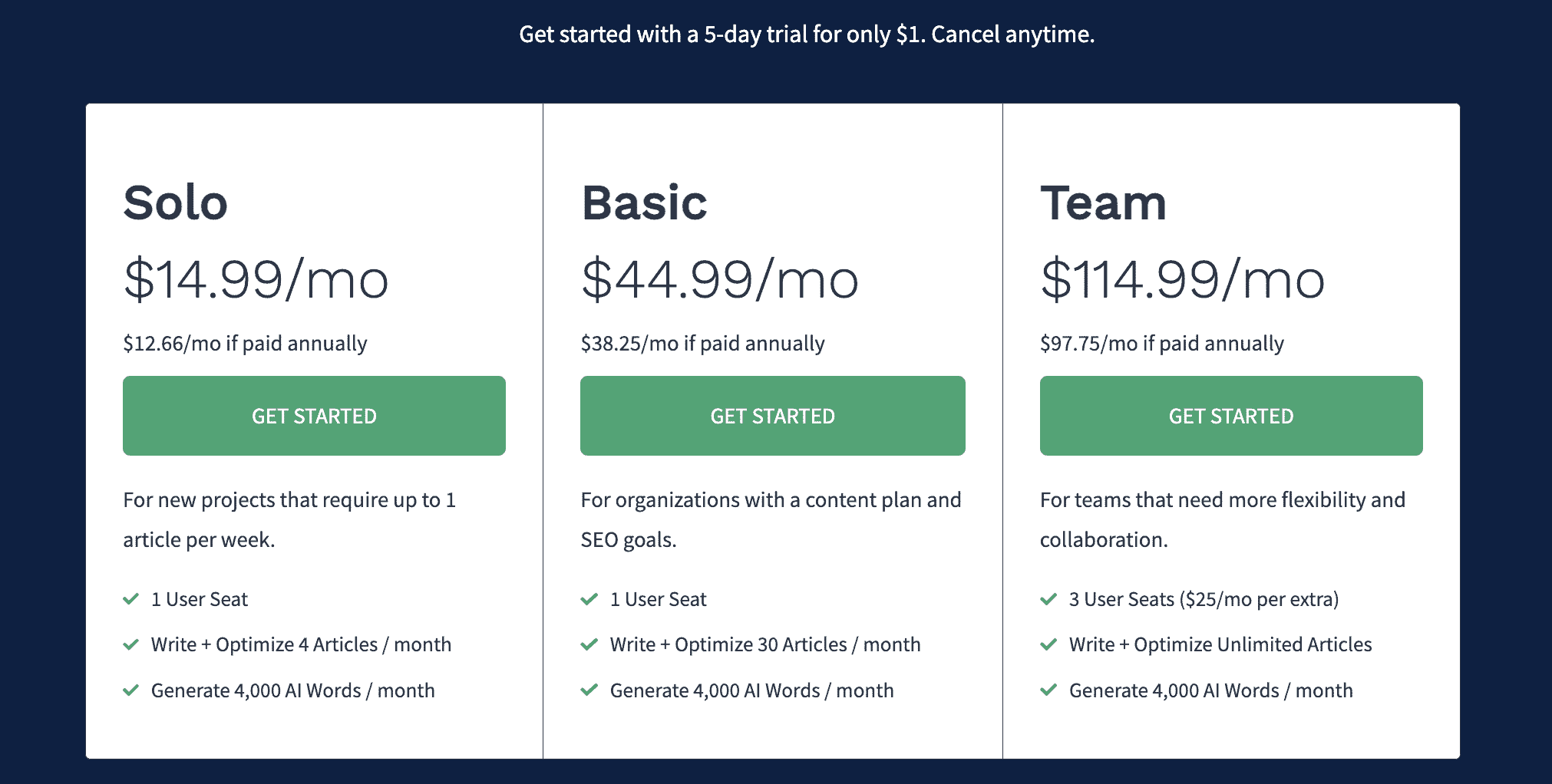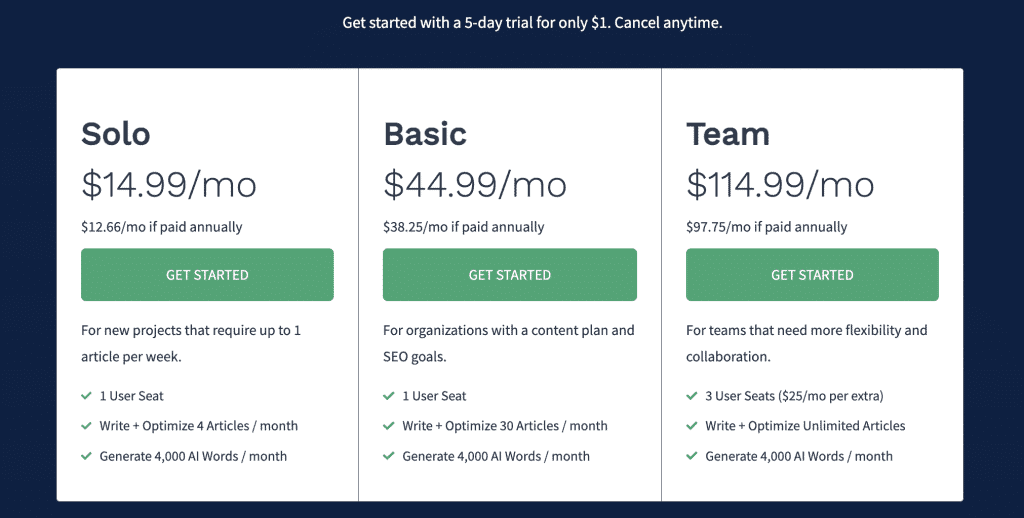 Starts off at $14.99/month and lets you write and optimize 4 articles over the month. The monthly word cap is limited to 4000 AI words with a single-user seat.
With Basic for $44.99/month, you get to write and optimize 30 articles over the month. Same monthly word cap for 4000 AI words and single user seat.
Team comes with 3 user seats and is priced at $114.99/month. You can also increase user seats for $25/month/user. Same monthly words cap of 4000 AI-generated words.
The Pro Add-on latches onto each of these 3 pricing plans. With it, you get Unlimited AI-generated Words.
Try Frase
7. Hypotenuse AI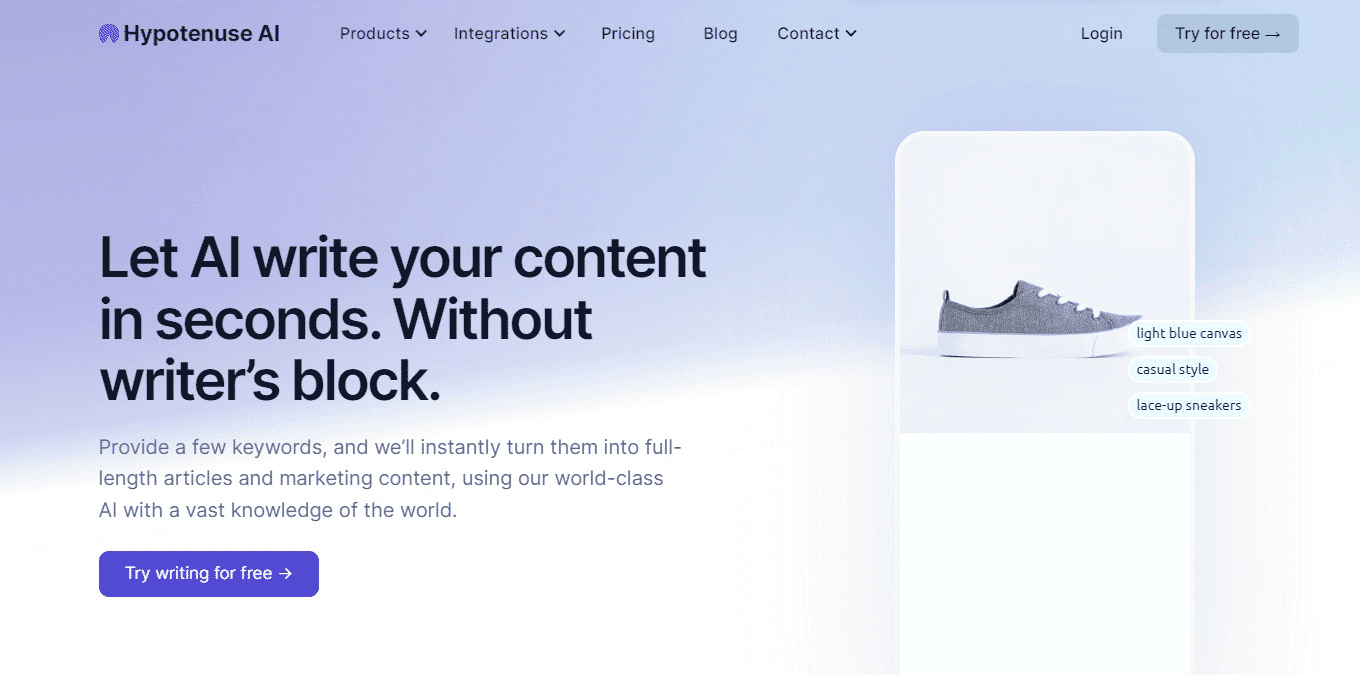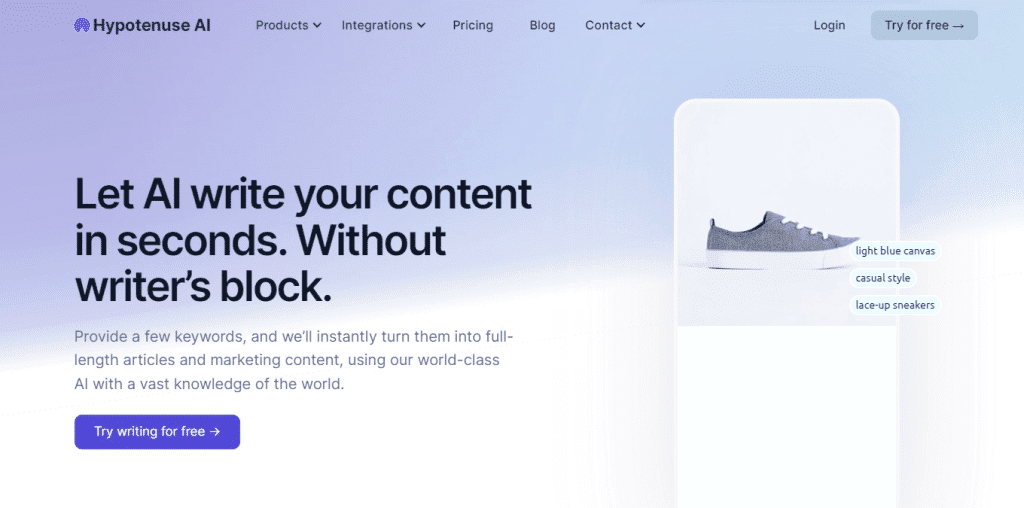 G2 Rating
Best For
Social Media Content.
Ad Copies.
Hypotenuse AI is another under-marketed AI text generator that can easily climb up this list, with just a few tweaks.
For me, using Hypotenuse AI was one of the most pleasant experiences I had with an AI text generator tool/platform.
Features are easy to access and utilize. You get content that is good to read and flows smoothly, compared to most other bulk artificial intelligence tools I've already reviewed above.
I am a big fan of the Content Detective feature to check content for factual accuracy, vital if you intend to create content in bulk.
Hypotenuse AI is Great for Shortform Content. I was surprised by the conversion-friendly content it generated for Fb ad copies in the free trial.
Hypotenuse AI Free Trial
Hypotenuse AI offers a 7-day free trial with all subscription plans.
Plagiarism
Hypotenuse AI has its own plagiarism checker powered by Copyscape just like Scalenut and Copysmith.
Key Features
AI Article & Blog Writer: Hypotenuse's AI content writing tool can get you from an article idea to a full blog post within minutes. It takes a step-by-step approach similar to that of Jasper to generate an intro, outline, and conclusion, then fill up the content.
Content Detective: the content detective tool helps Jasper to spot inaccurate information that may be included in your content by GPT-3. It will help you to eliminate vague and inaccurate information through real-time, research with citations.
Content Enhancer: the content enhancer tool also takes a piece of old content and updates it to include more information that wasn't originally covered.
Batch Generation: with the batch generation tools, you no longer have to deal with the boredom that comes with generating product descriptions one after the other. it lets you generate loads of content all at once.
Hypo Art: Hypo art is Hypotenuse's AI image generator. It offers one of the best image qualities and resolutions in the industry. On the pro account, you can potentially get up to unlimited 2048px images.
Pricing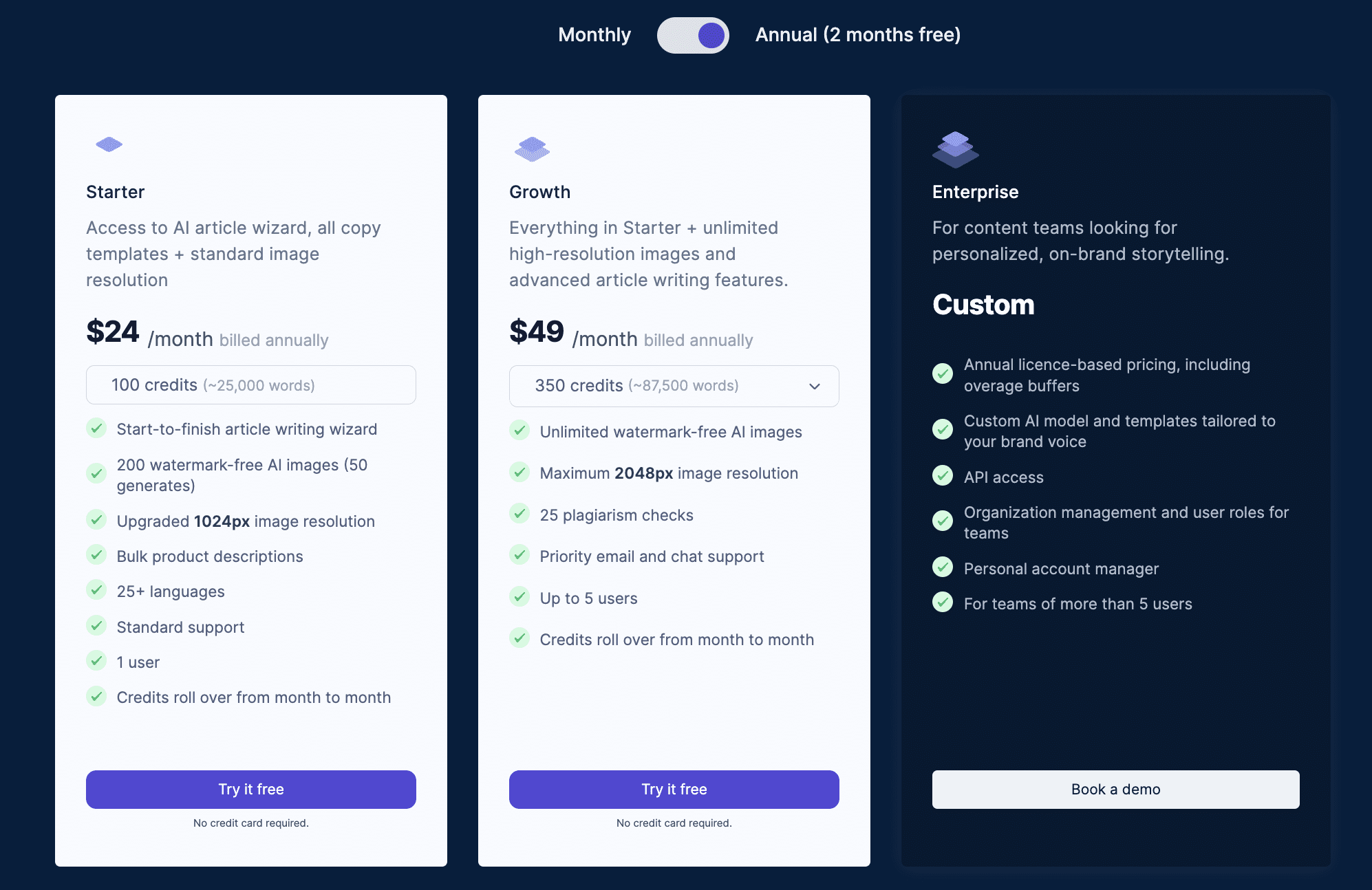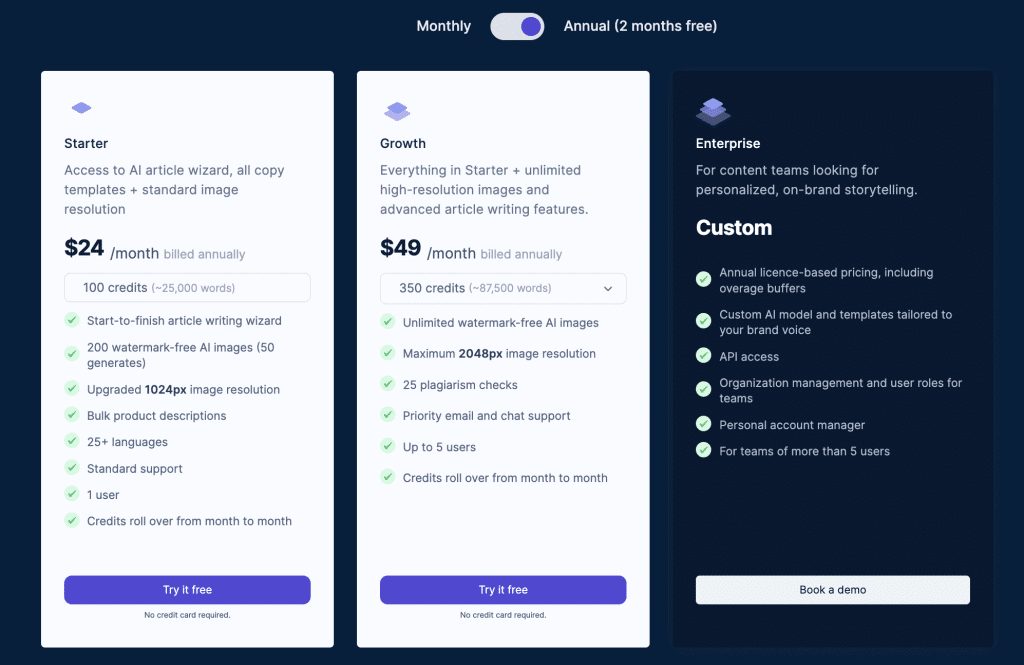 Priced at $29/month, you get 100 credits, equivalent to 25,000 words of written content, access to its article writing wizard and bulk content generation tool for customized branded copies, 200 AI-generated images (limited to 50 prompts/generations), and Shopify integration.
Growth starts at $59/month and provides 350 credits (87,500 words). You can upgrade to $109/month for 700 credits (175,000 words). You also get 5 user seats, access to the maximum 2048px image resolution for generated images and its in-built plagiarism checker.
With Enterprise, you finally get access to customized AI models, API access for additional integrations, team collaboration and accessibility.
Try Hypotenuse AI
8. GrowthBar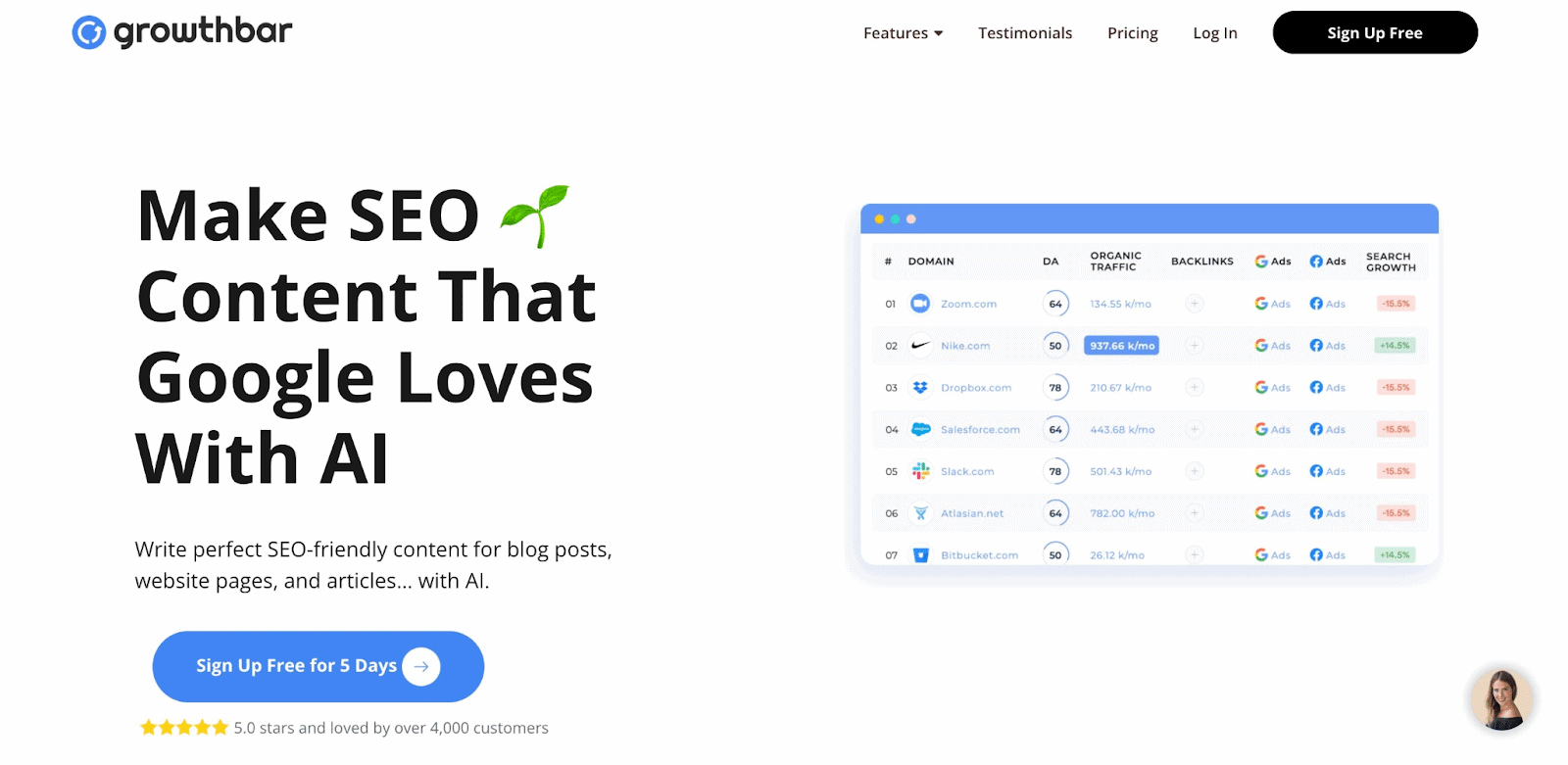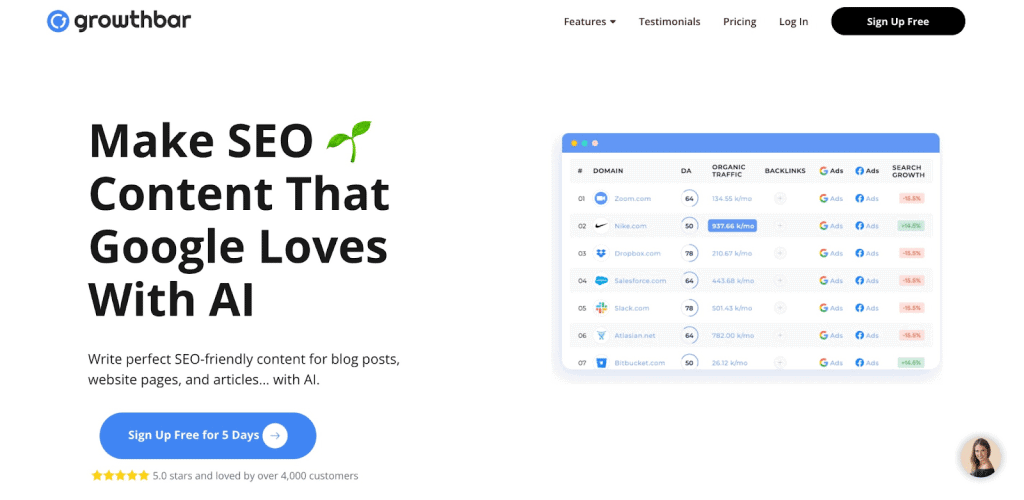 G2 Rating
Best For
Small-Mid SEO Content Projects
GrowthBar integrates GPT-3 and SEO fundamentals – just like Scalenut.
You can create search engine-friendly long-form blogs and articles with in-depth SEO competitor analysis and KW research.
All these tools are integrated into the content generation process. You even get built-in KW tracking, codenamed RankTracker.
You can also bring your content team in and Collaborate with Customized Accessibility and Administration options, right in GrowthBar.
GrowthBar also lets you run SEO audits and optimizations on published articles. You can check how each content piece is performing and take necessary action based on actionable data available right in the dashboard.
GrowthBar Free Trial
GrowthBar currently offers a 5-day free trial.
Plagiarism
GrowthBar content is marketed as 100% unique on their site and there's no suggestion to consider otherwise.
Key Features
AI Writing Tools: GrowthBar's host of writing tools includes the AI writing tool, blog outline writer, paragraph rewriter, meta description writer, and blog topic generator. The 2-minute blog builder also lets you write up to 1,500 words article in 2 minutes flat, while providing SEO optimizations along the way.
On-Page SEO Audit Tool: this tool lets you analyze and optimize your content, blog posts, and articles based on SEO best practices such as keyword density, article length, sub-headings, title length, etc.
Blog Outline Generator: the blog outline generator tool lets you create SEO-optimized blog outlines from scratch. Once you input your keyword or phrase, it collates a list of sub-headings based on the highest-ranking articles on search engines. from there, you can drag and drop headings to build your outline.
In-Depth Competitor Analysis: the keyword research process provides detailed information about the highest-ranking pages for your target keyword. These include information such as article length, backlinks, and more.
Team Collaboration features: this feature allows you to bring members f your team into GrowthBar to allow you have a smoother workflow.
Pricing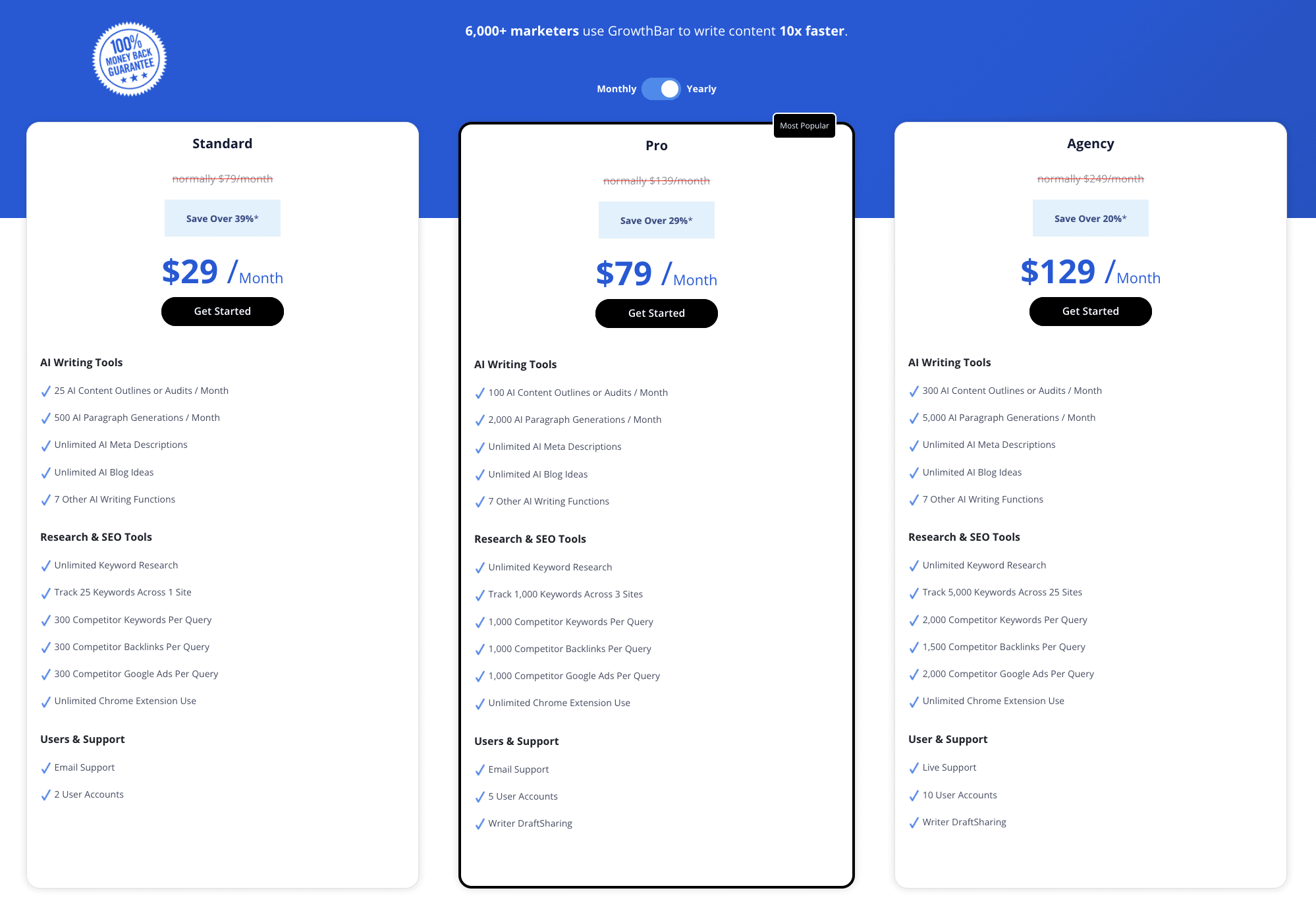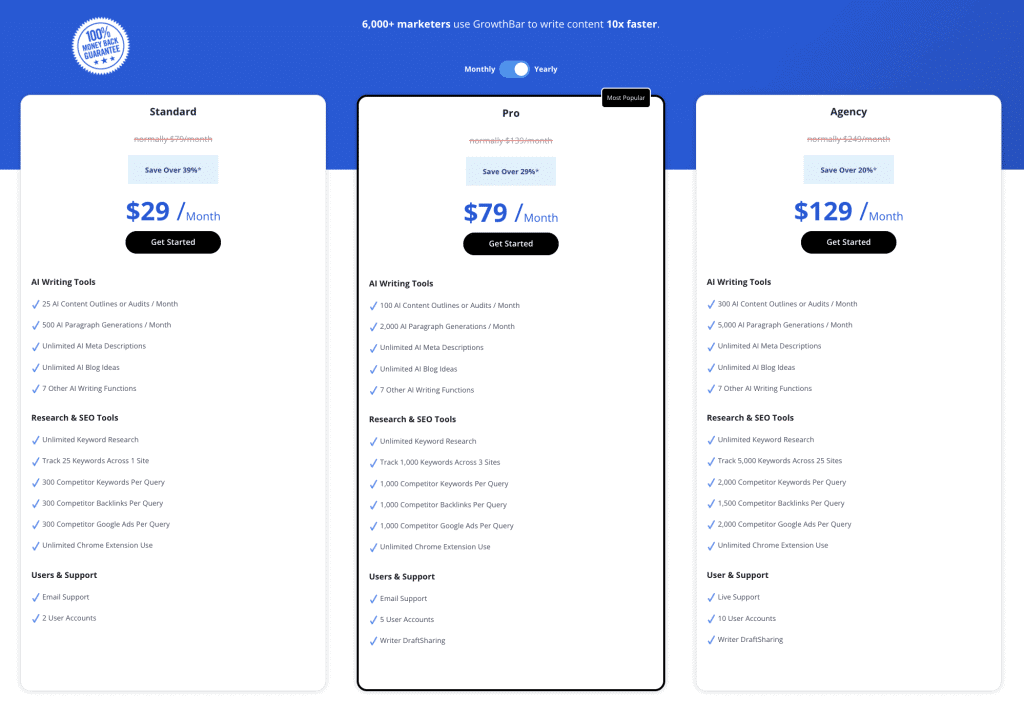 At $49/month, you get access to almost all GrowthBar features centering on 500 AI Paragraph generations and 25 AI content outlines or audits. You also get 25 KW tracking across 1 site, and 300 Competitor KW, Backlink, and Google Ad query each.
All this to manage on 2 user seats.
With Pro for $99/month, you get a huge upgrade on all features above starting with 2,000 AI Paragraph generations across 5 user seats.
Along with that, you get 100 outlines or audits, track 1,000 KWs across 3 sites, make 1,000 KW backlinks & Google Ads queries, and access to Writer Draft sharing.
At $199/month, Agency is for mid-to-large SEO projects. It comes with 10 user seats and all other features on steroids starting with 5,000 paragraph generations.
Plus, you get 300 outlines or audits, track 5,000 KWs, and make 2,000 competitor KW, 1500 backlinks, and 2,000 Google Ads queries.
Try GrowthBar
9. Anyword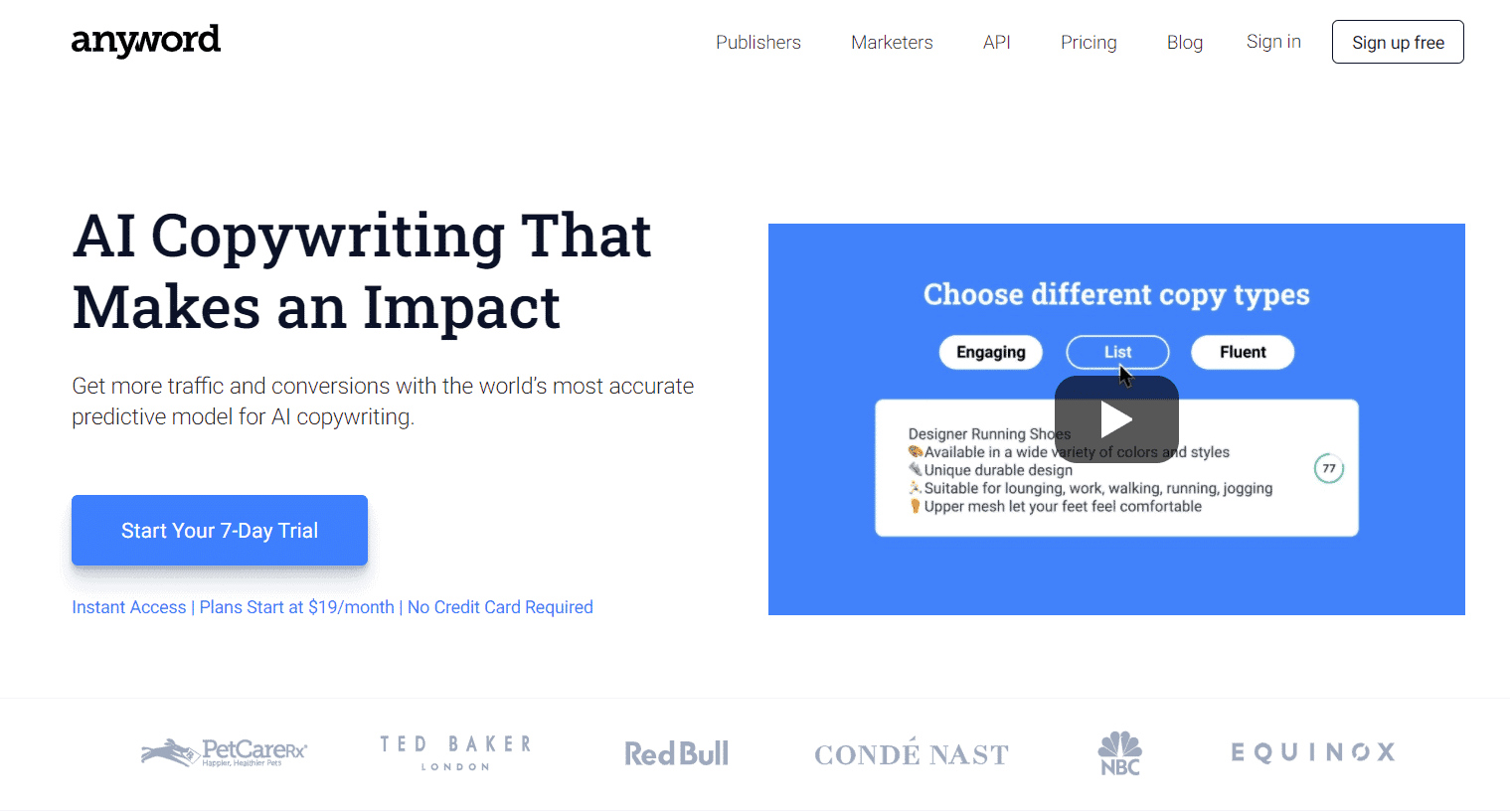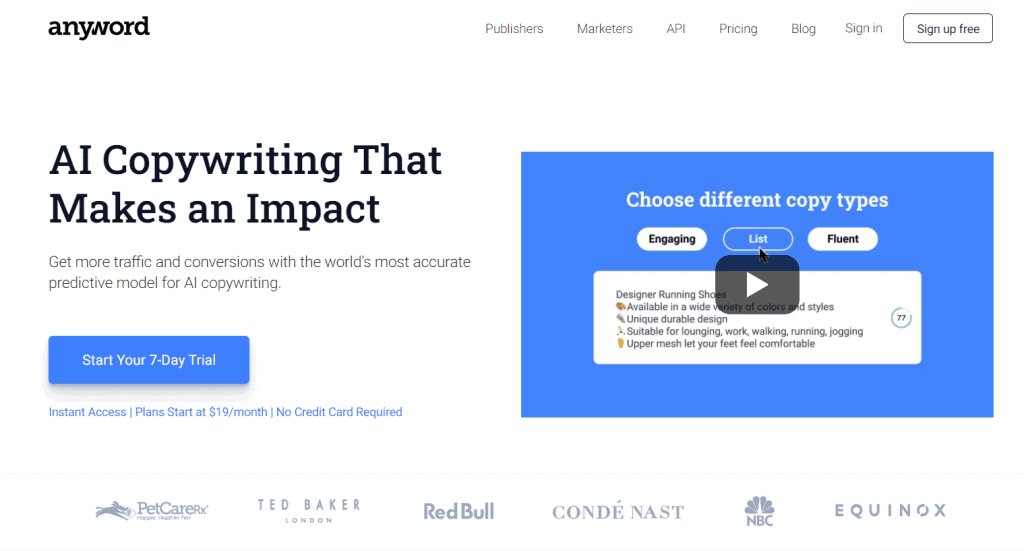 G2 Rating
Best For
Landing Pages.
Ad copies.
Social Media.
Anyword does more than almost any other Ai text generator on this list. It integrates both Predictive Analysis Score and Customer Personas.
You can create customer personas in tune with your target audience. This lets you create more tailored and customized copies.
Then you can use its predictive content score to gauge the final copy and make necessary changes as required.
Other than long-form blogs, you will enjoy the dedicated Ad copy generator. You can also create ad copies, social media copies, or SMSs in bulk, and even connect your ad accounts.
Anyword also has a Custom Mode where you can train its AI to write copy exactly how you want them.
Anyword Free Trial
Anyword offers a 7-day trial period with 5,000 words. The trial extends to days or till credits completion.
Plagiarism
Anyword does not generate plagiarized content. You can use Anyword's in-built plagiarism checker to find content similarities.
Key Features
High-quality content: Every piece of content you generate from Anyword is optimized for high ranking on search engines to bring potential customers to your website. Its in-built plagiarism checker also makes sure they are 100% unique.
Predictive Analysis Score: this tool can help you project content performance based on the data it has collected over time from various excellent and terrible ad copy.
Data-driven copywriting tools: all of the writing tools on Anyword are backed by data gotten from AI analysis of the top-performing online content. This serves as the benchmark Anywird uses to generate better content.
Dedicated Ad Copy Templates: Anyword offers dedicated templates to generate tailored content for Fb, Amazon, LinkedIn, Twitter, Pinterest, and more.
Pricing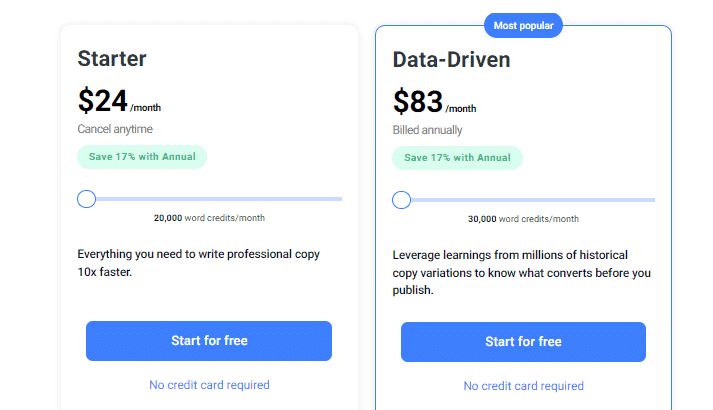 Plans for Everyone: Starter
Starter is priced at a minimum of $29/month for 20,000 words over the month. There's a slider to this plan and it extends up to $199/month for 300,000 words.
Plans for Everyone: Data-Driven
With Data-Driven starting at $99/month, you get 30,000 words and access to all the basics from Starter along with anyword's USP features – its predictive performance score and analytics.
You can slide up all the way to unlimited words for $399/month.
Suited for businesses or large work processes. It adds custom API access, data import/export, and tailored 3rd party automation for integrated workflows.
Try anyword
10. ClosersCopy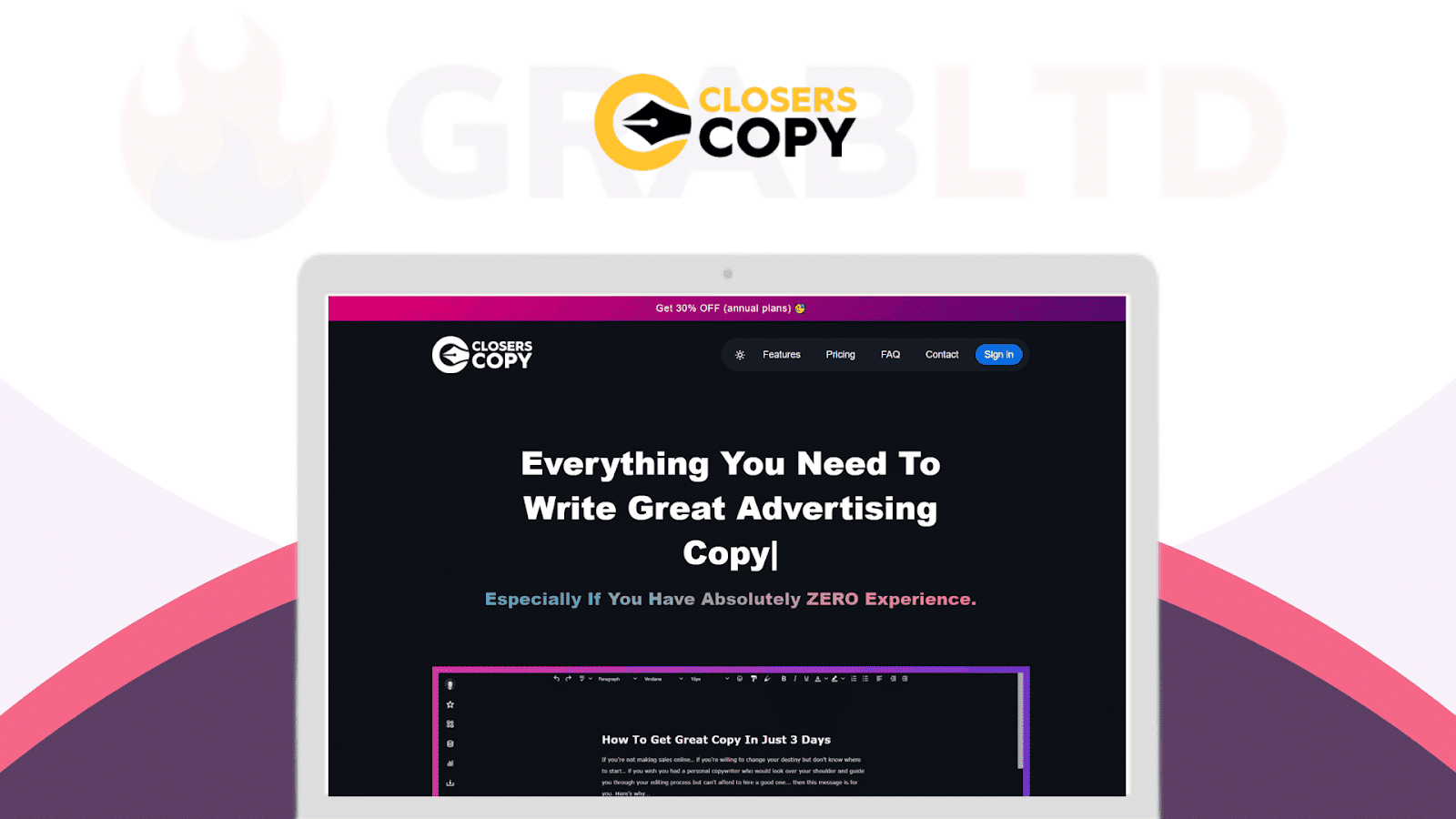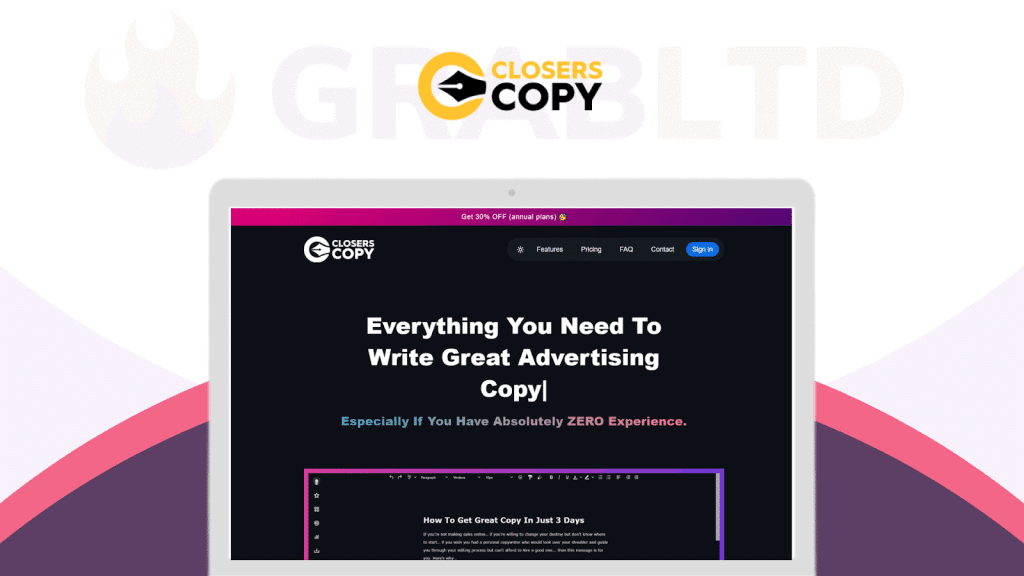 G2 Rating
Best For
Mid-Large SEO Content Projects.
One of the newest AI text generators in this list, ClosersCopy is one to keep an eye on.
This too is tailored for SEO projects at scale. You get almost everything you may need, from SEO Audits to Bulk Content Planner and Workflows for automation.
ClosersCopy provides custom AIs for blogs & articles, for sales/ad copies, and for story generation. But the feature that really stands out is Language Support. ClosersCopy supports 128 languages.
Another feature is Sentiment Score somewhat similar to Anyword's Predictive Score. But this is based on simulated audience response to the generated copy.
ClosersCopy Free Trial
ClosersCopy does not have a free trial yet but they do have a 14-day money-back guarantee.
Plagiarism
ClosersCopy does have some issues with long-form content but most of that is related to repetition. But it is plagiarism-free.
Key Features
Longform: Longform is ClosersCopy's customized AI for blogs, articles, essays, sales pages, landing pages, emails, press releases, and other long-form content. Once you input your context (a headline and an intro paragraph) on the Longform writer page, it analyses your input and generates an output based on your use case.
SEO Audit Tool: With the SEO audit tool, you can analyze your website for issues preventing high rankings and also get suggestions on solving them.
SEO Planner: using the SEO planner tool, you can build a content calendar to plan your content for weeks or months ahead, ensuring that you always have content ready for publishing.
700+ Frameworks: Frameworks help you generate purpose-tailored faster. Some of these frameworks include AIDA, PAS, YouTube video description, Google ads, and so many others
125+ Languages: with ClosersCopy, you can generate content in over 125 languages. This is perfect if you run a multi-language business.
Pricing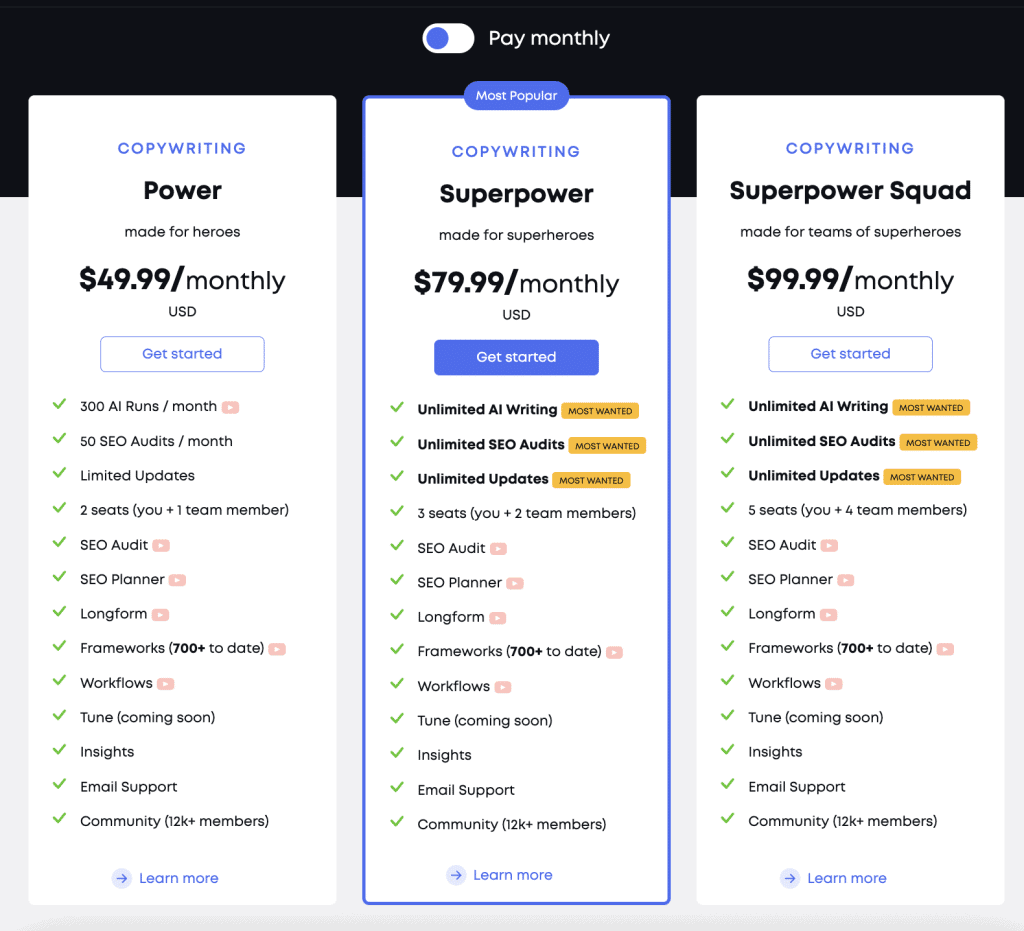 Priced at $49.99/month, Power comes with 2 user seats, 300 AI Runs, and 50 SEO audits.
Upgrade to Superpower for $79.99/month and you get 3 user seats, Unlimited AI Runs and SEO Audits. This is the cheapest AI SEO tool available right now considering price-to-features.
At $99.99/month, Superpower Squad simply increases to 5 user seats along with all features in Superpower.
Try ClosersCopy
How to Choose the Best AI Text Generator For You?
Choosing the AI tool for your personal or business needs is easy. Here's a no-distractions guide that I followed to find the best AI tool I'll need at any moment.
Spoiler – No AI text generator can do it all!
What is Your Use Case?
Your use case is your first parameter to compare AI text generators and make the right choice for your project.
Here are some key takeaways –
Your use case will differ if you need landing pages for your site or if you instead need a larger number of blogs created for a topic cluster.
Landing pages need higher conversion rates and thus tailored content. You need to track KWs and optimize the copy over time.
If you instead need a set of blogs on a topic cluster, you'll need an AI tool that can generate reader-friendly content.
Tailored content is a fundamental requirement for ad copies, product descriptions, or social media and similar short-form copies too. However, social media content and product descriptions differ in required tonality.
Compare Features and Capabilities
I need more than just the generated content to put it to good use. I also need collaboration, SEO, content briefs, and workflows to run the project at scale.
You may or may not have the same requirements. But you too need additional integrations to put that content live.
For Short-Form Content
With shorter content types and formats, you're looking for –
high-quality and custom templates
tailored content for product descriptions in bulk, and
an API integration that lets you automatically upload the content on Shopify, Woocommerce, Google Ads, Facebook, YouTube, etc.
For Long-Form Content
For longer content types, consider your project size to compare features.
If you're targeting 100-150 KWs per month, you'll need to make just as many search queries, at least.
So you're looking at Jasper, Writesonic or Scalenut, or maybe even ClosersCopy.
If you're instead targeting <50 KWs per month, you can choose Frase or Hypotenuse AI, or even GrowthBar.
Resources Required
Pricing should be the last parameter to consider after you've decided on your use case and the features you want from the AI tool.
Here too, you need to compare pricing against what you get.
Some key takeaways –
Jasper, Frase and Scalenut are great at building content briefs on topic clusters and then bulk-generating content.
Some of these tools directly integrate SEMRush and SurferSEO to assist in the overall content creation process for better results.
Other than the top 2, I can recommend Hypotenuse AI, Frase, anyword, and Copysmith for social media copies, ad copies, mailers, etc.
AI Text Generator Use Cases
Social Media
Here's how anyone can generate social media copies using copy.ai –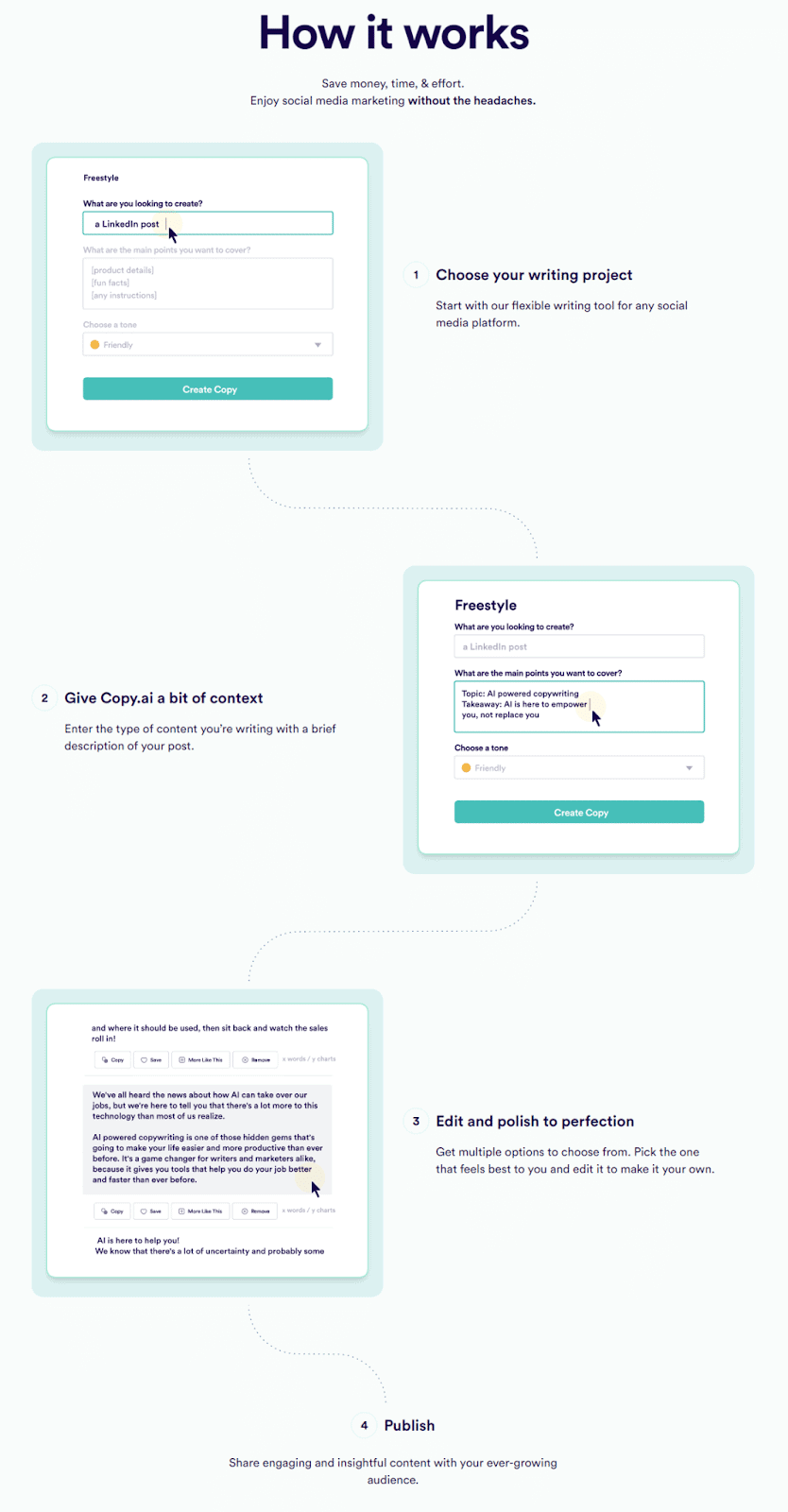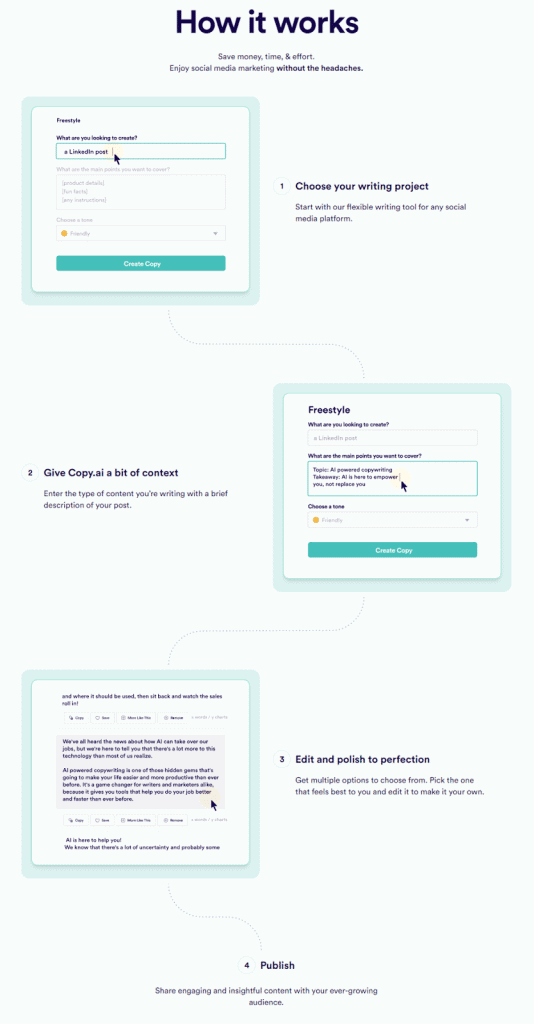 It is as easy as it looks.
Copy.ai is faster than most other AI text generators around us and accurate enough to bulk-generate social media copies.
SEO Blogs/Articles
I've just started using Frase and it's not as easy but it's not supposed to be either. Frase is arguably the most thorough AI text generator I have used and that helps you appropriately tailor the final content output.
Check this blog by Frase on how to use its whole lot of features to generate an SEO-friendly blog. Shout out to the Frase team. Here's a snippet.
Frase does require some fundamental expertise in SEO from users.
Hypotenuse AI is much more intuitive and therefore more user-friendly. I am yet to go on a paid plan to try it out but once I do, I'll review it in full.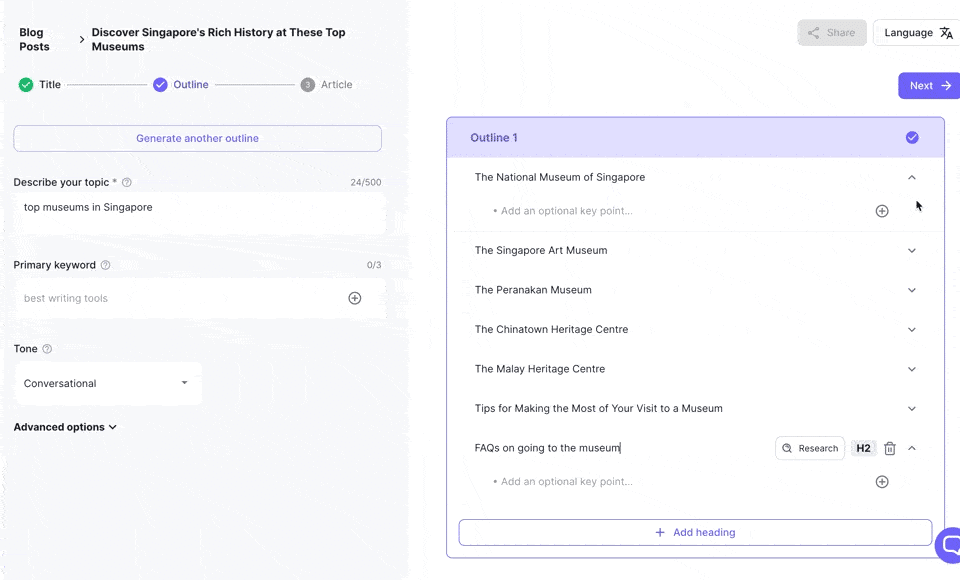 The same user-friendliness trickles down to its UI as well. Check out this blog by Hypotenuse AI on creating SEO blogs with it.
Product Descriptions
For product descriptions, I might be looking to Hypotenuse AI. Why?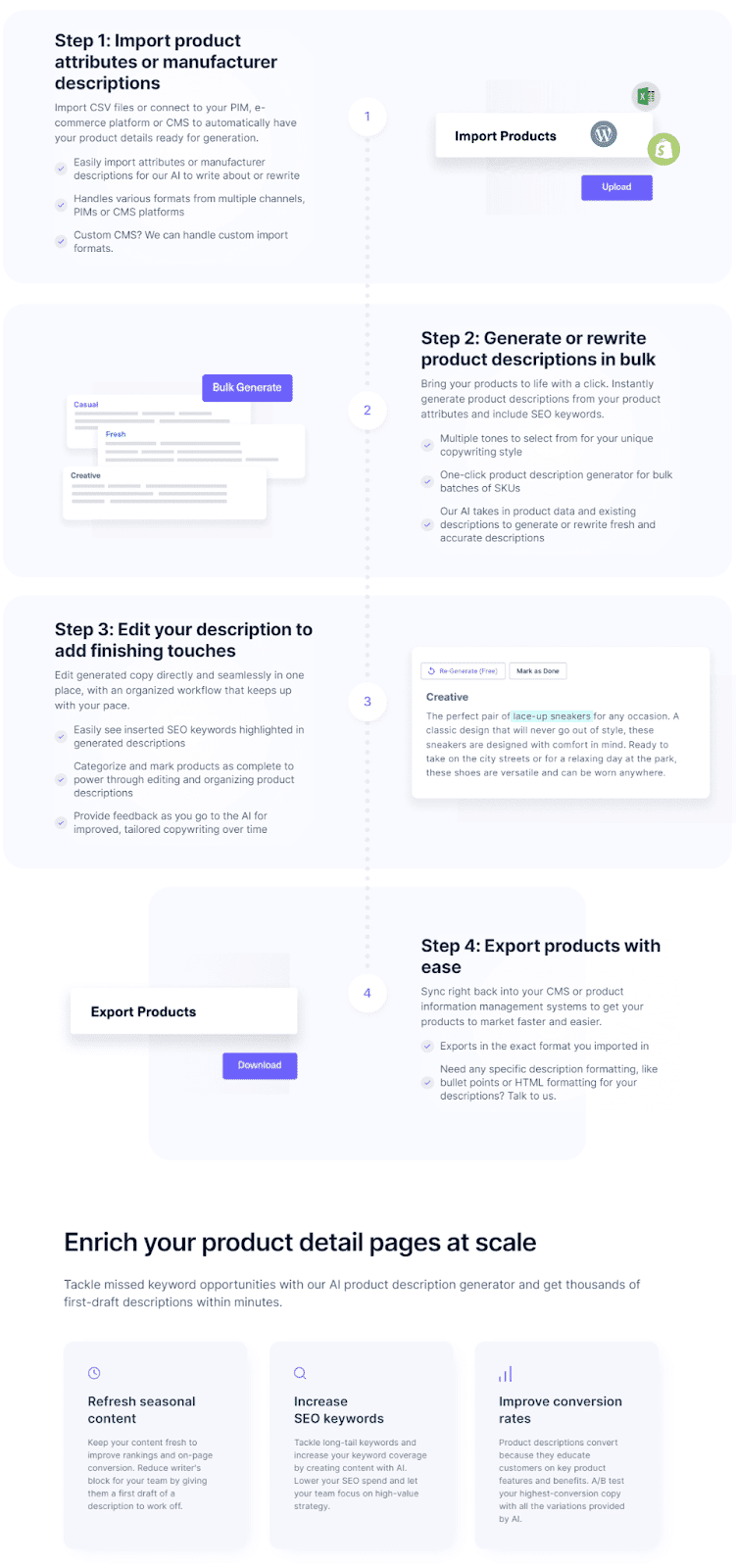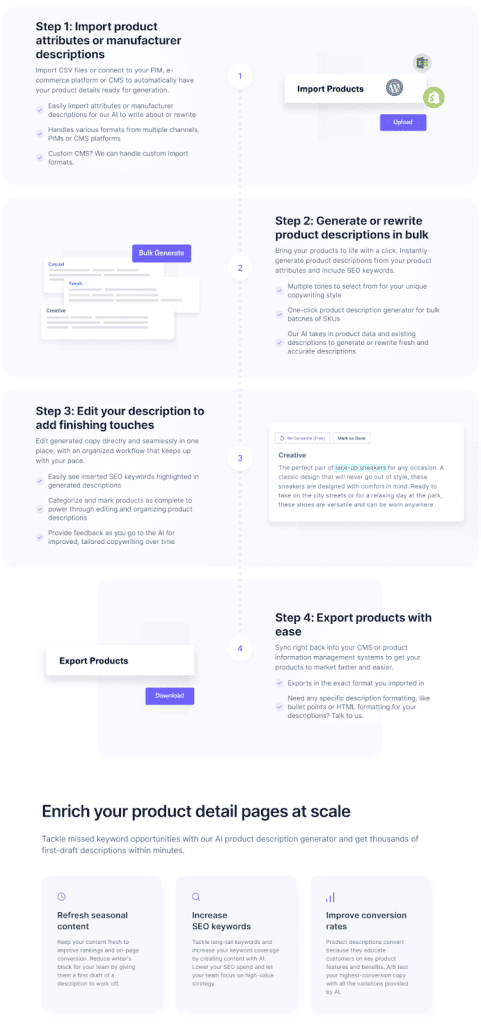 I just need to import my existing format and generate all the PDs I need. Rave reviews as well for this AI tool for generating unique enough copies even in bulk generate. Here's their full blog.
Ad Copies
anyword hosts an extensive range of ad copies for specific channels. Check this snippet below.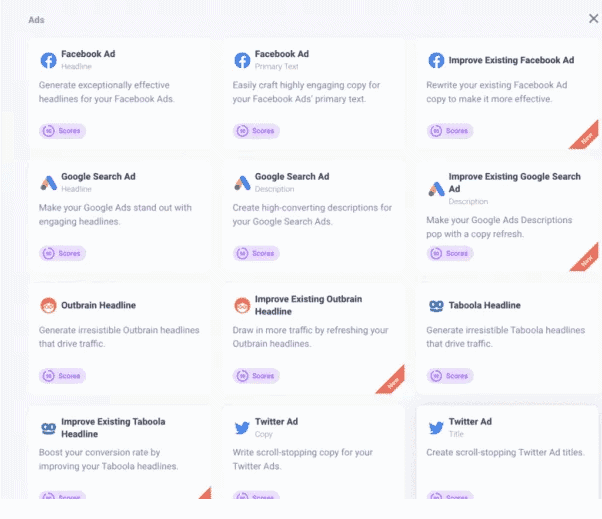 It's impressive enough that they've added these templates. They've laid it all out on how to use it in their blog. As a SurferSEO user, predictive performance scores do have a positive impact on content quality overall.
Emails
I have used Jasper for email marketing campaigns and I am a happy user. Check out this tutorial video on how to use it.
Write a Compelling Email with Jasper – Jasper University
What is the Best AI Text Generator in 2023?
I will rate Jasper and Writesonic at par with any AI text generator out there for any form of content.
Why?
These AI writing tools are integrated with top-end content marketing tools like SEMRush and Surfer SEO. I use both these extensively and they are vital for any SEO project.
I'll throw in Scalenut and GrowthBar here, and ClosersCopy for small-mid scale SEO projects.
For short-form content like social media copies, product descriptions, ad copies, and mailers, I can suggest Frase, Hypotenuse AI, and even Copysmith.
But having personally used both Jasper and Writesonic for short-form copies, I have to rate them higher.
So, as far as value propositions are concerned, Jasper and Writesonic are the best AI text generator tools out there.
But this is a fast-moving space. I'm already looking forward to Google's answer to ChatGPT – Bard which is in closed beta right now.
Stay updated with everything about AI tools and digital marketing with Affiliate Hacker.