The days of visiting multiple libraries and browsing mounds of books for your research are long gone.
Artificial Intelligence and Machine Learning do the heavy lifting for you today.
While it's true that research remains a long-term, laborious, and meticulous process, modern tools make it easier.
In this article, we'll show you the 5 top AI tools for research you need in 2023.
But first, it's important to know why you may need them.
3 Reasons You Need AI Tools For Research
Automation: Want to create web pages and newsletters, and publish your research online? AI tools can create online assets quickly, letting you focus on things that matter—no need to learn web development and designing, SEO, or coding.
Analysis: With AI research tools, you can search millions of data points worldwide to find your results faster.
Artificial Intelligence-driven online platforms and tools can discover, analyze, process, and organize data faster than humans. Artificial Intelligence tools can work with more extensive databases and find data patterns we may miss.
Accuracy: Sift through millions of digital files to find studies, publications, and citations to support your research.
And now, let's learn about these 5 top AI tools for research.
5 Top AI Tools For Research
1. Bit.ai- An Artificial Intelligence Tool for Collaboration

Bit.ai is built for knowledge management and project collaboration. It's a powerful workplace and document collaboration platform.
Bit.ai lets researchers focus on creating:
| | |
| --- | --- |
| Reports | Research notes |
| Academic documents | Scientific journals |
You can also make your content pages look professional by adding:
Videos
Images
Tables
Cloud files
Math equations
Visual web links
Learn more about Bit.ai's range of features below.
Top Features

You Can Customize Your Workflow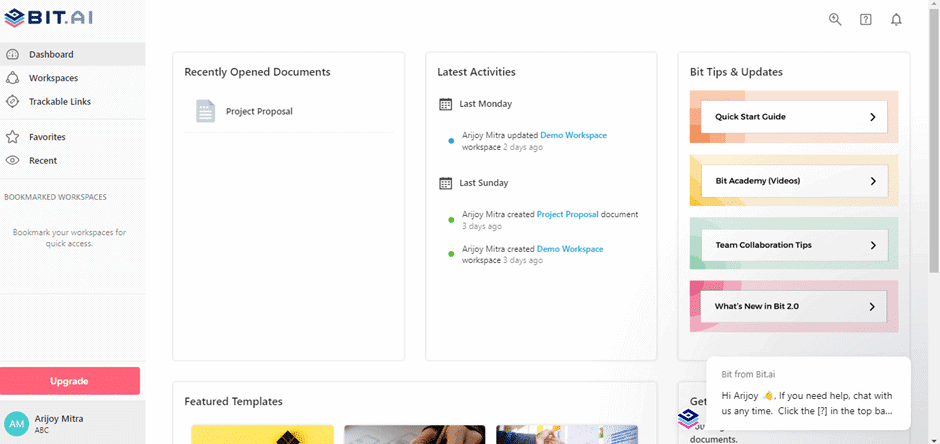 Create multiple workflows, and customize and manage them whenever you want. You can also add documents and assets and organize them into folders and subfolders.

Content Management Made Simple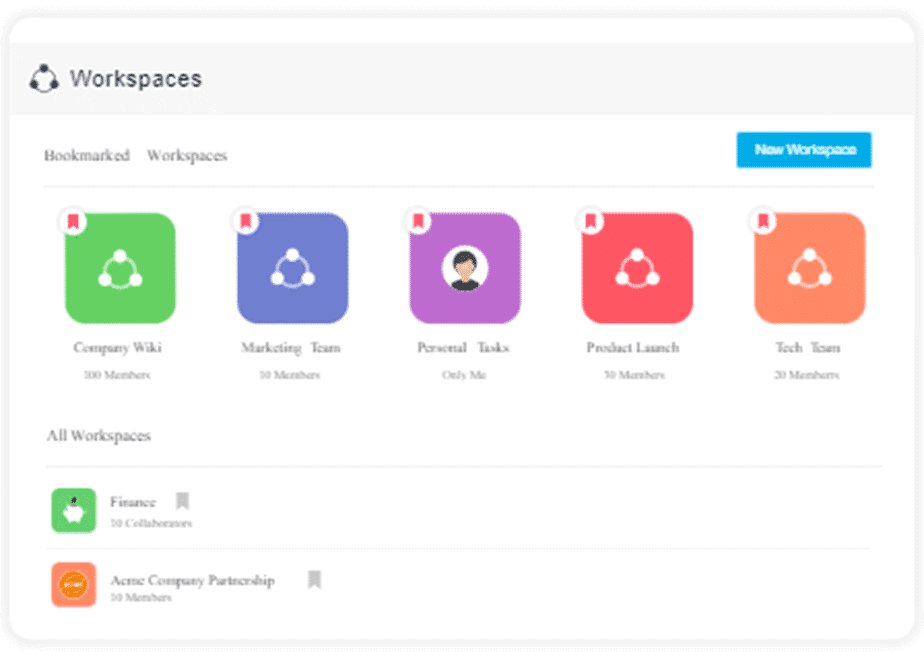 In this tool, your documents and assets will be in one place. You can also categorize workspaces for various teams and divisions. In other words, this makes content management more effortless.

Smart document editor lets you Create Smarter, Integrated Documents
Bit.ai lets you choose from over 100 document templates. This top research paper AI writer allows you to get started faster and create beautiful document themes, automated tables, tables of contents, and more. Once you have finished your document, you can easily auto-format and edit it.

Get End-To-End Document Sharing for Added Security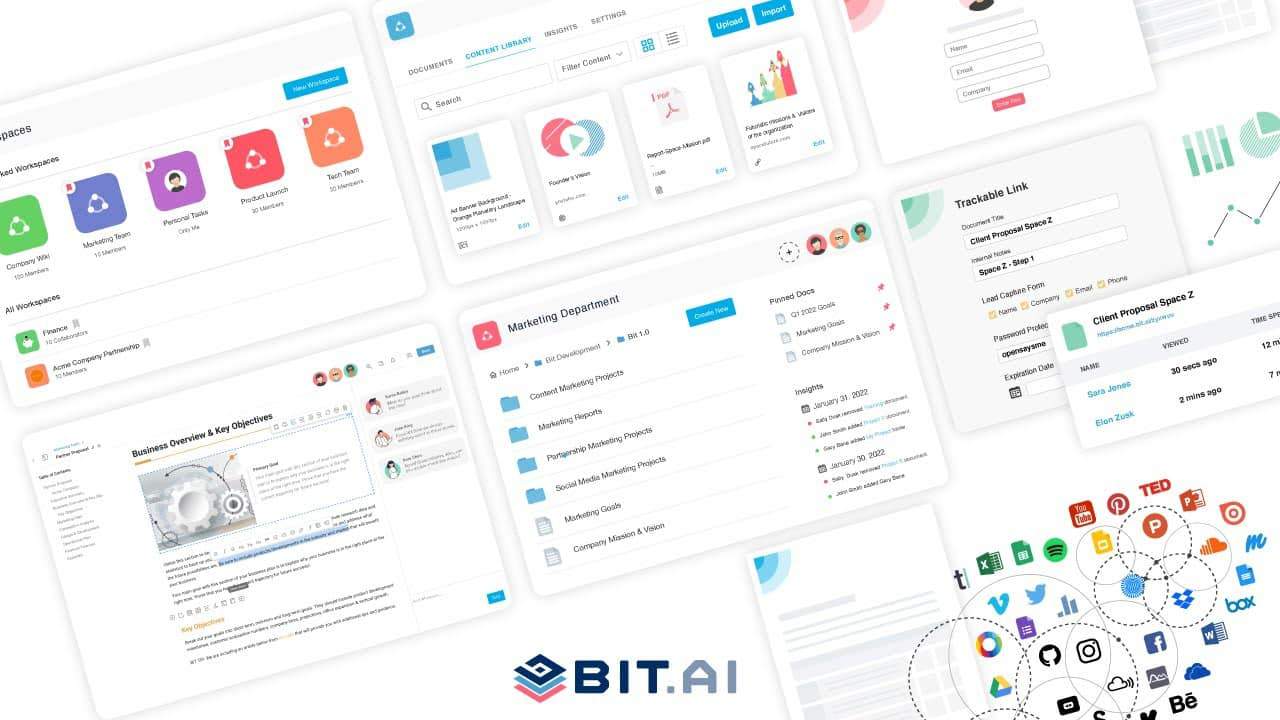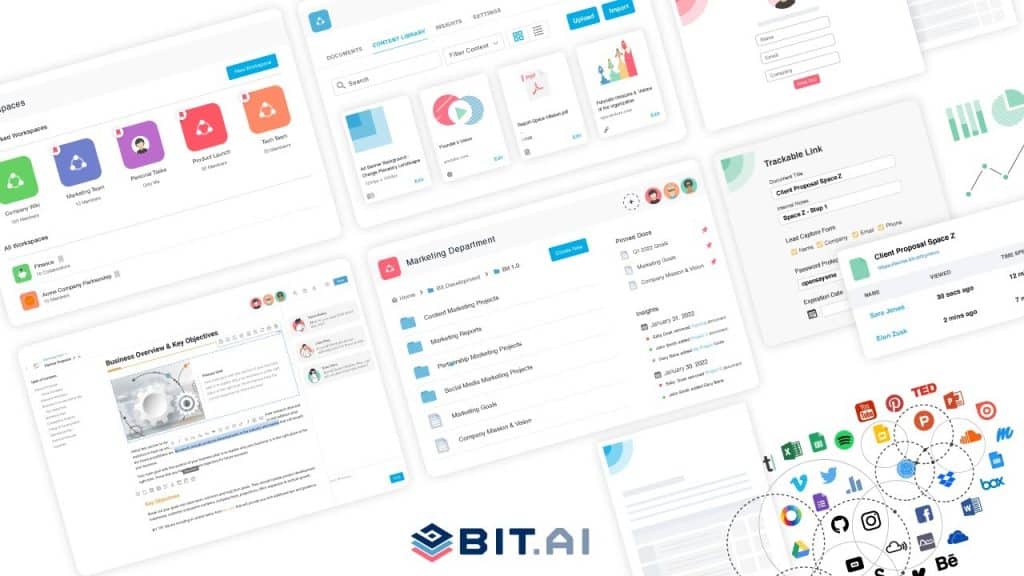 This AI research paper generator lets you share documents securely with password protection and document expiration periods.
It also monitors how and when viewers interact with them. Additionally, you can create email alerts, document link tracking, real-time alerts, and capture leads.
Add branding to your documents to add integration, collaboration, and consistency.
You can also create branded login pages, personalized workplaces for departments and teams, and add multiple organizations' logins to finish your work faster in this AI research paper generator.
Key Takeaways
It's Easy To Use: This AI research paper generator has a neat interface and is organized and user-friendly. You don't need to review tutorials and help articles to get started.
Bit.ai provides several ready-to-use templates, including header images, titles, subheads, embedded videos, images, an Excel sheet, and more.

Work Remotely And Collaborate With Others: Bit.ai lets you work from anywhere. All you need is a computer and an internet connection. You can save your work on this research paper AI writer or download them at will.

Create Innovative, Fully Integrated Templates: The templates on Bit.ai come with all elements to get you published on the World Wide Web. You can freely customize these elements.
For instance, you can change theme design and color, edit text, insert article links, link previews, and custom images and text, just to name a few.
Bit.ai integrates with Google Drive, OneDrive, Sharepoint, Box, and others. This makes document sharing easier.

Create And Organize Your Workspaces: Organizing assets becomes simpler with this online tool. You'll find that moving and sharing documents has become easier and faster. The tool gives you complete control when coordinating your team. This is possible with mentions, shared workspaces, real-time notifications, guest access, permissions, and more.

Have everyone On The same page with Editable, Interactive, And Real-time Documents: Collaborate with others to create these reports, keeping them on the same page with real-time comments within the papers you're working on.

Impress Viewers With Richly Integrated Documents: Last but not least, you can enrich your documents by adding videos, music, social media posts, cloud files, surveys and polls, charts and graphs, and more.
Pricing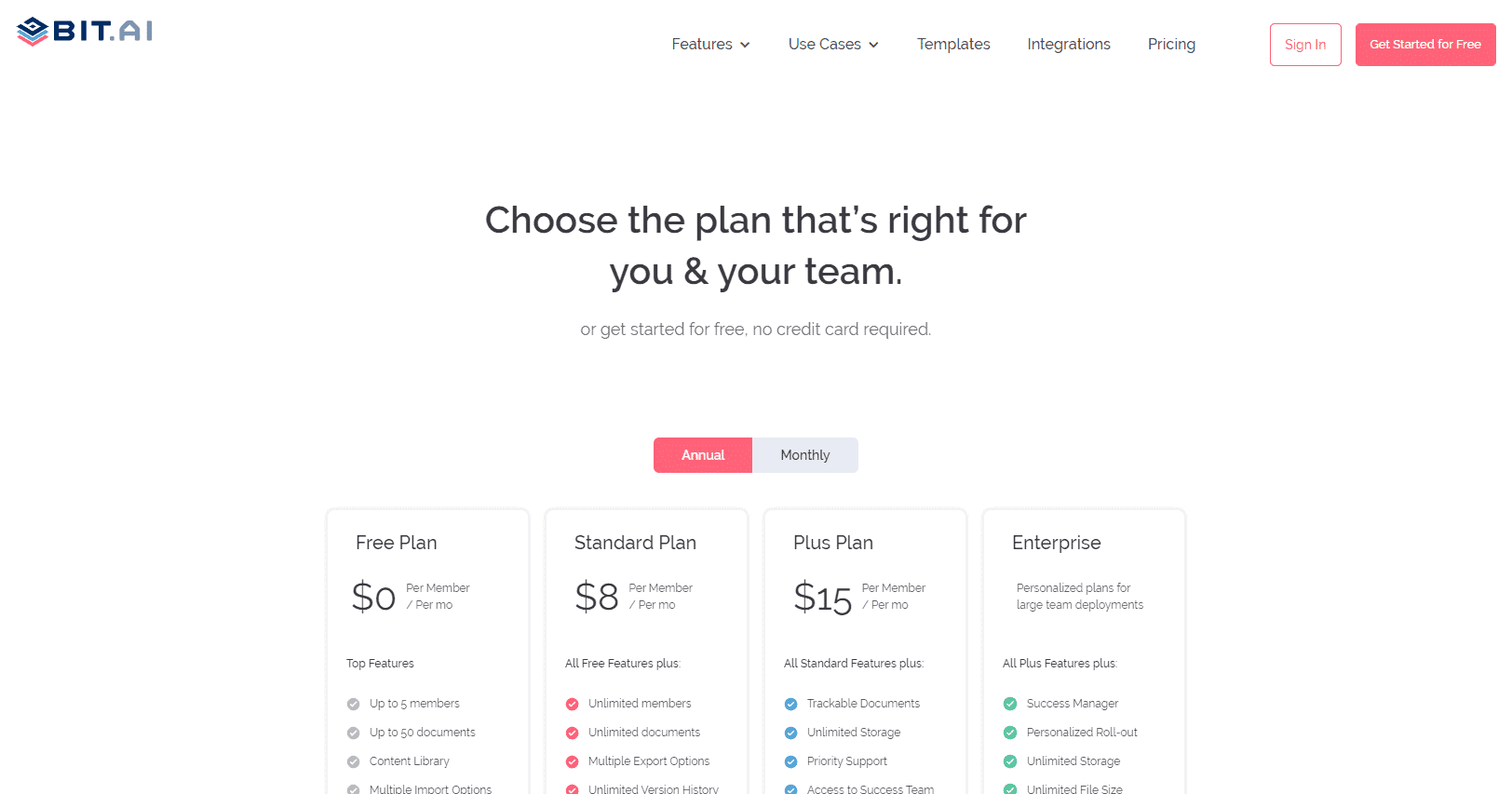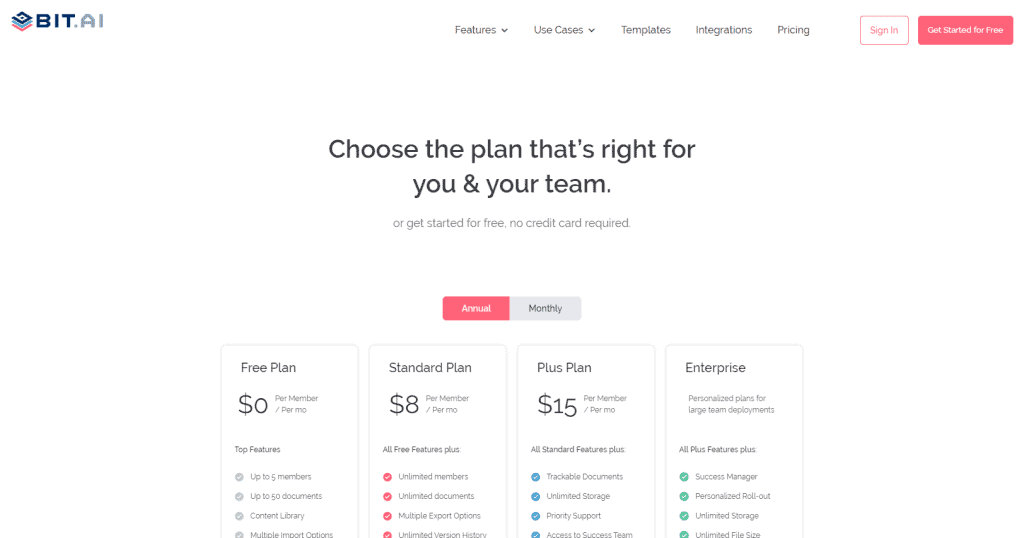 Bit.ai comes with a free plan with limited features. You have monthly and yearly Pro and Business plans if you need more features.
There are also special prices for start-ups, non-profits, and educational institutions.
2. elink.io – Your Reliable Content Management Tool



elink is a research paper AI writer (content curator) and content management software where you can save bookmarks, create email newsletters, build webpages, RSS website widgets, social posts, and social bio links, all powered and optimized by Artificial Intelligence within minutes.
You start by creating a repository of content sources. Create RSS feeds from publications you follow or your favorite articles you have uploaded in-app. The elink writing tools then use these sources to automate the content creation.
Top Features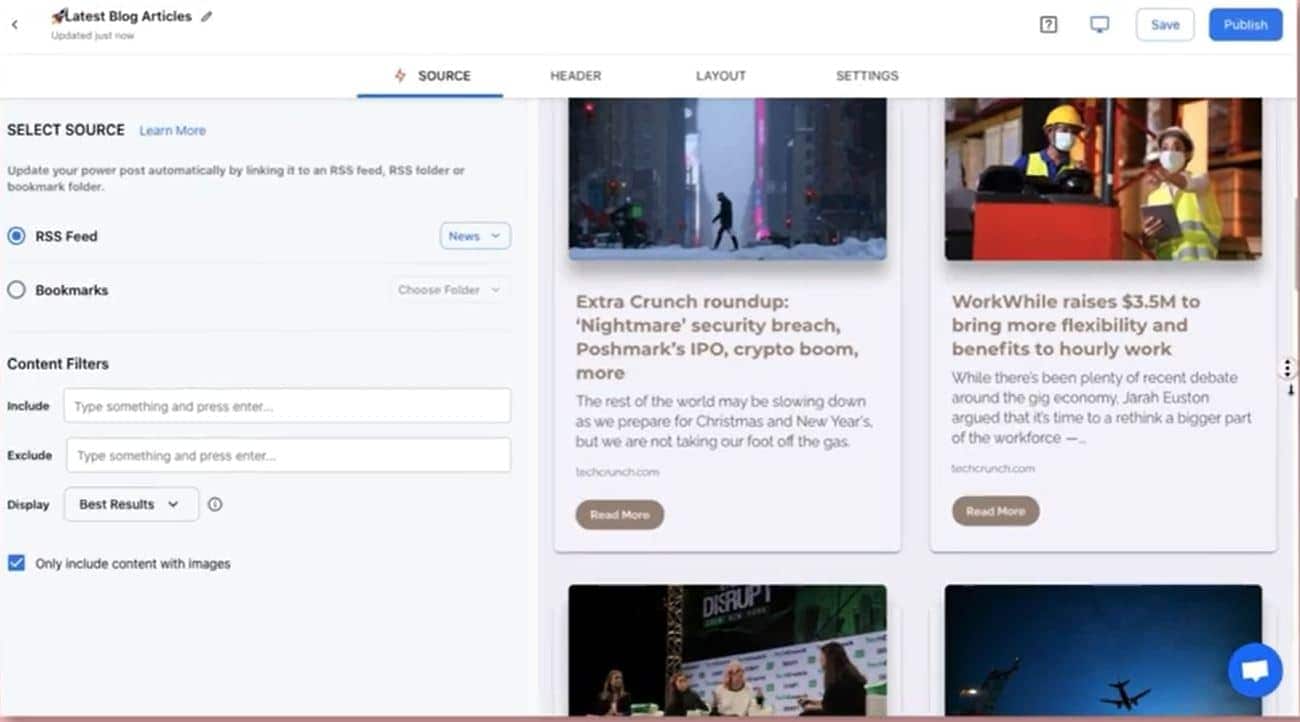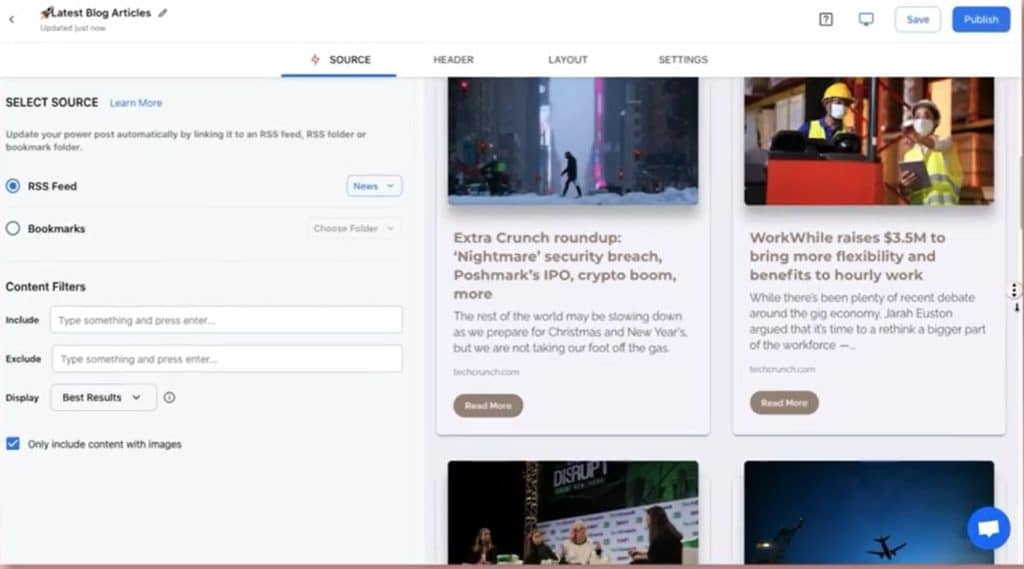 Create engaging web pages, email newsletters, and other assets at the push of a virtual button. This tool saves you significant time, letting you focus on more creative work like designing, strategizing, and creating content.
Save Anything On The Cloud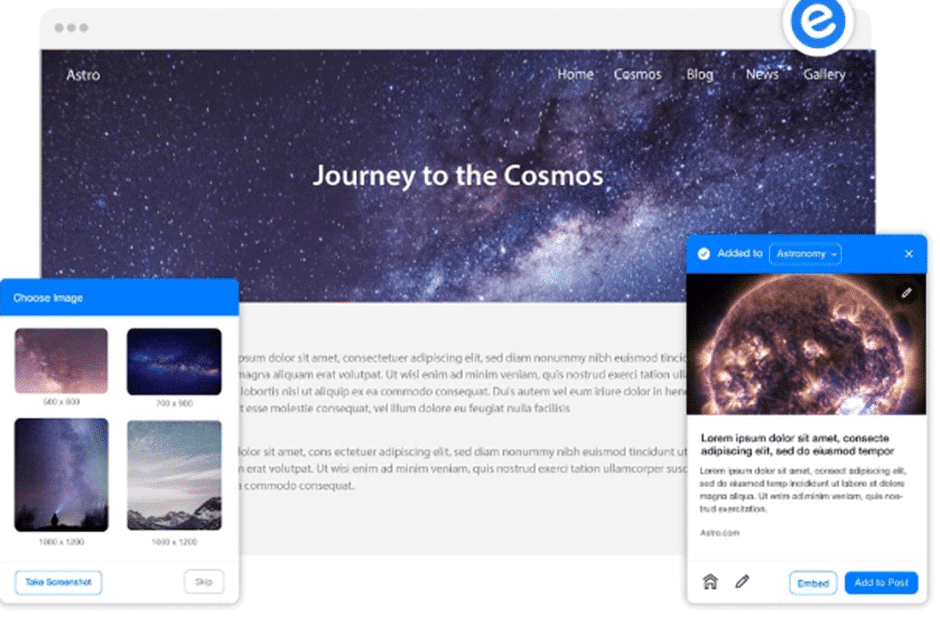 Came across a piece of research you like? Save it online on this AI tool for researchers as a visual bookmark with elink's browser extension that works on top browsers like Chrome.

Bundle-related Content And Links
To automate content creation on this AI-powered writing assistant, you need related information and links. elink lets you create content from your favorite sources, including online blogs, RSS feeds, news websites, and more. You can group or 'bundle' related information sources, making it easier for you to access them later.

Add And Customize Layouts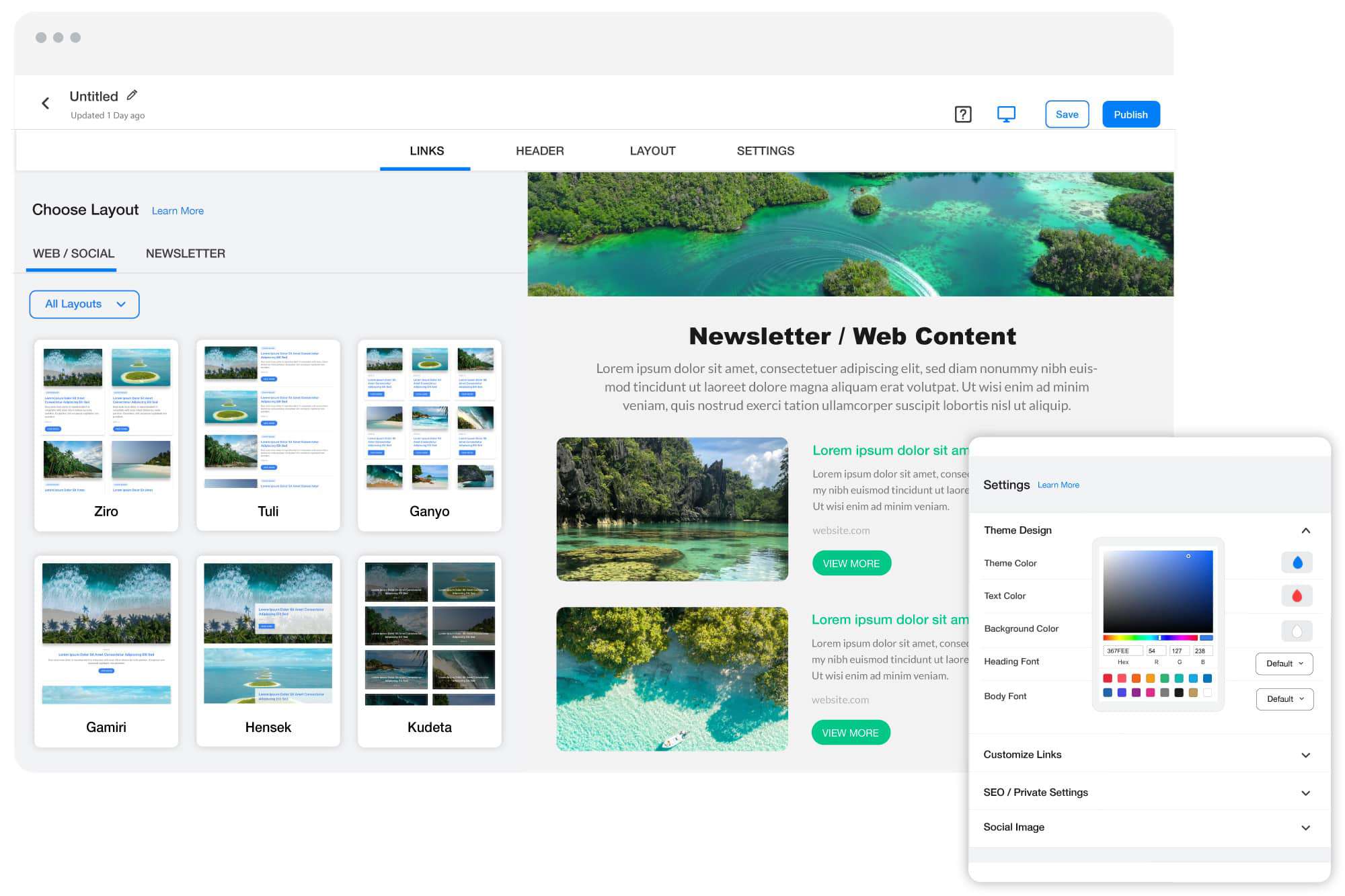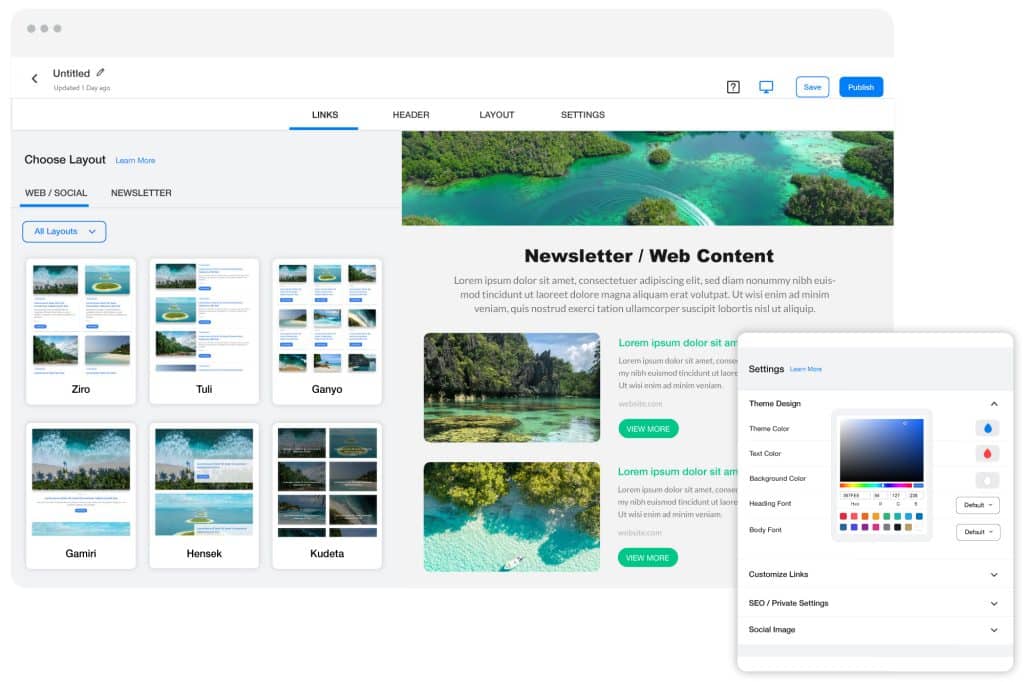 Choose from over 50 responsive layouts on this AI writing assistant. You can update them anytime, even after publishing.

Integrate With Online Tools And Apps To Publish Your Content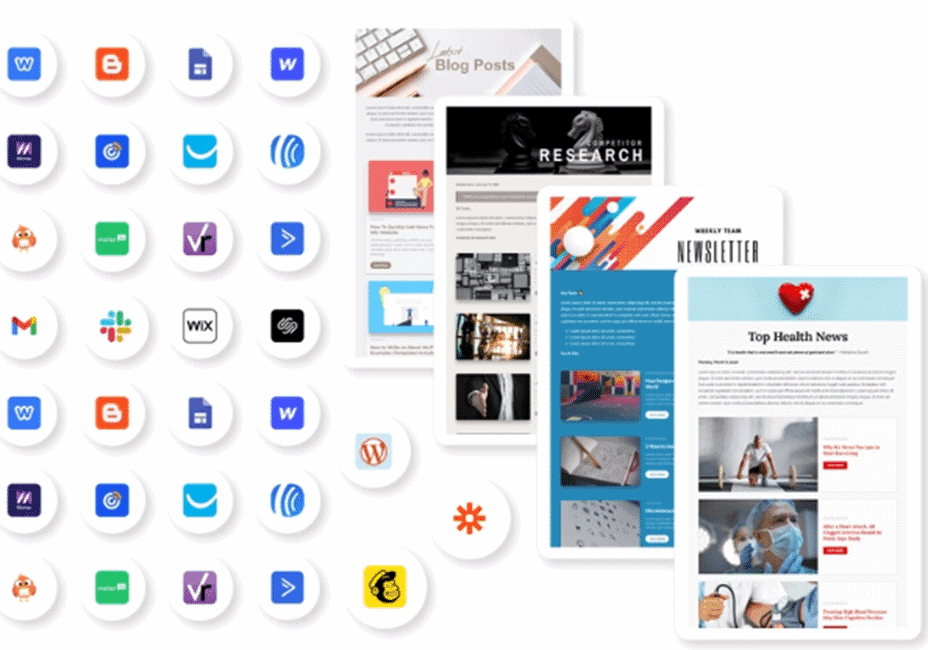 Publish your research page on almost any website with this online tool and app integration. You can also share the link as a newsletter on various third-party email service providers and access more than 1000 applications through Zapier.

Key Takeaways
Get Information From Your Favorite Sources: This AI research assistant curates content from various sources and brings them together. Creating content pages becomes more manageable and less time-consuming with all the required information that you need to curate now available in one place.

Collaborate And create Content Together: This AI writing assistant lets you collaborate with others on the platform, allowing you to add, change, manage, and deactivate team members.

Save Time: You may not know website designing, SEO, or any programming language to create web pages, newsletters, and other content pages. Content pages can be created with pre-built templates. You can also add your branding, along with header elements, add customized links, custom SEO settings, and more.

Price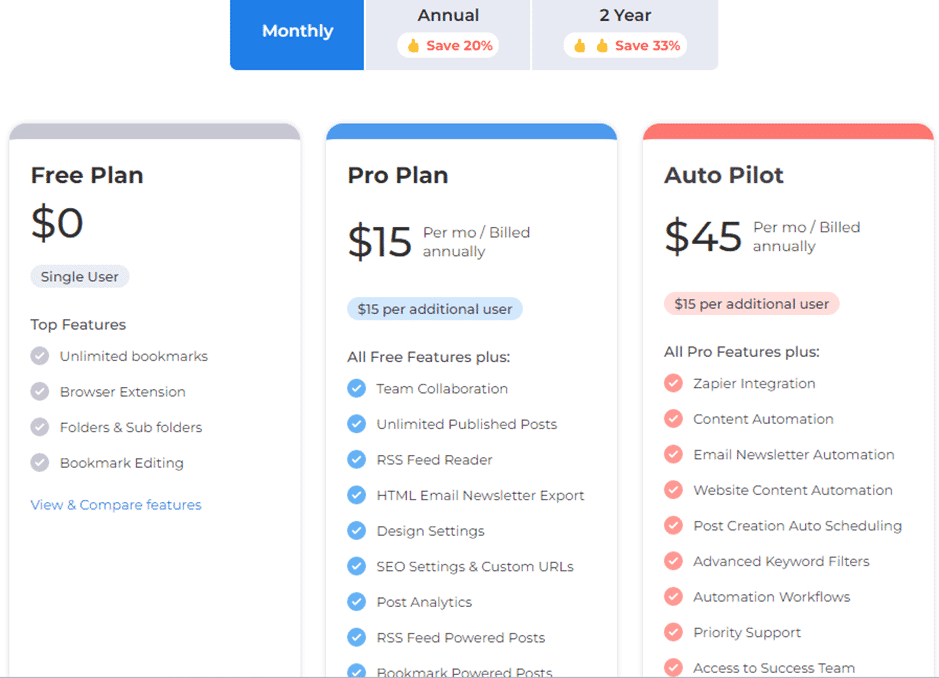 They also provide annual and 2-year plans.

3. Wizdom.ai- Your Research Management Companion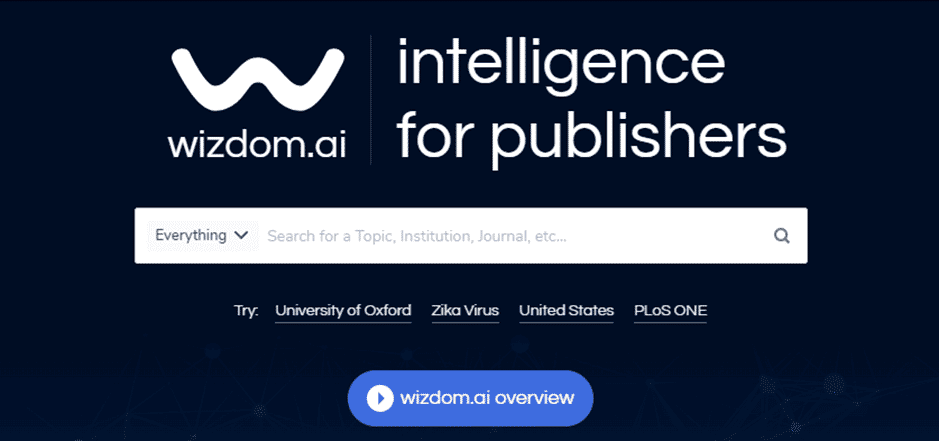 Wizdom.ai is an Artificial Intelligence and Machine Learning-powered comprehensive research management tool used by academics, researchers, and students.
Wizdom.ai provides exhaustive research insights and scenarios on search queries.
How does Wizdom.ai do it?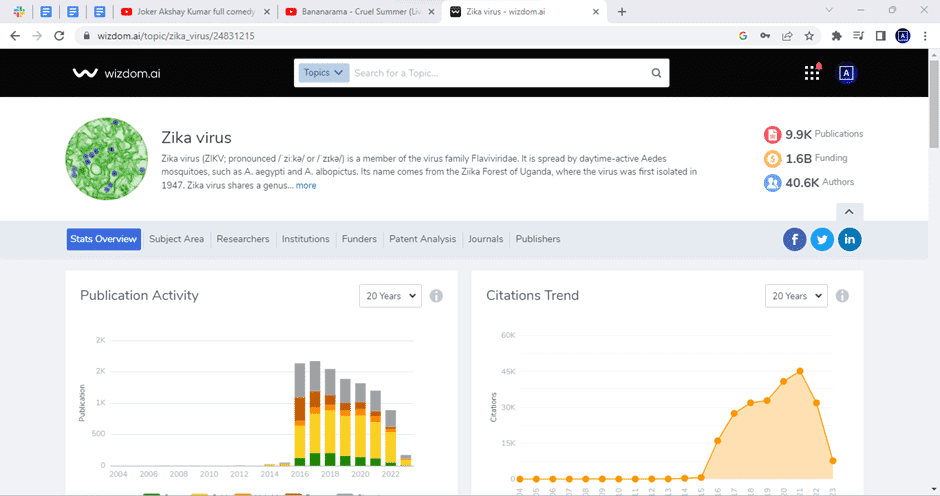 The reference management software constantly updates itself with billions of data points from resources around the world. You can view citations, publications, journals, trending topics, research funding, authors, patents, affiliations, concept mapping, and more for any matter you want to research.

Top Features

Research Faster With Easy-To-Use Interface And Mechanisms

The interface is easy to pick up and learn. Want to know about the specific subject areas of this topic's research? Click on 'Subject Area.' Want to know who is researching that topic and from which country? Click on 'Researchers' and Institutions. Everything you'll need is a tap away.

Search For Journals, Topics, Institutions, Funders, Countries, Subjects, And Publications

Wizdom.ai provides an at-a-glance view of all the information you need for your research.
You also gain comprehensive knowledge about your topics with data nodes, including researchers, institutions, funders, patent analysis, journals, publications, Gantt charts, graphs, and mind mapping.
Gain Knowledge Of Trends And Activities In The Global Scientific Community.

It's not enough to just gain knowledge for one-time research. You may also want to remain updated on the latest trends and developments in your area of study.
This tool helps you discover citation trends, publication activity trends, amount of researchers across countries and institutions, the most researched topics, grant allocations, and more.
Key Takeaways

Gain Comprehensive Knowledge: Search from a growing library of more than 1 million publication data points, including the latest research activities with insights, charts, graphs, and discussions.

Showcase Your Work: Create an online research profile, collaborate with researchers from around the world, and share messages and publications.

Upload Existing Files To See More Information On Them: Upload an existing digital library to see publication information like research patterns, timelines, charts, graphs, and more.

Manage And Add Information: You can manage references, cite and introduce bibliographies, import, export, and share and recommend research papers from the library too.

Price
Wizdom.ai is one of the best free AI tools for research you can use to reduce the time required to reach your research findings.
4. Scite – Your Scientific Research Tool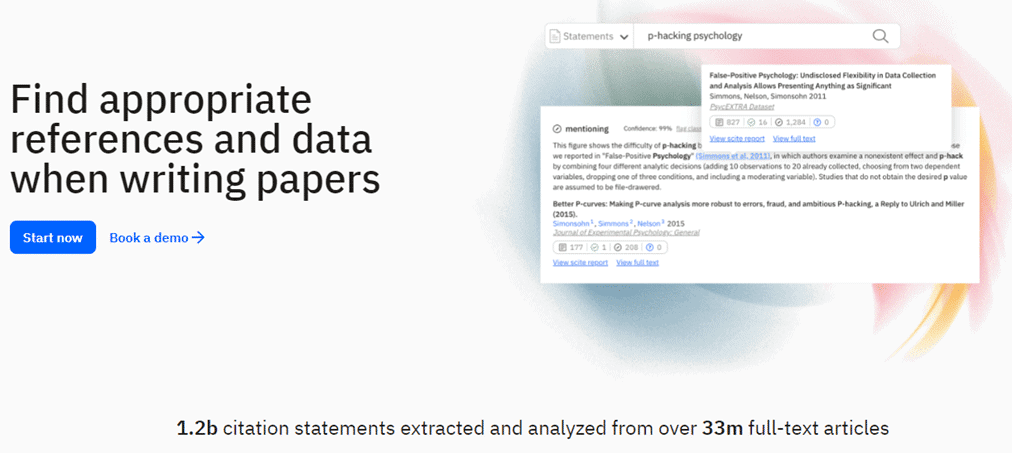 SCIntilla Text Editor, or SciTE in short, is an Artificial Intelligence-powered platform for uncovering and evaluating scientific materials. It is called "GPT-3 for science" and is powered by natural language. SciTe is quite similar to Semantic Scholar and Google Scholar.
Top Features
Learn What Publications Are Saying About Each Other With Use Smart Citations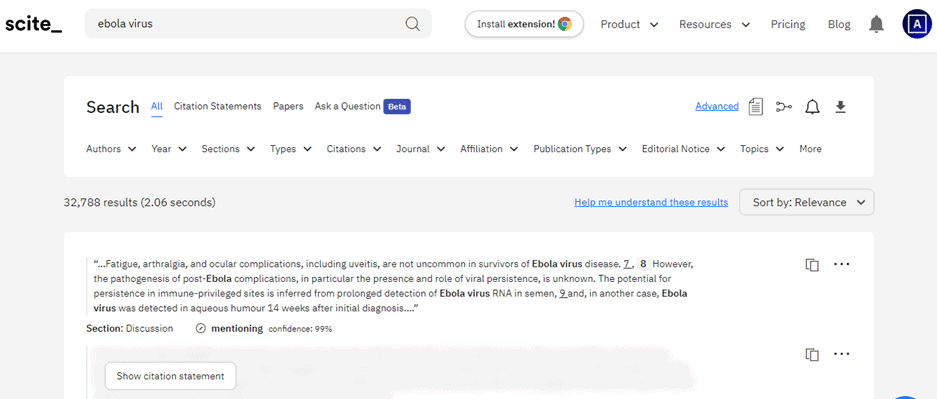 With Artificial Intelligence Deep Learning, Smart Citations lets you discover what publications say about each other. It shows you the citations' context and answers whether the citation is supported or whether there is contrasting evidence against it.

Discover Publications Of Institutions And Supported Papers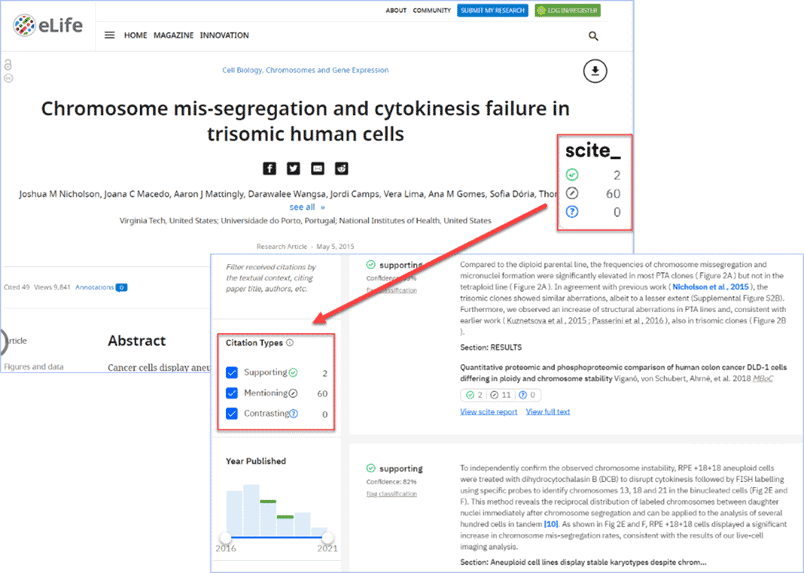 Explore journals and dashboards of institutions to discover their publications, rankings, and more.
You can also search for supported publications and citation statements to find answers for your research on this tool.
Discover Essential Information On Your Manuscript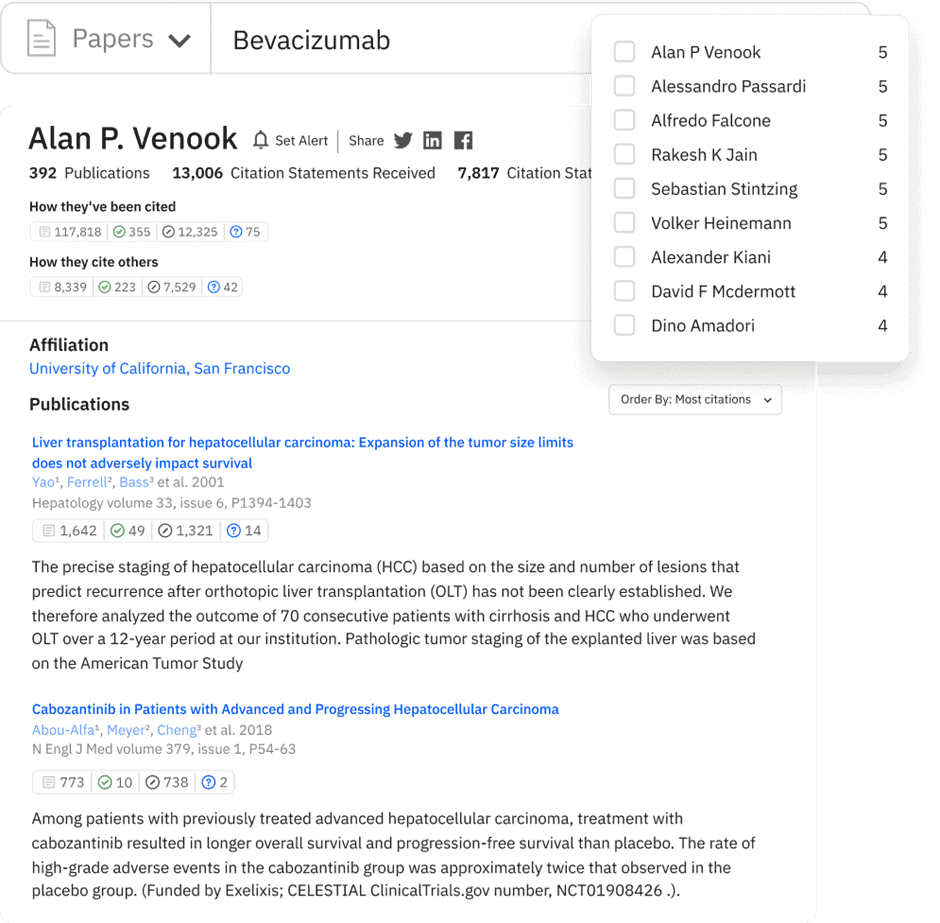 Upload your manuscript on this tool to discover references, missing citations, and more. You can also discover how articles cross-cite each other with interactive visualizations.
Key Takeaways
Find Out What Experts Say About A Topic In New Publications
Experts share their views and comments on existing and new scientific papers. You can access that information and determine a paper's importance based on this parameter.
Discover If A New Publication Is Supported When Using SciTe's Dedicated Browser Extension
SciTe tells you if a new paper is supported. This is useful since you don't have to waste time working with papers that aren't supported.
Discover How Others Are Reacting To Your Work
Find out how others react to your work. On this tool, you can view others' reviews of your work. You can improve your work with these reviews.
Upload your research papers to discover how your peers cite your references
Want to see how your peers cite the references on your paper? Just upload your file and see the results.
Avoid Academic And Technical Writing Plagiarism And Retracted References
When you have research papers and publications from around the world, it becomes much easier to avoid them. Retracted references are withdrawn, and redundant references are no longer required.

Price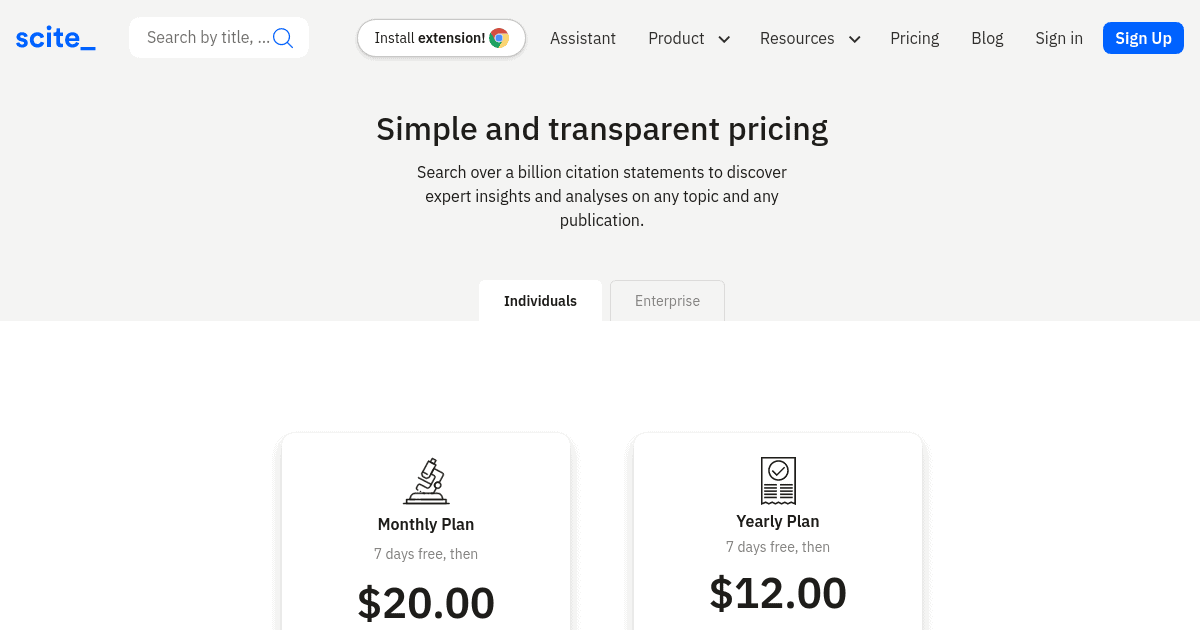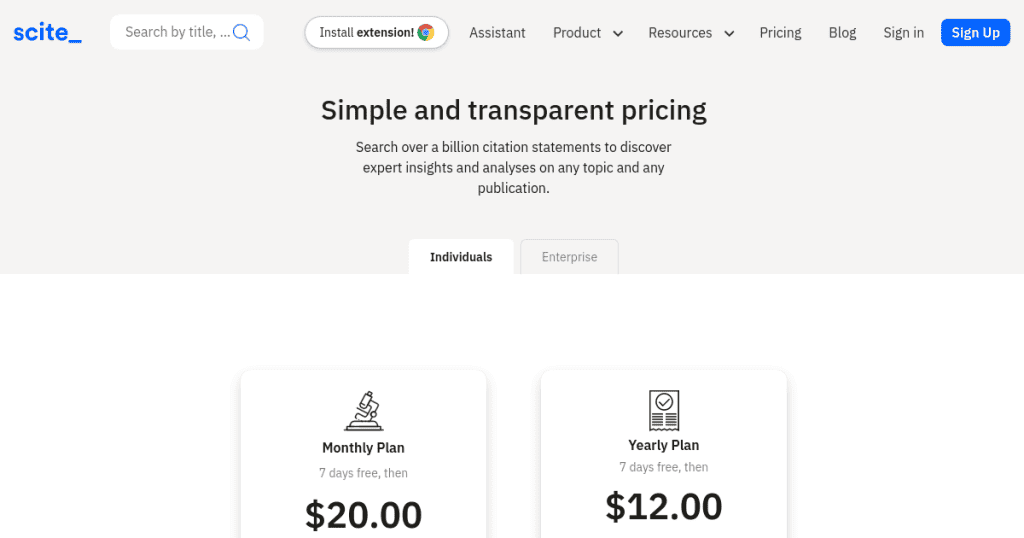 5. Elicit – Your Very Own AI Research Assistant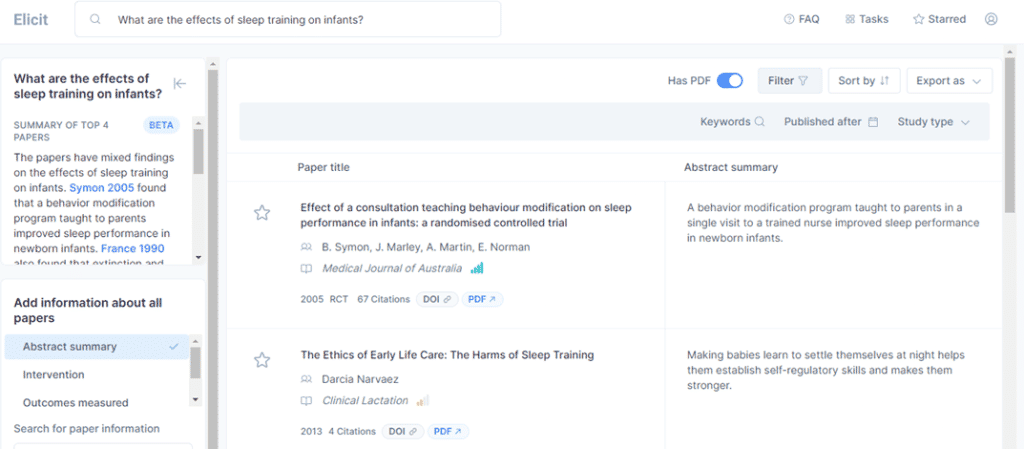 Elicit is your very own knowledge repository that can answer all your research-related questions.

There are two ways of using the Search feature. You can:
Search for specific questions
Search for trending topics
When you search for specific questions, you'll get results related to your query. When you search for trending topics, you can see which searches are trending or are more popular.

Your search results lead to hundreds of downloadable results, documents, and PDF files for easy access.

Top Features
Get A Range Of Results To Choose From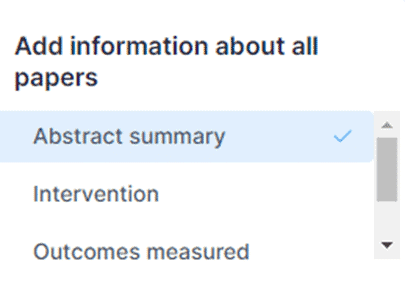 Search for a term on this AI research assistant, and you get a range of parameters, including year, citations, paper title, intervention, abstract summary, outcomes, number of participants, etc. Use these parameters to find the information you want on priority.

Filter Results As You Want

Filter papers by keywords, publishing date, and study type. Download your search results as a BibTeX Bibliographical Database file (.bib) or CSV text file.

Automate Research Workflow With Gpt-3 AI-Based Literature Review
This AI research assistant uses the latest technologies like GPT-3 to automate your workflow. As of now, the primary workflow here is Literature Review.
It lets you find the most relevant paper, combine keyword matching with semantic similarity, discover summaries of relevant abstracts, customize results to discover papers and filter results based on the type of study.

Key Takeaways
Get Your Information From More Than 175 Million Scientific Papers
On Elicit, you can search for all these papers and produce your own comprehensive research papers.
Upload Your Scientific Research Paper And Search For Answers From Them
One of the top benefits of this tool is that it lets you upload your paper to search for answers. This means you can check whether your paper discusses a topic, what it should include or remove, and more.
Use The 'tasks' Tab To Explore And Brainstorm Research Questions
Need to brainstorm research questions? Click on the 'Tasks' tab, and choose the appropriate sub-tasks. There are many sub-tasks, but Elicit recommends the first two: 'Explore research questions' and 'Brainstorm research questions.' On the former, ask a question, and you'll get answers from relevant papers. On the latter, you can brainstorm more details of your question.
Pricing
Elicit is one of the best free AI tools for researchers. However, search results may lead to third-party gateway websites, where you must pay to view documents.
Which Of These AI Tools Is/Are For You?
You've seen the 5 best AI tools for research you can start using today.
The type of tool you'll want to use depends on your use case.
Here's a recap of the AI research tools we've discussed and when they can be useful to you.
It may happen that one tool is not enough for your requirement. In that case, you can certainly use multiple tools to enjoy their myriad benefits. For instance, you can use Bit.ai to collaborate with your peers while using Elicit and Wizdom.ai for your comprehensive scientific research.
At the end of the day, it's all about what you need, regardless of the AI research tool you pick!