"Break free from writer's block. Once and for all" is Writesonic's marketing icebreaker, other than "best AI writer," which practically every AI writing assistant company out there calls itself.
But just how true is it that Writesonic can help you break free from writer's block?
That question is precisely why I've written this Writesonic review based on my experience with the AI writer. Rest assured, this article will pull you completely into the world that exists within Writesonic's AI writer and give you factual information about its performance.
Here's what you should expect from this comprehensive Writesonic review:
What AI model powers Writesonic and its capabilities.
How to use the platform effectively.
The features that are most helpful for writers, content marketers, and business owners.
The pros and cons of the platform.
Reviews from other customers on the web; and
Alternatives to Writesonic.
Now that we have that defined, let's get moving.
You might also be interested in knowing the 10 Best Writesonic Alternatives that you can use.
How Writesonic Works

Basically, there are two steps to using Writesonic:
You describe what you want it to write for you.
You hit Generate.
Beyond these two steps, however, there's a host of things that goes on in the AI's digital mind that lets it understand your description and also return your answer in coherent language and well-written grammar.
Writesonic uses the AI model known as GPT-3, or Generative Pre-trained Transformer 3, an autoregressive language model developed by OpenAI in 2020. As an autoregressive model, it means that its output depends on the values that have been previously entered.
The platform has only recently been upgraded to GPT-3 as it was previously on GPT-2. And as we expect GPT-4's release, it will likely receive the update as well.
Writesonic's chatbot, ChatSonic also uses GPT-3, but it is also trained in Google search. So it may return responses based on the top results on Google.
Who Is Writesonic for?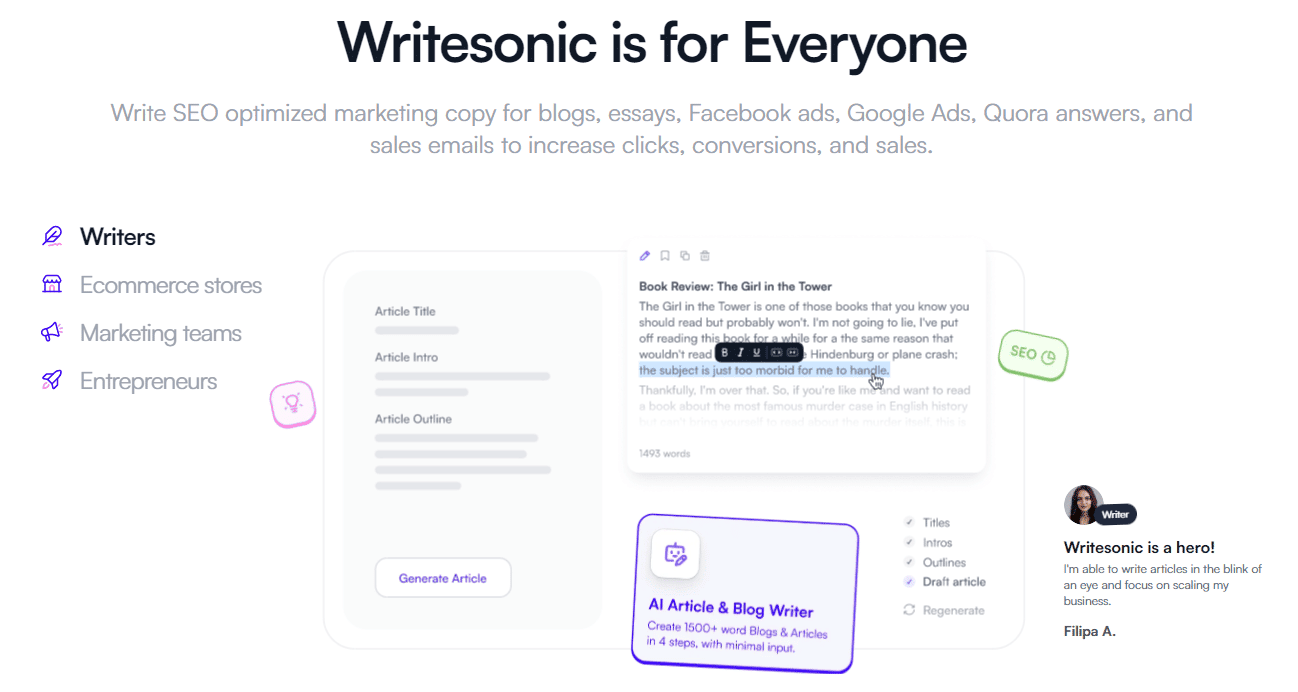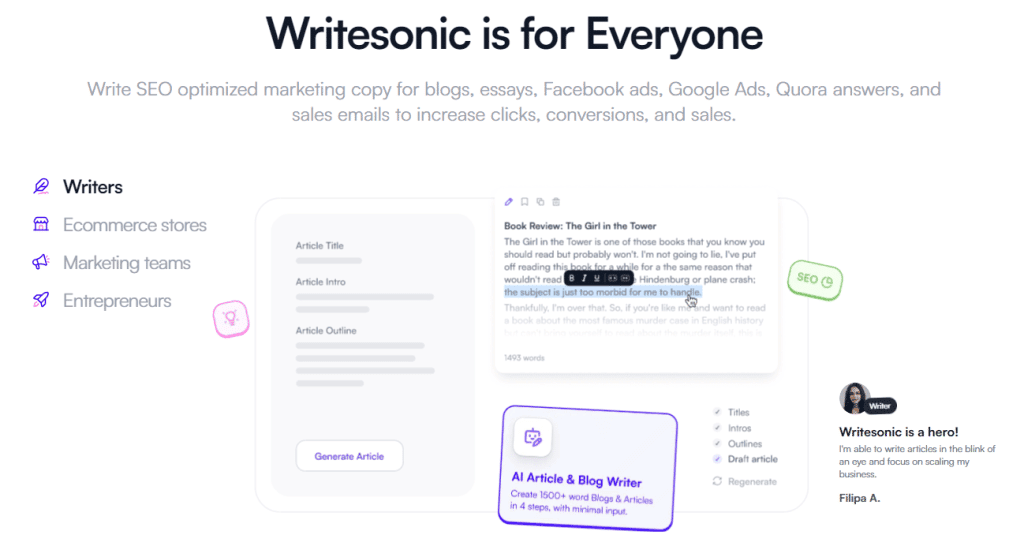 Writesonic is for everyone who needs written content. But it is specifically made for:
Writers — to create both short- and long-form blogs, articles, essays, reports, ebooks, and more as fast as possible.
E-commerce stores — to generate search engine-optimized product titles, descriptions, and benefit-over-features bullet points for use on your product pages.
Marketing teams — to generate ad copy for different platforms, including Facebook, Google, LinkedIn, Instagram, and more.
Entrepreneurs — to generate landing page copy and new ideas for startups.
Writesonic Features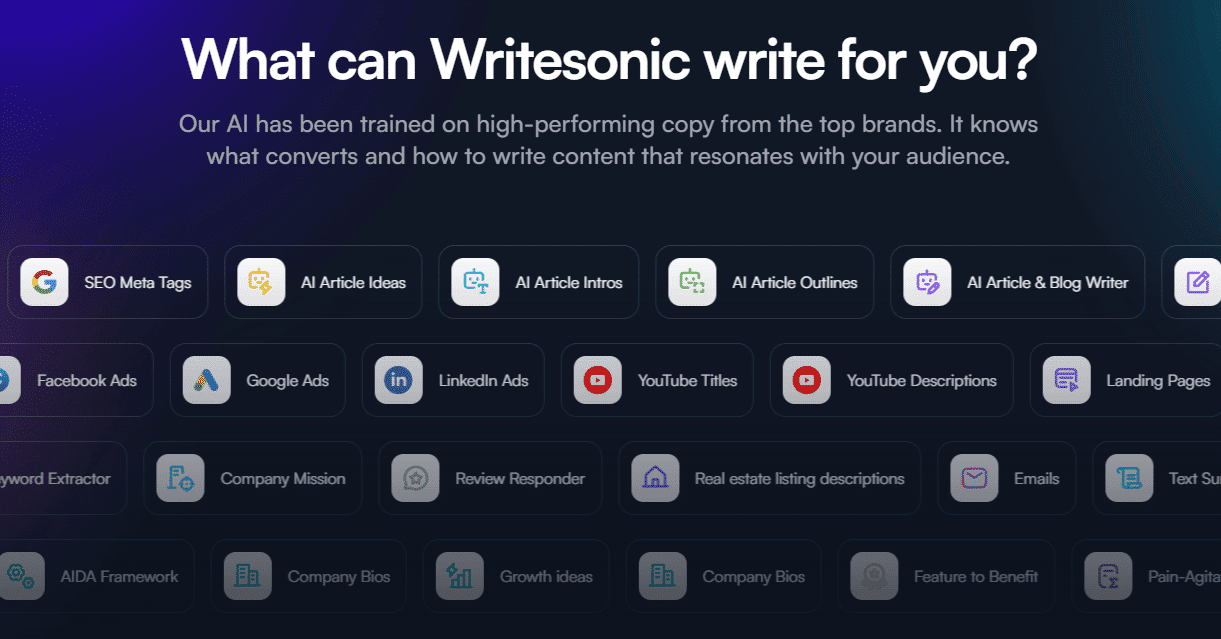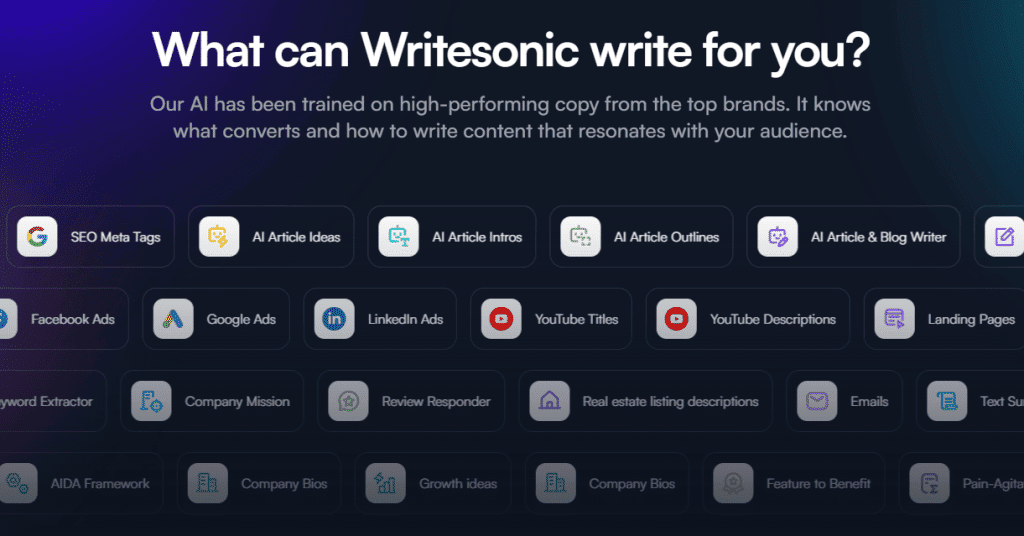 Writesonic's features include:
AI Blog Writer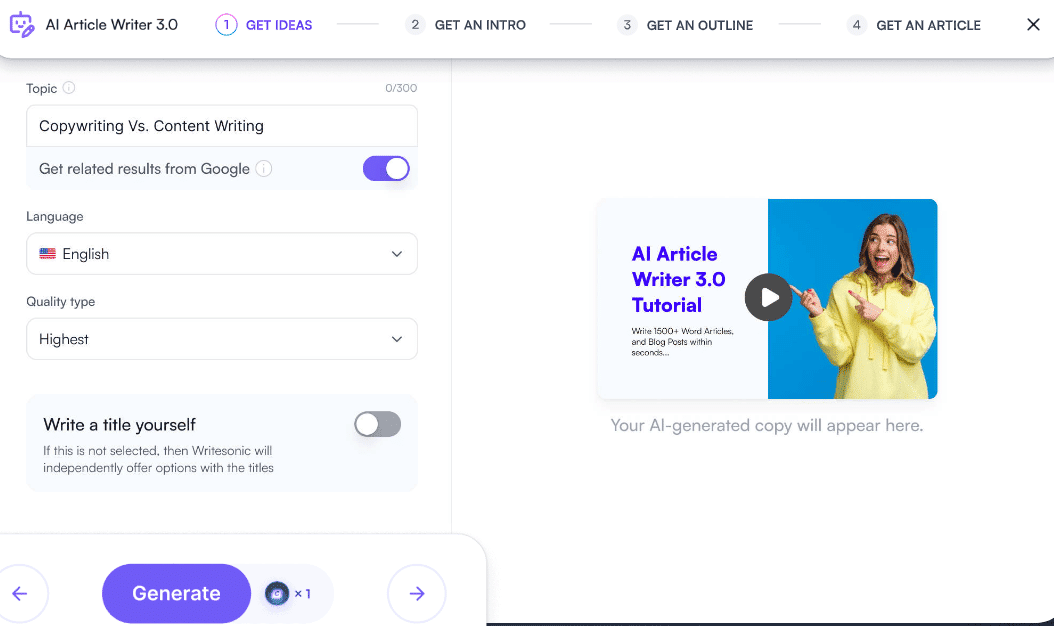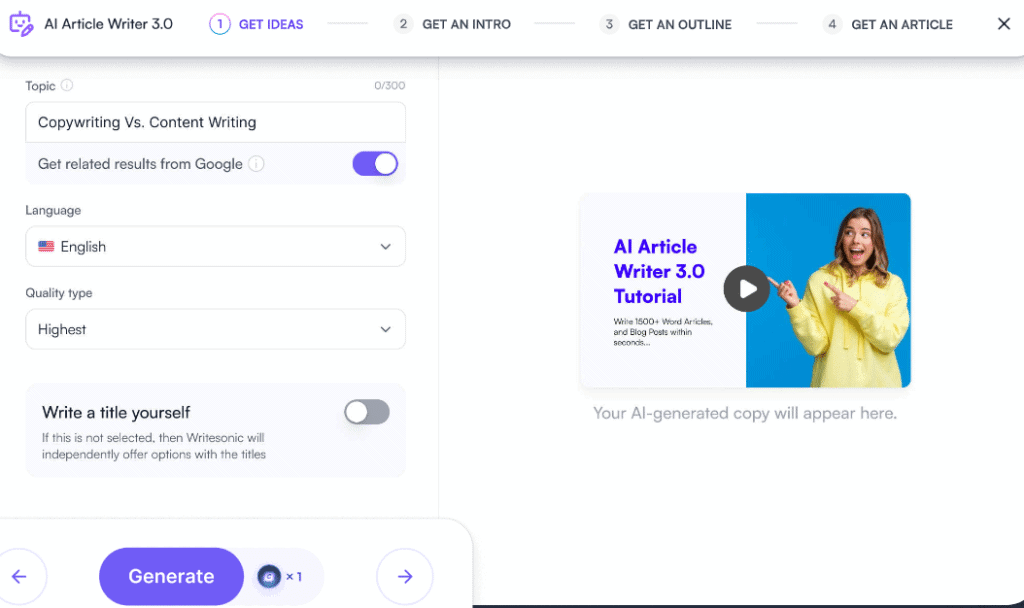 Writesonic's latest version of the AI blog writer, Article Writer 4.0, lets you create full SEO blogs and articles within seconds. Once you supply the topic in a few words, it shows you some keyword suggestions to use for SEO so you can select your preferences.
Then it generates a complete article with an intro, subheadings, and a concluding paragraph. It also has the ability to embed semantically relevant images in your article to make your task even faster.
Paraphrasing Tool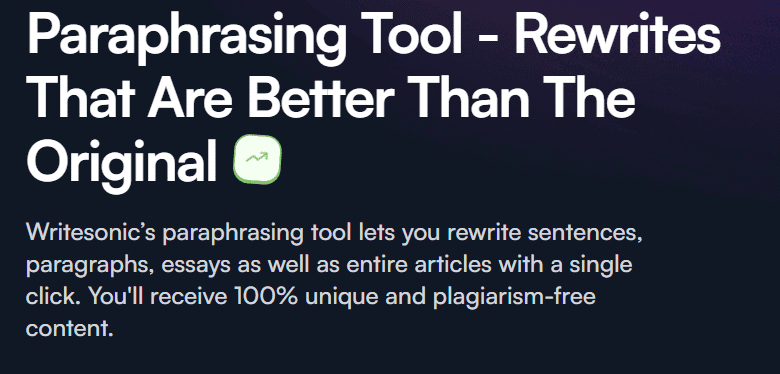 The paraphrasing tool is your go-to if you have a piece of content you need to rewrite. Being rooted in GPT-3, it is capable of actually rewriting blogs and articles such that ideas are presented differently.
It goes beyond the word and sentence level and can re-express full paragraphs differently.
Product Descriptions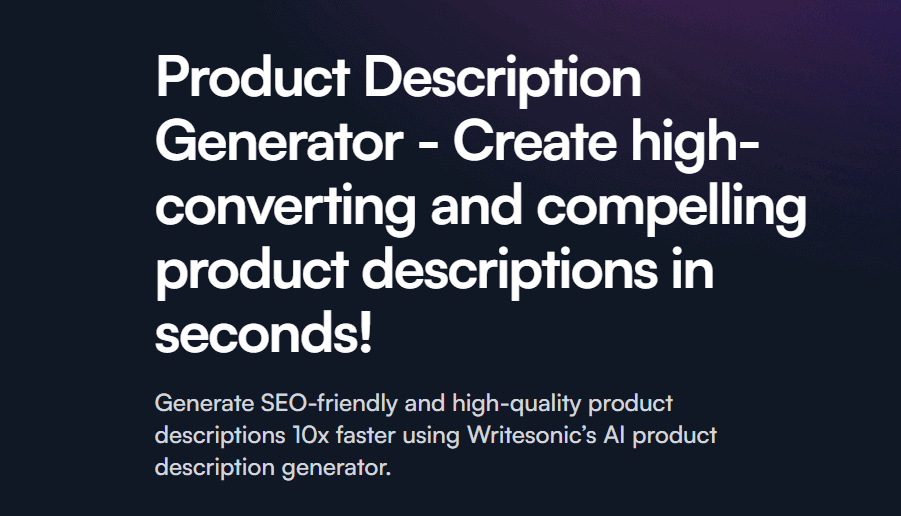 The product description feature is targeted at producers and e-commerce stores who constantly need to list their products on their websites or on marketplaces on the internet.
It speeds up the process of cooking up excellent product descriptions by only asking for the product name, characteristics, tone of voice, and preferred language. Once you supply that, click on Generate and you'll have it in a few seconds.
Marketing Tools
A range of marketing tools is available for marketing teams and a full range of businesses from Small businesses to large enterprises. They can be quite useful in speeding up the time it takes to run an ad campaign on the most popular platforms. These include:
Facebook ad
Google ads titles and descriptions
LinkedIn and titles and descriptions
SEO meta tags
YouTube video ideas, titles, intros, outlines, and descriptions; and
Tweet Generator
Landing Page Copy


Landing pages are among the oldest conversion-focused strategies in digital marketing. They have been in existence even before the rise of SaaS startups and complex web-based software and are still relevant today.
Whether you are launching a new product, running a promotion, or looking to get customer contact information, you can use Writesonic to create landing page content like a pro.
Integrations


To offer more features, Writesonic can integrate with some other software, including:
Surfer SEO: with surfer SEO, you can perform keyword research on the go while generating your articles. The best part is that this process becomes streamlined as you don't actually need to do any research. It is automatic and you only need to select your preferences from the generated options.
SEMrush: SEMrush is one of the big names in digital marketing, and it brings a whole new level to the SEO game. It can help with demographic keyword research and targeting and its integration with Writesonic can help you generate content that is targeted at a particular location based on keywords.
Zapier: Zapier is in itself an integration tool and it opens a new world of opportunities to whoever has access to it. With Zapier integration, you gain access to over 5,000 other apps on the internet at your fingertips. Learn more about Zapier integration in this video:
WordPress: WordPress is arguably the most popular and widely used content management system around because of the potential it holds. Most blogs and websites today are hosted on WordPress.
In fact, I use WordPress myself. WordPress integration with Writesonic lets you use the 1-click WordPress publish where you can make an article go Live on your website directly from your sonic editor.
Sonic Editor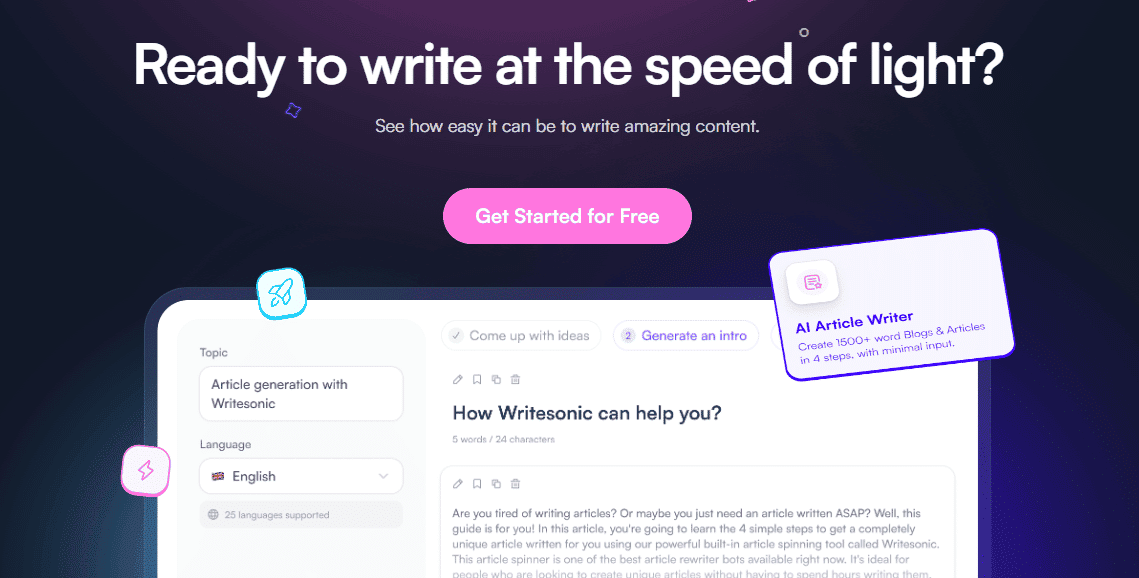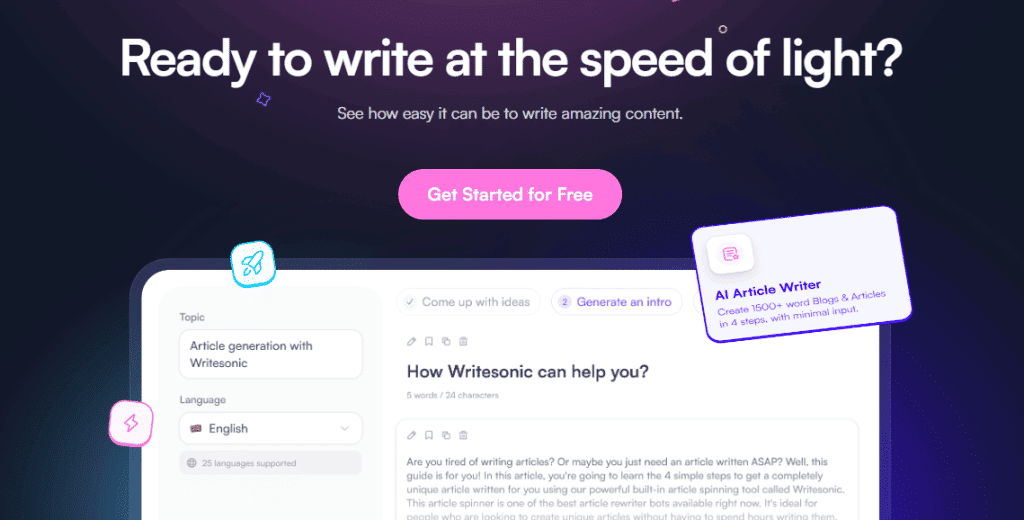 The Sonic editor is Writesonic's own document interface that has basically the same features as Google docs. While there are several features on Google docs that you won't find in Sonic editor, the major difference is that sonic editor is based on GPT-3, the AI model that powers Writesonic. So, you can use the Sonic editor to generate written content.
Chatsonic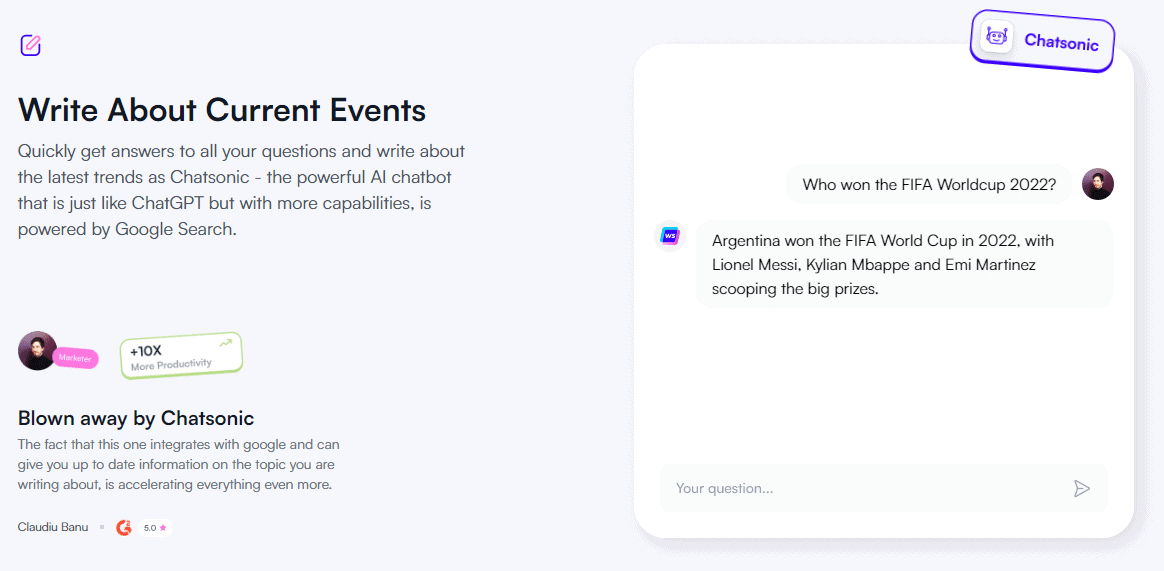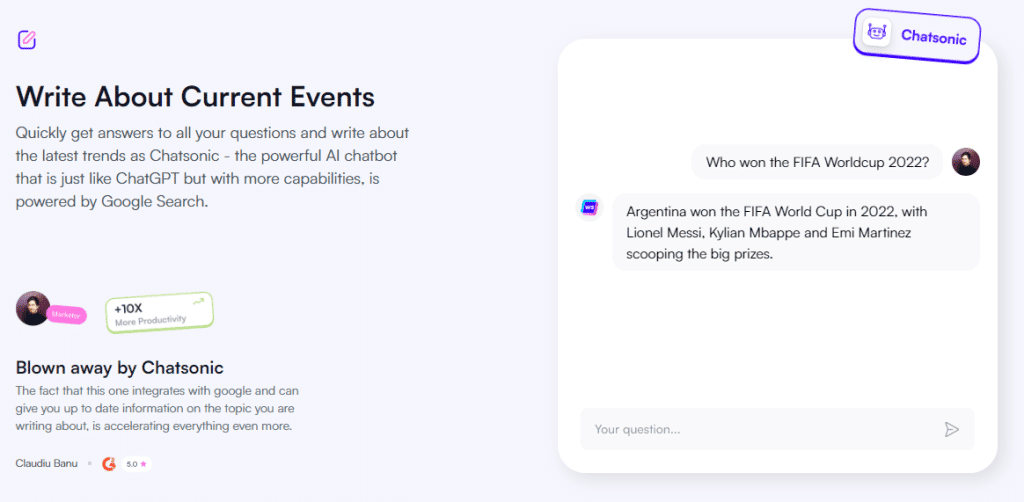 There is no doubt that ChatGPT got AI writing companies on their toes. And like its competitors, Writesonic launched its own ChatGPT-like feature.
ChatSonic is trained and powered by Google search, so it is fairly up-to-date on the information it supplies. The best thing is that it has an Android app so you get it on your phone for fast and easy access.
When you use ChatSonic to write an article, your results are basically sourced from Google. And because of that, I would be wary to use its responses in my content without proper checks for plagiarism as that may cause unexpected problems in the future.
Multi-User Account
Like most other AI writing assistants out there, the multi-user account feature is available on Writesonic. This feature lets you add a number of people to your account. Each account has its login details and can use all the features available in your plan but only the master user has access to sensitive areas such as the payment information and adding and removing users.
This feature is only available to premium subscribers. You can get up to 15 people in the long-form plan, depending on your price per month, while the custom plan straight-up offers unlimited users.
Workflows (Coming Soon)
As seen on the Writesonic website, Workflows are coming very to the platform very soon. I expect it would work just like Jasper's and may even have something similar to Jasper's recipes, but I guess we'll find out when it's finally released.
Photosonic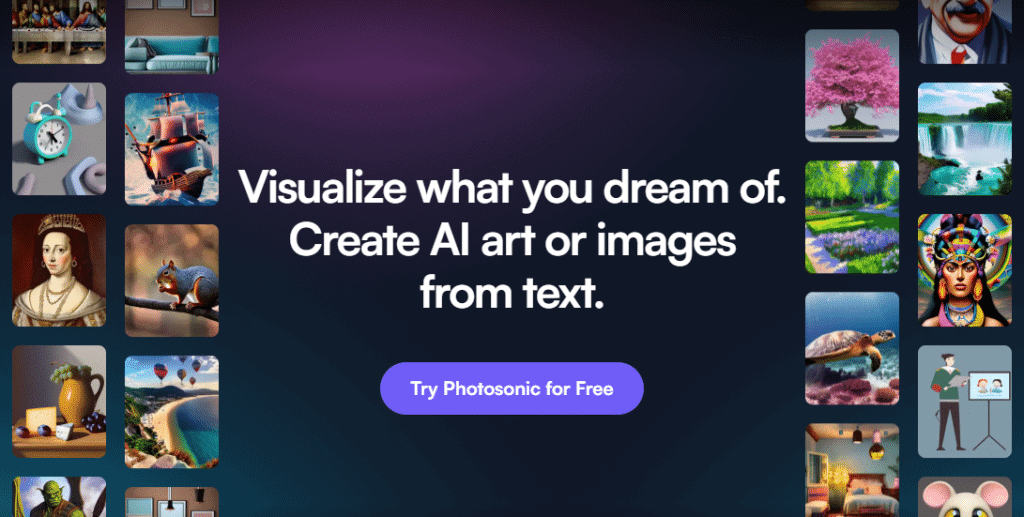 This feature is an AI that lets you generate images from texts. It is fairly easy to use but quickly eats through your credits.
Writesonic Pricing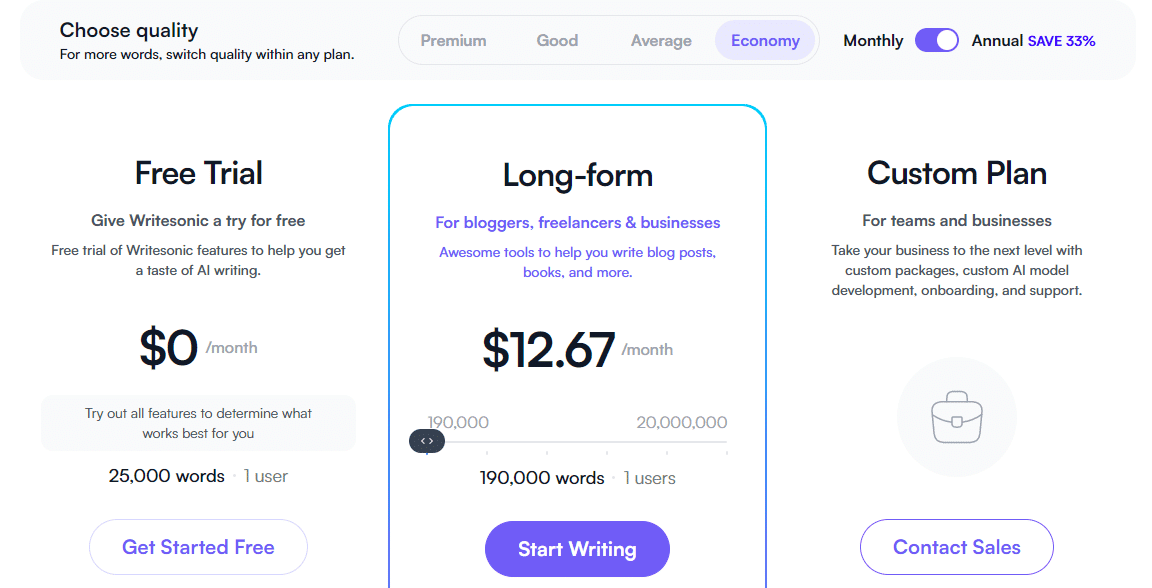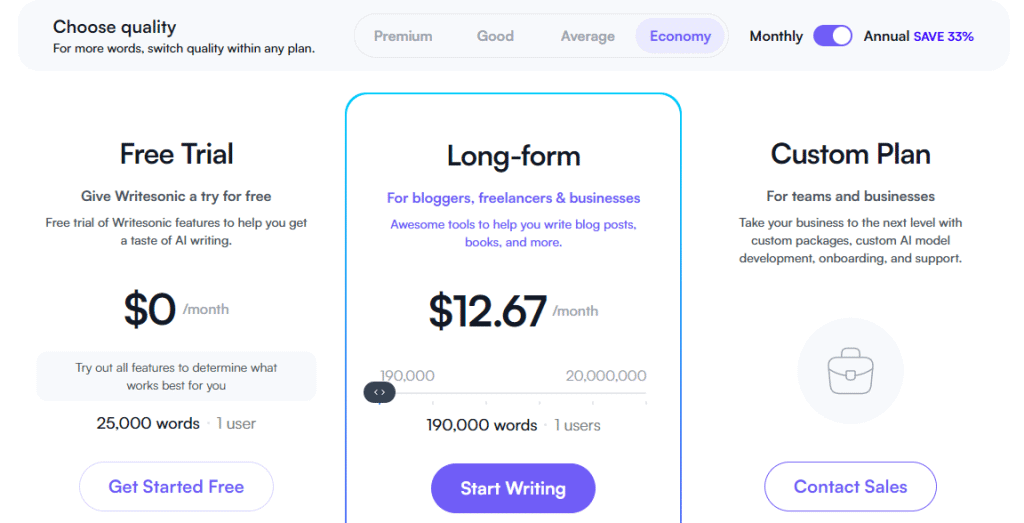 Writesonic adopts a somewhat complex pricing model, some parts of which I deem unnecessary.
Basically, the company has three pricing plans, including Free Trial, Long-form, and Custom Plan. But, looking closely at the pane right above the three tiers are "quality" options between Premium, Good, Average, and Economy.
On the long-form plan, you get between 190,000 to 20 million words on Economy, but you get between 19,000 and 5,750,000 words while on Premium.
From there, you can move the gauge bar below the price tag to suit your budget. So, the long-form plan at $33 a month gets you 750,000 words on the economy but 75,000 words on premium.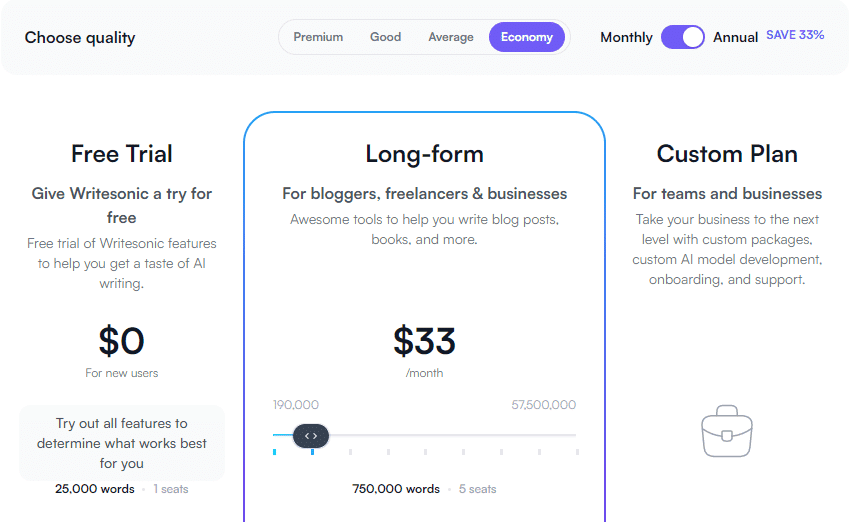 On Economy, Writesonic's pricing tiers are as follows: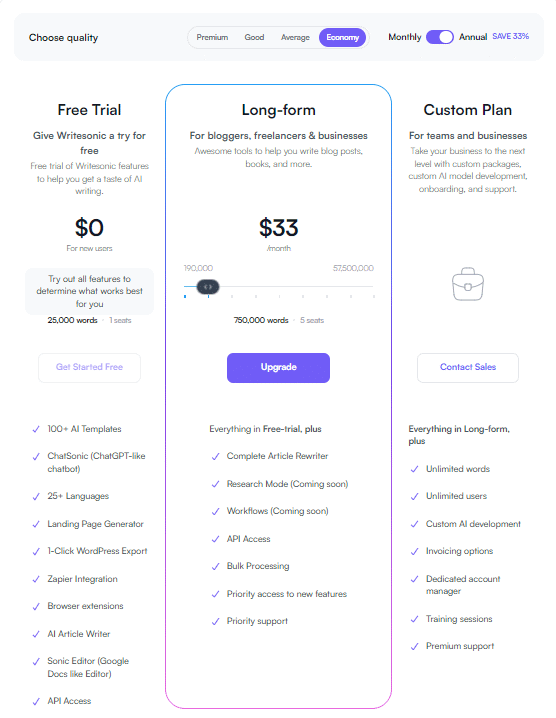 Free Plan: $0 per month with up to 25,000 words for one user. Offers 100+ templates, a ChatGPT-like chatbot, Landing Page Generator, 1-Click WordPress Export, Zapier Integration, Browser extensions, AI Article Writer, and more.
Long-form: starts at approx. $13 per month and 190,000 words to $666 per month and 20 million words for multiple users. It offers everything in Free Trial plus Complete Article Rewriter, Bulk Processing, Surfer Integration, Priority access to new features, Priority support, and some other features in the making.
Custom Plan: the custom plan also comes with custom pricing, and it's mainly for enterprises and large teams. It offers everything in Long-form plus Unlimited words, Unlimited users, Custom AI development, Invoicing options, a Dedicated account manager, Training sessions, and Premium support.
Note: the quality level determines the quality of content you get. Quality = quality; Economy = low quality. But it doesn't matter which one you pick upon registration. You can always toggle as needed within your dashboard on the left pane.
How to Use Writesonic
Follow the steps below to use Writesonic to produce a complete SEO-friendly article.
Log in to your account to access Library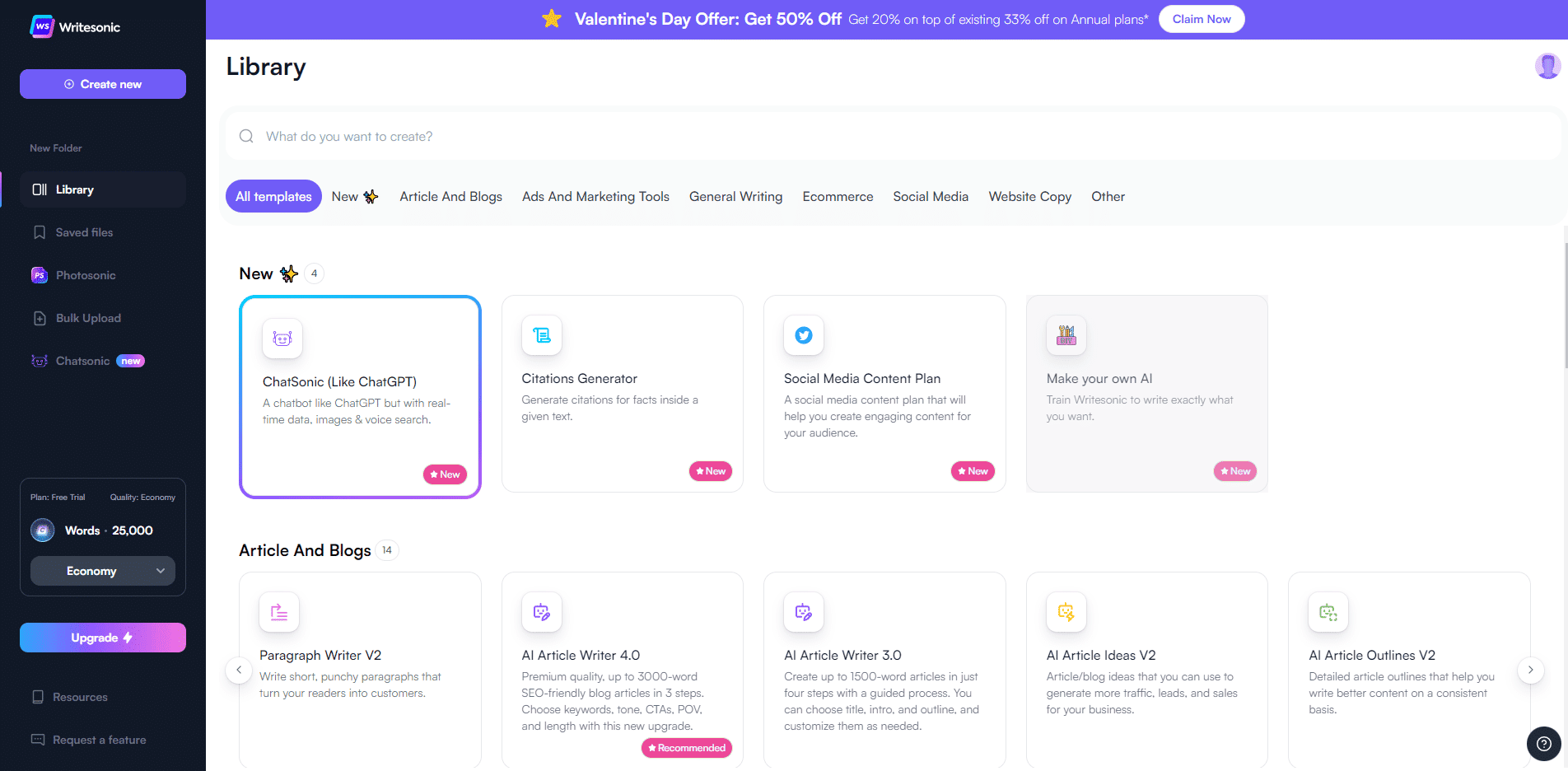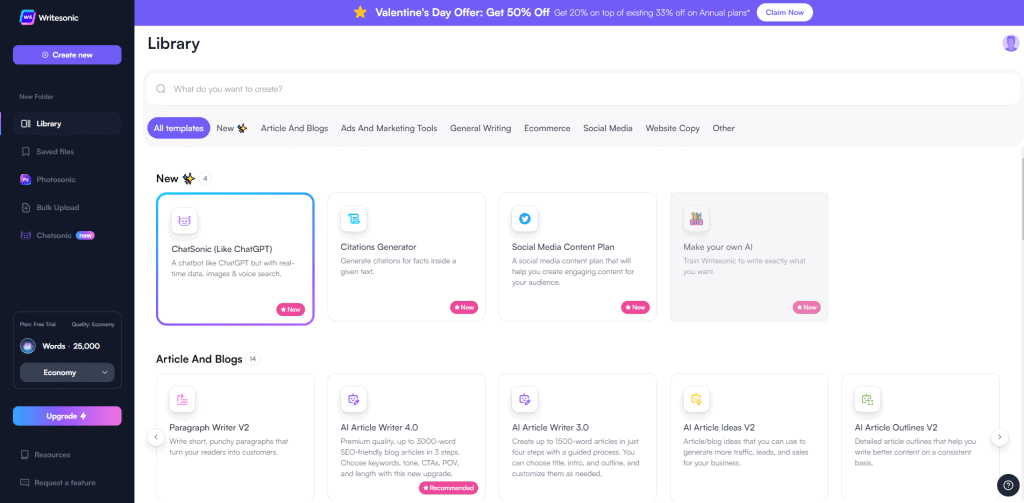 On the left pane, set your quality to Premium
In the Library list, under articles and blogs, select AI Article Writer 4.0


On the AI article writer 4.0 interface, your steps are shown at the top from 0 to 3. And on the left pane is what I call the control panel.


Input your topic and click on "search keywords"
Note: your topic should be direct and contain your target keyphrase. Also, this step took about 500 credits, but if you have your keywords already, use "Already have keywords? Enter your keywords and skip this step" to save credits.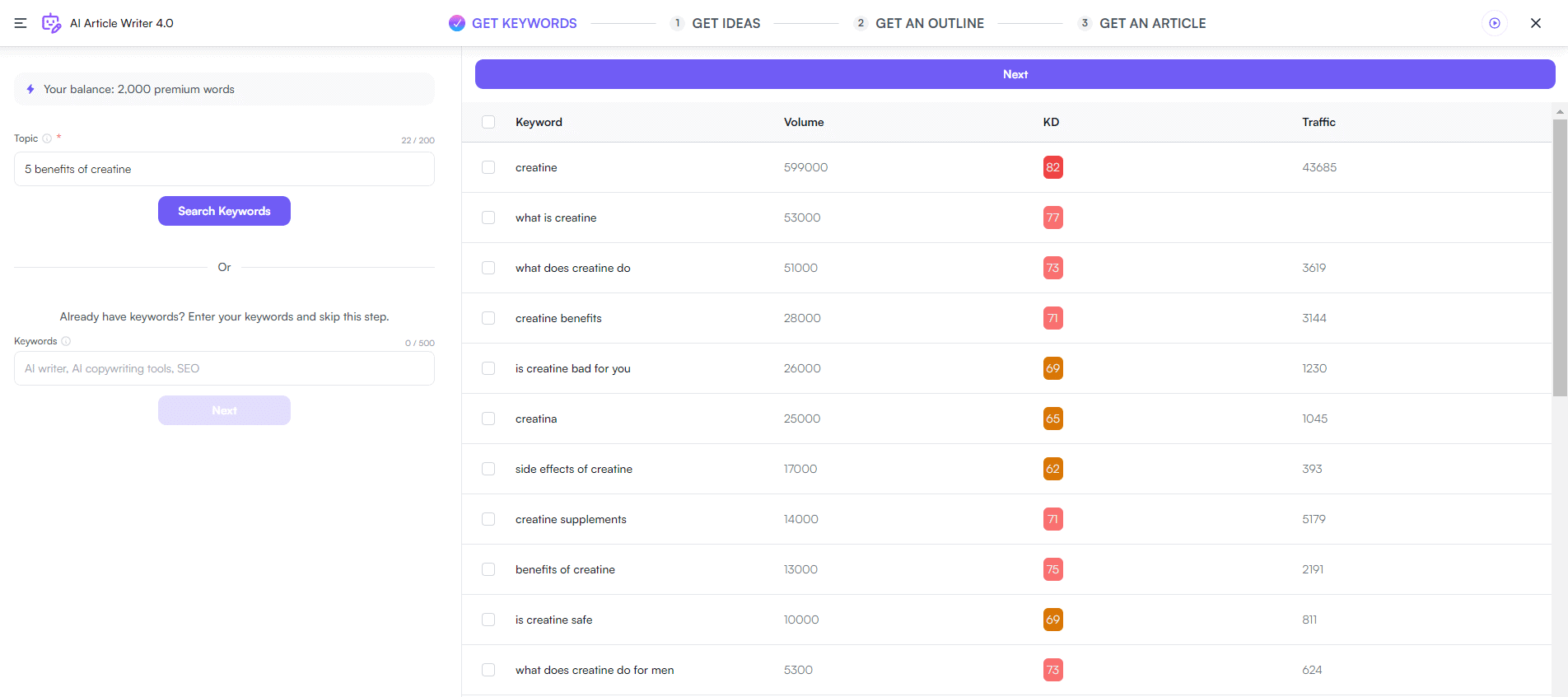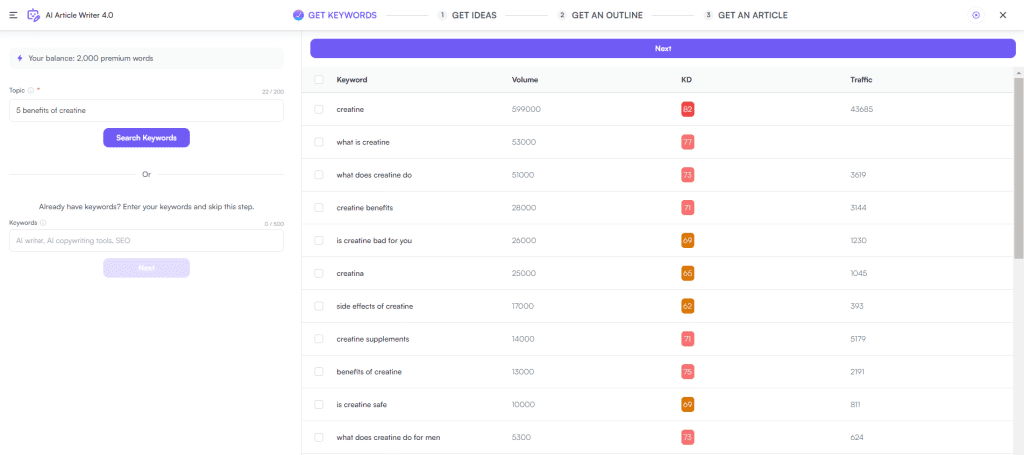 Next, select your preferred keywords and tap "Next" at the top of the screen.
Select your tone of voice, point of view, and fill in a call to action. Then click Generate Ideas. This step took about 40 credits.


Consider the ideas generated and select one to proceed or regenerate ideas if you're not satisfied.
On the next screen, click on Generate Outlines to see suggestions. This step took 180 credits.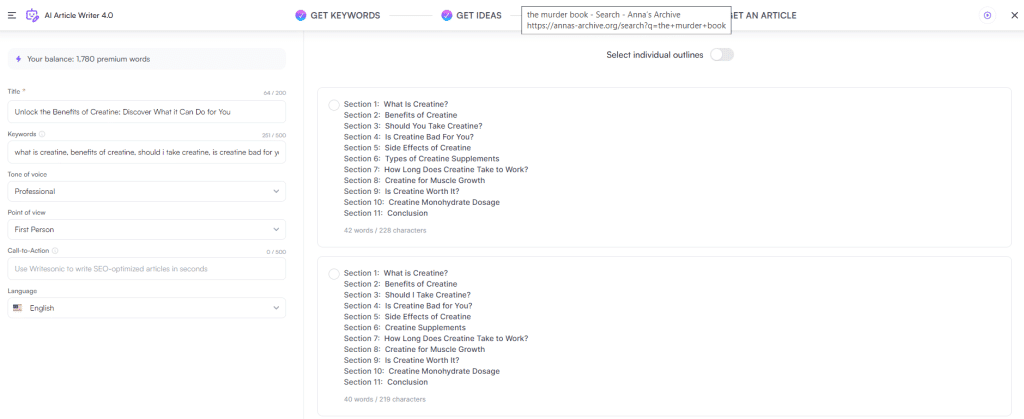 You can toggle "Select individual headlines" to select specific subheadings outside of the groups to form an outline.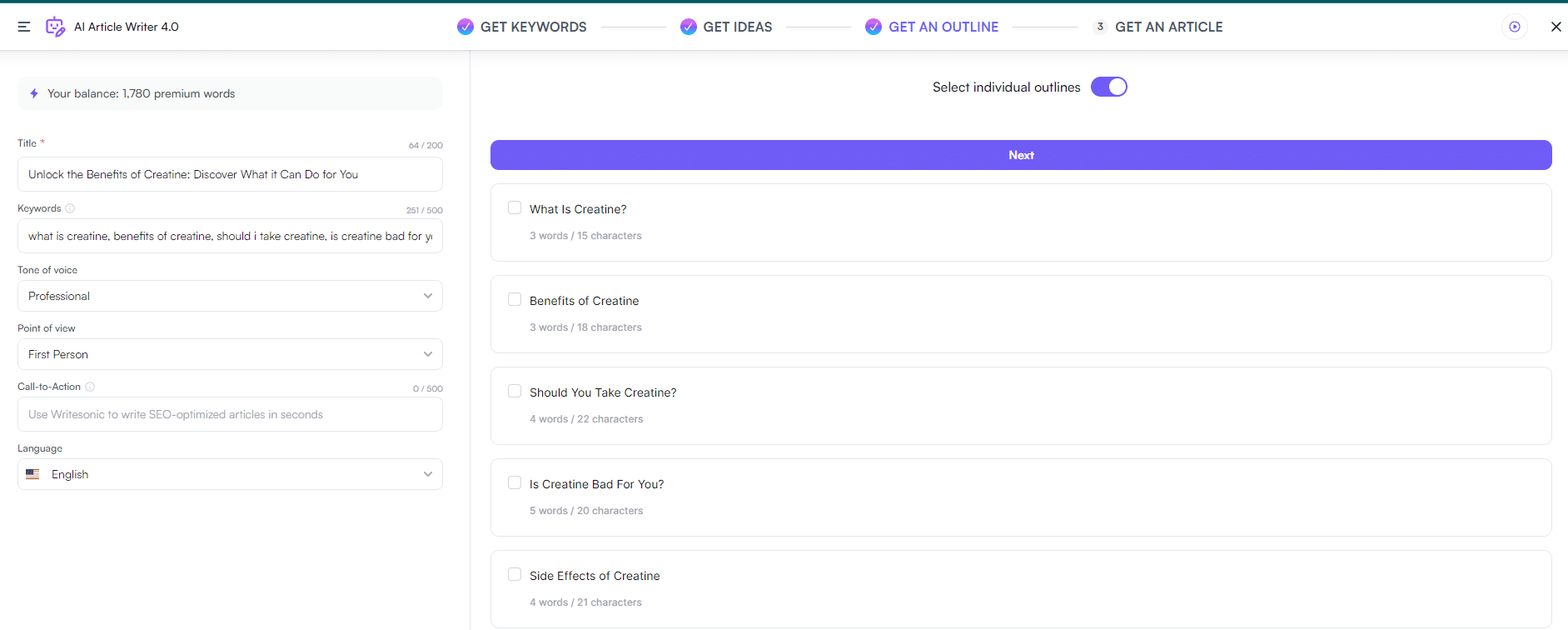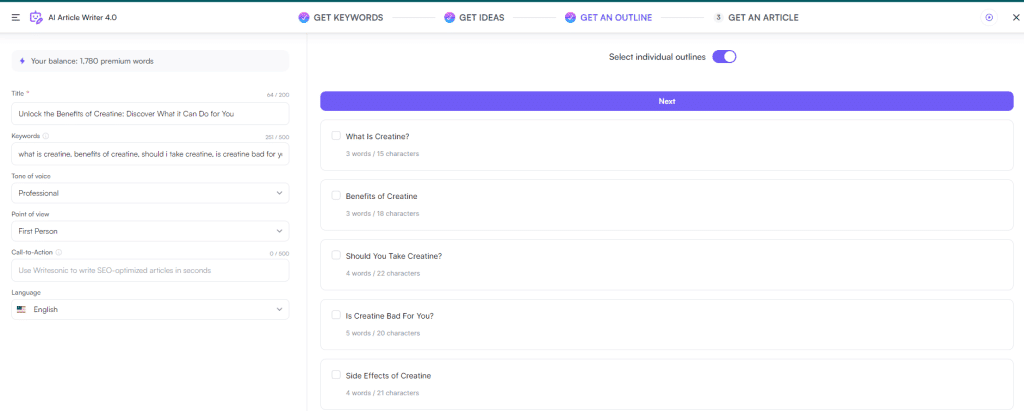 Once you select an outline, the subheadings are fed to your left panel. You can add or remove headlines as well as drag and drop them for rearrangement.
Once you're satisfied, click on Generate Article and your article will be generated in a few seconds. Here's mine: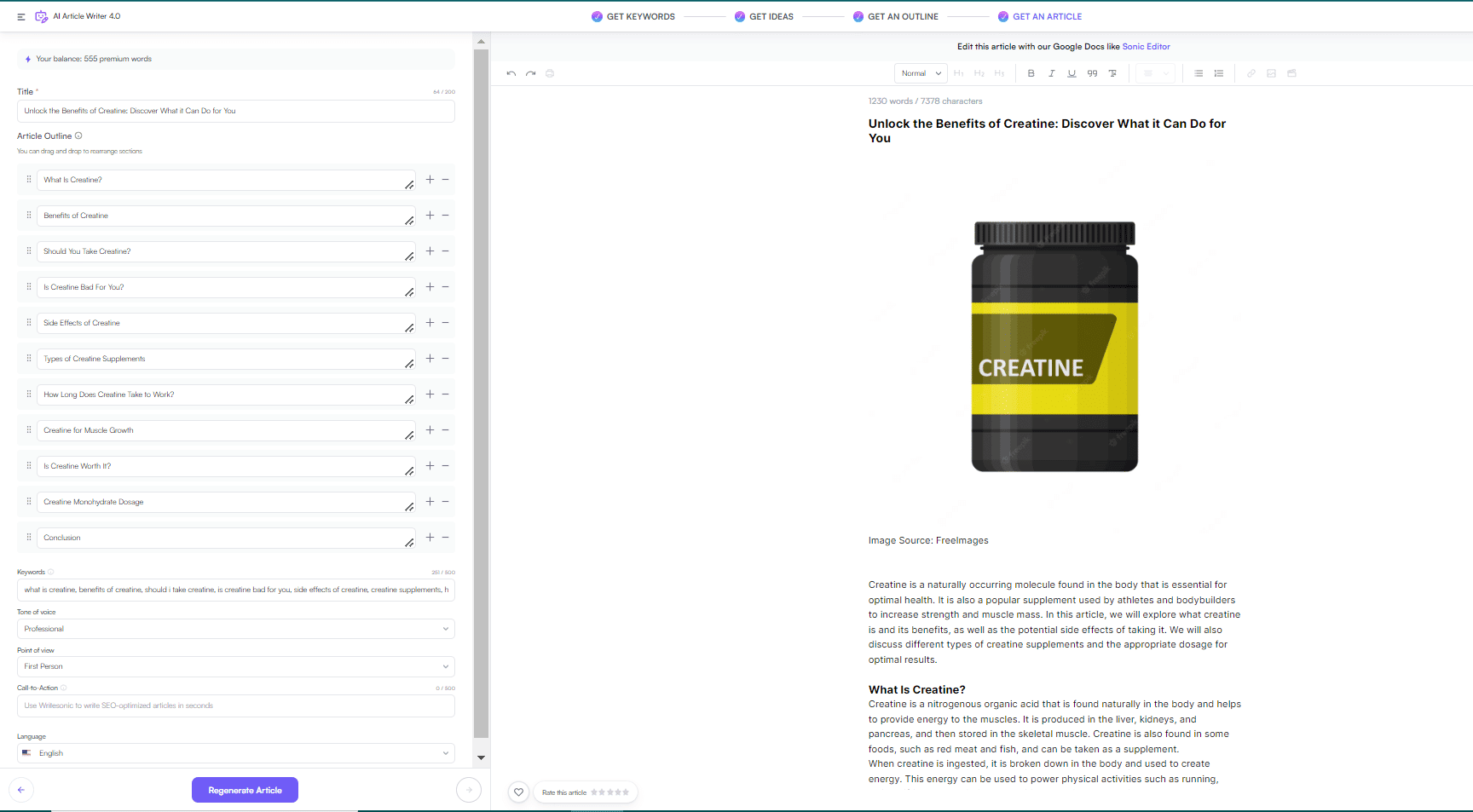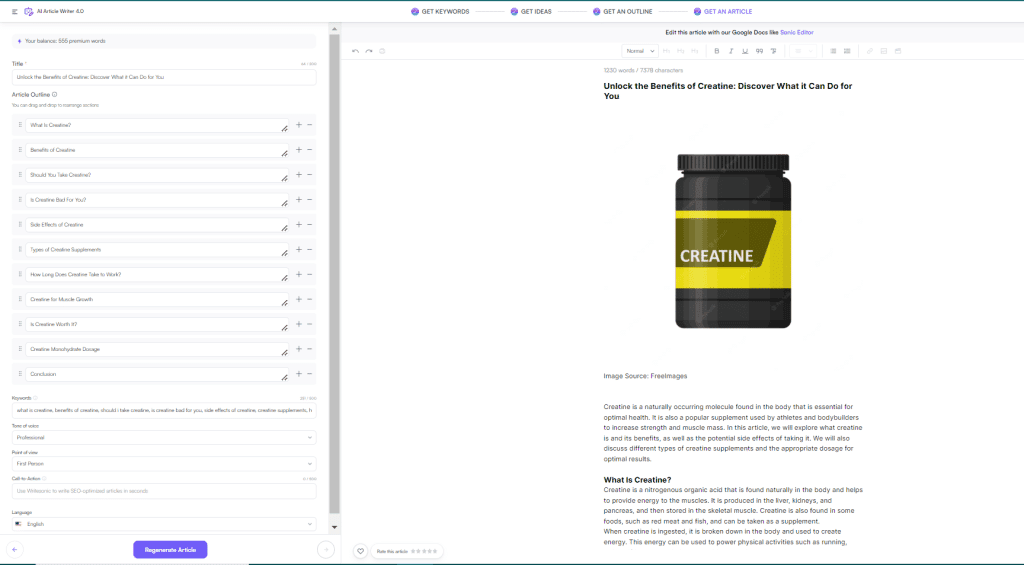 And that is 1,230 words of content without repetition or plagiarized content. And everything generated by Writesonic. The image was automatically embedded and it's from FreeImages.

At this point, I'd spent about 1,995 credits to produce one article. I'd strongly recommend trying as much as possible to not use the regenerate feature as regenerating will only take more of your credits.

One thing I noticed is that it doesn't make use of bulleted lists. That is an update I'm looking forward to in these AI tools. Also, unlike Jasper which doesn't let you go back to previous steps in the article generation process, you can go back as you wish on Writesonic and it's helped me several times to correct mistakes.

Also note that the credits I spent generating this test article is not general to all articles. You may either spend less or more depending on your results and whether or not you use "regenerate".
Writesonic Pros and Cons
Pros
Writes faster than human writers
Can help with writer's block
Can write excellent intros and conclusion
Surfer SEO integration
Hundreds of templates to aid productivity
Multi-user account
No credit card is required for the free account
Zapier integration
1-click WordPress publish
ChatSonic Android app
Cheaper than most alternatives
Minimum learning curve
Cons
Complicated pricing model
Free trial can be disappointing
Most users are not satisfied with the word credits per month.
Writesonic Customer Reviews
Below are customers from around the web sharing their experiences with the platform:
Writesonic Alternatives
If you're not sure whether Writesonic is for you, here are some alternatives worth checking out:
1. Jasper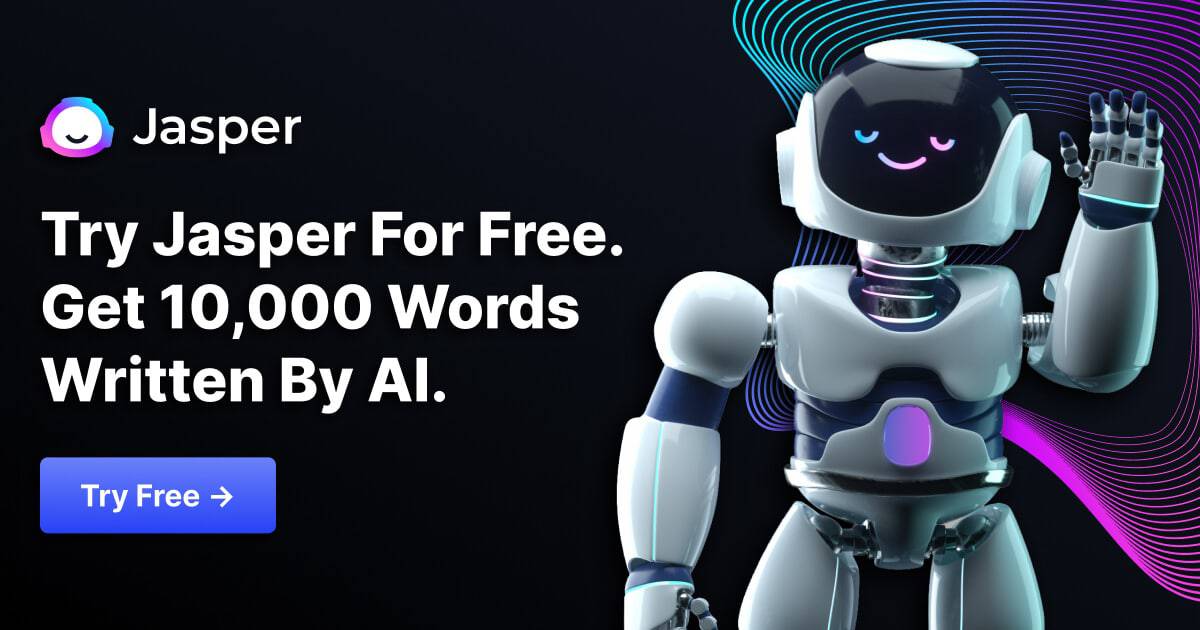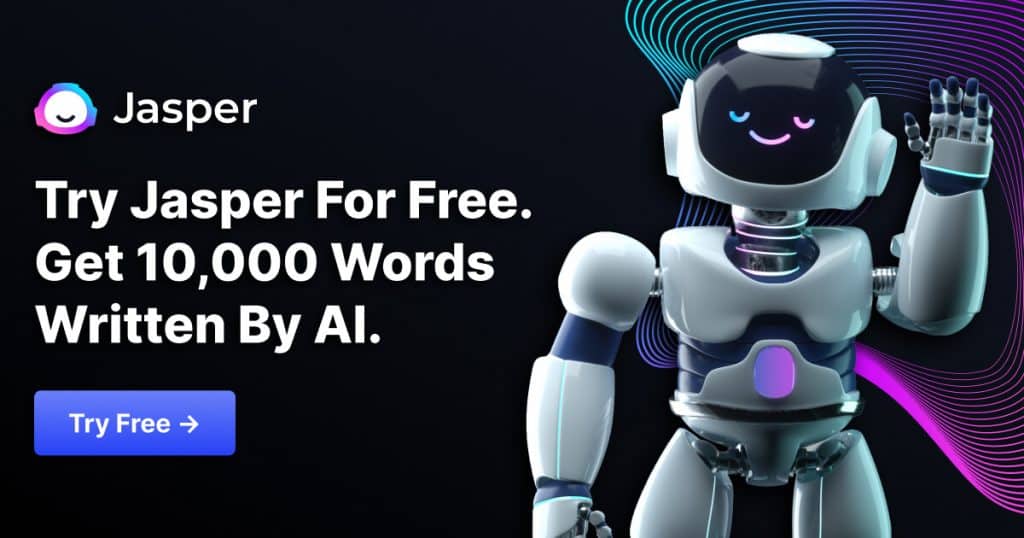 Jasper is Writesonic's biggest alternative as their features are in many ways similar. The major difference between them is in their pricing. With the Jasper Boss Mode starting at $49/month for 50,000 words, it is significantly more expensive than Writesonic. But there's more to it than money. Read my detailed Jasper review to learn all about it.
2. Copy AI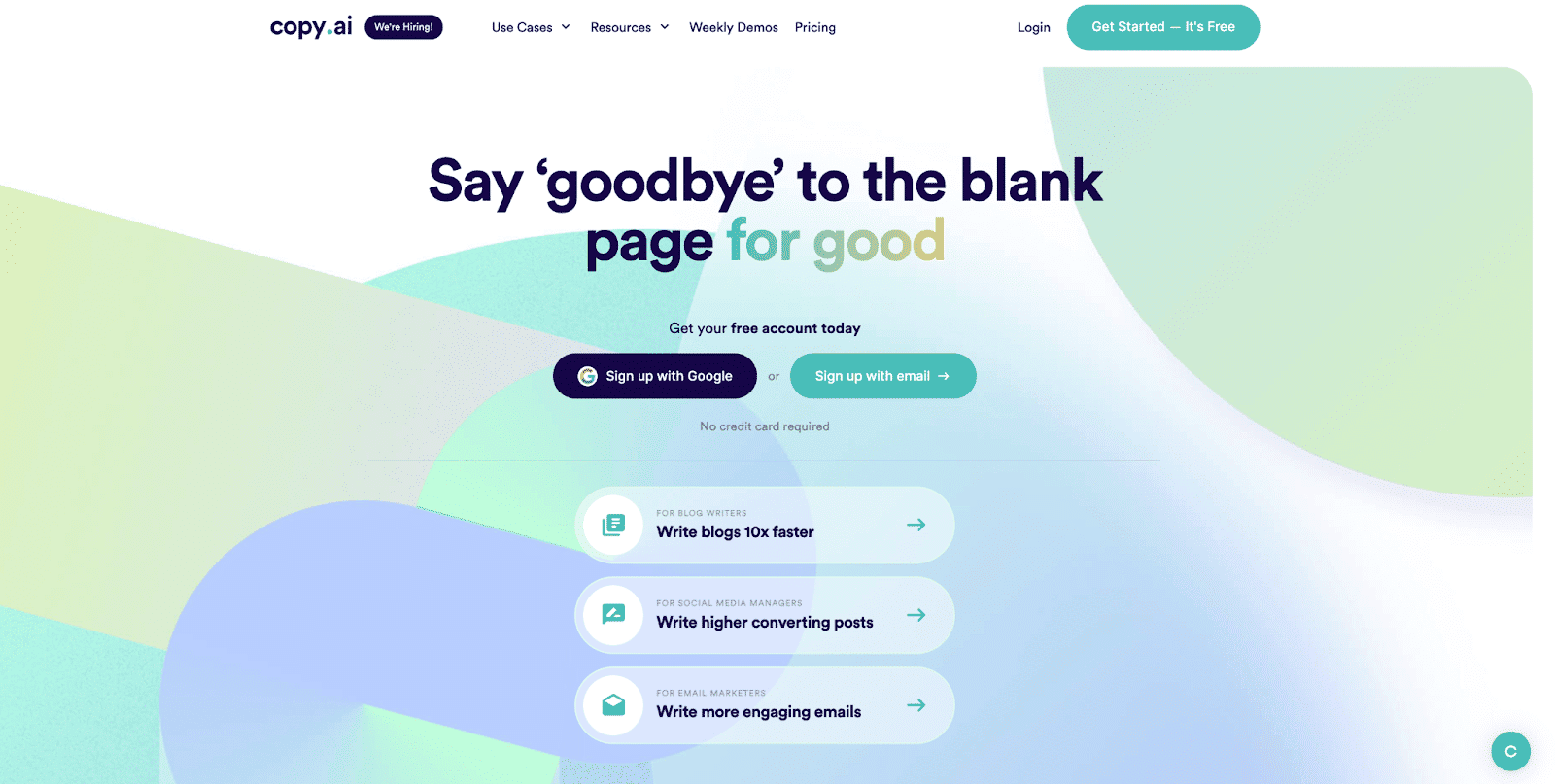 "Say goodbye to the blank page for good" is Copy AI's tagline. This is another way of saying "get rid of writer's block," and that pits Copy AI directly against Writesonic. Even more so is the fact that they do the same things, just a bit differently.
The Free plan gives up to 2,000 words per month while the Pro plan allows for unlimited words at a charge of $36 per month. For the Enterprise plan, you need to contact sales.
3. Anyword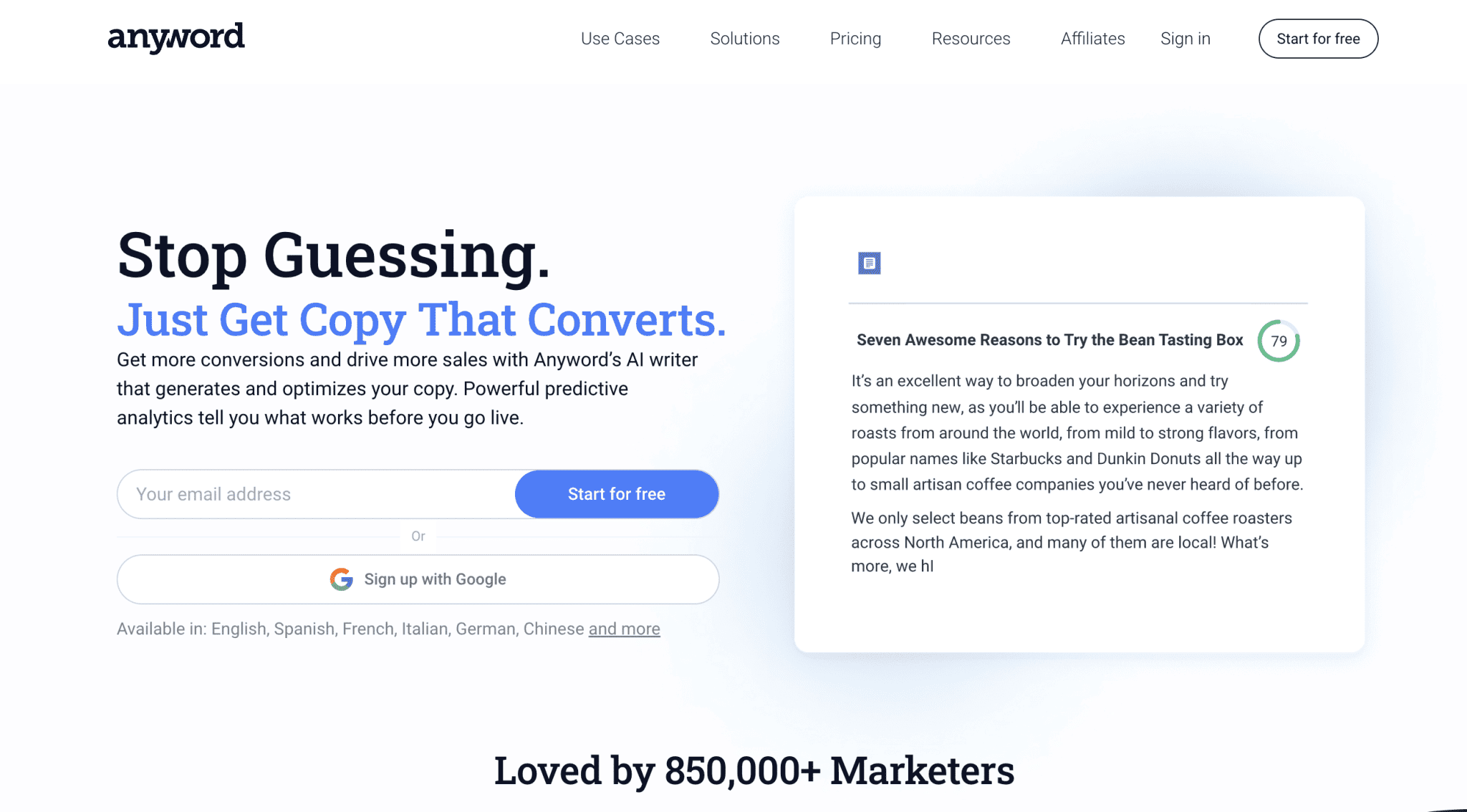 Anyword is one of the AI writers that are geared towards producing copy for ads, landing pages, product pages, and emails. It even comes with a predictive performance score so you have an insight into how well your copy will perform. Even then, you can use it to create blog posts as well.
Judging by the word credits per month, Anyword is more on the expensive side as the Starter plan offers 20,000 credits for $24/month and the Data-Driven plan offers 30,000 words for $83.
Writesonic Review: Bottom Line
Writesonic is overall an excellent tool and I believe it has the potential to help WritersBloggers, Affiliate Marketers and small businesses and writers to streamline their content creation process.
After using it a few times, you will quickly realize that the quality levels you can stick to are Quality and Good. The others are just not worth it as all you'll get is repeated content that will waste your credits. Even then, Writesonic is still cheaper than most AI writers out there.