Have you tried using Writesonic but are just not impressed with the platform? Or maybe it lacks some of the features you desperately need in an AI content creation tool.
Trust me, you're not alone, and that is why I've compiled this list of the 10 best Writesonic alternatives to help you and thousands of others out there to make an excellent choice.
What Is Writesonic?

Writesonic is an all-around content creation tool that marketers and businesses, small and large, can use to scale content creation with minimal investment.
It is based on the GPT AI model built and trained by OpenAI, meaning that it now runs on GPT-4 like ChatGPT. Writesonic can generate text and image content, and soon, it might even start producing videos. The text content you can generate on Writesonic includes:
Long-form Blogs: Writesonic's article writer 4.0 has made it possible for users to generate up to 3k words long articles within a few minutes.
Sales eMails: whether you're selling software or a physical product, Writesonic can help you to write compelling sales emails to win more customers.
Ad Copy: Writesonic's creativity also spreads into writing copy for both search engine and social media ads. These include Google, Facebook, IG, and more.
YouTube Content: leveraging Writesonic's YouTube templates, you can brainstorm YT video ideas and also generate the script on the spot.
Product Descriptions: as an online store owner, you no longer need to spend hours brainstorming creative angles for your product descriptions since Writesonic can take them off your hands.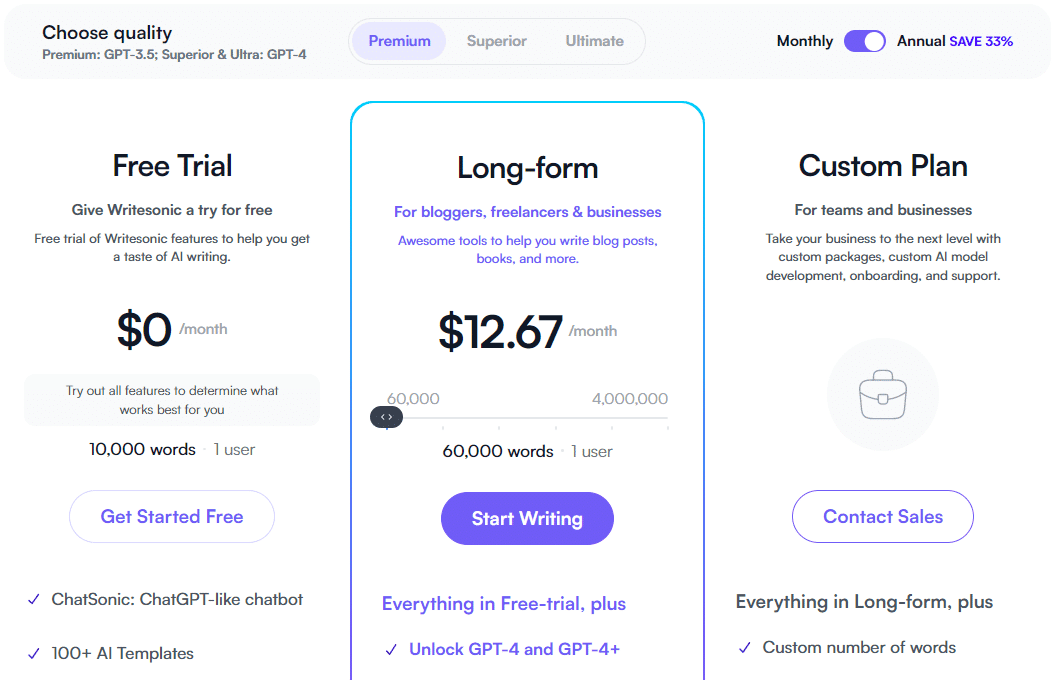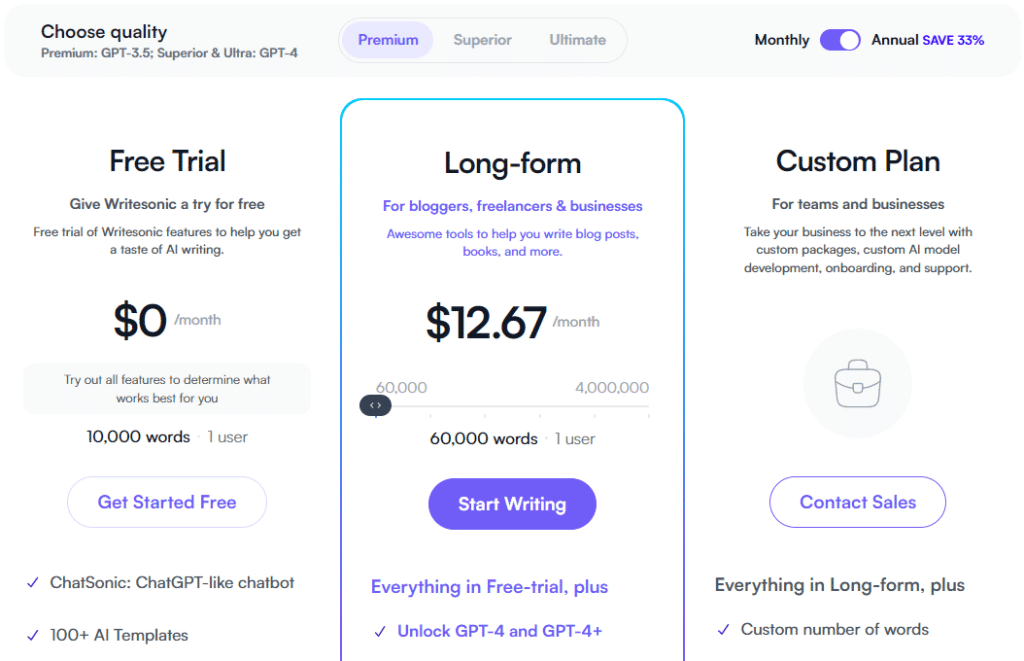 There are lots of reasons why you might be looking for the Writesonic alternatives. Could be that it lacks a particular feature you need or you still want a cheaper option. Whatever the case may be, I've got an assorted mix of alternatives to Writesonic down below.
Whether you'd like to write purely SEO content or purely sales content, you'll definitely find one that meets your needs. Without much ado, let's get into it.
Meanwhile, you can read my comprehensive review of Writesonic if you're hearing about it for the first time or you can claim your free account if you'd like to try it out.
What Are the Best Writesonic Alternatives?
Below are the 10 best Writesonic alternatives at a glance:
Jasper
Scalenut
Rytr
Frase.ai
Copy ai
Copysmith
Hypotenuse.ai
Anyword
Closercopy
GrowthBar
1. Jasper (Overall Best Writesonic Alternative)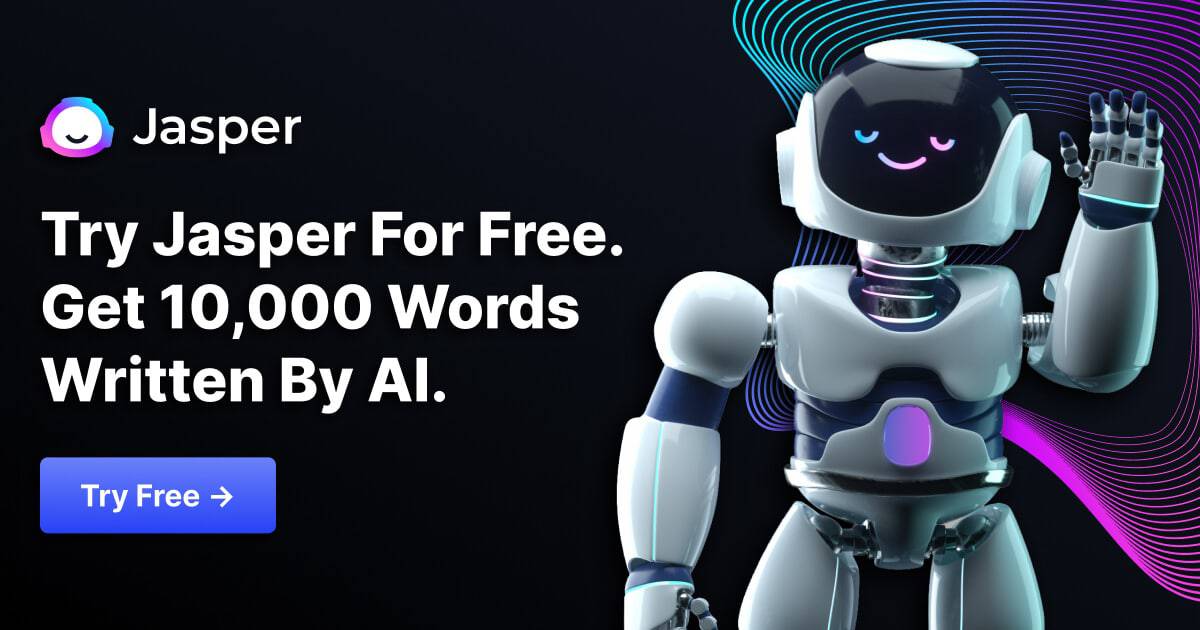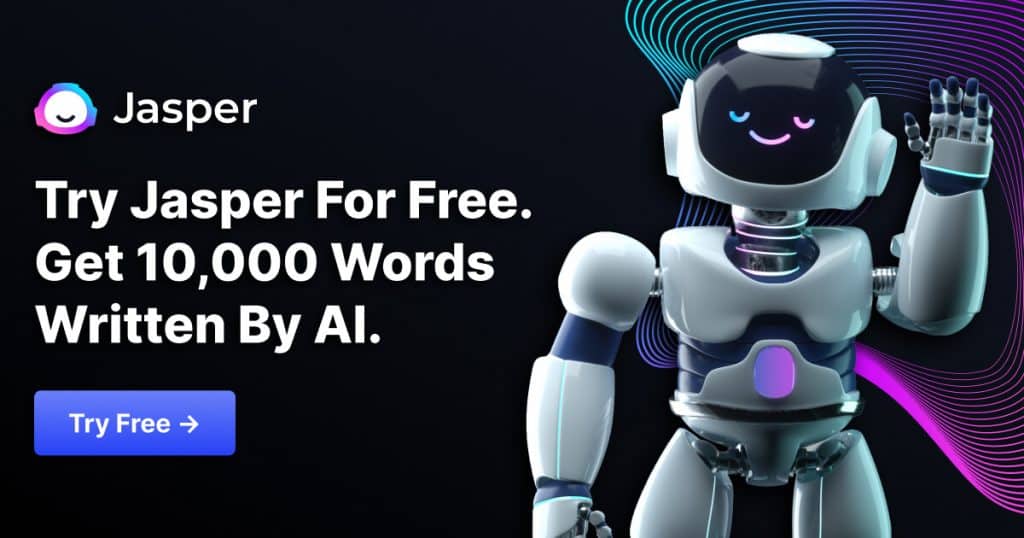 Taking the highest rank on this list of the best Writesonic alternatives is Jasper AI, unarguably one of the best AI text generators I've used in my digital marketing career so far.
There are several similarities between Jasper and Writesonic as they both offer similar features. However, Jasper offers more templates than Writesonic.
Below are some of Jasper AI's features that make it the best alternative to Writesonic.
Generate Content: With Jasper AI, you can easily write product descriptions, email campaigns, and a host of blog posts within a few hours without breaking a sweat.
You can also generate content for different social media platforms, including Facebook, Twitter, and LinkedIn.
60+ Templates: Jasper templates are mini-programs within the platform that helps you to generate content with minimal input. They include the blog writer, AIDA framework, content summarizer, content improver, product feature-to-benefit, and lots more.
Plagiarism Checker: Jasper integrates Copyscape plagiarism checker as an optional add-on to ensure that every content you get from the platform is all 100% unique.
In-built SEO: With Surfer SEO integrated with the platform, you no longer need to bother with on-page SEO for your content. Once you integrate both services, producing SEO articles become a passive activity.
Different Tones of Voice: with Grammarly's integration with Jasper, you can choose what tone of voice you want your text to take, be it formal, friendly, informative, or confident.
Jasper AI now offers 3 tiers thus: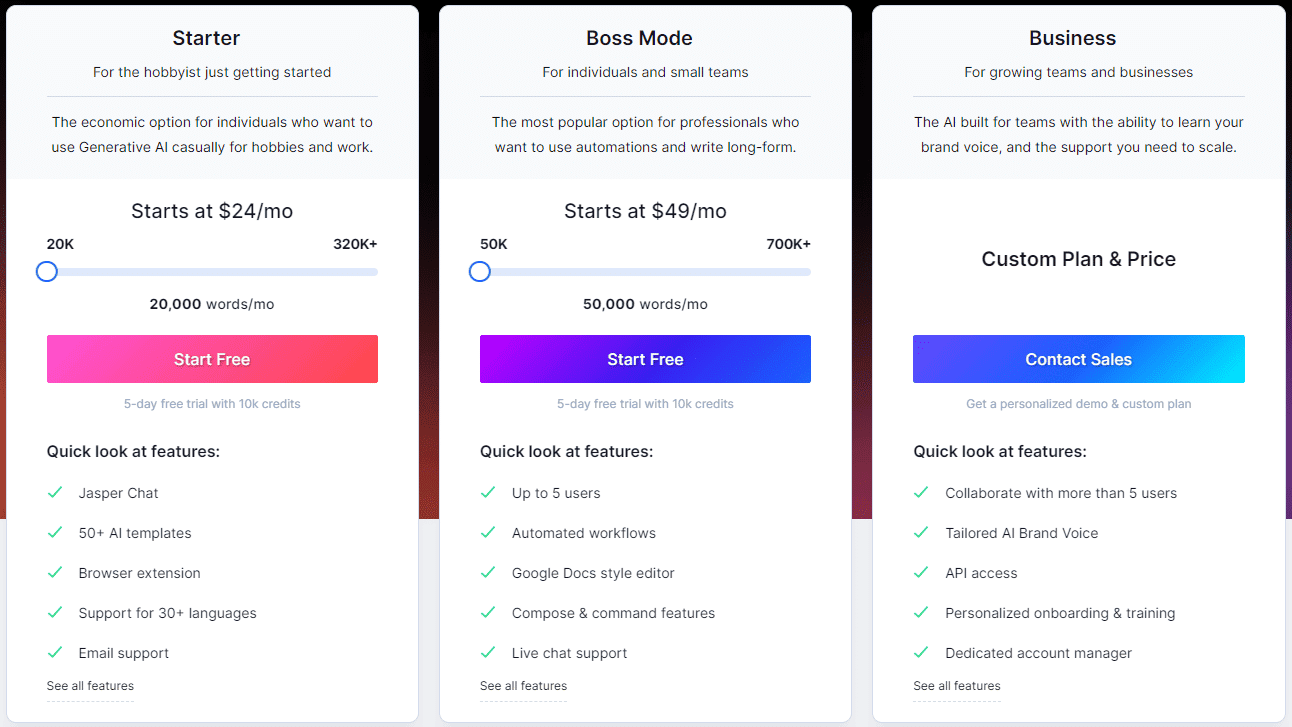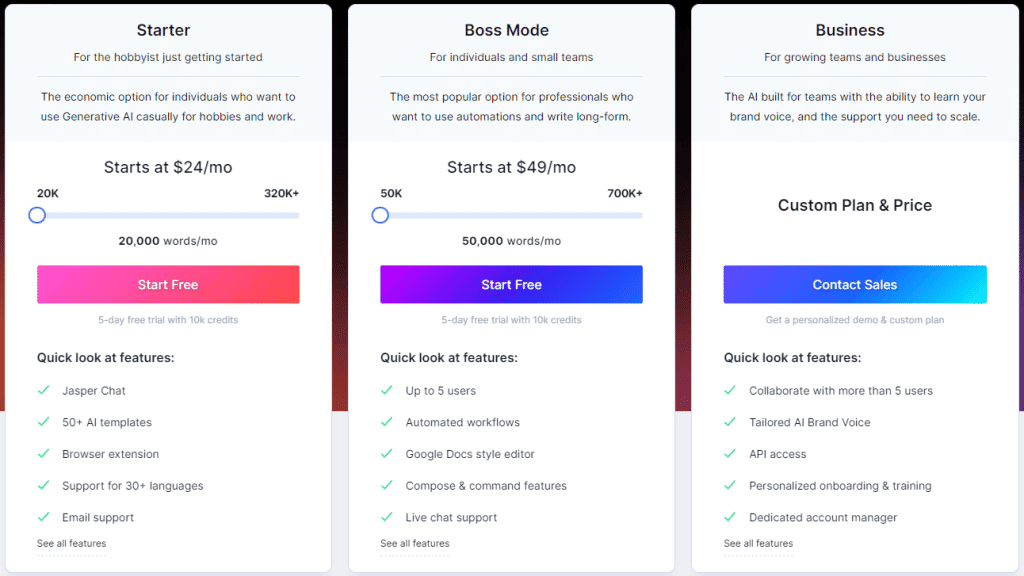 Starter: starts at $24/month for 20k words. You get Jasper chat, one user account, and Jasper chat.
Boss Mode: starts at $49/month for 50k words. You get everything in Starter plus Jasper Art, five user accounts, live chat support, and Jasper recipes.
Business: solely custom pricing for custom word counts per month. You get everything in Starter and Boss mode, along with advanced Jasper features.
Unlike Writesonic, Jasper does not offer a free account. Instead, it offers a 5-day free trial period.
Claim your free trial immediately to access Jasper's amazing features or you can read my Jasper comprehensive review for more details.
2. Scalenut (Best Writesonic Alternative for SEO Content)


Next on the list, I have Scalenut, an AI that is designed specifically to produce content that can pull organic traffic from search engines, including Google, Bing, and DuckDuckGo.
Scalenut AI is built by its company. It does not use a licensed synch as GPT-3, which is common to other AI writing assistants on the market today, and so it works very differently from most others.
Some of the best features of Scalenut are:
SEO Content Writing: Scalenut's content writing tool can help you to produce content in a number of ways, with Cruise Mode. In Cruise Mode, all you have to do is describe the context of your blog. From there, the rest of the process, from keyword research, to outline, to writing, is automated.
Keyword Research: The article writer tool within Scalenut lets you conduct keyword research from within the interface. All you have to do is input a keyphrase and select a target location.
Competitor Analysis: In the research process, Scalenut presents an analysis of the top 30 pages ranking for your target keyphrase, including statistics such as word count and sub-heading count for each page.
Link Building: Scalenut will also display a list of the URLs providing backlinks to those content. You can leverage this list to inform your link-building PR efforts.
Topic Cluster: Scalenut can help streamline your content strategy process by generating topic clusters for you. Covering every topic in your topic cluster can help your website rank better on search engines.
There are also a few other features that are unique to this platform.
For instance, there is a tool that can analyze your website for technical SEO errors as well as one that can audit and monitor your website's performance SEO-wise.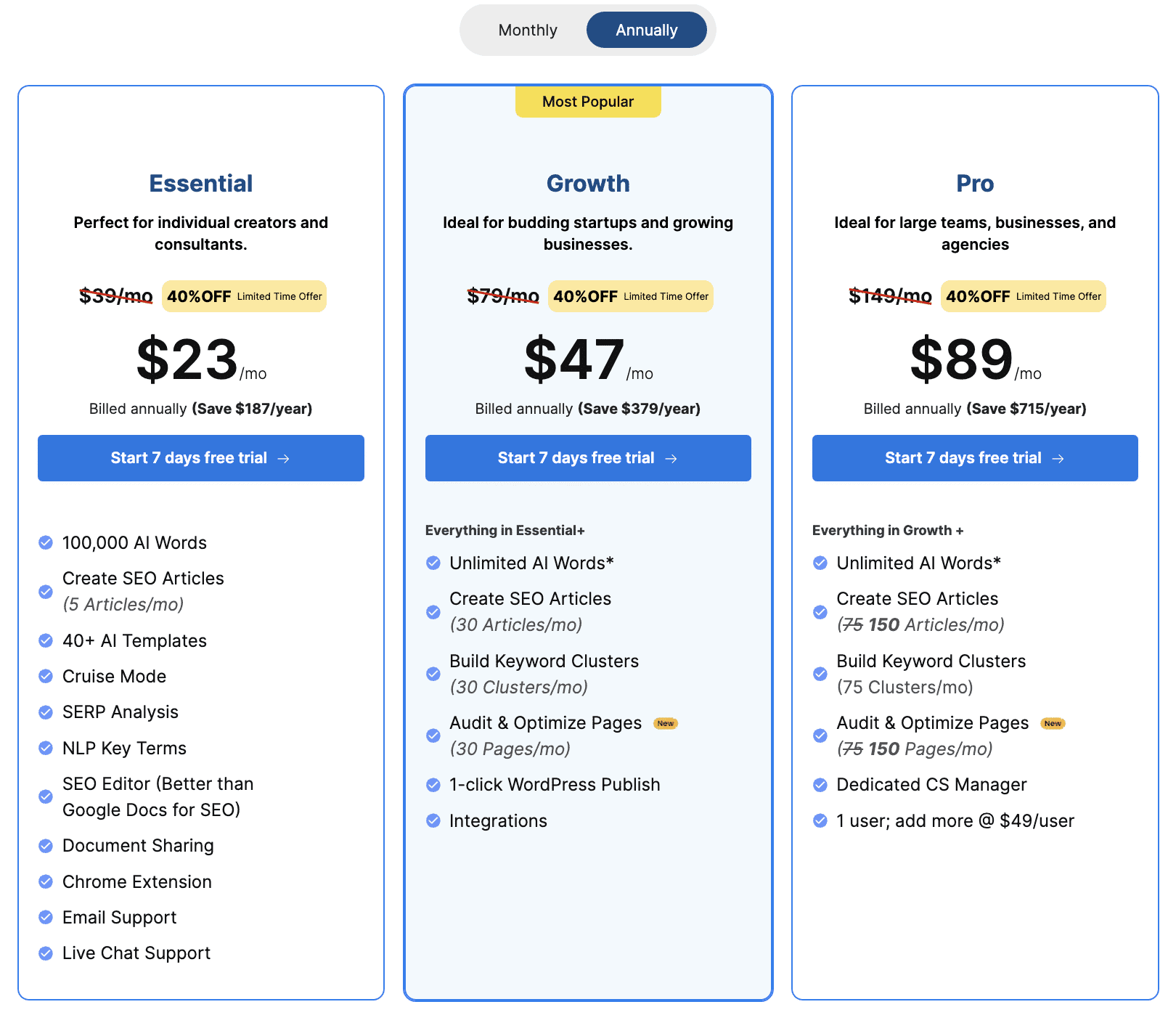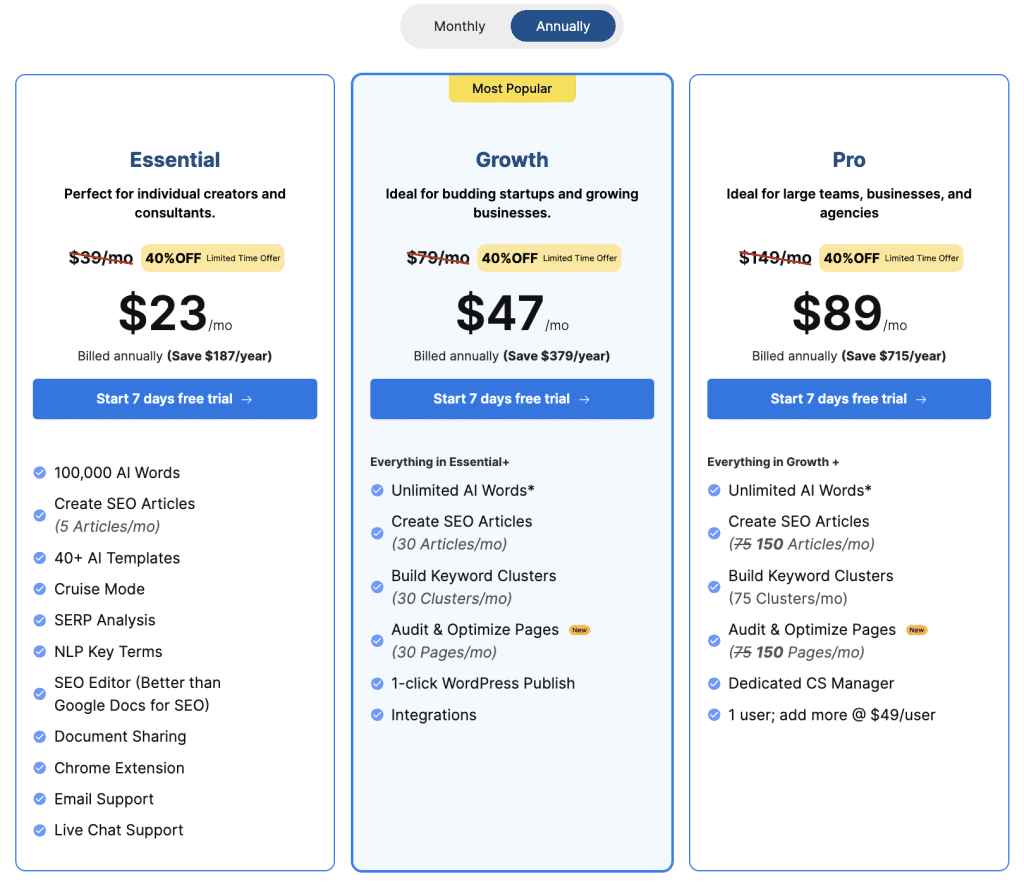 As expected, there is no free plan offered on this platform, but if you act fast, you can enjoy a 7-day free trial on any of the pricing tiers without a financial commitment.
The tiers include:
Essential: costs $23/month. You get 100k AI words, cruise mode, and 40+ AI templates, and you can generate 5 fully SEO-optimised articles.
Growth: costs $47/month. You get unlimited AI words, everything in Essential, along with a keyword-cluster tool and 1-click WordPress publish.
Pro: costs $89/month. You get everything in Growth along with advanced features such as a manager and the ability to add new users.
3. Rytr (Cheapest Writesonic Alternative)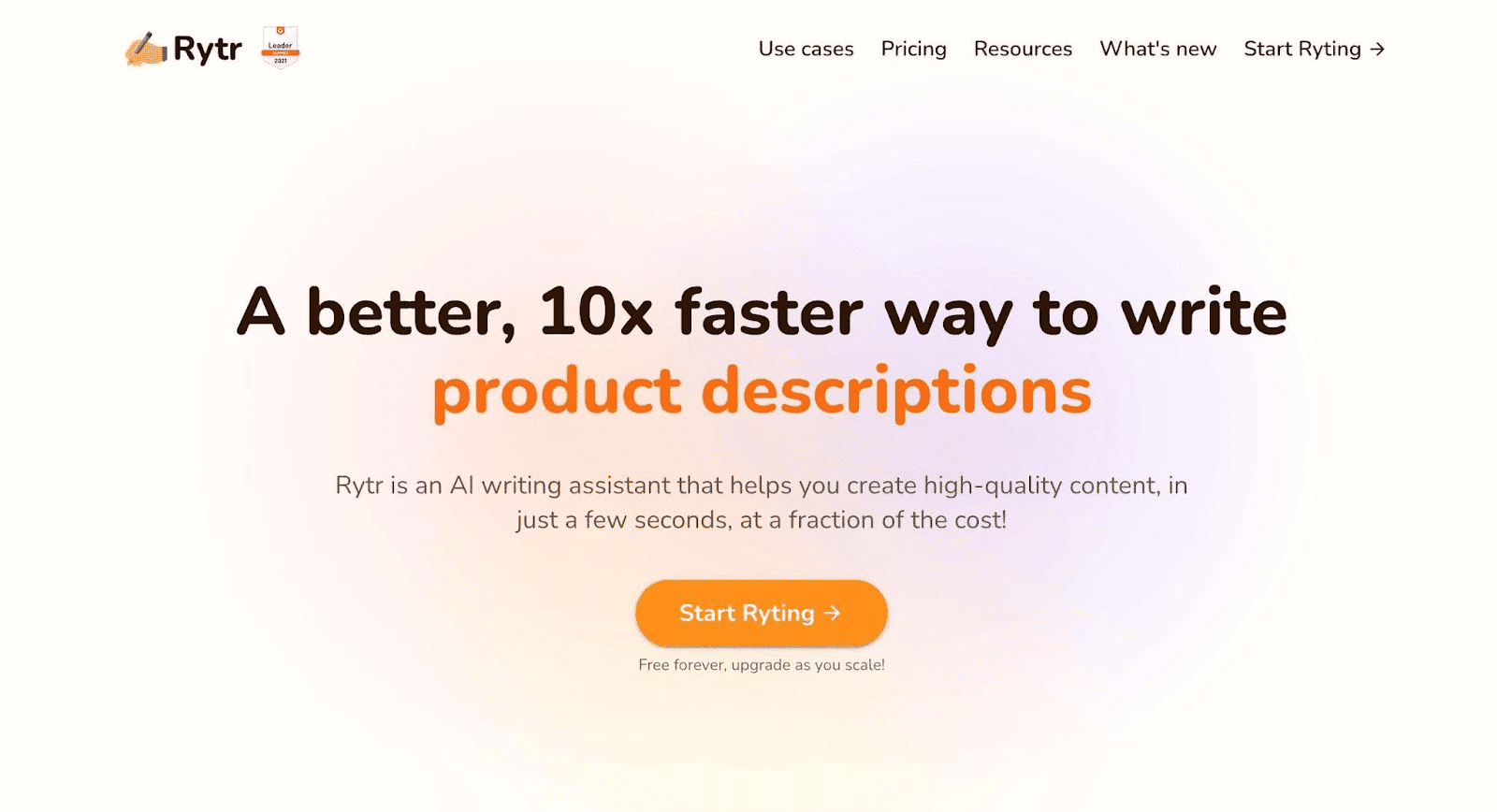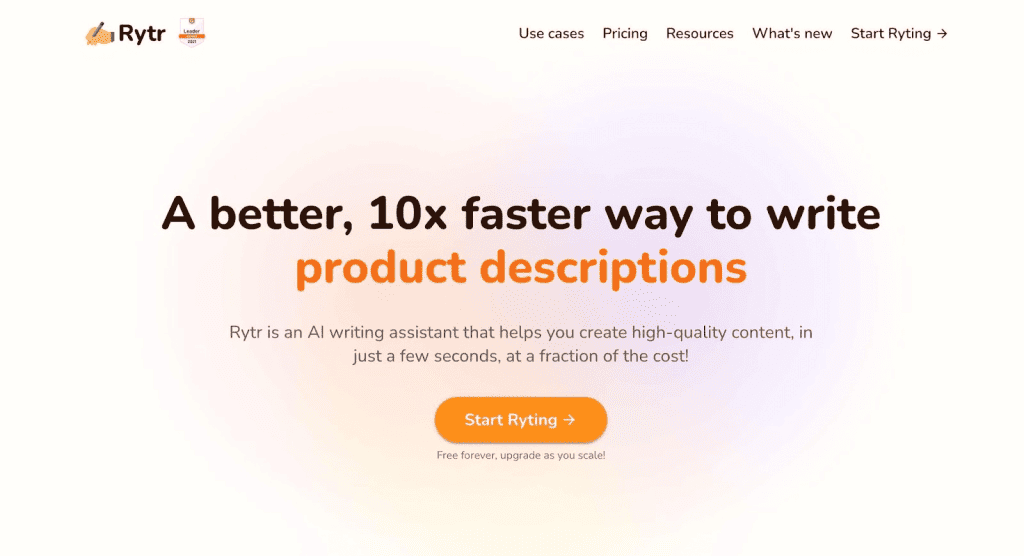 Rytr is the simplest and most straightforward AI writer tool I've used so far. Most others are loaded with features (many of which you may never use). Hence navigating their UI may prove difficult.
If you're looking for a much simpler (and more affordable) alternative to Writesonic, Rytr is your best bet, no doubt.
Why is Rytr a formidable alternative to Writesonic?
Time-Saving Writing Assistant: Rytr offers an extensive range of use cases – over 40 to be exact – to help you save time and effortlessly create compelling content, including social media posts, blog posts, landing pages, product descriptions, ad copy, YouTube video descriptions, etc.
On-The-Go Writing Assistance: You can effortlessly generate content on the go with the Chrome extension. You will be able to use Rytr on various platforms, including Slack, WordPress, Facebook, Twitter, Gmail, and more.
Tones of Voice: With 20+ tones of voice to choose from, you can ensure that your content reflects your emotions. These include appreciative, confident, convincing, compassionate, assertive, and many more.
Plagiarism-Free Content: With Rytr, originality is guaranteed. The platform comes equipped with a built-in free plagiarism checker that ensures your content is 100% unique and free to use in your marketing materials.
Project Management: You can create unlimited projects and save different files into each "project folder" which you can then share with clients and teammates.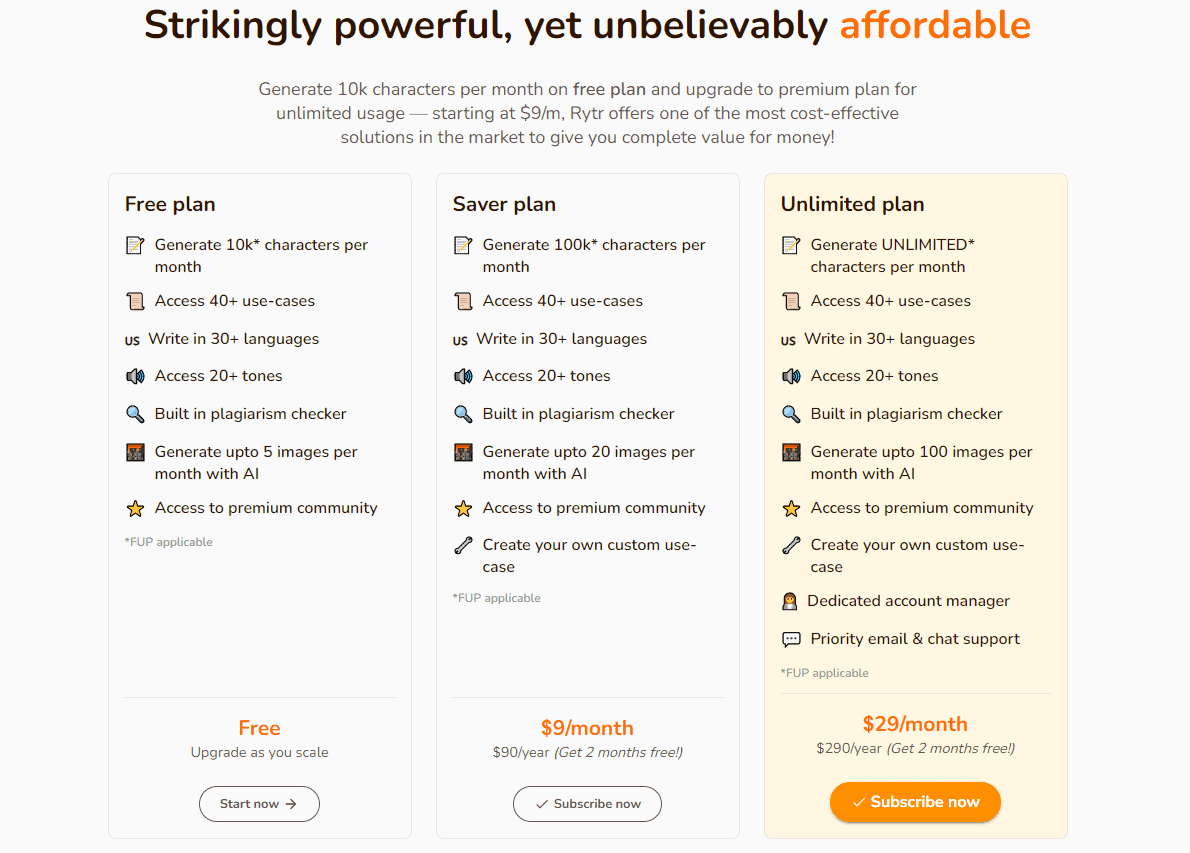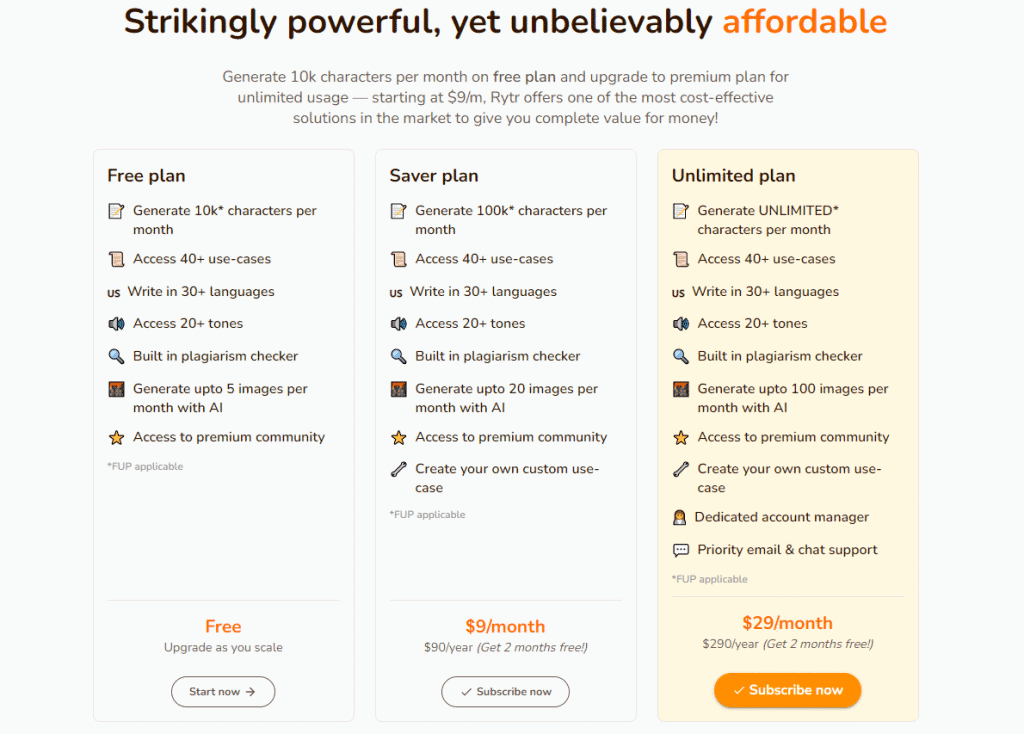 One of Rytr's features you will appreciate is its totally free plan that lets users generate up to 10k characters per month. 10k characters will generate content in the neighborhood of 2,500 words.
Along with the free plan, we have the following:
The Saver plan: costs $9/month. You get 20 AI images and 100k characters per month.
The Unlimited plan: costs just $29/month. You get up to 100 AI images and unlimited characters per month.
Want to get started with Rytr? Claim your free account right away!
4. Copy AI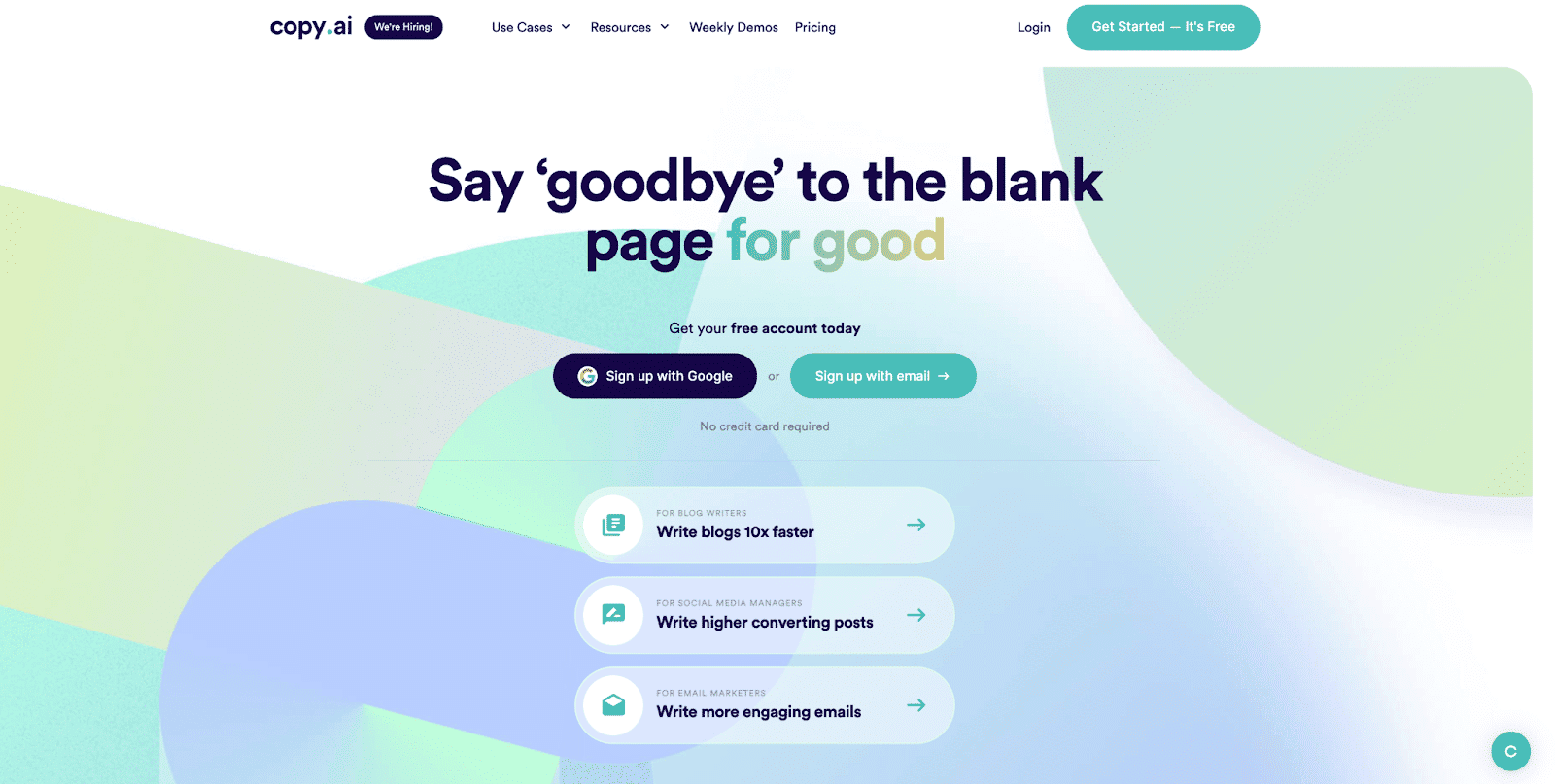 If you're in the market for the best Writesonic alternative for sales and marketing content, Copy AI is one of the best you can get.
Just as tools like Scalenut and Frase are made specifically to produce SEO-optimised content, Copy AI is built primarily to write sales and marketing content. Copy AI's best features include:
Blog Content: Copy AI is a versatile blog content writer. You only need to supply your blog title and related keywords for the Blog Post Wizard to generate an outline for you. From the outline, you can then generate your blog posts.
Digital Ad Copy: With Copy AI, you can write copy for digital adverts, be it search engines or social media ads. Specifically, Copy AI can generate copy for Google, Facebook, and LinkedIn ads.
eCommerce Copy: As a tool designed to generate sales content, writing eCommerce copy, specifically product descriptions. This is really handy for online shop owners and drop shippers.
Website Copy: Copy AI's website copy feature can help anyone, even a layman, to write compelling copy for their website pages, including calls to action, landing pages, and social proof text.
Social Media Posts: With Copy AI, you can streamline writing your social media posts using any of its social media post templates.
Copy AI offers a totally free account to users who desire to test out its services. The free account doesn't require your card details for sign up, and it offers up to 2k words per month.
You also gain access to Chat by Copy AI.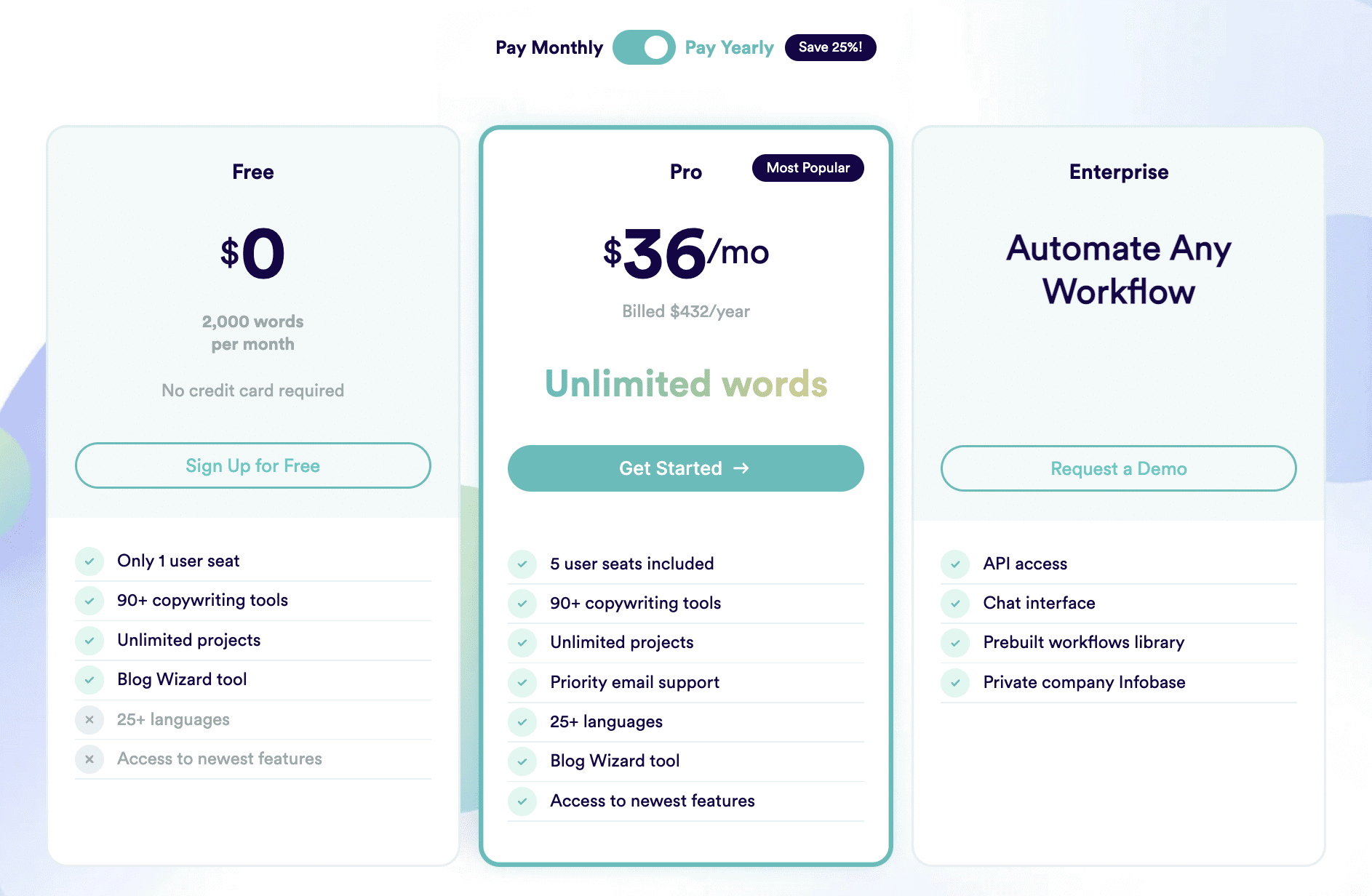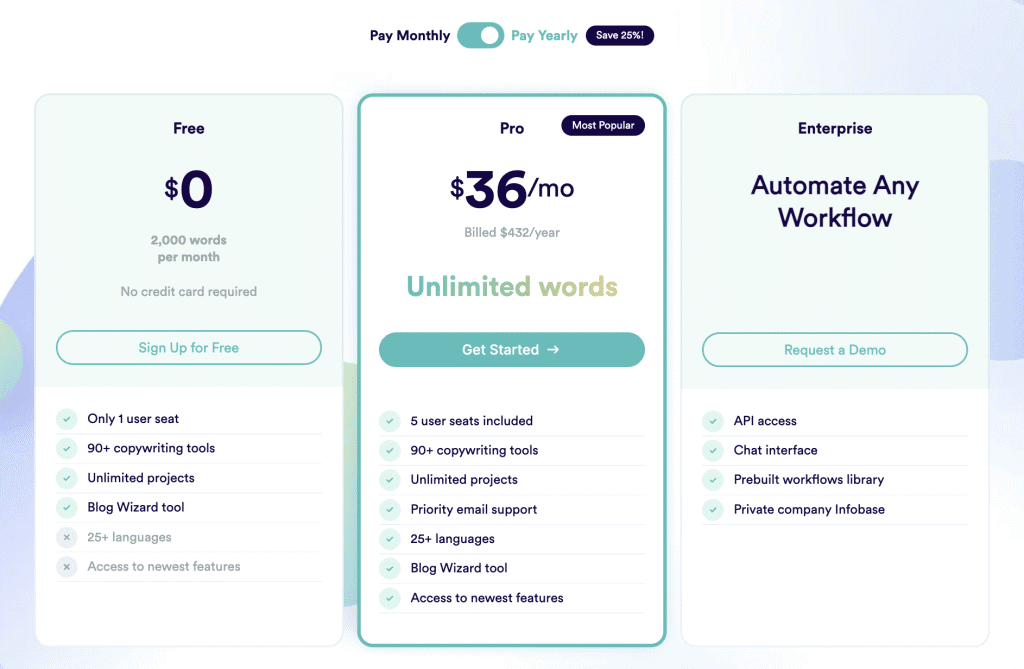 Other than the free account, Copy AI has two paid tiers, which are:
Pro: costs $36/month. You get unlimited AI words per month, 29+ languages, and access to the newest features.
Enterprise: based on custom pricing and offers advanced features like a chat interface and pre-built workflows.
5. ClosersCopy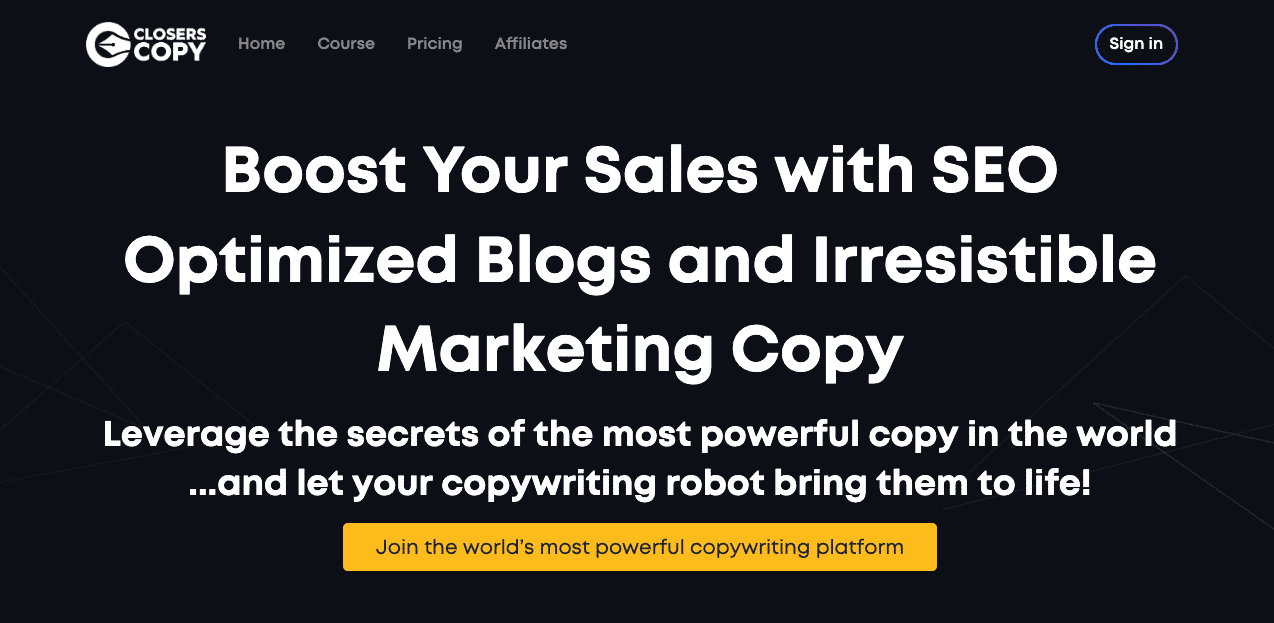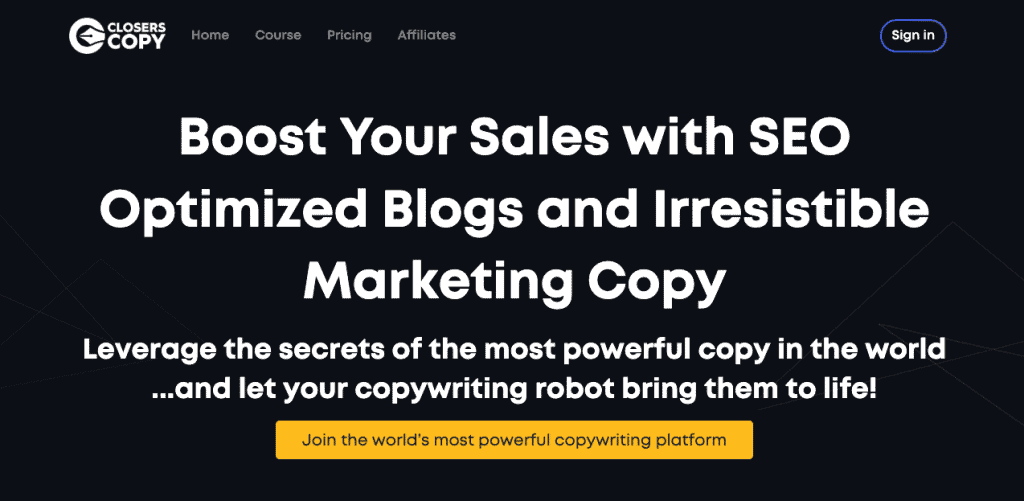 Closerscopy is an excellent tool capable of writing impressive medium-form content between 1,000 to 1,500 words.
Although Writesonic is good at writing both medium- and long-form content, ClosersCopy's SEO abilities far surpass that of Writesonic, and that makes it a viable alternative to Writesonic. Its best features include:
Unlimited AI Writing: ClosersCopy offers unlimited AI writing to users willing to get on its Superpower and Superpower Squad tiers, meaning you'll never run out of words again.
Unlimited SEO Audits: the AI platform's SEO tool allows users to conduct up to unlimited SEO audits on their websites to figure out ranking problems and how to solve them.
SEO Content Planner: ClosersCopy SEO content planner is very effective for business owners and content strategies looking to scale content for their blogs.
700+ Frameworks: leveraging the existing frameworks on the platform, you have over 700 use cases at your disposal, including emails, landing pages, sales pages, product listings, blog articles, and more.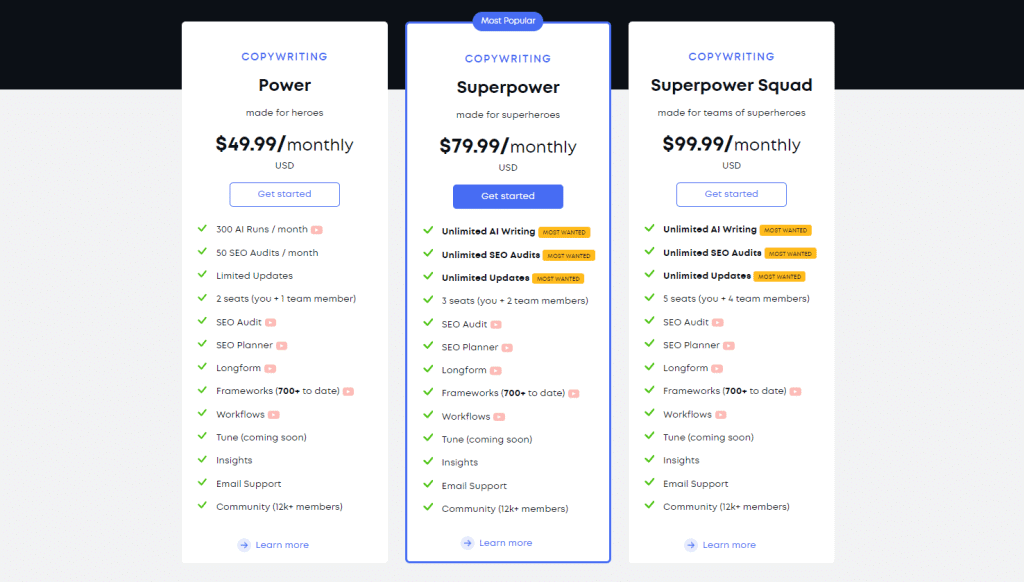 ClosersCopy does not offer free accounts or free trials. It has three pricing tiers which are:
Power: $49.99 per month for 300 AI runs and 50 SEO audits.
Superpower: $79.99 per month for unlimited AI writing and unlimited SEO audits
Superpower Squad: $79.99 per month for unlimited AI writing, unlimited SEO audits, and more.
6. Copysmith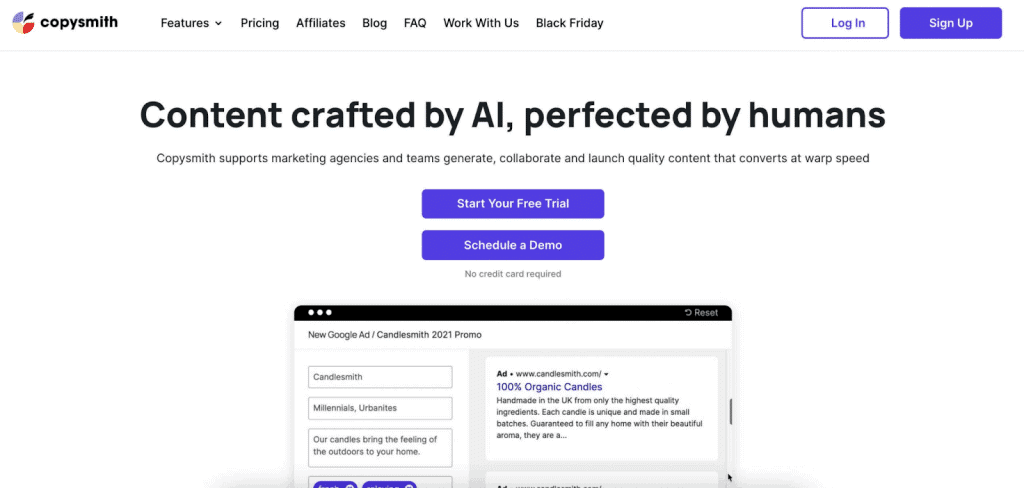 On Copysmith's homepage, you will find the statement: "Copysmith is your solution to scale eCommerce store". And from the name, you that Copysmith is trained in the art of writing copy, even though it's AI.
Copysmith prides itself in its ability to write impressive and compelling product descriptions, and that fact can barely be argued; especially when you use it for one of your products. Copysmith's best features include:
Blog Posts Writer: With Copysmith's templates, you can go from an idea to a long-form article in no time at all. It only takes a few steps and a few minutes.
Generate Bulk Content: With Copysmith, you can generate content in bulk and in little time. All you have to do is create a spreadsheet containing the appropriate information about the content (a sample file is provided on the Bulk Creation page).
SEO-optimized Product Descriptions: Copysmith's product description writing goes beyond Amazon. It has templates for platforms even Writesonic has no templates for. These include Home Depot, Lowe's, Overstock, Wayfair, Etsy, eBay, Flipkart, and more.
Rewrite Old Content: Copysmith's content rewriter tool can help overhaul any existing body of content, be it emails, blogs, or copy.
Email Campaigns: Oftentimes, email campaigns require a series of emails, and writing them may prove somewhat difficult. Emails with Copysmith can help you get over that in a relatively short time.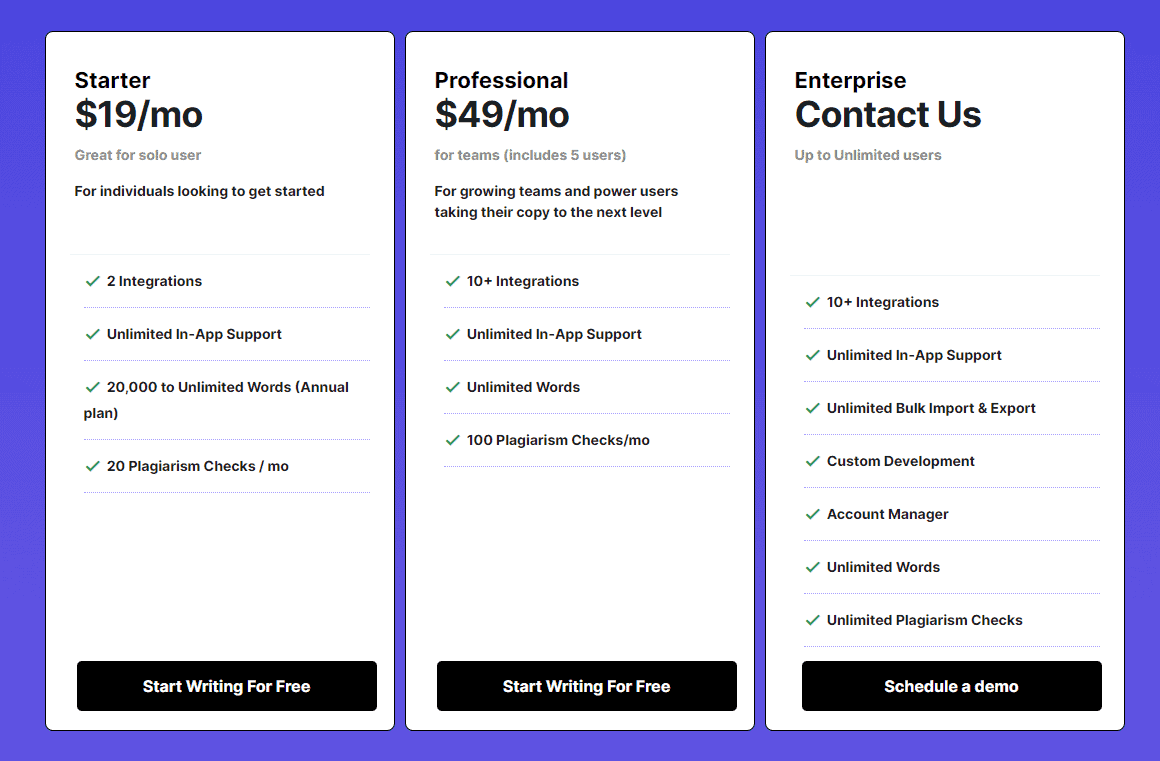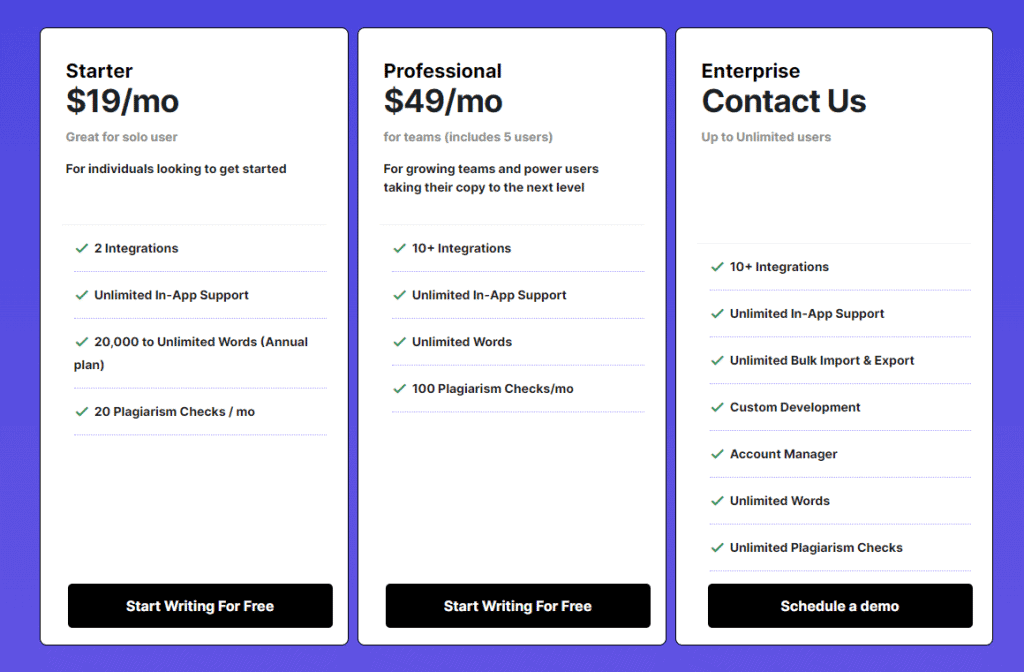 Copysmith's pricing comprises 3 premium tiers:
Starter: costs $19 per month. You get 20k words (unlimited on the annual plan), and 20 plagiarism checks/per month.
Professional: costs $49 per month for unlimited words, 5 user accounts, and 100 plagiarism checks per month.
Enterprise: custom pricing to get everything unlimited as well as a dedicated account manager and custom AI development.
7. Frase.ai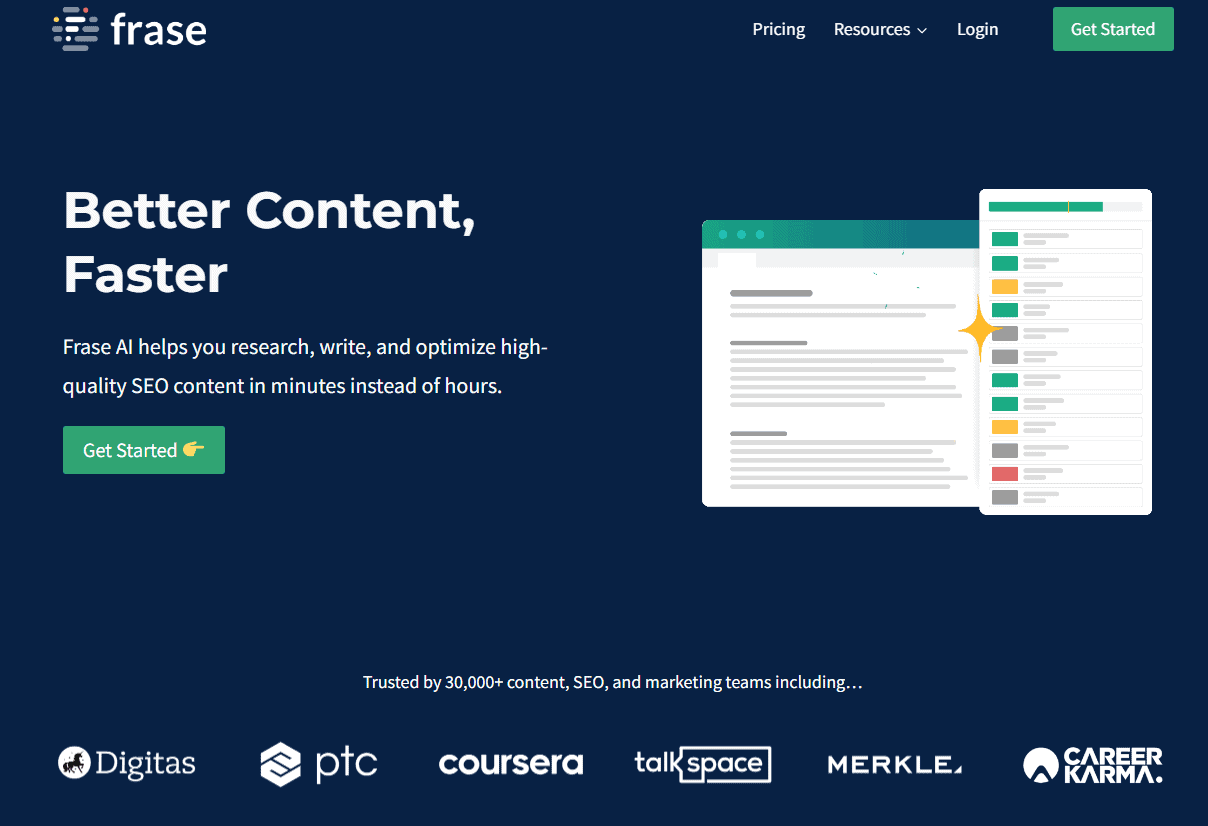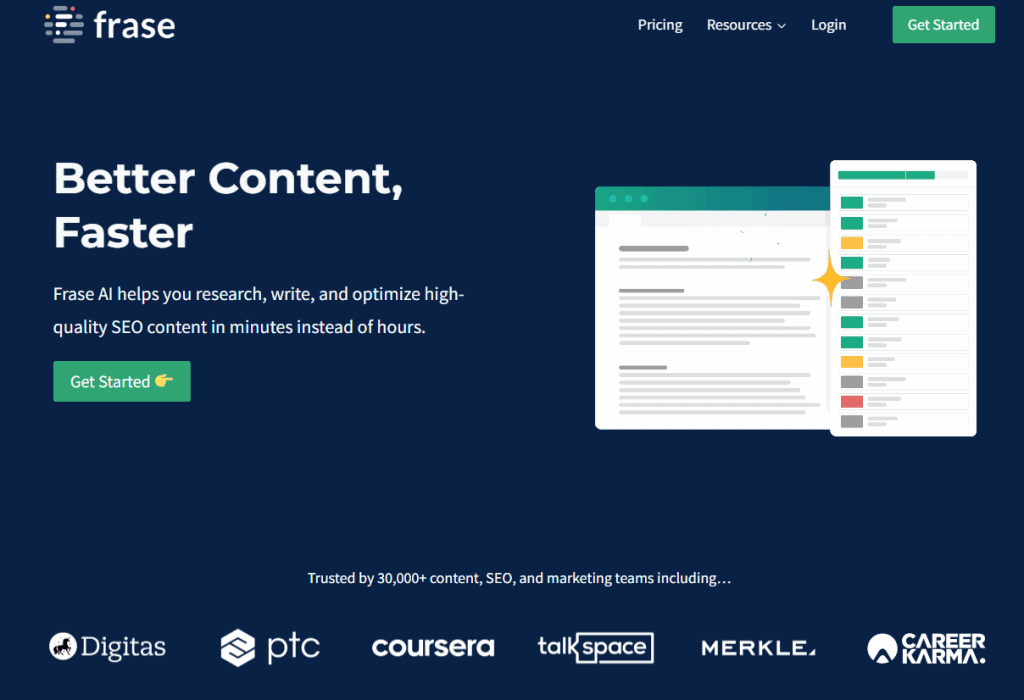 Another one of the most excellent Writesonic alternatives you can find on the market right now is Frase AI.
Before Frase launched its proprietary AI writer in 2021, it was known only as an on-page optimization tool, and it is very effective in that regard. Its effectiveness as an SEO tool also fueled its success as an AI content writer.
Some of Frase AI's features that make it an excellent replacement for Writesonic include:
AI Content Generator: Using Frase's unique AI model, you can generate highly SEO-optimised articles that are crafted to rank for Google's result snippet and in the "People Also Asked" sections. Frase calls this process AEO: answer engine optimization.
Outline Generator: As an SEO tool, Frase can help you to generate an impressive outline within a minute or thereabouts. You can then use the outline on another AI or within Frase itself.
Paraphrasing Tool: If you've got a body of text that is not clear enough and you'd like some clarity on it, or you just wish to express yourself differently, you've got Frase's paraphrasing tool to the rescue.
Blog Ideas Generator: As a digital marketer and blogger, I know how difficult it may be to come up with blog ideas and new topics. Frase's blog ideas generator can help you with the brainstorming process and make it faster.
Product Descriptions Writer: Frase's AI product description writer may not perform as well as Writesonic's, but it is free to use. In fact, using the product description writer doesn't require opening an account.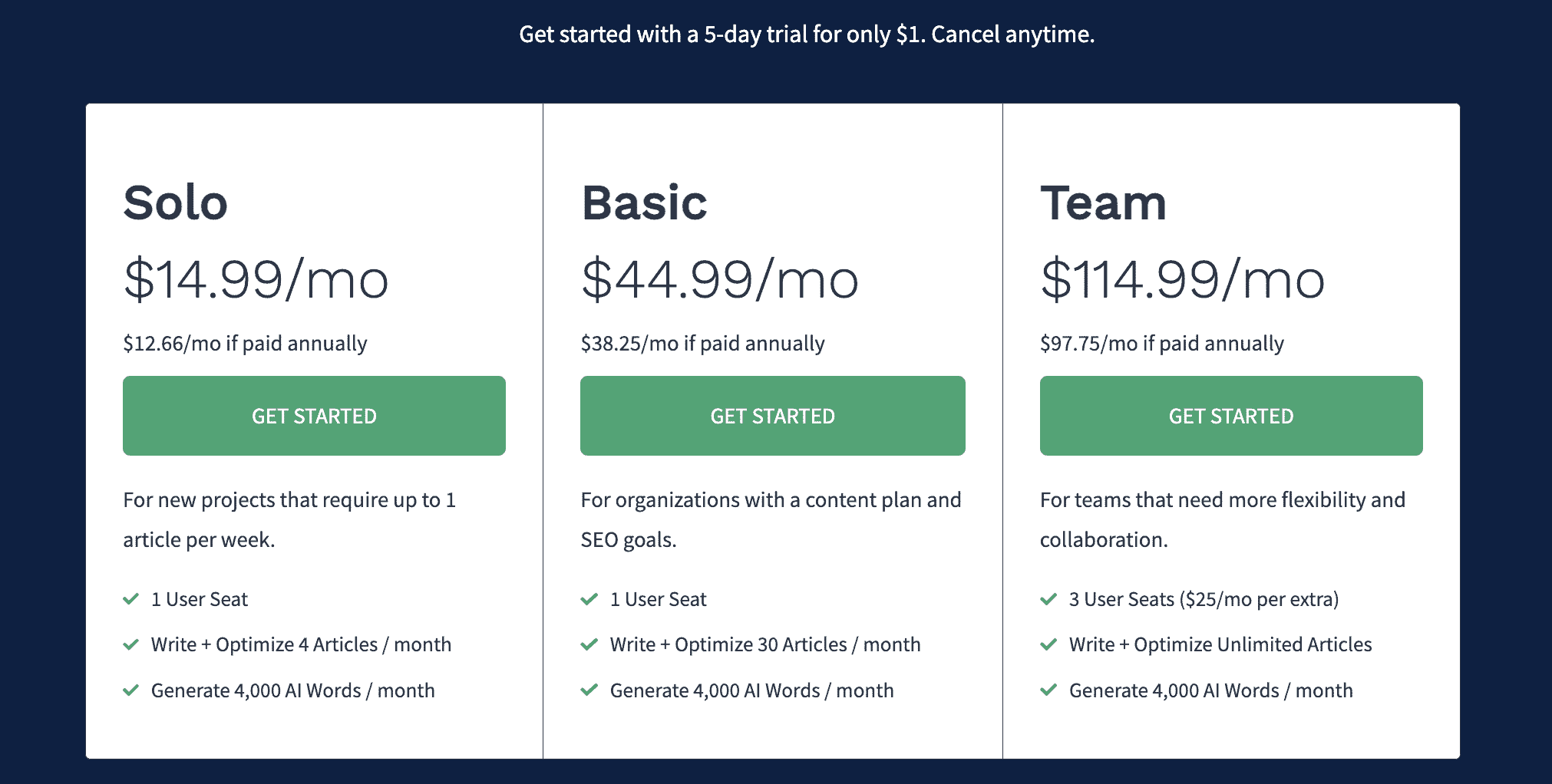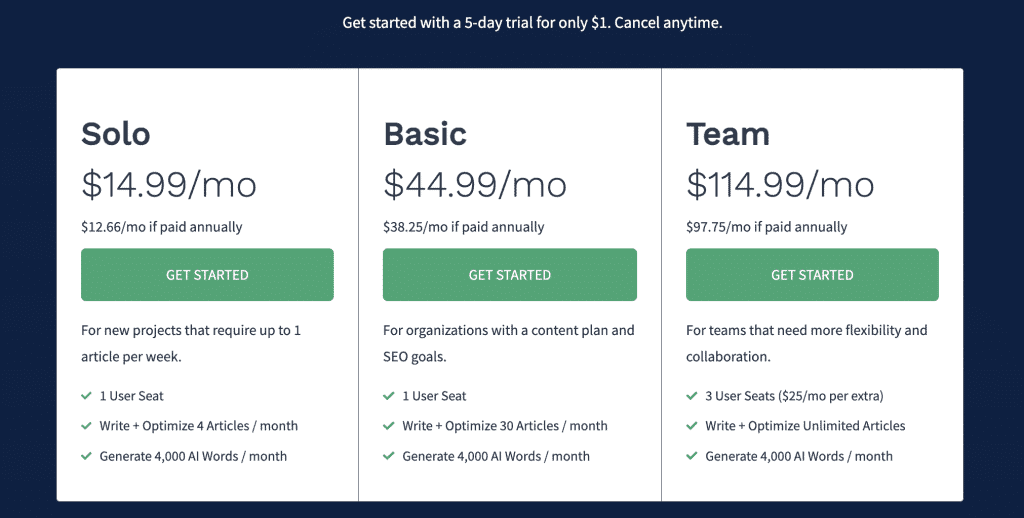 You can test-run most of Frase's tools through the "free tools" page. To remove the restrictions on them, you can subscribe to one of its plans, which includes:
Solo: $14.99/month and offers 4 generated content.
Basic: $44.99/month and lets you generate up to 30 SEO articles.
Team: $114.99/month. You get to write and optimize unlimited articles and also accept 2 extra at an added cost.
If you're not yet willing to commit to Frase financially yet, you can grab your copy of its 5-day trial for just $1 to access all of its amazing features.
8. GrowthBar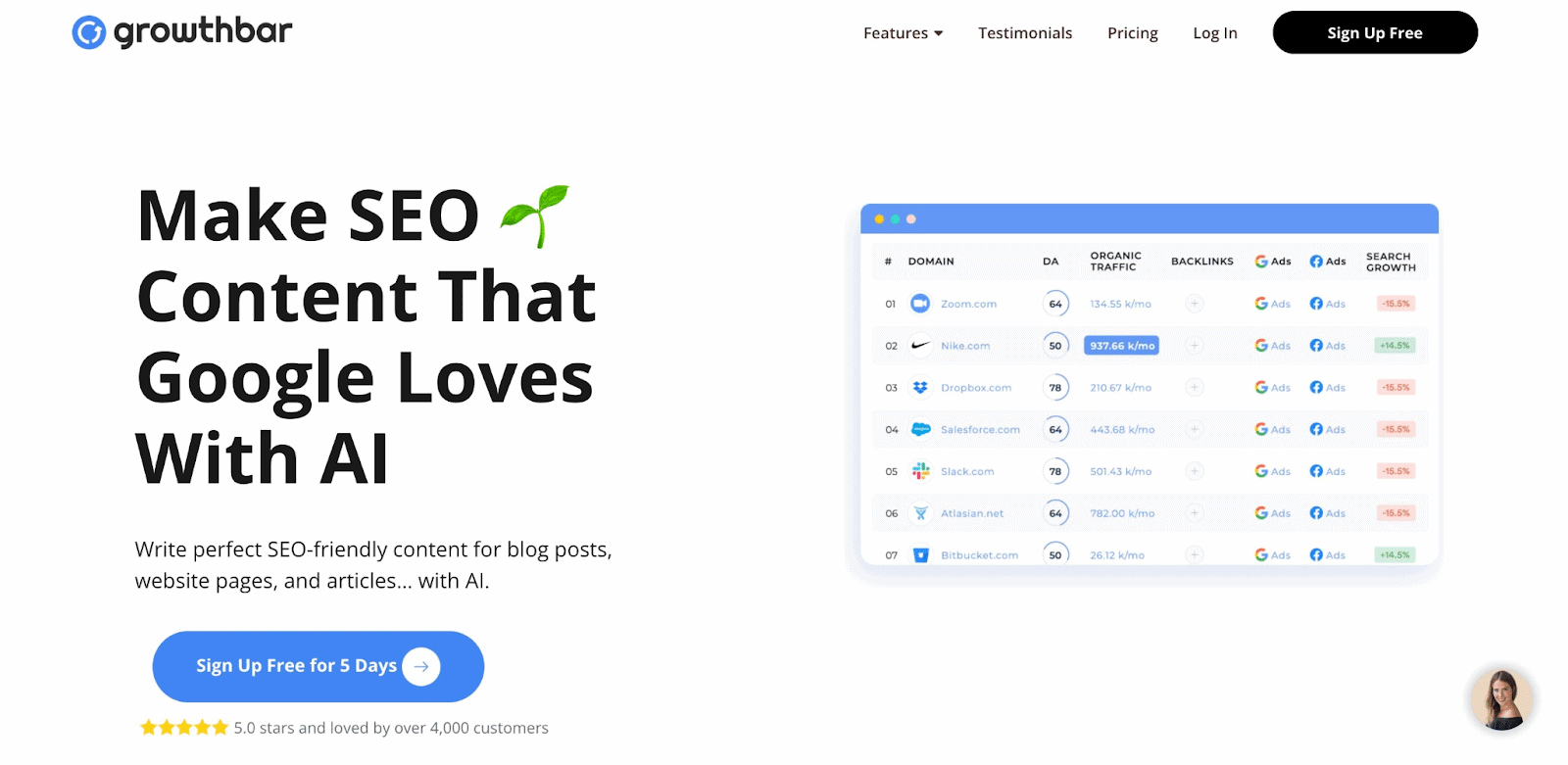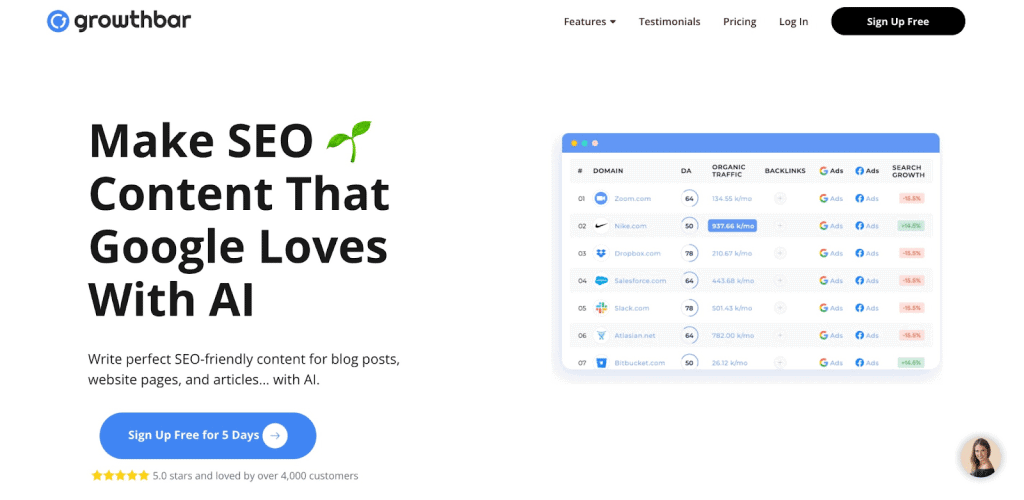 GrowthBar is an AI-powered SEO tool that launched a content-writing feature with the emergence of the GPT AI models.
The interesting part is that its AI is trained in the art of copywriting using the most successful copywriting frameworks in history: AIDA and PAS. Hence, its sales copy is usually on point.
The best GrowthBar features are:
2-Minute Blog Builder: the 2-minute blog builder takes your outlines and fills in the content without you having to lift a finger. It also provides on-page SEO in the process
Content Planner: the content planner tool is specifically made for content strategists and those who would love to have their content calendar planned ahead of time.
Competitor Research: GrowthBar's SEO helps you research other pages that may be competing with you on search engines. You use the knowledge to fill up content gaps for better ranking.
Blog Topic Generator: Are you out of blog topic ideas? No worries. The blog topic generator tool can help you fresh ideas to keep you going.
Free AI Writing Tools: GrowthBar offers a host of its AI tools free of charge, and you can access them without even opening an account. They include the sales email generator, intro paragraph generator, blog ideas generator, and others.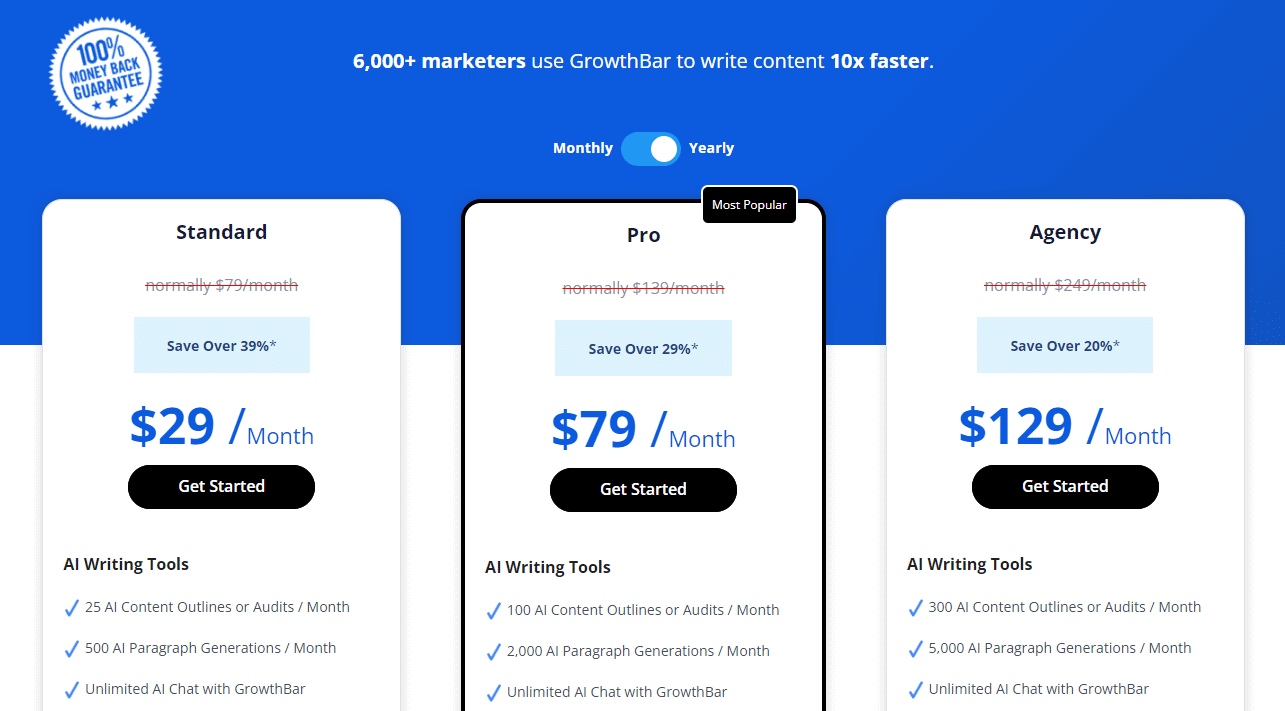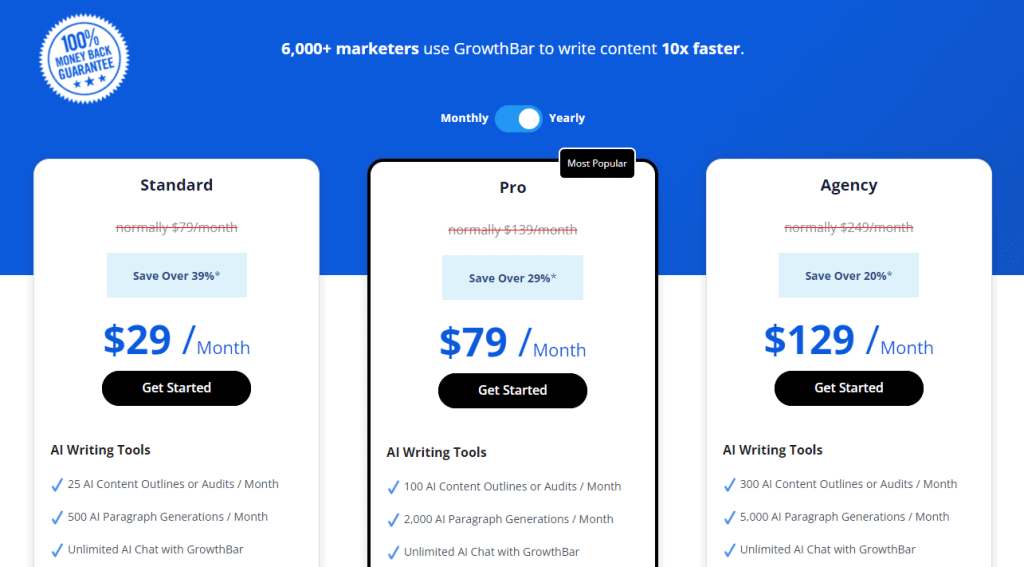 GrowthBar offers three pricing plans, which are:
Standard: costs $29/month. You get 25 AI content outlines, 500 AI paragraph generations, unlimited AI Chat, and unlimited keyword research.
Pro: costs $79/month. You get 100 AI content outlines, 2000 AI paragraph generations, unlimited AI Chat, and unlimited keyword research.
Agency: costs $29/month. You get 300 AI content outlines, 5000 AI paragraph generations, unlimited AI Chat, unlimited keyword research, and lots more.
9. Hypotenuse.ai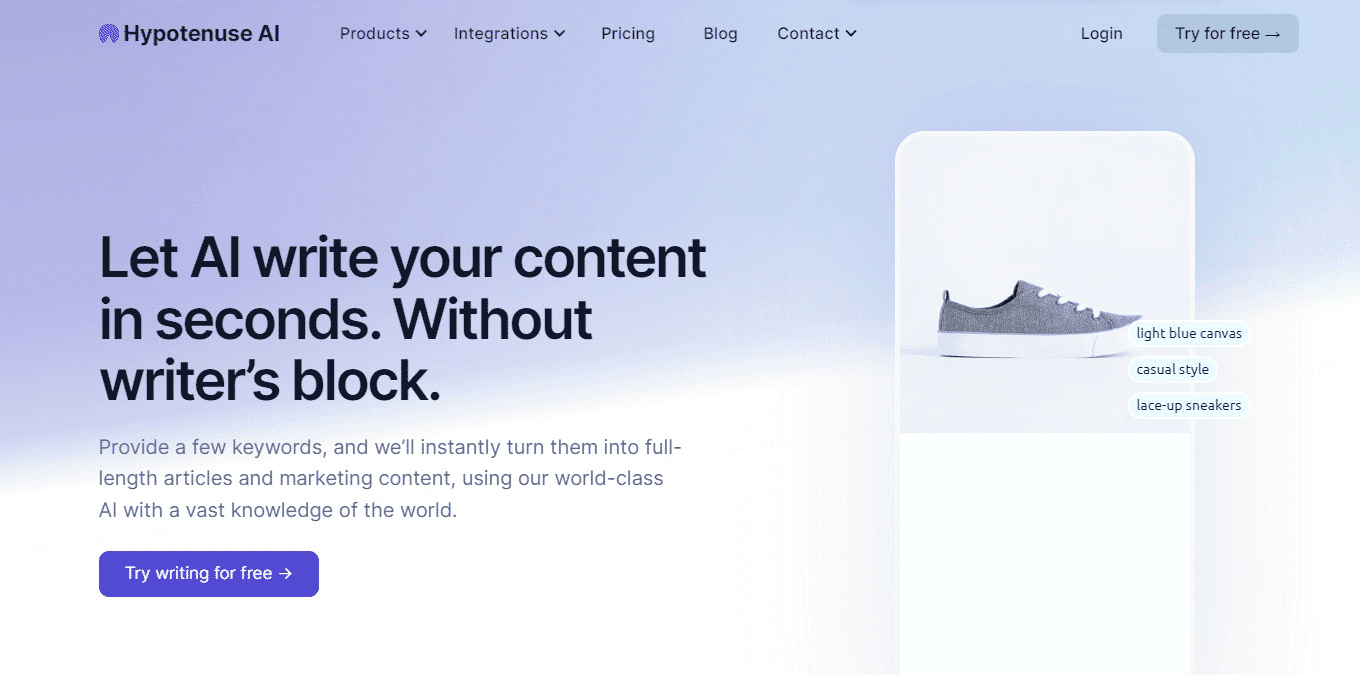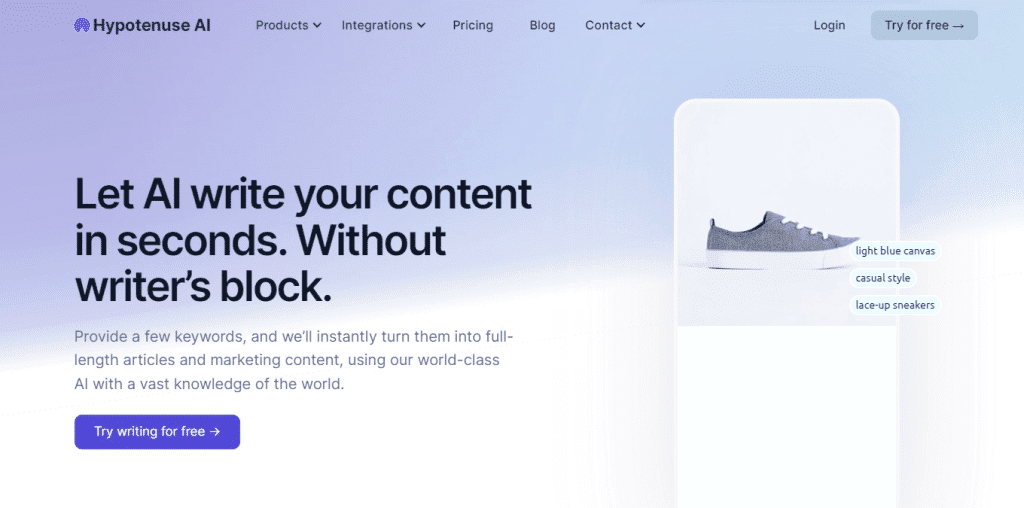 Hypotenuse is an AI writer that offers all-around service as far as writing content goes, and it is one of the best alternatives to Writesonic.
Hypotenuse is primarily based on the GPT-3 AI model but is now making its way into GPT-4 as well. Hypotenuse's blog writer interface is similar to that of Jasper and it also operates a credit/word-count system, but it is quite affordable.
Some Hypotenuse features include:
eCommerce Content: With Hypotenuse, you can generate eCommerce content without stress. These include product descriptions, sales pages, and more.
Blog Articles: Hypotenuse's AI blog writer is an excellent tool when it comes to scaling blog content. It surely can help you overcome writer's block.
Ads Copy: for ad copy, Hypotenuse also got your back. These include Google and Facebook ads.
Images & Artwork: You can leverage Hypo art to produce high-quality watermark-free images up to 2048 pixels resolution, and it does this within seconds.
Email Campaigns: leveraging Hypotenuse's email writer, you can supercharge email campaigns to drive traffic to your online store to increase sales.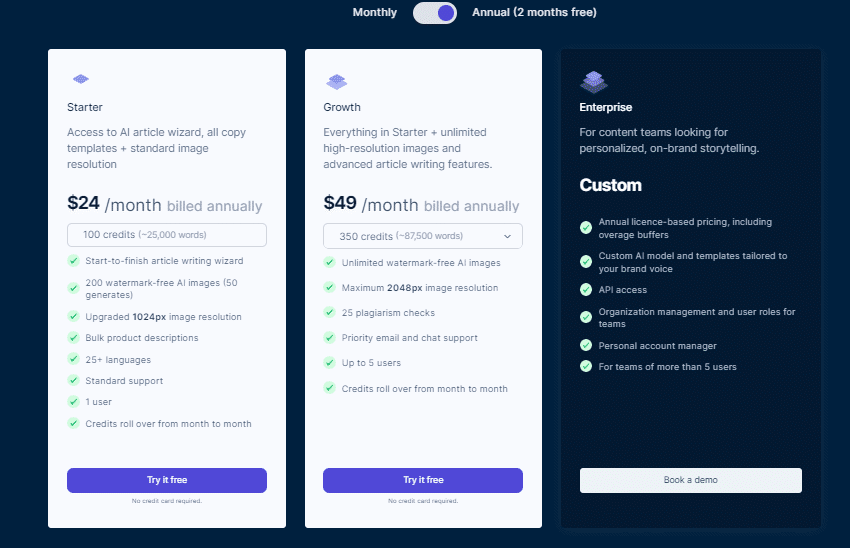 There is no free account on Hypotenuse, but it offers a 7-day, no commitment, free trial period. Its pricing plans include:
Starter plan: costs $24 for 100 credits (about 25,000 words) per month.
Growth plan: costs $49 for everything in Starter + unlimited high-resolution images.
Enterprise: custom pricing for companies with a large team and content needs.
10. Anyword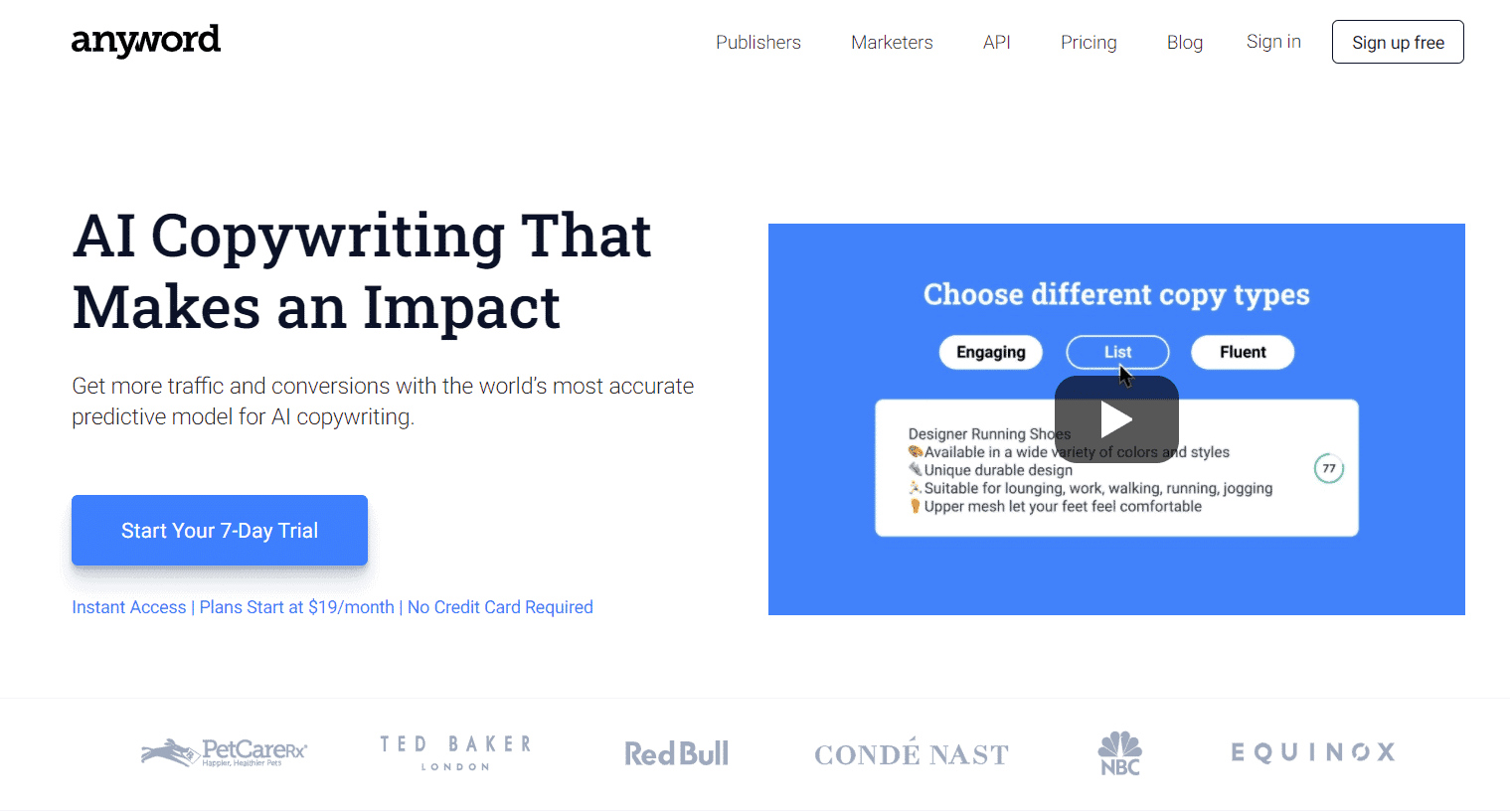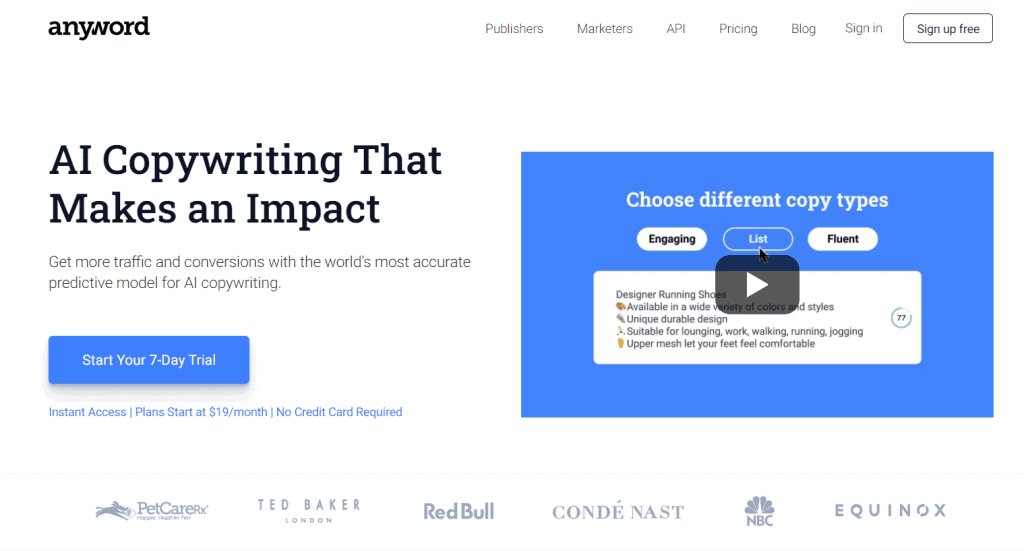 Anyword is an AI copywriting tool that functions in the same capacity as Copy AI and Copysmith. Its most important feature is the way it collects and uses data in the content creation process.
With its proprietary AI, Anyword scans the web, collects data, and analyses that data for what works best. Leveraging the results, it then produces content that is most likely to convert users.
This attribute gives it an edge over Writesonic when it comes to writing copy. Its other features include:
Ad Copy Generator: Anyword's ad copy generator is informed by data collected on the web, so your copy always checks the "best practices" boxes.
Blog Posts Generator: although Anyword is built mainly for sales copywriting, it can also produce blog content in a blink of an eye.
Email Copy Generator: the email copy generator comes in handy whenever you need to write emails, be it to your boss or to customers.
Landing Page Generator: the concept of landing pages is as old as digital marketing itself, but there are principles that make it work. Anyword leverages proven frameworks AIDA and PAS to draft high-converting landing pages.
Amazon Product Descriptions: this AI tool also has a prebuilt template specifically for Amazon. Once you supply the name and features of your product, sit back and watch Anyword do its magic.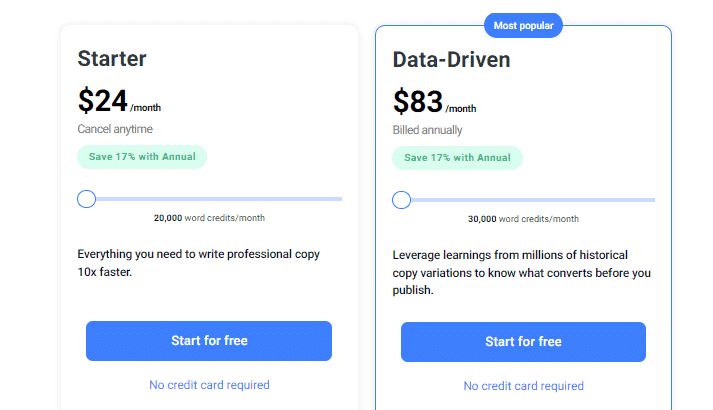 Anyword offers two pricing plans, both of which you can take for a test ride on a free plan, with no credit cards required. They include:
Starter Plan: starts at $24 for 20k words per month. You get 100+ AI writing tools and 200+ data-driven copywriting tools.
Data-Driven plan: starts at $83 for 30k words a month and can go up to $333 for unlimited words every month. You also get everything in the Starter plan along with performance prediction.
Conclusion
My overall best Writesonic alternatives are Jasper, Scalenut, and Rytr. Jasper if you want a service that works like Writesonic. Scalenut if you want advanced SEO features. Rytr if you want an even cheaper alternative to Writesonic.
However, nothing hinders you from exploring the other tools to see what they have to offer. However, before you commit financially, always claim your free trial.