Marketing is central to a successful consumer-driven business. Telemarketing from the late 20th century has made way for internet and social media marketing as the target consumer pool has shifted conclusively to digital platforms. Now, every brand wants to target this massive audience with well-directed online ad campaigns.
But how do brands track the effectiveness of their ads?
How can they get insights on ad performance?
How can they optimize it?
Ads tracking tools (or sometimes called affiliate tracking tools) provide brands the necessary platform to keep a check on their ad campaigns. ClickMagick is one of the most famous and widely used tools to analyze, manage and optimize ad performance.
Before moving on to the best ClickMagick alternatives, let's check out the benchmark ad tracking and optimizing features benchmarked by ClickMagick first.
ClickMagick's Features: What You Get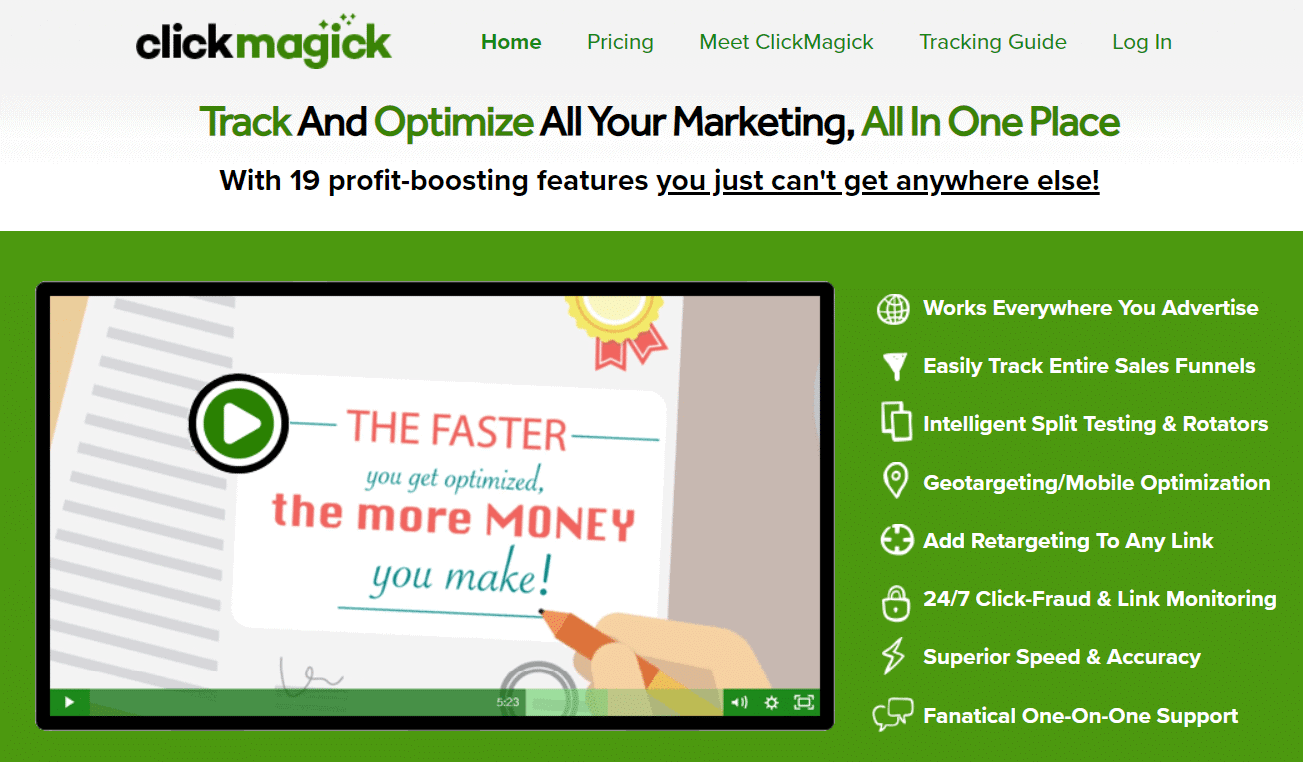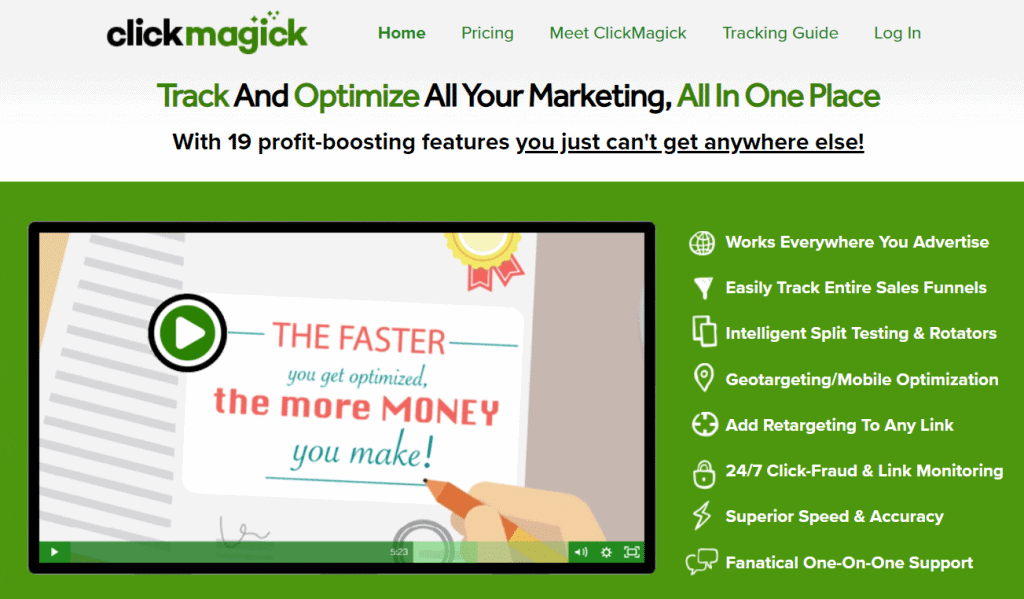 Google Analytics Compatibility: ClickMagick Integrates seamlessly with Google or Facebook analytics. This helps in the analysis of end-user activity using reports from these platforms. A ClickMagick user can optimize their ads according to the target user activities to enhance their ad's performance.
Data Importer and Exporter: It enables the users to export or import rotator URLs, rotator data, and link data, users can buy or sell data to any party using this feature.
Content Locking: ClickMagick users have the option to lock content sharing from the tool. This data protection option of ClickMagick is also the reason for this tool's immense success.
Solo Seller System: This tool has a link tracking software that comes in handy for sellers who are looking to set up their business and want to run solo ads for it.
Batch Editor: This feature becomes helpful in resetting, editing, or even deleting a rotate which is not performing as intended. The Batch Editor also allows changing of rotator URLs to enhance their performance.
IP Lookup and IP Manager: The IP manager lets the user filter or block IP addresses manually or set up an IP Range. IP Lookup feature helps in tracking of IP and lookup for sales or opt-ins for events. Users can also filter auspicious clicks with IP Lookup.
There are also some features of ClickMagick which are not well received among users. Link cloaking and link rotators have been criticized by users as they send single traffic to different users.
However, ClickMagick is not the only ad tracker on the market. Check out these ClickMagick Alternatives that can potentially create more versatile sales funnels and lead to better conversions.
Best ClickMagick Alternatives in 2022

LinkTrackr beats the ClickMagick in terms of its utility as a link tracking and link cloaking tool. Its amazing features allow sharing of traffic between two destinations by splitting links and thus eliminates the issues caused due to single traffic sharing. Users can quickly track their high-performance links. All the different types of links including the impressions and clicks can be tracked using LinkTrackr.
It never allows traffic from banner exchanges, automated browsing, mass transit sites, and wholesale sites to ensure smooth functioning. Users can access links with their domain name and have real-time traffic analysis reports with all relevant information.
The only con of LinkTrackr is that split sharing of links makes analyzing traffic a bit cumbersome.
LinkTrackr Features
Use your custom domain URL and cloak affiliate links.
Users can create ads and insert them anywhere in blog posts, email, and banners. It also allows link insertions anywhere in posts and banners with link tracking.
Centralized tracking of PPC ads of various systems.
Users can customize their domain to give it a professional touch.
Its entire sales funnel analysis eases out the tracking of multiple sales and leads.
Allows cloaking of WordPress site for enhanced security.
Pixel tracking code makes blogs and affiliate conversion tracking simpler.
LinkTrackr is popularly considered as a go-to tool for online marketers, especially those who want to keep a close eye on their affiliate links. It is arguably one of the best tools for affiliate link cloaking.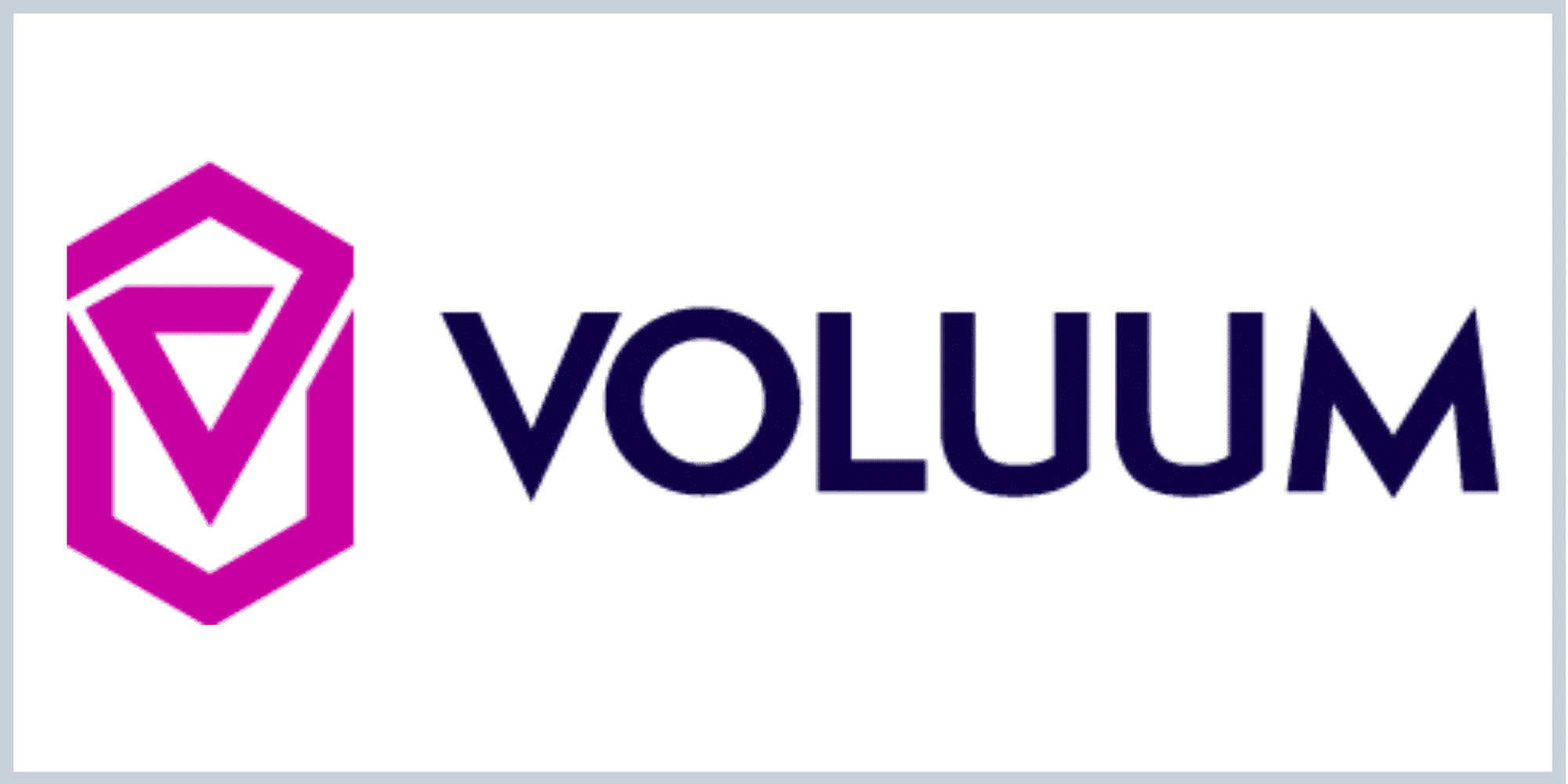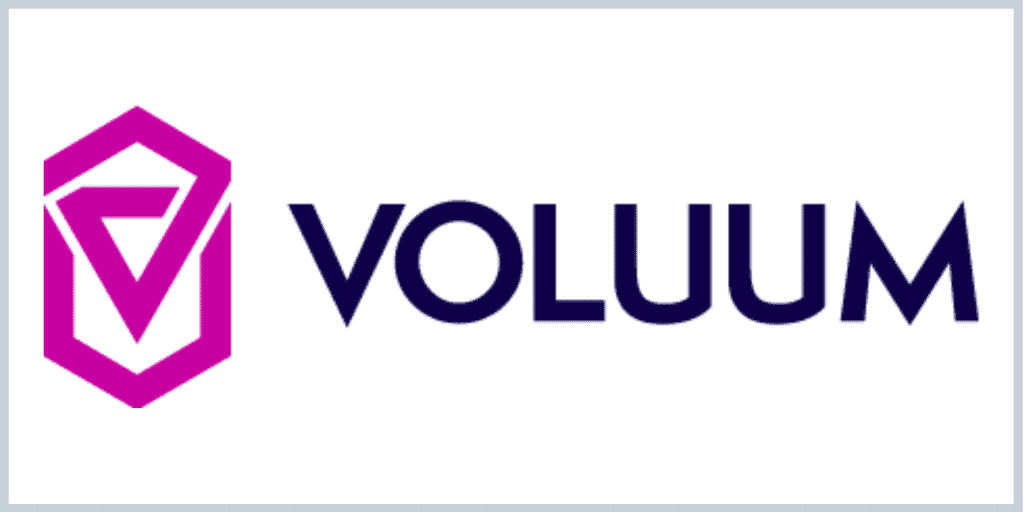 Like ClickMagick, Voluum is also a cloud-based ad tracking tool. However, compared to ClickMagick, it offers better specifications to optimize online brand marketing campaigns. The tool offers multiple features like flexible campaign setups with A/B testing, post-installation analytics, and regular performance reports. Working on the SaaS model, the tool has cloud storage to store the ad-tracking reports.
Voluum Features
Impression tracking with Direct Pixel Tracking: The tools offer impressions tracking of different ads by combining varied statistics. With the Pixel tracking feature, a user can easily track paid and organic traffic without redirecting. The user can also accelerate traffic by pushing unlimited ads on the list.
Customized Conversion Tracking with Traffic Distribution AI: The tool comes with an autopilot mode that offers the best landing pages and accelerated data gathering to optimize campaigns. A Voluum user can also track different actions of the target audience by customized conversion tracking.
Reports, A/B Tests, and Stats: Voluum generates instant reports and stats even for large volumes of traffic. The A/B tests can be used to determine the most beneficial campaign and optimize the conversion goals.
Like LinkTrackr, Voluum also offers split tests but it has limited link cloaking ability. Its free API can be used to control third-party scripts or extensions. Its AI-based learning algorithm makes it the most effective tool to optimize ad campaigns.
However, the ClickMagick pricing is affordable compared to Voluum and that makes users look for some other less expensive options.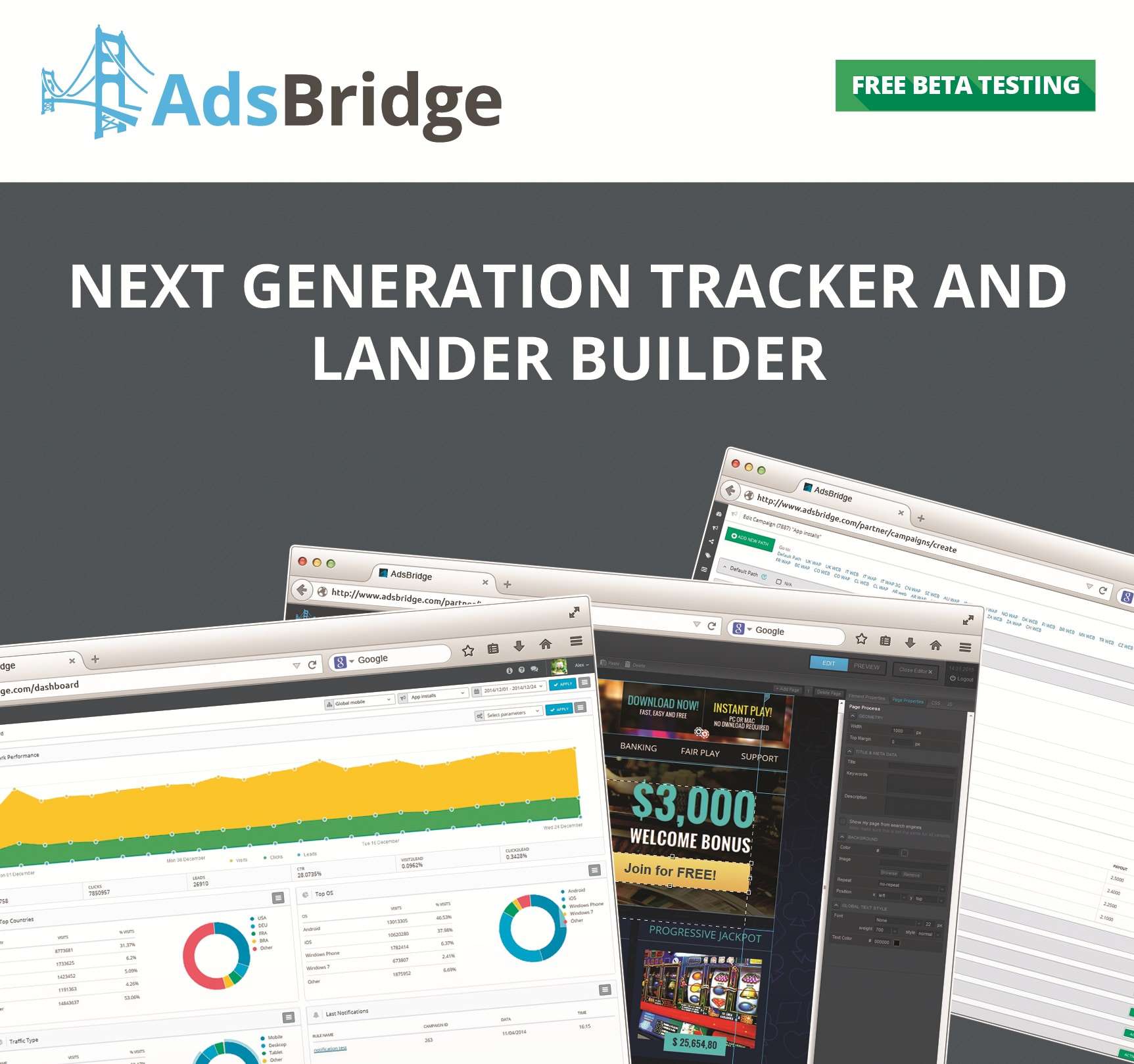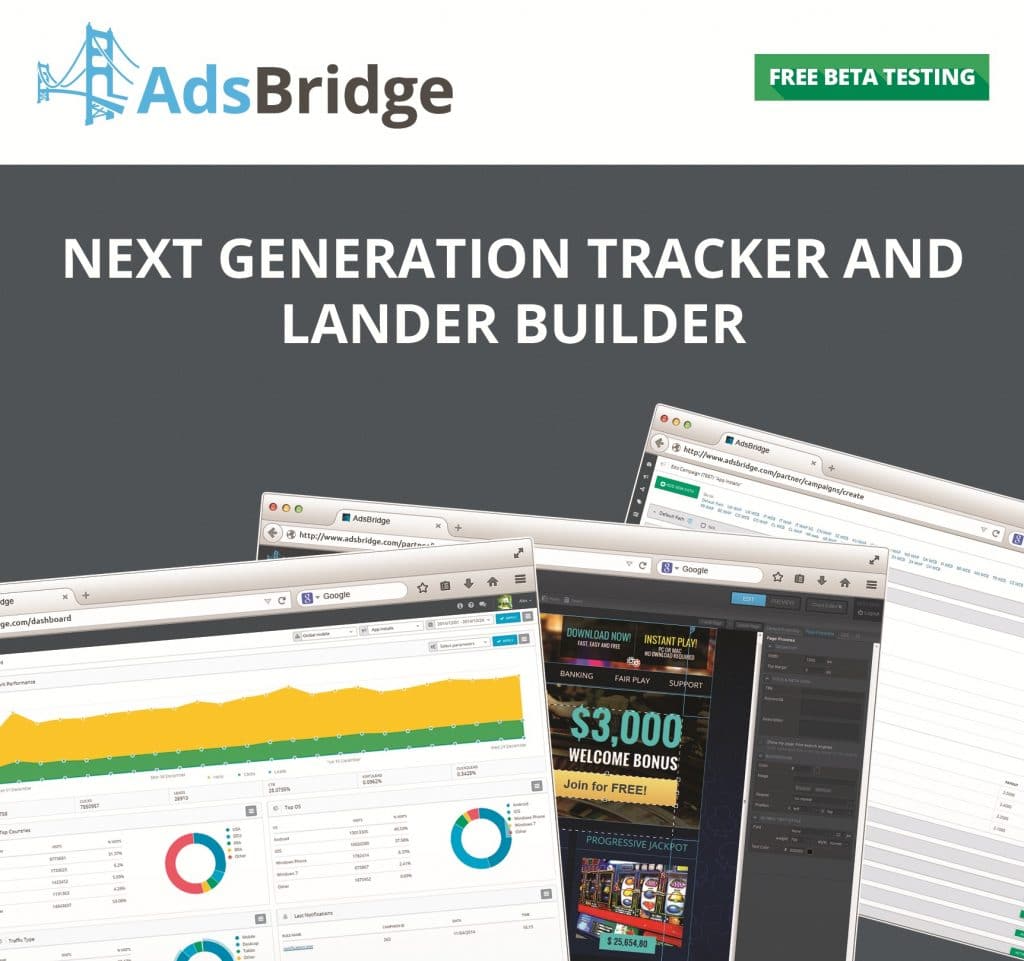 Considered one of the ClickMagick alternatives, AdsBridge is an Intelligent ad tracking tool that also works as an efficient ad traffic distribution system. It offers users advanced functions like auto-optimization, LP builder, multiple access options, etc.
These additional features offered by AdsBridge with the ad-tracking capabilities make it immensely popular among users.
Like ClickMagick and Voluum, AdsBridge is also cloud-hosted but it offers relatively cheaper plans compared to the two. Its user interface design is beneficial for users looking to scale their business through online ad campaigns.
Let's understand, more about the AdsBridge features in the following section.
AdsBridge Features
AdsBridge offers location-based audience targeting features that lead to better conversion rates.
Its intuitive dashboard offers easy tracking of sales funnels for any PPC or affiliate program.
It also allows efficient mobile optimization of ads for better performance.
24*7 tracking of link performance with enhanced protection against any fraud or data breach.
The overall process of data analysis and link retargeting is faster compared to other tools.
Like the 14-day ClickMagick free trial, AdsBridge also offers a free trial for 14 days to new users where they get free clicks and conversions.
Thereon, users can choose from different pricing plans. AdsBridge pricing is cheaper compared to other tools and hence it is preferred by users looking for efficient performance at a nominal budget.


One of the most affordable ad tracking tools around, ClickMeter covers almost all the essential features of an efficient ad tracker. It can send ad traffic to a targeted landing page to figure out the ad visitor traffic. Compared to ClickMagick, ClickMeter offers features like an intuitive dashboard that can investigate click frauds, high latencies, blacklists, and broken lists. Add to this the convenience of sending or downloading reposts for clients.
ClickMeter can target the audience based on their device type, language, location, and other assorted filters. These increase the targeted traffic volume and leads to more clicks and conversions.
ClickMeter Features
Responsive Ad Tracking: ClickMeter tracks and optimizes ads faster compared to other tools.
Ease of Usage: It allows the user to optimize pages and marketing campaigns without deep knowledge of coding.
Link Cloaking and Track Id: ClickMeter offers tracking for the entire sales funnel of the ad campaign. A user can convert online ads by any conversion value, ID, or SSL. It also offers link cloaking like some other tools using customized page titles in URL encryption.
Easy System Integration and Multiple Global Centers: ClickMeter can be easily integrated with other content management tools and software like Shopify, Chrome, WordPress, Magento, API, UTM tracking code, etc. It promises users a 99.99% uptime with its multiple Amazon-hosted data centers.
Campaign Monitoring with Click Fraud Assessment: Its campaign monitoring system is the best among other ad tracking tools. ClickMeter lets users optimize their campaigns on multiple parameters to ensure better conversions. With the added feature of Click Fraud Monitoring, a campaign manager can ensure that only legal clicks are tracked in the clicks monitoring system.
ClickMeter seems to be the perfect tool for users looking to optimize ad campaigns. It is perfect for individuals with relatively lesser technical knowledge and optimization skills. However, the website interface does take some time to get used to, and despite being rated as one of the ClickMagick alternatives around, it is limited beyond certain geographical locations.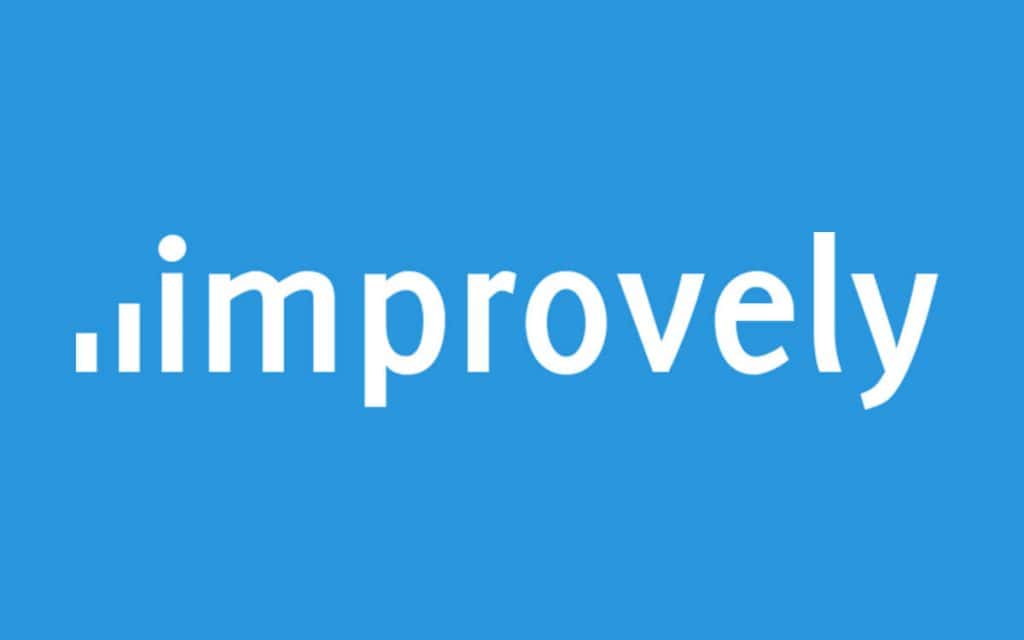 Improvely has made some name as an alternative to ClickMagick. Its assorted set of features make it immensely popular among Ad marketing managers across the world.
The two features that make it stand out are Click Fraud Monitoring and Conversion Tracking. Although other tools also have these features, Improvely is considered the best when it comes to these specifications.
It easily tracks sales in different currencies with the added feature of recalculation. The fraud protection of the tool protects users against fraudulent transactions.
It can be easily integrated with any software or shopping website for tracking of clicks or conversions. Let's understand more about its features to see how it stands against other tools.
Improvely Features
Uses split screens to test and compare the traffic from landing pages.
Improvely can be easily integrated with major platforms like Facebook, Twitter, Taboola, AdWords, etc. for effective tracking and improved optimization.
Gives users instant conversion alerts on mail.
Offers IP exclusion and suspicious activity detection tool in the package.
It has a Developer API and Built-in A/B split testing tool for customer tracking and testing.
Data related to devices, IP address, referrers, conversions, and click-through rate can be easily exported in form of CSV and Excel files.
The pricing of Improvely compared to the features it offers are reasonable.
A prospective user can choose a plan of his/her choice after the end of the 14-day trial period. Compared to ClickMagick, Improvely is easy to use and offers ample features to improve existing marketing campaigns on different parameters.


ThriveTracker delivers amazing data retrieval speeds compared to ClickMagick. It offers users free instructional exercise and has assorted features for businesses to create and execute robust marketing campaigns.
ThriveTracker Features
Faster redirection and impressions tracking compared to other tools.
It has a huge range of ad and link tracking features.
ThriveTracker offers in-depth reports and statistical analysis, better than most other tools.
It offers powerful sales funnel support.
Scalable pricing models make it suitable for various user profiles.
ThriveTracker is a popularly used affiliate marketing tool just like LinkTrackr. This is an AI-based ad tracker best suited for aggressive affiliate marketers working in quantity.
Although more expensive than most other tools, ThriveTrackr is a premier ad tracking and management tool, easily one of the best ClickMagick alternatives around.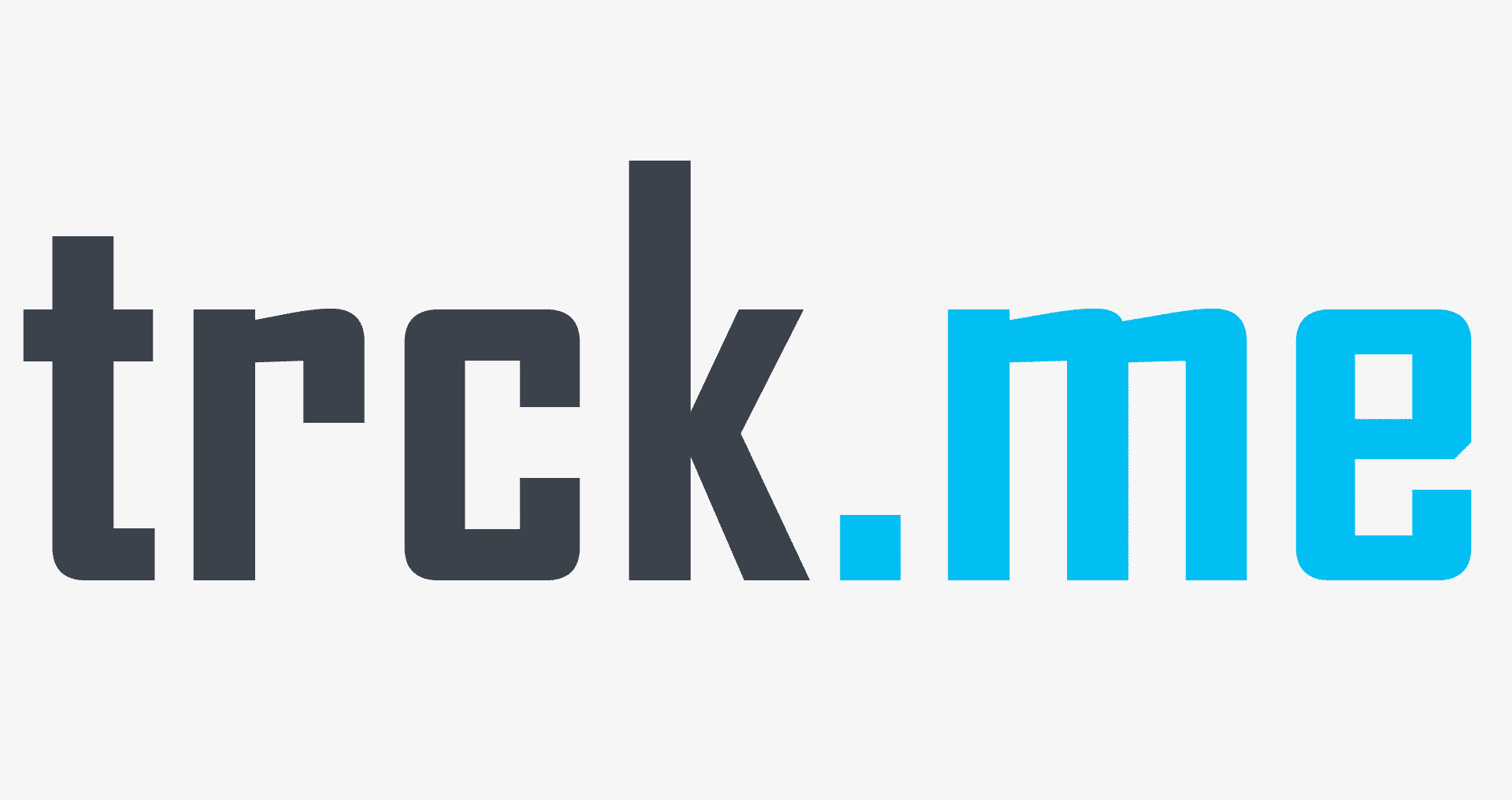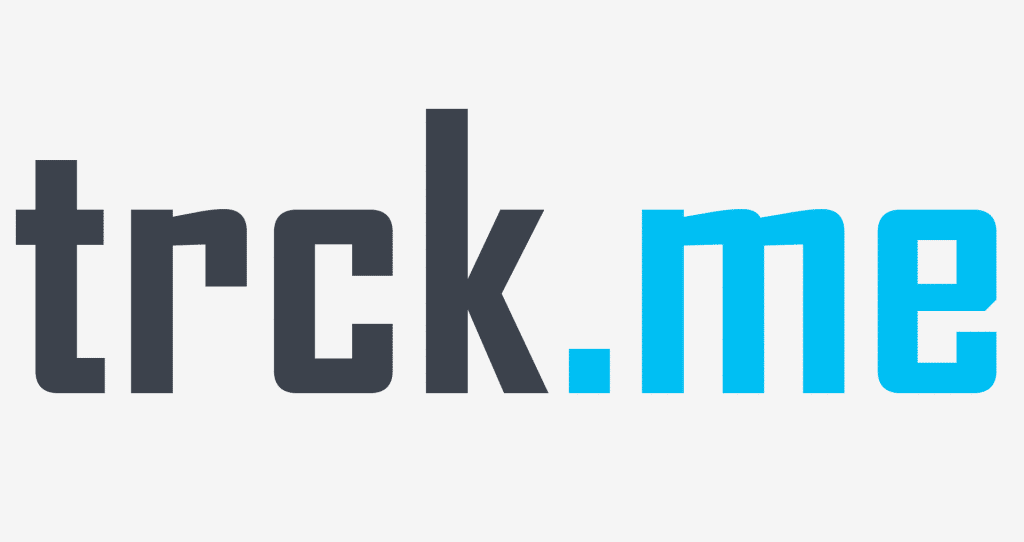 Affordable like ClickMagick, Trck.me is an ad tracker that works on data from Wi-Fi, GPS, Cell ID. It records speed, direction, partition, temperature among various other parameters or data points to offer brands an idea on how to target their ads.
All this along with the standard ad tracking, affiliate marketing insight, and other basics covered by other ad trackers.
trck.me Features
It allows its users to identify target consumer groups easily and maximize ad performance by using the tracking data.
Easy to use interface that doesn't require any technical expertise.
trckr.me offers excellent data points for in-depth tracking and optimized ad mobilization.
It tracks conversions and revenues as well, from your server or from its own hosted server.
Pricing is among the most affordable and is perfect for brands running ads at a smaller cost.
trckr.me works on a substantially different set of metrics and provides more than just ad tracking. It is best suited for affiliate marketers interested in targeting specific audience niches. Considering the pricing, trckr.me offers excellent value for money as well.
Conclusion
These are the best ClickMagick alternatives currently available on the market. All the tools mentioned above are perfect to maximize traffic and optimize the performance of your ad campaigns.
Analyze your requirements, the genre of ad campaigns you want, your short-term and long-term goals, your current bulk of running ad campaigns, and use the tool best suited to you.