Fiverr is one of the leading platforms for freelancers in the 'gig economy.' It was initially designed for small gigs that would ideally cost an average of $5.
However, it has grown continually and keeps evolving with the market. Some may even argue that it has outgrown itself. Presently, there are many people who work full-time on this site.
They have direct clients through whom they engage in long-term projects.
Additionally, many other Fiverr alternatives have been popping up, and some have proven to be better and more lucrative.

As a freelancer, you should cast your net as far and wide as possible. Here is an overview of 11 sites like Fiverr where freelancers can make money in 2023.
Best Fiverr Alternatives To Make Money Online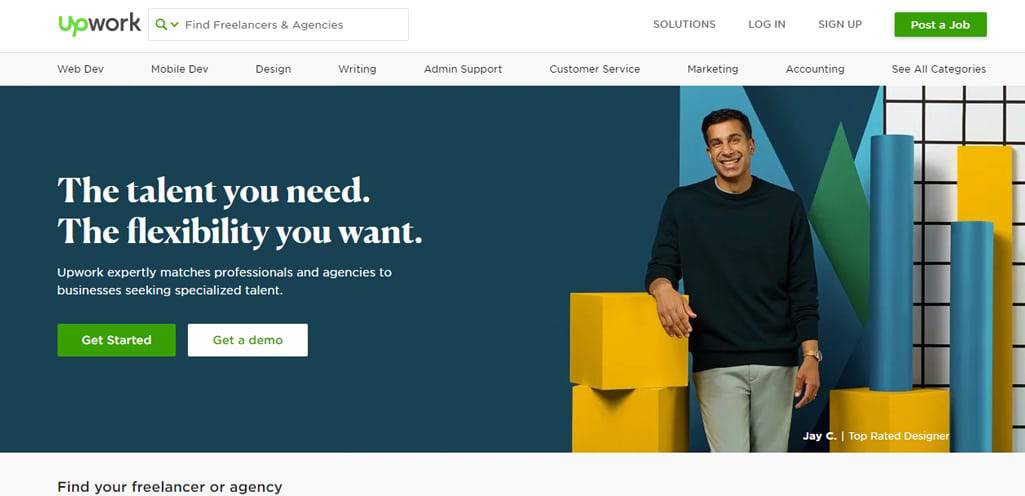 Upwork is one of the biggest global freelancing platforms. This could be considered as one of the top Fiverr alternatives. The platform arose from a merger between Elance and oDesk, both of which were equally respectable freelancing sites.
It has over 14 million users spread out across 180 countries. The platform generates over $1 billion in revenue for freelancers.

What Is Attractive about Upwork?
Diversity and Flexibility
You are guaranteed to find slots for anything and everything that qualifies as a gig in freelancing. The platform has dozens of job categories for all freelancers. These range from simple gigs such as data entry to complex ones like advanced coding.
Trustworthy
Mutual trust is essential in the freelance economy. Fortunately, 99% of the clients on Upwork users are genuine and trustworthy. Additionally, the platform has rigid safeguards designed to protect freelancers and clients against fraud.
Vast Market
There are thousands of new gig openings on Upwork at any given time. Most gigs are temporary, but many clients also offer full-time contracts to deserving freelancers.

The Catch

The main shortcoming of Upwork is the intense level of competition. The majority of the clients have strict vetting requirements, so most new freelancers who are yet to get reviewed by other clients often have a hard time landing jobs. So if you find it hard to get a job in Upwork, you don't have to worry since there are still many job boards and Fiverr alternatives that you can use.

Processing Fees

Upwork charges freelancers 20% for bills up to $500, 10% for bills ranging from $500 to $10,000, and 5% for bills greater than $10,000.

Signing Up

Upwork has a simple registration process. However, you will be required to provide a wide range of information regarding yourself and your skills.

The basic requirements for becoming a freelancer on Upwork include your real name, a working email address, and a photo and biography of yourself. The admin urges applicants to use their real identities to avoid the closure of their accounts.

In addition to your real identity, the platform will ask you to specify your skills. You will be asked to choose one of many specialties, such as coding or blogging. Then highlight your skills under the specialty.
You may even be required to provide samples of your work depending on your chosen specialty. The platform will also ask you for other details involving hourly rates, working hours, and banking, among others.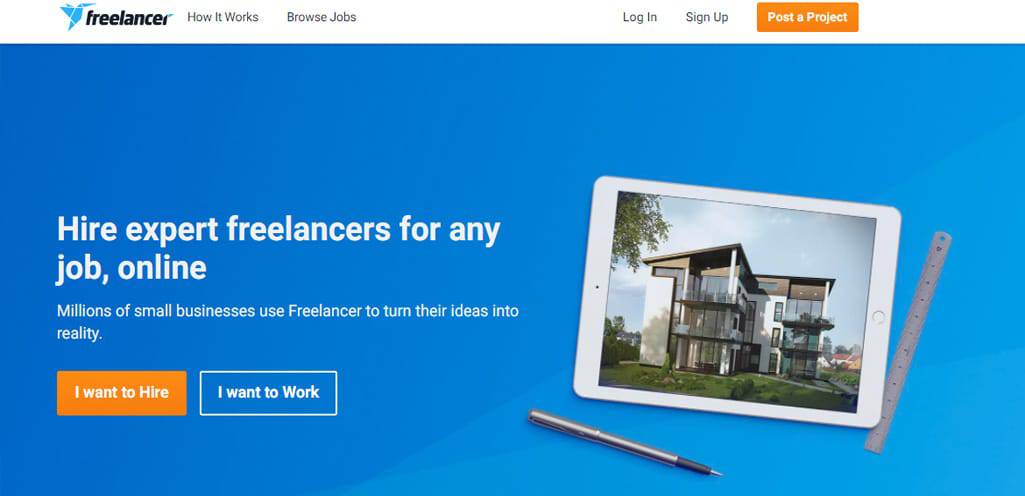 Freelancer is one of the earliest freelancing platforms. It is also one of the biggest, with over 28 million users from all over the world. Like other Fiverr alternatives, there are so many available jobs ranging from writers to web designers.

What Is Attractive about Freelancer?
Lots of Gigs
There are dozens of job categories on Freelancer, and there is always a new gig opening every other minute.
Freelancer-Friendly :
Freelancers come first on this platform. The 'Preferred Freelancer' feature enables freelancers to get access to lucrative contracts (usually worth over $2,000) that match their skills.
Reliable
Freelancer has a thorough vetting process for its clients and writers, so there is very little fraud. Payment is guaranteed as long as you satisfy the client's needs.

The Catch

The main shortcoming of working on Freelancer is that you have to contend with steep fees and commissions.

Processing Fees

Freelancer charges freelancers a commission of 10% for every fixed-price project.

Signing Up

Anyone can sign up on Freelancer in a couple of minutes. All you need to create a freelancer account is a username and working email address; alternatively, you can sign up using your Facebook account. You will also be required to specify your skills in your profile. There are lots of fields and categories to choose from. Freelancer also has a comprehensive guide on how you can make your profile outstanding. Other important details include banking and your hourly rates.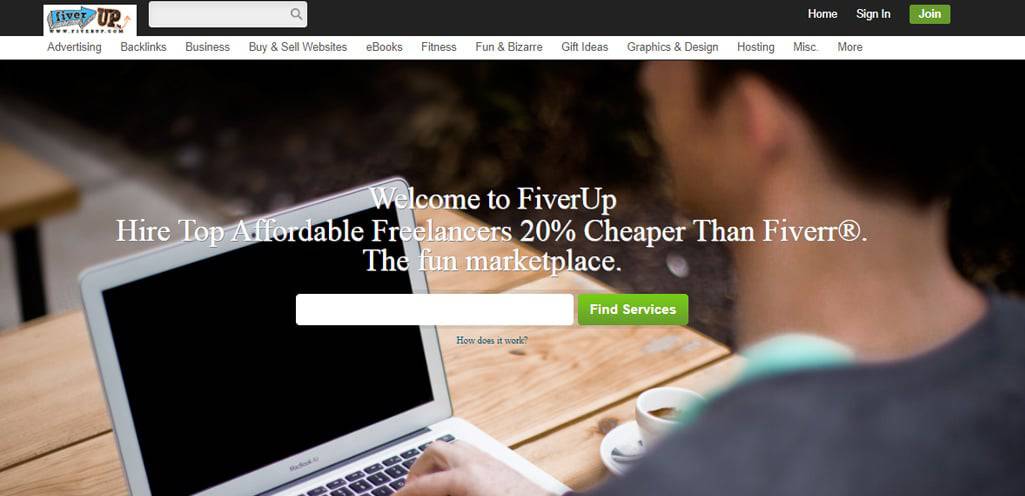 A quick search for sites like Fiverr will bring you to FiverUp. This platform was specially designed as an improved Fiverr alternative.

What's Attractive about FiverUp?
Better Terms of Service
FiverUp is built solely on the promise of better services compared to Fiverr and other Fiverr alternatives. For freelancers, this means greater flexibility and lower processing fees.
Lots of Gigs
FiverUp is relatively new to the scene, but its clientele base is always growing. There are lots of job categories, including some new exciting ones; you can even land a paying gig chatting with strangers or playing online games.

The Catch

As mentioned, FiverUp is relatively new to the industry. This means that there aren't many jobs to go around in spite of the numerous work categories.

Processing Fees

FiverUp claims to charge up to 20% less for its services compared to Fiverr. The platform claims only $2 for every transaction.

Signing Up

As mentioned, you can use your FiverUp account to buy or sell. As such, the registration is standardized for all users.
FiverUp is not as keen on identity as Upwork. You can use any working email address and come up with any username. You also don't need to use a real passport photo. However, it is recommended that you be honest in the registration as this helps gain the confidence of potential clients. You should also be detailed in your profile biography and list all of your skills. Besides, you have the option of showcasing some of your work.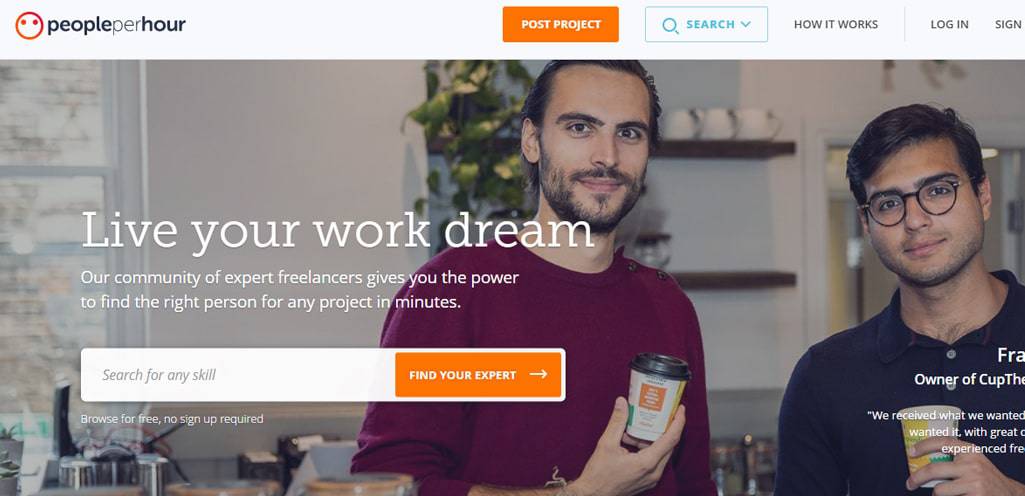 People Per Hour is one of the lesser-known Fiverr alternatives. It is, nevertheless, a platform worth looking into as it has lots of lucrative opportunities for freelancers.

What's Attractive about People Per Hour?
Excellent Referral Perks
This platform has just over one million users. It is always looking for more clients, and it is willing to pay you handsomely for successful referrals. Freelancers are awarded a commission of £30 for every referral.
Lots of Gigs
There is a category for virtually every freelancing job on this platform. Most of the gigs are temporary, but you can land long-term contracts if you are lucky.

The Catch

Intense competition is the main shortcoming of working on People Per Hour. With just over a million users, there are not enough gigs to go around for all freelancers.

Processing Fees

This platform has flexible charging criteria. The commission paid is determined by the type and cost of each project.

Signing Up

The registration process on People Per Hour is simple but comprehensive. The review process takes about three days, while registration is a 5-step process.

First, you will be required to provide basic information about yourself. This includes an honest biography, a clear profile picture of your passport, a CV and cover letter, and even honest samples of your previous work. Next, you will be directed to a form where you should fill out your skills.

The third step is meant to gauge your integrity. You will be required to provide on-site preferences such as links to your social media profiles, professional emails, and blogs where you may be active. Next, you should specify your on-site preferences and, finally, personalize your profile by filling out all of your personal and professional details.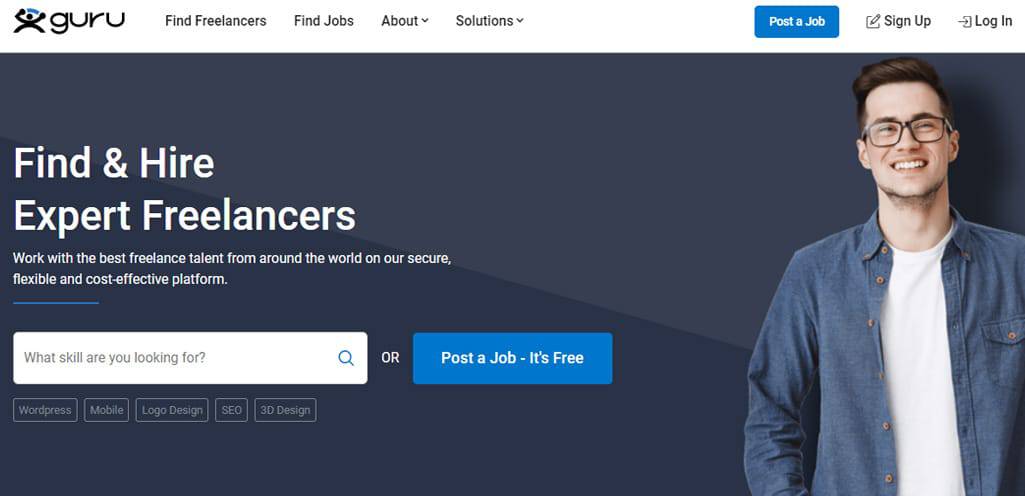 Guru is one of the fastest-growing freelancing platforms. It is popular for its simplicity and efficiency, among other things.

What's Attractive about Guru?
Very Trustworthy
Guru is one of the most trusted freelancing platforms. Clients are vetted thoroughly to weed out frauds. Freelancers are also tested to ensure that they are pros in their respective fields. Reports of fraud are rare on the platform.
Excellent Job Flow
As mentioned, Guru tests its freelancers extensively. There aren't many freelancers, but there are over three million clients. As such, there are plenty of gigs across all categories to go around.
Flexible Terms
You get to set your own terms when working on Guru. There are many filters that let you choose gigs based on different payment terms; including hourly, recurring, and milestone payments. This is great for people looking for full-time ongoing work.

The Catch

You have to be exceptionally good at what you do to become a member of Guru's freelancing team. Amateur freelancers are usually frustrated by the tough tests.

Processing Fees

Guru charges a processing fee of 2.5% for every payment made.

Signing Up

It will take you anywhere from 15 minutes to a couple of hours to register as a freelancer on Guru. The registration process is flexible as you can prove as much or as little information as you deem fit. However, some details such as a working email address, username, and banking details are necessary.

The account would be incomplete if you didn't highlight your skillset. You can choose as many categories as you wish and craft a custom description for each skill. The platform also has standardized tests for every category. The tests are not compulsory, but they are recommended as they help make your profile more sellable.

It is free to register on Guru. However, you can become a premium member and enjoy a broad range of incentives by paying for membership. There are five options: Basic, Basic +, Professional, Business, and Executive.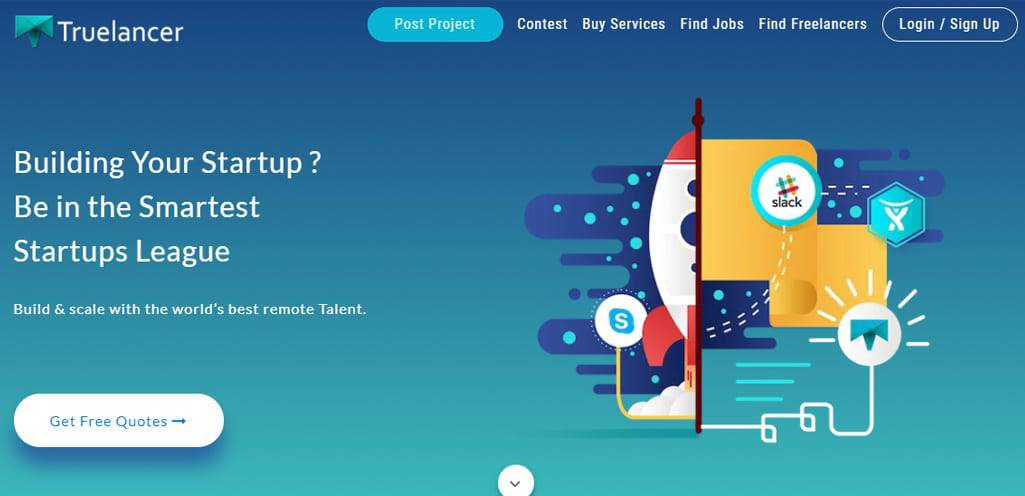 Truelancer is one of the many Fiverr alternatives which is the place to be if you are a specialist freelancer targeting specific geographies and demographics.

What's Attractive about Truelancer?
Specialized Job Categories
Truelancer has a category for virtually every gig you can think of. Its job categories include SEO, SEM, social media, IT, programming, support services, sales & marketing, and many more.
Lots of Jobs
Truelancer has a fair balance in the number of clients and freelancers. There are always open jobs on the board.
City Filters
Truelancer has filters that allow freelancers to isolate jobs based on all the major cities across the world. It is especially convenient for freelancers seeking to localize their services.

The Catch

Truelancer has a complex billing system that may prove costly for unwitting freelancers. It is important to understand the terms and conditions well, especially with respect to refunds.

Processing Fees

Truelancer charges a fee of 8% to 10% for all projects based on type, size, and the amount charged. Both clients and freelancers are also charged $50 or 5% for refunded projects.

Signing Up

The registration process on Truelancer is similar to all other bidding-based freelancing platforms. You are responsible for creating your profile and portfolio. The main aspects of a profile are a username, profile picture, and biography. Your portfolio, on the other hand, showcases your expertise. You can list your skills and provide samples to back them up. You will also be required to provide your banking information before you can begin bidding on the platform.
Twine is a comprehensive freelancing gig platform that believes that freelancers deserve more. Gigs on this platform pay better-than-average wages compare to other Fiverr alternatives. However, your expertise also has to be better than average.

What's Attractive about Twine?
High-Paying Jobs
Twine's clients are always willing to go the extra mile to get quality services. For instance, a copywriter can make as much as $150 on a single short project. You will feel that your skills are well appreciated on this platform.
Diverse Job Categories
All the usual freelancing gigs are fully covered on this platform. What's more, designers and other creative minds can land gigs in categories such as music production, illustration, and video production, among others.

The Catch

Twine pays handsomely for services rendered. It does this by guaranteeing clients top-quality services. To this end, there is a strict vetting process for freelancers. Although this is one of the recommended Fiverr alternatives, it is not a good platform for amateurs due to the high competition.

Processing Fees

What makes Twine different from other Fiverr alternatives is its flexible charging system. The amount charged depends on the type and size of the task.

Signing Up

Twine does not set any obligations for applicants. The registration process is quick and simple. You can modify your profile and portfolio however you see fit depending on your expertise. You can also showcase your samples directly on your profile. The admin urges applicants to be honest and detailed in their applications.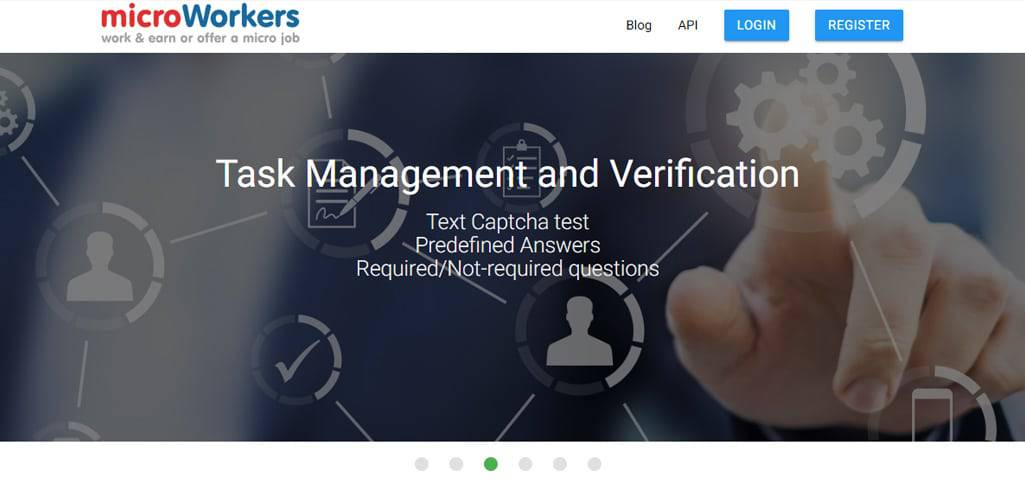 Micro jobs are not exactly micro; they make up a sizeable chunk of the gig economy. They are easy, and there are plenty of them on microWorkers.

What's Attractive about microWorkers?
Numerous Gigs
There are hundreds of open gigs on microWorkers at any given time. Most jobs are temporary, but you will occasionally come across long-term contracts.
Work Both Ways
You can work as a freelancer and still use your account to post orders on this platform. This is convenient for freelancers who often collaborate and network with other freelancers.
Flexible Payments
Freelancers can withdraw their money via a variety of channels including Paypal, Skrill, Payoneer, and money transfer, among others.

The Catch

Micro jobs are mostly temporary, and they do not pay much. To this end, this platform is most suitable as a secondary source of income.

Processing Fees

microWorkers charge a fee of 6.50% for Skrill transactions and 7.50% for Paypal transactions.

Signing Up

microWorkers is very sensitive about its users' integrity. You are required to provide your real first, middle, and last names along with a working email address. Your date of birth is also necessary. You can also specify your company if you have one; if you have a company, transactions may be limited to the company's PIN and address.

The platform also requires users to specify their locations. You will be required to state your address, your area's zip code, and the city, state, and country of residence.

Unlike other Fiverr alternatives, microWorkers does not require freelancers to choose their categories and skills. However, you can (and should) market yourself on your profile by positing your cover letter and CV.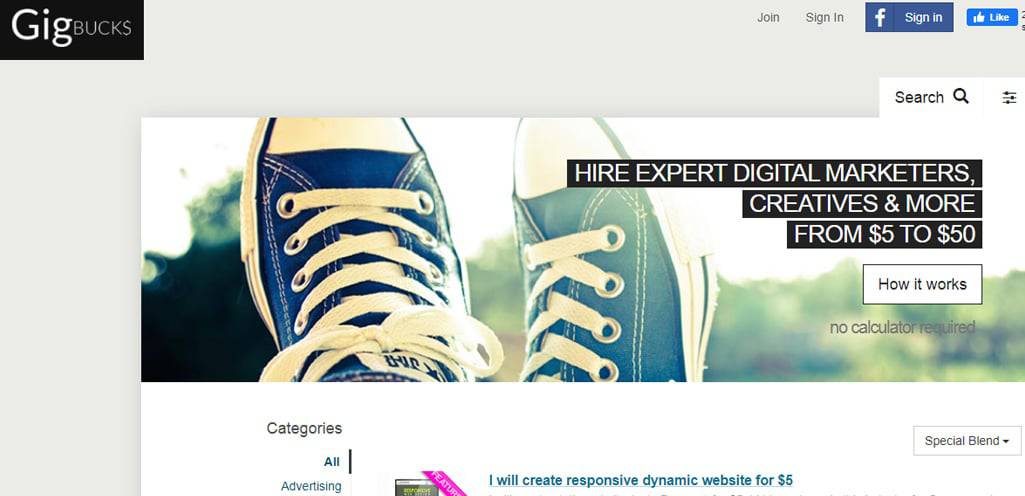 Gigbucks is just like Fiverr, but you stand to make more than just $5. Gigs posted on this platform fetch anywhere between $5 and $50. As well, you can negotiate more flexible payments with clients.

What's Attractive about Gigbucks?
Diverse Gig Categories
There are no limits to what you can do on Gigbucks. All the usual freelancing gigs are covered, and then some. There is even a category for the funny and bizarre. Sometimes all you need is a creative mind to make money here.
Market Yourself
Freelancers are allowed to post their offers on Gigbucks. The platform encourages you to post as many offers as you can. This way, you can increase your clients and expand your skill-set.
Set Terms
In addition to posting your job offers, this platform also lets you set the terms in matters regarding payment and delivery.

The Catch

Gigbucks is very flexible. However, like other Fiverr alternatives, the competition is also stiff as freelancers can post as many offers as they wish.

Processing Fees

Gigbucks charges a 20% fee for all transactions.

Signing Up

The registration process on Gigbucks is simplified. All you need to become a member is to provide your desired username and a working email address. Freelancers can specify and highlight their skills and expertise, but this is not obligatory. Gigbucks considers itself a micro-tasks website and expects freelancers and employers to liaise and work everything out among themselves.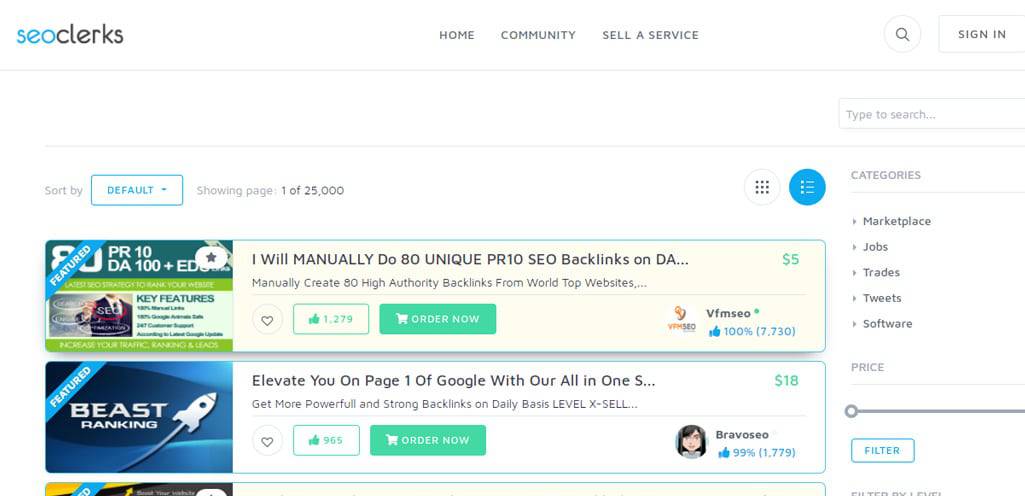 Search Engine Optimization accounts for many freelancing gigs. SEOClerks specializes solely in SEO-related jobs.

What's Attractive about SEOClerks?
Specialized Focus
SEOClerks focuses solely on SEO-related gigs. It has jobs in categories such as link-building, SEO traffic, on-site services, SEO writing, and much more. Freelancers who specialize in SEO have an easy time getting jobs here.
Numerous Gigs
Millions of clients seeking daily SEO services congregate here. There are new gigs posted every other second.
Learning Opportunity
SEO is a dynamic field. SEOClerks provide a learning opportunity for amateurs and help pros to keep up with developments.

The Catch

This platform is exclusive to freelancers with SEO skills, so your opportunities will be limited if you have other skill sets.

Processing Fees

SEOClerks charges a commission of 20% for every transaction. This is higher than average and counter-productive for small-paying gigs.

Signing Up

SEOClerks calls for only the best freelancers in Search Engine Optimization. However, it doesn't have any complex tests or other barriers, so anyone can register. You just have to provide your username and a working email address. Aside from that, you will also be required to provide other details such as your list of expertise, banking details, and working schedule and rates. You are also at liberty to personalize your profile as you see fit.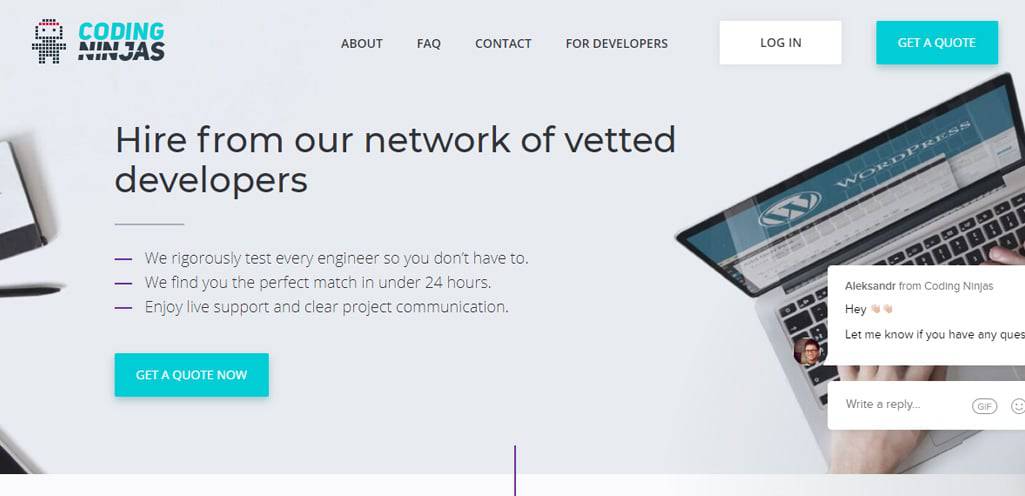 Programming and coding are some of the most lucrative and fastest-growing professions in the world. Since it all goes down on the computer, programmers can freelance online. Coding Ninjas is the leading platform for freelance coders.
Although you can offer this service in Fiverr, you can also try looking for clients here since this is one of the good Fiverr alternatives for coding jobs.

What's Attractive about Coding Ninjas?
Numerous Gigs
There is a shortage of programmers, and many clients are turning to the internet. Considering that Coding Ninjas is the leading freelancing platform for programmers, most clients end up here. There is always pending work to do on this platform as long as you are qualified.
Automatic Job Match
You don't have to go scouting or bidding for a job as a freelancer on this platform. The moderators match freelancers with jobs that they are the best fit for; all you have to do is log in and start working.

The Catch

Only 4% of all freelance applicants are accepted to the Code Ninjas team of programmers. There is a strict five-stage vetting process that includes live tests and interviews. The moderators also review freelancers' work periodically.

Processing Fees

The Coding Ninjas platform has a flexible and versatile billing system. Fees are determined by factors such as the type of project and coding language applied. However, the projects are lucrative, and charges are usually dismal.

Signing Up

As mentioned, only a handful of all applicants are accepted as freelancers at Coding Ninjas. This platform has one of the most complex registration processes of any other freelancing platform.

First, you will be required to choose a username and provide a working email address. The real test begins at stage two of the registration process as you will be subjected to a 15-minutes English test. The test will gauge your grammar, syntax, and overall understanding of the language.

If you pass the English test, you will be scheduled for a live interview with one of the moderators. This will be done via Skype or any other convenient channel. If you impress, you will be cleared to move on to the last stage: actually showcasing your coding skills. The moderators will assign you a timed coding project, and your work will determine whether or not you get in.
Choosing the best Fiverr alternatives – Factors to Consider

These 11 platforms are not the only sites like Fiverr. There are hundreds of freelancing platforms, and there are more popping up every other day.
Each platform needs a team of freelancers to get the job done, so every platform markets itself as the best. However, some freelancing platforms are better for freelancers than others. Here are factors to consider before signing up on any given freelancing platform:
Workflow
There are millions of freelancers with your skillset, so competition is quite stiff. This is true in all platforms including Fiverr alternatives. Most platforms have more freelancers than clients, which means that there often are not enough jobs to go around for everyone.

As a freelancer, you will make as much money as you work. Ideally, you should have a steady stream of jobs. As such, prioritize platforms that have plenty of clients and always have open jobs in your particular skill set.
This is easy to tell; just log into the platform at different times of the day and gauge the number of jobs recommended for your skills. Besides, there is something to be said for platforms with many clients considering the intense level of competition in the industry.
Work Allocation
Freelancers often categorize platforms as 'bid' or 'take' accounts. Bid accounts are those that require you to bid for projects from clients. The client posts an order and it becomes open for qualified writers to send their proposals.
Take accounts, on the other hand, give writers the liberty to assign open orders to themselves. For instance, Upwork is a bidding account while Coding Ninjas can be considered a take account, although orders are assigned by the admin.

Take accounts are easy to work with, as long as there is enough work to go around. There is nothing wrong with bid accounts, but bidding takes time and effort. Bid accounts are not ideal for novice freelancers, as most clients consider the applicants' experience when awarding projects.
Terms of Payment
Freelancing can be quite rewarding if you are exceptionally good at what you do. This is why your chosen platform should have a friendly payment scheme.

Integrity and trust are some of the most important factors in freelancing. Clients can take advantage of the long-distance and reap off freelancers. This is why your chosen platform should have moderators looking out for your welfare. You should have a payment guarantee for your services as long as you keep your part of the deal.

Your chosen platform should also have a flexible payment plan. This includes multiple payment channels such as wire transfer, PayPal, Payoneer, credit card, and other common channels. You should also be able to withdraw money at will.
Ranking System
As mentioned, competition is stiff on most freelancing platforms even in Fiverr alternatives. Freelancers who rank at the top get the lion's share of available projects.

Everyone starts off small and works their way up the hierarchy. Some platforms rank freelancers based on the number of orders completed. Most platforms, however, have a ranking system based on the clients' reviews. Finally, some platforms allow freelancers to pay for access to more orders and resources. All this should be taken into consideration, especially if you are new to freelancing.
Charges
It does not make sense to work hard only to have the middle guy take a huge chunk of your money away. As shown in this guide, some freelancing platforms charge exorbitant fees while others prioritize the workers. Ideally, you should go for a platform with friendly charging rates depending on all other factors.
Frequently Asked Questions
Why is freelancing so popular?

The number of freelancers is growing by the day. This mode of working grows in popularity because of the convenience offered. As a freelancer, you can set your own working hours and work from virtually anywhere, including from the comfort of your home.
As such, you get to spend more time on your personal needs such as hanging out with family and friends. Freelancing is quite lucrative, but this depends on your line of work; for instance, freelance programmers can make as much as $120,000, while some bloggers make much more than that.
Can anyone be a freelancer?

Not everyone can become a freelancer. Your career determines whether or not you can work remotely. As long as you do not need to be physically present to sell your products and services, and as long as you can deliver these products or services online via the internet, you can work remotely as a freelancer. There are numerous job categories for freelancers, so keep an open mind.
Final Word
Fiverr is a good platform for freelancers. There are lots of testimonies from people who continually benefit from the site. However, it is not as efficient as desired.
Fortunately, there are many other Fiverr alternatives that offer everything that Fiverr does, and much more. The 11 websites on this guide come closest to Fiverr, and they are all better than Fiverr in a variety of important aspects. Remember, however, to take all factors into consideration before signing up on any of the recommended platforms.